Top 7 eCommerce Trends for 2022: AI, VR/AR, Voice Orders... All the Best Ways to Dramatically Improve the Shoping Experience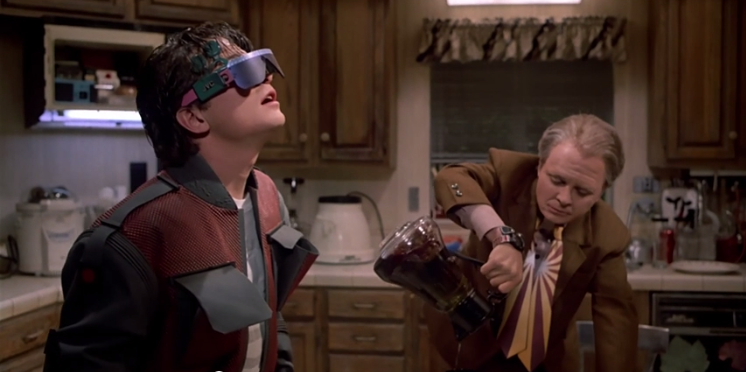 Does your website already have a voice search for products or augmented reality for trying some items without visiting the brick-and-mortar store?
If you think that such things are just useless 'toys' for the rich, you'll be surprised at how much they can jump-start your business into the 2020s!
Even if your eCommerce business is doing well, users always compare services around similar providers and may go to competitors that cater to customer experience. They are willing to pay more for better quality, uniqueness, and comfort.
Have a look at how using the latest eCommerce trends can increase user satisfaction and your company sales today. Below, you'll find lots of top eCommerce trends in 2022 for your website.
1. Artificial Intelligence
If you have been running a marketplace for some years, your database should have a fair amount of personal customer data. Don't let it collect dust. Put it to work!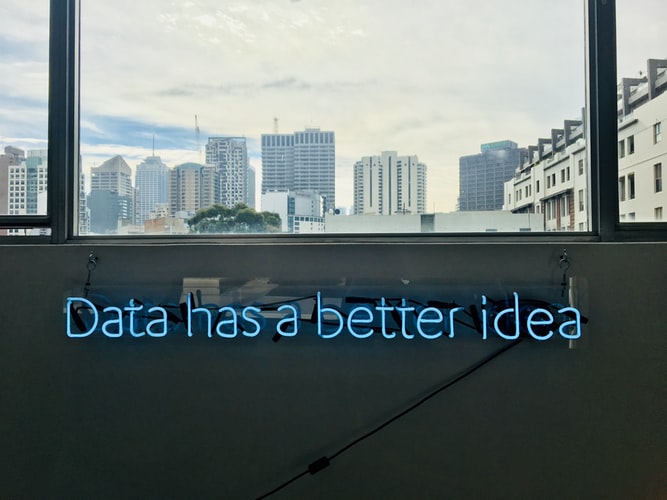 Some research tries to persuade us that if users had the option to opt out of data collection by eCommerce, most of them would do it.
However, at the same time, other surveys show that personalization (which is created with the help of the data) is one of the most influential factors when shopping around! Thus, 78% of UK customers agree that they completely ignore offers if they are not tailored to their interests. No wonder! Every one of us, as online shoppers, has gotten lost and stressed out trying to find something in the maze of stuff at Amazon, Alibaba, and other marketplaces.
The way out of this controversion for the eCommerce business is to show that data collected from cookies, surveys, preferences, and profiles are used in peaceful ways to engender even better service and save customers time and money.
Artificial Intelligence is one of the major eCommerce trends of 2020 and it finds the best implementation in the following areas:
chatbots that not only answer questions but also can negotiate prices based on competitors' data and minimum possible price;
product recommendations based on customer photos or quizzes like at Sephora's Skin Foundation picking-up quiz or Lidl's Margot for wine recommendation;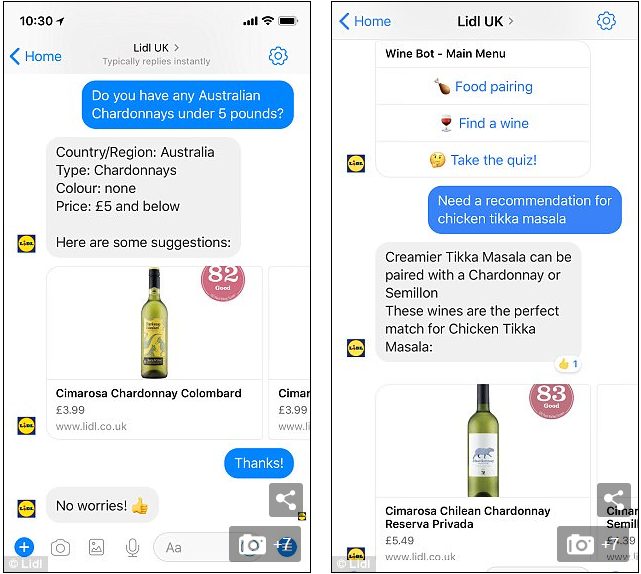 price recommendations at online marketplaces like Arcbazar or accommodation booking platforms like Airbnb to help users set the optimal price for their listings;
visual search by the image like Google Lens and Pinterest Lens that can find objects in your photos, tell you where to buy them, if they are for sale online, and suggest similar products. Another example is Shutterstock, a stock photography marketplace, that has implemented a visual search that matches photos and images with a multi-million database that is hard to describe with words.
Our Case Study: Arcbazar, which is one of our clients, is a crowdsourcing marketplace for architectural projects.
They noticed that customers sometimes were abandoning the order process before completion.
This happened at the point when customers were deciding how much they needed to set as a prize for the completed project. People who had never dealt with crowdsourcing got hesitant about a fair price and left the platform.
To help the company with this challenge, we created an AI-driven solution that suggested a suitable price based on the previous data collected from other similar projects that already passed. In this way, the system does not stop learning and improving itself in order to deliver even more precise recommendations in the future.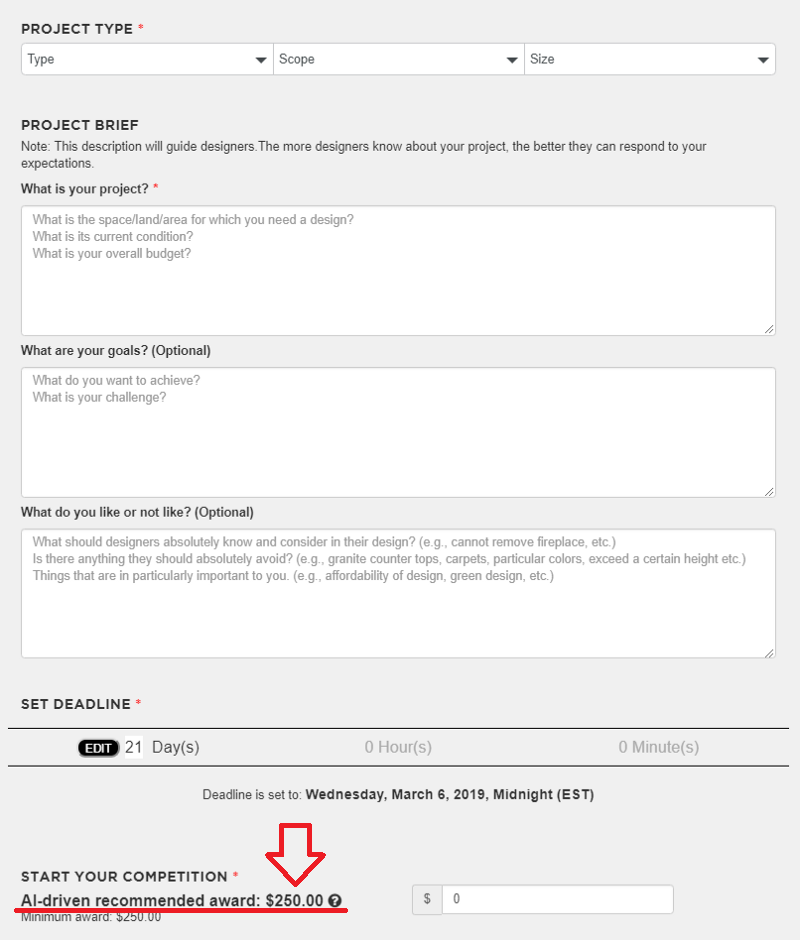 2. Virtual and Augmented Reality
VR goggles are used not only for games. Today VR is one of the most important trends in eCommerce.
The VR and AR in retail are named top technologies for product assessment according to 51% of consumers.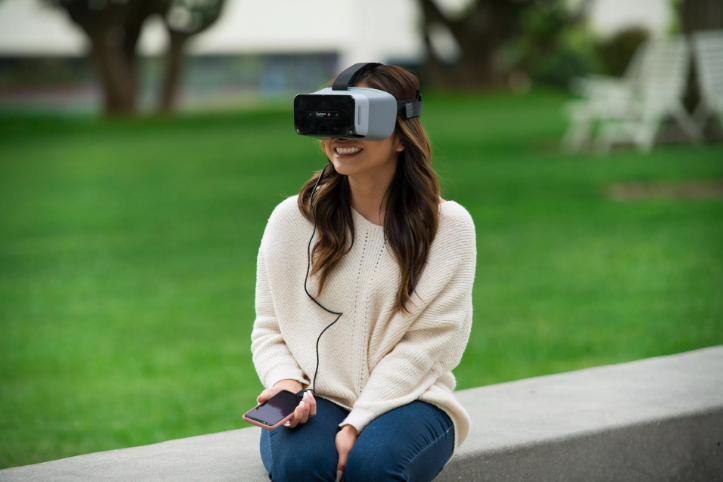 CNETThe benefits for retailers are:
New attractive ways of customer engagement, like virtual presence in events and shops.
Improved customer experience via personalization and augmented reality that helps them make better decisions.
Increased customer satisfaction and loyalty.
The reduction of the return rate when the items are tried virtually before purchase.
For example, VR is already used at Fashion Weeks to sell front row tickets. VR users can be brought virtually to any shop (v-commerce), concert, or museum in any part of the world. Of course, it is not the same as being there, but it can be a solution for those who cannot be in several places in a short period of time.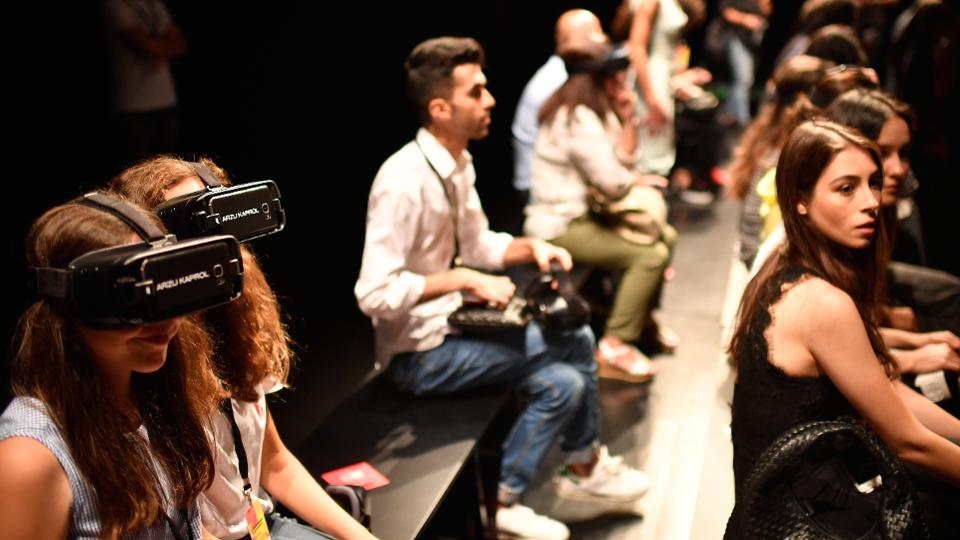 These eCommerce trends are also reinvigorating online shops that specialize in home design and decor, furniture, clothes, makeup, eye-frames, accessories, footwear, etc. Here are some examples:
AR for Furniture and decor Websites
IKEA and Houzz allow their customers to use AR to see how the different furniture items will fit and look at their home. This increases the purchase activity as it helps eliminate the torment of choice.
For the same reason, using AR during shopping decreases costly returns due to customer frustration.
Here is how you can check if the piece of furniture fits your interior with the IKEA app: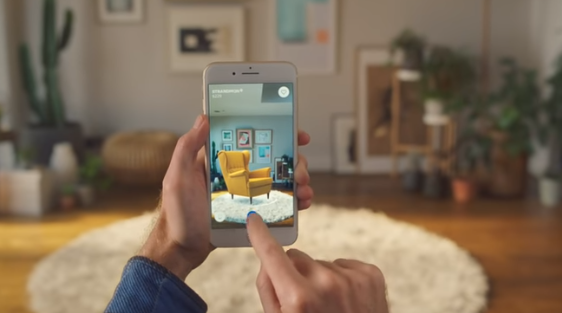 With the newest Houzz augmented reality feature, users can virtually cover their floor with tile just using the smartphone camera and Houze app. The true sizes and shapes make it extremely realistic. The app even measures how many tiles the user needs and can calculate the total cost. Isn't that miraculous?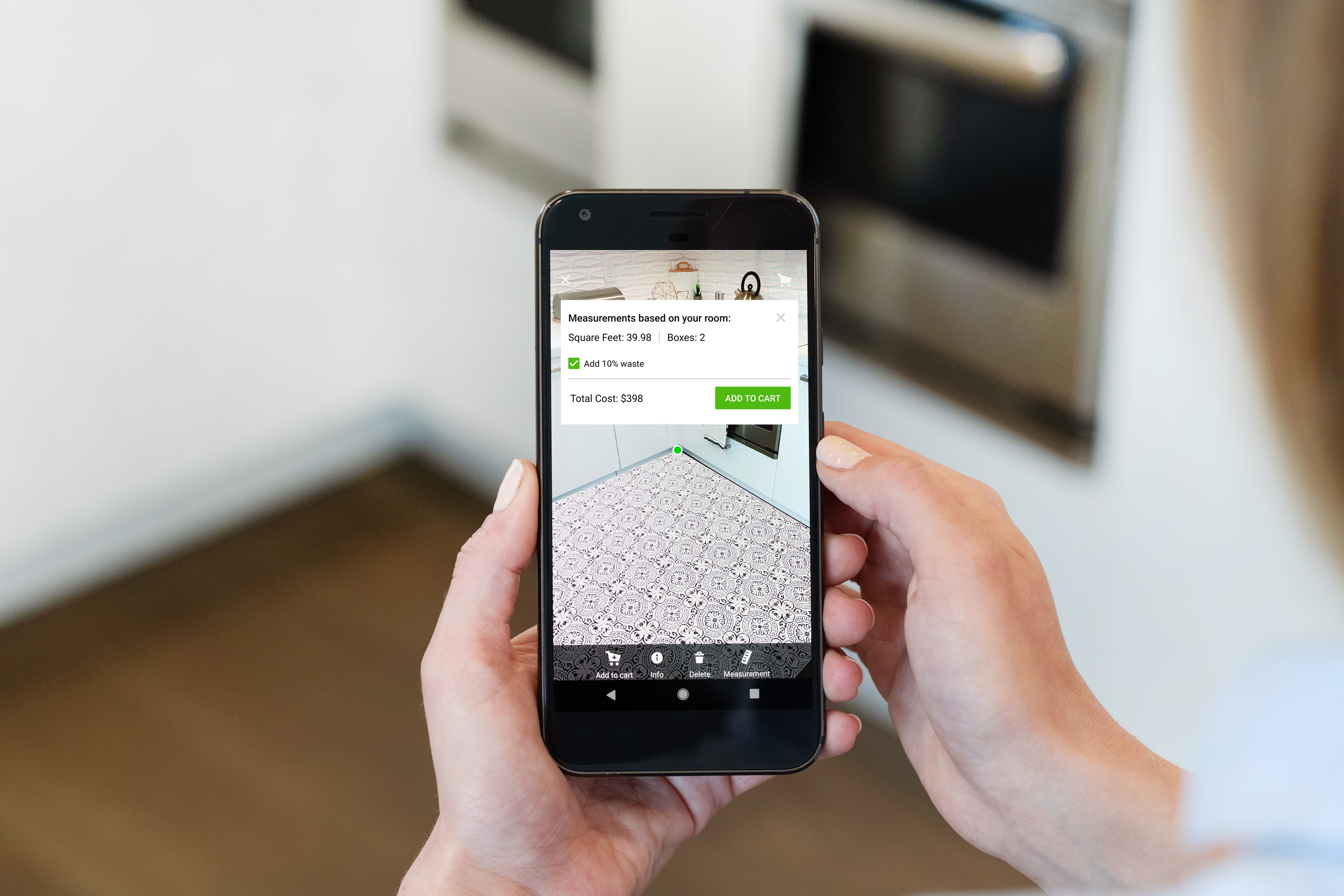 AR for the Fashion Industry
Online fashion retailers like Neiman Marcus use a smart mirror from MemoMi AR technologies, that records the customer's try-on sessions, and sends the videos and photos to the customer's email or social media.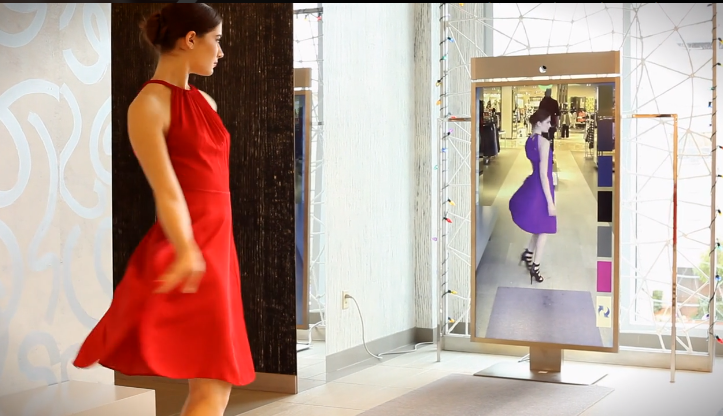 AI and AR for Eye-wear choosing
You probably know how hard it is to choose the right eyeglasses. The selection process callously eats your time while you try on frames but you still can't pick the right one. To fight this challenge, Glasses.com implemented technology that allows anyone to try on glasses or sunglasses by simply enabling their web camera and clicking on the selected model.
Still hard to choose? Then try innovations from Warby Parker and Luna that enhance this feature with face recognition and AI recommendations to customers. Now, users simply scan their faces and wait a couple of seconds while the system analyzes the face shape and runs through the database of faces to suggest the possibilities.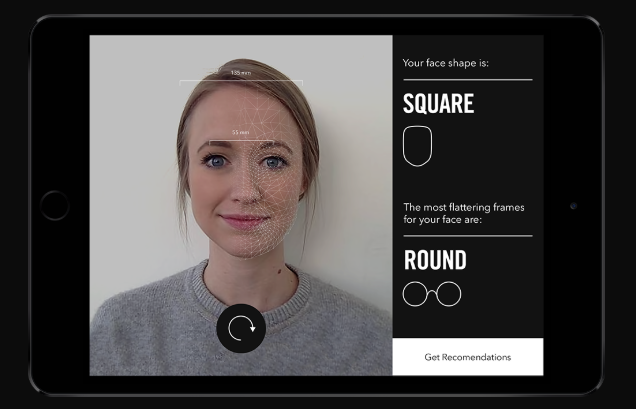 VR for Make-up and cosmetics pick up
Sephora virtual artist allows women to try on make-up by uploading their photo and applying virtual layers of lipstick, eyeshadow, or blush.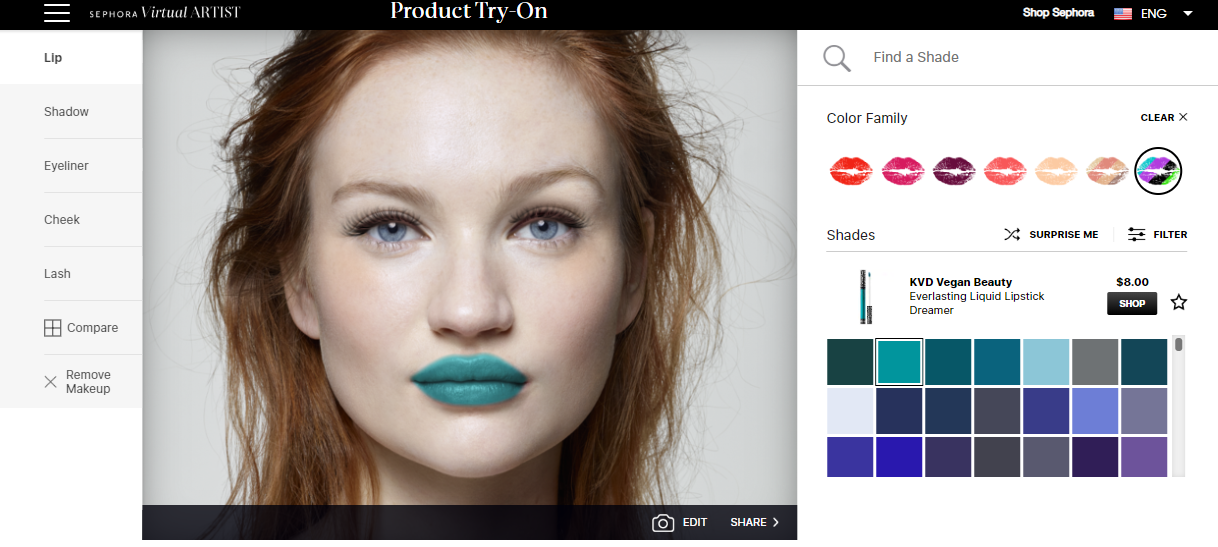 3. Voice orders
It is estimated that 'voice commerce' will reach $40 billion by 2022 in the US alone.
Voice devices like Amazon Echo and Google Home are gaining popularity. Currently, 13% of U.S. homes are equipped with a smart speaker, and 36% of their owners regularly shop using the devices. But, more than half of all voice searches are made on smartphones.
The top categories for voice shopping are grocery (20%), entertainment (19%), electronics (17%), and clothing (8%).
Even so, most people are still not quite sure of how to use these new trends in eCommerce. Let's look at how people already use it: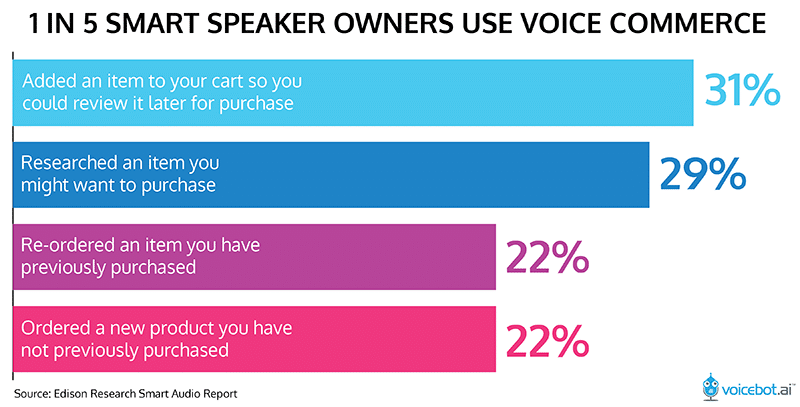 Voice search is regarded as one of the fast-paced eCommerce future trends.
How can you prepare for this future? Websites optimized for traditional keyword search only will not rise to the top in the voice search. To rise in the voice search results in Google, you need to enhance your SEO strategy for voice queries. You can start by implementing the following steps:
Use natural language phrases and questions instead of keywords. When users type a search query, they usually enter just keywords like "Italian restaurant in New York". However, when they search by voice, they typically ask full questions like "Where is the nearest Italian restaurant?" They also use conversational phrases and questions relevant to your industry.
Optimize site for "near me" searches. The most commonly asked questions in voice searches ask for locations nearest to the user (restaurants, hospitals, museums, hotels, etc.).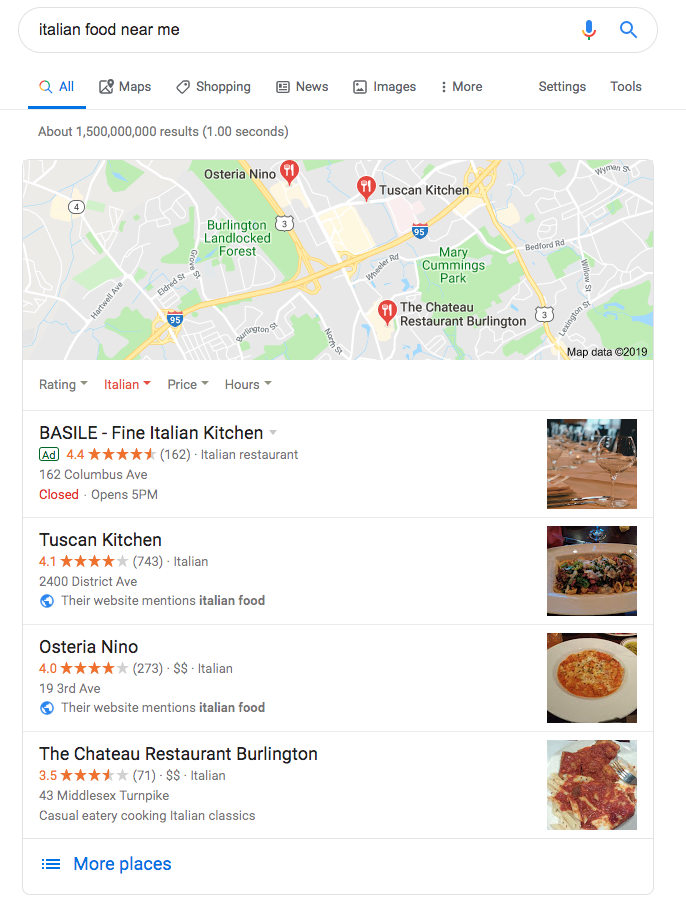 Structure your site data. Add contacts, addresses, FAQs, ratings and reviews, and metadata for pages on your website. All this will help engines to place your website above competitors.
Make your website mobile-friendly. As smartphones are preferred devices for voice search, quick mobile loading speed and layout responsiveness should be your priority.
Improve the loading time. If your website is too slow, Google may just ignore it. To speed up the site velocity:

Try not to overload it with images and video content.
Host the website on reliable and quick servers like AWS.
Use CDN services and compress images.
Use HTML5 and CSS3 for layout.
Reduce redirects and heavy plugins.
Solving challenges in the eCommerce industry since 2007. See how we can help you!
4. Flexible Payment Options
A hassle-free payment method is one of the key factors for successful order completion. People need a variety of secure, flexible, and alternative ways to pay. Here are some trends in the eCommerce industry related to payments that show promising results.
Digital payments overtake cash and cards
Digital payments are expected to overtake cash and cards by 2030.
Digital wallets, such as Google Pay, Paypal, Apple, or Samsung Pay, are hugely popular.
The next wave of new trends in eCommerce belongs to in-chat payments that are already used widely in Asia. Thus, the Chinese messenger, WeChat, handles as much as 40% of mobile transactions around the country. Users can easily pay online, send money to each other, or pay at even small retailers.
Now customers of Overstock can pay with Bitcoins due to the platform's partnership with Coinbase.
Facebook has already caught up with this trend with their new cryptocurrency wallet, called Novi, which is built into WhatsApp and Messenger: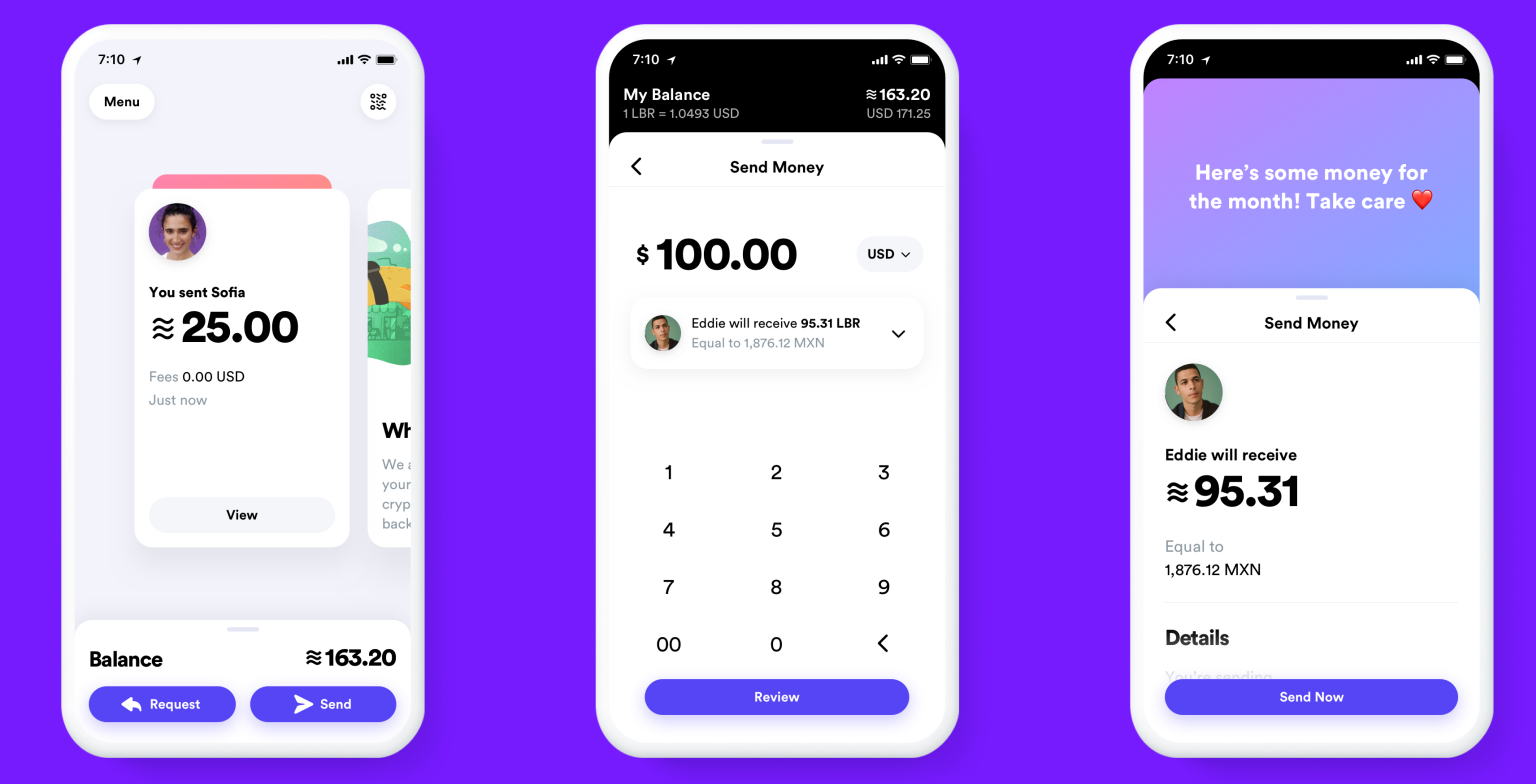 'Buy now, pay later' is a game-changer in customer retention
In the areas of airline tickets, travel bookings, electronic devices, home interior decor, furniture, sports equipment, clothes, and luxury goods — the large expense is one of the factors preventing shoppers from making purchases.
Now stores can provide flexible payment options to sell more, and satisfy their customers. There are a number of payment services that can be integrated with your eCommerce web platform to enable flexible payments. Afterpay, Affirm, Klarna, and PayPal Credit are the major players offering comfortable payment conditions without additional commissions for customers.
"The service [AfterPay] is also appealing to retailers and brands as it helps to increase conversion rates and incremental sales by 20-30%." — says Nick Molnar, founder and CEO of Afterpay.
Studies show that customers tend to buy more when they can pay later. In addition, many online stores confirm that the transaction sizes increased by 68% when they implemented the flexible payment option on their websites.
Have you already integrated flexible payments into your online marketplace? Can we help you?
Contact us
5. Good Deeds
Brands have a great influence on all processes in society and the public demands from sellers to show their social responsibility and support the needs of people. The overall trend for making the planet a better place to live in cannot pass aside any eCommerce platform today.
Environmental sustainability
Today, the world is overwhelmed with ecological problems as never before. Pollution is an incurable disease whose effects we must try to prevent. So brands also try to become more eco-friendly to do their part in future sustainability. How do technologies help with these tasks?
Possible initiatives include:
Using eco-friendly packagings like recycled wrapping paper or clothes.
Substituting paper recites with digital sending them on emails.
Saving energy as much as possible by switching off lights and equipment when not in use.
Switching to eco-friendly alternatives to existing products.
Lush, a British company that produces handmade natural cosmetics and actively participates in ecology and wildlife protection campaigns, recently launched an app that enhances the customer experience while saving the planet. Visiting a Lush store, customers can see all products without any plastic packaging. Scanning the QR, customers can download the Lush Labs app in a few minutes and use it at once in the store. The visual search feature of the app allows customers to take a picture of any product, like a bath bomb, and see all the information about the ingredients, name, and price. Moreover, they can watch videos on how the products dissolve in the tub of water. All this 'digital packaging' eliminates the necessity to use plastic or paper packages and waste the products and water when demonstrating their behavior. Besides, it is entertaining for customers.
Our Greenice marketer had a chance to test the Lush Labs app during WebSummit 2019 in Lisbon. It really works marvelously! Technologies can also go green to facilitate future sustainability.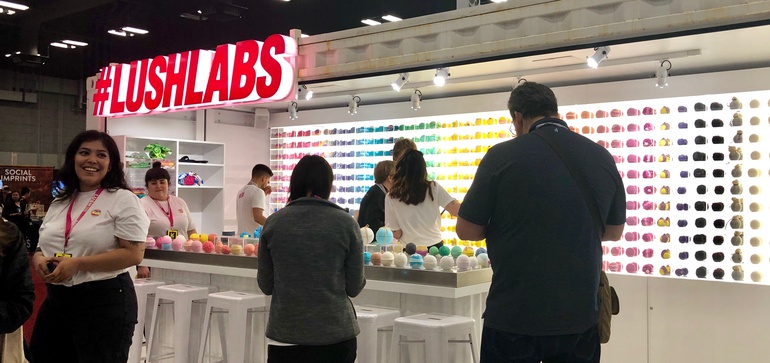 Black Lives Metter
The Black Lives Matter movement involved brands and businesses greatly. They were expected to show their position and support the protestors for racial equality. What brands are supposed to do:
Provide racial diversity in management and leadership teams
Donate to charities
Support BLM movement in social media
Ensure diversity in their suppliers
Review hiring practices and erase the bias in the companies.
Creating Opportunities for Woman
Women-consumers drive the economics making 70-80% of all purchases. However, there are only 4.2% of Fortune 500 companies where leadership belongs to women. eCommerce has created equal opportunities for all genders. Anyone can start a business right from home promoting and selling their products through the marketplaces like Etsy, social media, or personal websites.
In B2B, the role of women was underestimated for many years. Meanwhile, Xactly research found that women salespeople show better results than men. Recently, the shift has been done to give favor to women in sales roles. Brands strive to eliminate the perception of sales as traditionally men's jobs and create a female-friendly culture. This can be achieved by providing such measures as:
Creating gender diversity in the companies hiring equally women and men
Creating gender-neutral job descriptions
Providing female mentorship programs at work
Give more promotions to women for sales management and leadership roles
Partnering with companies and suppliers led by women
6. QR codes
QR codes are actively used to promote post-purchase and marketing engagement. QR codes can also get consumers to sign up for loyalty plans, subscribe to the newsletter, or get valuable feedback. Here are some ways of how eCommerce businesses can use QR:
Automatically start a Whatsapp conversation between a customer and an online shop consultant. Simultaneously, the customer contact is added to the store CRM for future follow-ups;
Allow hassle-free re-orders;
Send links to video instructions on how to use the purchased products;
Announce discounts or issue coupon codes;
Remind of an event and offer to add it to the calendar;
Provide automatic connection to the store Wi-Fi;
Suggest a profile to follow on social media;
Direct users to the app store to download the company app;
Use at cashier-less stores (Amazon Go).
As for the last bullet, Amazon created technology that allows shoppers to buy products in cashier-less grocery stores by just scanning the QR code at the entrance. Customers can put products into their bags and just leave the store — bypassing the queue at the cash desk. The bill will be automatically charged. This technology is already named the 'game-changer of grocery shopping.' If Amazon continues creating cashier-less stores, it can significantly increase revenue.
"Amazon Go could translate to a $4.5 billion sales opportunity if the tech giant opens 3,000 stores. Still, there's a big caveat: It would take about two years for Amazon to break even at each store because of the cost of the cameras, sensors and other hardware," —

Mark Mahaney

,

a RBC analyst, quoted in

Forbes.

.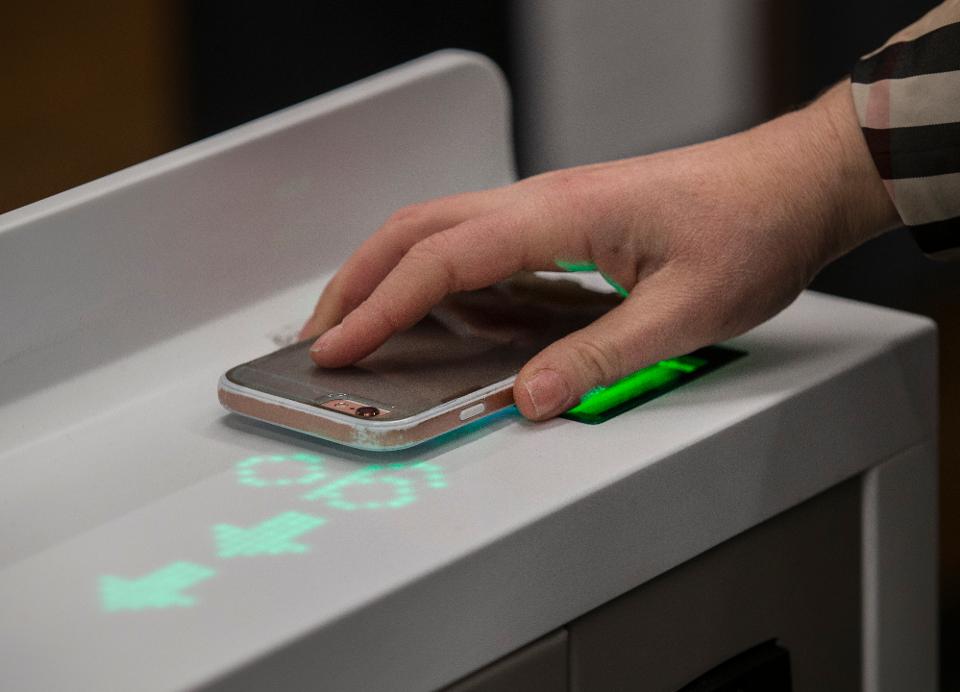 7. Subscription Business Models
Another trend in eCommerce is subscription payments. Whether customers want to try new products, or need to receive definite categories of goods regularly and without useless hassle, a subscription is a perfect choice for good money. Experts will put the best products into curated subscription boxes – and then send them right to the customer's door, on a schedule.
Take a look at several online stores that specialize in different categories: Graze for groceries, Ipsy for beauty products, StitchFix for clothing, Scentbird for perfumes, KiwiCo for kids' projects, and Cratejoy for large multi-product online marketplaces.

Our Case Study:
One of our clients, Atlantic Coast Brands, a large cosmetics company, 500 Inc., has online stores for 6 brands that are presented with hundreds of landing pages to sell their products.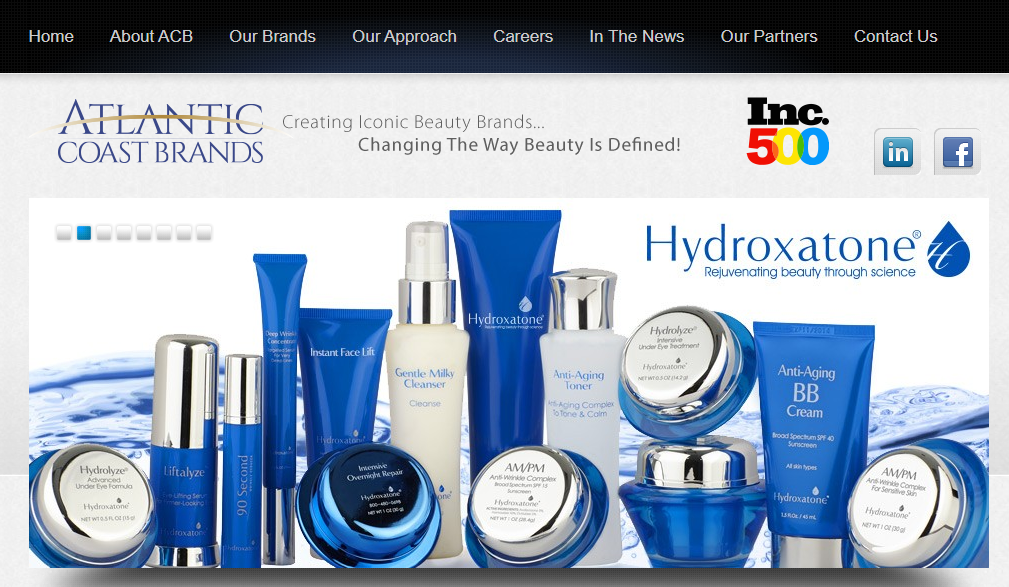 Their business model is a subscription. Due to the ERP that we developed for them, all company departments are coordinated and synchronized. We developed a solution that consists of:
A system that arranges regular orders of purchased products and suggests additional products that 'go well together' or for a discount (upselling and cross-selling).
Payment by subscription: the parcels are sent at regular time intervals (1-6 months) and the payments are automatically billed from the customer's account.
"Risk-free trials" option that allows a customer to receive products and test them for 30 days, without paying for them. When the trial period ends, the customer can either pay for it and continue the subscription or refuse the goods and return them for free.
The orders and shipments are integrated with the company's custom ERP that tracks the orders from affiliates' websites and calculates the appropriate commission.
The system allows sales, marketing, finance, and delivery departments to work effectively and smoothly to achieve the highest level of services.
How to Apply This to Your Business
If you're an existing eCommerce business, you are probably constantly searching for ways to enhance the customer experience and increase revenue. The modern features can help by collecting and analyzing customer preferences and using this information to multiply their overall satisfaction. This will allow you to focus your offers more strategically, and make your services more useful and attractive.
If you're a startupper who is going to create an online marketplace or shopping app, you can use these trends to capture a competitive advantage that will give customers an outstanding experience and make them loyal to your brand.
At Greenice, our team is ready to help you turn your plans into reality. We have deep experience building custom eCommerce websites and management systems with unique features and workflows. We follow the latest trends and use top-notch technology to make your websites unique, reliable, usable, and secure.
Are you an eCommerce business or startup? How about discussing your project?
Contact us
---
Author: Anna Klimenko is a market researcher and author at Greenice with multifaceted knowledge about different types of business and technical solutions. Anna's experience in technical writing and product management allows her to understand web development processes and enables her to translate technical concepts into plain language to help entrepreneurs make informed decisions.