There are around 7 million families with children under the age of five in the U.S. 48% of them spend more than $1,000 per year on babysitting.
Almost one-third of couples hire a babysitter at least once a week. Families, where both parents go to work, working single parents, and large families need babysitters on a daily basis. Even people who do not work occasionally need a nanny.
"If you had to choose between your favorite restaurant and your favorite sitter, what would it be?" — UrbanSitter asked their audience in a survey.
Can you guess how many people chose sitters? Write your choice and check it at the end of the article.
Anyway, here we want to talk about the business and technical parts of babysitter website creation. How to create a babysitting website and make it profitable? What challenges can a startup bump into, and how to overcome them? Let's find out inside!
Reasons to Create a Babysitter App
Babysitting is a part of the child care industry. The child care industry was valued at $60.4 billion in 2022 with the expected grow of 4.18%. Why is the demand for nanny services growing? Is this the right time to build a babysitting website?
Let's list the reasons to create a babysitter app:
1. The number of families with both parents working is growing
Modern parents are more career-oriented than in previous generations. Today, a working mom is the norm. Not only does the lure of extra income convince women to work, but women also strive for independence and self-improvement. The loss of professional skills and the opportunity to stay on the cutting edge of the industry also means that no one wants to remain out of the game for long. Increasingly, instead of staying home with the kids, parents would rather spend their higher income to hire a nanny.
2. Technological progress
People are becoming more and more used to ordering services through the Internet. It is an easy, quick, and comfortable way to find any professional. As technologies evolve and make the services become more reliable, secure, and affordable. Matching algorithms and AI allow users to find the most suitable sitters for clients' requirements in seconds. Multiple background checks make inviting a stranger to sit with kids possible. So even if you're a nanny agency, it's never too late to make a website for your babysitting services and increase your revenue.
3. On-demand services are at a peak of popularity
Taxi, food, flowers, laundry... It seems like any service can be ordered on the fly now. Why not babysitting? Lots of families do not require a nanny full-time, but only for special occasions or emergencies. What if there is no one to sit with kids when adults unexpectedly need to leave home? Uber for babysitters is the perfect solution for those who need child care sporadically.
4. Babysitters need a place to market their services
For many sitters, child care is a part-time job. But how to find an on-demand job? Child care agencies and job boards want full-time employees. However, hardly any parents will look through Indeed or Glassdoor for a sitter for just two or three hours a week. So platforms dedicated to babysitters are the best way for job seekers to find part-time employment.
5. More than babysitting
Not only babies need care. Pet-sitting is one of the areas that is gaining in popularity. 85 million families in the U.S. have a pet. The pet-sitting market generated $2.6 billion in 2019 and is going to grow by nearly 8.7% annually through 2027. Working pet parents and people who travel often need sitters for dogs, cats, fish, birds, and all kinds of other pets. This can mean day-care, drop-in, transportation, walking, or boarding.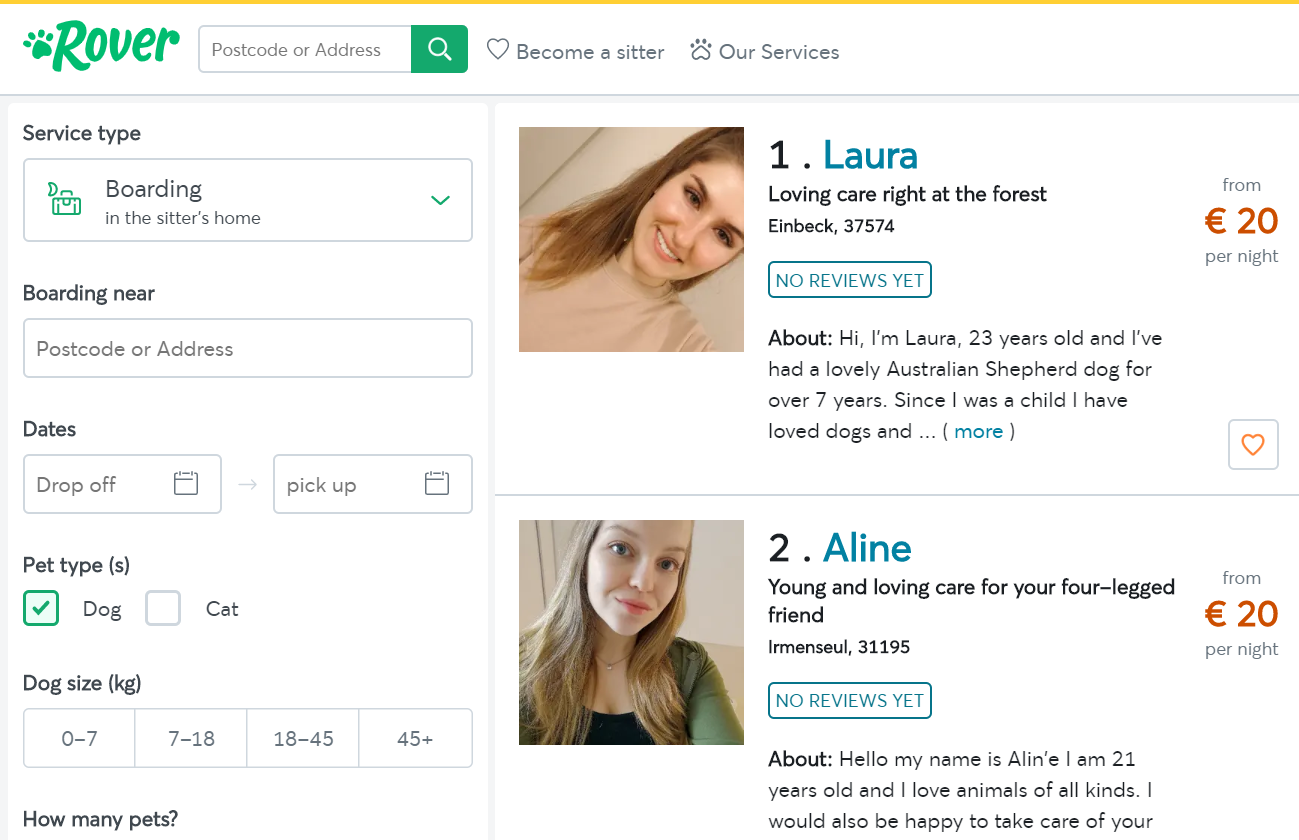 Competitive Landscape
Allocate a significant amount of time to learn all the nuances of the business and the advantages of existing players in the market to understand better how to make a babysitting app.
In spite of severe competition, you can always find gaps in services to cover unmet needs and untapped niches. Let's categorize the websites for babysitting services:
General job boards

Indeed, Glassdoor, Seek
Classifieds
Craigslist, Gumtree, Kijiji
On-demand task marketplaces

TaskRabbit

,

Handy

General caregiving platforms (babysitting, senior sitting, tutoring, pet-sitting, etc)
Care.com, Sossitter
On-demand babysitting marketplaces
UrbanSitter, Helpr, ChildCare, SeekingSitters, eNannySource, Bubble

Babysitting agency websites

Trusted, SupperSitters, HelloSitter

Narrow niche on-demand platforms

Pet sitting: Rover Night Nanny: NightNannies Kids' transportation: Zum Children's Party Service: HoustonKidsBirthdayParty Au Pair: GreatAuPair Virtual babysitting: ScreenSitters
Business Models of a Babysitting Website
The on-demand babysitting website is usually a two-fold platform for parents and caregivers:
On one side, parents can find a babysitter who matches their one-time, full-time, part-time, or last-minute needs for a moderate price at the best quality.
On the other side, babysitters are able to find a job and comfortably manage their schedules.
The platform connects both sides and oversees the interactions between them.
This kind of platform is usually monetized in one of the following methods:
Commission:

The platform may take a percentage off the top of each transaction between a parent and sitter, or they can charge a flat fee.

Membership by subscription:

Parents pay a monthly or yearly fee to have access to the platform and babysitters' database. Babysitters might also pay a membership fee that allows them to create a profile and get hired. For example, UrbanSitter charges $20 per month or $100 per year. But users can also pay $35 per month for the pay-as-you-go option.

Freemium membership:

With this membership, users can use the basic features of the website for free, but for more advanced functionality, they will have to pay. For example, with the freemium plan, parents get most of the basic features except, say, the possibility to order interviews with a sitter.

Additional payments:

The platform may also make money from advanced features or integrations with third-parties. For instance, websites that offer a lower membership price by not including background checks can propose such checks for an extra payment. Sitters understand that having a background check increases their chances of employment, and they will often choose this option.
Challenges and Solutions
Starting a website like Care.com or UrbanSitters, you should be prepared for certain challenges.
1. Trust and security
Safety is a question that concerns both parents and nannies. Parents need to be sure that they are leaving their children with a reliable and professional person, while babysitters also need to be cautious of working with strangers who might be dangerous or unfair.
Of course, the safest way is to use references from friends, or from a family where a nanny has worked. But if there is no such opportunity, babysitting platforms provide a safe alternative.
Here are some measures a babysitting website may use:
ID verification:

Users should complete their profile by adding social media accounts, photos, a self-introduction video, and references.

Interview with parents:

Parents may order a pre-visit online interview. SittersCity provides this option for paid members only.

Reference verification:

The platform Admins, for instance, might verify references by contacting them.

Caregivers' vetting:

54% of parents say that background checks are very important. This may include checking crime databases, driving license information, work papers, and education certificates. SupperSitters platform even takes the fingerprints of each babysitter.

Parents' check:

Ask parents to complete their family profile adding social media and ID, so that you can verify their identity.

Secure payments:

Bankcard or credit card verification and using the escrow payment method for transactions avoid underpayments, non-payments, and delays.

Live streaming and chat:

The app might have a video message capability that allows parents to contact the babysitter while she is with their child.
We'll talk about some of these features below in detail.
2. COVID-19 lockdown challenges.
With the pandemic outbreak at the beginning of 2020 and quarantine measures that were taken all around the world, many businesses had colossal losses or even went out of business. How does the babysitting business survive? Many nanny platforms took measures to help prevent the spread of the virus and continued to provide their services.
How to create a home sitters website during the time of social-distancing? Here are some tips:
No penalties:

The platforms stopped penalizing parents and nannies for cancellations due to illness.

Symptoms tracking:

UrbanSitter created a mobile app Collective Go in addition to the main website. The app allows parents and caregivers to test and track themselves and their children for Coronavirus symptoms and issue certificates of health every day. First, a user uploads recent test results for COVID-19. Then the babysitter tracks his/her vital signs daily. If he/she does not enter data every 48 hours, their healthy certificate is canceled, and the person must pass a formal test again.

'Essential workers' badges:

Platforms created virtual badges for parents who work for the government as 'Essential Workers' (medical staff, military people, grocery employees) and need the nannies more than those who can work from home.

Guaranteed hours:

If the family wants to avoid their favorite sitter contracting with other families during the epidemic period, they can provide them with a full-time job. To do this, they need to guarantee the number of hours they are willing to hire the caregiver.

Virtual babysitting:

The demand for virtual babysitters has increased by 700% between April and May 2020, according to Forbes. Virtual babysitting is now provided by Care.com, UrbanSitter, and Sittercity. Remote babysitting allows parents to work at home while their kids are engaged by a professional babysitter via Zoom, Skype, or an in-built conferencing tool. Virtual activities may include such activities as playing games, helping with homework, reading, crafting, drawing, dancing, or doing yoga.

Shelter-in-place:

This is an option to accommodate a sitter in the family home to exclude external contacts for the period of the epidemic.
Features of Babysitting Website
To create a babysitter website, you need to choose its features first. The features can be divided into two sections: for parents, and for child sitters. Any marketplace should also have an Admin section to manage all the users, transactions, and website content.
If you build a pet-sitter website or another niche platform, the features below are also typical.
Parents section
In this section, parents can register and search for sitters.
1. Registration and family profile creation Platforms usually have the parents register before they can search for employees. This way, they do not have to disclose the personal data of their sitters. After registration, the profile is created where the family can introduce themselves:
Indicate the number of children
Add children's age
Choose the preferred schedule for child care
Add children's interests, meal and care preferences, specific needs
Describe requirements (CPR, First Aid)
Clarify job duties (cooking, transportation, homework help).
A detailed profile allows potential candidates to understand if they match with the family.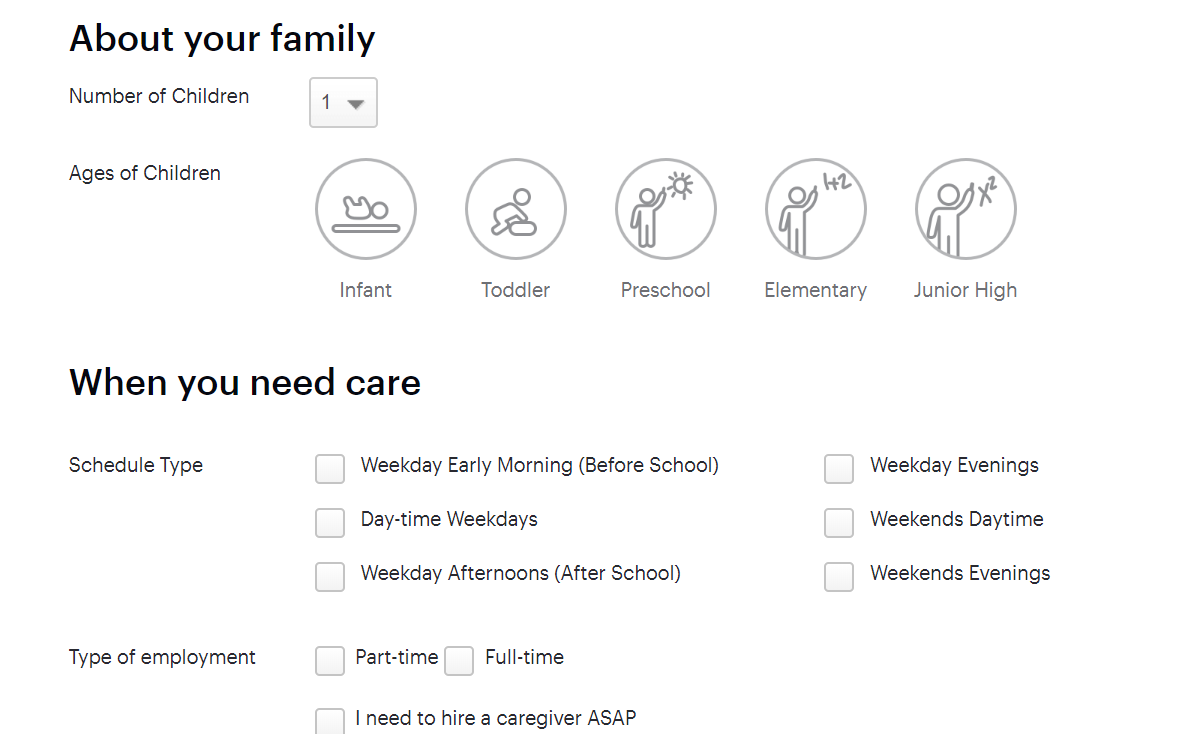 2. Search
Parents should be able to browse babysitters by experience, location, availability, pay rate, rating, and background.
3. Job posting
Let parents post job requests that can be found by the sitters. Parents need to add all meaningful details like the number of children and their age, schedule, duties description, location, and rate.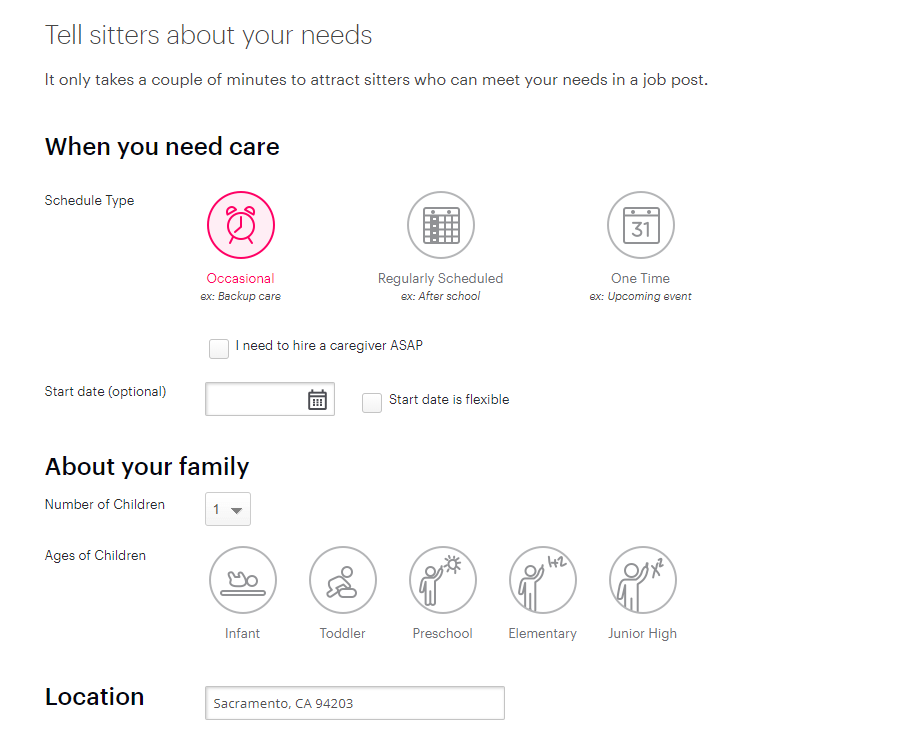 Some platforms (like SitterCity) moderate all job posts to prevent the posting of contact details, inappropriate language, and spam.
4. Booking Jobs
Parents should be able to schedule and book babysitting. They may either use an availability calendar or write to a sitter directly. As the sitters receive the request, they should either confirm it or reject it.
5. Payments
In the case of cashless transactions, the platform can take the necessary payment from the client's card and keep it in an escrow account until the order is confirmed by the client. Only after confirmation, the sitters can receive the payment. This safeguards both sitters and parents.
In case of cash payments, the babysitting website can ask parents to verify their bank account or credit card number before they're allowed to book a babysitter.
6. Sitter Reviews
Parents' behavior and reputation are no less important than that of the babysitter, so sitters should be able to leave reviews for families that will be shown on the Family profile to other sitters.
7. Budget Calculator
It is very comfortable to implement a calculator that will automatically total up all the payments for the scheduled hours and extra services. As one of the possible services, Care.com allows users to calculate the taxes in addition to the payment. Users can fill in different hourly rates and see how they impact the taxes.
8. Messaging Parents should be able to contact babysitters in a chat to discuss the details of the service. Users can also send messages to website support.
Are you interested in building a website for nannies or pet-sitters? Let's do it together!
Request the quote
Sitters section
This section is specially dedicated to sitters.
1. Registration and a babysitter profile creation
The sitter profile should contain as many details as possible: photo and video, experience, education, skills, references, additional services, certificates, rates, availability, and a greeting message to parents.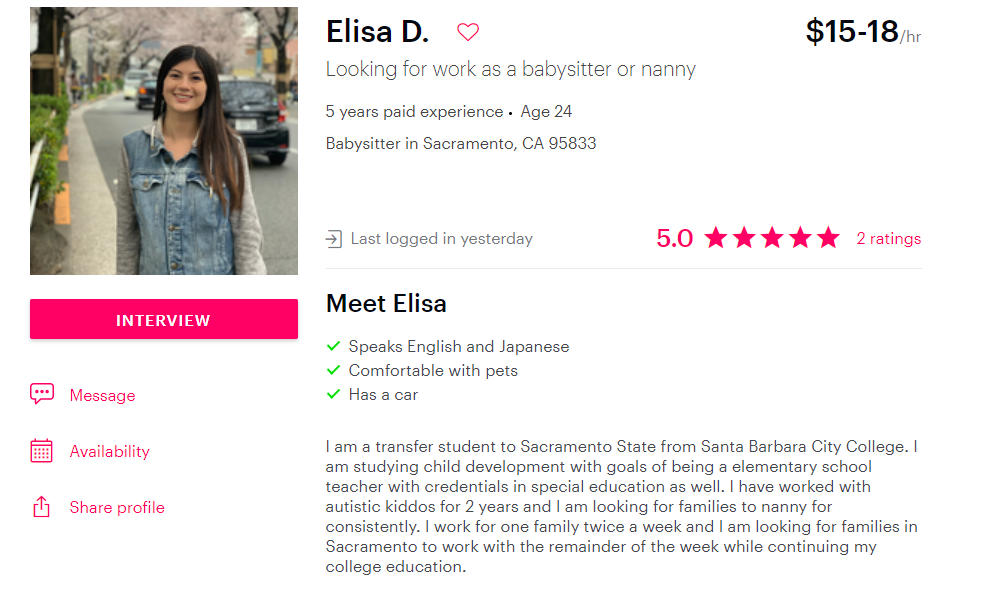 2. Identity verification and background checking
How to create a house sitters website that provides maximum security for its users? Security is the first priority for babysitting websites. An intensive scan can be completed before a person is verified and listed.
For identity authentication, some platforms use third-party services (like Experian) that compare the user profile information against publicly available data. This allows the platform to eliminate spammers and fraudsters.
Other checks may include searching for criminal databases and driving history. They can also verify information with social media, in-person interviews, phone screening, and checking of references. As a rule, such checking is done by partners who are experienced doing such services, for example, Sterling. Such a service can cost as much as $60-80, so you can suggest that users pay for the screening themselves. They will be able to add a badge to their profile about successful background verification so they will seem more trustworthy and have better chances of being hired.
3. Transaction history
All payments from the parents should be recorded in the Sitter account. This information can be used for tax calculation because, normally, the platform does not pay taxes for its users. Either a Parent (who in this case becomes an employer) or the caregivers themselves should pay the taxes.
4. Reviews
The profile page of a babysitter should contain reviews from previous families. This increases trust and adds points to the sitter's reputation. The reviews should be verified by the system to prevent fake comments. The platform algorithm should accept only reviews from the registered families that booked the sitter.
For one of our clients, we created a sophisticated algorithm of review verification that takes into account many factors to prevent fake reviews: the reviews from registered users only, one review from one email and one IP, and reviews from those who ordered the service from the reviewed provider.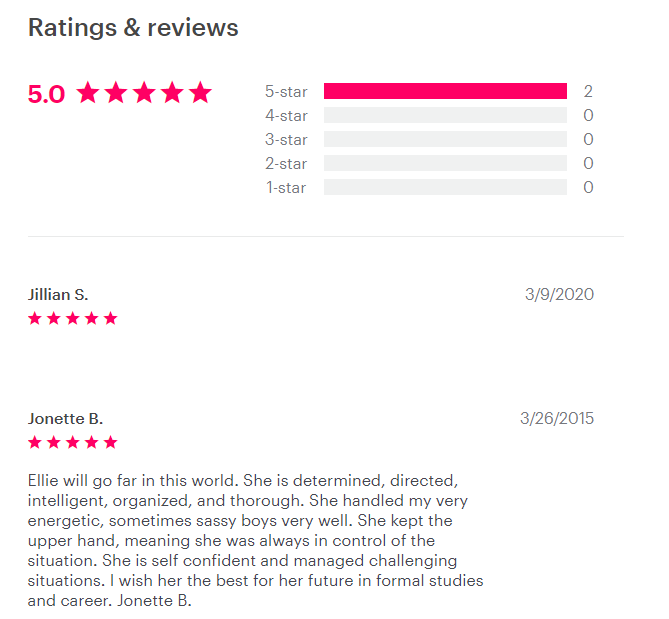 5. Messaging
Babysitters should be able to ask parents questions to clarify the details of their request. In the chat, it is also very comfortable to connect with Support.
6. Admin section This is the back office of a platform. The most valuable features include:
User management (categorization, blacklisting, profile editing, trial and subscription management)
Job listing management (editing and deleting listings)
Monetization management (enabling free trials, setting the pricing and subscriptions)
Transaction management (viewing status of all transactions)
Reports (generating different statistics for further analysis of performance)
Content management (uploading and editing website content)
Notifications management (creating and setting up user alerts, notifications, and email newsletters)
Integrations management (payment systems management, integration with CRM and other systems)
Extra Features
How to make a babysitting website that stands out among the competitors? You need to implement unique features that add value to your users. Here are some ideas:
Time-tracking:

Some platforms build time-trackers into their apps that count the time the sitter spends at their employer and automatically bills for the total time on the job. This avoids arguments and prevents loss of income for sitters.

Geolocation:

tracking Geolocation allows parents to see where their children are at any moment. This feature can also help parents find babysitters in their neighborhood. For example, for a Medical staff job board website, we created a Search that pinpointed locations on a map.

Shared events calendar:

Babysitting may include taking kids to school and back, or attending different scheduled activities. It is nice to have the whole day's schedule shared with the sitter, and any updates synchronized with Google calendar or similar apps.

Activities tracker:

Parents may want to check if their kids are following a daily timetable for naps, bottles, meals, etc. The tracker allows sitters to checkmark all the planned activities.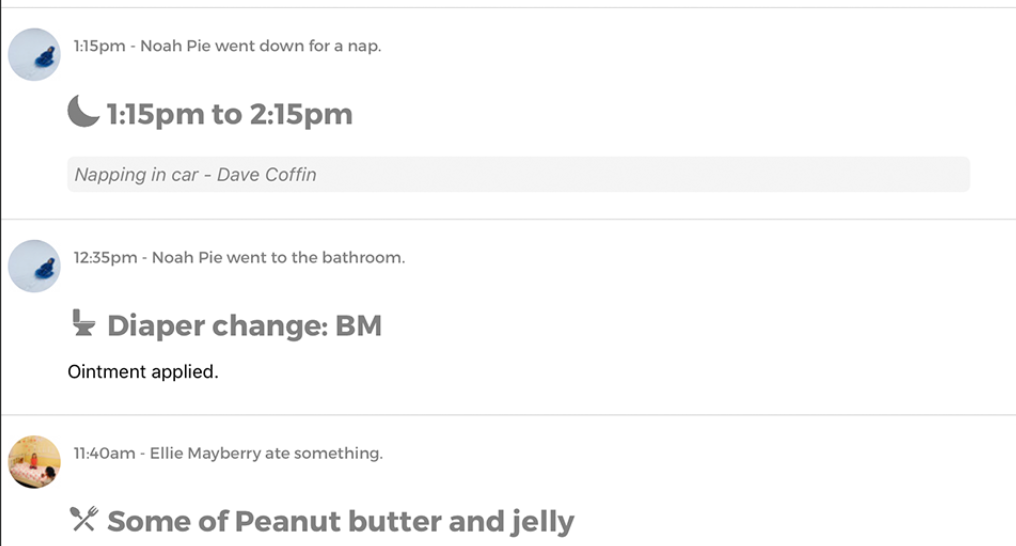 Live streaming video and chat:

This is a security measure that allows parents to remotely communicate with the sitter and child.
How to Apply This to Your Business
So, remember the question at the beginning of the article?
"If you would need to choose between your favorite restaurant and your favorite sitter, what would you choose?"
Even though this question may seem ridiculous. But as the statistics show, 40% of parents answered that they would choose a babysitter versus 27% who favored the restaurant! It means that finding a good babysitter is rather a problem and once found a babysitter becomes a valuable part of the family.
To build a website like Care.com, you do not have to have all the features at once. You can start with an MVP (minimum viable product) to launch quickly and test your idea in the wild. Then, you can gradually improve the website by adding more advanced features.
Our team will be glad to help your project become a dynamic and thriving website!
Rate this article!
You should be
logged in
to be able to rate articles