Whether you are a startup or a business that wants to create a SaaS solution, we can help!

We build SaaS applications of any complexity.
SaaS Software Development Services
We are a flexible, highly-experienced team of developers and business analysts
who are ready to be your partner for the technical aspects of your project.

We help in the following cases:
Are you a startup with limited technical experience? We can help with…
SaaS development consulting
Have an idea of a SaaS but don't know how to start?

We will guide your journey through the steps of SaaS application development services and discuss possible challenges. Our business analysts will give you a hand in the discovery phase. Then they will help formulate your requirements and create written specifications. Tell us your ideas and get the support of professionals.
SaaS app development from scratch
Are all the requirements collected? Are you ready to begin?

Our team leads will analyze your requirements, estimate the cost and the time required, and choose the best stack and architecture. Our team of experienced developers will build the application from the ground up and get you started as soon as possible.
Do you already have a software solution you want to turn into a SaaS?
Here is what we offer…
If you already have a web application and want a SaaS version, our Team Lead will plan the appropriate SaaS architecture. We use a multi-tenancy approach that maintains secure data.
Need to migrate your software to a cloud?

We have extensive experience with AWS and Google Cloud infrastructure that provides tools for reliable, secure, and cost-effective data storage.
Do you need some help with your existing SaaS product? We offer…
Improvement of ongoing projects
If you need to enrich your SaaS project we can complete unfinished tasks, add new features, or remodel the architecture. We can even update the SaaS development framework. You can bring us in at any stage of development and our front-end, back-end, or QA testing specialists will work their magic.
SaaS support and maintenance
Need post-development maintenance and improvements?

We support our clients as long as they need us. Rely on us to update the technology, fix errors, and implement necessary new features.
Other services for SaaS projects
Want to make sure that your SaaS works correctly and flawlessly?

Our experienced QA team will check the application from different angles using the best manuals and automated quality assurance techniques.
SaaS support and maintenance
Looking for developers to create an API for your SaaS?

Here we are! We are experienced in API creation and integration. We also write clear API documentation that allows other services to integrate with your SaaS.
Types of SaaS We Develop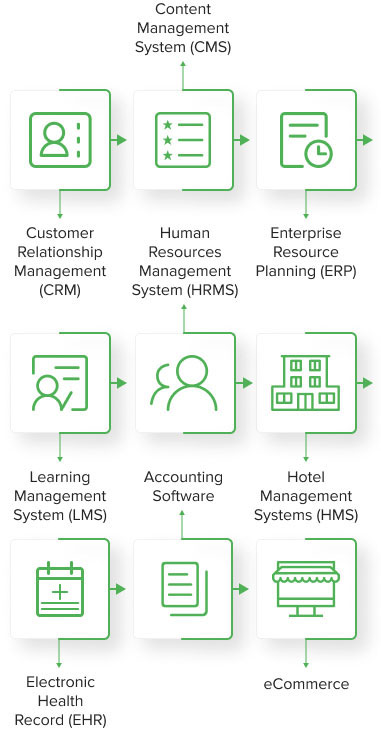 Industries
We help businesses create custom SaaS solutions for different domains:
Why choose Greenice for SaaS
platform development?
With us, you will get the best SaaS web development team!

We are:
Experienced in programming
Our team consists of full-stack PHP programmers who will develop 
a SaaS product of any complexity. We use the best coding practices and the latest technologies. Our applications are structured, flexible, and scalable. Our programming is easily maintained and modified by any SaaS software developer. Simply put, our code is a work of art.
We are a team of full-time employees with stable salaries and working hours. Unlike freelancers, we never disappear and are always available for your questions. We have a solid and dependable reputation; our reviews speak for themselves.
Our level of English is near-native. Each project has a personal Project Manager who supervises the communication between clients and developers, tracks the status of the project, and reports promptly to each client.
Responsible for the quality
Before the launch stage, we assign QA engineers to check the application for quality. Their meticulous inspection does not let even the most minor bug pass unnoticed.
Testimonials
There are many PHP web development companies. But how to choose the best? Read what our clients say about us on Clutch:
Dmitry Polonsky
Application Development Manager at Atlantic Coast Brands
The project was completed perfectly! When we worked on the project, we constantly faced issues, how to implement some modules, and every time Greenice's developers helped us to weigh up all the solutions and to choose the only right and optimum one that perfectly suited our company's strategy. They are experienced, and they have deep knowledge. Most importantly our business priorities are always in first place for them.
Imdat As
Arcbazar Founder
In 2014 Arcbazar became one of the Entrepreneur's 100 Brilliant Companies. And of course, it was all thanks to Greenice, without them we couldn't have done it.
Bruce Lindsay
CEO, NoCowboys
Consistently producing satisfying deliverables, Greenice continues to manage site upgrades and expansion. The team communicates and organizes assignments effectively to ensure project goals are met. They foster collaboration to optimize resources, which has made them a valuable partner.
Our Expertise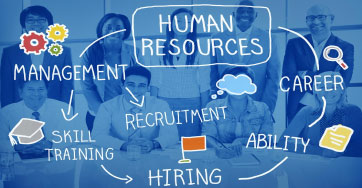 SAAS FOR CAREGIVING AGENCY
We built an HRMS and a SaaS for a caregiving agency that simplified the application process and onboarding of caregivers. The system includes the caregiver's personal information, work schedule, online training, and job requests. The SaaS part of the project fulfills the role of a SuperAdmin managing the organizations that use the HRMS by subscription. They will obtain all the same functionality as our client's organization and will be able to create positions, divisions, checklists, and organize training.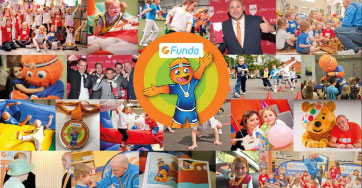 FUNDA
We've developed an online booking system for сhildren's extracurricular activities. Using the solution, parents create schedules for their children, and organizations can add new activities all the time. This system is distributed as a SaaS solution and can be customized to accommodate gyms, fitness centers, and other organizations where kids "get physical."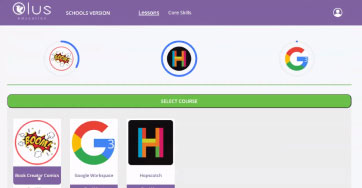 OLUS EDUCATION
We helped a client upgrade their SaaS eLearning platform for digital skills and coding. This platform is two-fold. On one side, schools manage teachers and students and store courses for Primary and Secondary schools. On the other side, students can access and pass these courses using their personalized learning path and track their progress.
Our Achievements
Greenice is among the top web development companies in Ukraine as verified by world-renowned review platforms.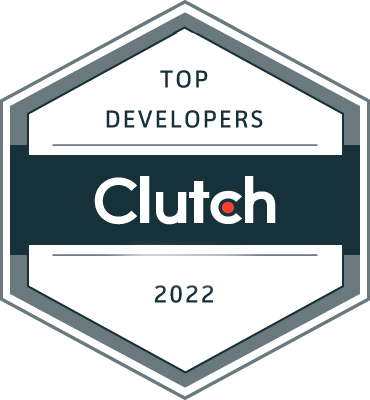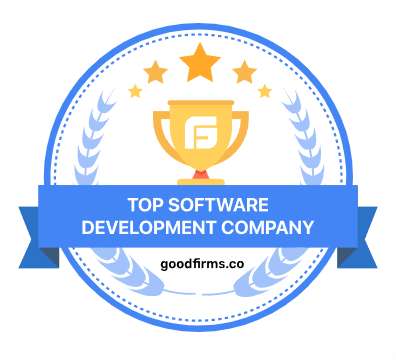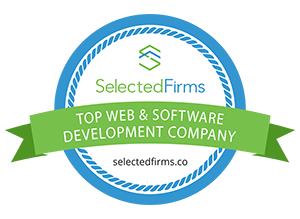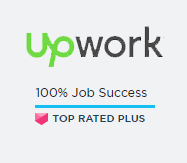 Our Technology Stack
Back-end developers are experienced in the following back-end development technologies and tools:
Programming languages and frameworks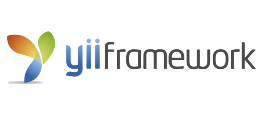 Databases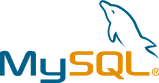 Search engines



Working process



Web servers


Cloud services


Insights
Find more insights in our Blog:
Frequently asked questions
What is SaaS?
SaaS (Software as a service) is a distribution model where the application is hosted in the cloud and accessible on-demand.
Why outsource SaaS development?
Outsourcing a SaaS allows you to get high-quality development at affordable costs.
I have an idea for a SaaS but no technical knowledge or experience. Can you help me?
Yes, we are experienced developers who can handle all technical aspects of your project.
Can you convert my existing solution into SaaS?
Yes, we can use SaaS architecture to create functionality that is similar to your existing project.
I have a half-developed SaaS. Can your team help me complete it?
Yes, we can start working on your project at any stage of development — from discovery to after-launch maintenance.