How to build a freelance marketplace like Upwork or Fiverr and become a leader in the gig economy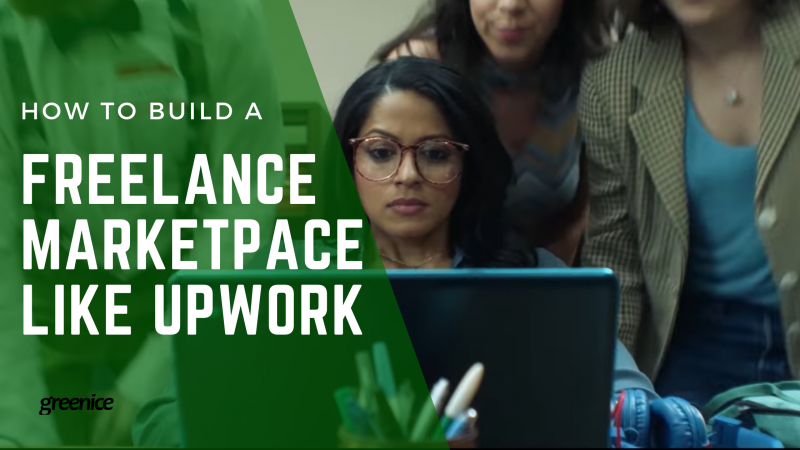 According to Accenture, 20% of Fortune 500 companies are already using Upwork and the number of contract hires will only increase. Does that mean that new freelancer marketplaces will emerge and gain power? Yes!
The Freelance Market has been thriving for a long time and the pandemic vastly fueled its growth. In 2021, there were 1.1 billion freelancers worldwide and the worth of the freelance market surpassed $4 trillion. Why don't you get your own piece of the pie by building a freelance website?
Top 10 Tips to Build a Website Like Upwork or Fiverr
Before we present useful tips on how to build a website like Upwork, let's discuss why you should start a freelancer platform in the first place. Here are some facts: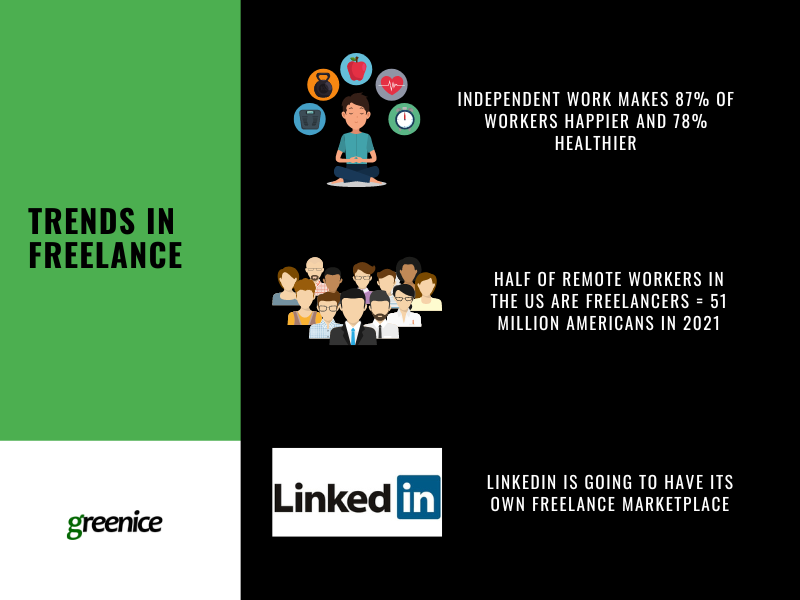 Millenials and Gen Z prefer working independently and believe it is a secure alternative to traditional work.
MBO and Partners' research says that 87% of those in the workforce feel happier, and 78% feel healthier working independently than at a traditional workplace.
The pandemic and the digital nomad culture have encouraged the rise of remote work.
Half of the US remote workers work as freelancers.
A study by MBO Partners says that in 2021, 51 million Americans worked independently ‒ a growth of 34% compared to the previous year.
More and more companies are using freelancers. In 2021, Microsoft decided to jump on the bandwagon and create a marketplace for freelancers within LinkedIn.
So, you want to build a freelance marketplace. Let's figure out how it's done.
1.Research the competition
Upwork is the most popular freelance platform in the world. The company was born out of the merger of the two dominant players of the freelance industry, Elance and oDesk, in 2013. Today you can find almost any type of digital services at Upwork, but it's most famous as the biggest marketplace for web and mobile developers. Both individuals and agencies offer their services at Upwork. In 2021, Upwork generated $502M of revenue. Who are its competitors?
According to g2, the closest rivals of Upwork are Fiverr, Freelancer, and Toptal: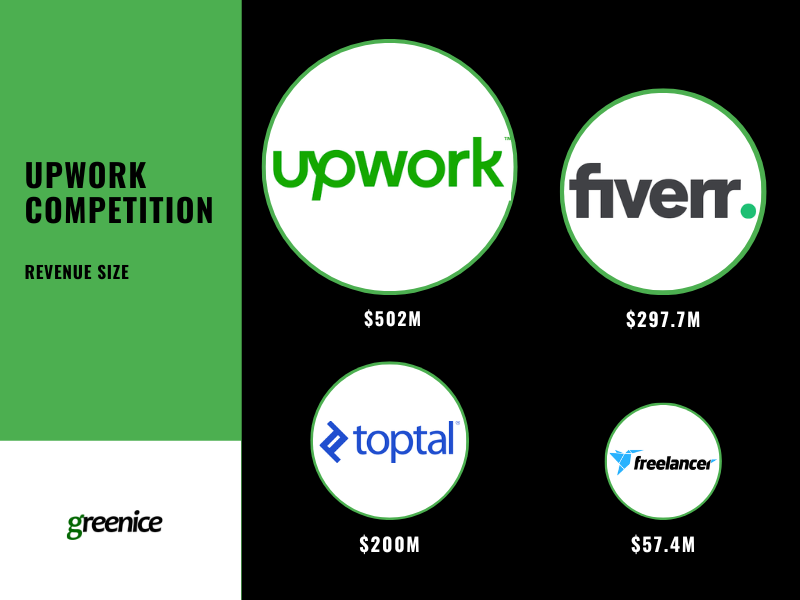 Fiverr is another freelance platform with a full range of services from copywriting, to design, to SEO, and beyond. Its main focus is microservices, also called gigs, making Fiverr the go-to place for small, one-off tasks. Gig prices start from $5 per job. Fiverr charges a 20%-commission from sellers and 5% from buyers.
Fiverr Revenue in 2021 - $297.7M
Fiverr Users - 7.3M
Fiverr is the closest alternative to Upwork in terms of popularity, range of service and accessibility. Fiverr is different than Upwork because:
It's mostly for short-term projects.
It shows service packages (gigs) tailored to the task instead of freelance profiles and resumes.
Posting jobs on Fiverr is less popular than searching for a candidate.
Clients usually search for workers, not vice versa, so the job posting option is hidden in the menu. Fiverr's vetting process is less strict.
Fixed prices instead of hourly rates helps to avoid overtime and out spending the budget.
Toptal focuses on providing pre-vetted freelancers for big companies.
The platform has the highest standards and lists only 3% of all applicants.
Toptal mainly works with software developers, but also finance experts, managers, and designers. Prices start from $40 per hour. The platform charges markup fees over freelancers' hourly rates + $500 initial deposit per hire.
Toptal Revenue in 2021 - $200M
Toptal Users - over 10,000
Freelancer.com offers specialists from multiple areas and works with both big and small projects. It has low entry standards for freelancers and lacks quality assurance, but features like contest posting are very attractive. Starting from $5 for a basic plan, price ranges vary depending on membership options. There is commission for both freelancers and employers and extra paid features.
Freelancer Revenue in 2021 - $57.4M
Freelancer Users - 61.3M
Other freelance platforms focus on specific regions or niches. For instance:
Revelo - specializes on software developers in Latin America,
Contently - gigs for creative work,
Supersourcing - IT services for big and small companies
Skyword 360 - focuses on content writing.
Now let's examine how you can compete with these platforms.
2. Identify your target audience
Before you start a freelancer platform, you must define who your client is. Is it an individual, small entrepreneur, or a large corporation? Also, decide on who your freelancer will be - a highly-skilled rare specialist or a student searching for part-time jobs and experience? Knowing your audience, you will be able to create a value proposition exactly for them.
Pay attention to trends as well. What audience should you focus on now?
The transfer from the industrial to the digital era is accompanied by the disappearance of prejudice to freelancers' work quality. If previously freelancers were regarded as cheap, low-qualified workers, now the marketplaces focus on selecting rare and highly-professional specialists that are interested in the growth of their client database and salaries.
According to a report from Intuit, 80% of large corporations plan to hire more freelancers in the next few years due to the cost and inefficiency of the traditional hiring process.
Quick search, a great pool of candidates, a simplified hiring process, online management, and the opportunity to hire on-demand for temporary jobs are the biggest drivers of the freelance economy.
Focusing on enterprises can be more profitable for platform owners. Upwork, Fiver, and other existing marketplace understand this and have already created 'Pro' versions for corporate clients. On the flip side, if you choose to focus on this audience, be ready for big guys to demand excellent quality. The risks are high.
3. Define your value proposition
Freelancer platforms have many challenges. If you present novel solutions, your proposition will outshine the competition: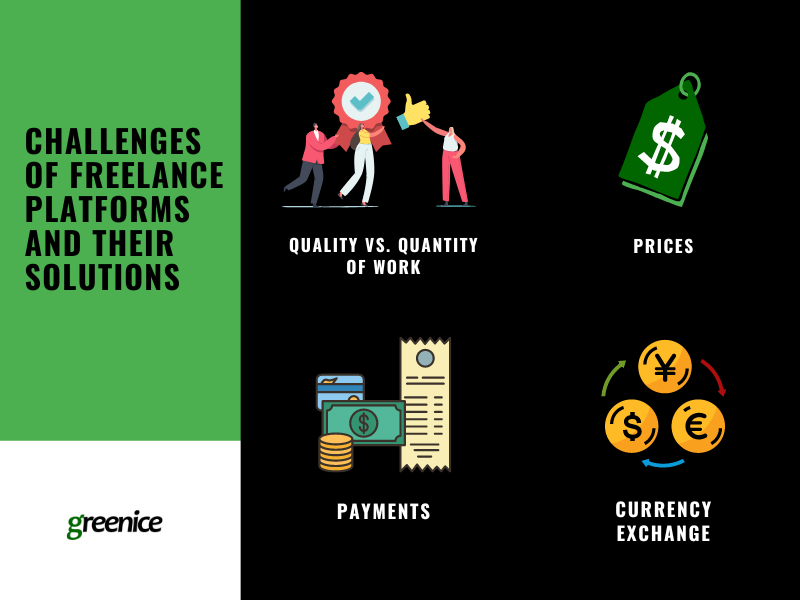 Quality vs. quantity
Some platforms pre-vet candidates. The platforms filter and interview their users to pick the best of the best. For example, Toptal vets freelancers through tests, screening, and live interviews. Of course, it takes a lot of resources to scan all the candidates and make sure they fit their job descriptions.
Freelance marketplaces like Upwork, Fiverr, and Freelance.com do NOT pre-vet candidates. Anyone can join and selection is completely up to the client. This creates a large pool of freelancers, but the quality of their service is like a shot in the dark. The only way for the client to know who to trust is to look at freelancer's ratings, reviews, earnings, badges on the platform.
Possible solution: Depending on your aims you can either provide easy access for everyone and gather a large audience (like at Upwork or Freelancer), or you can restrict access by filtering professionals by their qualifications and experience (like Toptal). You can gather rare specialists and verify their reputation to create a unique pool of freelancers that clients will appreciate.
Prices
Low prices are attractive to clients of freelance platforms. They want to find an inexpensive, quality service. Prices of freelance work range widely. You need to balance quality and cost.
Possible solution: Analyze competitors' prices and services and figure out how you can make the price for some services lower without sacrificing quality and your profit. For example, one additional service is a project management layer between client and freelancer (like at RemotePanda); another service is auction bidding among freelancers; and guaranteed money back in case of bad service, is another. Or you can make a website like Fiverr with its $5-starting price. Clients want to save a buck wherever they can.
Payments
Besides finding clients easily, freelancers want to get paid without extra hassle. In some cases, freelancers wait forever for their payment, and sometimes it never comes. Statistics say that 29% of invoices are not paid on time.
Possible solution: You can demand partial payment in advance, or withhold the final project until payment is received. Alternatively, you can add Escrow payments so freelancers can receive payments immediately.
Currency exchange
Because freelancers come from any part of the world, they expect to have a choice of payment methods. Most platforms allow withdrawal in US dollars only. Thus, freelancers lose money on the conversion from USD and transactions take longer.
Freelance jobs are usually not expensive, so every penny counts. For example, after paying a fee to PayPal, then losing a percentage to conversion from USD to the local currency it cuts into profit. Furthermore, waiting weeks to be paid is doubly annoying.
Possible solution: offer multiple payment options and currencies if you offer services all over the world. Most modern payment solutions, like PayPal and Wise, support the biggest global currencies. If your platform will work at some specific local market, make sure to choose a service that operates in local currency.
Need a FREE estimate for your future freelance platform?
Contact Us
4. Select the type of freelance platform
Marketplaces differ in types, business models, purpose, and feature sets. To stand out among competitors, you need to define your niche, target audience, what project you are aimed for, and how you are going to earn money. There are general marketplaces like Upwork and Freelancer, but there are also a lot of narrowly specialized websites with less competition in the niche.
Thus, Arcbazar, our client, created the first global contest platform for designers and architects. iWriter is specializing in all kinds of text-writing. Toptal is aimed at highly qualified professionals. NoCowboys is a platform for freelancers from New Zealand and Witmart.com is mostly for Chinese employees. What is particular about your projects? This is what you need to figure out!
Depending on which type of platform you choose, the feature set and business model will differ. Here are some of the common freelance marketplaces types:
| | | |
| --- | --- | --- |
| Type | Peculiarities | Examples |
| Local marketplaces | Link buyers and sellers living in a single location | LocalSolo, Freelancer, NoCowboys, TaskRabbit |
| Long-term projects | Projects that need a continuous partnership with multiple task stages | Upwork, Freelancer, Outsourcely |
| Short-term jobs | Single-task job services | Fiverr, Lorem, TaskRabbit |
| Industry specialized | Focused on one area - for example, web design, writing, IT | 99designs, Behance, Dribbble, Reedsy |
| Contest platforms | Websites where a customer posts contest conditions and freelancers submit their ideas. The winner of the project is determined by the customer | Arcbazar, DesignContest |
| Part-time jobs and internships | Aimed at college kids that are looking for a way to earn more cash while they are in school | College Recruiter |
| Enterprise-focused | Platforms that help large companies hire freelancers that match their demands | UpworkPro, Toptal, FiverrPro |
5. Select your business model
90% of freelance platforms make money from commission charges. But this is not the only way to monetize. Business models can include the following: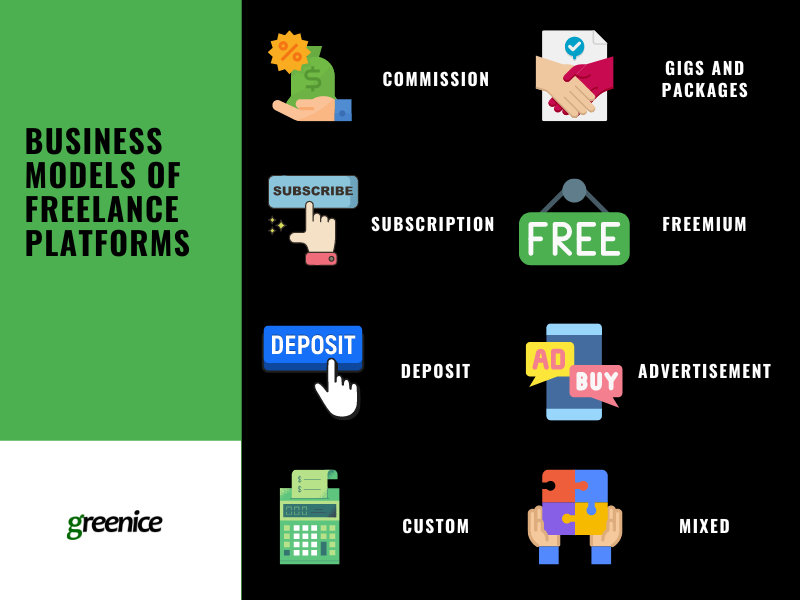 | | |
| --- | --- |
| Commission model | This is one of the most popular business models. You charge a service fee for every transaction made on the platform. For example, Upwork takes 5-20% of the freelancer's earnings. |
| Gigs and Packages model | The freelancers estimate a piece of their job and set the price. The client purchases the necessary volume of services like in online shopping. Some services can be combined in packages. A good example of such a model is Fiverr. |
| Subscription model | Users pay a monthly fee to use marketplace services and features. There can be several options for any budget. |
| Freemium model | In combination with the subscription model, the freemium model can be proposed. Such a subscription type is free to use, but with limited opportunities. In case users need more options, they can upgrade for an extra fee. |
| Deposit model | To start using such a platform, a client should deposit money. If an employer is not satisfied with the services of hiring, the marketplace refunds the deposit. For example, Toptal requires $500 for an initial deposit. |
| Advertisement model | As an additional source of money, the platform may propose 'highlighting' freelancers' profiles and showing them at the top of the list for an extra fee. |
| Custom price | This is especially appropriate for Enterprise customers when the volume of work is hard to estimate using standard fees. For such clients, they can make special offers calculated by account managers. |
| Mixed model | Depending on your platform services and aims, some of the above models can be combined to provide more convenience to users. |
6. Identify the core features
Any startup's aim is to launch as quickly as possible to test the idea and start earning money and traffic. That's why you should start development with the essential features your platform can't live without. Here are some MVP features to build a platform like Upwork:
User profiles and settings
The user profile should contain all basic and contact info, a description of the experience and skills, examples of completed projects, gig offers, ratings, feedback from clients, etc. In the settings, users should be able to select the desired payment method, form of communication, alerts, and notifications, and password settings.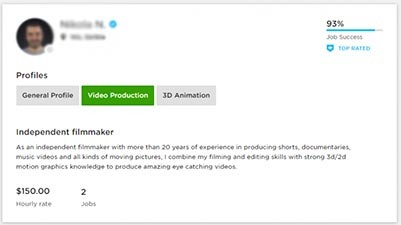 Search and filters
Without a robust search and filtering, it would be hard to find a necessary specialist. At Greenice, we use the power of ElasticSearch technology to provide the quickest and smartest search for any size of the database. Here is how we created a search for NoCowboys, where people are searching for freelancers for home repair, gardening, and other help among local tradesmen in New Zealand. There are automatic search criteria that can be changed to lookup by proximity, rating score, categories, recency of registration, etc.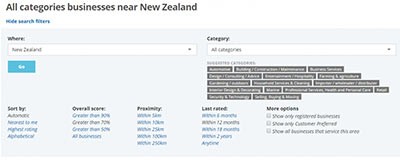 Secure payments
Providing a variety of payments and currencies is essential for international platforms to attract more people to your service. Thus, in one of our projects, Arcbazar's contest marketplace, we made localization in 10 languages and added 13 currencies for the users.
To make the life of users simpler, automate all billing processes, calculation of fees, and sending out invoices. Implement the escrow method to protect both your clients and freelancers from fraudulent behavior. Escrow is a payment method in which money is kept on the third-party account until the client approves the job completion. Then, the payment is sent to the freelancer. Such transactions increase the level of trust in the platform both for clients and contractors.
For example, at Fiverr, when the order is delivered, the client has only a few days to approve or send it back for review. In case the client does not do anything, the system automatically approves the job as completed successfully and sends the money to the freelancer.
Messengers
Before hiring a person, a client may need to clarify some requirements or conditions of work. It may be necessary to stay in touch with each other with updates on progress. That's why it is important to implement communication methods with the opportunity of sending text messages, files, and media files, otherwise people will communicate out of the platform and it will lose clients.
Reviews and ratings
After a job is completed, a client may rate it and give feedback to freelancers to help their rate among others. For example, for NoCowboys we created a smart system of verified ratings. Many rules made sure that everything was fair:
Only registered users can post reviews.
IP addresses are tracked: one feedback from one IP, even if one user has created many emails.
Only one rating from one registered email for one job done.
Displaying unauthenticated ratings with a special mark so that users understand that these reviews are not verified and can be fake. Look at the difference between authenticated and unauthenticated ratings: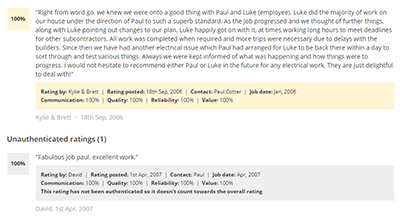 7. Identify the extra features
If you're not spicing up your core functionality with some extraordinary features it will be hard to win the battle with your competition. Here are some 'extras' from the leaders of the niche that you can take as examples.
Using AI to match freelancers with projects
Using AI and Machine Learning for matching is at the peak of popularity because of the great opportunities that it brings. This is the main feature of the Gigster platform. The system does not use hard-coded algorithms for matching inflexible for changes, but on the contrary, uses each alternation of clients' behavior to correct the matching preferences in the future. the ML-based matching compares freelancers by expertise level, skills, availability, timezone, and hourly rate, among others, and identifies the best candidates for the job.
Price recommendation
It's a non-trivial task for both freelancers and clients to estimate the job price. Users can view and compare the other's gigs and posts but still feel hesitant about the adequacy of their sums. To give more confidence to your users, implement a price estimator that will automatically compare the skills, timeframes, job volume, and special requests with the database to suggest the optimal price. We did an ML-based recommendation system for one of our key clients, Arcbazar, an international peer-to-peer marketplace for architects and designers.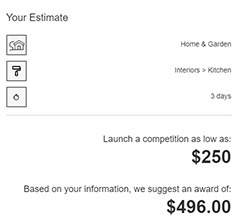 Time and progress tracking
As a rule, clients need to have the job done in the specified timeframe. That's why both parties - clients and freelancers - have an opportunity to track the time with an independent tool to escape disputes. Having an option of showing the work progress also allows for a better understanding of how long it takes to get to the finish.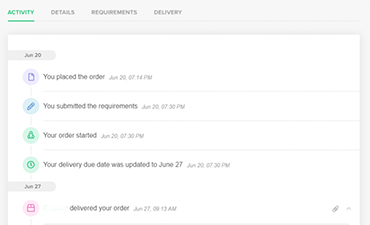 Variety of communications channels
It is very important for freelancers to be able to quickly clarify job details, control the fulfillment, and ask questions. Having multi-channel communication between client and freelancer can be what sets you apart. Add text chat, video calls, emails, and recorded voice messages that provide a convenient way to immediately discuss any questions.

Automatic gig and packages calculator
Gigs usually provide some basic price, but if a client needs more out of the standard volume, it's a good idea to not waste time counting the price manually. All calculations should be automated on the platforms to create bills ready for payment. Like in Fiverr, for example.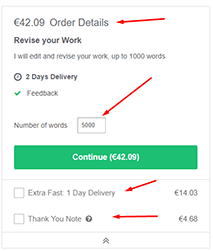 Mobile app
Now that people make so many decisions on the go, having a mobile version of your platform can be a key factor for attracting the audience. A mobile app allows people to stay in touch and get notifications without needing to sit in front of their computers. It allows you to get instant answers to questions and view newly posted jobs, and thus, enhances customer loyalty as well as increases freelancers' chances of being hired.
Project management for a blended team
Many companies outsource only some of their jobs while having an in-house team. It can be inconvenient to manage one project in two different software - tracking time, assigning tasks, setting milestones, sharing documents and ideas, etc. To manage everything in the same space, create a project management environment inside of your platform or create an option of integrating it with third-party tools to synchronize data between systems. Such an approach is used by Outsourcely, PeoplePerHour, and Guru.
Gamification and rewards
To stimulate the interest of your freelancers, introduce a system of badges that will allow them to increase their visibility, get access to projects first, purchase extra features, and other perks. For example, earning badges for participating in contests, passing tests and surveys, completing more projects on time, or getting the highest rates from the clients. We implemented badges for the NoCowboys marketplace which show the clients if the business is verified, registered, customer preferred, high rated, etc.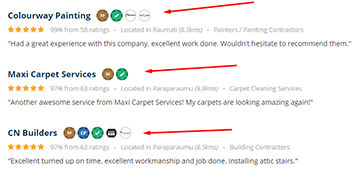 Combination with eLearning
Freelancers need to grow professionally. Giving a chance to learn online and earn certificates on your platforms can increase their chances for a better job. Fiverr created an eLearning opportunity for their freelancers. After course completion, a badge certifying the new educational level appears on the freelancer's profile and is shown to employers as proof of a freelancer's skills.
8. Create specifications and send them for estimation
When we build a house, we need to have a plan of work to be done. How many stores and rooms will it have, what color of flour and walls should it have, etc? The same is for the development of a marketplace.
In case you need assistance on the Discovery phase, our Business Analyst can help you with understanding the challenges and needs of your business, making a competitor analysis, gathering requirements, and prioritizing features. To tell you how much it costs to build a website like Upwork, Fiverr, or other platforms, we need the answers to the following questions:
What is the goal of your project?
Who is your target audience?
What is your business model?
What features do you need (at least a high-level understanding of how it should all function)?
By our calculations, to build an MVP of a custom job marketplace like Upwork or Fiverr, it may take from 3 to 5 months and cost $30,000-50,000, correspondingly. If you need more accurate numbers, we need to study your requirements.
Need help with your project specifications?
Contact Us
9. Create a stunning design and start coding
When the specs are ready and you have defined the core and additional features, you may order a web design. It should be modern, neat, and usable to help users intuitively understand how to use your platforms. With the ready design, the development team can start the coding. At Greenice, we have experienced frontend and backend developers who will make it all work together.
10. Test it in the wild and improve
"Have no fear of perfection - you'll never reach it." - Salvador Dali
Do not strive to make it ideal all at once. As a startup, you aim to launch quickly with minimum time and budget waste. As soon as your MVP is ready and tested by the inner QA team, make it live, and collect the first feedback from real users. Successful projects are always in the process of improvement and are gradually adding new features that allow them to scale up. Feedback from the customers allows them to make useful changes and get rid of useless features that make the software clumsy and hard to use.
Conclusion
The freelance marketplace business is one of the main characteristics of the digital era's workforce. Large enterprises decrease the bureaucracy of the hiring process and prefer to use the benefits of a global pool of specialists, disregarding their location. That's one of the reasons why you have a great opportunity to make headway despite the competition.
What we recommend is that you be quick to launch your MVP. For that, you need to create specifications that will outline your project's logic and purpose so that our development team can estimate the work involved and start on it as soon as possible.
---
Author: Anna Klimenko is a market researcher and author at Greenice with multifaceted knowledge about different types of business and technical solutions. Anna's experience in technical writing and product management allows her to understand web development processes and enables her to translate technical concepts into plain language to help entrepreneurs make informed decisions.
Co-author: Sergii Opanasenko, Co-Founder of Greenice. Together with his business partner, he oversees agency operations and cares for the wellbeing of the team. A former programmer, he is known for his critical thinking and problem-solving skills, as well as a passion for technology. Outside of work, he is also a loving husband and father.