Web Based ERP Software Development
If you are reading this, there is a big chance that so far you haven't found a perfect off-the-shelf ERP system for your business. Therefore, you are left with two options: to customize a standard ERP or to build your own. Both are valid, depending on the amount of customization you require.
Why Get a Custom ERP?
If you found a standard ERP that closely fits your business at the moment and in the foreseeable future, then go for it. Most likely it will be cheaper and faster compared to building your own ERP from scratch.
However, if the system you've found requires a lot of customization from the start, the best option would be to consider developing a fully customized ERP. Experts advise against heavy customizations, saying that changing anything more than 10% of your standard ERP could lead to problems with support and upgrade. In this case, the benefits of a fully customized system will by far outweigh the development cost and time.
Automate Your Business With a Custom ERP
We can build an ERP system that will automate all major processes of your business and integrate this system with any other software you are already using. Therefore, your system can cover your business 360 degrees, or automate and integrate just the processes you need.
Sales
Marketing
Call center
Procurement
Accounting
Logistics
And more.
Benefits of Custom ERP Software Development by Greenice
Perfect Fit
We will design and plan the ERP for YOUR business and not vice versa, as with standard products.
Web-based
We specialize in cloud-based ERP development, which gives our clients a lot of flexibility, convenience and cost-efficiency.
Scalable
Your business will change with time and your system will grow and evolve with you.
Secure
Your system will be unique and you will have full ownership of the code. This will make your ERP extra resistant from hacker attacks.
Featured Project
Custom Web-Based ERP for a Leading Cosmetics Company
A leading American cosmetics corporation has outsourced upgrade and maintenance of their custom web-based ERP system. For a little over six years, a subteam of our programmers and team leaders has been working as an offshore development center for this client (on this and other projects).
7 departments of our client company (Customer Service, Finance, Accounting, Web Marketing/TV-Radio Marketing/Print Marketing, Shipping and Processing/Warehouse, Operations, and Retail) build their work processes using the ERP.
400+ employees use it every day.
ERP processes six-figure customer orders daily, and these numbers are growing day to day.
Database consists of 368 tables; some of them contain 1M+ records. At the same time, it is fast and stable.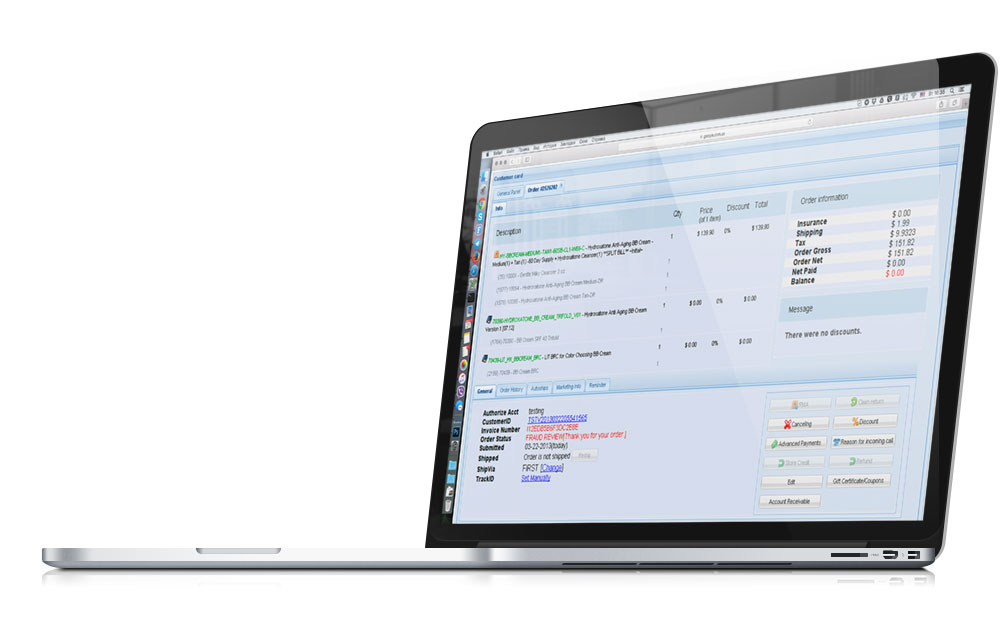 Get Your Estimate Now
LEAVE YOUR EMAIL AND WE'LL CONTACT YOU WITHIN THE SAME BUSINESS DAY