Yearly, $17.2 billion are raised through crowdfunding in North America alone. And the whole crowdfunding industry is predicted to reach $300 billion by 2030.
Despite tough competition with sites like Indiegogo, Kickstarter, Patreon, and niche platforms, there are still untapped areas for new players. Moreover, while most of the economic spheres suffered during the outbreak of COVID-19, crowdfunding platforms, on the contrary, shined with donations that help people and organizations fight the pandemic and crisis.
How to start a crowdfunding platform? Below we'll talk about business opportunities, cover the technical aspects of development, and discuss possible challenges. Read on!
Steps to Build a Crowdfunding Website
Starting a new business is super-exciting but, at the same time, it is a real pain in the neck for an entrepreneur. There are so many 'How's?': How does this business work? How can I stand out among competitors? How to comply with legislation? What features are the most essential? How to create a crowdfunding platform with a low budget? Should you go with off-the-shelf programs or develop from scratch? How to find reliable and experienced developers?
To relieve a part of your burden, we made a deep dive into the topic and completed this guide for you. We hope that it will help you to find some answers and convert them into actionable steps on the journey from idea to success.
1. Learn How Crowdfunding Works
Many ideas would just stay ideas without the necessary funding. However, it's not easy to attract investors who would give money to a stranger with a prototype of a product in hand.
'Someone once told me that the probability of an entrepreneur getting venture capital is the same as getting struck by lightning while standing at the bottom of a swimming pool on a sunny day.' — Guy Kawasaki, an American famous marketing specialist, author, and Silicon Valley venture capitalist.
Crowdfunding has opened a golden opportunity for startups and innovators who struggle to get financing.
Crowdfunding is a way of raising capital for a venture by asking for small amounts of money from many people rather than a lot from a few. As a rule, crowdfunding campaigns are processed via specialized online platforms.
At its core, a crowdfunding platform is a two-sided marketplace: fundraisers, or creators on one side, and donors or backers on the other side. The platform provides a virtual space for interaction between them.
Any person who has a business idea, charity, or personal need may start a crowdfunding campaign by posting the project description, business plan, and photos of the future product on the platform. Backers decide to invest in the project if they find it worthy.
2. Decide What Type of Crowdfunding Platform is Right for You
The first thing a startup that wants to create a crowdfunding website needs to decide is what type of crowdfunding it wants to use.
There are four main types of crowdfunding platforms: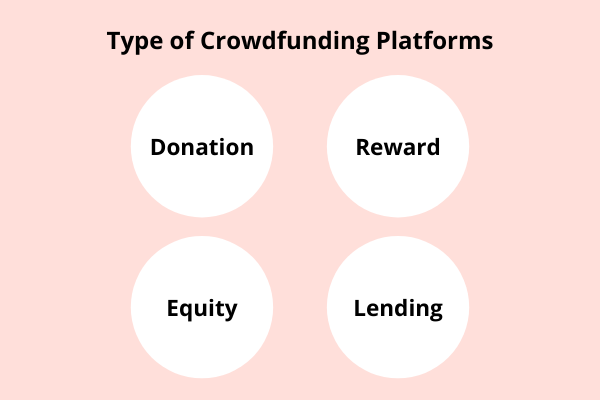 1. Donation-based
Donors give money without asking anything in return. This type is usually used by NGOs and not-for-profit organizations for raising money for social and environmental projects. You may have heard of platforms like GlobalGiving or JustGiving.
2. Reward-based
Backers invest money in return for a non-monetary reward like a gift or a special price for a product or service. Usually, this type is perfect for software and innovation startups or product creators that have an idea or a prototype. On the platform, they can initiate pre-sales of their products or services to raise capital for product development. Once the backer of a campaign receives its product or perk, the contract between the creator and investor is over. The most renowned platforms of this type are Kickstarter, WeFunder, GoFundMe, and Indiegogo.
3. Equity-based
Equity crowdfunding means investment into a commercial enterprise. Users who invest in projects become owners of securities (equity in the company, revenue share, debt, or convertible note) and can expect to make money if the company succeeds. They can also sell their securities to other investors. The best-known platforms of this kind are FundersClub, CrowdFunder, EquityNet, and Seedrs.
4. Lending-based
Investors lend money and expect to be paid interest. LendingClub, Prosper, and Zopa are examples of this type of crowdfunding site.
3. Choose the Revenue Models of Crowdfunding Platform
Like many other marketplaces, crowdfunding websites get a fee for their services. But this is not the only way of monetization. Before starting a crowdfunding platform, you should decide on how it will generate revenue. There are four main ways:
Commission for the amount raised.

Most platforms use this way of revenue generation. Fundraisers do not pay anything until the necessary amount of money is raised. Thus, the platforms only get paid when the campaign is a success. For example, Kickstarter takes 5% of each fully raised capital. In the history of Kickstarter, only 37% of projects reach their goal. From 2009, when the company was created, until 2020, their projects managed to raise $5 billion where $4,7 billion are from the successful campaigns. To make this revenue model profitable, the platform should get a constant flow of new projects and investors.

Paid services and features on the website.

Creators can pay the platform for help with such things as marketing, campaign management, branding, prototype creation, and video advertising.

Advertisements.

You can profit from ads posted on your website.

Promoting campaigns.

Because fundraising campaigns may last for several months, older listings go down in the search results and can get lost in the crowd.

You can allow them to pay for better visibility.
4. Study the Competitive Landscape and Find Your Niche
The main task of crowdfunding is to make the projects visible to crowds and collect more money. International platforms can collect more than local websites just because of the larger amount of donors. But due to differences in laws, culture, and language, local platforms are still important. Let's take an overview of the crowdfunding market by region:
Region

Crowdfunding platforms

International

Indigogo,

FundingCircle

,

Patreon

,

Fundrazr

,

GoFundMe,

Eureeca

North America

Indigogo,

FundingCircle

,

Patreon

,

Fundrazr

,

GoFundMe,

Kickstarter,

SeedInvest,

TransparentHands,

FrontFundr,

Vested

South America
Kickante, Catarse, Idea
Europe

Seedrs

(UK),

CrowdCube

(UK),

Ulule

(France),

KissKissBankBank

(France),

G

o

teo

(Spain),

Symbid

(The Netherlands),

Spreds

(Belgium),

FundedByMe

(Sweden),

WeMakeIt

(Switzerland),

Invesdor

(Finland),

Booomerang

(Denmark)

Asia

AirFunding

(Japan),

Camp-fire

(Japan),

TumblBug

(South Korea),

DemoHour

(China),

Kitabisa

(Indonesia),

Give.Asia

(Singapour),

Mystartr

(Malaysia),

Ketto

(India),

Weeboon

(Thailand)

Middle East

Zoomaal,

Yomken

Africa

Cotizi

(Morocco),

Cofundy

(Tunisia),

Twiiza

(Algeria)

Australia and New Zealand

MyCause,

Chuffed,

Equitise,

Pozible
If you want to start a crowdfunding site but you're not sure which specific area to exploit, why not look at statistics of the current most popular areas?
The top five crowdfunding markets:
Business and Entrepreneurship: 41.4%
Social Causes: 18.9%
Films and Performing Arts: 12.2%
Real Estate: 6.2%
Music and Recording Arts: 4.5%
In recent years besides general-purpose platforms, niche crowdfunding has appeared. Here are the brightest examples of specialized platforms that may inspire you:
IT startups: SeedInvest
Science and research: Experiment
Filmmakers: Slated
Personal (trip around the world, wedding, education, honeymoon, medical expenses): GoFundMe
Social cause: Chuffed, MightyCause
Education: SoFi
Sport: PledgeSports
Local food business: Credibles
Business: Fundable
Agriculture: AgFunder
Environmental: SmallChangeFund
Students and alumni business ideas: CrowdfundCampus
Minorities: BuildHer
There are still many untapped needs and niches that are still waiting to be filled.
5. Face Challenges and Discover Opportunities
Let's get an overview of the current situation in the crowdfunding business, emerging opportunities, entrepreneurs' pains, and ways to avoid the most common mistakes when developing a start-up crowdfunding platform.
The year 2020 has been a challenging period for the economies of all countries in all spheres. It could persuade many entrepreneurs not to begin their startups due to instability in the world. The exciting thing is that the crowdfunding business seems to be humming along doing more business than ever.
'We thought we would see that everything was going to take a hit, but we're seeing projects on our platform that are funding at rates that we didn't anticipate, and it just shows that the model itself has been pretty strong throughout this.' — says Kickstarter's CEO, Aziz Hasan in an interview with The Verge.
Besides the pandemic and global crisis, crowdfunding platforms have their difficulties. Let's learn how to build a crowdfunding website that tackles the most common challenges: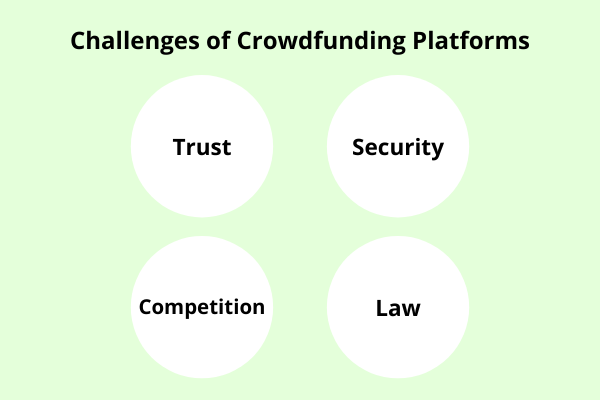 1. Establishing Trust
An essential piece of any online marketplace is the trust it creates between strangers. The platform needs to help its users build faith in its projects. Combating money laundering and fraud is an important task of banking and financial institutions, and crowdfunding is not an exception.
To increase its trustworthiness, the platform should verify its users' identity and financial status. Technically it means that crowdfunding platforms need to either check the users' documents manually or partner with KYC (Know Your Customer) and AML (Anti-Money Laundering) verification services like MangoPay, LemonWay, and Goji investments. The verification process is based on comparing data provided by the user on the platforms to data that can be found on public databases, social media, financial reports, history of transactions, and other digital sources.
2. Providing Security
Project founders and backers experience risks when dealing with a virtual space such as a crowdfunding platform. It is assumed that the website provides total security of data and transactions using the most reliable technologies for data storage and processing. However, it is not always so. Hackers are mostly interested in large and famous websites with huge user databases:
One of the most serious cases of a crowdfunding data security breach happened in 2014 when Kickstarter was hacked, and their users' data including usernames, addresses, email addresses, and encrypted passwords were stolen. Luckily, no credit card data was affected.
In 2015, 15 gigabytes of user data and the source code of Patreon were stolen by hackers. Patreon claimed that their users' personal data was encrypted. Therefore, the attackers were not able to crack the keys and steal the information. Such sensitive data as credit card numbers, social security numbers, or tax forms did not leak as it was not stored on Patreon's servers. The company asked its users to reset the passwords and initiated a security audit process.
In July 2020, Impact Guru, a large Indian crowdfunding platform that collects donations for NGOs, was compromised and more than 507,000 user records got into the hands of attackers.
To protect their clients, the platform should encrypt the user's data and remind their users to change passwords and update their software. The platform can also use machine learning to detect malicious patterns.
In addition, websites that are built with WordPress and other website-building platforms are more vulnerable than custom platforms. WordPress is a very popular tool for quick and cheap website creation and if you are a startup that wants to test your idea, go ahead and use it. But you must be aware of the risks associated with such platforms. WordPress websites are a favorite target of hackers.
In April of 2020, a hacker group attempted to get control over almost 1 million WordPress sites. The hackers want to get a hold of huge volumes of data all at once; that's why they are so excited about cracking Wordpress. Of course, if you install plugin updates regularly, store the data on a well-protected web server, and take other security measures, you'll stay safe. Nevertheless, hacker attacks against WordPress are the subject of constant stress for website owners. That is one of the reasons why it is preferable to create a custom platform that does not attract hackers' interest.
3. Elbowing through tough competition
Due to tough competition. it's tough for new platforms to enter the market. At the same time, mature businesses need to evolve and add new features to enhance the user experience. Users still have to deal with a range of challenges when they try to raise money for their projects. Here are the most common:
There is no guarantee that the goal will be reached.

Many projects do not collect the required sum. This means that underfunded projects not only do not get the money that is pledged, but they also lose all that they spent on the campaign.

Solution:

There is none, but you must always notify your users of potential risks and explain the payment options.

No protection of intellectual property

. Project ideas on online platforms are public and might be stolen. Unfortunately, crowdfunding creators are at high risk of IP theft.

Solution:

The platform can hide part of the details about the project from unregistered users.

This can be data like a business plan, or technology and prototype details.

The full information is disclosed only after a user (investor or fundraiser) passes ID or KYC verification.

Insufficient knowledge of the crowdfunding process

(especially in the case of the equity model). There are a lot of conditions that must be met before someone can be eligible for fundraising, especially in the case of equity or lending types of crowdfunding. It may take time and knowledge to get all the documents prepared as required.

Solution:

Make the process of application as clear as possible. Provide document preparation assistance to users.
Understanding how to solve these and other users' challenges can be a competitive advantage.
4. Complying with law
Equity crowdfunding has been legal in the U.S. since 2011. Regulations Crowdfunding that set the rules for legally collecting money from investors, however, was passed only in 2016. According to Regulation Crowdfunding, companies are allowed to fundraise up to $1.07 million annually if they offer their investors securities in exchange.
In the U.S., compliance with the regulations is overseen by the Securities and Exchange Commission (SEC). Equity crowdfunding platforms should also be registered in the SEC and FINRA to be an intermediary between a company and an investor.
Companies can start raising capital for free after filing a Form C with the SEC. Platforms that specialize in equity crowdfunding should assist companies in the preparation of necessary forms and reports for the SEC to ensure compliance with the law.
When starting a new crowdfunding portal, make sure that you totally understand the laws and regulations in your country for your type of crowdfunding.
6. Create a List of Core Features for your Crowdfunding Website
Now that you have an overall understanding of the business side and challenges, let's move to the technical part and learn how to start a crowdfunding site from the ground up.
A crowdfunding website is a two-fold marketplace where features are delineated for fundraisers and backers. Let's list the main features that each section should have:
Fundraisers' section
1. Campaign creation
Fundraisers should be able to easily start a campaign by just following the explicit steps on the website. What information do you need to collect?
Basic information (project title, description, category, location, images, video, campaign duration)
Budget (minimum goal)
Reward for donation
Story of the project (risks and challenges)
Owners introduction
ID confirmation by adding payment details or documents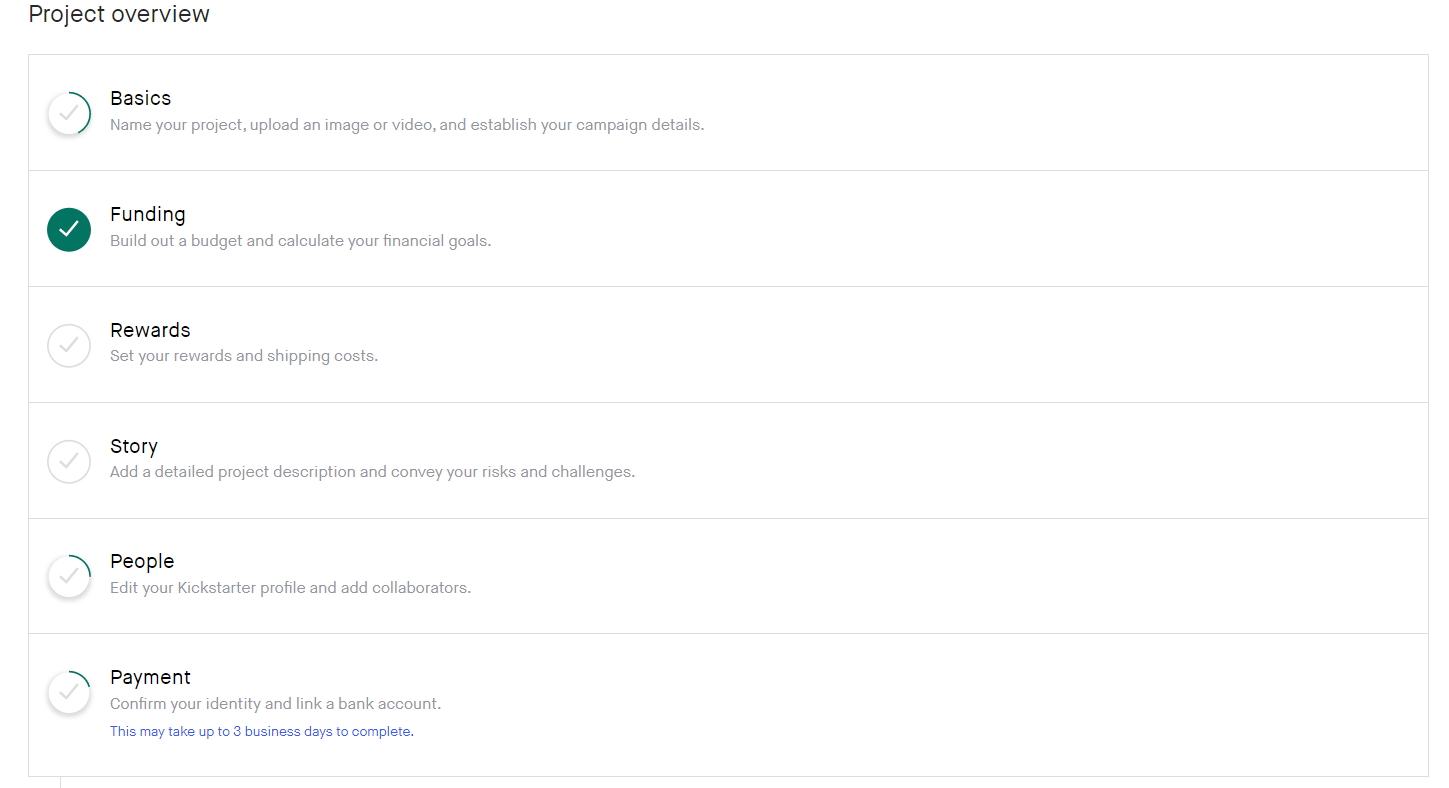 In the case of equity crowdfunding there also can be:
Company overview
Pitch
History of financing
Business plan
Documents
To prevent spam and fraud, you should verify the information and in case it is not enough you can ask the creator to add more details. When the campaign is published no data can be changed to prevent cheating with terms and conditions.
2. Profile management
After successful registration, a Fundraiser Profile should be created where all necessary information is stored:
Basic information
Fundraising campaigns list
Payment details
Messaging with backers and platform admins
Updates (the news that shows their followers and investors that their project is alive and evolving).
3. Share via social media
To have massive distribution, campaigns should be easily shared. When people share campaigns with their friends, it is likely to result in further donations. For instance, it is estimated that:
12% of Facebook shares convert to donations.
3% of Twitter shares convert to donations.
53% of email shares convert to donations.
To make it easier for users, add social media sharing to each project.
4. Payments
Crowdfunding platforms are differentiated by payment methods available to fundraisers. There are two common types:
All-or-nothing payment method.

This model implies that only projects that reach their financial goal can get payment. The platform keeps track of pledges rather than actual money, and once the funding goal has been met, the real payments are "called." This method is good for investors who do not want to give money in advance. However, for fundraisers, invariably some of those pledges may not be paid in the end. This can be frustrating for a startup if every penny is important. Kickstarter supports this payment method.

Partial payment method.

Money is collected immediately and the project gets the funding even if the financial goal is not met. This method is better for fundraisers but is not preferred by investors who don't want to risk giving money to unsuccessful projects. Indiegogo uses this method.
5. Dashboard
Creators need to track the progress of their campaign to see if they hit the goal before the end of the fundraising period. A dashboard is an analytical tool that visualizes up-to-the-minute statistics and progress showing the current balance of funding, sources of funding, reward popularity, and average pledge amount. These metrics may give fundraisers hints on how to motivate people to invest more — whether they need to follow up with an untapped audience, add some perks, post updates, create a meeting with the community, etc.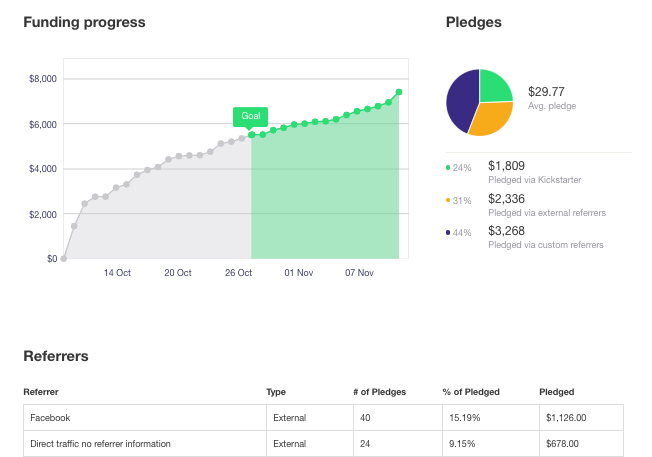 Backers section
1. Search
Backers should be able to quickly and easily find projects that match their interests.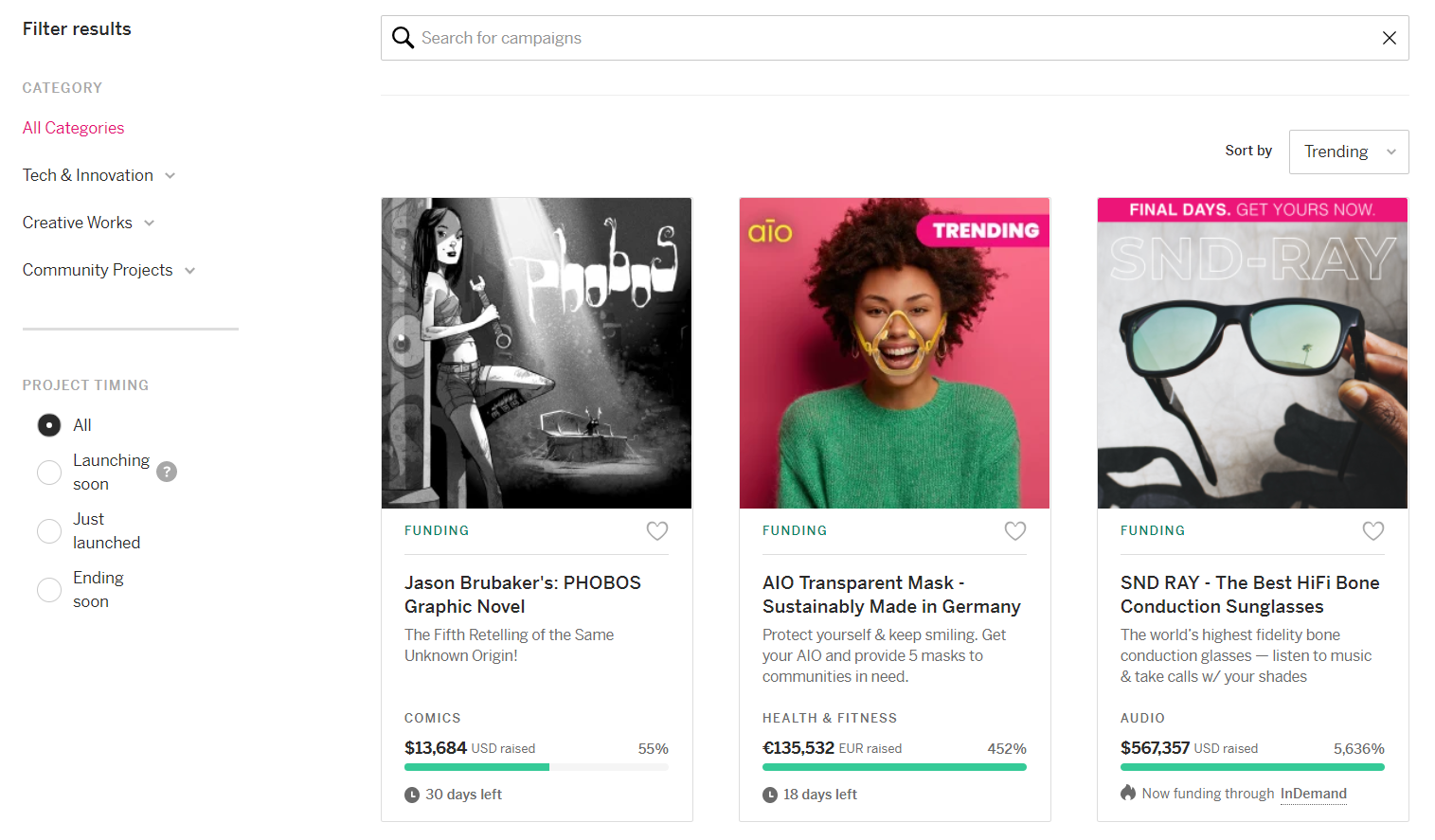 2. Listing details
Each search result should retrieve all listings matching certain criteria. Inside of each listing investors should be able to get more details about the campaign: project description, owner info, the amount needed, the amount raised to date, days remaining, number of backers, rewards. From here an investor can decide to back the project.
3. Backer profile
For some platforms, it is enough to register via email or social media to start backing a project. It is not required to be an accredited investor with capital. Anyone who is 18 years old can buy a share in a company. The particular laws of each country should be investigated, as there may have differing regulations.
Other platforms, especially those that have business and innovation projects, protect their fundraisers from fraud by requiring backers to be verified in addition to registration.
Verification may include just linking the new account with a LinkedIn Profile. Or they may get more serious and require an investor's identity accreditation check using a third-party verification service. For example, Wefunder asks the investor to upload additional documents to verify his or her accredited status. This can be a letter from the investor's lawyer or another official who can vouch for the investor's status. Or investors must provide documents proving an investor's stable income (tax returns, bank account statements, a credit report). These documents are manually studied by Wefunder employees to determine whether the investor is accredited.
4. Backing options
When backers want to support a project, they can choose from several options on how to contribute. Kickstarter and Indiegogo suggest ready-made proposals that project owners can construct. Having investment options makes it easy for backers to support the project.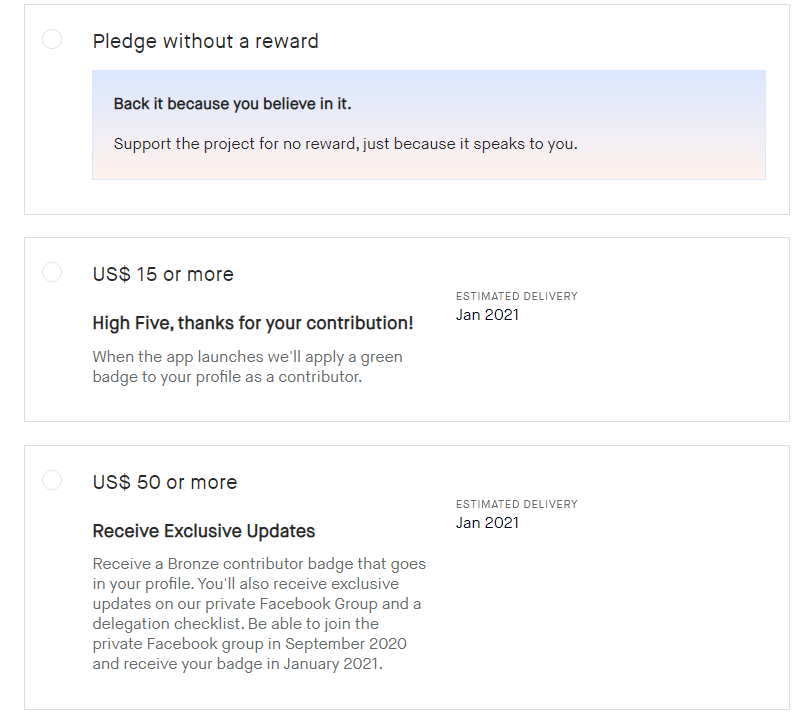 5. Payment options
When a backer chooses to invest in a company or creator, first the money goes to escrow at the platform bank account until the end of the campaign. If the goal is reached, the fundraiser claims for money. At that point, investors are considered owners of the securities they purchased.
Integrate your website with the most popular payment gateways that support multiple currencies and payment methods. As people contribute from different countries, the amounts should be converted immediately.
Kickstarter uses Amazon Payments and Stripe, and Indiegogo uses PayPal and Stripe. Other payment gateways include Skrill, MANGOPAY, Adyen, or Braintree.
Research the regions from which you are going to get payments as some payment gateways may be restricted in some countries.
6. Dashboard
Investors usually support several projects. The dashboard helps backers keep track of the projects they finance and to see how the campaigns evolve.
Admin Section
The platform Admin should be able to control all the processes from the back office. The features include:
1. User management
All registered users can be managed from here. Admin should be able to update their status manually and enter their profiles to help them modify details.
2. CRM
All users are platform customers and it is imperative to keep their contacts, payments, and valuable notes to help with sales and marketing campaigns.
3. Campaign management
This is a list of all created campaigns. Admins should be able to approve or deny campaigns if needed.
4. Content management
To update the content on the website, Admins should be able to quickly do this from the back office.
5. Finance management
Track all transactions passing through the website — payments from investors, fees, subscription charges, etc.
6. Partner management
As a rule, crowdfunding platforms are integrated with third-party software that helps them with payment processing and user verification.
7. Analytics dashboard Admins should be able to update the content on the website quickly from the back office.
7. Be Unique: Extra Features of the Crowdfunding Platform
If you want to build a crowdfunding website that will stand out among the competitors, you need to find what else you can do to help your creators be successful in raising funds. Let's take a look at some ideas:
1. Recommendations
It can be hard for investors to find an interesting project. Search filters may be not precise enough. Recommendations take into account factors such as previous views, user preferences, and previous donations when suggesting similar projects. Kickstarter has just implemented a Recommendation feature into its platform and it has already proved its effectiveness. The platform uses machine learning to determine which projects match which investors.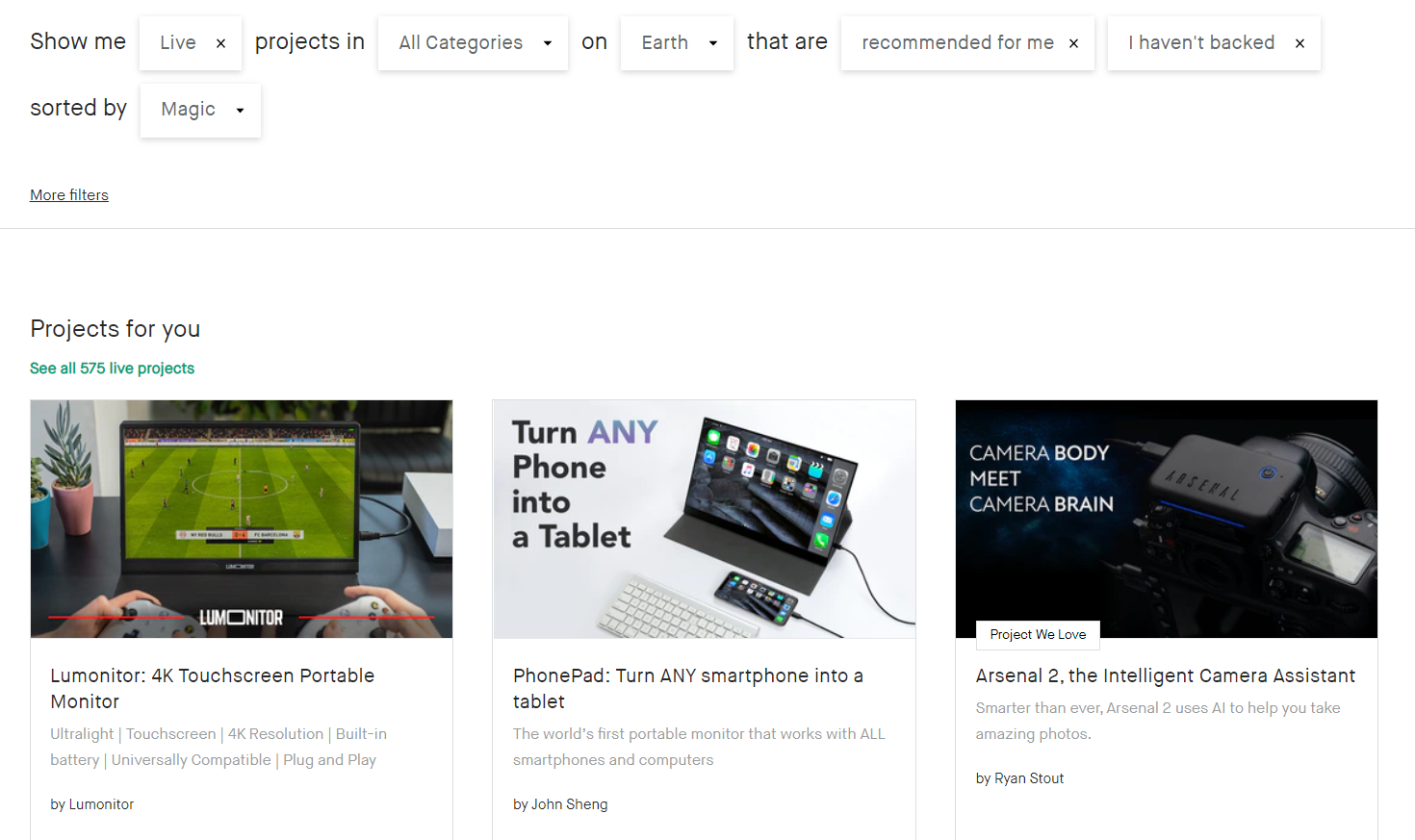 2. Funding calculator
Fundraisers may have difficulty understanding how much they need to raise when considering taxes and fees. Add an automatic calculator to your website to help them accurately set their goals.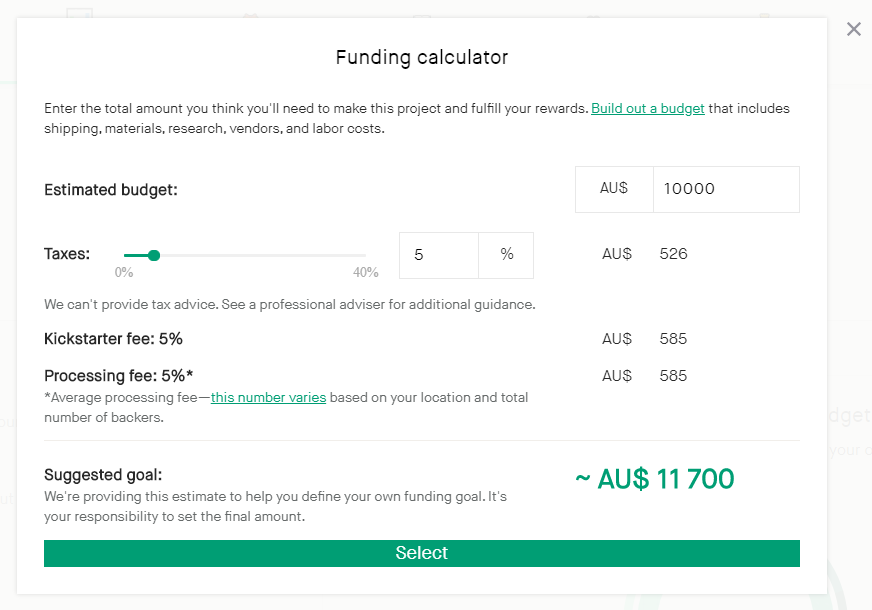 3. Pre-launch page
Even before starting a fundraising campaign, some platforms allow their creators to make a pre-launch page where they collect emails from the first investors; then they notify them about the campaign launch.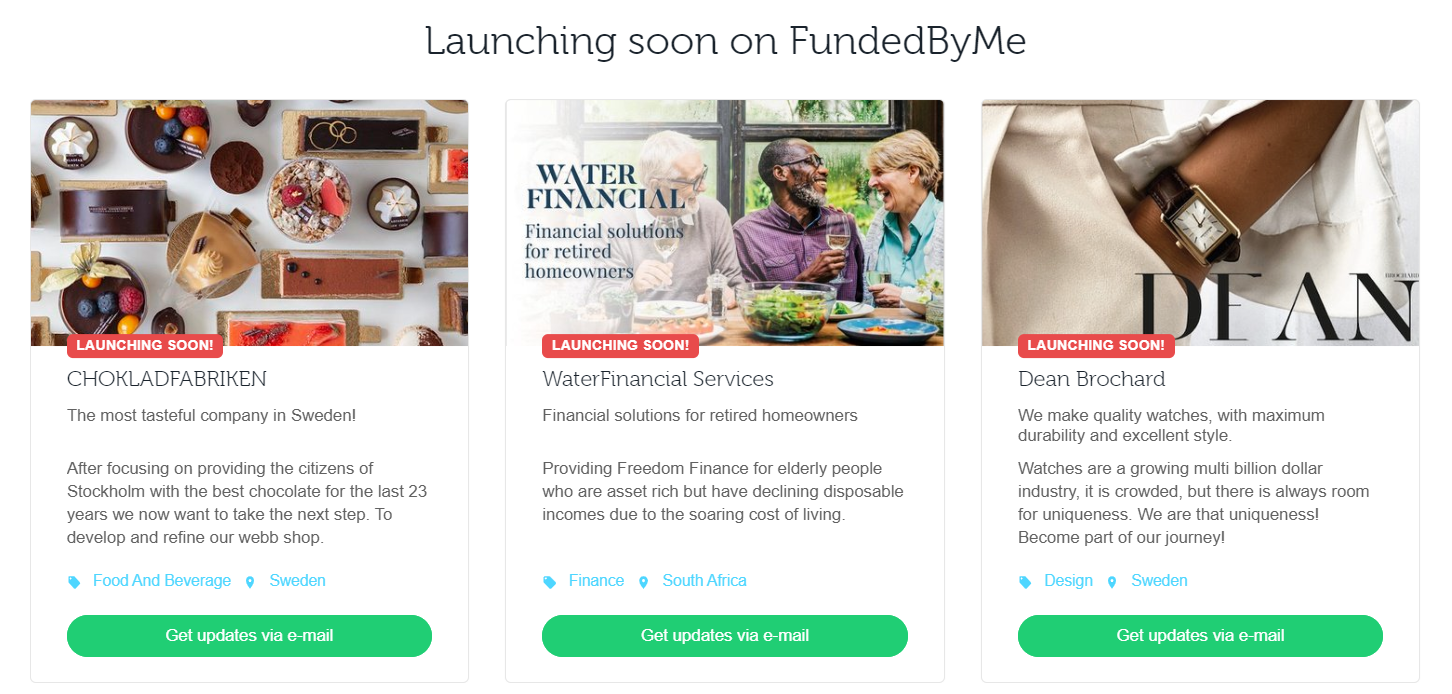 4. 'Perk code' feature
To attract more backers, add a feature that allows competitions, special benefits, and additional perks for the community. The French platform, KissKissBankBank, has a 'perk code' feature. A creator can set conditions of how to get the perk, and with the help of the website, the feature issues a code. This code is shared on networks or mailings to specific members. Donors can then apply this code when they contribute to the campaign to get the perk. This approach should serve as an additional way to attract more investment.
5. Google Analytics integration
Give your fundraisers the power to track all the activities that happen with their campaign (visitors, conversations, sources of backers). This will give them insight into how to improve performance.
6. Reminders and confirmations
To increase donor activity, a platform can send out emails asking for donations. For example, if the deadline is close, or if someone visited a campaign and abandoned the payment process halfway, the platform can send a reminder that will encourage the investor to take that final step that might be just enough to push the campaign over the top.
Confirmation emails are very important. Each time a donor makes a payment, send them a 'Thank you' email that confirms the donation.
How Much Does a Crowdfunding Website Development Cost?
Now, as we listed the core features, let's crunch numbers!
Each project is unique and cannot have a standard price. However, we will give you ballpark figures to give a basic idea of the costs. Creating a crowdfunding platform from scratch may cost about $36,000 - $70,000 depending on the complexity of the requirements.
If you want to launch quickly to validate your idea at minimal cost, use a white-label solution. We can help you set it up and customize it to your business needs. It may cost from $15,000 to $25,000.
How to Apply This to Your Business
Crowdfunding was a breakthrough for startups and charity organizations that had struggled to attract the attention of investors. Today, anyone can support any project, become a contributor to a good deed, or they can invest in a promising young business. Crowdfunding platforms streamlined this movement.
Despite a market crowded with fundraising solutions, there are still regions and niches that need attention. Asia, the Middle East, Africa, and South America are unsaturated markets that need crowdfunding.
In the U.S. and Europe, the competition is tougher but here you can start your own crowdfunding site without hesitation if you can provide unique features, cater to a narrow niche, and provide an excellent user experience.
From the technical point of view, you can either go with Wordpress, an off-the-shelf website builder, or develop from scratch. The first two ways are less expensive, but they limit your flexibility and functionality; they also have high-security risks. Custom development allows you to create a reliable, unique, and scalable platform.
Our vast experience with marketplace development allows us to position ourselves as experts who can complete a project of any complexity. We provide a complete range of development services from project specifications to product launch and maintenance. Give us a try!
Rate this article!
You should be
logged in
to be able to rate articles