How to Build an eLearning Platform like Coursera (or Udemy)?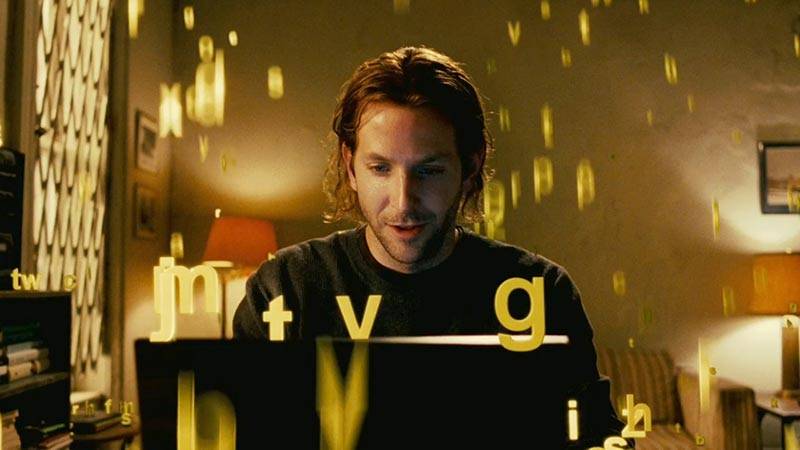 A college education is getting more expensive each year (prices increased by 3.5% in the last 10 years) and not all school graduates can afford to study in the universities of their dreams. Not only this, but many adults need to constantly upgrade their skills or get a degree but cannot quit their job to attend classes. For them and many other categories of people who want to study, distant online education is a perfect way to obtain knowledge and a diploma.
The term "eLearning" was first mentioned in 1999 at the CBT systems seminar describing online lessons. Since that time, eLearning gradually evolved into the concept of MOOC (Massive Open Online Courses), giving people from all over the world the chance to study disciplines of world-class universities and even obtain bachelor's and master's degrees.
The best way to organize online courses is to use the power of eLearning platforms. The first "stars" that influenced this sphere and come to mind when we talk about eLearning are definitely Coursera, Udemy, Udacity, and edX. By now, there are more than 50 MOOC platforms functioning in 23 countries around the world.
Is it worth it to build a website like Coursera? And how do you do this? Is there any difference in building a website like Udemy and Coursera? Let's research together!
Business Model of eLearning Platforms
Before we move to the creation of a website like Udemy and Coursera, let's decide how you are going to monetize your project.
Initially, distance courses were provided for free. However, as the popularity of distance education and the number of reputable universities and teachers who join the MOOC platforms increases, the platforms begin collecting payments. The MOOC platforms already have proven themselves very profitable.
There are several monetization options most often used in such type of business.
1. Paid Certificates
In 2013, Coursera earned their first $1 million selling verified certificates on course completion. In March 2014, edX together with MIT issued a course on Big Data that gave them 3,500 students enrolled and more than a million dollars in just four weeks. Some courses can cost only $12-20, while studying for a bachelor's and master's qualifications from a world-class university may cost up to $30,000 or more for 12-36 months of studying.
Only analyzing statistical data on iMBA course at Coursera, it is seen that while 1.2 million people enrolled for free attendance, 49,000 students paid $50 for a certificate, 150 students bought a college credit for $1,000 and 800 students signed up for a degree course for $22,000. Adding this up we find that in 2017 iMBA course gave Coursera more than $20 million!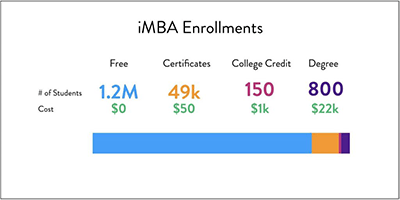 Of course, the platform should share with a course creator. Thus, at Udemy, content creators earn 97% of course revenue if students are referred by the instructor. If the participants are attracted by Udemy efforts, then the website and instructor get 50% shares of the earnings. And if the students are brought by an affiliate, the platforms give only 25% to the instructor, while 50% goes to the affiliate. According to the statistics, in 2015, the top 10 instructors collected more than $17 million in total.
2. Monthly Subscription
In 2016, Coursera introduced a subscription price plan for specialization courses. The participants can enroll for the course with a 7-day trial period and after this period the fee will be taken automatically for a continuation of the course (for ex., $49 per month). The motivational bonus for students is that the faster they pass the course the more they save.
3. Affiliate
eLearning platforms can earn money from affiliate programs. Thus, Coursera takes a percent when students go by the link for the Amazon store to buy the books recommended on a course.
4. Corporate eLearning
It is popular among big companies to train their employees, and eLearning platforms are one of the possible solutions for this purpose. Both Coursera and Udemy provide a directory for Business.
Among Coursera for Business customers, there are L'Oréal, AXA, Pfizer, Phillips, and Boston Consulting Group. The payments start at $400 per user per year for a minimum of 5 users. In 2017, more than 500 companies signed up for Coursera for Business.
Udemy for Business is used by Volkswagen, Lyft, PayPal, Booking, and others. The platform takes $240 per user per year for a minimum of 5 users.
5. Donations
There are a number of certification programs that are sponsored by the government and NPOs. Donations from users help Khan Academy, a 501(c)(3) nonprofit organization, survive: this includes $2 million from Google in 2010 for creating new courses and translating content into other languages and $2.25 million in 2015 from AT&T for mobile versions of the content. Overall, in 2017, Khan Academy fundraises more than $53 million according to their report.
Competitor Landscape
Now let's review the business models of some eLearning platforms:
Name
Number of Courses
Price Plan
Categories
Bachelor's and Master's
Who Contributes
Coursera

2,500+

Paid courses

($29 – $99), subscription ($42), degrees ($10,000 - 30,000)

Any

Yes

Universities

Udemy

80,000+

Paid courses

($20 – $200)

Any

No

Individual instructors

edX

2,000+

Free courses, paid certificates and programs, donations

Any

Yes

Universities and organizations

Udacity

150+

Free courses,

paid

nanodegree

courses ($599 - 2400)

Technologies and Business

No, but have nanodegrees

Universities

Skillshare

23,000+

Subscription ($8)

Technologies,

Business,

Creativity

No

Individual instructors

Lynda by LinkedIn

3,500+

Subscription ($29.99)

Technologies,

Business,

Creativity

No

Individual instructors

Pluralsight

6,850+

Subscription ($29)

Technologies

No

Individual instructors

Alison

900+

Free, but after watching ads, or premium ($8)

Any

No

Universities and individual teachers

Khan Academy

999+ million lessons

Nonprofit, donations

School subjects, Computing, Test prep

No

Universities and individual teachers

FutureLearn

400+

Free, premium paid

Any

Yes

Universities and organizations

XuetangX (Chinese)

1500+

Free

Any

No, but have microdegrees

Universities
Coursera vs Udemy Comparison

Coursera and Udemy are some of the most popular representatives of MOOC providers.
Coursera was initiated in 2012 by Stanford professors Andrew Ng and Daphne Koller and by June 2018 counted more than 33 million users.
Udemy was founded by Eren Bali in 2010 and by 2018 more than 24 million students and 35,000 instructors were registered there.
At first, both platforms provided free courses, but soon their owners realized that this business should be monetized.
Coursera and Udemy represent two types of learning platforms: Udemy works with individual teachers who submit the content to the platform, while Coursera mainly cooperates with universities and colleges.
Among organizations that cooperate with Coursera, there are Harvard, Stanford, Princeton, Yale, and other 149 famous institutions from 29 countries. Thus, Coursera makes a serious competitor to traditional education providing the quality of the most prestigious universities at an affordable price. On top of it, Coursera students can apply for Financial Aid if they cannot afford to pay.
Udemy's database of courses estimates 80,000 courses which are 40 times more than that of Coursera's, but the online courses are mostly short-term and made by individual instructors (for example, you or me), not obligatory university professors. But still, all courses pass the verification process before being published. Udemy provides all the necessary tools to create a course and promote it for profit.
This difference in contribution type obviously influences the functionalities of the two platforms. Let's explore how to create a website like Coursera and Udemy and what features each type of platform should consist of.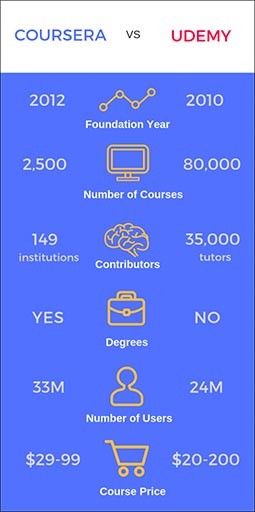 How to Create a Platform like Coursera or Udemy
First of all, you should determine what type of eLearning website you are going to create:
If you are planning to attract universities and organizations as course contributors or create your own courses, build a website like Coursera.
In case your platform is supposed to provide a place where any individual tutor is able to create and manage their courses, then you should make a website like Udemy.
There are a number of features that make the core of almost any eLearning platform. Let's look at the basic functionalities and unique peculiarities necessary to create a website like Coursera and Udemy.
1. Search, categorization, and recommendations
Any eLearning platform, first of all, represents a catalog of courses and access to them. So browsing through courses should be well organized and comfortable.
As we already mentioned, Udemy stores more than 80,000 courses. No wonder they need a sophisticated search to quickly find the fitting courses. Search in Udemy is realized with the help of Elasticsearch technology and quickly retrieves matches to the user's request.
Users can search by:
a) Keyword in the search bar: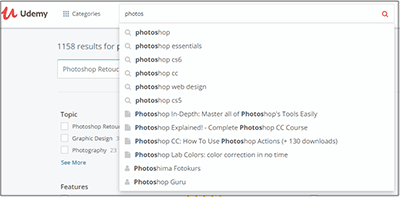 b) Categories and subcategories: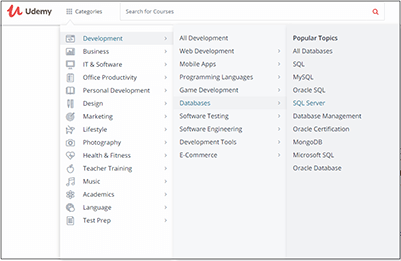 When Coursera was founded, there were only 5 categories and some subcategories depending on the content topic. A few years later the number of courses increased to more than 2,000 on different themes from computer science to medicine. It became difficult to match courses to people's interests. For example, the same courses could belong to several categories, like "English Language for Business", which might refer to languages, business, humanities, and self-development.
In 2015, Coursera engineers implemented special algorithms to organize courses in a consistent way. The system managed to group courses into several clusters as is seen in the graph below. Humanities, social sciences, and business courses are in one part and natural sciences, engineering, and computational sciences courses are in the other part. Now, there are only 11 domains that include all courses.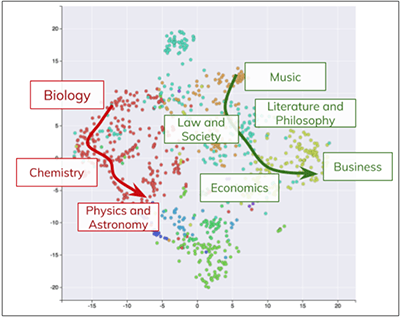 с) Sorting and filters (by category, subcategories, language, price, author, etc.):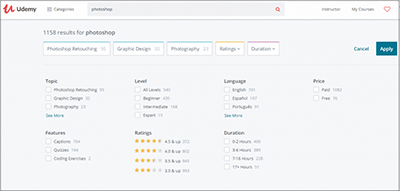 d) Recommendations: Recommendations on courses can help a user discover interesting findings they did not consider. If you ever tried to surf the Coursera website or even created an account, you probably noticed that the system collects data about all your views and interests. This information is analyzed to bring you back suggestions on:
Courses based on your recent activity
Because you viewed X
Most popular in X
Most popular courses
Most popular certificates
Trendy courses
2. Authentication
Users should be able to register in the system in one of the secure and comfortable ways.
3. User Profile
Depending on the types of users on the platform, there can be different profile types.
a) Student Profile This is a user account to collect all information about user enrollments, purchases, and activities. In the student profile, there can be:
User info
A list of active and completed courses
Information about earned certificates/credits/points
History of purchases and transactions
Wishlist
Profile settings
b) Teacher Profile Coursera only allows course creation to the instructors eligible with 150 Coursera partner institutions. Udemy provides a teacher profile for every registered user. Unlike Coursera, Udemy provides a Teacher's Profile where individual instructors can create and submit their lessons with the help of an intuitive tool.
4. Course Creation
Creating a course, a teacher passes through a questionnaire and submits the answers for review to be admitted.
The course wizard tool allows you to complete a course structure, write a script, add videos, slides, text, quizzes, coding exercises, assignments, practice tests, and additional resources including PDFs, links, audio files, etc.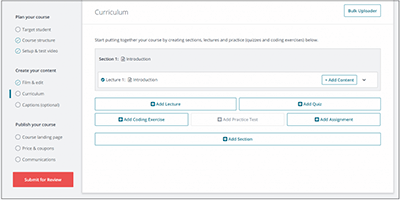 5. Dashboard
Instructors have a Dashboard to track their activities and get useful insights. In Udemy, the dashboard includes such features as:
"Courses" where all the teacher's courses are represented.

"Performance" allows monitoring of the number of students, revenues, enrolments, rating, traffic, and conversion.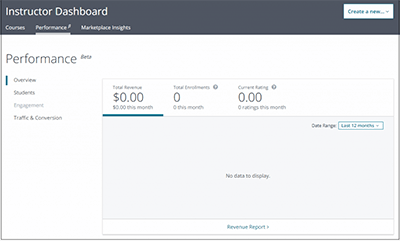 "Marketing Insights" gives curious data about market research on a topic a teacher is going to create a course on.

6. Enrollment for a course
Users should be able to get access to the courses they select. The access can be done freely or after registration and adding a course to the shopping cart and paying for it. Also, courses may have a free trial period after which users should be proposed to pay to continue. All enrollments should be listed in the list of courses in the user profile.
7. Course page
A variety of course features can be limited only by your imagination.
Every course should have a brief description, information about its creator, usage instructions, syllabus, start and end dates, ratings, and reviews.
As a rule, courses may consist of the following activities: pre-recorded videos, subtitles, interactive textbooks, quizzes, tools for peer-reviewed assignments, chatting with classmates and mentors, discussion forum. Gamification will help you to engage people more.
Also, there should be some kind of reward system for completing a course students received grades and certificates.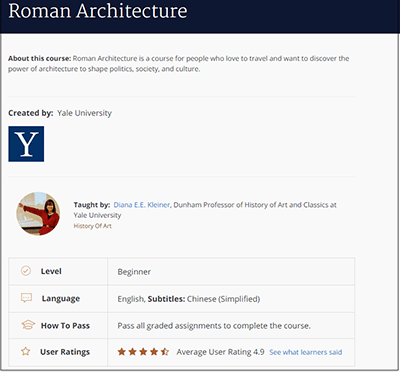 8. Payment systems integration
If your business model is based on paid courses and services, you should provide users with comfortable and secure methods of payment.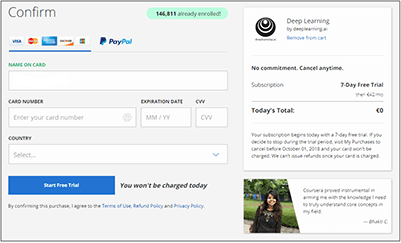 9. Emails and notifications
Inform your subscribers of new courses, recommendations, events, etc. by email or app notifications.
10. Admin
Admin should be able to manage all the content and users on the website:
Add/edit/remove/blacklist users
Add/edit/remove/archive courses
Generate statistics reports
Assign user roles
Assist in the subscription plan change
Add content to the website blog
Manage notification and newsletter emails etc.
For example, Udemy Admin can generate such reports to view course statistics: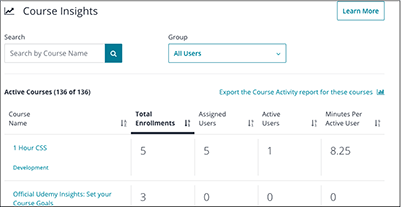 11. Blog
A blog is a good way to attract traffic to your website and share the latest news, tutorial of course creations, and other useful information.
12. For Business/For Government
Besides individual courses, many MOOC platforms now provide education for enterprises and government organizations. This option allows companies to educate their employees in a centralized way. All data on a student's progress is tracked and can be sent to the existing LMS or CRM of the company due to integration via API. Based on this data, it is possible to view the statistics and form the leaderboard, add certificates of course completion to the employee profile, etc. Both Coursera and Udemy have this feature.
Coursera actively implements Machine Learning technologies in their system. For business, they made a Skills Benchmarking feature that allows making a bird-view of the company talent to develop a strategy of workforce education.
13. Support
With so many courses and a greater number of enrolled participants, answering their questions can become a nightmare. But at the same time, leaving students without support would mean a decrease in completion rates and frustration with the platform services. That's why Coursera switched to machine learning to track students' activity and identify who needs to support the most to respond to them quicker. For other students who are not at risk, the system sends automated emails with recommended steps for solving their possible problems with the course.
Technology Stack for Creating Platform like Udemy or Coursera
For those who are preoccupied with the question of how to develop a website like Udemy or Coursera from a technical point of view, we have prepared some research findings. Coursera and Udemy are fully custom solutions implemented with the help of the following technologies: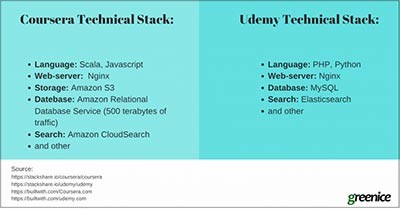 Below we will tell you about Greenice projects and the peculiar features that make them successful.
Case Study #1: Exchange CME
For one of our clients from the US, we developed an eLearning web portal for Continuous Medical Education. The project is supported by the government and provides free training and certification for physicians.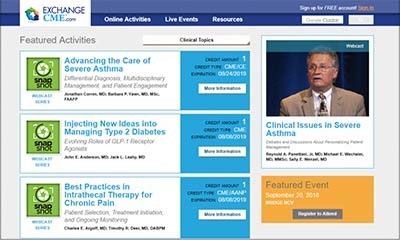 The functionalities include:
Online activities on each medical topic, consisting of:

Pre-questionnaire
Module video or presentation
Post-questionnaire
Evaluation
A certificate with a print version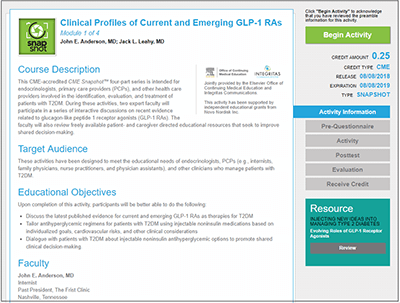 Registration for live events
Resources for additional learning
Admin CMS to easily upload and manage information
Reports to track the progress
Surveys
"Follow up" newsletters to check the results in some period after a user passed a module test to compare the results.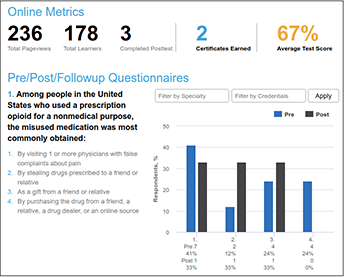 Case Study #2: Brand & Sales University
In this case, we developed a directory for several training campuses to educate sales representatives of top-10 pharmaceutical companies. The app allows for interactive studying with elements of personalization (personal curriculum, modules, and courses, quizzes, bookmarking). All results get into the system and reports to track the progress and form a leaderboard.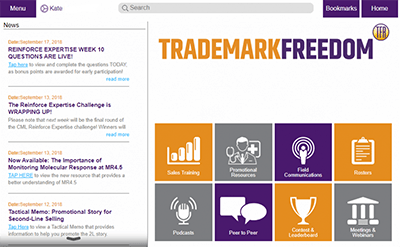 The features include:
1. Gamification
Scoring system for completed activities
Educational games
Competition between individuals and groups
Leaderboards
2. Community and Mentorship
Product and team news
Awards and recognition
Calendar of training events
"Ask The Leadership Team"
Peer2Peer Resources
3. Tracking and Reporting
Knowledge assessment: quizzes, game results, and surveys
Track individual and group results
Export reports to Excel
In general, the eLearning application was implemented for pharmaceutical companies to train more than 300 sales representatives who should pass through 70 hours of live training a year on average.
How Much Does It Cost to Develop a Website like Coursera or Udemy
If you plan to build an eLearning platform like Coursera or Udemy, you have probably already tried to calculate possible expanses. We would like to give you our ballpark numbers.
Making a website close in functionality to Coursera may cost you $70,000-105,000. This will include work development from scratch, custom web design, QA testing, and project management. The price will differ depending on the features and integrations complexity. You can always start with core functionality (as an MVP) and launch your platform quicker to test the idea in the 'wild' before investing too much time and budget.
Also, to reduce the costs, we can create a MOOC platform using a white-label solution totally customized for your business aims and design preferences. Such an approach will allow you to have a platform at a cost of approximately $7,000-10,000. As you see, there are many ways to save by getting a custom-build website.
How to Apply This to Your Business
Studying at MOOC platforms is a contemporary, convenient, and inexpensive method to get an education from top universities and educators.
In this article, we tried to give you some hints on why and how to build a website like Udemy, Coursera, and the like. The main takeaway is that you should escape blindly cloning them. Be creative and make your own product. Stand out with unique features and improved usability of basic features.
At Greenice, we created 40+ educational apps for leading pharmaceutical companies. You can use our experience to create your own awesome eLearning solution.
Do you already have a concept of an eLearning platform? Need custom web development? Let's get it started!
Get a Free Quote Now!
---
Author: Anna Klimenko is a market researcher and author at Greenice with multifaceted knowledge about different types of business and technical solutions. Anna's experience in technical writing and product management allows her to understand web development processes and enables her to translate technical concepts into plain language to help entrepreneurs make informed decisions.
Co-author: Sergii Opanasenko, Co-Founder of Greenice. Together with his business partner, he oversees agency operations and cares for the wellbeing of the team. A former programmer, he is known for his critical thinking and problem-solving skills, as well as a passion for technology. Outside of work, he is also a loving husband and father.