College tuition costs are on the rise, making it difficult for many students to afford their dream universities. Additionally, professionals who want to improve their skills or earn a degree face the challenge of managing work and study. In response, online education has become a popular solution, allowing people from around the world to access high-quality courses and even earn degrees through Massive Open Online Courses (MOOCs).
Platforms like Coursera, Udemy, Udacity, and edX have transformed online education. With more than 50 MOOC platforms operating in 23 countries, there are opportunities to create similar platforms. This article explores the feasibility and differences in building an eLearning website like Coursera or Udemy, uncovering the exciting possibilities within this field.
Why create an eLearning website
The term "eLearning" was first mentioned in 1999 at the CBT systems seminar describing online lessons. Since then, eLearning has gradually evolved into the concept of MOOC (Massive Open Online Courses), giving people from all over the world the chance to study disciplines from world-class universities and even obtain bachelor's and master's degrees.
eLearning websites are platforms that offer a vast array of virtual educational resources and courses, enabling learners to participate in virtual classes, complete assignments, and interact with instructors and peers remotely. Utilizing multimedia presentations, videos, quizzes, forums, and virtual classrooms, these platforms provide flexible and accessible learning experiences for various subjects and educational levels.
There are several benefits of building an eLearning platform, including:
Global Reach and Market Expansion

: An eLearning website reaches a global audience, expanding market potential. It also allows entrepreneurs to tap into niche markets.

Cost-Effective

: Building an eLearning website reduces expenses and eliminates physical infrastructure needs.

Scalability

: eLearning websites can scale rapidly to reach a large number of learners.

Continuous Revenue

: eLearning generates ongoing revenue through paid courses or subscriptions.

Entrepreneurial Branding

: An eLearning website establishes expertise and enhances brand image.
According to data, the eLearning market has grown significantly and shows promising trends. It was valued at $198.2 billion in 2022 and is expected to exceed $602 billion by 2030, with an annual growth rate of 17.2%.
As for the trends, the COVID-19 pandemic has led to a surge in popularity of remote learning as people seek flexible and accessible education options. Learners are embracing personalized learning experiences tailored to their individual needs. AI and machine learning technologies are being used to create adaptive learning platforms that adapt content and pace based on each learner's progress.
Europe is at the forefront of eLearning innovation, with a growing emphasis on interactive learning. Learning Management Systems (LMS) are gaining popularity, offering engaging and interactive educational experiences.
The eLearning market is experiencing substantial growth due to increased support and investments from governments. These initiatives aim to improve access to quality education, enhance digital skills, and foster lifelong learning.
The online education market is a promising industry due to flexible learning options and improved user experiences. Despite challenges like maintaining course quality and addressing the digital divide, the future of online education looks bright, driven by technology advancements and evolving learner needs.
What are the types of eLearning websites
eLearning platforms are divided into a few types depending on how the learning process is organized. For example:
Fixed eLearning:

Fixed eLearning follows a traditional approach, where all learners receive the same information set by instructors. It is suitable for learners with similar skills and schedules but lacks personalized subject choice.

Computer Managed Learning (CML)

: CML uses computers to handle learning processes, including creating tests, assessing outcomes, and tracking progress. It utilizes information databases to facilitate learning preferences and helps in storing and retrieving educational management information.

Computer Assisted Instruction (CAI):

CAI blends computers with traditional teaching, offering interactive software that includes multimedia elements like graphics, text, video, and sound. It promotes learner interactivity and is widely used in both traditional and online schools.

Synchronous Online Learning

: Synchronous online learning involves real-time interactions between learners and instructors through chat, video, and audio conferencing. It mimics a physical classroom environment and allows instant communication and session recordings.

Asynchronous Online Learning

: Asynchronous online learning allows learners to access training materials at their own pace and availability. There is no live interaction with instructors, offering flexibility and the ability to study at different times and locations.

Adaptive eLearning

: Adaptive eLearning adjusts learning materials based on individual learner requirements, considering abilities, performance, and goals. Artificial intelligence plays a key role in adapting teaching methods to address areas needing improvement.

Linear eLearning

: Linear eLearning involves one-way transmission of information from sender to receiver without feedback or interaction. Examples include delivering learning materials through radio or television programs.

Interactive Online Learning

: Interactive eLearning enables two-way communication between teachers and learners, allowing them to exchange messages and adapt teaching and learning processes accordingly. Discussion boards and instant messaging are common interactive tools.

Individual Online Learning

: Individual learning focuses on independent learning where learners study materials without relying on peers or teachers. It emphasizes self-directed learning but may lack opportunities for teamwork and communication skills development.

Collaborative Online Learning

: Collaborative eLearning involves learners working together in groups to achieve learning goals. It promotes communication, critical thinking, and teamwork skills, recognizing that knowledge is enriched through learner interactions.
Before finding out how to create an online learning platform let's look at the most successful examples.
Coursera vs Udemy Comparison
Coursera and Udemy are some of the most popular representatives of MOOC providers. They are also key players in terms of revenue. Let's learn more about each of them.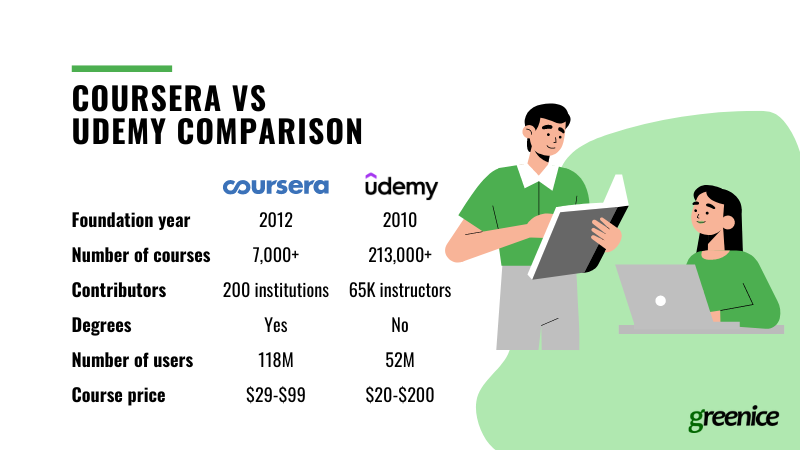 Coursera, founded in 2012 by Stanford professors Andrew Ng and Daphne Koller, primarily partners with universities and colleges to provide university-level courses and degree programs in subjects like computer science and business, among others.
Udemy, founded by Eren Bali in 2010, offers a wide range of short-term courses taught by industry professionals, focusing on practical skills like web development, digital marketing, and graphic design.
At first, both platforms provided free courses, but soon their owners realized that this business should be monetized.
Coursera and Udemy represent two types of learning platforms: Udemy works with individual teachers who submit the content to the platform, while Coursera mainly cooperates with universities and colleges.
Among the top universities that cooperate with Coursera, there are Harvard, Stanford, Princeton, Yale, and other 200 famous institutions from 29 countries. Thus, Coursera makes a serious competitor to traditional education providing the quality of the most prestigious universities at an affordable price. On top of it, Coursera students can apply for Financial Aid if they cannot afford to pay.
Udemy's database of courses estimates 213,000 courses, while Coursera has only 5,800+. Udemy online courses are mostly short-term and made by individual instructors (for example, you or me), and not university professors. Still, all courses have to pass the verification process before being published. Udemy provides all the necessary tools to create a course and promote it for profit.
How to create an eLearning website like Coursera or Udemy
To create an eLearning site, start by finding a niche based on your specialization and content type. Analyze trends and market demand and consider the preferences and learning needs of your target audience. Choose a business model, such as paid certificates, monthly subscriptions, affiliate programs, corporate eLearning or donations. Finally, select features such as course creation tools, multimedia content, assessments, student engagement tools, and management systems. By following these steps, you can build an eLearning platform that caters to your target audience's needs with accessible, flexible, and high-quality learning experiences.
Step 1: Find your niche
eLearning platforms choose their niche based on different factors, including specialization and the type of content they offer, whether it's academic or practical. Specialization is key in determining the target audience and what makes a platform unique. Some platforms focus on specific academic subjects, providing comprehensive courses in subjects like math, science, or humanities for students seeking in-depth knowledge. Others focus on practical skills, offering courses related to professional fields like coding, graphic design, or entrepreneurship.
Let's take a look at how Udemy and Coursera, two popular eLearning platforms, have chosen their niches.
Udemy

has chosen a niche in practical skills, offering a wide range of courses taught by industry professionals, focusing on fields like web development, digital marketing, and graphic design.

Coursera

, on the other hand, specializes in academic content, partnering with prestigious institutions to offer university-level courses and degree programs in subjects like computer science and business.
Both platforms cater to different learning needs, with Udemy emphasizing practical expertise and Coursera focusing on structured academic programs.
To choose a niche for an eLearning platform, consider market demand, specialization, and the target audience. Find a specific area where there's a strong need for online learning, like a specific academic subject, practical skill set, or specialized industry. Do market research and analyze trends to ensure the niche is viable. Also, consider your expertise and available resources. Understand the preferences and learning needs of your target audience to select a niche that resonates with them.
Step 2: Analyze the Competition
Now let's review the business models of some famous eLearning platforms:
Name

Number of Courses

Price Plan

Categories

Bachelor's and Master's

Who Contributes

Coursera

7,000+

Paid courses

($29 – $99), subscription ($39), degrees ($15,000 - 30,000)

Any

Yes

Universities

Udemy

213,000+

Paid courses

($20 – $200)

Any

No

Individual instructors

edX

5,700+

Free courses, paid certificates and programs (from $50), donations

Any

Yes

Universities and organizations

Udacity
200

+

Free courses,

paid

nanodegree

courses ($399 - 2400)

Technologies and Business

No, but have nanodegrees

Universities

Skillshare
30

,000+

Subscription ($14)

Technologies,

Business,

Creativity

No

Individual instructors

Lynda by LinkedIn
21

,300+

Subscription ($29.99)

Technologies,

Business,

Creativity

No

Individual instructors

Pluralsight
7

,000+

Subscription ($29)

Technologies

No

Individual instructors

Alison
40

00+

Free, but after watching ads, or premium ($8)

Any

No

Universities and individual teachers

Khan Academy

999+ million lessons

Nonprofit, donations

School subjects, Computing, Test prep

No

Universities and individual teachers

FutureLearn

3,400+

Free, premium paid

Any

Yes

Universities and organizations

XuetangX (Chinese)
60

00+

Free

Any

No, but have microdegrees

Universities
Step 3: Choose your business model
Before we move to the creation of a website like Udemy and Coursera, let's decide how you are going to monetize your project. Initially, distance courses were provided for free. However, as the popularity of distance education and the number of reputable universities and teachers who join the MOOC platforms increases, the platforms begin collecting payments. The MOOC platforms already have proven themselves very profitable. There are several monetization options most often used in this type of educational marketplaces.
1. Paid Certificates
If you ask "How does Coursera make money?" - in 2013, Coursera earned their first $1 million selling verified certificates on course completion. In March 2014, edX together with MIT issued a course on Big Data that gave them 3,500 students enrolled and more than a million dollars in just four weeks. Some courses can cost only $12-20, while studying for a bachelor's and master's qualifications from a world-class university may cost up to $30,000 or more for 12-36 months of studying.
Only analyzing statistical data on iMBA course at Coursera, it is seen that while 1.2 million people enrolled for free attendance, 49,000 students paid $50 for a certificate, 150 students bought a college credit for $1,000 and 800 students signed up for a degree course for $22,000.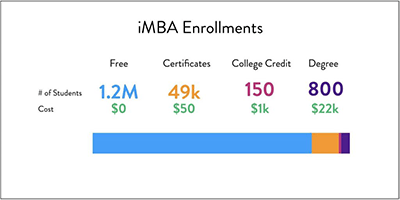 Of course, the platform should share profits with a course creator. Thus, at Udemy, content creators earn 97% of course revenue if students are referred by the instructor. If the participants are attracted by Udemy efforts, then the website and instructor get 50% shares of the earnings. And if the students are brought by an affiliate, the platforms give only 25% to the instructor, while 50% goes to the affiliate.
2. Monthly Subscription
Udemy and Coursera have monthly subcribtion plans for long-term consistent learners.
You can subscribe to Coursera Plus for $60 per month and get acess to 7,000+ courses. The participants can enroll for the course with a 7-day trial period and after this period the fee will be taken automatically for a continuation of the course.
Udemy, on the other hand, has Personal Plan available for $30 per month giving you access to 5,000+ courses, also with a trial period.
Both platforms also offer team subscriptions: Coursera for $399 and Udemy for $360.
3. Affiliate
eLearning platforms can earn money from affiliate programs. Thus, Coursera takes a percent when students go by the link for the Amazon store to buy the books recommended on a course.
4. Corporate eLearning
It is popular among big companies to train their employees, and eLearning platforms are one of the possible solutions for this purpose. Both Coursera and Udemy provide a directory for Business.
Among Coursera for Business customers, there are L'Oréal, AXA, Pfizer, Phillips, and Boston Consulting Group. The payments start at $400 per user per year for a minimum of 5 users. By 2021, more than 3,100 companies signed up for Coursera for Business.
Udemy for Business is used by Volkswagen, Lyft, PayPal, Booking, and others. The platform takes $360 per user per year for a minimum of 5 users.
5. Donations
There are a number of certification programs that are sponsored by the government and NPOs. Donations from users help Khan Academy, a 501(c)(3) nonprofit organization, survive: this includes $2 million from Google in 2010 for creating new courses and translating content into other languages and $2.25 million in 2015 from AT&T for mobile versions of the content. In 2022, Khan Academy fundraised more than $16.2 million.
Step 4: Select features for your eLearning website
First of all, you should determine what type of eLearning website you are going to create:
If you are planning to attract universities and organizations as course contributors or create your own courses,

build a website like Coursera.

In case your platform is supposed to provide a place where any individual tutor is able to create and manage their courses, then you should

make a website like Udemy.
There are a number of features that make the core of almost any eLearning platform. Let's look at the basic functionalities and unique peculiarities necessary to create a website like Coursera and Udemy.
1. Search, categorization, and recommendations
Any eLearning platform, first of all, represents a catalog of courses and access to them. So browsing through courses should be well organized and comfortable.
As we already mentioned, Udemy stores more than 213,000 courses. No wonder they need a sophisticated search to quickly find the fitting courses. Search in Udemy is realized with the help of Elasticsearch technology and quickly retrieves matches to the user's request.
Users can search by:
a) Keyword in the search bar: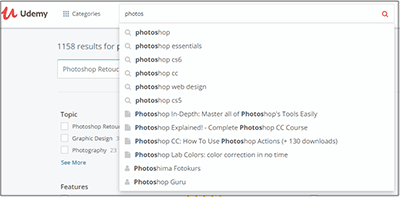 b) Categories and subcategories: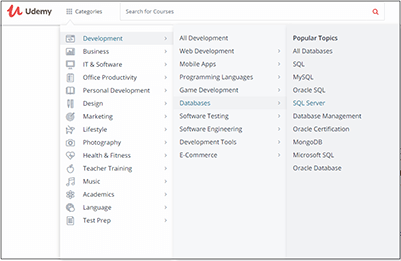 When Coursera was founded, there were only 5 categories and some subcategories depending on the content topic. A few years later the number of courses increased to more than 2,000 on different themes from computer science to medicine. It became difficult to match courses to people's interests. For example, the same courses could belong to several categories, like "English Language for Business", which might refer to languages, business, humanities, and self-development.
Coursera engineers implemented special algorithms to organize courses in a consistent way. The system managed to group courses into several clusters as is seen in the graph below. Humanities, social sciences, and business courses are in one part and natural sciences, engineering, and computational sciences courses are in the other part. Now, there are only 11 domains that include all courses.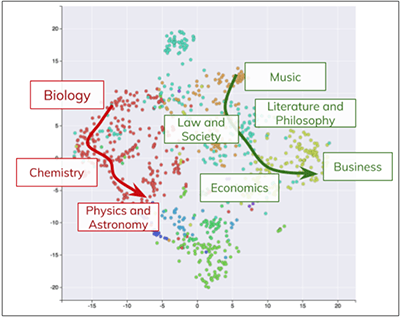 с) Sorting and filters (by category, subcategories, language, price, author, etc.):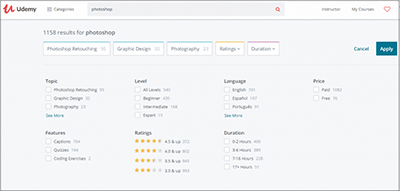 d) Recommendations
Recommendations on courses can help a user discover interesting findings they did not consider. If you ever tried to surf the Coursera website or even created an account, you probably noticed that the system collects data about all your views and interests. This information is analyzed to bring you back suggestions on:
Courses based on your recent activity
Because you viewed X
Most popular in X
Most popular courses
Most popular certificates
Trendy courses
2. Authentication
Users should be able to register in the system in one of the secure and comfortable ways.
3. User Profile
Depending on the types of users on the platform, there can be different profile types.
a) Student Profile
This is a user account to collect all information about user enrollments, purchases, and activities. In the student profile, there can be:
User info
A list of active and completed courses
Information about earned certificates/credits/points
History of purchases and transactions
Wishlist
Profile settings
b) Teacher Profile
Coursera only allows course creation to the instructors eligible with 150 Coursera partner institutions. Udemy provides a teacher profile for every registered user. Unlike Coursera, Udemy provides a Teacher's Profile where individual instructors can create and submit their lessons with the help of an intuitive tool.
4. Course Creation
Creating a course, a teacher passes through a questionnaire and submits the answers for review to be admitted.
The course wizard tool allows you to complete a course structure, write a script, add videos, slides, text, quizzes, coding exercises, assignments, practice tests, and additional resources including PDFs, links, audio files, etc.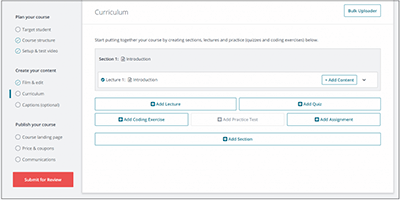 5. Dashboard
Instructors have a Dashboard to track their activities and get useful insights. In Udemy, the dashboard includes such features as:
"Courses" where all the teacher's courses are represented.

"Performance" allows monitoring of the number of students, revenues, enrolments, rating, traffic, and conversion.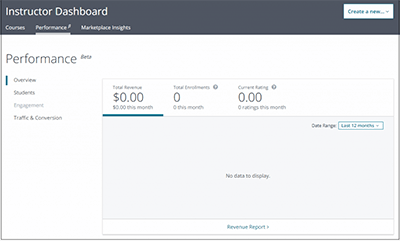 "Marketing Insights" gives curious data about market research on a topic a teacher is going to create a course on.

6. Enrollment for a course
Users should be able to get access to the courses they select. The access can be done freely or after registration and adding a course to the shopping cart and paying for it. Also, courses may have a free trial period after which users should be proposed to pay to continue. All enrollments should be listed in the list of courses in the user profile.
7. Course page
A variety of course features can be limited only by your imagination.
Every course should have a brief description, information about its creator, usage instructions, syllabus, start and end dates, ratings, and reviews.
As a rule, courses may consist of the following activities: pre-recorded videos, subtitles, interactive textbooks, quizzes, tools for peer-reviewed assignments, chatting with classmates and mentors, discussion forum. Gamification will help you to engage people more.
Also, there should be some kind of reward system for completing a course students received grades and certificates.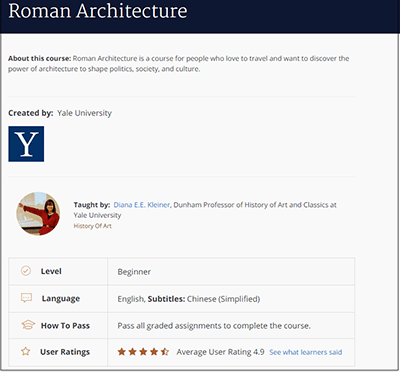 8. Payment systems integration
If your business model is based on paid courses and services, you should provide users with comfortable and secure methods of payment.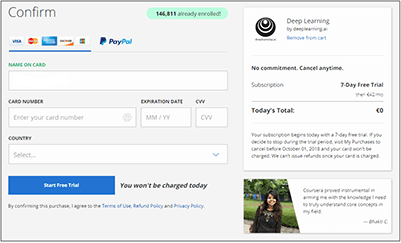 9. Emails and notifications
Inform your subscribers of new courses, recommendations, events, etc. by email or app notifications.
10. Admin
Admin should be able to manage all the content and users on the website:
Add/edit/remove/blacklist users
Add/edit/remove/archive courses
Generate statistics reports
Assign user roles
Assist in the subscription plan change
Add content to the website blog
Manage notification and newsletter emails etc.
For example, Udemy Admin can generate such reports to view course statistics: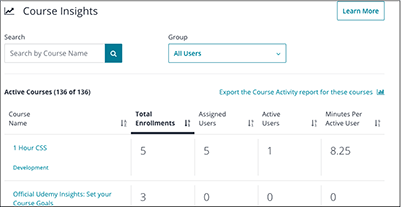 11. Blog
A blog is a good way to attract traffic to your website and share the latest news, tutorial of course creations, and other useful information.
12. For Business/For Government
Besides individual courses, many MOOC platforms now provide education for enterprises and government organizations. This option allows companies to educate their employees in a centralized way. All data on a student's progress is tracked and can be sent to the existing LMS or CRM of the company due to integration via API. Based on this data, it is possible to view the statistics and form the leaderboard, add certificates of course completion to the employee profile, etc. Both Coursera and Udemy have this feature.
Coursera actively implements Machine Learning technologies in their system. For business, they made a Skills Benchmarking feature that allows making a bird-view of the company talent to develop a strategy of workforce education.
13. Support
With so many courses and a greater number of enrolled participants, answering their questions can become a nightmare. But at the same time, leaving students without support would mean a decrease in completion rates and frustration with the platform services. That's why Coursera switched to machine learning to track students' activity and identify who needs to support the most to respond to them quicker. For other students who are not at risk, the system sends automated emails with recommended steps for solving their possible problems with the course.
Step 5: Choose technology stack
For those who are preoccupied with the question of how to develop a website like Udemy or Coursera from a technical point of view, we have prepared some research findings.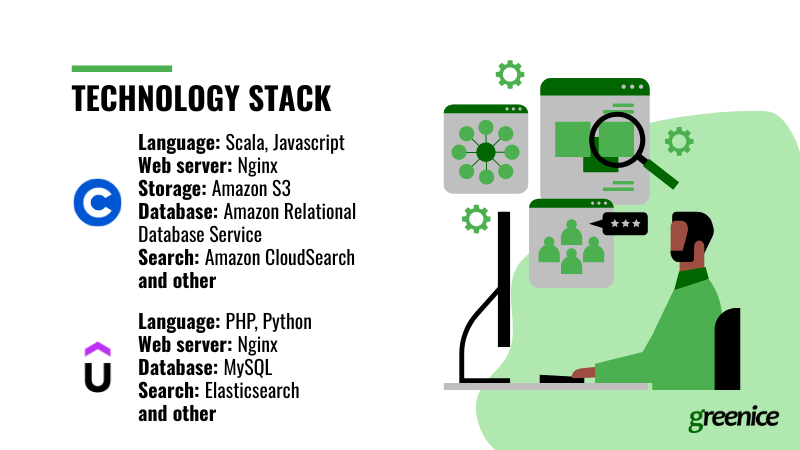 eLearning website development is possible with less effort. There are platforms that assist in building eLearning websites. Here are some popular options:
WordPress:

WordPress is a versatile content management system (CMS) that offers numerous plugins and themes specifically designed for eLearning. Plugins like LearnDash, LifterLMS, and Sensei can transform a WordPress site into a fully functional eLearning platform.

Moodle:

Moodle is an open-source Learning Management System (LMS) that provides a robust framework for building and managing eLearning websites. It offers a wide range of features and customization options to create interactive courses and track student progress.

Canvas:

Canvas is a cloud-based LMS designed for educational institutions. It provides a comprehensive set of tools for course creation, assessments, collaboration, and grading. Canvas is highly scalable and widely used in the academic community.

Teachable:

Teachable is a platform specifically built for creating and selling online courses. It offers a user-friendly interface, course builder, marketing tools, and secure payment integration, making it easy for instructors to launch their eLearning businesses.

Thinkific:

Thinkific is another platform dedicated to creating and selling online courses. It provides an intuitive course builder, customization options, marketing tools, and student management features. Thinkific supports both self-paced and live online courses.

LearnWorlds:

LearnWorlds is a cloud-based platform that enables users to create and sell online courses. It offers interactive course creation tools, advanced quiz capabilities, discussion boards, and various customization options for branding and designing the learning experience.
These platforms provide different features and customization options to build eLearning websites. Choosing the right platform depends on factors such as your specific needs, budget, technical expertise, and scalability requirements.
However, at Greenice we prefer custom development, as it gives the best flexibility and security. We either build a website from scratch or use a white-label solution and customize it. The latter option still implies custom development, but allows to significantly cut the development time and cost (learn more about it below).
Our technology stack is: PHP, Laravel, MySQL, AWS, JavaScript, React.js, and others.
Step 6: Launch an MVP
Launching a Minimum Viable Product (MVP) for an eLearning website can be an exciting and smart strategy for entrepreneurs. By focusing on the most important features and functionalities, an MVP allows for a quicker and more affordable launch, while still delivering value to early users. The MVP should include essential components like user registration, a course catalog, content delivery, and basic assessment tools.
This initial version lets entrepreneurs test their concept, gather user feedback, and validate the demand for their eLearning platform. By launching an MVP, entrepreneurs can make improvements based on user insights, ensuring they create a solution that meets learners' needs and sets the stage for future growth and success.
How much does it cost to develop a website lke Coursera or Udemy
If you're planning to create an eLearning platform akin to Coursera or Udemy, you've probably already tried to estimate the possible costs. Here are some ballpark figures to give you an idea.
Building a website with similar functionality to Coursera may cost around $70,000 to $105,000. This includes development from scratch, custom web design, QA testing, and project management. The price will vary depending on the complexity of features and integrations. However, you can always start with the core functionality (as an MVP) and launch your platform more quickly to test the idea in the "wild" before investing too much time and budget.
To reduce costs, you can create a MOOC platform using a white-label solution that is completely customized for your business aims and design preferences. This approach will allow you to have a platform at a cost of approximately $7,000 to $10,000. As you can see, there are many ways to save by getting a custom-built website.
Our experience
At Greenice, we created 40+ educational apps for healthcare and child education companies. You can leverage our experience to create your own awesome eLearning solution.
Below is the list of Greenice projects and the peculiar features that make them successful.
For one of our clients from the US, we developed an eLearning web portal for Continuous Medical Education. The project is supported by the government and provides free training and certification for physicians.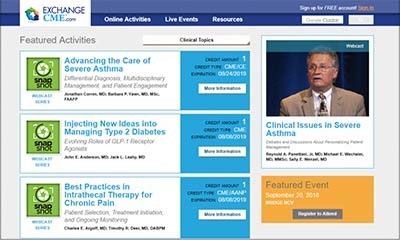 The functionalities include:
Online activities on each medical topic, consisting of:

Pre-questionnaire
Module video or presentation
Post-questionnaire
Evaluation
A certificate with a print version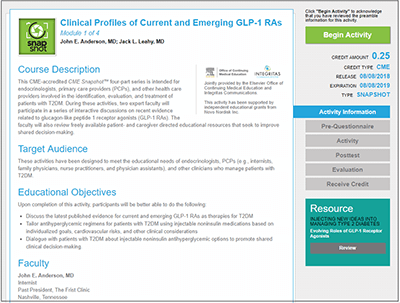 Registration for live events
Resources for additional learning
Admin CMS to easily upload and manage information
Reports to track the progress
Surveys
"Follow up" newsletters to check the results in some period after a user passed a module test to compare the results.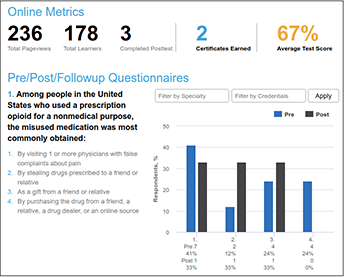 Brand & Sales University
In this case, we developed a directory for several training campuses to educate sales representatives of top-10 pharmaceutical companies. The app allows for interactive studying with elements of personalization (personal curriculum, modules, and courses, quizzes, bookmarking). All results get into the system and reports to track the progress and form a leaderboard.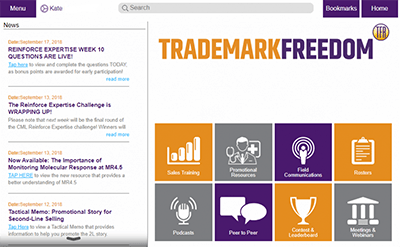 The features include:
1. Gamification
Scoring system for completed activities
Educational games
Competition between individuals and groups
Leaderboards
2. Community and Mentorship
Product and team news
Awards and recognition
Calendar of training events
"Ask The Leadership Team"
Peer2Peer Resources
3. Tracking and Reporting
Knowledge assessment: quizzes, game results, and surveys
Track individual and group results
Export reports to Excel
In general, the eLearning application was implemented for pharmaceutical companies to train more than 300 sales representatives who should pass through 70 hours of live training a year on average.
Educational Platform for Schools and Students
We've created an online learning platform for schools and students. The case was to build a SaaS model for two eLearning web portals catering to schools and students in the field of programming education. The aim was to streamline the eLearning experience for schools, teachers, and students, providing a more efficient and effective platform for programming education.
The features include:
1. School Portal:
Plan: Pre-designed educational programs that schools can purchase access to.
Staff: Schools can add teachers to the portal.
Classes and Grades: Management of classes and grading for students.
Students: Schools can upload a list of students using a CSV file.
Progress: If the school purchases the Students portal as well, the progress of students in completing classes will be sent to the School portal.
2. Students Portal:
Individual Study Plan: Each student logging into the portal receives a personalized study plan based on their level. The admin sets the initial level upon adding a student, and it adjusts based on completed courses.
Access for Schools or Parents: The Students portal can be purchased by schools or parents who want to track their children's progress.
Conclusion
Studying at MOOC platforms is a contemporary, convenient, and inexpensive method to get an education from top universities and educators.
In this article, we shared top tips on why and how to build a website like Udemy, Coursera, and the like. The main takeaway is that you should avoid blindly cloning them. Be creative and make your own product. Stand out with unique features and improved usability of basic features.
Rate this article!
You should be
logged in
to be able to rate articles