Are you thinking about starting an online tutoring business? With the rise of remote learning and the increasing demand for personalized education, now is the perfect time to enter the online tutoring market. But how do you create a website that attracts clients and sets you apart from the competition?
In this article, we will guide you through the steps of creating an online tutoring website that brings in clients. We will cover topics such as what online tutoring is, why the market is growing, and how to make an actionable plan for your tutoring website. We will also discuss factors such as studying the competition, choosing your niche, and selecting features for your platform. With these tips, you will be able to launch a successful MVP and apply these strategies to your own business.
What Is Online Tutoring
According to Wikipedia, 'online tutoring' is the process of tutoring in an online, virtual, or networked, environment, in which teachers and learners participate from separate physical locations.
However, when we talk about how to start a tutoring company, each of us may have slightly different ideas. For example, a tutoring company might be:
A website that hires professional teachers

who lead classes and stick to a program designed for individuals and groups.

A marketplace

that allows individual tutors to register and find students.
A platform that connects teachers to students for

in-person classes at home.
It can also be a blend of everything above. In any case, the tutoring platform serves three parties: Student — Platform — Tutor.
Online tutoring is subdivided into two big types:
Asynchronous online tutoring

is tutoring offered in a format in which the learner submits a question and the tutor responds at a later time.

Synchronous online tutoring

implies teaching in real-time — either online or offline.
Some platforms focus on just one of these types, while others use both. Is now a good time to start your own online tutoring business? Let's look at the market.
Why Online Tutoring Market is Growing
The founders of Uber have given people not only a taxi-hailing service but a new business model that can easily be integrated into any sphere. One of these areas is tutoring on-demand.
In spite of a big number of existing platforms for tutors, the market has not been saturated yet and it continues to grow.
The total online education market is anticipated to reach 1 trillion by 2027.
Now is the right time to start a tutoring company, and here's why:
1. New generations prefer online education
Modern generations are used to getting all necessary information online, and immediately.
Flexibility, time- and cost-effectiveness, smartphones, and high-speed Internet — all boost eLearning growth. Tutoring on-demand, as a part of eLearning, is one of the most promising areas for a business startup. Students digest 25-60% of the information presented when learning online compared to only 8-10% in a classroom.
Citing Chuck Cohn, Varsity Tutors' founder and CEO, 75% of their customers prefer online tutoring to in-person.
2. Shortage of local tutors
While word of mouth is still a common way for people to find a tutor, not everyone can benefit from this. Big cities boast a variety of tutors at all levels and every imaginable subject, but remote areas lack even basic teachers. In less populated areas, online platforms might be the only way to get the necessary help.
3. Covid-19 pandemic became a game-changer for the education system
While some time ago online tutoring was considered just a small niche in the market, the changes in lifestyle and economics in 2020, provoked by the global spread of coronavirus, have thrust online learning to the forefront of education and has given startupers more reasons to develop a tutoring service website.
In the words of Ned Renzi, an investor in the online tutoring platform Paper, the demand is huge, and currently, existing platforms can not cope with the volume. He believes that the popularity will not fade after quarantine as many students have been introduced to the online tutoring concept, and they will continue to use it after the effects of COVID fade.
According to Chegg CEO Dan Rosensweig, his company saw 'a substantial increase in new subscribers' when students were forced to study from home. At present, the number of Chegg subscribers has been estimated at 2.9 million students and in Q1 2020 the company's total revenue grew by 35%, reaching $132 million.
Here are some impacts of the 'Stay at Home' situation:
Schools and universities that did not have an online presence started to look for cooperation with EdTech companies. Hardly any school will risk NOT having digital support for its courses in the future.
In many countries, namely the UAE, private offline tutoring at homes or in educational institutions was banned by law to prevent the spread of coronavirus.
The lockdown gave online tutoring companies a chance to expand geographically to other countries by offering some of their classes for free. This gave them an influx of new learners. One example is an Indian startup BYJU'S that announced free live classes on its Think and Learn app and obtained a 200% increase in the number of new students using its product.
Government support for online tutoring is one of the major factors driving the market growth. The Government of China recommended primary and senior high school students use online platforms to resume their studies. As a result, more than half a million K-12 students in Wuhan were attending classes via Yuanfudao, Tencent's K-12 Online School platform.
The changes in education are too immense and global to be rolled back in post-quarantine times. Thus, on-demand tutoring platforms will continue to grow, and building a tutoring website is definitely a worthwhile idea.
How to Make a Tutoring Website [Actionable Plan]
To create a tutoring website, you need an actionable plan to move from idea to realization:
Now, let's talk about each of the steps in detail.
1. Study the Competition
How to start an online tutoring company without knowing your competitors? Impossible! So let's get prepared. Geographically, the largest part (32%) of the private tutoring market is North America. In recent years, however, the Asia Pacific region has blossomed and now invests almost the same amount in online tutoring that Americans spend on video games. China, India, and Korea are destined to become big players in the market in the future years. Here are a few serious competitors for today:
Chinese VIPKid, the biggest platform, and unicorn among China's EdTech startups.
Indian BYJU'S that in 2019 was estimated at $5.4 billion in resources and became the world's most valued EdTech company.
To build a site like Tutor.com or other, tale a broader view of the global competitive landscape to collect ideas for your platform:
Platform

Country and year of origin

Monthly platform traffic

About the platform

Tutor

1998, U.S.

69K

Tutor.com provides a database of 3,100 tutors in 200 academic subjects. The website also provides online tutoring and homework help for U.S. Military Families.

Smarthinking

1999, U.S.

1.7М

90% of Smarthinking tutors hold Master's degrees or PhDs in their fields among 150 subject areas. The platform is used by many universities and colleges for their students. In 2011, the platform was acquired by

Pearson Education

.

StudyPoint

1999, U.S.

97К

The platform accommodates 600 tutors and 40,000 students. Besides academic subjects, the website offers private SAT, PSAT, ACT, ISEE & SSAT tutoring.

Wyzant

2005, U.S.

418K

The marketplace combines in-person and online tutoring for 300 subjects. The platform is used by 80,000 tutors who provide services to

2 million students.

Chegg

2005, U.S.

8M

2.9 million students of Chegg can benefit from finding a tutor of STEM

subjects, Languages, Professional Majors and Degrees, and Test preparation.

Chegg started as a textbook rental company and then added services like homework help, course selection, eTextbooks options, and scholarship connections.

Varsity Tutors

2007, U.S.

1.7M

1000+ subjects and tests can be found at Varsity Tutors. As stated by the platform owners, they connect 40,000 tutors with 100,000 students.

BYJU'S

2011, India

6M

2.7 million students study at this revolutionizing platform. The main focus is mathematics and science, where concepts are explained in 12-20 minute digital animation videos.

Preply

2012, Ukraine

555K

25,000 tutors at PrePly serve 100,000 students. Preply is mainly focused on language learning. There are many teachers from Western Europe. But there you can also find tutors of 13 school subjects + languages, music, acting, and art.

VIPKid

2013, China

246K

This is an English language platform for Chinese children. It is one of the biggest in China: 100,000 tutors and 700,000 students. The focus is on personalization. The company hires fluent English-speaking educators from the U.S. and Canada.

Tutors

2013, U.S.

182К

(Don't confuse this with Tutor. There is a big difference between these two platforms).

Tutors is a marketplace for 18,000 tutors and 1 million students. There are a variety of disciplines, tests prep courses, tutoring for sports, business, and more. The company does not require tutors to have a degree in a subject for registration. They accept anyone.

Skooli

2014, Canada

16K

A Canadian-based platform that provides tutoring in 1,700 subjects, and is mostly known for its expertise in teaching Math.

Studypool

2015, U.S.

92K

Studypool is a micro-tutoring Q&A service possessing a virtual library of 20 million study documents for download. Students can also book a session from one of more than 22,000 tutors. The platform is used by 76 million students.
2. Choose Your Niche
Which niches are the most promising areas to create a website for a small tutoring business?
Let's look at your target audience. There are at least six types of students who need tutoring services. They are:
people with dyslexia or similar conditions
unmotivated learners (students that procrastinate)
students with special needs (who cannot attend school)
pre-college school graduates and adults who need to prepare for tests, exams, and job interviews
students who struggle with one of the STEM disciplines
high achievers.
How to make my tutoring website unique?
1. Focus on a target audience
For each of the above-mentioned categories, you can make a tutor website focused on the needs of a certain group of people.
2. Choose a specialization
Your competitors are large marketplaces for on-demand tutors that try to cover all possible niches and also huge handyman marketplaces like TaskRabbit and Thumbtack. It's hard to compete with such giants that have millions of listings.
Starting a new business you may choose to begin with a vertical marketplace (one specialization) and, after cementing your position in the market, expand horizontally by adding more categories. For example, you can find groups of people who are underserved in the market and find specialists for them — thus becoming a unique service provider.
Many new online classes can be taught at a distance. For example, make a website for driving instructors, fitness trainers, culinary gurus, yoga teachers, dancers, actors, or musicians. And you can make a website for language tutors that are hugely popular right now.
3. Pay attention to trends
It is anticipated that Test Preparation will become the biggest segment in tutoring in the next 5 years. There is a growing tendency to test candidates when they apply for jobs. Another trend is the domination of asynchronous tutoring. Even now, the majority of the online courses are asynchronous — video lessons are pre-recorded and students ask the tutor questions after watching the lessons.
4. Find more underserved groups of people
Not only students need help. Today, business people also are looking for mentors and coaches. Platforms like Growth Mentor accommodate the necessary specialists of this kind in one place.
5. Add specific features
Different niches may require specific features. Knowing the peculiarities of a certain subject, you can create a better learning environment for students and teachers and leave your competitors behind.
3. Choose a Business Model
Before we approach the answer on how to build an online tutoring platform, let's agree on how you are going to monetize your online tutoring business.
Existing platforms use different ways to generate revenue. Here are the most common:
1. Commission. The platform takes a small commission from each lesson. For example, at Preply, tutors on the platform set the price per lesson themselves. For the first lesson, Preply takes 100% of the payment, and then depending on the number of hours already tutored, the commission varies from 33% (for 0-20 hours) to 18% (for 400+ hours).
2. Freemium. Some platforms give part of their features for free while taking a fee for more advanced functions like analytics, interactive tools, or AI-matching. Or the platform can limit the number of students per tutor per month. BYJU'S uses the Freemium business model giving its users free access to content for 15 days after registration. If they want to continue using the platform they need to pay.
3. Flat fee. The platform takes a definite amount of money regardless of the price of the lesson. Skooli tutors earn $25 per hour and can request a payout whenever their wallet contains at least $100.
4. Subscription. Students may pay monthly or yearly for access to the knowledge base of lessons, experts' answers, and publications. For instance, Studypool offers its subscribers more than 30 million study documents, 10 of which can be downloaded each month for a $4.95 monthly subscription fee.
5. Promoted tutor profiles. Platforms can offer additional services for an extra fee. Better matching between students and tutors, or placing tutors' profiles on top of the search results.
6. Ads. Placing advertisements on your website from partners can bring you additional profit. For example, Duolingo, a language tutoring app, provides its services for free and makes its living through paid ads.
7. Pay-per-lead. Another way to generate revenue is by charging tutors for each lead. TutorZ refers students to tutors taking $2–$3 per recommendation. Tutors.com allows tutors to send their quotes to students only after they buy enough credits. Each quote may require 2-5 credits, and each credit costs $1.64. If students do not respond to a quote, the credits are returned to the tutor.
4. Choose Features for Your Platform
Special for this article, we contacted Joanna Kaminski, a famous YouTube blogger and experienced couch for tutors. We asked her expert opinion about what tutors expect from an online tutoring platform.
According to Joanna, today it is still hard to find a platform that fully covers all of a tutor's needs. The tutor mostly uses platforms to search for students. For video sessions, they prefer to use Zoom, Skype, or other applications. Tutors are forced to use different tools for teaching. It would be great to combine matching, scheduling, learning, finances, tax preparation, marketing, and branding all in one place.
With this in mind, we looked at several of the most popular online tutoring platforms and examined their features to get a complete picture of what an ideal platform would look like.
To make a tutoring website first of all you should divide the platform into three sections: Students, Tutors, and Admins. Let's list the most popular and essential features of modern marketplaces: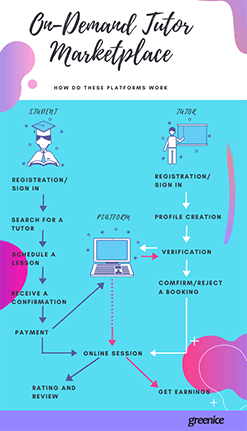 Student section
Here learners can find a tutor in a certain subject. The scope of features may consist of:
Registration and student profile
Students should be able to register either by email or via one of their social accounts. The profile stores basic personal information, a list of scheduled and past lessons, payment info, notifications, and account settings.
Users should be able to search for a tutor by subject, language, price, availability, location, level of expertise, rating, etc.
The search returns all tutors that match the selected criteria showing previews of the tutors' profiles in a list. Students can add a tutor to favorites, write them a message, or book a lesson.
Add an option for students to compare two or more selected tutor profiles to help them make a choice.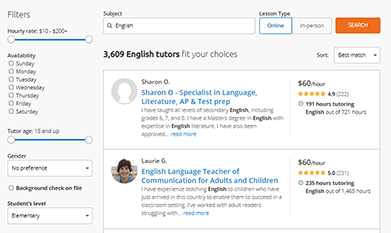 Many modern platforms now use machine learning technology to increase the efficiency of pairing students to teachers based on data from previous matches. For example, the Preply marketplace has implemented machine learning to rank the tutors based on their profiles.
The best way to connect students to teachers is to allow students to schedule a lesson online through a special calendar where tutors can mark their availability. After a date and time are selected, the tutor receives a notification and can either accept or reject the lesson. Such an approach also prevents schedule conflicts. Add a reminder option that will help avoid forgotten appointments.
Some platforms work as auctions: learners post their requests (questions on a subject) in a forum, set a time limit, and a price for an answer. Then, tutors can bid and the student chooses the best answer. The payment is sent to the tutor only after the student is satisfied with the results.
When the platform has collected a large database of questions and answers, you can automate this feature even more. For example, Toppr, an Indian EdTech startup that directly competes with the unicorn BYJU'S, introduced an AI-powered bot for students to get answers to their queries in real-time. When the platform began to receive as many as half a million repetitive questions per month, they addressed them to bots. Such a solution allowed them to free up tutors' time and attention to solve more complex requests.
There are many ways to conduct lessons. Some platforms are used just for searching and scheduling lessons, while the tutoring takes place on Skype, Zoom, or offline. Other, more sophisticated platforms, integrate with Zoom through API. Preply, Scooli, Wyzant, and some others use native software for virtual classrooms with a whiteboard, screen sharing, file transmission, text editing, and chatting.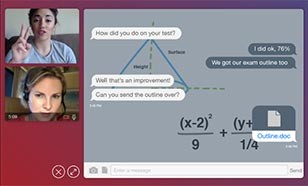 It is vital to evaluate each student's competence in the subject before the first lesson. This allows tutors to understand students' weak areas and create a personalized program. For example, we developed Pre-Questionnaire forms for our client's website, ExchangeCME: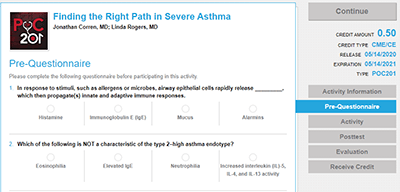 We created an eLearning platform for the continuing education of medical specialists. The platform allows them to acquire new knowledge and earn the necessary CME credits. The project has been successfully functioning since 2012, fulfilling the main aim of continuing education for doctors. - Read the Case Study
Student testimonials are an excellent way to add trustworthiness to the platform and attract new clients. The student should be able to rate the quality of the tutor based on their experiences during the lesson. From a technical standpoint, reviews are vulnerable and need protection from spam and dishonest behavior. Filter the reviews so that only the authenticated users and those who truly completed a lesson with a reviewed teacher can leave feedback.
To guarantee safety, use the escrow method. This means that payments are kept on the platform account and transferred to the tutor only after the student's confirmation. This prevents cheating and protects both tutors and students. Don't forget multi-currency and varied payment options if your service is international.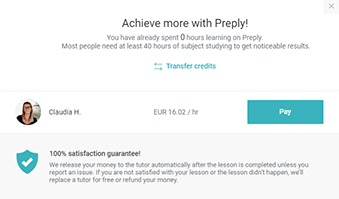 Students and tutors may need to communicate, ask questions, and clarify homework. Let them send messages right on the platform for more convenience.
A revenue source of your platform can be a database of videos, tutors' answers, publications, and books. You can provide access to this searchable virtual library by subscription. Below is the Resource database of one of our clients — ExchangeCME: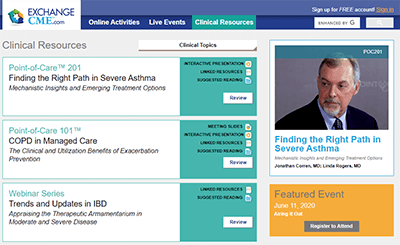 For the small children, add an option for parents to create an account for their children, book lessons, pay, and track progress.
Tutors section
This is a teacher's section where they can register, and access their profile and teaching tools.
Different online tutoring platforms have different requirements for tutors — from simple online registration (like at Tutors.com) and self-description to interviewing and background check (like at Tutor.com)
For example, Tutor.com receives more than 100,000 tutor applications each year. All applicants need to demonstrate their teaching methodology. They also must pass tests to prove their subject-matter expertise, ability to cope with the online environment, and understanding of Tutor.com's policies. All prospective tutors must also pass third-party background checks. In the end, only 1.5% of all applicants get listed as tutors at Tutor.com.
Another example is Chegg, which requires applicants to send a picture of their diploma, a student ID card, or scanned copies of university transcripts. The candidates may also be asked to pass a subject test.
Vetting is important. If the platform accepts everyone who claims to be a tutor, the platform cannot guarantee quality. This also creates a negative environment for qualified teachers; they are forced to compete with inexperienced, unprofessional tutors who agree to work at lower prices.
After successful registration, a tutor profile is created where a teacher may feel free to add information that will help them compete. They can add a description of their services, a detailed biography, a summary of their teaching experience, a photo, a video self-presentation, and their price range and schedule.
Platforms should provide fair competition between tutors. When tutors set the prices of lessons themselves, they might be confused about what to charge.
A lifelong professional tutor will make a private tutor website to better position themselves in the market, and to stand out. But the price to creating a tutoring website is not always affordable. In addition, for many people, tutoring is just a hobby or a part-time job. Students who may have no diploma or teaching experience often work as tutors. For fear of not having clients, newbies set low prices, undercutting more experienced teachers.
One way to more accurately set prices is to consider the tutors' skills and recommend a price range.
For example, we created something similar for one of our clients — Arcbazar, a marketplace for homeowners and designers. It is a creative competition platform where designers and architects compete for the projects. When a client submits a request for a house building or remodeling, she needs to determine the sum of the prize to the winning project design. Many customers had trouble deciding what the prize should be. We implemented an AI-powered solution that compares clients' request criteria with past projects and prices and then recommends a suitable price.
A similar process can be created for tutors who cannot decide what price is fair and competitive.
Tutors should be able to view and manage requests for lessons.
Tutors should see all their earnings and be able to withdraw payments. It is also a good idea to help tutors with automatic tax deductions.
Visual analytics is a good way to show statistics related to the tutor's performance: a number of students, completed lessons, earnings, etc.
Similar to the Student's section, teachers should also have Virtual Classroom and Messaging features.
Admin section
Admin should be able to manage all content and users on the website:
Customer management system
Admin should be able to view all registered students and their status. This allows Admin or the Sales team to differentiate users depending on their behavior and include them in various marketing campaigns (subscriptions, special offers, discounts, tutors, and additional subjects they may be interested in).
Admins or Managers should be able to view all newly registered tutors, check their information, and either accept or reject them.
Admins may need various reports to track earnings, traffic, and other parameters.
Admins should be able to change the subscription fees and commission for users.
The website should have up-to-date information. Quality blog posts allow you to increase platform visibility on search engines and attract new users.
Manage notification and newsletter emails
Admins may need to create and send notifications and emails to users. This can be done easily with the help of newsletter templates.
5. Launch an MVP
Now let's create a usable product. Of course, you probably want to have everything at once and make it perfect. But complicated websites require a lot of time to implement. The cost to create a tutoring app with complex functionality can be quite high. As a startup, your main task is to check if your idea is viable at all before you invest a lot of money and effort into development. We recommend starting with an MVP — a minimum viable project. To create an MVP, you need to choose the most important features that represent the skeleton of your project. You need to show its competitive advantage in relation to existing solutions. The MVP approach allows startups to save time and money while they develop a ready-to-use product.
If you start with an MVP, it allows you to launch the first version of the platform and get feedback from users. Thus, you can get a better understanding of how to extend your project. In future iterations, you can add new features and modify previous ones.
How Much Does It Cost to Create a Tutoring App
One of the important questions for startupers is how much it will cost to develop a tutoring app. There are many price options for building a tutoring website depending on the feature set, complexity, web design, and integrations. For starters, we suggest you make an MVP with the more indispensable features.
The MVP price of the custom online tutoring website can vary between $30,000 and $50,000 MVP. Adding advanced features like conferencing or custom chatbot integration may increase the cost up to $50,000-80,000. To reduce the price, we can propose you develop a website with a help of a white-label solution that we will customize for your needs. Such a platform may cost $15,000-20,000.
How to Apply This to Your Business
Thе on-demand online tutoring has boomed in recent years. Uber-like tutoring platforms that quickly connect students to tutors are of great importance, especially in remote areas and during times of a pandemic. Nevertheless, there are still not enough solutions that offer all desired features and provide fair conditions to tutors. There is still room for more tutoring sites, as there are many micro-niches that need to be filled. This opens vast opportunities for startups when creating a tutor website.
At Greenice, we help businesses develop eLearning solutions of any level of complexity — from educational games to LMS for Universities. We can help you as well! Send us your request and we'll get back to you to discuss your project ideas.
Ready to create an online tutoring website?
Get our professional analysis of your project and a free quote.
Contact Us
Rate this article!
You should be
logged in
to be able to rate articles