People spend more than $335 billion annually in the US alone on on-demand care services for their parents, kids, homes, and pets. Today we'll talk about apps for senior citizens.
Our society is witnessing a longevity revolution. Life expectancy is increasing and the number of elderly people is growing rapidly. It is anticipated that by 2050 1 in 6 people will be over 65. Many of these elderly people will need daily help and special care due to health problems.
If you are a startuper who wants to create an on-demand home care application, you'll find useful information inside. The business model, features, and development steps will be described in detail. Just dive in!
Advantages of On-Demand Home Health Care Application
Mark is 52. He lives with his family and works in New York. His mother, aged 74, lives alone in her house in Denver. One day Mark calls her and understands that her health is getting worse and she needs constant care.
I just made up Mark and his story, but actually, it is quite common in modern life. We live longer and the number of elderly people is growing rapidly.
It is not only geographical distance that makes helping the senior generation difficult. Family members just do not have the proper experience and knowledge to provide necessary care, and to create and follow the treatment roadmap. What's more, many of them are not young themselves when their parents' health starts declining. They work, raise their own children, and often find themselves 'sandwiched' between caring for their children while also caring for their aging parents.
In such a situation, it is preferable to find specialists who can provide qualified care, assisted living, and medical services. Previously, people found assisted living nurses through agencies, or by the word of mouth. Today, we can benefit from new technology in nursing care to make this process easier and more comfortable with technologies that connect patients and caregivers through the online marketplace for on-demand elderly care services.
The impact of technology on nursing care is huge. Here are some benefits of senior care app development:
Quick caregiver search.

An easy way to search for caregivers who match patients' needs without going to an agency.

Transparency and trust.

Patients can examine many caregivers' experience and diplomas from their profiles. They can read reviews and recommendations before choosing a specialist.

Better safety.

On reputable platforms, all caregivers go through background and skills checks, interviews, and sometimes additional training before they get access to the jobs.

Tracking.

Platforms save the history of transactions, keep track of medical progress, and report to relatives. Сaregivers do not need to remember the specifics of each medication plan, and they can track the treatment progress and patient conditions more easily.

Easy payments.

The platforms take care of salaries and taxes. They can also make payments transparent to those who order services.

Fewer expenses.

In 2019, home care agencies took, on average, $21 per hour for home care services. At the same time, an independent caregiver registered on the platform charged 20% - 30% less. As far as home care services ordered over the long term, the difference is in the thousands of dollars per year. Hiring on-demand help for $15-17 per hour can be a money-saving solution while allowing you to have the proper care.
So, there are many reasons to build apps for senior care right now.
5 Things You Need to Know Before Developing an On-Demand Home Care App
We use Uber to hail taxis, Airbnb to book holiday accommodation, Upwork to hire a freelancer, and other sharing economy apps for other on-demand services. Services for elderly parents can be just as easy.
What is peculiar about this type of on-demand service?
1. Types of Elderly Care
Not all people over 65 need 24/7 assistance. Most of them still work and live active lives. However, health problems may emerge suddenly when no one is ready, and help may become required immediately.
The most popular areas covered by the on-demand home health care app solutions:
Daily essential care

(meal delivery, housework, daily errands, transportation)

Medical care and coordination

(creating care and treatment plans, medication management, telemedicine, nursing)

Social well-being

(companionship, social activities)

Transition support

(insurance, legal and financial assistance, hospice, and funeral planning).
Most of these services are performed by local caregiving agencies. However, more and more caregivers want to work independently and the online peer-to-peer platforms are perfect tools for clients' search.
What type of an elderly care service platform are you going to create?
Let's discuss
2. Competitive landscape
By 2019, there were 109 online marketplaces for caregivers around the world. Look through some of the most famous to get inspiration and identify unmet needs:
Country

Elderly Care Marketplace

USA

KindlyCare CareLinx Honor Papa Mavencare
Canada

Homehero




CanadianNanny




ElderCare

Europe
CareSourcer SuperCarers Curafides Careship
Middle East
Salwaty
Australia and New Zealand
Mycare
Asia
Homage

Global

Care
3. Business models
The aim of an on-demand care marketplace is to connect patients (or their relatives) with registered caregivers and nurses. Of course, there are several ways that such a platform can monetize its services.
Commission.

The most popular way is to charge users for each transaction. This can be either a percentage of a sum or a flat fee. Thus, Kindly Care takes 20-25% from the patient above the hourly caregiver's salary.

Subscription.

With subscription memberships, platforms can get regular revenue in advance.

Lead generation fee.

The platform may charge a fixed price for each signed contract with a lead. For example, a UK-based marketplace CareSource takes 25 pounds a week for live-in care and 0,5 pounds per hour for at-home care services after a caregiver contracted with a lead.

Mixed.

Sometimes the platform may combine several types of models. For example, Papa charges subscribers $15 a month and an additional $15 per hour for each caregiver visit. A subscription of $30 a month with the same hourly fee, allows patients to choose and interview a Papa Pal in advance.
4. Competitive advantage
On the one hand, the number of on-demand marketplaces for caregivers isn't large enough to cover all areas and needs. On the other hand, one strong niche representative is enough to kill opportunities for competition. So, to build an app for elderly care that will be successful, you need to take into account the challenges and needs of the target audience and come up with a unique solution that will outshine all existing apps in the market.
Here are some examples of a competitive advantage discovered by the existing platforms:
Employee status.

The founders of Honor noticed that the work of caregivers was underestimated and the salaries are terribly low ($9.50 in California). As a solution, they proposed that all their contractors become their employees with an hourly rate of $17.50. HomeTeam and HomeHero followed this model giving their workers the status of employees with all corresponding benefits like paying taxes, medical insurance, vacation leaves, and retirement compensation.

Advanced technologies.

It is not enough to be just a connector between a caregiver and a patient. Modern platforms provide a full spectrum of features that allows them to coordinate and analyze the patient's condition. Consider Telemedicine, AI, VR, wearables, health condition progress tracking, care planning and correction, real-time communication, and safety alarm.

Price.

Not all people are able to pay for home care. Some of them benefit from long-term insurance, Medicaid and Medicare, others rely on family. To win clients, some platforms provide free assistance with the law, finance, and insurance questions, trying to help clients pay for services.

Training professionals.

Competent, skillful, and empathic caregivers are the core of an elderly care organization. However, an online marketplace concept implies that anyone can register and proclaim herself an experienced caregiver. Instead of checking the skills and competence of applicants, platforms prefer to train their caregivers themselves. Many provide online and offline, training in specialized care.
Find out how you can enhance the already existing services in the market and fill the gaps.
5. Payments from insurance and state programs
In the USA, certain categories of home care services are covered by long-term insurance, Medicare, Medicaid, and other programs for people with low income. These programs work directly with licensed medical institutions or reimburse the money spent by patients for services. What kinds of insurance can help patients pay for healthcare services? There are several programs, and they are often confused:
Long-term insurance is private insurance for anyone who can pay for it. Usually, it covers all or part of assisted living facilities and in-home care. People should buy insurance in advance. Medicare is federal health insurance for Americans over 65 years of age. Younger citizens with disabilities may also be covered. This program doesn't cover custodial (non-medical) home care services and pays only for severe cases like:
Post-hospital stays at skilled nursing facilities
Physical therapy at home by a doctor's prescription
Purchasing medical equipment like wheelchairs
Hospice care
Medicaid is a federal program offered to low-income people (less than $2000/month per person) who prove their eligibility. This type of funding covers more long-term services than Medicare and includes Activities of Daily Living (ADLs): eating, bathing, dressing, getting in and out of bed, using the toilet, housekeeping, laundry, and grocery delivery. As a part of Medicaid, there is a Self-Directed Services program that allows participants to directly manage the allocated assets and pay for their needs, including home care services. For example, at Kindly Care, the patients/relatives pay their caregiver directly and then obtain reimbursement from the insurance after providing invoices from the platform.
What Features Should Your App for Senior Citizens Include?
At the on-demand online marketplace for elderly care services, there are usually several types of users: Patients/Relatives, Caregivers, Managers, and Admins. The features differ for these types of users. Let's review them all:
Patients and Relatives Section
This is where patients and their families can find and contact caregivers.
1. Place a job or search for a caregiver
The search can be done in different ways. At some websites, patients can place a job with the help of a question wizard. Then the system will send the request to the caregivers to get estimates. On the other websites, patients can search online and enter parameters to find matching caregivers and write to them directly. Some platforms only allow clients to view the caregivers' profiles and connect with the platform managers via phone or email.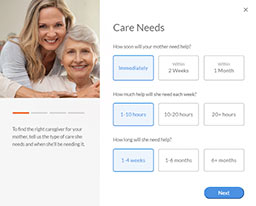 2. Payments
Integrate a payment gate to your platform. In the case of a commission-based revenue model, the escrow method will be the best choice as it is the safest method. With this method, the payments from customers go, not directly to the caregivers, but stay frozen in the middle account of the platform. Only after the service was provided and confirmed by the patient will the caregiver receive the earnings. The platform can automatically take the commission from the sum. The history of payments should be stored and easily traced.
3. Ratings and reviews
Trust is one of the most important things that attract customers and make them loyal. Trust is very important when we deal with the health and well-being of our loved ones. To increase the trustworthiness of your platform, allow patients and their relatives to rate and post reviews on caregivers whose services they have already used.
The reviews should be verified and moderated to prevent spam and fraud. To do this, the system may filter IP and email addresses, access the reviews only from accounts who really booked from the platform, or identify bot-generated content and remove it.
We created a sophisticated verification system of rules for one of our projects in New Zealand, NoCowboys, an on-demand marketplace for local tradesmen services.
4. Messaging
Some platforms use communication features only for initial interviews between patient and caregiver, while others build in a live chat to allow caregivers to keep in touch with the patient's relatives. They can share the treatment plan, confirm completed activities, and send photos of patients. With this function, relatives can always monitor how well their loved ones are being treated.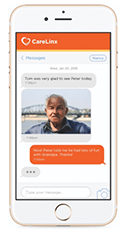 Caregivers Section
This is the applicants' and caregivers' directory, where professionals can register to find jobs. Here they can also check their schedule, orders, and earnings.
1. Registration and vetting
Before you build an app to help with elderly care, you should study the laws and regulations for your country and state. There are certain requirements for providing assistance to elderly people. These requirements must be transparent for patients who search for a caregiver. A profile may include a caregiver's photo, self-description, video self-presentation, insurance, skills and experience, diplomas and licenses, languages spoken, or references.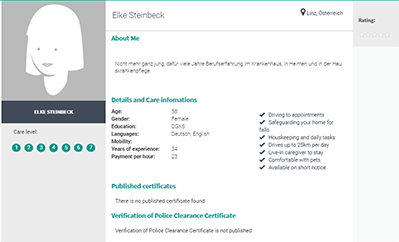 Example of a real project:
For one of our projects, a Human Relationship Management System (HRMS) for an American home care agency, we created a full spectrum of tools that make the application and vetting process smooth and reliable.
2. Shifts and availability
In addition to personal information in the profile, caregivers may be provided with the ability to select the days and shifts they are available; thus making scheduling easier and preventing conflicts.
3. Job application
Of course, patient information cannot be displayed to everyone in open access. Therefore, the caregivers get access to the jobs list only after the approval of their applications. Some platforms list jobs and make them available to all caregivers to choose from and to apply directly. Other platforms send applications to caregivers individually and ask for quotes.
Patients and relatives receive applications in their profiles or by email. They can choose among the caregivers and connect them directly for an interview or chat.
4. Care plan
Each patient obtains a daily care plan of tasks and activities. There also should be reminders to take medicines or to do other procedures. A caregiver can easily follow the plan and mark the completed tasks. This information, together with notes about the patient's progress and general health conditions, can be transmitted to the total dashboard for managers to track the patients in a centralized way. They can also view the treatment progress, check if the caregiver has done everything correctly, and generate reports for relatives.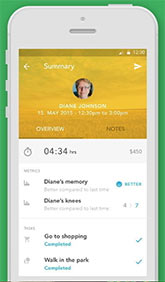 Manager/HR Section
This is not an obligatory role but often exists in such platforms. Managers or HRs are users who coordinate the application and onboarding process, conduct the interviews, and check the applicants' documentation.
1. Application management
Platform managers should verify the applicant's information, appoint interviews, and connect caregivers to patients or jobs. Here a status system should be created for convenience to mark who is new, approved, retired, or rejected.
2. Real-time dashboard
On the dashboard, managers can view the details of applications, tasks, training courses, interviews, and other metrics.
Admin section
In this section, Admins should be able to manage users and their roles, edit website content, and track all website activities.
1. User management
Admins should be able to view and manage all registered users and managers in order to help them with difficult issues.
2. CRM
This is the customer relationship management system that allows tracking all the caregivers and patients, their contacts, follow-up notifications, referrals, lifetime revenue, discounts, and activities.
3. CMS
With a content management system, Admin should be able to add and edit the website content, like blogs, ads, and notifications.
4. LMS
If your platform is aimed to provide training courses for applicants and caregivers, have a Learning Management System built in your platform. In one of our client's platforms, we created an LMS that allows Admins to create courses and tests, assign them to the caregivers, track the progress and results, and issue certificates.
5. Manage Finances
Admin should be able to manage fees and subscriptions, change the expiration dates of service packages, send out notifications of subscription expiry, and view all the transactions on the website.
6. Reports
Admins may need a report of certain metrics about site effectiveness, traffic, users' activities, finances, etc.
Senior Care App Development: Step-by-Step Guide
Moving from theory to practice, you may need to make a plan of actionable steps and go through the senior care marketplace development process. Here is our suggested guide:
Step 1: Gather the requirements
The first thing you should do is to think through all possible user scenarios. Based on this, create a list of features that will be easier to prioritize.
The more well-thought-out the requirements, the more chances to avoid unnecessary changes and expenditures. Remember this rule: the closer to the finish, the more costly the changes.
Creating a list of requirements may be a difficult task for a person who has never done it before. But you can always find ready examples of specifications or order requirements from a Business Analyst.
For a rough estimate of elderly health care app development, it will be enough to look at our list of features, choose those that coincide with your ideas, and send us this list for analysis. If some important information is missing, we will ask you about it. We suggest Business Analysis as a source for ideas and help when creating your specifications.
Step 2: Create a web-design
System behavior is linked with the user interface. That's why design creation always comes prior to coding. When your specifications are ready, order a custom design, or buy a design template. We can help you with this task as we have our own designers, front-end developers, and a selection of ready-made templates.
Step 3: Build an MVP and launch quickly
Minimum Viable Product (MVP) is a starting point for most (if not all) startups. Determine feature(s) the website cannot live without, and focus on this core functionality to deliver it quickly, with minimum effort and expense. The goal is to prove the idea with the public and make necessary changes quickly.
Step 4: Collect feedback and make improvements
The MVP concept was created to speed up the product launch and get real user feedback. It is critical for startups (especially bootstrappers) to make necessary modifications as early as possible. Quick delivery to the market allows us to listen to users and improve the product in the early stages with a minimal rebuild.
Nursing Care App Development at Greenice
At Greenice, we have a great deal of experience developing complex projects like on-demand marketplaces, assisted living facility (ALF) management software, human resource management systems (HRMS) for caregivers and nursing agencies, and mental health medical records (EMR).
The benefit of such platforms is the automation of hiring and patient care. All data is securely stored and can be analyzed. All the processes can be performed online so the caregivers save time and can apply from home without the necessity to go to live interviews.
Most of our solutions are ready to be modified for SaaS, to give their owners additional revenue as subscription-based software for similar organizations.
Also, we are partners of a law firm that helps us and our clients make the websites HIPAA-compliant.
How to Apply This to Your Business
As the number of seniors is growing rapidly, more specialists will be needed to care for them. Those entrepreneurs who build apps to find home health care for the elderly will be profitable in the decades ahead.
Elderly care service app development starts with thorough market research to identify niches, challenges, competitors, audiences, and still unmet needs. Finding solutions for challenging areas will allow you to stand out from the competitors.
From a technical point of view, we at Greenice web development agency are happy to lend you a helping hand and provide all our knowledge and experience in Healthcare software development to successfully implement your new ideas.
Need on-demand elderly care online marketplace?
Contact Us
Rate this article!
You should be
logged in
to be able to rate articles