Web Application Development Services
Greenice has specialized in web application development since 2007. We create modern, scalable, and secure solutions that help our clients go to the next level.
What Web App Development Services Do We Offer?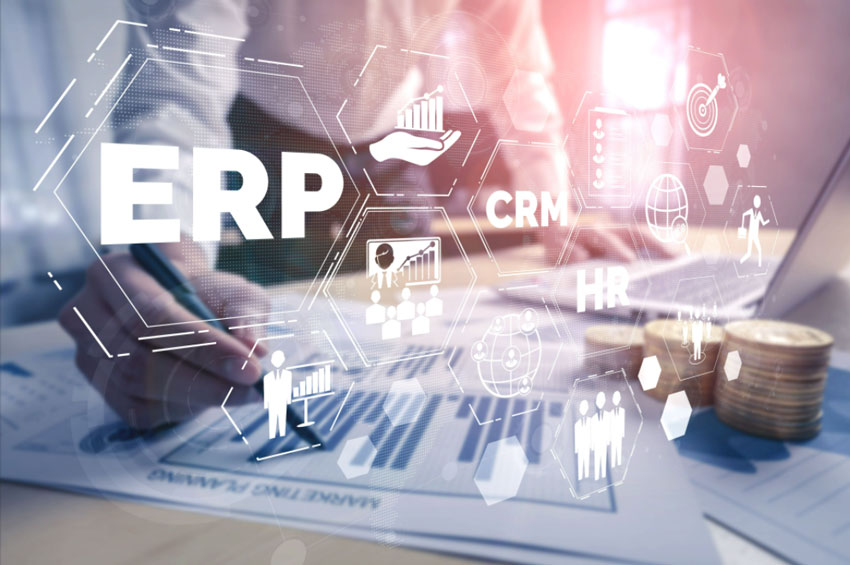 We are experts in custom web application development for businesses of all sizes. Here are types of solutions we can build for you:
1. Custom web application development
For over a decade, our company has provided professional web application development services focusing on building custom web apps from scratch. We have extensive experience creating:
custom CRMs that optimize company processes, reduce manual work, and allow our clients to quickly reach and exceed their goals.
custom ERP solutions that automate work and synchronize data of multiple departments.
industry-specific web applications for Healthcare, eCommerce, Education, and Real Estate. Our solutions meet the exact needs of businesses, taking into account the peculiarities of narrow specializations.
2. Mobile web application development
At Greenice, we specialize in cross-platform mobile app development. Progressive Web Apps (PWA) and Hybrids are less expensive and much quicker to develop than native iOS and Android apps. We have developed over 40 different apps for Entertainment, Education, Events, and eCommerce purposes. Among our clients, you can find Inc.500 companies as well as top U.S. pharmaceutical companies.
Our solutions are swift and powerful. They are nearly indistinguishable in appearance from native apps. They are able to work under high loads, processing hundreds of concurrent connections, which is especially important for apps that need to update in real-time.
3. SPA development
Need a dynamic and highly interactive app? Single-Page Application (SPA) is perfect for news apps, maps, dashboards, event apps, online polls, social media, and other apps whose content must be updated independently of an Internet connection.
We create SPAs that have great speed and performance and work with all browsers and devices. The rapid content loading will improve your mobile users' experience.
Being cheaper and quicker in development, an SPA is perfect for MVP projects, and when you are ready, they can be modified into a native mobile app by using the same back-end code.
4. SaaS development
Our team provides a full range of SaaS development services — from research and requirements identification to launch and maintenance. We are familiar with the peculiarities of SaaS development, so we are able to create secure, customizable, and reliable systems:
We use the latest and the most reliable cloud technologies (like AWS and Google Cloud) that allow us to securely store databases of different SaaS users (organizations or individuals) and deliver timely system updates.

We integrate different payment methods to automatically collect SaaS subscription fees.

Our broad experience in API development allows us to integrate SaaS apps with different third-party applications used by your clients.

We keep an eye on all the latest data security regulations (like GDPR, HIPAA), making sure your solution is compliant with all of them.
Our team has successfully built and delivered SaaS applications for different business domains and is ready to do an excellent job for you, too.
5. Legacy Software Modernization
Sometimes it is impossible to add new features or integrations with third-party software if your application uses old technology. We have vast experience in legacy software modernization, helping our clients improve their systems.
With code refactoring and migration to newer frameworks, our clients obtain lots of benefits:
easier and quicker implementation of new features
avoiding incompatibility issues between old and new technologies
significant performance and security improvement
elimination of defects
Don't worry, your data will be safe and sound, and your app will be usable during development. If you have an application that needs modernization, we can help!
Web Application Development Steps
Step 1: Discovery
Send us a request for project development that briefly describes your challenge or idea. We'll schedule a call with you to clarify the details and choose the best way forward. Our Business Analysts will study your requirements and will help you finalize your idea.
Step 2: Planning
The Development Team Lead will write a detailed plan that describes the technology choice and development stages, sets the priorities and timeframes, and lists responsibilities. We will use this information to give you accurate time and budget estimates.
Step 3: Development
We assign a Project Manager who helps you divide features into sprints, supervises the development process, and reports to you on a regular basis. We work by Agile methodology, which gives flexibility to make changes on the go. First, we deliver your MVP to launch as quickly as possible and then we add the advanced features by iterations.
Step 4: Quality Assurance
During the final steps of development, we bring on a team of QA engineers to make sure the product meets the requirements. Before we certify the excellence of the product, we go through all possible user scenarios in an effort to eliminate any bugs or inconsistencies.
Step 5: Deployment and maintenance
When the solution is ready, we deploy the web app online, make it available for your corporate, or submit your app to the App Store or Google Play Store. At this stage, we can either finish our partnership or continue to provide maintenance and future upgrades.
Featured Projects
ERP for Leading Cosmetics Corporation, Inc. 500
We have upgraded and continue to maintain a custom web-based ERP system for Atlantic Coast Brands, a leading cosmetics company in the USA.
Main departments of our client company (Customer Service, Finance, Accounting, Marketing, Logistics) build their work processes using their existing ERP
400+ employees use it every day On average the ERP process 8,000 orders daily
Database consists of 368 tables; some of them contain 1M+ records. At the same time, it is fast and stable. We have no worries about our data!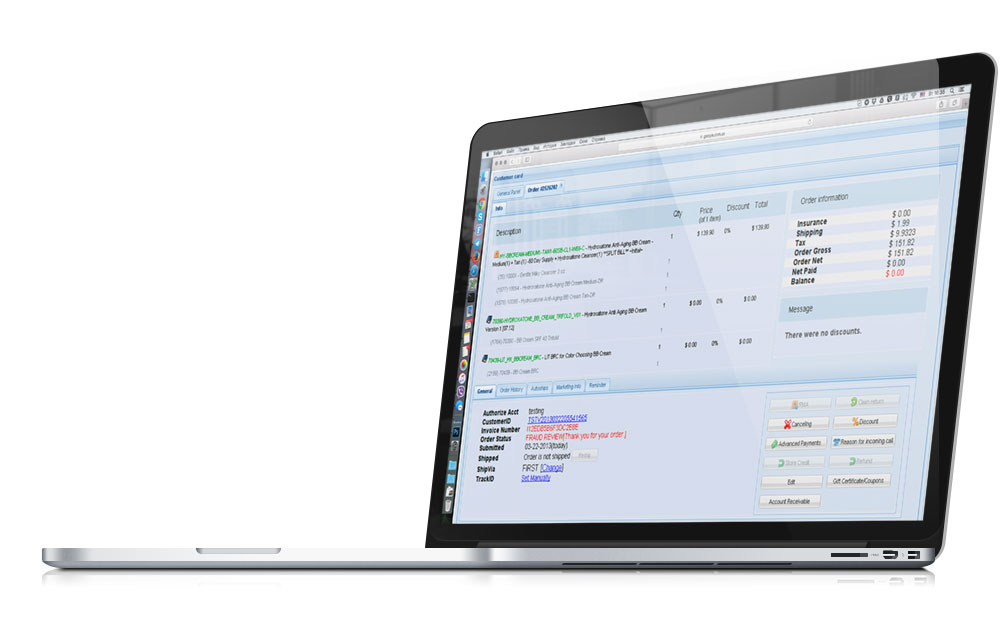 Lead Management System for Financial Services
Our client, an Amsterdam-based factoring services company, needed to automate the process of capturing, filtering and classifying leads, as well as follow-up emailing and assigning leads to creditors. We built an internal system and integrated it with the existing website. System features:
Capturing and storing lead profiles: the prospects enter their details themselves into the online form on the website; the system stores and classifies the data.
Capturing and storing profiles of factoring companies.
Matching leads to factoring companies: the system automatically matches clients to creditors on the basis of profile details.
Automated emailing: the system generates appropriate emails to clients and creditors with notifications and other relevant information.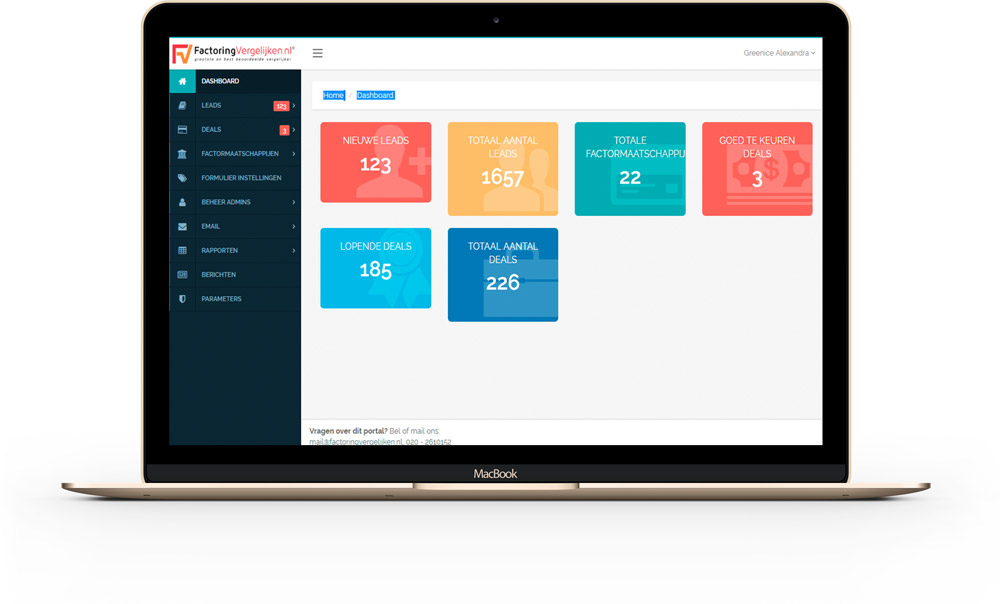 Field Service Management System for Locksmith Company
We have built a system that captures customer information, processes orders, accounts for affiliates, and provides statistics and analysis.
Order processing: besides capturing client data during a call, the system also assigns jobs to appropriate technicians and automatically notifies technicians about jobs with SMS.
Affiliate marketing: partner commission is automatically calculated and transferred to the accounting system.
Integrations: the system is integrated with the company's call center (Asterisk), accounting system (Sage), Google AdWords and PostcodeAnywhere (for address validation).
Statistics and analysis: includes a statistics module for tracking and analyzing conversions, as well as effectiveness of marketing efforts.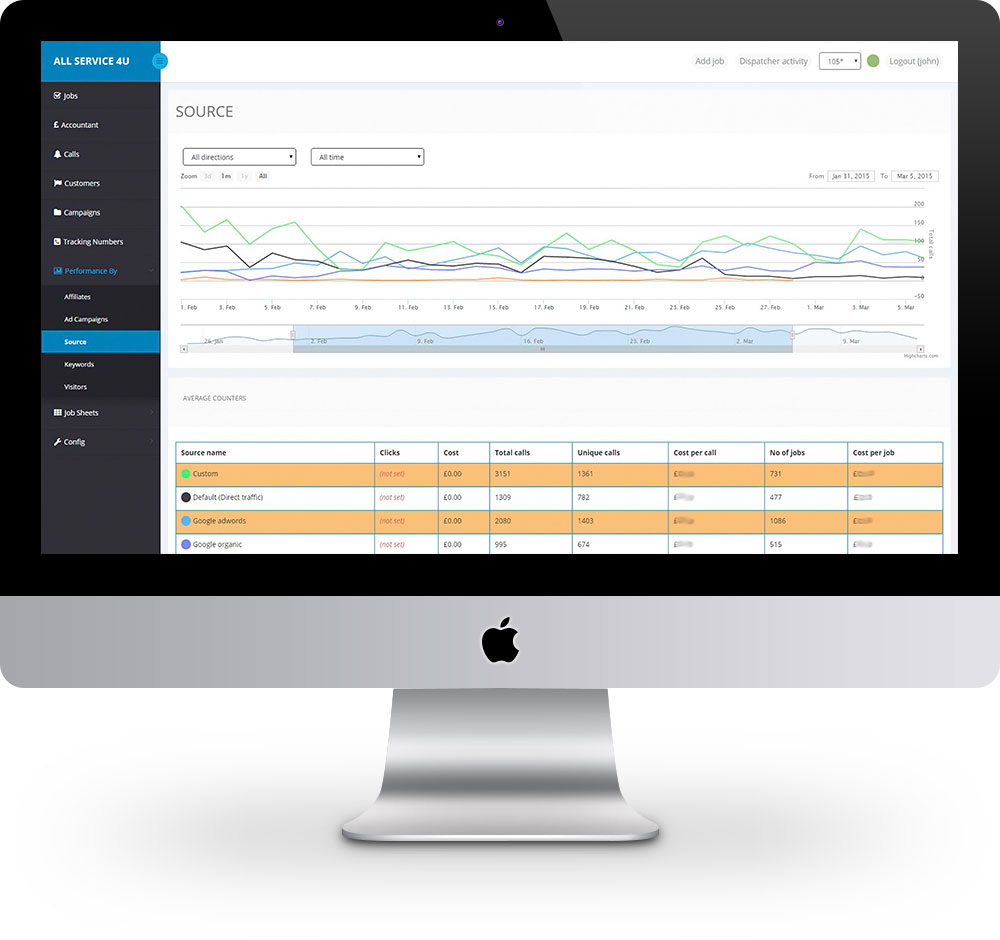 "Our company is absolutely satisfied with the way Greenice completed the project. It had a positive influence/effect on employees' KPI, because the new system became faster and dependable, and now it totally conforms to the needs of each department. Since the new system has been implemented, we have started to create a new product: a partners' engine called Satellite, which can help us to automate business processes between us and dozens of our partners, so our company's income continues to grow."
—Abhishek Jain,
CIO at Atlantic Coast Brands
Get Your Estimate Now
LEAVE YOUR EMAIL AND WE'LL CONTACT YOU WITHIN THE SAME BUSINESS DAY