Let me confess, I almost never go out for dinner at a restaurant without checking the rating of the establishment on Tripadvisor or Google. How about you?
The same goes for booking a hotel room for a vacation, buying a car, looking for a physician, or hiring a tradesman. Nobody wants to have a bad experience and waste time and money on unverified services or goods.
"98% of consumers read online reviews for local businesses" - Bright Local.
These statistics and your personal experience should bring you to the conclusion that a web review service is in high demand now and can be a driving link in creating a chain between customers and businesses.
Isn't it time to start thinking about creating a review website?
What is a review website
A review website is an online platform where users can provide feedback, ratings, and reviews about various products, services, businesses, or experiences. These websites serve as a resource for individuals seeking information and insights from others who have already tried a particular offering. Review websites often cover a wide range of categories, including restaurants, hotels, travel destinations, consumer products, movies, books, and more.
They play a significant role in helping consumers make informed decisions by providing them with firsthand experiences and opinions shared by other users. Additionally, review websites may incorporate features such as user authentication, rating systems, comment sections, and search functionalities to enhance the user experience and facilitate effective information sharing.
There are two main types of review websites: product review and third-party review.
Product review website
First-party review websites are specifically designed to review products. For example: Best Products, Byrdie, CNET.
These websites generate income through affiliate marketing, earning a commission when visitors click on affiliate links and make purchases on the product's website.
This model allows these websites to monetize their efforts while maintaining objectivity in their evaluations. Transparency is key in disclosing affiliate relationships to build trust with users.
Third-party review website
Third-party review websites are platforms where customers can leave reviews about the business that are not directly affiliated with the company. For example: Yelp, Google, Facebook, Tripadvisor, and others. These reviews can have a significant impact on the business's online reputation. Failing to monitor these sites, actively seek positive reviews, or respond appropriately to negative feedback can result in a negative portrayal of the business that owners have little control over.
These websites are widely trusted by millions of people across the country when making purchasing decisions and often rank highly on Google Search, further emphasizing their importance. Ignoring or neglecting third-party reviews can have lasting and detrimental effects. For businesses it is crucial to actively engage with these platforms to protect and enhance their reputation.
In this article, we will focus on building third-party review websites.
Why build a review website?
Starting a review website is an excellent idea considering the significant impact of online reviews on consumer decision-making. Here are a few reasons why you should build a review website.
Empower consumer decision-making: Provide users with valuable insights to make informed choices.
Build trust and credibility: Establish a reliable source of information through authentic user reviews.
Influence purchasing behavior: Impact consumer choices by showcasing positive reviews and ratings.
Monetization opportunities: Explore revenue streams such as advertising, sponsored content, and affiliate marketing.
Target niche markets: Cater to specific interests or industries, attracting a focused audience.
Foster community engagement: Create a space for users to connect, share experiences, and interact.
Gain SEO benefits: Improve search engine rankings with user-generated content and increased website visibility.
Here are some statistics to make building a review website even more appealing. 72% of consumers frequently or always consult reviews before choosing where to visit, dine, or stay. The popularity of review platforms is evident in the impressive user numbers, as Tripadvisor alone attracts 463 million unique visitors and reached over 1 billion reviews in 2022. Moreover, these platforms generate substantial revenue, with Tripadvisor earning $902 million in 2021.
The influence of online reviews is undeniable, as only a mere 2% of consumers have never read an online review.
Data says that Google, Yelp, Facebook, and Tripadvisor collectively hold a staggering 88% of all online reviews, with Google being the dominant player hosting 73% of reviews. The widespread use and reliance on review websites are evident.
Considering these statistics, creating a review website is an opportunity to tap into the growing demand for trusted and comprehensive consumer reviews, attract a large audience, and generate substantial influence and revenue.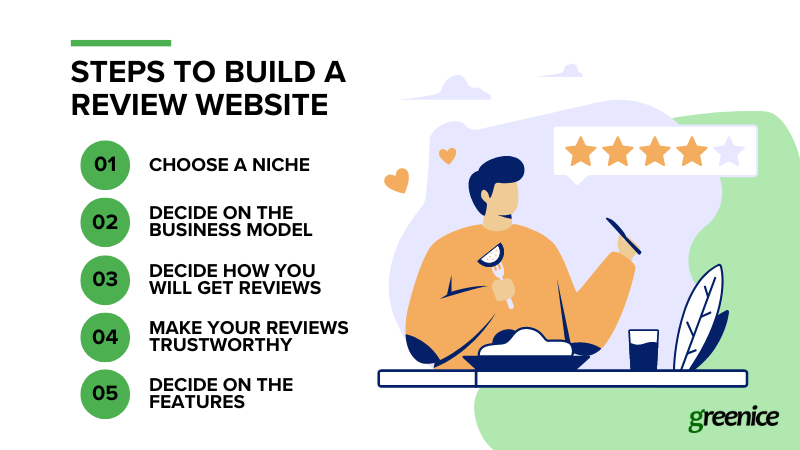 Step 1: Choose a niche for your review website
A rating and review site is basically a database of products, businesses, and people with a reputation rating and feedback left by users who have already dealt with them.
Of course, there is no sense in building a review website copying Tripadvisor, Foursquare, Facebook, or Yelp. But, still, you have at least three options for how you can compete creating a review website:
Create a review website with a database of unique, niche products

. For example, we helped one of our clients create a platform called Welcome Saudi. Though the idea might resemble Tripadvisor, the platform caters specifically to the Saudi Arabia region. It provides visitors with comprehensive destination information and the convenience of booking flights to their chosen location.

Make up brand-new idea features that haven't yet been implemented

. This is difficult but real. Just look around to identify people's needs when it comes to reviews that may still be absent in existing sites.

Create a review website with the same features as your competitors, but improve usability and user experience

. Some websites, including Facebook, are too cluttered with information and may be difficult to navigate through when searching for exact feedbacks. Take a chance to create a simpler customer-centered UI for specific product reviews.
Here is a brief categorization of review websites by a purpose:
| | | |
| --- | --- | --- |
| Category | Description | Website |
| General | Review platforms covering any sphere of life | Yelp, Google, Facebook, Amazon, Which, TestFreaks |
| Hotels, Restaurants, Entertainment | Recommendations for travelers | Expedia, Tripadvisor, OpenTable, Zomato, Welcome Saudi |
| Business | B2B and B2C reviews when searching for partners and contractors | Clutch, Trustpilot, Better Business Bureau, Repdigger |
| Healthcare | Reviews on doctors, clinics, and other medical institutions | HealthGrades, RateMDs, Vitals |
| Automotive | Sharing experiences about different cars and dealers | WhatCar, Edmunds, DealerRater |
| Jobs, Employers | Feedback on employers, interviews, working conditions, and salaries | Glassdoor, ZipRecruiter, Indeed |
| Professionals | Ratings and reviews of any kind of specialists like builders, designers, plumbers, gardeners, etc. | NoCowboys, HomeAdvisor, 4TradesOnly |
| Software | Reviews of the best and worst technical solutions and providers | Capterra, GetApp |
Step 2: Decide on the business model of your customer review website
At first glance, it may seem that these platforms work on total altruism; however, this is not the case. There can be several revenue sources defined that nourish these kinds of businesses, including: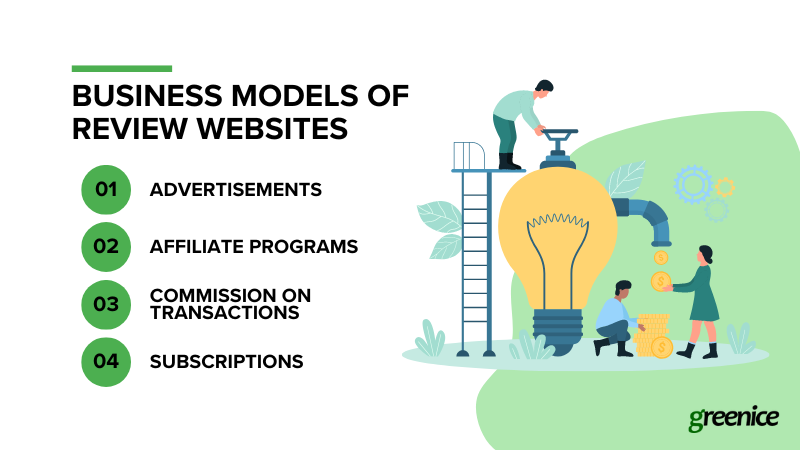 Advertisements -

Display third-party businesses' banner ads on your website. Or offer sponsored ads. For example, Yelp and Tripadvisor provide businesses an opportunity to show sponsored ads placed at the top of pages, including on relevant search result pages and competitor business pages.

Affiliate programs -

Commission from hotels, restaurants, and other businesses for each redirect from your website that leads to the purchase of their goods or services.

Commission on transactions -

Commission from bookings or purchases of goods or services.

Subscriptions -

A business can buy a subscription to get advanced control over their business page on the website). Paid subscriptions can provide different perks to business including premium listings placements and advanced business analytics.
Moreover, if you have a business website, adding a reviews section can increase the overall rating of your site in the search engines and, thus, attract a larger audience for your services.
Step 3: Decide how you will get reviews
Review websites attract various types of users who contribute their feedback and opinions. Here are two common types of users who leave reviews on these platforms:
Buyers
Buyers are individuals who have purchased a product or service and provide their reviews based on their personal experiences. They share their satisfaction or dissatisfaction with the product's quality, functionality, customer service, or any other relevant aspect. Buyers' reviews are valuable for prospective customers as they offer insights into real-life usage and help gauge the overall satisfaction level. Examples of websites with customer reviews: Tripadvisor, Amazon, Yelp.
Professional Critics
Professional critics are individuals who specialize in reviewing products, services, or experiences as a part of their job or expertise. They often have in-depth knowledge and experience in specific industries or domains. Professional critics provide comprehensive and detailed assessments, evaluating various aspects such as performance, design, value for money, and overall quality. Their reviews carry weight due to their expertise and can influence consumer opinions and buying decisions.
Both buyers and professional critics play vital roles in shaping the reputation and credibility of review websites. Their perspectives, whether based on personal experiences or professional expertise, offer valuable insights to other users seeking reliable information before making their own purchasing decisions. Examples of websites with professional reviews: Rotten Tomatoes, The Dermatology Review, The Self-Publishing Review.
Step 4: Make sure your reviews are trustworthy
How will you prove that the reviews on your website can be trusted?
There are various methods of user verification implemented on review websites. Here are three common types:
Purchase Verification:
This method requires users to provide proof of purchase, typically used on e-commerce platforms like Amazon. Users may be required to verify their review by indicating that they have bought the product or service through the website. This helps ensure that reviews come from genuine customers who have firsthand experience with the item being reviewed.
Login via Social Media Account:
Many review websites allow users to log in using their social media accounts such as Facebook or Google. This verification method connects the user's review to their existing social media profile, adding an additional layer of authenticity. It also helps prevent fake or anonymous reviews since users are tied to their public social media identity.
Interviewing Customers for Verification:
Some review websites, like Clutch for instance, employ a more rigorous verification process by conducting interviews with customers to validate their reviews. This involves reaching out to individuals who have provided reviews and conducting interviews to verify the authenticity and accuracy of their experiences. This method ensures a higher level of credibility and reliability for the reviews showcased on the website.
These different review verification methods aim to maintain the integrity of the review platform and provide users with reliable and trustworthy information when making purchasing decisions.
Step 5: Decide on the features
Now, as we outline the niche and business model, let's dive deeper down into creating a feature list to prepare for starting a review website.
1. Search
Search is the essential mechanism of a services or products review website, as your users should be able to quickly get relevant results on their requests. For convenience and better UX, provide your website with a good system for sorting, filtering, and categorization so that users are able to search for all possible methods.
In most of our projects, we implement Elasticsearch technology, which is considered to be the most sophisticated searching engine today. It allows users to instantly retrieve results even in projects where a database is constantly updating and growing.
Expedia, a world-known travel booking and review platform, uses Elasticsearch to guarantee smooth search experiences through up to 1TB a day with 300K events per second.
Another example is a project from our New Zealand customer, NoCowboys, a review website for local tradesmen, from builders to web designers. By means of Elasticsearch, the data is quickly indexed in the DB and users can enjoy the high speed of the application response and smarter search. The automatic filter during the search takes into account a formula that includes the proximity to the client, ratings of businesses, and recency of the written reviews. Users can apply other searching parameters to search by category or different combinations of filters.

To enhance customer experience, you may also provide top ratings, featured lists, and similar listings sections to stimulate further exploring. For example, look at the neat and explicit design of OpenTable's top rating:

Or Expedia's Similar Listings section:

2. Submit a Review
There are several options when it comes to how users can submit a review on your website. The most frequent method is simply adding a star rating and writing feedback in a special form. The rating can be split into scoring on several parameters and then summed up into the overall score. For example, when rating a hotel at Booking.com, users may estimate their stay on the following parameters:

Booking and some other services allow reviews to be written and submitted only by customers who have booked through their platform and used their service (for example, in the case of a hotel, someone who has stayed at the property). This guarantees that a review comes from a real customer who can judge the services by their own personal experience.
As the submit a review action is a key feature, it should be intuitively easy to find and use. You can propose that reviewers write a review in special fields, fill out a survey form or pre-populate text or write the review for them, like Clutch does, allowing a 15-minute phone call interview option: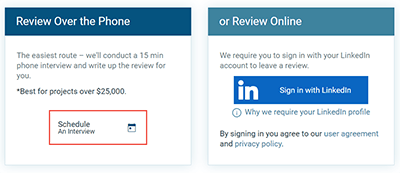 3. User Profiles
Though many websites do not require registration if somebody wants to rate and write a review, they do usually prompt for at least an email or social sign-on to be able to verify the reviewer or give the business a chance to answer and respond to negative or positive reviews. User profiles may include such features as the possibility to edit and delete their profile information, add photos, view ratings, reviews, and messages from other users, as well as change privacy settings and user preferences. If you collect sensitive user data, be aware, and ensure you comply with GDPR rules.
4. Dashboards
Dashboards allow businesses to view the statistics of valuable parameters at a glance. Both businesses and reviewers may want to see their progress on the website. Also, you as a website owner may have a Dashboard in your Admin panel to control all user activity.
For example, in Tripadvisor's traveler profiles, a user can see their total miles traveled, how many places they have visited in a percentage, and even visualize their trips on the map.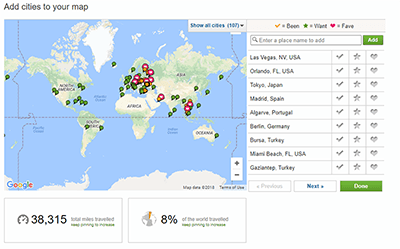 Dashboards for businesses usually include such data as a number of feedbacks, overall ratings, positive ratings, negative ratings, number of profile and contact info views, and other more specific metrics including number of bookings (purchases, jobs, etc.).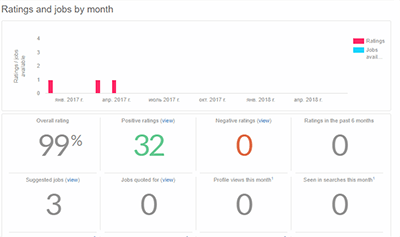 5. Bookings
When making a review website, give users the opportunity to book or buy goods and services they have just found on your website. For example, having read a positive review of a doctor, they may want to make an appointment right away. Why not allow them to do this from your website? Thus, customers obtain an easy method for reaching the business while the business will see the impact of your service on their conversions.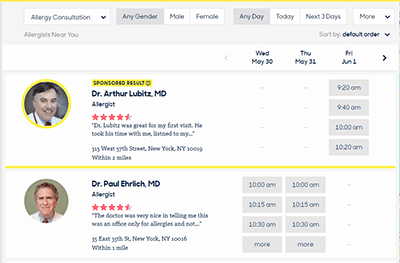 6. Gamification
How to make a review website more interactive? Add a touch of competition!
You may create a system of praising your contributors with badges, points, or expert levels. Yelp tries to boost up user activity by nominating "elite" status to the most engaged users by the results each year. The privilege of being an Elite Yelper is the opportunity to participate in a variety of exclusive social events arranged by the partners of the platform. Be careful not to be blamed for "buying" reviews with points that can be redeemed for specific benefits. Tripadvisor, though having a large system of points and badges for each user activity, does not exchange them for any goods or discounts. They are only made to uplift a user's reputation in the community.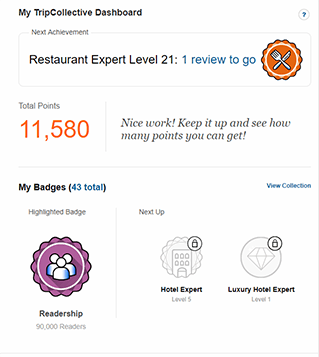 7. Automate review requests
Getting feedback is extremely vital for any business, but it may take a lot of time to reach out to each customer personally. That's why a good option will be to implement a service in your business that will automatically send out emails with a review invitation to customers who made a purchase. This can be done through a customizable email or SMS template service, implemented as part of your business admin panel or profile. In order to encourage users to write new reviews, Tripadvisor started an email campaign notifying users of their review performance and showing the number of reviews left to reach the next expert level. As reported by Aaron Hung, Senior Director at Tripadvisor on APAC, this campaign already resulted in a 185% increase in click-through rate, while about 47% of users who opened email added their new post on the website.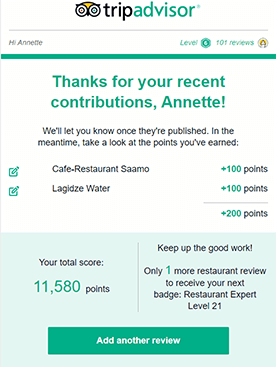 8. Blog
The advantage of creating a product review website is that your users will create content themselves when they add reviews; however, it's still important to try to attract new visitors with informative articles, news overviews, guidelines, recommendations, surveys, and research.
9. Integration with CRM
Integrating a review website with a Customer Relationship Management system allows you to automate a great part of your daily sales and management routine.
Before hiring Greenice, our client - NoCowboys - did all accounting in Google Docs. We developed an Automated Master Spreadsheet feature that simplified the process of managing customers' subscriptions, renewals, and payments.
10. Spam and fraud detection
As reviews are an important tool for influencing customers and their purchase decisions, it is to be expected that companies will try to use this to increase positive ratings of goods and services by paying people to write fake reviews. This problem mostly affects major review platforms such as Amazon, Yelp, and Google. Smaller players should also be aware of the growing spam and fake reviews issue.
To prevent fraud, website owners take measures such as verification of IP addresses, emails, phone numbers, adding anti-spam services, and identifying suspicious behavior patterns. The website may also allow users to report suspicious reviews which can then be verified by website managers.
For our review website projects, we also take measures on anti-spam protection and identifying unusual behavior. Thus, to prevent spam, we use third-party services that scan systems for spam patterns and flag them and delete fake reviews. We also have blacklists to filter bot-generated emails, phone numbers, and content.
How much does it cost to build a review website
When choosing a development option, you have two choices: building a custom minimum viable product (MVP) or using a white-label solution.
Custom development offers flexibility, scalability, data security, code ownership, and seamless third-party integration. However, it comes with a higher initial cost and potential long-term ROI.
Developing a custom MVP costs around $15,000 and takes 4-6 weeks.
A white-label solution reduces costs while allowing platform customization. It involves configuring servers, adapting features, and integrating components to meet specific business needs.
Using a white-label solution starts at $5,000 and can be completed in 2-3 weeks.
Both estimates include a full team of developers, designers, testers and a project manager.
Ultimately, the choice depends on your preferences and resources, and we're here to help you make the right decision.
Our experience
Here are a couple of cases how we helped our clients develop websites with review functionality.
Welcome Saudi
Welcome Saudi is a platform that aggregates travel destinations in the Saudi Arabia region. One of the main features within this website is that customers are able to leave feedback about places they've visited. Inspired by Tripadvisor, the aim was to create a similar platform with monetization through affiliate programs.
However, one initial challenge emerged: joining popular affiliate programs like Booking or Agoda required a minimum traffic threshold of 2000 users per month, which was difficult to achieve for a new website. To overcome this hurdle, the minimum viable product (MVP) utilized hotel inventory from the open-source HotelBeds.
Additionally, a social media advertising campaign was launched by the client. These combined efforts successfully attracted enough users to meet the requirements and allowed Welcome Saudi to join a major affiliate program.
NoCowboys
NoCowboys, a New Zealand-based review website founded in 2004, connects users with various home service providers. Our team joined the project post-launch, focusing on implementing a new CRM, automating reports, enhancing UX, managing users, and establishing a secure review system.
To boost trust, we introduced a review approval system, allowing customers to verify reviews by authenticated users. These improvements enhanced the platform's user experience, reliability, and informed decision-making.
Conclusion
Reviews are a powerful driver of sales that are now actively used by companies. It is not easy to compete with the major players including review platforms like Yelp, Tripadvisor, Google, Facebook, but this doesn't mean that you shouldn't try. The best way to start a review site is when you understand how to stand out among others either by taking up a specific niche, providing better usability, or implementing brand new features. Also, think over the possibilities for monetization. What would work best for you: advertisements, affiliates, subscriptions, transactions, or something else?
The next step before launching a review website is to create a list of features that may vary depending on your business needs. First and foremost, there should be a quick and easy-to-use search to find objects, recommendations of other users, and the possibility to submit a new review. To simulate user activity, you can automatically send out review invitations after each completed purchase or propose elements of gamification with a bonus system.
Keep in mind security and data protection, as well as anti-spam and detecting fake reviews to can protect your reputation.
Rate this article!
You should be
logged in
to be able to rate articles