Are you an artisan, looking for a platform to sell your unique creations? Are you a business owner, seeking to create a peer-to-peer marketplace like Etsy and become the best artisan platform on the market?
Look no further than this comprehensive guide, which outlines everything you need to know to create a successful artisan platform. With staggering statistics such as 89 million active users buying over 97.5 million craft products from around 7.5 million sellers, it's no wonder that Etsy has become a household name. But fear not, this guide offers insights into how to compete against Etsy and take a bite out of their market share by developing a peer-to-peer marketplace that caters to the needs and preferences of your target audience. From core features to unique selling points, this guide has got you covered.
So, let's begin our journey towards creating the best artisan platform on the market!
'Oh, yes', let's create a website like Etsy!
How to start a website like Etsy?
To make a site like Etsy, first of all, you need to understand the Etsy phenomenon and its business idea. So our research would be incomplete without digging down to the roots of the success story of one of the most prominent craftsmen's online selling platforms.
Etsy was founded in 2005 by Robert Kalin, Chris Maguire, and Haim Schoppik. The name of the website was inspired by Fellini's movies and was originated from Italian, 'etsi' which means 'oh, yes'. It looked quite fresh, nonsensical in a good way, creative, and easy to remember.
Etsy's concept is to provide people with an online handicraft virtual store to sell online their handmade items and for buyers to have a place to acquire something unique.
Here is Etsy's timeline of success: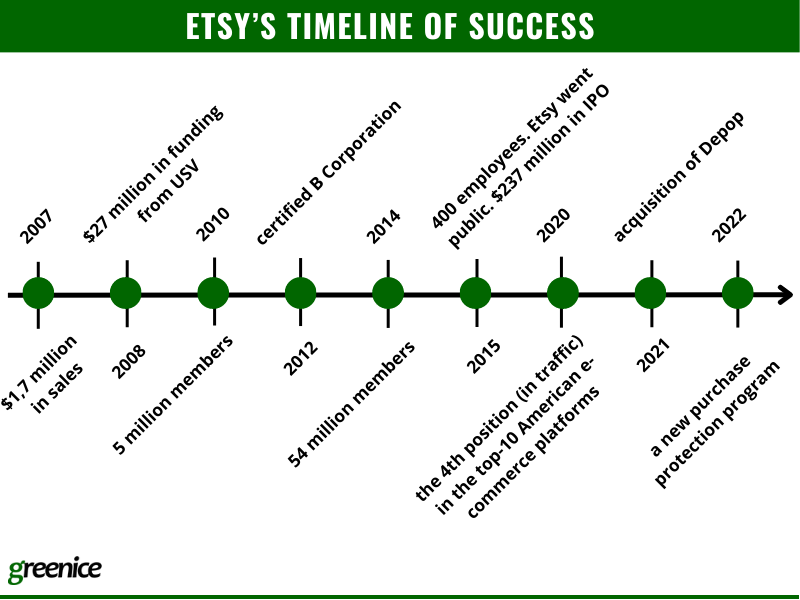 2007

- Etsy gets $1,7 million in sales

2008

- 50 employees, 650,000 sellers, and received $27 million in funding from Union Square Ventures

2010

- There are 5 million members registered.

2012

- Becomes a certified B Corporation

2014

- 54 million members, 1.4 million of whom were active sellers and 20 million of whom were active buyers

2015

- 400 employees. Etsy went public. The company's valuation was $1.8 billion as the stock opened, and the valuation increased to $237 million in IPO.

2020

- Due to the Covid-19 pandemic, only in Q2 2020, the company made $346 million on face mask sales only! By July, Etsy was in the 4th position in the top-10 American e-commerce platforms, based on monthly traffic.

2021

- Etsy announced its acquisition of Depop, a global fashion resell marketplace, for a whopping $1.63 billion. This move is sure to shake up the industry and cement Etsy's position as a leader in the peer-to-peer marketplace world.


2022

- Etsy launched a new purchase protection program to provide refunds for items that do not match their description or arrive damaged, with a $25 million investment to cover refunds in cases where the seller is not at fault.
Etsy's Business Model
Etsy presents a golden opportunity for artisans to monetize their hobbies. Sellers can take advantage of the platform's worldwide reach to sell their handmade products, as well as collectible and vintage objects. Collaborating with manufacturers to increase production is also made easy. To sweeten the deal, Etsy offers sellers easy and secure payouts.
The value proposition for sellers:
Sell their handmade products to a worldwide online market
Sell collectible and vintage objects
Find manufacturers for collaboration to increase their production
Get easy and secure payouts.
The value proposition for buyers:
Buy unique and vintage objects online selecting among millions of listings
Get their purchase shipped to almost any country
Pay with one of many suitable online payment methods.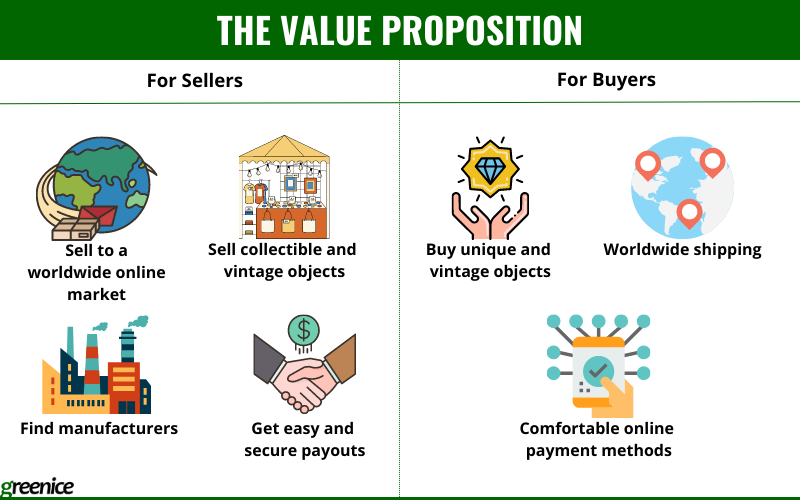 To maintain its position as a leader in the peer-to-peer marketplace world, Etsy uses its competitive advantages to provide value to both buyers and sellers. The company strategy is based on the following competitive advantages:
Best-in-class search and discovery:

Etsy has a powerful search engine that helps users find exactly what they are looking for and discover new items they might be interested in.

Human connections:

Etsy promotes human connection by creating a community of buyers and sellers who can communicate with each other, build relationships, and provide personalized service.

A trusted brand:

Etsy has established itself as a trusted brand with a reputation for quality and reliability, which makes buyers feel confident in their purchases and sellers feel proud to be associated with the platform.

Collection of unique items:

Etsy's focus on handmade, vintage, and one-of-a-kind items creates a marketplace that is distinct from traditional e-commerce sites, attracting buyers who are looking for something special and unique.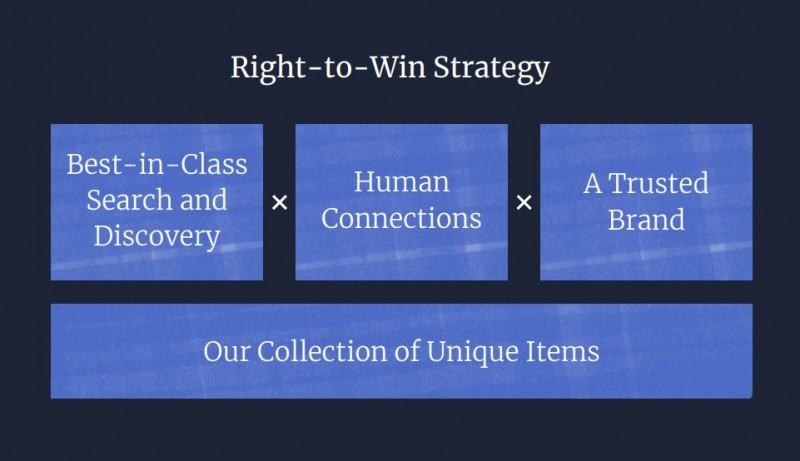 Etsy Revenue Model
Etsy's annual earning is estimated at $2.56 billion. What are their main sources of revenue? There are several ways how Etsy monetizes its business: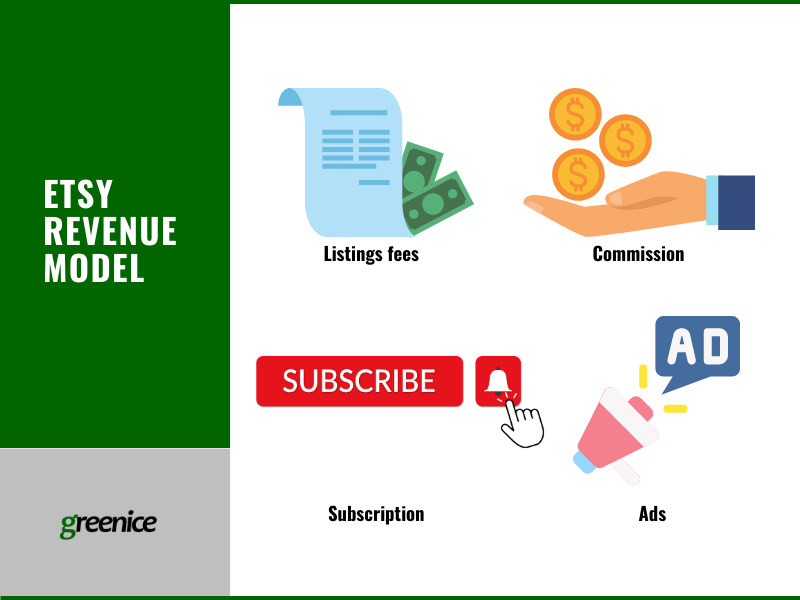 1) Listings fees
For each listing created on Etsy, an individual should pay $0.20. The created listings will be active for 4 months after which the owner has the option to extend.
2) Commission
When an item is sold, Etsy charges the seller a fee of 5% per transaction or 3-4 % + flat fee (around $0.25) if paid through Etsy Payments.
3) Subscription
More than half of Etsy's revenue comes from extra services they offer to sellers like help with starting, scaling, and managing sellers' shops. In 2018, they created the 'Plus' package for $10/month.
4) Ads
Sellers can promote their listings on the Etsy platform or offsite on other resources. For Etsy Ads, they can select a daily maximum budget they can afford to pay. For Offsite Ads, around 12-15% of the item price will be changed only if the ad results in a sale. Etsy will pay to promote sellers' items on sites like Google, Pinterest, and Facebook. This will be done automatically and sellers should not worry about ads management.
Competitive Landscape
When talking about building a crafts online marketplace, the first website that comes to mind is Etsy. But it is not the only one operating in this space. Etsy's biggest competitors are juggernauts such as Amazon Handmade and eBay. Up next, are smaller but still competent platforms like Bonanza, Big Cartel, Minted, Folksy, and others. The segmentation is determined by the region, community principles, payment and shipping options, and some other aspects.
Here's a snapshot of prominent players in the online marketplace business:
| | | | | |
| --- | --- | --- | --- | --- |
| Website | Region of origin | Area of interests | Traffic (ahrefs)* | Sellers' Fees and Subscriptions |
| Etsy | US | Focused on handmade or vintage goods, as well as unique factory-manufactured items. | 92.3M | Fee per listing: $0.20 (for 4 months) Commission: 5% Subscription: $10/mo |
| Amazon Handmade | US | A store within Amazon where artisans sell their handcrafted goods. | 13.1K | Fee per listing: no Commission: $ 0.99 Subscription: $40/mo |
| eBay | US | Auctions and direct sales of any category items. | 75.7M | Fee per listing: $0.35 per listing (when more than 50 listings) Commission: 10-12% Subscription: $4.95/ mo - $2,999.95/ mo |
| Big Cartel | US | Artists, makers, and small brands. | 149K | Fee per listing: No Commission: No Subscription: 'free' for 5 products - $29.99/mo for 300 products |
| Minted | US | Handmade marketplace and monthly design challenges. | 577K | Fee per listing: no Commission: 20% Subscription: no |
| Folksy | UK | Pieces of art, craft, and design, created by hand across the British Isles. | 21.7K | Fee per listing: £0.15 Commission: 6% Subscription: £5/mo |
| Aftcra | US | Handmade products from US-based artists. Product prices are typically more than $10 per item. | 1.5K | Fee per listing: no Commission: 7% Subscription: no |
| UncommonGoods | US | For independent makers from all over the world, with a focus on positively impacting people and the planet by selling unique handmade or recycled items. | 675K | Fees are personally negotiated after product submission |
| Artfire | US | Craft and maker community where people from around the world come together to buy, sell, and interact. | 1.6K | Fee per listing: $0.23 Commission: 3% - 9% Subscription: $4.95 - $40.00/mo |
| Bonanza | US | Their motto "Find everything but the ordinary". | 83.2K | Fee per listing: no Commission: min $0.50, 3,5% (if value is under $500, 2,5%+1,5% (if value is above $500) Subscription: $25- $167/mo |
| Hello Pretty | South Africa | Locally-made design & craft products. | 2.6K | Fee per listing: no Commission: 3-15% USDZAR per sold item Subscription: $49-99/mo |
*Organic traffic according to ahrefs
How to Take a Bite from the Etsy's Lunch?
In spite of big competition, there is a chance for everyone, big or small, as both buyers and sellers always search for better options. Here are some of Etsy's weak points that can be exploited and used as an advantage when starting a website like Etsy:
1. Not handmade only
In the beginning, Etsy positioned itself as a marketplace exclusive for handmade products only. But a couple of years ago, Etsy started accepting listings for manufactured products. This led to sellers worrying that factories will take over the majority of the marketplace. Etsy explained their decision as a way to help artisans to connect with manufacturers for the benefit of both. Still, many craftspeople prefer the Etsy community to be for 'handmade' producers only.
2. Regional peculiarities In spite of the worldwide coverage, Etsy loses the battle to the local marketplaces because of the platform's inability to accept payments in local currency or presenting an acceptable payment method.
"It's hard to use Etsy because it doesn't support the African rand," says Sam Marx, a co-founder of Hello Pretty, the largest marketplace in South Africa. "Everything is put into American dollars, which is a huge headache because of the exchange controls."
3. Low individualization
With so many shops represented on the Etsy platform, it is not easy for sellers to stand out among others. The profile customization is limited and shops look identical to each other. To further add to the problem, sellers normally copy each others' keywords and product descriptions, and as a result many artisans simply have no chance to be found in the common pool.
Here is a common scenario. A seller lists a batch of new items and another similar shop loads their batch right after. In such a situation, those who load the last appear at the top of the listing. The seller who listed their batches previously will now find their products on the 3rd and latter pages, which are scarcely viewed by clients.
In this regard, the marketplaces with strict submission rules and more options for individualization (like HTML editing, themes customization) can protect sellers. This fosters uniqueness and individuality, making artisans and buyers visibly distinct from each other.
No wonder that in spite of Etsy's world expansion, still there are so many smaller local craft marketplaces in business.
Core Features of a Peer-to-Peer Marketplace like Etsy
Now that we are done with the business part, let's look at the technical aspects of how to build a website like Etsy.
Etsy made simple interfaces and processes. A user can sign up and start their shop in less than 15 minutes. So, in making a website like Etsy, it is worthwhile to learn its basic components.
1. User Profile
At Etsy, users do not need to create separate profiles for seller and buyer accounts. They can have both using just one profile. A standard user profile consists of:
Personal details and preferences
Notifications (to get news from Etsy)
Favorites (users can bookmark goods and shops that they like)
Purchase history and reviews
Shopping cart
Shop manager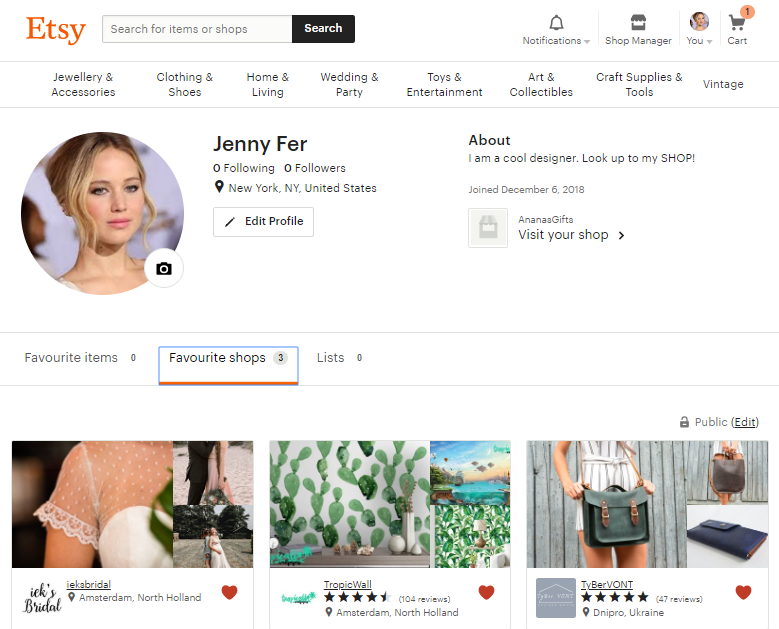 2. Shop Manager
Each user can create an online shop and start selling their goods in minutes. Using the setup wizard, users only need to accomplish 5 steps. Here are some important aspects of a Shop Manager:
a) Add listings
To start a shop, users first need to indicate Shop preferences: give a name to their shop, add listings and product details, select shipping, and payment methods, enter their own banking details, and set up billing.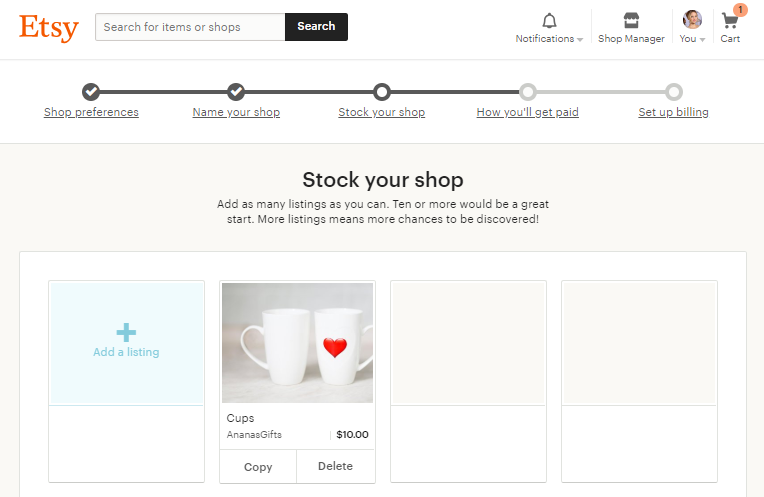 b) Payments
You should not underestimate the importance of multiple payment methods. Especially if you are going to expand your coverage worldwide. For example, not all countries accept or use Paypal. If Paypal is your only option, then potential customers from these countries are lost opportunities.
Etsy tries to support all possible payment methods to widen the scope of buyers from every part of the globe. They motivate their sellers to use the Etsy Payments option that allows receiving payments from 10 different payment methods including bank cards, PayPal, Apple Pay, and Etsy gift cards. With this feature, buyers can pay in their local currency. All payments from different buyers will be deposited to the seller's bank account despite the payment method and currency simplifying the process for sellers and buyers.
Moreover, Etsy guarantees Seller Protection by providing fraud-detection and placing a process for resolving disputes.
3. Search
Etsy faced the daunting challenge of organizing the long tail of creative products. But they didn't flinch. Instead, they built a search engine that can deliver relevant results for buyers from their whopping 120 million products, no matter how specific or broad the query.

a) Search bar and filters
For a website like Etsy, a smart search engine helps provide a great user experience that equates to customer satisfaction, loyalty, and an increase of revenue. That's why it is so important to enamor users with all possible ways of searching and filtering listings.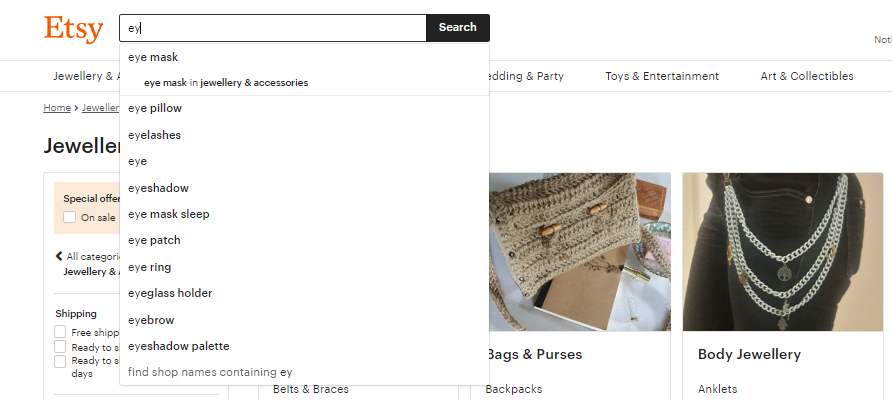 b) Categorization
It would be next to impossible to find a desired item among the billions of items published at Etsy without categories and subcategories. Etsy does a great job with item categorization. When a user adds a new listing, the system adapts the fields for item details depending on the selected categories which save a bunch of time for the user.
For example, if a user wants to sell mugs, they will be able to select from one of the subcategories as shown below. Say, 'Drink & Barware'.

The system automatically proposes to add details to help you provide the best item description (material, color, personalization options, etc).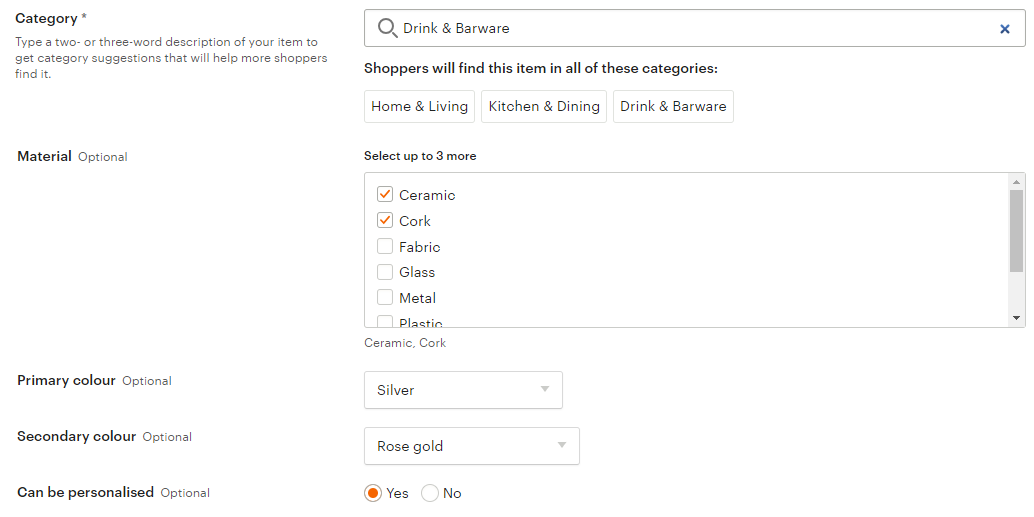 If users select the 'Dress' category, they will see another set of fields that are more appropriate for this type of item.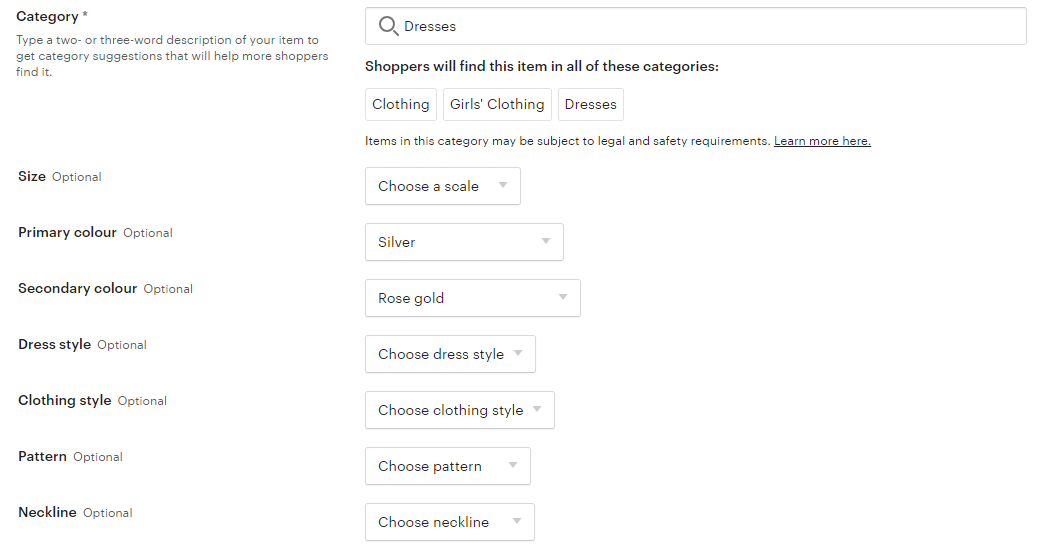 c) AI for Search
Etsy's use of AI and machine learning to improve its product search is impressive. By teaching its platform concepts such as "style" and building a customized model using a blended approach of both text-based analysis and image recognition, Etsy is delivering highly relevant search results to its users. They have been able to improve product discovery for the platform, with approximately 95% of search purchases made with a result from the first page of search (up from 85% last year), and dead-ends less than 1% of searches.
Ways Etsy is using AI to improve product search:
Teaching its platform

concepts such as "style"

to better respond to searches
Quantifying

43 different styles

of goods that had traction on the site, including "romantic", "geometric", "minimal", "tropical", and "midcentury"
Building its

own customized model

, using a blended approach of both text-based analysis and image recognition
Delivering customized search results to different users who search for the same item,

incorporating other information about the individual

, including previous search history, demographics, time of day, device type, the page on Etsy, and any other information available
Delivering highly relevant search results to its users, taking into account their specific

aesthetic preferences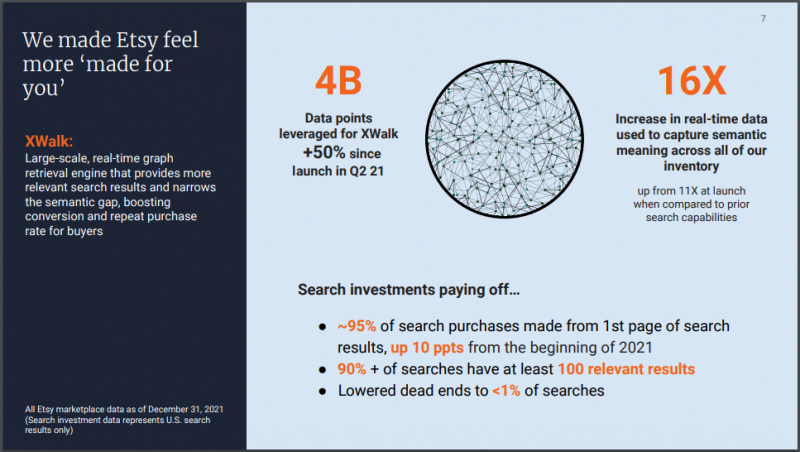 Source: Etsy
Etsy's use of AI and machine learning to improve its product search is impressive. With better search results leading to better sales, Etsy is well-positioned to continue its growth and attract more unique sellers, feeding the company's powerful flywheel.
4. Listing page
When an item is added to the Etsy catalog, a public page is created. This page usually contains:
A page title
Product photos
Product description
Seller details
Payment and shipping options
Reviews from previous buyers
eCommerce functionalities like 'Add to Cart', 'Buy Now', 'Add to Favorites', 'Ask a Question to the Seller', or 'Write a Review'.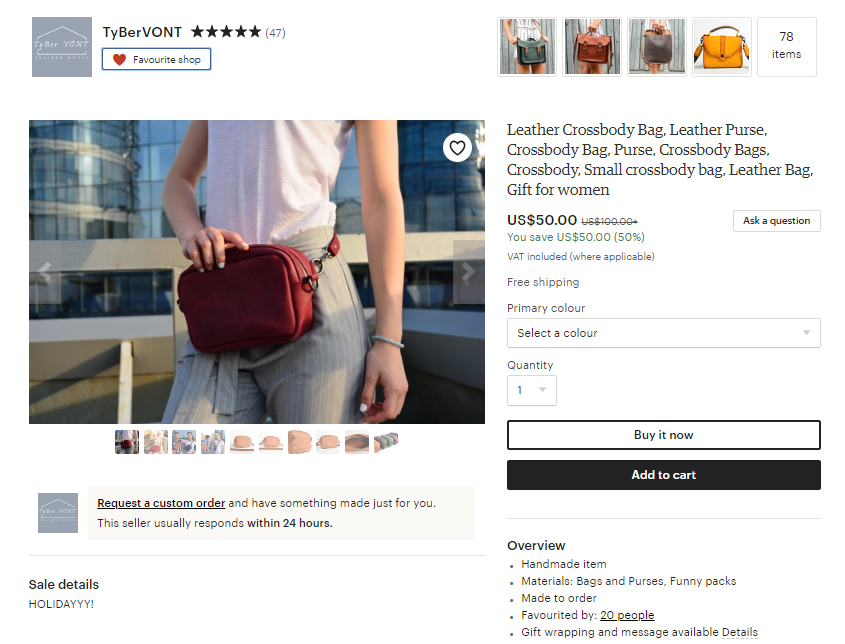 5. Etsy Teams
To promote their goods, users may self-advertise in the Etsy Community by creating so-called 'teams' or posting at others' teams. This is very similar to how you would create groups on social media. In a community, users can get support from other members, find answers to their questions, share ideas with other members, and make friends with other passionate craft makers.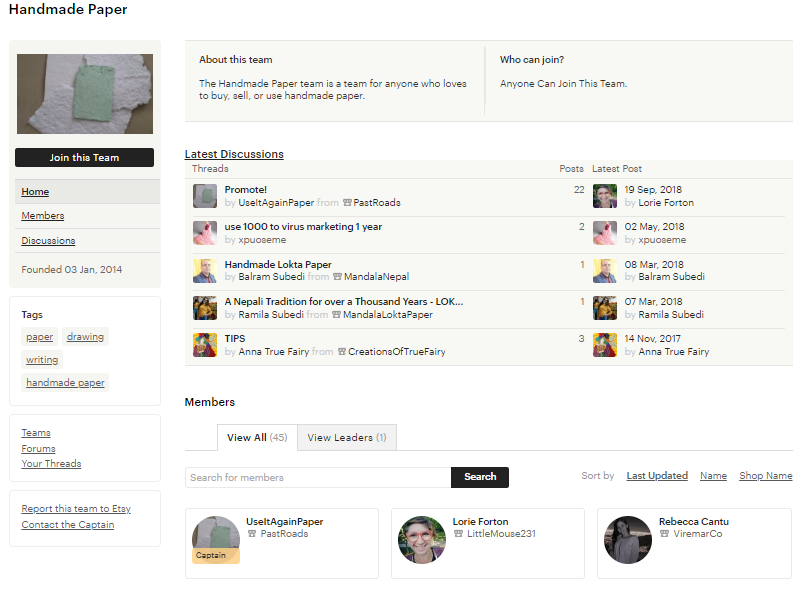 As you see this basic functionality used at Etsy works perfectly for everyone and is enough to start a craft peer-to-peer marketplace.
Unique Features of Artisan Platforms Similar to Etsy
Even though Esty's basic features are adequate for starting a peer-to-peer marketplace, some features can be added to make the service even more usable and user-friendly. Thus, if you ask how to create a website like Etsy but still be unique, let's look at some actual examples of Etsy competitors. Let's review the features that differentiate them from other marketplaces:
1. Internal Currency
This option is extremely valuable to international marketplaces where transactions and payments come from users from all over the world.
For many people, it is a big deal to convert their local currency into the currency of the sold item.
To address this issue, Ezebee.com, a Swiss online marketplace, created EZBcoins, the internal virtual currency that enables users from different countries to buy goods without the use of money. Users can pay with EZBcoins (1 EZBcoin = 1 US Dollar) from their e-wallets and withdraw them to PayPal at any time.
2. Online calculator
Pricing handmade goods may be difficult. It takes time to calculate the selling price of products due to changes in fees and other factors that affect pricing.
To help artisans with this task, HelloPretty, a South African marketplace, developed an online tool that helps users quickly calculate the final selling price of an item taking into account labor cost, production cost, price markup, and HelloPretty Fees.

3. Gift Finder
Craft marketplaces are ideal places for buying gifts for anyone. Searching by keyword and category is fine when you know exactly what you are looking for. But if you have no idea yet about what to buy as gifts, then it gets a little more challenging.
The UncommonGoods marketplace added a 'Gift Finder' tool that gives tips and proposals to help users find the perfect gift among a plethora of listings. The tool uses feedbacks and AI technology to create an evolving and learning system.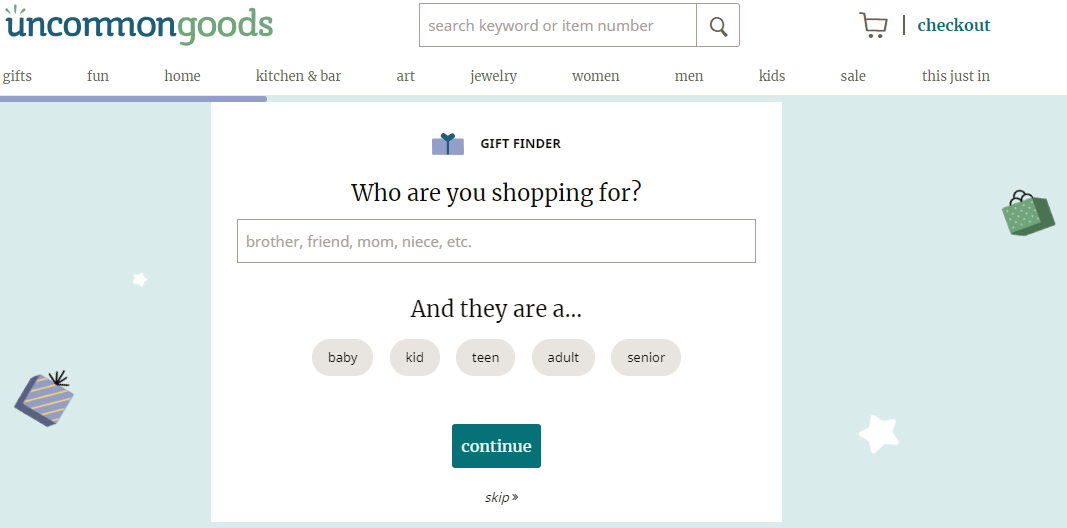 4. Crowdfunding competition
Some websites, like Minted, attract new designers to participate in competitions where other users can serve as judges and vote for the best one. The winner gets the money prize or other privileges.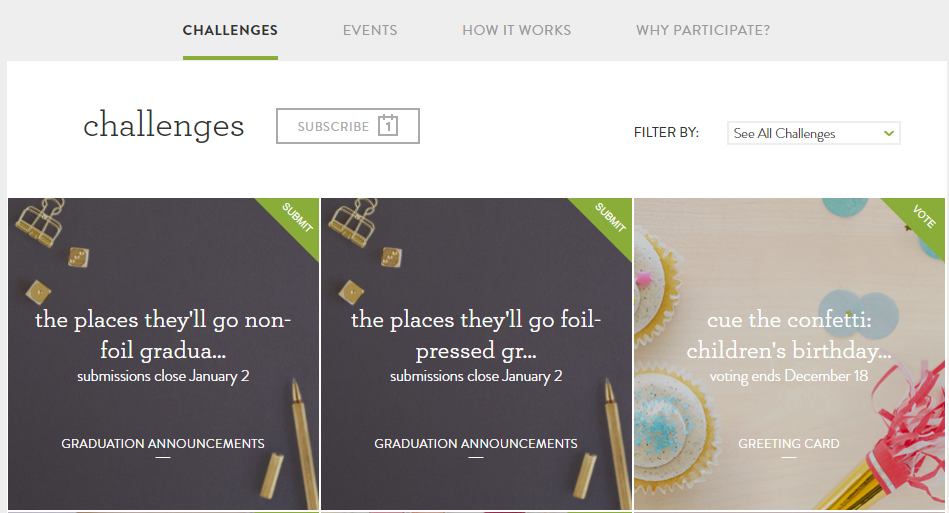 How much does it cost to build a peer-to-peer marketplace
Surely, you can't wait to start developing your own peer-to-peer marketplace. And definitely, you want to know how much you should invest in its development.
Etsy, like many other multi-million listing e-commerce websites, was not built in a day. Etsy's first version was made in 2 months and a half. Since then, owners were continuously adding functionalities on the fly while allowing Etsy to grow and evolve.
You should definitely follow Etsy's example and begin with a minimum viable product (MVP). Here is the core feature set you need to start your very own online marketplace:
Search and categorization
Listings creation
Listings pages
User profile
Shopping cart
Payment methods integration
Notifications
It is impossible to give an exact estimate without seeing the details of your project. However, the rough cost of a marketplace similar to Etsy with the above-mentioned features and built from scratch is $65,000 - $105,000.
The cost includes the work of our team, namely:
Custom design with UI and UX
Initial consideration of the architecture and choosing technologies by a Team Lead
Project management for coordinating the development progress and meeting the deadlines
Front- and back-end development
Quality assurance performed by a QA engineer who will join the team at the final stage to certify the correspondence of the website to the requirements and the absence of bugs.
HOW TO REDUCE THE COSTS?
Often, the development of eCommerce platforms can be streamlined by canned solutions and templates. For clients, who want to launch quicker and cut the costs, we can propose using a white label solution and web design templates. In this case, we customize the ready set of eCommerce features for our client's needs and add the necessary integrations. Such scripts work well for multi-vendor marketplaces as they already have all the standard functionality of a P2P marketplace. In many cases, the starting price of building a project-based of white label solution may range from $18,000 to $24,000.
This approach works well for projects with standard functionality. However, if you have a unique user workflow, complex data processing, and multiple integrations, you may be better off with a 100% custom solution. In such a case, it is more relevant and cost-effective to write the code for a platform from zero. This allows making the necessary structure and interconnections from the start and escaping difficult and costly changes in the future.
So, if you want to know exactly what is the most feasible way of building your website, send us your requirements and we'll come back with estimates soonest.
Need an estimate for your online marketplace?
Contact Us
How to Apply This to Your Business
Now, more than ever it is not necessary to open a physical shop to start selling self-made goods. Millions of artisans from all over the world successfully sell their products by using online peer-to-peer marketplaces and this market is going to grow for the years to come.
Etsy, even though it is the largest and the most well-known platform for craftsmen, has its fair share of competition. There are thousands of smaller but still profitable websites that focus on a particular niche, operate only at a certain location, or offer unique features.
It is absolutely necessary to emulate the Etsy core features as a basis for your marketplace. But it is important to learn the needs and demands of your target audience. This will allow you to deliver your own craft selling platform that can compete and attract artisans.
In this article, we wanted to share with you our thoughts on how to start a website like Etsy. Hopefully, this information was helpful and gave you additional insights on how to start your dream project. Do you need more information? Let's have a short discovery call so that we can learn your requirements and give you the solution that will fit your custom peer-to-peer marketplace.
Rate this article!
You should be
logged in
to be able to rate articles