eLearning typically requires 40% to 60% less employee time than learning the same material in a traditional classroom setting.
And time savings is just one of the benefits that you can get from eLearning. Companies from all over the world have been attributing their revenue growth, increase in employee retention and overall success to eLearning.
But how do you build an eLearning website that will help you achieve your business goals?
Having developed 40+ websites and apps for corporate training, we came to the conclusion that it is the approach that will define the success of your eLearning and not software.
Our clients tend to approach their eLearning as integrated solutions, rather than just websites. That's when you translate business goals into study objectives, create quality content, engage and build a system that supports all that.
So all our research and observations of successful eLearning cases have prompted us to come up with this list of questions. By answering them you should get an idea of how to build an eLearning website that will meet and exceed your expectations:
Let's see what goes into each question.
1. What are the Goals and Objectives of eLearning in Your Company?
Unless you tie your eLearning initiative to the company's goals, it is not going to make the impact you expect. And I am talking about the goals that TOP managers really sweat over. Mike Schultz, President of RAIN Group, gives very good examples of company training goals in his White Paper:
> 85% of sellers rate training as highly effective
90%+ adoption of your 's Sales Methodology
Decrease in sales ramp-up time from 9 months to 5
120% increase in new clients
15%-20% decrease in unwanted sales turnover
300% increase in account growth.
Now, that's something that can make a company owner happy.
Once you've figured out the goals, you can start thinking of ways you can achieve them with training, i.e. your eLearning objectives.
Here are the examples of learning objectives for sales training from RAIN Group:
Creating a path to top performance for each sales role
Linking sales training to sales enablement
Making training and enablement resources readily available as sellers need them
Establishing an effective, common approach to your company's way of selling
Raising quota and quota attainment
Ramping up new sales hires quickly, efficiently, and effectively.
So your goals and objectives will become the foundation upon which you can create an eLearning website. And they will lead you to the next step - curriculum planning.
2. How Will You Plan The Study Curriculum?
Planning the eLearning curriculum in advance will give you a lot of advantages in developing an eLearning website. Firstly, you will know what content you need to develop. Secondly, the curriculum will give you an idea of how your eLearning website should look like.
Putting it off for later would be like putting a cart before a horse. Could work, but with a lot of pain involved.
So what do your trainees have to know to achieve the goals and objectives, we've talked about in the previous section?
List topics, skills, and courses that you expect your trainees to complete. Categorize and prioritize them.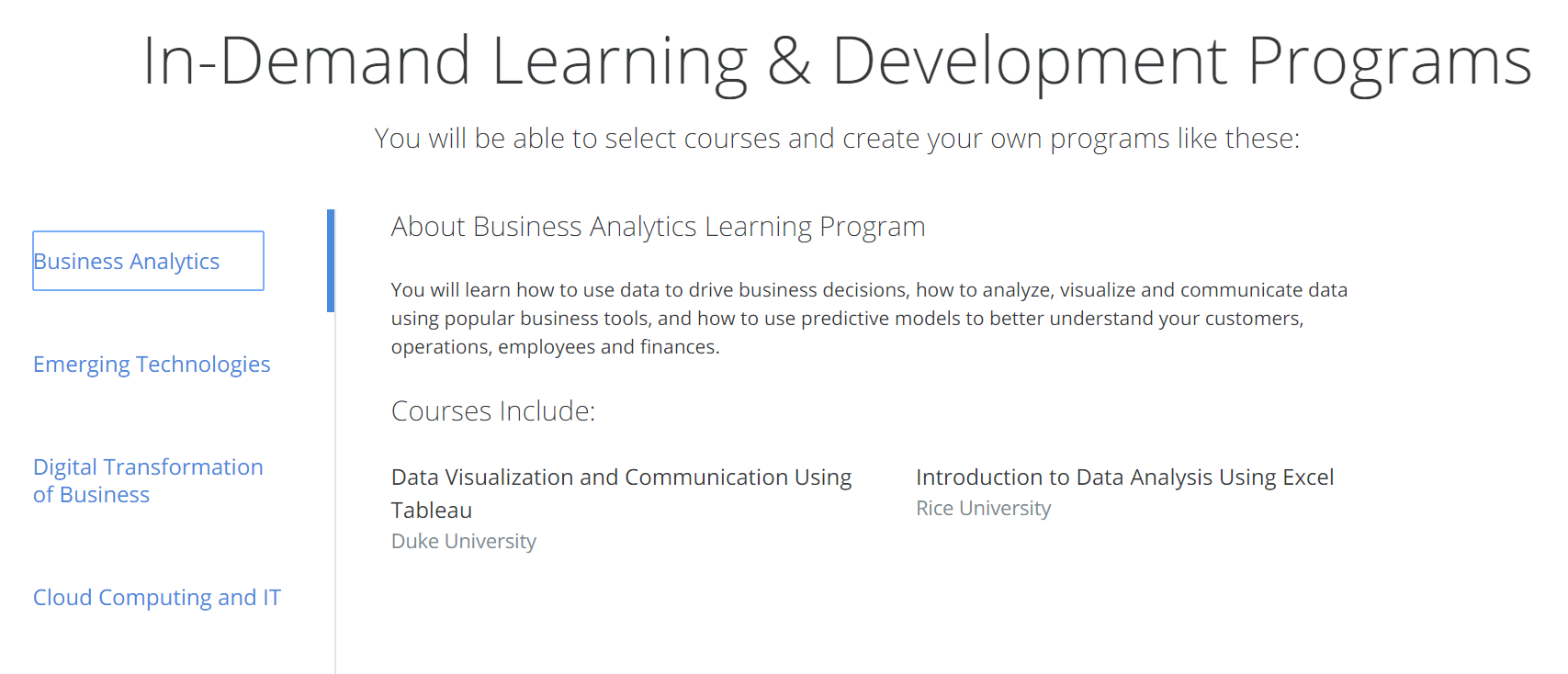 3. How Will You Create Content?
Now that you have your curriculum, it's time to start working on the content.
There is a number of ways to do it:
Use third party content
In-house content.
SoftwareAdvice survey shows that 73% of the companies use both.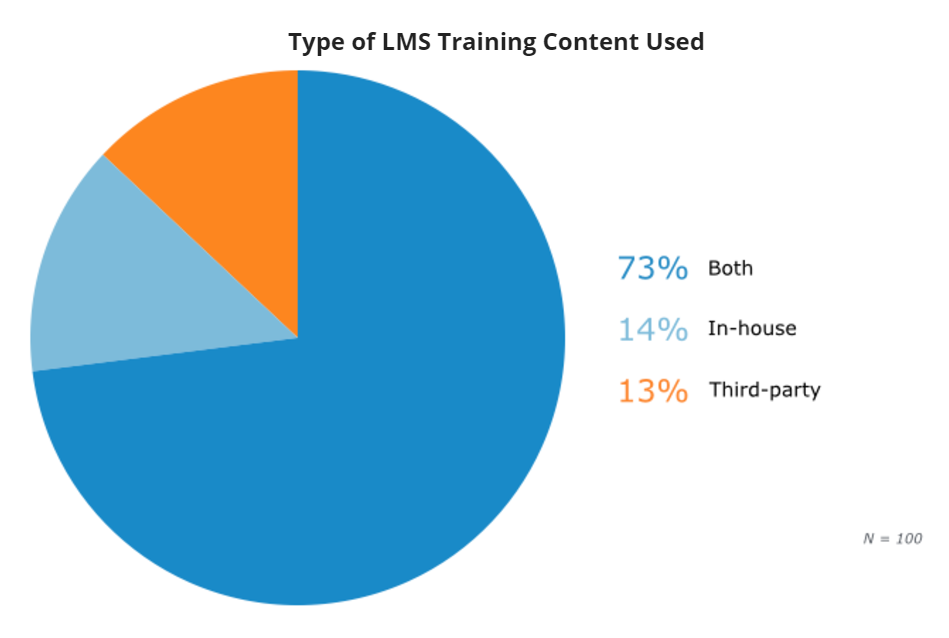 So let's see what each option means.
It is very likely that somebody has already created quality content on some of the topics from your curriculum. Why reinvent the wheel? Think of the ways you can legally use and customize this content on your eLearning website.
And, of course, there will be topics that are particular to your company, like product knowledge, company policies, sales playbooks, etc. Part of the job of creating this kind of content would be to get the information from the subject matter experts and translate it into training material. While another part is to 'package' this material into engaging training content.
You can produce your content with a help of designers and coders or you can do it by yourself with a help of authoring tools and templates.
Some of our clients develop their content with designers and video operators. They have the resources to make 100% custom content that looks very professional. While others rely on templates only with occasional help from designers and coders.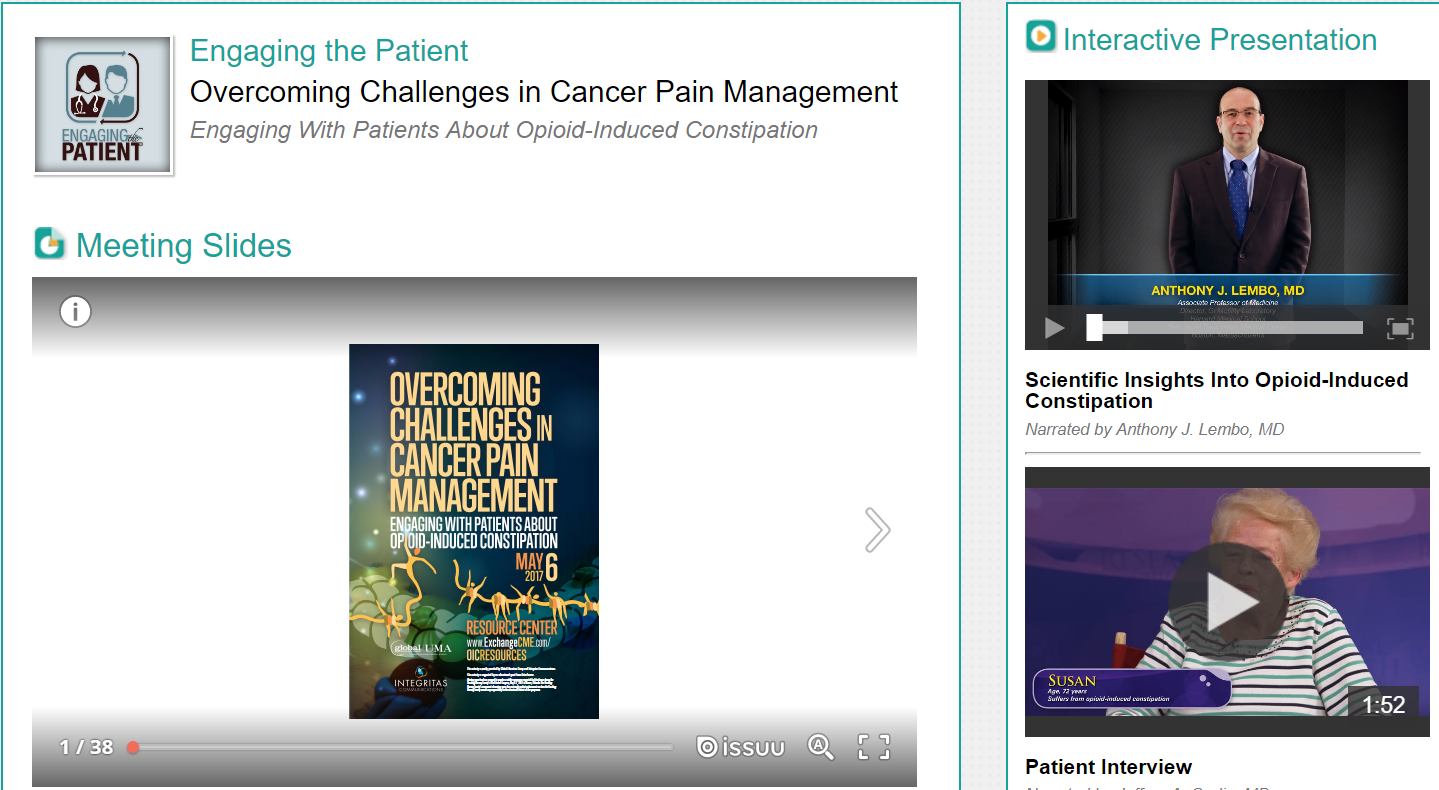 Either way, content authoring tools will be useful to you regardless of whether you have a team of specialists to help you with your content or not.
I am talking about such tools as Adobe Captivate, Elucidad, and Articulate among others.
They will help you build interactive presentations, voice-over screen recordings, quizzes, tests, etc. And all that content will be mobile-friendly. You can use custom designs or templates, which you'll be able to edit with the 'what you see is what you get' editor.
Another good thing about these authoring tools is that they will convert your content into SCORM, Tin Can, and/or LETSI compliant formats. This will help you to use your content in your Learning Management System (LMS). So you will have no trouble in uploading content to your eLearning website, as long as your authoring tool and LMS support the same standard.
4. How Will You Deliver Your Content?
Most of our clients believe in blended learning. That is why they build their eLearning websites to support different training delivery methods. Those methods include, but not limited to:
Self-paced online courses and resources
Instructor-led webinars
Traditional classroom sessions.
So does your organization also rely on more than one delivery method? Then it will be useful to think of ways to unite all those experiences in one place - your eLearning website.
Here are some ways you can go about creating an eLearning website:
Have a schedule of live events
Host webinars and podcasts
Offer post-event quizzes and polls
Offer educational games.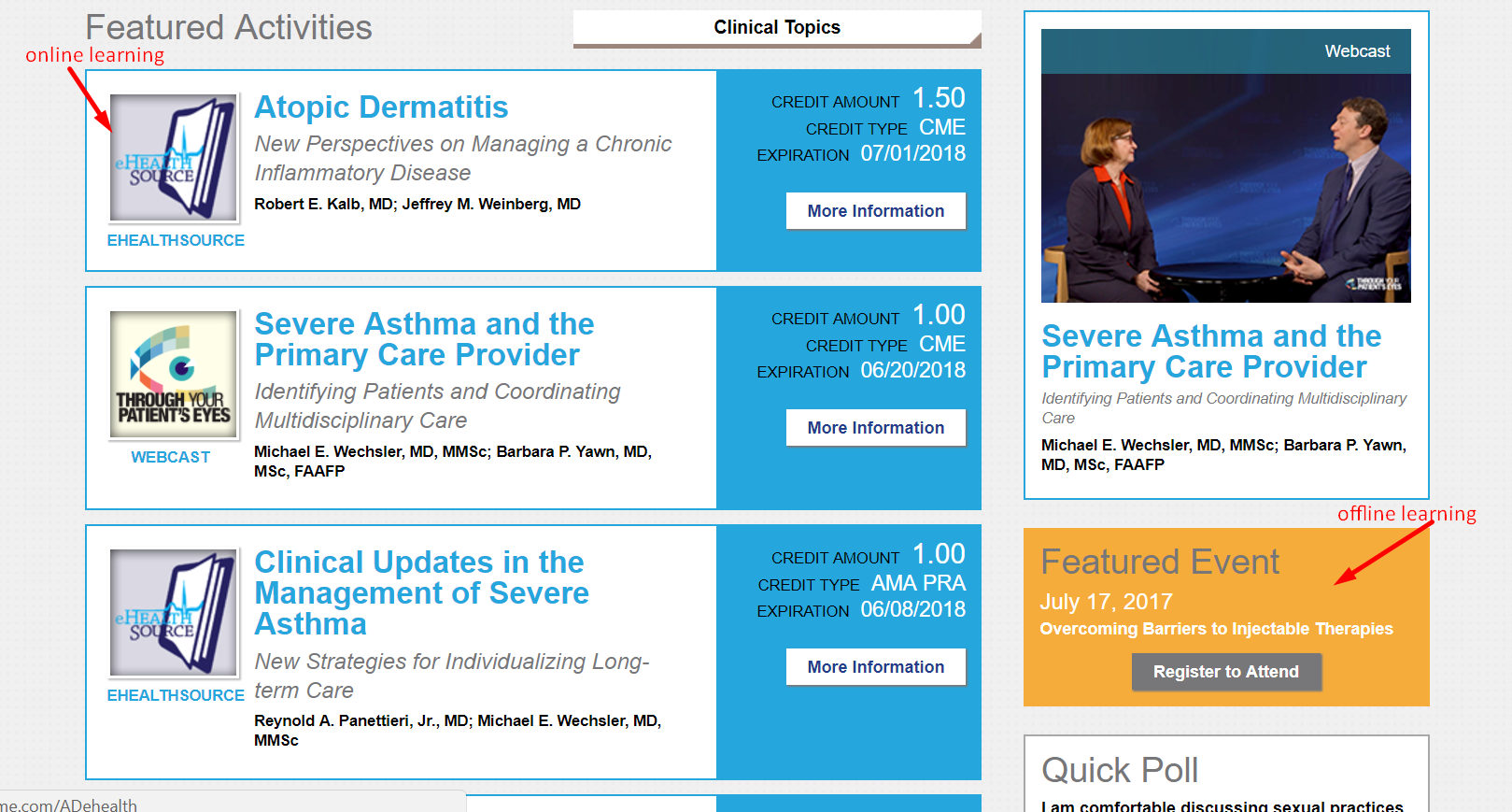 5. How Will You Engage Your Trainees?
If your eLearning will be boring, it will be a struggle to keep participation and attention high. And this can hinder the success of the entire project.
The best way to avoid this is to think of an engagement strategy before building an eLearning website.
Here are some ways you need to consider when you are on the way to make an eLearning website that can help you keep your trainees awake and alert:
Interactivity
Gamification
Community interactions.
Think of the last talk, presentation, or lecture that has excited you, or at least you remember what it was about. Chances are, that you liked it and it stuck with you because you participated in it.
Probably the speaker asked you some interesting and provocative questions or asked you to do something. Am I right?!
You can achieve this interactivity even online. One simple way to do it is to interrupt your videos and text materials with questions. You can also allow your trainees to make bookmarks and take digital notes.
Another, more sophisticated way of engaging learners is gamification. It has been a huge trend in eLearning for a couple of years already because it really works.
Gamification can lead to a 60% increase in trainee engagement.
This is because gamification gives you so many tools that can help you spark friendly competition and excitement in your learners. Here are some examples:
Scoring
Badges
Leaderboards
AR and VR simulators.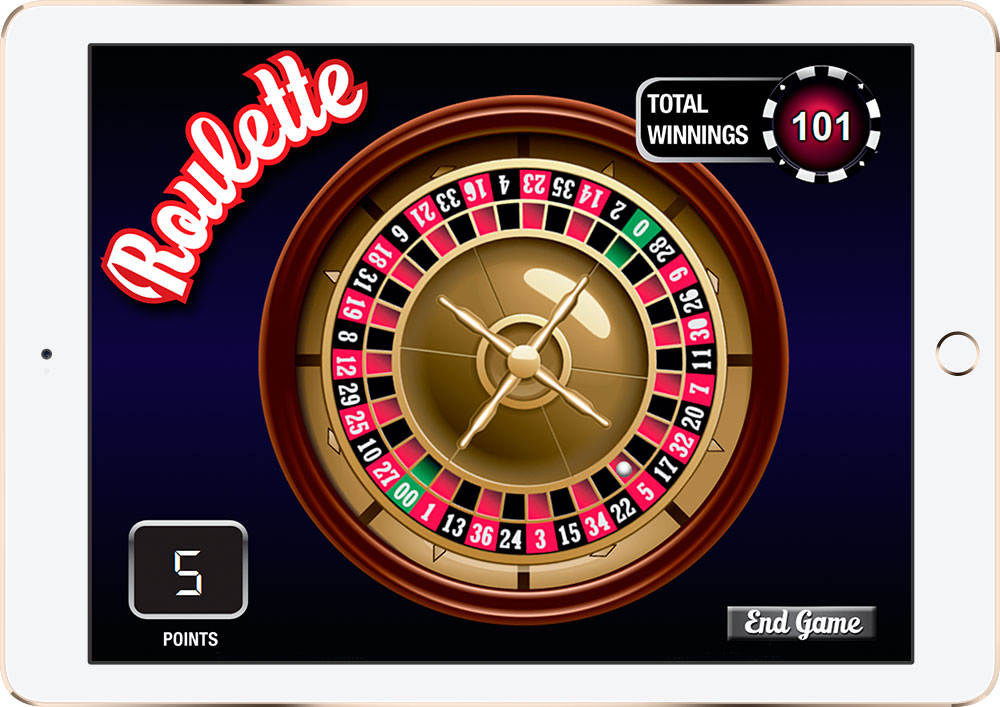 And last, but not least you can also encourage your learners to help each other out. For example, one of our clients has asked us to build an eLearning website with features that will support mentorship and peer material sharing in his LMS. So now newbies can consult with more seasoned professionals and use their materials for study and work. Your users can interact with each other on your website in the following ways:
Forums
Peer assessments
Mentorships
Peer material sharing.
6. How Will You Assess and Certify Your Trainees?
Knowledge assessment and certification will help both you and your learners in tracking progress and proving the knowledge level.
The most common way to assess knowledge is with tests and quizzes.
You can design them with various types of questions:
'Select the correct answer' & 'select all that apply'
'Drag and drop'
'Fill in the blank'.
You can also assign points to each question to determine the knowledge level of a trainee by summing up the points earned with correct answers. And you can issue digital certificates that will confirm the knowledge level of an employee.
One of our clients conducts several types of assessments within each online course. This helps him see the knowledge level of learners at different points of an online course:
Pre-questionnaire
Posttest
Evaluation.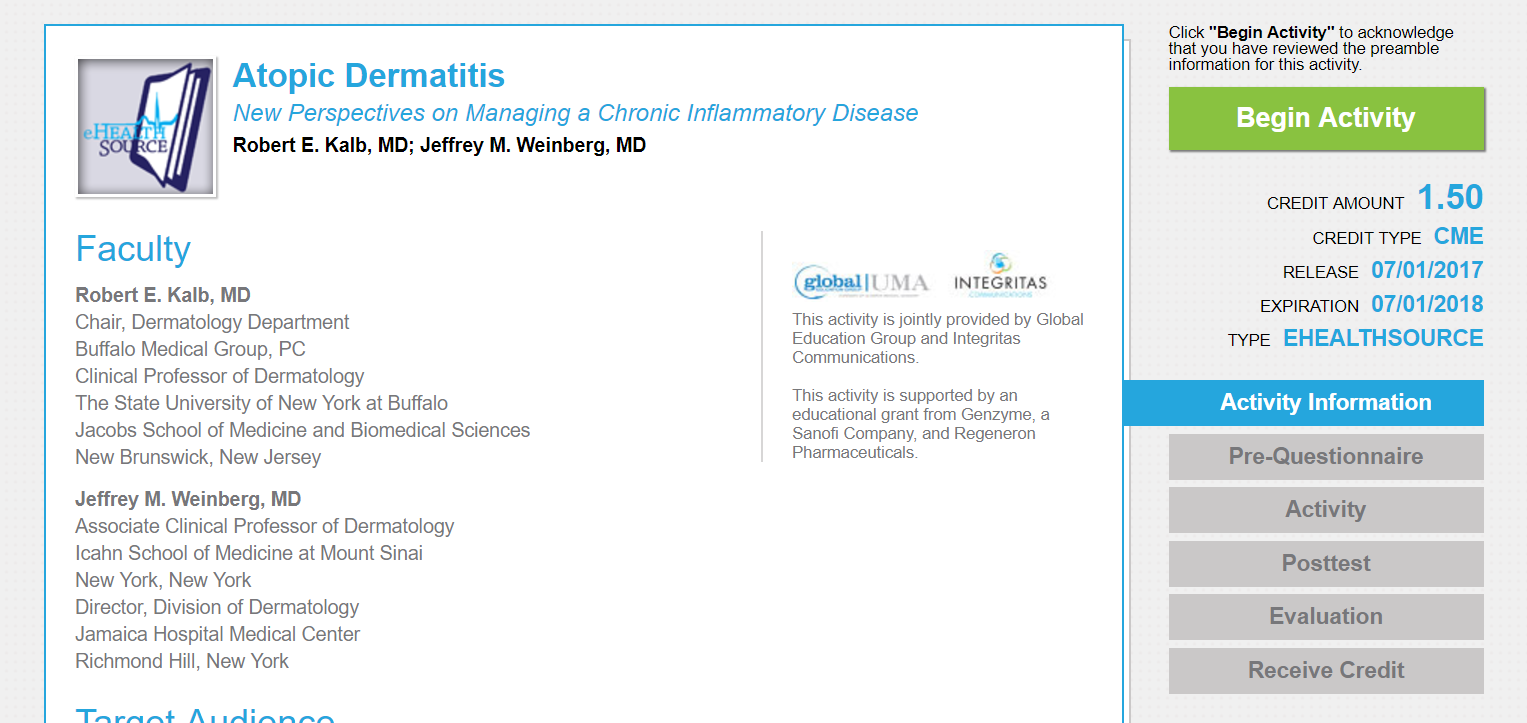 7. How Will You Track the Effectiveness of Your Training?
Once you've got your eLearning system up and running, how will you know if it's successful? How will you show your boss that he's made the right decision by investing in your project and can continue doing so?
You can do all that by tracking the right KPIs.
According to The Kickpatrick Model for training evaluation, there are four types of eLearning KPIs.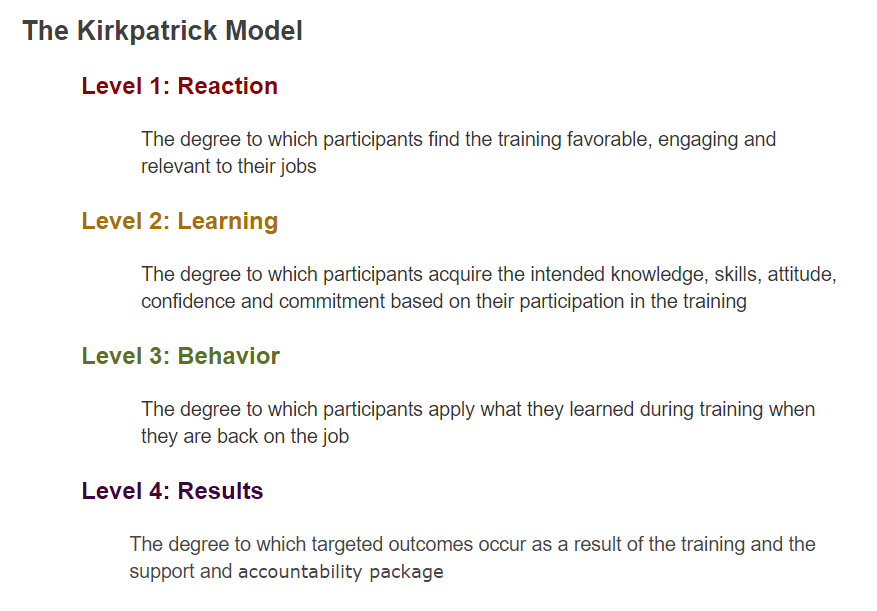 By following this model you will know how much your learners use and like your website. And, what's more important, you will know what impact your eLearning has on the business. Remember the business goals for eLearning, we've talked about in the first section?
Examples of Reactions and Learning (Levels 1 & 2) metrics that you can track:
Course enrollments
Material views
Course completion rates
Learner satisfaction surveys
Knowledge assessment results.
Examples of Behavior and Results (Levels 3 & 4) metrics:
Revenue growth (e.g. product X sales growth after the new product course)
Employee turnover
Customer satisfaction, after a customer care course
A number of casualties at work, after safety training.
These are just the examples, I am sure you can come up with a dozen more for your project.
But how do you track them?
Your LMS should support the tracking and reporting of the first type of metrics (Reactions and Learning). Most off-the-shelf LMS systems provide this functionality out of the box.
However, it won't be so easy to track the second type of metrics (Behavior and Results). Although these are the ones that your boss will actually care about! No off-the-shelf LMS, that we know of, supports those.
So one way to do it is to manually import the data from various systems into a spreadsheet and then analyze it. And, this is a lot of work! Or, you can build a custom app that will automate this activity, so you could get instant reports anytime you want.
8. What LMS Solution Will You Choose?
And finally, we've come to discuss a system that will support all of this functionality - a Learning Management System.
LMS is an engine of your eLearning website that enables all of its features, including its administration.
There are two types of LMS solutions that you can launch an eLearning website with:
Use an off-the-shelf LMS
Build a custom one from scratch.
When it comes to off-the-shelf LMS solutions, there are website builders for eLearning, cloud-based (SaaS) solutions, and LMS platforms like Moodle or Drupal (open source).
Of the two solutions, cloud-based is the simplest one to make an eLearning website with. This means you should be able to set it up yourself without any coding skills.
Good examples of cloud-based LMS solutions are Adobe Captivate, TalentLMS, and Docebo among others.
Although these systems are fast to launch and easy to use for non-techies, this comes at a cost of low flexibility and 'one-fit-all' approach. So you will likely have to make compromises in terms of functionality and structure of your eLearning website.
Remember the Behavior and Results metrics to track the impact of your training on work performance? That is an example of important functionality that is not supported by cloud-based systems.
As for the open-source platforms like Moodle, they are a bit more flexible but more complicated to set up than a cloud LMS. You would still need a web development team to get your educational website up and running on one of these platforms. This solution, by its flexibility and ease-of-use, is somewhere in the middle between a ready-to-use cloud system and a 100% custom LMS
You can also develop your LMS from scratch with a help of a web development team. The eLearning development services give you maximum flexibility, so your website will do exactly what you want and how you want it to do. The disadvantages of custom eLearning website development are cost and time at the launch phase.
However, according to our experience, post-launch support expenses of custom solutions are usually comparable or considerably lower than with off-the-shelf solutions. This happens because canned solutions are designed to be universal, which inevitably limits your possibilities for customizations. So overcoming these limits will be difficult and costly, especially in the long run.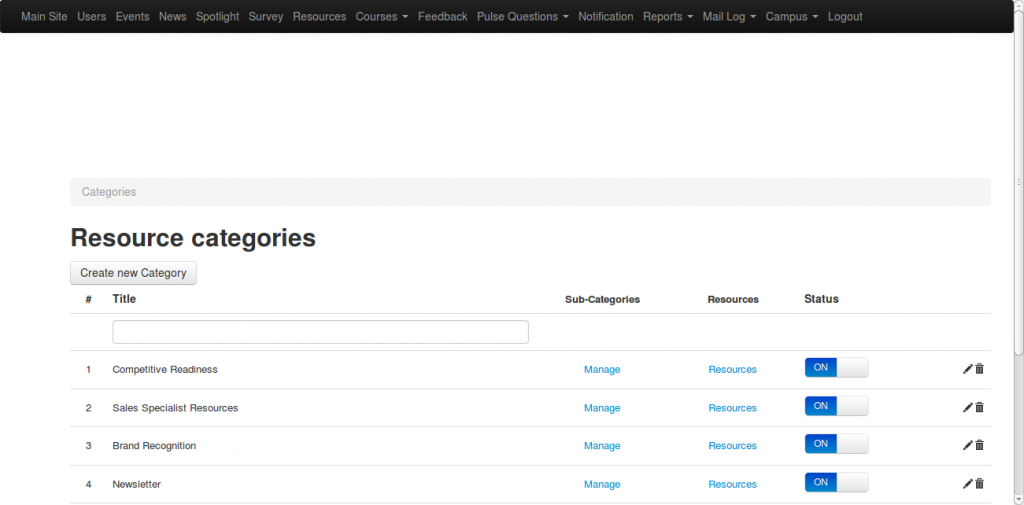 So what you choose will depend on your unique situation and requirements. And this choice will have a direct impact on your eLearning website development cost. When in doubt, just consult with those who have experience in the field.
Conclusion
Let's sum up.
Every successful eLearning project starts with goals and objectives. These are the reasons why your boss decided to invest in your project in the first place!
The next step would be to plan your study curriculum, by listing topics and courses that your trainees require to reach the stated goals and objectives.
Then comes the content, the main product of your eLearning. At this point, you should also make sure that your eLearning isn't boring. So you can utilize such powerful engagement strategies, as gamification, interactivity, and community interaction.
Once you've figured that out, you may start planning on how you are going to assess and certify the knowledge your learners have gained on your website.
In addition to that, it is a good idea to plan how you are going to track and analyze the effectiveness of your eLearning project once it is up and running.
Last, but not least, you may want to think about the LMS solution that will support all this functionality.
We really hope this article will help you plan and create a website for e-learning that will bring success to your company.
If you have questions about the LMS solution for your project, don't hesitate to drop us a message in the form below. We'll be glad to give you a free consultation.
Get a FREE cost estimate for your eLearning website.
Contact Us
Rate this article!
You should be
logged in
to be able to rate articles