How to Make a Price Comparison Website?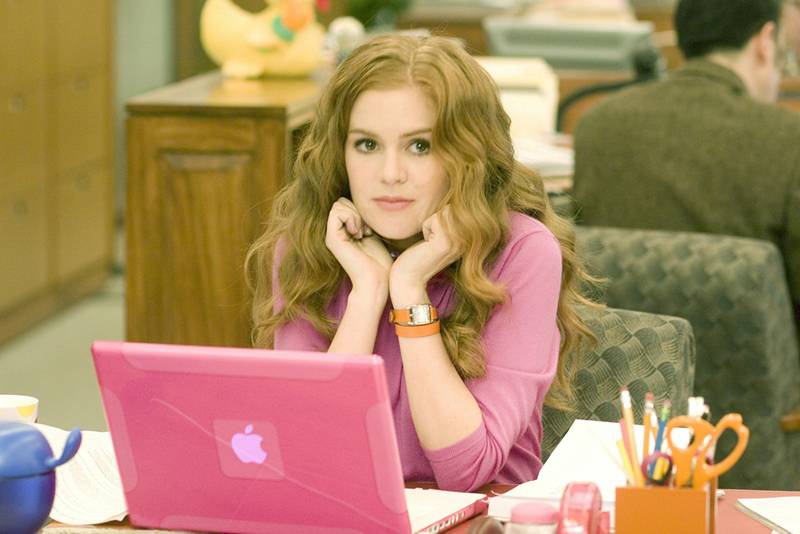 85% of consumers prefer using price comparison websites to search for the best deals. Customers love digital tools that help them save their budgets. GoCompare and MoneySuperMarket alone saved UK consumers over $4 billion in one year.
Price comparison websites (PCW) are especially helpful with significant purchases like buying flights, insurance, selecting a credit card, or taking a loan from a bank - areas where it is not easy to make a decision without deep research.
If you're planning to build a website for price comparison, this article will be helpful as we are going to dig deep into the essence of monetization, structure, technology solutions, and development costs. Read on to find out!
Before You Start a Price Comparison Website…
We know that you came here to find out how to start a price comparison website. But first, even before thinking about features, you should decide on who will be your target audience, how you are going to earn money on this service, and who are your competitors.
Benefits of PCW
Price comparison websites have firmly cemented their position in buyers' shopping habits in the last 10 years. And it looks like the habit of using digital comparison tools will stay with us for a long time.
The benefits of price comparison websites are evident for both customers and suppliers.
On the one hand, customers benefit from PCWs by:
saving time

as there is no need to visit

each provider's website individually to compare prices
getting consolidated information on a specific group of products to help people better understand complicated products, such as, for example, bank services or insurance
providing prices and conditions transparency, which can influence price dispersion among different providers
finding the best deals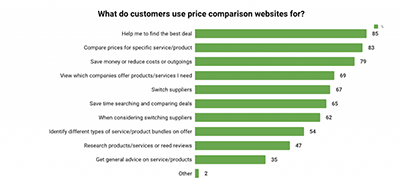 On the other hand, PCWs are beneficial to suppliers as these websites:
serve as an additional low-cost advertising channel
give a cheaper way of customer acquisition
facilitate the small and new brands entering the market
Business Model of PCW
The business model of aggregating websites is affiliate marketing. PCWs collect listings from different retailers to give users the lowest prices for the same items but do not directly sell products themselves. They play the role of mediator between the customers and retailers (or service providers).
In the past, it was more common to work for a flat fee. Now, the majority of PCWs prefer to take a commission for redirecting users to the retailers' websites (cost-per-click model) or after a user completes the transaction or other required action (cost-per-action model) like registration or leaving an email address. Another way is getting revenue through advertising vendors.
In spite of the overall economic decline, the price comparison websites market is going to burgeon at a CAGR of 15.5% from 2018 to 2023.
Competitor Landscape
The competitor landscape is represented in four major segments:
| | | |
| --- | --- | --- |
| Segment | Description | Examples |
| BFSI (Banking, Financial Services, and Insurance) | Insurance, credit cards, loans, mortgages | Confused, GoCompare, CompareTheMarket, MoneyFacts, Squeeze, MoneySuperMarket |
| Utilities | Gas, electricity, broadband, TV, phones | Uswitch, CompareTheMarket, SimplySwitch, MakeItCheaper |
| Retail | Clothes, electronics, automotive, books, home decor, kids, health & beauty, garden, sports, electronics, etc. | Google Shopping, Bizrate, PriceRunner, Shopbot, Nextag, Amazon Product Ads, Comparator, Pricebat, Pricewatch |
| Travel Services | Flights, hotels, and tours | Skyscanner, Momondo, Kayak, Trivago, Flights.com, Expedia, Booking, TripAdvisor |
If you feel it is tough to compete with the leaders of the market, you can choose a smaller niche with less competition.
Here are some examples:
Intellectual Property: Compare IP compares patent renewal costs for patents
Food Suppliers: Kitchify provides all vendors in one order guide for restaurants
Drink Comparison: Bringabottle and Wine-Searcher search for the best deals on drinks
Delivery Services: Parcel2go shows the cheapest delivery in the UK
Digital PC Games: CheapShark allows to save on purchasing games
Gasoline: GasBuddy gives users the best price for fuel around the USA and Canada
How to Build a Price Comparison Website
4 Principles of a Good Price comparison website
In spite of the generally positive attitude of customers towards the price comparison websites, there are some concerns about price transparency and trustworthiness of certain platforms.
Other reasons why customers may refuse to buy from PCWs include:

Taking all this into account, the Competition and Marketing Authority identified 4 principles of how any digital comparison tool (DCT), including price comparison websites, should operate to increase the trust of their users. Your website should be Clear, Accurate, Responsible, and Easy to use - CARE.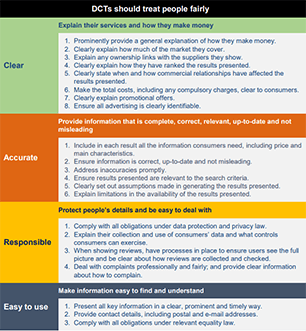 Features of Price Comparison Websites
1. "Compare Listings" and "Listings Details" Pages
The "Compare Listings" page is the page where all products are displayed with their description and prices to compare. Clicking on each listing, a user can go to the product details or get redirected to the provider's website to complete the purchase.
Details for listings are taken from the database where they come either automatically via API integration with the supplier's system or manually when a supplier adds it on the price comparison website (for example, adding hotels on Booking.com or Expedia).
The "Compare Listings" page may look like this: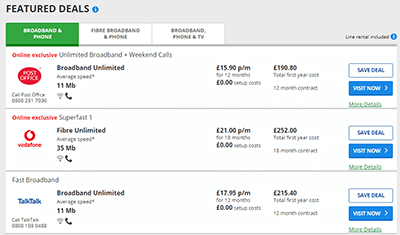 Or like this: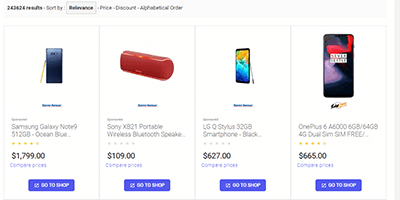 Or somehow else, depending on your design.
2. Search and Filters
As a rule, price comparison websites work in two ways:
1) Users browse the keywords in the search bar and the system processes the request returning the result on the screen at once. To make the search more user-friendly, you can add categories, multiple filters, sorting, ratings of popularity, 'most viewed,' etc.
Examples: CompareTheMarket, Skyscanner, Google Shopping. Gasbuddy searches for the best prices on gas while also taking into account the customer's location, which is a very useful feature when you are on the road. The system reads the geo-location and automatically finds the matches.
2) Users fill in a form to submit their requirements and the system proceeds to send this request out to the suppliers who then come back with their quotes.
Examples: Compare IP, Kitchify, Parcel2go. Thus, it works for our client Compare IP, a service that helps intellectual property owners get renewal quotes quickly and free of charge. Without disclosing IP owners' identities the system sends put requests to selected suppliers, to get their quotes for the same service and then provides them to the user in a summary table.
"CompareIP.com brings much-needed transparency to the IP renewal sector and allows IP owners to make informed choices based on price and the added value services that suppliers have to offer. We have a good mix of suppliers who have embraced the opportunity to participate and aren't afraid of transparency. My hope is that others will also want to join in." — Peter Rouse, director of Patent Annuity Costs.
3) Users answer the questions and the system matches their answers to the products with the needed characteristics.
Example: Sephora
Unless you are a professional makeup artist, shopping for cosmetics is hard. Sephora helps its customers choose the right products with a collection of quizzes. Based on your answers, the system will recommend you the best lipstick, mascara, skincare, etc.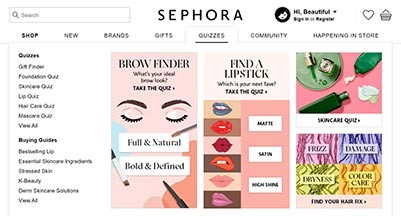 3. Price Alert
This feature allows users to track the price change for the best deals and sends out notifications to the subscribers via emails, SMS, or push notifications if the price goes down. All of this increases the chances that a user will come back to your site!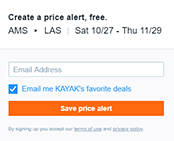 Some websites even allow more patient users to set a target price to get alerted when the expected price appear: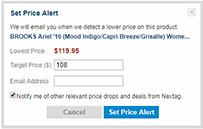 4. Price History
This feature allows users to view trends and changes and can stimulate the users' purchase activity when they see the tendency of the price to grow or to get lower. For example, looking for flights, travelers usually search for the cheapest tickets, and seeing the price history can help them understand if the current price is adequate and if it is high time to buy.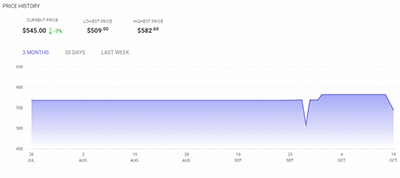 Travel aggregators have a number of price tracking features. For example, "Comparing across the months" helps to choose the best deal if a person does not depend on strike dates. Or "Finding the cheapest month" works for travelers who got used to buying tickets in advance and searching for the best deal all year round.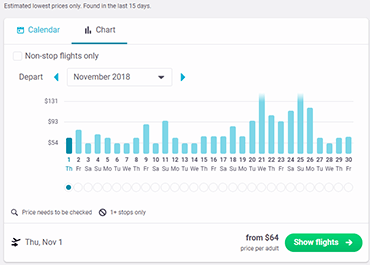 5. Reviews 32% of customers read at least 4-6 reviews and 7% read up to 20 online reviews before making a purchase decision.
Adding reviews to your aggregator is important as shoppers need to get a summary of the goods and services before they buy.
You can add reviews the same way as all the rest of the information - taking them from the retailer's website or allowing users to write them on your website. In this case, you should take responsibility for the credibility of these reviews and their authors. Our developers can help with these tasks as at Greenice we have a profound experience with reviews websites and using the best practices for security and fraud detection.
6. Rewards
Boosting up engagement and loyalty is one of the major challenges for price comparison websites. People even compare comparison websites when searching for the best deals! One way to retain customers and increase their loyalty is to create a rewarding program for them.
Points and badges (TripAdvisor), gift cards, cashback, discount coupons (Pricewatch), and giveaways can motivate them to stay with you and ignore your competitors even if they have a better price.
For example, CompareTheMarket gives movie tickets and Amazon gift cards to its customers.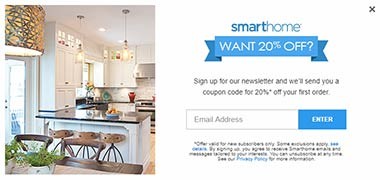 Another example is GasBuddy, which incentivizes its contributors by granting them points for activities. They rank the most active users in leaderboards to add an element of competition. For their contributions on GasBuddy, users can collect points and redeem them for $100 gas gift cards.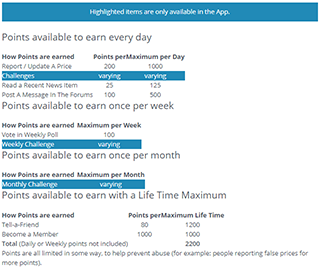 7. Barcode and QR Scanning
Price comparison mobile applications may have such a feature as a barcode or QR scan. Shopping in some local stores, customers can simply scan the goods' barcodes to find the same items online and compare prices.
Examples: ShopSavvy, BuyVia.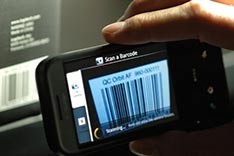 Technical Solutions for Price Comparison Website Development
Now let's see how to make a price comparison app from the technical point of view. There are several common methods for creating a price comparison website.
1. API Integration
This is a legal and common way to get necessary and up-to-date info about the products and services directly from retailers. Your system will send requests to a shop's website API and bring all the info to your database. Of course, there are known difficulties to insert data from multiple different websites into your single database. But as a rule, there are standards for types of data for each segment (travel, insurance, retail) to have more or less the same parameters and fields.
When to use it?
In case most of your affiliate websites provide access to their APIs.
Pros:
The price and product information will be updated automatically
It is legal
Easy to track commission due to the affiliate programs
Cons:
Impossible to get information from a website that does not have affiliate programs and does not provide an API
It takes time and effort to integrate a website with numerous APIs from different websites
2. Web Scraping (Parsing)
For this method, developers create a crawler (or spider) that visits predefined websites and grabs any necessary data like prices, product features, contacts info, etc. Then, this data is automatically stored in your database.
When to use it?
If you need data from some websites that do not provide affiliate marketing and you need their data to enlarge your database for comparison with others.
Pros:
You can get data from almost any website without asking permission, but it's better if you do ask
You can quickly get a big amount of data to complete your database and attract a large audience
Cons:
Many websites take anti-crawling mechanisms to prevent web scraping
It can be difficult and expensive to develop crawlers for some websites
It is not a legal method without a website owner's permission
You do not get a commission for redirecting users to the websites you collect data with web scraping
3. Manual Adding from the Retailers' "Feeds"
Retailers that do not have API may provide their listings information in CSV or XML files.
Your team will be required to add and update information manually each time the lists are provided.
When to use it?
When there are small amounts of data. The prices are mostly static and need no frequent or dynamic updates.
Pros:
Needs no difficult integrations with third-party websites
Minimal coding
Cons:
No standardized format for feeds from different retailers, which makes this method time-consuming and inefficient
Requires a lot of manual work to add and update a database
No way to make automatic real-time updates
4. On-demand Quoting
Some websites provide services that need individual quotes. For example, intellectual property renewals or insurance quotes can be calculated according to the requests sent by a customer after filling in a special form on the website. The system automatically notifies vendors about new requests from customers, and vendors can see the details in their accounts. After analyzing the information vendors can send back their conditions and prices through the system to the customer.
When to use it?
When products or services require individual estimation of quotes based on the customers' requirements. As an example, one of our customers, Compare IP, provides its users with quotes for patent renewals from selected suppliers without disclosing the customers' names. This is made for better transparency of prices and services provided by different suppliers.
Pros:
Needs no difficult integrations
No need for a large database and complex business logic
Cons:
Vendors have to manually add quotes to your system
5. Crowdsourcing
Some aggregators rely on users who manually add listings to create a database without the necessity of any crawlers or integrations. This option is suitable for small firms that do not change prices too often and need an additional platform for advertising.
When to use it?
When your service focuses on small retailers. GasBuddy is one example of this as it accumulates gas price information crowdsourced from users who submit 2-3 million price updates daily across the US and Canada.
Pros:
No need for complex development (web scraping, API integrations)
No manual work from the aggregator side
Cons:
No dynamic price updates
Requires constant incentivizing of user activity to keep the website alive
How Much Does it Cost to Build a Website to Compare Prices?
All websites are different in their complexity and size. That's why as there are no two similar websites, the estimate for each project is made exclusively. At Greenice, we carefully study each case, brainstorm for the most appropriate technology stack and architecture, and come back to you with a quote tailored for your requirements.
But we also understand that you are curious to at least get the approximate numbers right now.
Let's assume that you want to develop a custom website for comparing prices with the following features:
| | |
| --- | --- |
| Feature | Description |
| API integration with suppliers and database creation | Each supplier may have its API integration peculiarities that should be considered individually |
| Compare listings page | The page that aggregates all matches to the search from different suppliers |
| Listings details page | The page that contains data like name, description, reviews, ratings, price, images, and other details of a product or service |
| Search and filters | The system should search required matchings in the database and retrieve data on the screen |
| Reviews | Users should be able to submit their reviews and ratings |
| Sign up/in for users and suppliers | Users should be able to register on the website and log in to their accounts with the help of their credentials |
| User profile | Users should be able to view their orders/requests and purchase history, their reviews and responses from suppliers, and earned rewards |
| Supplier profile | Suppliers should be able to view requests for quotes, customer reviews, be able to respond to customers, view statistics on views, transactions, etc. |
| Price alert | Subscription for email notifications in case of price change for the product users are interested in |
| Price history | Automatic tracking of the price change on each product and displaying results in a graph |
The development of a website like this may take about 4,5 - 7 months and cost $55,000 - $85,000 correspondingly. This is the cost for turn-key service from web design creation to the launch. But this is a ballpark price and the final price will depend on your requirements.
How to Apply This to Your Business
MoneySuperMarket, Confused, GoCompare, CompareTheMarket are the leaders among the price comparison websites. Besides them, there are a bunch of smaller representatives of the industry.
Before starting your work on features, decide on the business model that will bring you profit, determine your niche, audience, and monetization type, sit down to write the high-level requirements, and define some uniqueness that will distinguish you from competitors.
From the development point of view there are at least five common solutions on how to create your price comparison website:
API integrations
Web scraping
Manual adding from the retailers' "feeds"
On-demand quoting
Crowdsourcing
Which type to choose depends on your aims, segment, monetization ways, and whom you are going to get data from. We are ready to help you with any of these kinds of websites.
---
Author: Anna Klimenko is a market researcher and author at Greenice with multifaceted knowledge about different types of business and technical solutions. Anna's experience in technical writing and product management allows her to understand web development processes and enables her to translate technical concepts into plain language to help entrepreneurs make informed decisions.