Are you dreaming of creating a successful review website that can rival the likes of Tripadvisor? In this comprehensive guide, we'll take you through the three essential steps to becoming a leader in your niche.
First, we'll help you determine your unique selling proposition - what sets your website apart from the competition and makes it appealing to users. Next, we'll guide you through the process of defining the basic features that your website should have. Finally, we'll explore how you can add those extra touches that will make your website stand out even more.
But creating a review website like Tripadvisor is no easy feat. Along the way, you'll encounter numerous challenges that you'll need to overcome. Maybe you're struggling to come up with a unique business model, or perhaps you're unsure of the right tools and technologies to use. We'll address all of those challenges and more, so that you can move forward with confidence.
Of course, one of the most critical aspects of creating a website is the cost. You need to know how much you'll be investing in this venture, and what you can expect in return. That's why we'll break down the costs of building a website like Tripadvisor, so you can make an informed decision about whether this is the right path for you.
So, are you ready to take your business to the next level and create a review website that will become a leader in your niche? Let's dive into the three steps you'll need to take to make that dream a reality.
Overview of the Travel Industry
The travel industry is a vast and continuously evolving market that offers a myriad of opportunities for businesses to grow and expand. According to Phocuswright, a leading travel research firm, global travel spending, excluding experiences and dining, was estimated at approximately $1.6 trillion in 2020 prior to the onset of the COVID-19 pandemic. Despite the pandemic's impact on the travel industry, Phocuswright estimated that global travel spending will still reach approximately $1.4 trillion by 2026, with an increasing share booked through online channels each year.
The anticipated total size of the online experiences market will continue to expand as travelers become increasingly comfortable making last-minute bookings online, operators shift online to efficiently adhere to evolving pandemic regulations, and international travel resumes. As a result, online travel agencies (OTAs) are the fastest growing channel in the travel experiences market and are expected to undergo significant growth going forward, with a compounded annual growth rate (CAGR) of 62% from 2020 to 2025 according to the Arival Report.
Furthermore, the full-service European restaurants industry is estimated to reach approximately $250 billion by 2025, according to Euromonitor, a leading provider of global business intelligence, market research data, and analysis. The restaurant industry is also exhibiting a trend towards online adoption, with an increasing share of restaurant reservations being booked through online channels each year. Therefore, there is still an exciting future market opportunity for businesses in the travel industry to capture increased market share.
In summary, the travel industry is a large and growing market, with global travel spending expected to reach new heights despite the challenges posed by the pandemic. Businesses that are well-positioned to take advantage of the current trends towards online adoption of travel experiences, as well as the growing demand for full-service European restaurants, are poised to capture a significant share of this expanding market.
The Story of Tripadvisor
Tripadvisor is a leading online travel platform that helps millions of people plan and book their trips. Founded in 2000, the company has grown to become one of the largest and most trusted sources of travel information, reviews, and recommendations. Tripadvisor operates in 49 markets and offers more than 8.7 million accommodations, restaurants, experiences, airlines and cruises.
Some of the major events in Tripadvisor's history are:
2000: Tripadvisor is founded by Stephen Kaufer, Langley Steinert, Nick Shanny, and Thomas Palka. They want to create a website where travelers can share their opinions and tips about destinations, hotels, restaurants, and activities.
2004: Tripadvisor is acquired by IAC/InterActiveCorp, a media and internet company that owns many other online brands.
2005: Tripadvisor becomes part of Expedia, Inc., a spin-off from IAC that focuses on travel services.
2007-2010: Tripadvisor expands its portfolio by acquiring several other travel websites and platforms, such as Smarter Travel Media, Holiday Watchdog, Airfarewatchdog, Virtualtourist, FlipKey, Kuxun.cn, and Holidaylettings.co.uk.
2011: Tripadvisor becomes an independent public company after spinning off from Expedia. It also acquires Where I've Been, a Facebook app that lets users share their travel history.
2012-2014: Tripadvisor continues to grow and diversify by acquiring more travel businesses, such as Wanderfly, Jetsetter, GateGuru, Oyster, Vacation Home Rentals, LaFourchette (theFork), Viator, Tripbod, Mytable, Restopolis, Iens, SeatMe, BestTables, and Dimmi.
2015-2019: Tripadvisor launches new products and features to enhance its user experience and engagement, such as Instant Booking, Tripadvisor Experiences, Tripadvisor Rentals, Tripadvisor Plus, and Reco. It also acquires Citymaps.com and SinglePlatform.
2020: Tripadvisor changes its name from TripAdvisor to Tripadvisor to reflect its global presence and brand identity. It also faces challenges due to the COVID-19 pandemic that affects the travel industry.
2021: Tripadvisor announces a partnership with Walgreens to support safe travel during spring break and school vacations in the United States. It also launches Tripadvisor Connect Plus to help hotels reach more travelers online.
2022: Tripadvisor celebrates its 22nd anniversary and reaches over one billion reviews and opinions on its platform. It also acquires DoorDash and Bokun, a provider of software for travel booking.
2023: Tripadvisor continues to innovate and inspire travelers around the world with its comprehensive and trusted content and services.
Tripadvisor Revenue Model
The total revenue of Tripadvisor in 2022 is $1,492M, which includes revenue from three brands Tripadvisor Core, Viator and TheFork. The Tripadvisor Core, which is the website we are writing about, has earned $966M in 2022. Let's dissect this revenue into the main sources: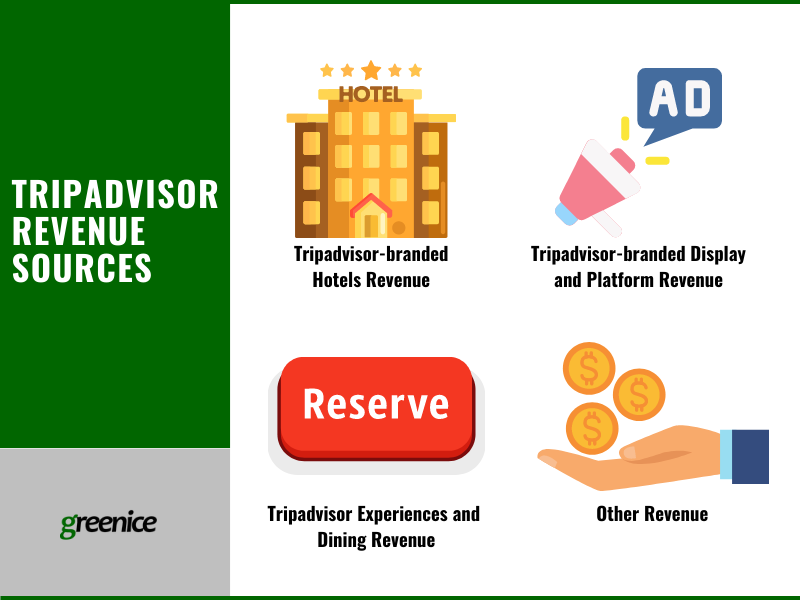 Tripadvisor-branded Hotels Revenue

: Tripadvisor generates the largest share of its revenue from click-based advertising on its hotel meta platform. This platform features contextually relevant booking links to partner websites, including online travel agencies (OTAs) and hotels. The advertising revenue is based on cost-per-click (CPC) and cost-per-action (CPA) models. Tripadvisor also offers subscription-based advertising solutions to hotels and other accommodation partners.

Tripadvisor-branded Display and Platform Revenue:

The platform provides display-based advertising placements across its brands, predominantly sold on a cost-per-thousand impressions (CPM) basis. Its direct clients are suppliers of hotels, airlines, cruises, destination marketing organizations (DMOs), OTAs, and other travel-related businesses.

Tripadvisor Experiences and Dining Revenue:

The company offers bookable experiences available on Viator and bookable dining reservations available on TheFork. It earns affiliate marketing commission revenue on bookings that are driven by its platform. Tripadvisor also offers B2B offerings to restaurant partners, including subscription-based advertising solutions through sponsored placements.

Other Revenue:

Tripadvisor offers various other travel categories, including alternative accommodations, cruises, flights, and rental cars. The company generates commission revenue from travelers and property owners for each booking it facilitates across its branded platforms. Its cruise, flight, and rental cars offerings generate revenue primarily through click-based and display-based advertising.
Tripadvisor's diversified revenue model enables the company to remain profitable in a highly competitive market. By offering a range of services to both consumers and industry partners, Tripadvisor has positioned itself as a leading travel platform that delivers value to all stakeholders.
Challenges of Making a Website Like Tripadvisor
When creating a site like Tripadvisor, you should be aware of the known challenges that can be found in this industry:
Security
Fraud
Personalization
Competition
Seasonality
Security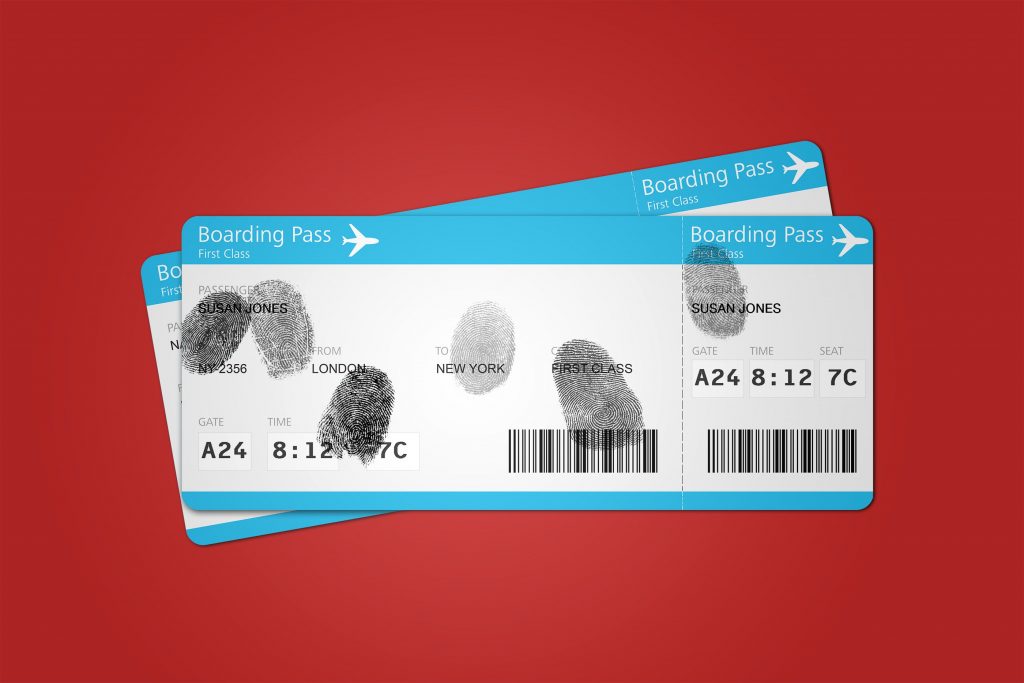 Protection of user personal information and transactions is the first priority of any web service that deals with personal and financial data storage. Travel review websites are not the exception. Shoppers should be confident that the information they enter on the site fields is safe and sound. This mostly refers to the platforms that provide instant reservations and transactions.
Even on account that all security measures are provided by a website development team (like encryption and tokenization of sensitive data and best practices for our users' passwords), there is no guarantee that the affiliates and third parties that are connected with your system use appropriate security practices to protect the users' information.
So, any security breaches from the partner site may be regarded by the users as your fault and can lead to penalties.
Recently, a curious test of password and account security was performed on 55 travel-related websites. It appears that 89% of travel websites do not properly protect their users' passwords and accounts. Among them were Tripadvisor, Expedia, Hotels.com, Trivago, etc.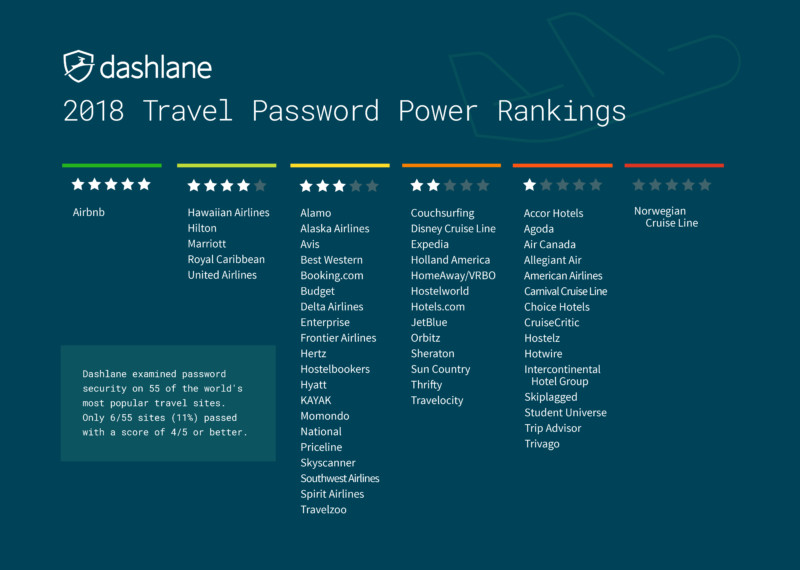 When building a similar website like Tripadvisor, do not ignore security questions, and even if you are sure of the security of your website and servers, pay attention to security policies that are compiled by your partners.
Personalization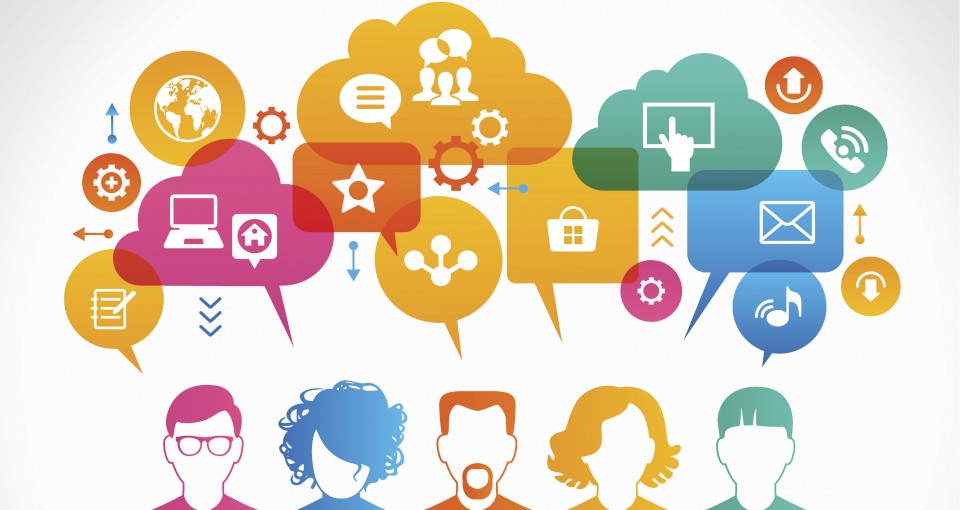 Modern travelers are explorers and seekers of exclusive experiences. That's why general recommendations do not give them much satisfaction. Websites that can provide a more personal attitude are going to win.
83% of Millennials said are willing to allow travel brands to track their behavior on the internet if this would give them a more personalized experience. Tripadvisor understands this and is actively working on making its services more personalized by taking into account users' interests.
New features include the creation of more social, inspirational, and individualized trip itineraries. Users can follow friends and travel experts they like, pin restaurants and hotels they like to visit, get alerts on their smartphone when they pass near some of their pinned objects, share their impressions with friends, and many other things. Their "travel feed" is like a Facebook feed but travel-oriented. Take personalization into account if you want to make a website like Tripadvisor.
Competition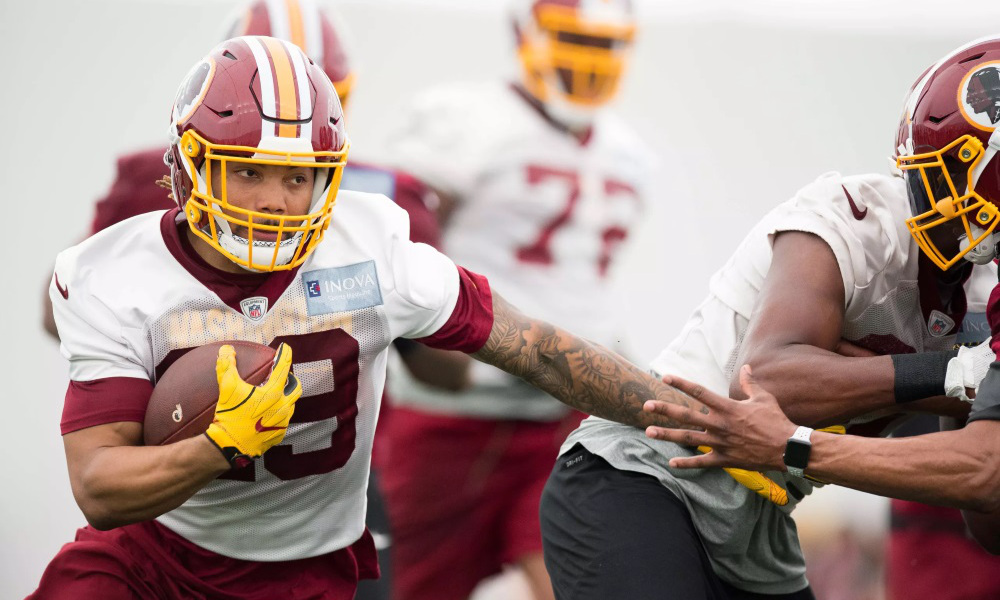 The travel industry is highly competitive. The competition is represented by a great amount of large global OTAs (Expedia, The Priceline Group), small local travel agencies, hotels and restaurants directly, business directories (Yelp, OpenTable), social media and marketplaces (Facebook, Google), meta searches (Kayak, RoomGuru), and peer-to-peer accommodation sharing (Airbnb, HomeAway).
Moreover, when you will build a review website, you should be ready to both compete and at the same time make partners with the same players. For example, Tripadvisor competes with Expedia for traffic and at the same time advertises Expedia's best deals for booking.
Seasonality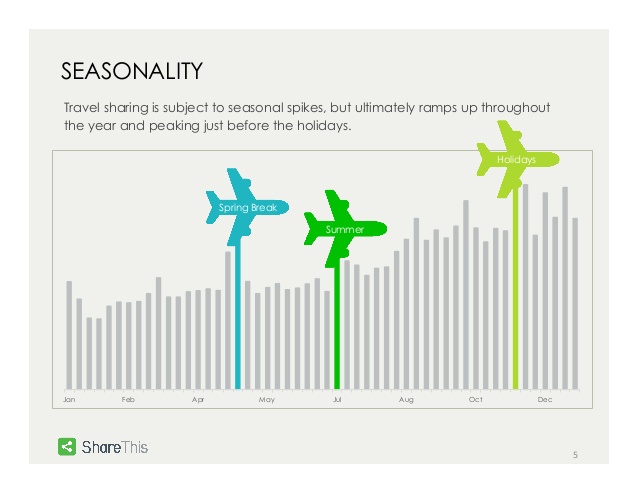 The tourism industry is highly dependant on seasonality. So, you should also be ready for your revenue to vary depending on seasonal trends. As a rule, the biggest performance is noticed from April to October when people travel more, also during global events (like Olympic games, Championships) and holidays (Christmas, New Year, school holidays).
Some travel services take into account seasonality to propose users the best deals on the decline periods to compensate for losses. If your travel review website is going to sell travel services, take home the seasonality strategies: discounts, special low-season offers, email marketing, etc.
Fake Reviews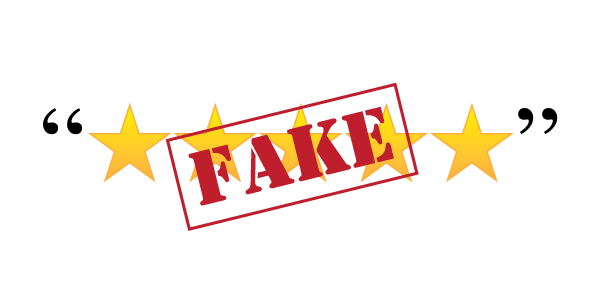 The main purpose of reviews is to describe a personal experience with all cons and pros to prove if the benefits and photos provided by the business on the site are true to reality. That's why paid and false reviews can frustrate users and cast a slur on the travel directory website.
Fighting spam and fake reviews is one of the biggest challenges of any type of review website. Usually, developers take measures to identify and flag repeated patterns and suspicious activity, blacklist the fake emails, and check the identity of registered users.
Tripadvisor uses special algorithms to check reviews for suspicious patterns, comparing those to the historical patterns for the businesses and individuals and identifying any anomalies. The system is able to identify 'biased positive reviews' (written to boost up the rating of the company), 'biased negative reviews' (malicious reviews written by competitors to deliberately lower the rating), or 'paid reviews' (which are usually positive but characterized with unusually increased review activity).
As one of the measures, Tripadvisor penalizes the users whose reviews seem suspicious by lowering their reputation. Recently, there were reports of the first case in history where a reviewer was sentenced for imprisonment for writing and selling fake reviews on the Tripadvisor.
How about getting a free quote for your Review Website?
Contact Us
How to Create a Review Website Like Tripadvisor
Now let's pass the actionable steps to go through to create a review website like Tripadvisor.
Step 1: Determine your unique selling proposition
Before starting any development process, you should decide who is your target audience and what you are going to propose to them that they cannot get from other services. You do not want to build a website like Tripadvisor exactly, you want your own product.
Tripadvisor has a lot of unique features that we'll talk about later, but first of all, people come to their website for a big database of travel listings that covers almost all corners of the world. It is hardly possible to compete with such a monster. But you still can create your unique selling proposition. For some ideas:
You may focus on a locality that is poorly represented at the big aggregators. For example, our client NoCowboys works exclusively for New Zealand.
23% of Tripadvisor's revenue in 2017 came from the Non-Hotel segment. You may find a narrow niche that will interest some groups of people (for example, renting caravans, ski resorts, wedding venues, local food, street food, motels, hotels for travelers with pets, campings, yacht freight, expeditions, traveling with bloggers, etc.). To find this narrow area, ask yourself what you are interested in and what service you would personally use.
Propose an exclusive set of features. For example, when people travel, they may not exactly want to always go outside to have meals but hotel food may lack local character. Today it is quite ordinary to have food delivered. Why not make a service that will tell people which are the best local restaurants with delivery service by reviews and ratings. For example, Tripadvisor's partnerships with food delivery companies Deliveroo (for Europe) and GrubHub (for the US) gives travelers this opportunity. Have you used food delivery abroad?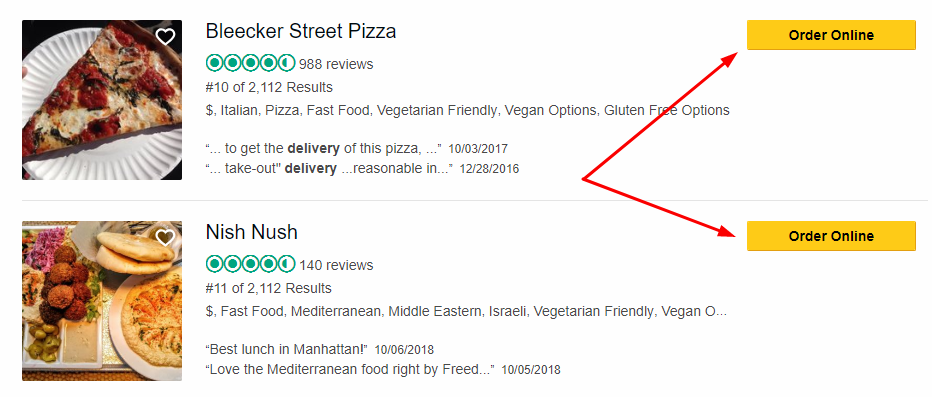 But as you read this article we may suppose that you get the idea of what will provide you with real and unprecedented value, so let's move on!
Step 2: Define the Basic Features
Time does not wait for anyone. All fresh ideas should be delivered to the market while they are hot, as what sounds awesome today may lose its magic in a year. So, it is always a good idea to start with a minimum viable product to see how it is met with the audience before you spend too much time and money on the development of something that nobody needs.
In our previous articles about review websites and business directories, we have already described the basic features of such websites. Now let us quickly pass through this list and pay more attention to unique features that will allow you to stand out from your competitors when creating a website similar to Tripadvisor.
Basic features of travel review websites:
1. Smart Search and Filters
Without a quick and smart search engine, it would be absolutely impossible to find the necessary information among Tripadvisor's 7.5 million listings. Filters help specify the request to retrieve more precise results.
Tripadvisor provides more than 100 filters for different categories of listings.
Searching for a restaurant, users may define their preferences in price ("cheap eats", "fine dining", "mid-range"), taste ("vegetarian-friendly", "gluten-free"), location, atmosphere ("romantic", "business meeting", "for families with children"), restaurant features ("free Wi-Fi", "parking available", "accepts credit cards"), etc. All this information is collected with the help of users who fill in the survey during each review they write. Users may also switch to the Map mode if they are more comfortable with a visual representation.
For one of our customers, NoCowboys, we built a review website where users can find reviews on local tradesmen before hiring them. The searching algorithm includes the proximity to the client, ratings, and recency of the written reviews. Users can also search by category or different combinations of filters.

2. Reviews and Ratings
Tripadvisor is, first of all, a review website. Users should be able to view others' reviews, search reviews, and add new ones. Before posting to the site, each review is checked by the system on many aspects (location, type of device from where a review was sent, offensive language, plagiarism, and suspicious patterns). The system either posts the review, blocks it or sends it for moderation to admins if it suspects it is fake.
68% of customers are more eager to book a room at a hotel that responds to negative reviews over a hotel that keeps silent. Thus, businesses should be able to respond to the users' reviews to thank them and answer questions or claims.
3. Add Listings Property owners should be able to register and create their profiles, add contacts, descriptions, photos, videos.
Step 3: Add Extras
Now that we agreed on the basic functionality of making a review website like Tripadvisor, let's add some peculiar features that will make your website one-of-a-kind.
Besides being a travel review directory website, Tripadvisor strives for a more personalized approach to its customers. For that, they constantly invent new features. Let's look at some of them.
1. Instant Booking
One of the ways to attract more revenue from your website is to give users the opportunity to book through the website and redirect them to their partners. For this, the website receives a 'Pay for Stay' commission from the partner in the amount of 12-15% after the traveler visits the destination and completes the payment.
At first, Tripadvisor did not get a lot of revenue from this feature as travelers perceived the directory only as a review website and after viewing the recommendations went to Booking.com and other OTAs for reservations.
To motivate travelers to use their 'reservation' feature, Tripadvisor introduced 'Best Value' rankings which showed listings that took into account a combination of the best traveler ratings, prices, booking popularity, location, and personal user preferences. Thus, Tripadvisor wants to attract travelers with not only recommendations but also the best prices.
Also, they allow reserving tables in the restaurants and ordering food delivery in partnership with OpenTable and GrubHub.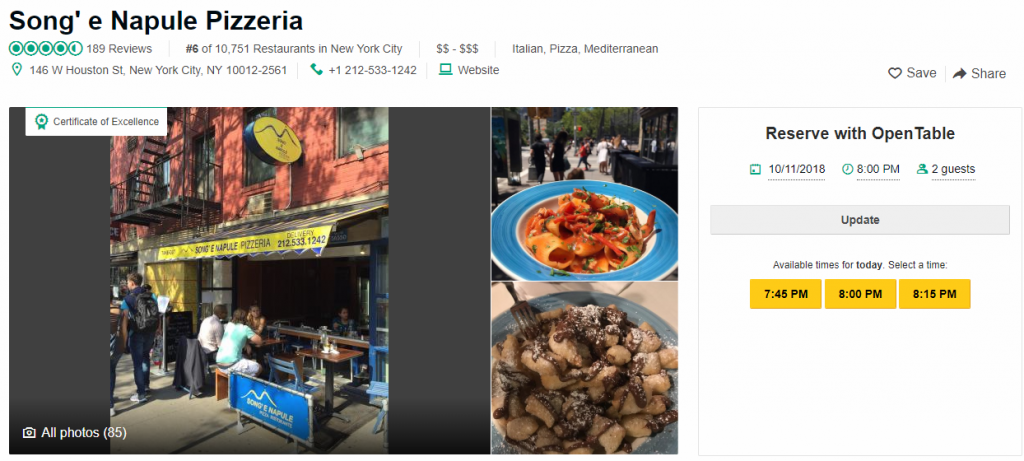 2. Rewards
Every time travelers contribute to Tripadvisor (by writing a review or adding photos), they receive TripCollective points. A definite amount of points promotes users to higher levels and gives them badges. From time to time, the system sends out email reminders that inform users of how they can get new badges. Badges are not redeemed for any goods, they are just recognition marks for users who help others.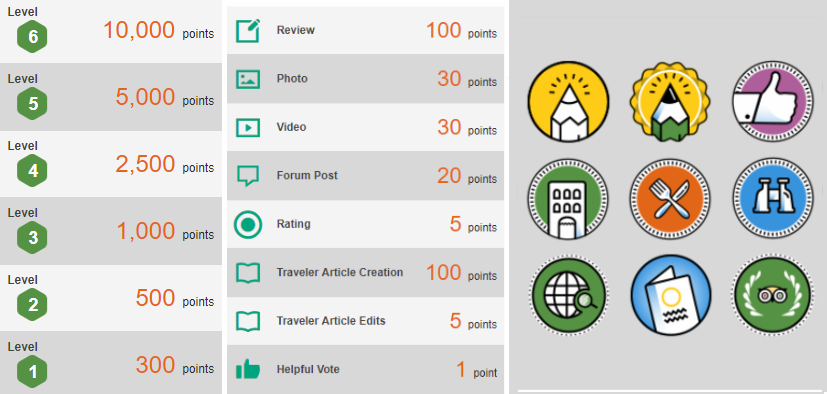 Properties also receive their awards as 'certificate of excellence' or 'travelers choice' stickers on the featured photos of hotels, restaurants, and attractions, meaning they constantly get positive reviews from travelers.
3. Personalized Recommendations
'Just for You' feature tailors hotel recommendations based on users' preferences and previous search history. Users can add tags for their preferences to specific recommendations.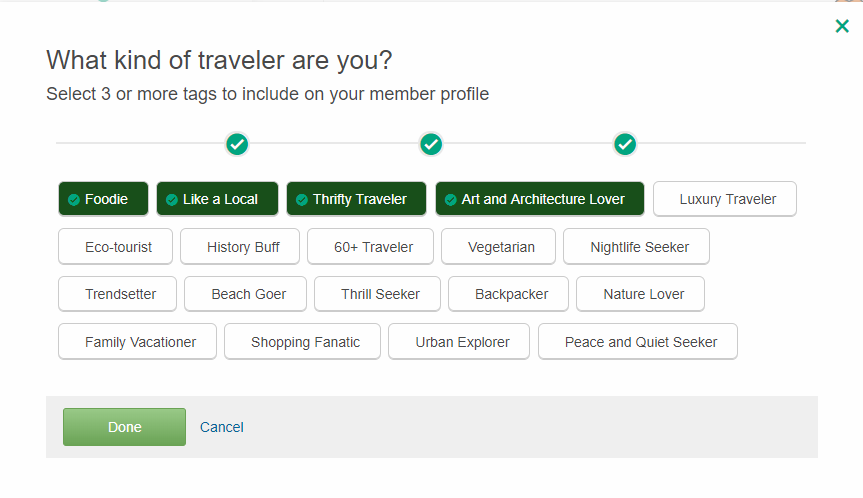 4. Travel Timeline
Try to recall the name of all the restaurants that you dined at a year ago during your vacation trip. Not so easy, right? The 'Travel Timeline' feature allows automatically tracking visited places and taken photos in chronological order to save in users profiles and make a good remembrance that can be shared with friends. Using GPS from users' devices, the feature shows that users have visited a place to add to their timeline.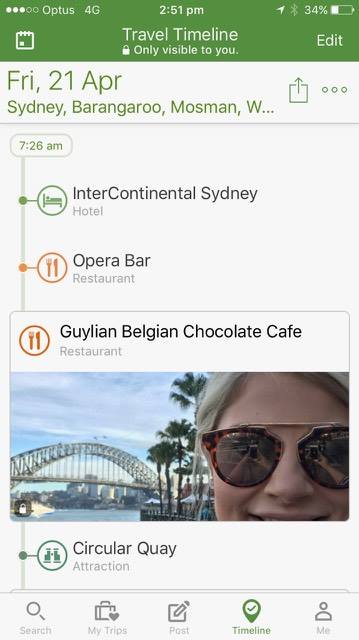 5. Trip Planner Instead of multiple sheets of paper and files on the user's PC, Tripadvisor proposes to create and keep your travel plans in the account. The feature allows:
creating as many trips as a user needs
adding items by days
adding notes and comments
sharing a trip plan via email or SMS with traveling partner(s)
printing a plan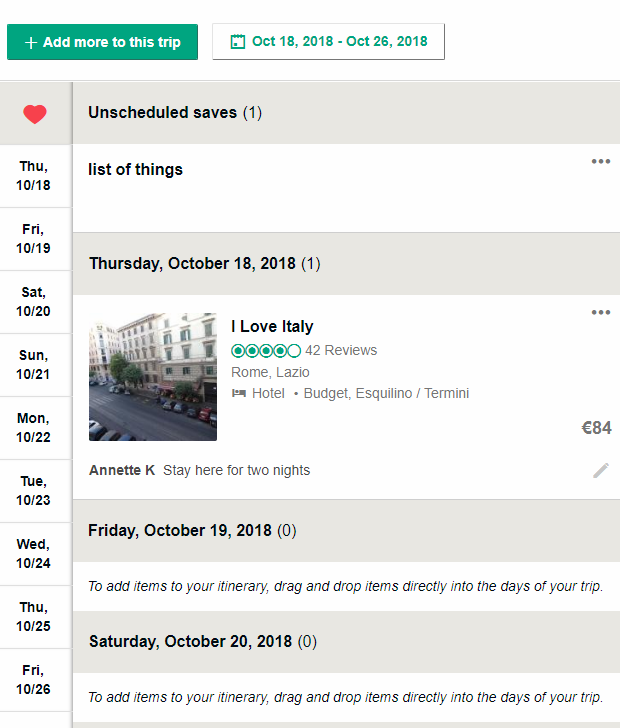 6. Travel Map
Who does not want to know how many countries s/he has already visited? Real travelers adore statistics! At Tripadvisor, users can view the map of their trips and pin the places they want to visit next. The website also shows how much of the globe they have already visited.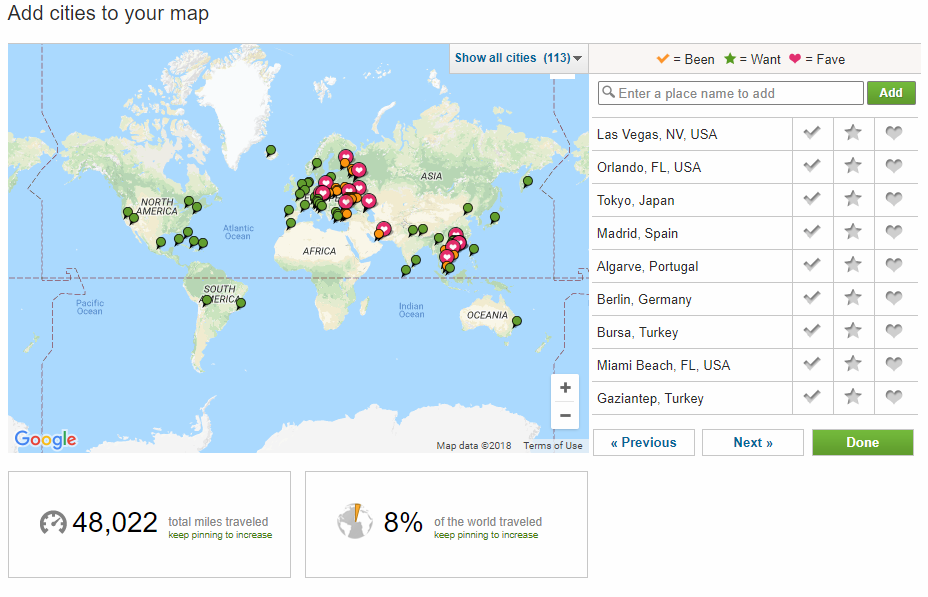 How Much Does It Cost to Build a Website Like Tripadvisor?
Creating a business directory like Tripadvisor takes not months but several years. Tripadvisor has already existed since 2000 and they still continue to enhance their service and create new features.
To reduce the costs, people reject the decision on building a custom solution and often choose a Wordpress to create a website like Tripadvisor. If you follow this scenario, you will need some technical experience to configure hosting, buy a domain, choose a website template like Tripadvisor, and switch plugins. It may be cheaper at the beginning, but only if you are OK with the limited functionality, low scalability, and you are eager to spend your own time on development (even though it does not require coding).
But what we suggest is to go with custom development and save your budget and nerve. For that, you need to define the core functionality for MVP and delegate development to professionals while you can focus on marketing and business questions.
Let's crunch numbers for an MVP for a website like Tripadvisor. As we do not know your unique features, we can only estimate a basic feature set of website like Tripadvisor:
Search and filters
Review submission
Add listings by integration with listing sources
Admin panel
Depending on the complexity of tasks, the development may take around 3-6 months and cost from $30,000 to $50,000. A platform with advanced features may cost around $50,000 - 80,000. These are ballpark estimates based on our experience with similar projects. To give you precise numbers, we need to study your requirements.
How to Apply This to Your Business
Now that people are used to relying on online reviews when selecting hotels, restaurants, and attractions, the creation of a travel review website is a viable idea. But you should take into account the known challenges of this niche like tough competition, security, fraud, seasonality, and personalization.
There is no sense to compete with large players like Tripadvisor or OpenTable, but you can always come up with a unique selling proposition to attract your specific audience. Tripadvisor started as a review website and now that they are a globally recognized website with more than 600 million reviews on properties, they are transforming their business model, shifting to the personalization of user experience (recommendations, social networking, preferences) and monetization through direct bookings from their website.
If you have a startup idea and are ready to make it come true, we will be glad to estimate your requirements and come up with the most efficient technical solution. We have vast experience in the development of review websites and marketplaces.
Rate this article!
You should be
logged in
to be able to rate articles