According to the Joint Center for Housing Studies of Harvard University, spending on home improvements increased from $406 in 2019 to $433 billion in 2021, even despite the pandemic and economic decline.
With the start of lockdown and most businesses moving to remote work, people started remodeling their homes and gardens to create cozy spaces for work and study. Besides, the money they would normally spend on vacations and going out could now be allocated to home renovation and decoration. Since they couldn't visit hardware and furniture stores in person, homeowners looked for inspiration and delivery services via the Internet. Not to mention that even before the pandemic the online platforms for home renovation flourished. One of the most popular in this sphere is Houzz.
If you are interested in using the Houzz business model to create a similar app for another niche or a country where Houzz is not present, this article is a perfect guideline for you. Ready to jump in?
History of Houzz: How a Side Project Turned into a Multi-Million Dollar Business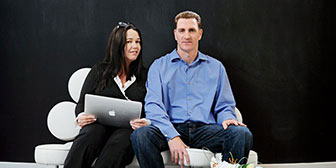 Many startups were born out of the personal need of their founders. Houzz is exactly this type of project.
In 2009, two Israeli immigrants, Adi Tatarko and her husband Alon Cohen decided to renovate a ranch they just bought in Palo Alto, California. Desperately trying to find design ideas for their house in magazines that would accommodate a budget of $2000, they accidentally discovered an untapped niche for a startup.
The name 'Houzz' originated from a combination of two words 'House' and 'Buzz.' Adi and Alon aimed to put an end to the chaotic search for design solutions and bring homeowners, design creators, and merchants to one place where they could collaborate.
In his free time Alon, who at that time worked as an engineer at eBay, coded the Houzz website, while Adi was in charge of the content. They started with only 20 users, mostly their acquaintances from the Bay Area. Soon, however, the site drew the attention of many designers and architects who wanted to promote their services and design ideas.
By the end of 2009, Adi and Alon realized that their project was scaling up so fast that they could not treat it as a side project anymore. The platform required technical expertise and an infusion of capital. Houzz already needed 20 servers to store the images of the design projects. Thus, after a year and a half of bootstrapping, the newborn entrepreneurs dared to ask for help from investors.
In 2010, they raised $2,000,000. This allowed them to launch an app for the iPad. It became insanely popular among designers who now could forget about paper-printed project presentations — all their ideas could be stored and displayed to clients through the Houzz app. The next steps of Houzz development were expanding internationally, and attracting new investors. During the next several years, they raised more than $613 million while continually improving their platform.
Today, Houzz is the #1 international platform for home remodeling. Adi and Alon still rule the business. Here is how Houzz looks in:
$340 million annual revenue in 2022
40 million users
3 million home professionals
25 million uploaded photos
5 million products for sale
1,500 employees
$4 billion value
Now, let's explore the key business strategies that led Houzz to such success and how Houzz makes money.
Business Strategy of Houzz
Starting the project with their own effort and savings, the founders did not expect that the platform would skyrocket so quickly. Let's try to identify the hallmarks of their success:
1. Solution that meets the need
Houzz supplied a timely solution to a large audience of people involved in home renovation. Adi and Alon themselves were part of the audience. Thus, they totally understood the aches and pains of remodeling after suffering from the dearth of existing home improvement websites.
Houzz's unique concept is creating a single space for home renovation. Houzz satisfies the needs of three parties:
Homeowners

can find inspiration among uploaded photos of different projects, hire a designer from anywhere in the world, and even choose and purchase all the necessary furniture in the online store.

Home remodeling professionals

can post their completed projects, advertise their services, and find clients.

Brands (or merchants)

can sell their building materials, furniture, and decor.
It's like Pinterest, Thumbtack, and IKEA joined seamlessly under one roof.
2. Focus on usability rather than profit
Houzz founders are genuine enthusiasts who put quality and simplicity of use at the forefront of their business. Intuitive and simple design makes it accessible to anyone.
As Adi Tatarko said: "I think it's very important to listen to both sides [both buyers and sellers] and create a product for your users. You are not creating it for investors, you're not creating it to look nice on a PowerPoint. You are creating it for real people and you need to listen to them."
3. Quick international expansion
The startuppers set a course for dynamic growth. Obtaining their first money from angel investors, they hired developers, launched an app for the iPad, and expanded internationally. Houzz became the largest platform for home renovation and design in the world with offices in the USA, the UK, Japan, Australia, Russia, and Germany. The key to international success was platform localization that made it native and trustworthy to local people.
Monetizing Houzz: How Do They Make Money?
Most of the basic features of the website are free. How does Houzz make money then? Actually, in many ways. Here are some of them:
Commission.

Houzz allows vendors to sell their goods on the platform in exchange for a commission of 15% from each completed purchase.

Subscriptions

.

Starting at $65/month, designers and architects can use advanced features like mood boards, 3D floor planner, CRM, analytics and reporting, project management, and marketing solutions.

Paid listings.

A considerable part of cash comes from paid listings. Professionals and furniture vendors pay from $2,500 to 4,000 per year to promote their listings to the top search positions.

Interest.

Partnering with Mastercard, Houzz has issued its own credit cards. They give their users a 'welcome' reward of $50 and 5% cashback from each transaction on the platform or 1% cashback for shopping outside Houzz. But it charges interest if a cardholder spends less than $350 in a six-month period. Houzz also charges a percentage for foreign transactions. Read also:
Who Competes with Houzz?
Houzz, though large, is not the only platform for home remodeling services. People may search for home renovation professionals in different places — design studios, freelance marketplaces like Upwork, directories like Yelp, and tradesmen platforms like HomeAdvisor. Each of them has certain advantages.
Among Houzz competitors, we can name two of our clients. NoCowboys, from New Zealand, is a large platform for searching and reviewing local tradesmen. Clients can search for local professionals, access a rating system, and verified reviews. Tradesmen can manage orders and use advanced analytics.
Arcbazar, from the USA, is the largest creative contest marketplace for architects and designers. It is an outstanding platform with a unique concept and features that include contest creation, voting for the best project, professionals' profiles, AI award suggestions, and tagging of furniture items to send users directly to the vendors.
Nevertheless, Houzz has no direct competitors who offer the same unique concept: a bank of ideas, community, professional marketplace, and shopping. It's like an 'All Inclusive' hotel in the world of home renovation!
Still, there are unexploited niches in home renovation. Let's explore the kinds of platforms that serve the needs of remodelers today:
| | | |
| --- | --- | --- |
| Category | Description | Websites |
| Overall | Everything from idea to realization | Houzz, Amazon, eBay, Lowes |
| Interior design marketplace | Matching homeowners with interior designers | Havenly, Homify |
| Landscape design marketplace | Matching homeowners with landscape designers | iScape |
| Architecture marketplace | Matching homeowners with architects | Mebway |
| Furniture and decor marketplace | Connecting customers to local suppliers and producers | Opendesk, Chairish |
| Marketplaces for building and home repair professionals | Matching homeowners with local handymen | HomeAdvisor, Thumbtack, Porch, NoCowboys, Bark |
| Marketplace for creative contests | A platform where homeowners can initiate design contests | Arcbazar |
| Marketplaces for contactors | Matching designers, architects, and other professionals with furniture and material vendors | Corahome |
As you can see, there are plenty of marketplaces, but narrow, specialized niches are presented in one or two platforms. What's more, the platforms are mainly area-specific, i.e. they serve a specific country or state. Maybe you can create a similar online marketplace in an area where such services are still lacking.
How to Make a Site like Houzz?
Now that you have an overall understanding of a Houzz-like business, we can move to the technical part. If you want to build an app similar to Houzz, you can start with the following list of features.
Core features
Houzz is a three-fold platform that provides different functionality for Homeowners, Professionals, and Brands.
Homeowners


Registration/ Sign in

User Profile:

Edit Profile and settings
Ideabook (saved ideas and wish list)
Photo uploader
Orders
Notifications and messages

Pinterest-like catalog of ideas and search

Search bar to browse ideas, professionals, and products

Shopping cart

Discussions

Professionals


Registration/Sign in

User profile and its public view

Projects

Reviews

Ideabook

Photo uploader

CRM

Brands


Registration/Sign in

Brand's profile and its public view

Product listings (photos, description, specification, payments and shipping details)

Reviews

Ideabook

Discussions

Orders

Returns

Promotions

Payment reports

Messages
While most of the features are basic and need no detailed clarification, Houzz introduces some specific features that make them stand out from general platforms. Here they are:
1. Ideas catalog
Houzz has an attractive catalog of design ideas that looks like a glossy magazine and welcomes visitors to its Home page.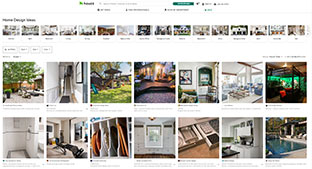 Houzz supports an unlimited number of high-resolution photos (min. 1,000 pixels in width) and prioritizes the images of the best quality to show them on the homepage. Houzz even takes care of those who do not have quality photos by linking to a network of professional photographers who offer their services right on the platform.
2. Ideabook
This is one of the users' most loved tools in Houzz. While looking like Pinterest boards, it allows homeowners and designers to save collections relevant to some project or idea in one 'virtual folder' and then share with each other. For example, with Ideabooks, homeowners can visually explain to the designer what colors, materials, furniture, or decor they want to see in their rooms.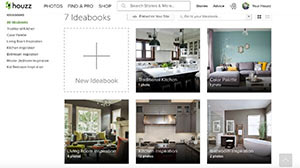 3. CRM for professionals
This is an extremely useful feature built into the Houzz platform that allows professionals to automate their communication with clients. CRM provides tools for lead generation, messaging, document sharing, project tracking, invoicing, and payment tracking. In fact, professionals can even estimate the cost of projects using ready templates. Instead of using an external CRM, designers can perform all the working processes inside Houzz and easily share all the necessary documents with clients.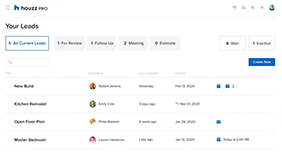 4. Reviews
Reviews of professionals are an essential trust-building feature of any marketplace. The platform allows professionals to send emails to their clients to ask for a review. All the reviews are then verified by the Houzz team for authenticity. Houzz considers reviews when ranking their registered professionals. For NoCowboys, we created a sophisticated algorithm to verify and authenticate reviews that filters out all fake ratings and reviews to maintain an accurate reputation on the platform.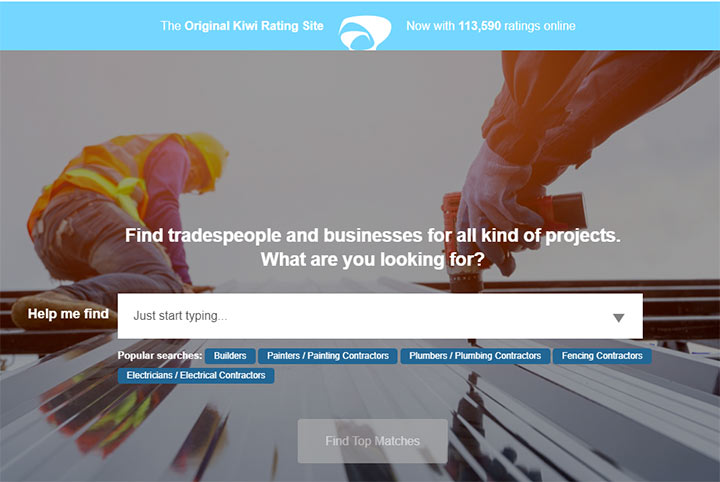 Advanced Features
Houzz provides its users additional value with more sophisticated features. Let's see what solutions Houzz and its competitors have implemented to relieve user difficulties:
1. Tags
Tags save tons of time answering the same questions on where to find items in the photo. When uploading a photo, designers can leave comments in the form of tags to certain design elements where they describe the materials or add a tag that points to the product in the catalog.
This feature made the platform simpler for homeowners and promoted the brands' products.
At Greenice, we made similar features for Arcbazar. The only difference is that designers can tag shops outside of the platform and take part in a referral program.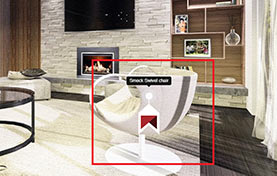 2. Project calculator
Another behemoth of an industry, The Home Depot, understands that one of the homeowners' biggest pains is the calculation of cost and quantity of materials. To simplify the life of customers, an online calculator was added to their website for every category of materials whether it is wallpaper, tile, paint, grass seeds, or lumber.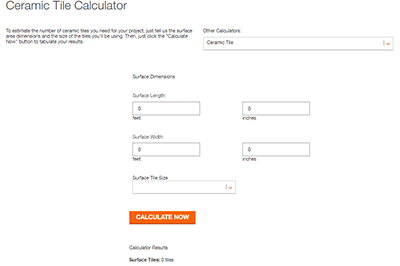 3. AI suggestions
Finding the best furniture to match the room style can be an ordeal for homeowners. Some apps, like IKEA Place, try to face this challenge with suggestions based on user preferences and AI models. The app asks users to take photos of the areas to be furnished and provides personalized suggestions from the existing items in the catalog.
For Arcbazar, we created AI-based price recommendations. As homeowners start a contest for the best design, they need to set a competitive award for the winners. Previously, many users quit at this step, being unable to come up with an appropriate prize. We implemented AI to suggest the award based on the previous history of successful projects. This feature has drastically reduced the abandonment rate.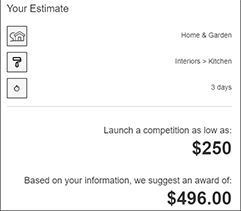 4. AR/VR previewing
AR increases customer engagement by 19% so that 90% of cases end up with a purchase. Houzz, IKEA, Amazon, Wayfair, and Target have already created apps that allow their customers to use AR to visualize how the furniture will look in the interior. Opendesk requires no app installation but uses Safari on a customer's iPad or iPhone. Virtual reality is not limited to furniture. Customers can instantly try decor elements, plants, wall paints, or floor tile prior to purchase. Thus, Home Depot implemented Project Color on its website. It's a Color Snap tool that allows users to apply colors to the photos of their rooms.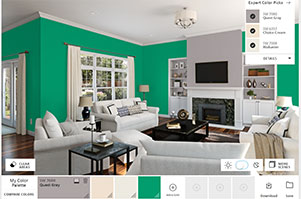 5. Floor plans
Another modern feature is 2D and 3D floor planning that allows users to envision nearly real-life spaces. The Planner 5D app, a system powered by AI, recognizes the uploaded drawings and renders them into 3D models with walls, windows, doors, and furniture.
Houzz has already implemented this feature for kitchens. Designers can create 3D models using a variety of materials, an extensive list of wall colors, and furniture items. The projects have a truly realistic look.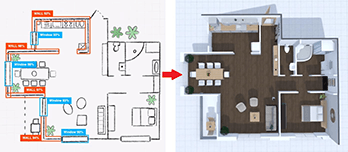 Another feature provided by MagicPlan simplifies the room measurement and floor planning process. The app is able to measure and build a floor plan without a ruler using only GPS and a phone camera. It is perfect both for novice homeowners and for contractors who are always on the go. Floor plans can be created in minutes.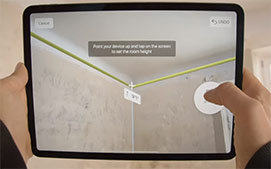 6. Online Impact Score
Because Houzz contains the profiles of thousands of professionals, it can be challenging for some of them to compete. That's why Houzz decided to help strengthen the online presence for those who struggle for better visibility. Houzz introduced a feature that analyzes the pros' accounts and finds gaps in their digital strategy to suggest solutions that will bring more leads. The program analyses the number of profile views, the number of inquiries, response time, the number and recency of reviews, user activity, the completeness and optimization of the profile, and the professional's website. It compares all these metrics to their competitors and suggests ways to improve.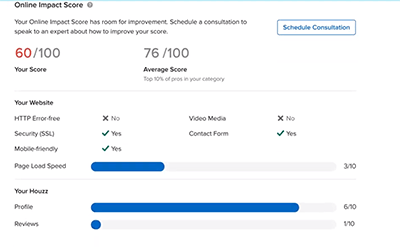 Steps to Build a Website like Houzz
Are you asking yourself "How can I build a community website like Houzz?" You should come up with a fresh idea — something that adds functionality to existing platforms. Identify the most important challenges for modern homeowners, and create something that tackles those issues. Ask yourself, "How can you make homeowners' lives more comfortable? What are Houzz and similar apps missing that I know how to provide?"
Now let's briefly describe the steps you might take to launch your platform. You can use this as a road map:
Discovery phase.

Investigate the industry, your target audience, existing solutions, untapped niches, and typical customer complaints. Decide also how you are going to monetize your platform (look at the Houzz revenue model). If you feel that you need support, try to find a co-founder to share tasks with. If you are determined to be a solopreneur, you may find useful tips in our article 'How to Build a Tech Startup Without a Technical Co-Founder.'

Requirements creation phase.

The best way to formulate your idea is to create an SRS (Software Requirements Specifications) — a document that describes how the software or app should work. This document will be a beacon for everyone in your team that will keep them focused on the end goal. They will not get lost in an ocean of options. We usually make the price estimate using this document. Next, developers and the quality assurance team use it as a guide. If you need help with SRS creation, you can contact us and we'll see what we can do.

Design phase.

Just as a house needs a design before remodeling, a future application needs a user interface that is connected with the backend. Make sure that the design is simple and concise. For example, Houzz's user interface is minimalistic and super user-friendly.

Development phase.

After we estimate the requirements and agree with you on all the processes (communication, payment, deadlines, etc.) we can start coding. Usually, we assign a Team Lead and several Middle developers to a project, and a Project Manager who will set tasks and coordinate their realization. If you are a startup, we recommend starting by building an MVP to test the idea's viability.\

Testing.

When most of the development is ready, we engage the QA team to assure that the program works as required. If there are any bugs or inconsistencies, they are reported and fixed before launch.

Launch.

When the platform is ready, we push it to 'Live.' Congrats! Now, you can collect feedback from real users.

Maintenance and improvement.

After launch, you will probably want to make improvements. You will want to stay abreast of the latest technology to provide the utmost security and fabulous performance. We will stay with you as long as you need us.
While our developers are working, you can focus on marketing and the content of your platform, ensuring that you will make a big splash in the market.
How to Apply This to Your Business
The home renovation business survived the financial crisis and the pandemic lockdown. It's a stable industry that is going to grow. As the technologies evolve, new services will appear, and customer needs will require online solutions.
Houzz is one of the largest online platforms in home design and construction. We have experience building similar platforms. Houzz is an online marketplace that you can use as an example of a successful startup.
You can build a platform that exploits a niche that is uncovered or create a home renovation site in an area where Houzz does not function. You can create an MVP with basic features, but don't forget to maintain uniqueness and unprecedented quality of service.
Do not hesitate to ask questions and send us your specifications. We'd be happy to send you a free estimate!
Rate this article!
You should be
logged in
to be able to rate articles