Wish is famous for low prices and aggressive marketing, tricks to draw more customers, and unique feed algorithms.

This platform is visited by approximately 24 million people monthly buying 900,000 products every day. Wish's CEO, Peter Szulczewski, made the list of the America's Richest Entrepreneurs Under 40 in 2016. Pretty good for a company that started as a wish-list matching customers to merchants, isn't it?
Do you want to learn how Wish became successful, how it works, and how to make an app similar to Wish? Keep reading and you'll find out!
How to Start a Company Like Wish.com: Their Story
Wish is an eCommerce platform located in San Francisco which offers low-priced goods directly from producers. It grew into a $2.5 billion company thanks to tech experience and a fresh vision of the owners.
One of the Wish founders, Peter Szulczewski, was born in communist Poland. His family emigrated to Canada, and after graduation, Szulczewski began work as an engineer at Google. Later, he left the company and began writing code for his own ads recommendation platform. He created an algorithm that was able to predict customers' behavior. As a result, in 2010 he started ContextLogic, the precursor to Wish.
Szulczewski didn't stop there. In 2011, he reached out to his college friend, Danny Shang, who was working at Yellowpages.com. Together, they started Wishwall.me. Users of that website could bookmark goods they liked. They were then directed to retailers and were offered discounts. Wishwall later became the customer base for Wish.
A couple years later, the Wish team gave merchants the ability to sell on the platform, turning Wish into a marketplace. The platform offered inexpensive goods which attracted lower-income Americans. The Wish app gained popularity and became a well-known place for bargain-hunters.
The startup grew to the point where Facebook and Amazon wanted to buy it. But Szulczewski declined both offers. He was sure Wish would thrive on its own, and it did.
Here are a few interesting facts about Wish today:
24 million visitors per month
170,000 merchants
900,000 products sold per day
present in 60 countries
In 2018 Wish became the most downloaded shopping app.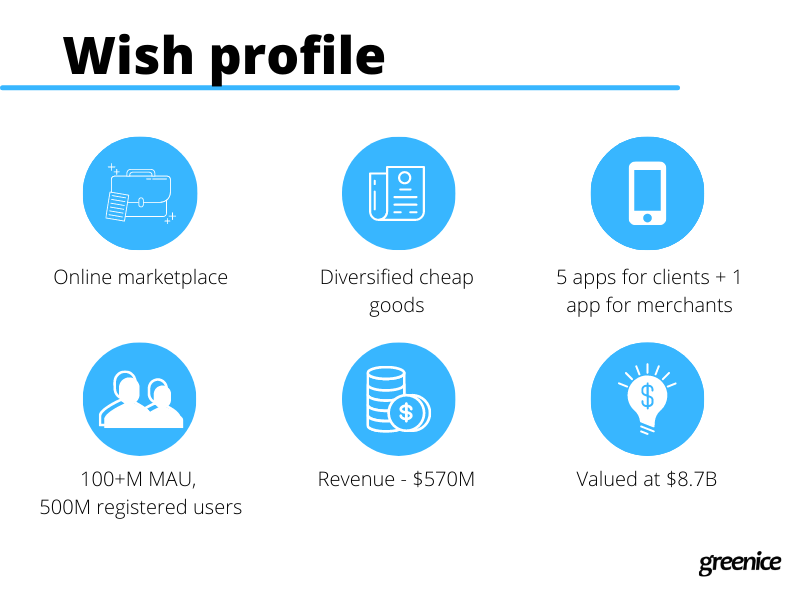 Szulczewski is a private person who doesn't give many interviews, but we conducted our own investigation. Ready to dive deeper? Let's explore how to make an app similar to Wish.
Business Strategy of Wish
What is so special about the way Wish is organized? Why is Wish so appealing?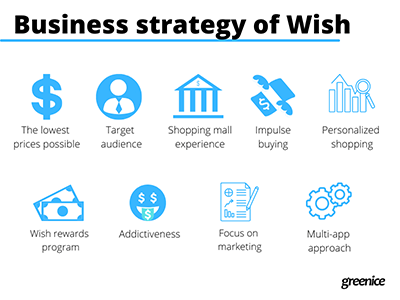 The lowest prices possible

is what Wish is famous for. The goods are made by no-name Chinese producers using cheap labor. No expensive brands. Quality is often low. Moreover, most of the items are sold at a discount. There are no middlemen, so the buyer deals directly with the manufacturer. Delivery prices are low due to special postal terms between China and the United States.

Target audience

- The Wish audience is mainly Dollar Store customers unable to afford high-end products. According to Szulczewski many of these customers have barely $400 worth of liquidity. He understands their situation because he experienced financial difficulties as a child.

Shopping mall experience

- Usually, shopping on eCommerce websites starts with search bars. The customers know what they want and enter their queries to start browsing. Wish gives its clients the shopping mall experience of aimless browsing and encourages unintended purchases. It shows different categories of goods from clothes and accessories to gadgets and fishing equipment, all appearing on the same page. The design of product pages is focused on visual elements (yeah, just like Pinterest), not on description (ads have images without titles) to make curious customers click on pics to find out what it is.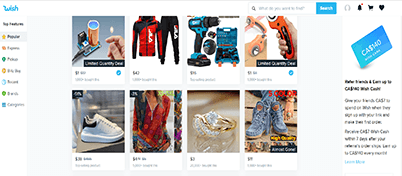 Impulse buying

- Up to 85% of Wish purchases are for items that the customer did not intend to buy. Customers at Wish prioritize price over anything else, even over the actual need for purchases. If a pool floatie costs $1, what's the harm? People see something interesting, click on it, and buy it. What's more, nobody will bother returning such cheap stuff even if it does not meet their expectations.

Personalized shopping

-

The Wish feed is highly personalized and buyers see items they are predisposed to buy. This is thanks to AI algorithms which collect data and analyze customers' preferences. The more time you spend on Wish, the more your feed matches your tastes.
Szulczewski says: "The more we invest in data to personalize the recommendation experience, the more we see improvement in conversion rates."
Other strategies Wish uses to attract and keep users:
Wish rewards program

- From the moment customers join the Wish app, every item shipped, and review written earns them points. These points add up and become valuable discounts.

Addictiveness

-

Wish inspires further purchases with peculiar catches like Wish Cash, Collecting Games, and Blitz Buy. Gamification makes shopping not only fun but also addictive. Wish uses psychological tricks like heavily discounted products, threats of scarcity "almost gone", and the bandwagon effect "10,000 bought this." An endless list of items encourages scrolling and non-stop buying.

Focus on marketing

- Wish spent almost $100 million on internet and national TV advertising last year. They invest in Premium Ad Units, and advertise on more than 50 different Media Properties across a multitude of Media formats. People see an endless list of ridiculous Wish ads on Facebook and click on them only to understand what they are (at least that's how Szulczewski expects it to work). The platform also sponsors a basketball team to promote the company.

Multi-app approach

- Apart from the main Wish app, there are 4 other applications for different goods categories. There is Geek for electronics, Home for house accessories, Mama for maternity and kids clothes, and Cute for beauty products. Originally, creating more apps was designed to organize products according to their purpose. Now, many items are presented in several apps to increase exposure. There is also Wish for merchants, an app developed separately for sellers. To register, the merchants need to give personal and business information.
The Wish strategy aims to give products exposure, and stimulate non-stop buying.
Next, let's discuss monetization when we are learning how to start a store similar to Wish.
What Is the Business Model of Wish?
Downloading is free, products are cheap, delivery is low-cost. So how does Wish.com make money? People buy an immense number of goods on Wish. But since prices are low this would hardly make the platform successful. Here are the revenue sources: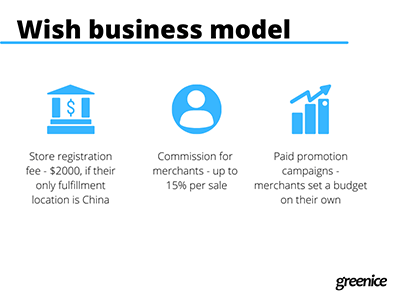 Store registration fee

- A new store must pay a $2,000 registration fee if their only fulfillment location is China.

Commission for merchants

- Wish doesn't charge its sellers a monthly fee, but they pay an average 15% commission on every purchase. The size of commission can vary from 5 to 22% depending on product category and destination.

Promotion campaigns

- To get a competitive edge, merchants can promote their products with ProductBoost and appear on top of the list. This tool drives a 39% increase in sales. Merchants set the campaign budgets themselves. The fee structure is calculated considering the number of impressions or the competitiveness of the advertised product category.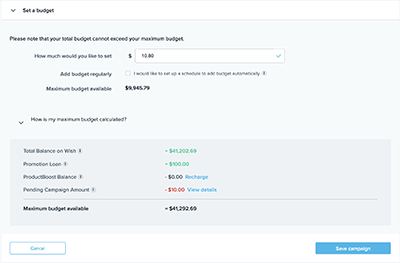 These services allow the platform to earn a pretty penny. Therefore, if you want to build an eСommerce website, the Wish business model might be helpful.
Competitor Analysis
Before making a website like Wish, you must understand the competitive landscape. Let's take a look at Wish direct competitors in the eCommerce field.
The Wish business strategy is similar to AliExpress, as both platforms sell goods from the same merchants. The main difference is that Wish's target audience is mainly in the USA, while AliExpress focused on Europe and Russia. Wish charges a bigger commission, and is popular among dropshippers, who sell their items from AliExpress at a higher price. The Wish shop verification process is more strict, which improves quality control. Additionally, the platforms offer a vastly different user experience.
Company

---

Details

Wish

Amazon

eBay

AliExpress

Revenue in 2022




$570M




$220B (online store)




$9.7B




$54B (international retail)




Number of active users per month




24M




197M




138M




25M




Business strategy




Sells cheap Chinese goods mostly to American and European buyers.




Focuses on selling multiple products from well-known brands with fast delivery.




Is an auction with a variety of goods, including luxury items.




Sells cheap items from China mostly to Russia and Europe.




Business model




$2,000 registration fee,

up to 15% commission for each purchase,

paid promotion.

Commissions (12-16%),

flat rates ($0.99 per each item), subscriptions ($119 per year),

affiliate program.

Listing fee, commission (from 3.5% to 10%) for each transaction,

paid options to promote, highlight, relist the item on the platform.

$1500 for starting or changing the store on the platform,

from 5% to 8% commission for each transaction,

advertising.
Challenges for Platforms Like Wish And How to Overcome Them
Though Wish is a big platform with millions of clients, not everything goes smoothly. Customers regularly complain about:
Poor quality of goods

- Wish products are infamous for their miserable quality. To fix this problem Wish hired a former community manager at Facebook, Connie Chang. She has involved about 10,000 Wish users to help the company cull questionable merchants in exchange for free goods and discounts. The Wish team also uses a thorough page validation process to keep suspicious merchants and products away from the marketplace.

Fraudulent and deceptive shops

- Some merchants create multiple accounts for shady businesses or show dishonest reviews. To combat this, Wish has designed software that uses about 60 rules to determine verification. It detects and deletes products from merchants who have fake reviews with nonsensical phrases. If algorithms see that a merchant has listed forbidden products, or shipped an order with fake tracking, they'll be fined $500. All in all, Wish quality control weeds out about 8 million items a week, or up to 3% of the products presented on the platform. Most items are cut because visitors never tap on it while scrolling which is considered suspicious.

Miserable customer support

- At Wish, robotic answers to customers' claims don't solve problems, and it takes a lot of time and patience to get a refund for unsatisfactory purchases. On the good side, Wish customers don't need to contact sellers directly (unlike on eBay), as Wish has a centralized customer service department. Slow delivery - Usually the poor postal service in China takes ages to deliver purchases. But clients can order express delivery if they want their items more quickly. Many popular items are stored at warehouses closer to the destination.

Aggressive marketing campaign

- People have heaps of weird Wish products shown to them. But as Szulczewski assures us, those ads keep on appearing because people click on them. The Wish team plans to improve recommendations in the future and people will see high-quality products that are relevant to them. Along with crazy ads, some customers say that endless emails and notifications are too aggressive. But this is what makes Wish recognizable. At present, Wish spends about $100 million every year on marketing.
When you think about how to start a website like Wish, pay attention to potential problems, and find a way to overcome them. To avoid dealing with complaints due to poor quality, look at more reliable suppliers and eliminate questionable sellers. For sure, you'd better have a strong development team ready to fix all problems.
What Features Do You Need to Make a Website Like Wish?
Wish functionality is divided into panels for customers, admins, and merchants. Let's explore them separately.
Customer section
For clients there are standard features necessary for every shopping app:
Sign up
Interface with easy browsing
Product catalogue
Search filters
Wishlist
Shopping cart
Payment options
Push notifications
Customer support
Extra features for customers which set Wish apart from the competition:
Personalized shopping feed

is a recommendation engine that allows Wish to rise above other marketplaces. This feature uses the help of AI. It takes cues from a user's social media pages, reads demographic information, and uses interests and shopping habits to create an ultra-personalized feed. At the top of Wish's searches are products from merchants who nailed organic search algorithms and follow Wish's main values - low price and mobile-optimized images.
Reward points

-

Each time customers complete various activities within the app they earn points. For example:

after a purchase
after writing a review
after uploading a photo with the review
Later you can exchange those points for various coupons (from 5% to 15%) in the Rewards section.

Gamification elements

are developed to entice customers to use the app by employing the element of scarcity:

Wish cash

is a currency that can be spent only within the app. It is compensation after a client makes an unsatisfactory purchase. Wish cash is also given as a promotion. For example, it is paid after winning the

Wish Quiz Game,

where customers test their Wish knowledge.

Daily Login Bonus

gives discount coupons just by visiting the app every day and collecting stamps within the allotted time frame.

Shopping Spree

is a 15-minute marathon when you get a certain percentage off everything.

Flash Sale

allows you to buy several items at a discount during a limited time period.

Social Buy

is a chance to buy a popular item at a reduced price before the timer runs out.

Blitz Buy

allows customers to spin the wheel once a day to get a guaranteed bonus before time runs out.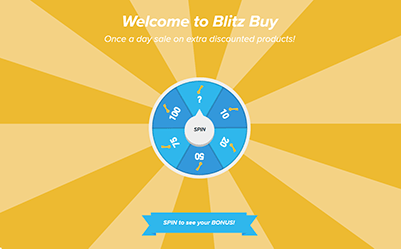 Merchant section
Standard features for merchants are:
Registration and verification
Catalog to add and manage products
Order management
Shipment management
Order fulfillment
Special features for merchants that make Wish stand out, involve paid promotion and delivery:
CollectionBoost

- This program promotes products in highly visible customized collections on the Wish App and Wish.com website.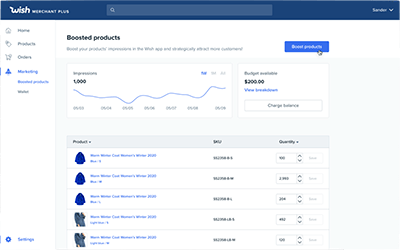 ProductBoost

is a Wish promotion tool that makes products more noticeable by listing them higher in the product ranking if they are relevant to customers. Machine learning algorithms also optimize the cost of impressions and find the best places to display the products. Merchants may choose IntenseBoost which increases product visibility over a short period of time. Wish shows items with IntenseBoost in premium and highly visible positions. The best sellers get a Reward Budget, discounts on advertising, from Wish for their campaigns.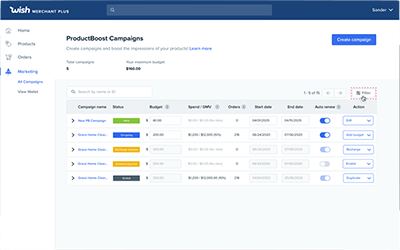 Fulfillment By Wish (FBW)

- This logistics program lets merchants ship their inventory to a number of dedicated FBW warehouses in the United States and Europe. Then, the FBW warehouses take care of order fulfillment.

Express shipment

is made for merchants who ship goods to their customers faster. With Wish Express, sellers have seen sales volume triple in one month. When merchants use the Express shipment option their listings gain a special badge and a tab on the app. Merchants are also able to increase prices for products within the Express program.

Wish 2-day

is a fast delivery badge for sellers who use Deliverr service to fulfill their orders. It increases the product ranking and can lead to as much as 80% sales growth.

Wish's Trusted Store program

- If you've mastered promotion, Wish may reward you with both Verified by Wish and Trusted Store badges. This program gives merchants with high-quality products and good delivery performance access to extra tools to grow their business. In addition to the Verified by Wish program, they can also receive increased impressions, high search result placement, and the ability to handle tickets from customers directly. The Verified by Wish badge lets buyers know which products receive a lot of positive reviews, leading to more sales.

Common features for both clients and merchants:
Live chat
Notifications and correspondence
Shipment tracking with Google maps
The Wish payment policy is totally secure:
Merchants send the orders only after clients have paid for it. No CODs, or bank transfers.
Wish withholds client's payments if it is suspicious of the shops in any way.
Sellers must fulfill orders within 1-5 days of order placement, or Wish automatically issues a refund.
Admin section
Wish doesn't disclose its admin panel secrets, but it must have the following:
Dashboard
Reports and statistics
User management
Product categories management
Review and rating management
Promotion and advertisement management
Security feature to fight against fraud and poor quality.
Other possible features for admins are:
Vendor commission management
Tax management
Withdrawal requests management
Payment methods
To start a store similar to Wish, consider features that satisfy both sellers and buyers. If you have any questions, our team of business analysts can advise you on where to start.
How to Build a Website Like Wish
When thinking about how to develop an app like Wish, a tutorial can be extremely helpful. Here are the steps Wish founders followed to build the app we know today.
Start with a Discovery Phase. Begin developing your website after in-depth research and analysis. You should know your market, rivals, and target audience.

Find your USP (Unique Selling Proposition) to stay competitive.

The Wish USP is a set of factors defining its strategy, e.g.:

cheap products
target audience ignored by competitors
a shopping mall experience.

Solve the chicken or the egg problem.

For a new marketplace, it is hard to get off the ground. You don't have buyers, so the platform is not attractive for sellers, and if there are no products, buyers won't visit. What a vicious circle… This is why Wish was launched as a wish-list platform for clients without merchants. Immediately when merchants were invited, Wish had a client base. Each side was ready to bargain.

Start with an MVP.

It's risky to launch a new app, so validate your idea with an MVP. This is how Wish launched their business- this trick works.

Grow and improve.

Verify your MVP and continue improving your platform with advanced features.
How Much Does It Cost to Create an App Like Wish.com
The price depends on the complexity of the app. The more features, the higher the cost. Look at the Wish set of functions and decide if you need the same. For sure, some basic features are a given, but something fancy might give your website wings. Consider the following components:
provide merchant apps with useful information and tools
spend money on good design
outsource development
The cost of development largely depends on where you find the developers. Eastern Europe offers high-quality service at low prices. At Greenice, we offer the development of basic features, as well as advanced features that can make the app stand out.
The cost of the development of a multi-vendor platform from scratch starts from $73,000 - 105,000 depending on the complexity of features.
The estimate includes the full scope of development services:
Custom web design
Choice of technology stack and architecture
Front-end development
Back-end development
Project management
QA testing
How to Reduce the Cost
We can significantly reduce the price using a white label solution for eCommerce projects. The advantage of this method is that it allows to reduce the development efforts and correspondingly diminish the costs that in this case may start from $7,000.
It will include all the above mentioned development services but there will be no need to build your website from the ground up, as most of the features will be already included in the white label solution.
The job of the developers will be then to set up the system and customize it according to your requirements.
The downside of this approach is that if you need too many customizations and upgrades in the white label solution, it will no longer be cost-effective. To tell more precisely which method is right for you, we need to check your requirements to know the details of the project and come up with the best solution.
How to Apply This to Your Business
Wish is an excellent example for startups who want to start an online marketplace. The platform offers tons of products from multiple categories like you are in a real shopping mall. Attracted by something unusual that catches their eye, people are prone to buy something they never thought of in the first place.
Moreover, Wish has special features and an extraordinary business model. Their fabulous feed personalization algorithm can predict what buyers want even before they know it. Wish is doing its best to improve the quality of its products. It has boundless potential. Who knows where Wish will go in 10 years.
When investigating how to create a website like Wish.com here are some bits of advice that Wish learned during its ups and downs:
Design, delivery, and customer support must all be excellent. Otherwise, you will get a bad rating.
You can create several apps for different product categories to separate the audiences.
Create a reward system to encourage loyal buyers and sellers.
Offer several payment options to meet customer needs.
Think about monetization from the start.
So, if you are determined to start a website like Wish, just drop us a line: "I want to start a business like Wish.com." and we'll come back to you to discuss the details. Let's have fun making an app like Wish. Maybe next time we'll write an article about your success story.
Rate this article!
You should be
logged in
to be able to rate articles