One more pair of hands or an extra 24 hours a day is not a dream anymore for busy people like entrepreneurs, stay at home moms, and people with big plans and huge checklists. With the emergence of on-demand chore and handyman marketplaces like TaskRabbit and Thumbtack, people have a chance to delegate part of their hassle to professionals and enjoy their life. Every boring task, from grocery shopping to standing in a line, can be outsourced to people who make a job of it.
There are plenty of existing platforms for these services, so is it worth it to create a new gig economy marketplace for taskers? And how would you build a website like TaskRabbit and make the best of its development and marketing? We have researched this for you and spiced it up with our own experience. Read on to find out!
Why build a website like Taskrabbit or Thumbtack
A handyman marketplace is an online platform connecting customers with handyman services, such as home repairs, appliance installations, furniture assembly, plumbing fixes, electrical work, painting, carpentry, and other general maintenance tasks. It allows customers to find, hire, and pay for a wide range of services efficiently, and helps handymen expand their business.
Building an online handyman marketplace presents a lucrative opportunity to tap into the thriving market.
According to statistics, the handyman service market is expected to reach a valuation of $1.65 billion by 2032, with a CAGR of 17.2%. In 2022, it held a revenue of $339.0 million, with North America dominating at 36.5% market share. The industry employs over 90,976 individuals in the US.
The pandemic had an impact on the industry, causing a slowdown, but the market has shown signs of recovery, with a 15.7% CAGR. A new trend also emerged during the pandemic, where home care services gained popularity, and the demand for real estate and building clusters with physical facilities increased, adding gravity to the market dynamics. To meet the growing demand, handyman services have expanded their offerings, introducing new services like assembly, repair, carpentry, installation, tile, exterior, painting, and drywall. Additionally, they have extended their service areas, fueling the sales and growth of the industry.
TaskRabbit vs Thumbtack: Who's the Toughest?
Finding help around your neighborhood is a brilliant startup concept that pushed labor relationships to the next level.
Now it is hard to believe that TaskRabbit and Thumbtack only emerged in 2008, just one year after the first iPhone launched.
It all started with an idea.
Leah Busque, a founder of TaskRabbit, quit her programming job at IBM to create her own startup after she realized the necessity of such a service. As often happens, first she experienced the need for errand runners and started searching for companies that provided such a service. Failing to find any, she plunged into creating her own business that would help people who also needed a helping hand in their daily duties.
Almost at the same time, Marco Zappacosta and his team were working on their platform, Thumbtack. Their idea came from the desire to take the Craigslist concept and transform it into a marketplace. Unlike TaskRabbit, which focused on home errands, Thumbtack did not restrict the areas of specializations. Now, Thumbtack is called "the Amazon of home services" and is considered the biggest representative in its niche.
These marketplaces have existed for more than 10 years and keep on flourishing. Here are some statistics: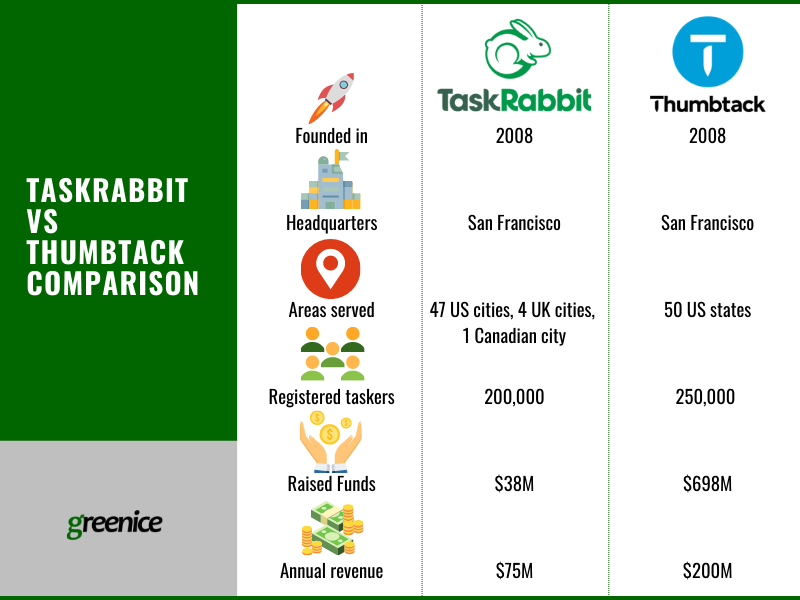 TaskRabbit
Founded in 2008
Headquarters: San Francisco
Areas served: 47 US cities, 4 UK cities, 1 Canadian city
Registered 200,000 taskers
Raised Funds: $38M (before IKEA acquisition)
Annual Revenue: $75M
Thumbtack
Founded in 2008
Headquarters: San Francisco
Areas served: 50 US states
Registered 250,000 taskers
Raised Funds: $698M
Annual Revenue: $200M
Need an estimation for your startup project?
Contact Us
Business Model of On-Demand Service Marketplaces
Services like Taskrabbit and Thumbtack are two-fold platforms that connect people who need to have a task done (Posters) with people willing to provide their services for payment (Taskers).
Value proposition
For taskposters - The main value proposition for clients is quickly finding a handyman in a great pool of different services (even very weird) with competitive and transparent pricing. The marketplace is a good solution for those who do not need a constant hire rather an on-demand errand doer. Additional perks for posters include:
Background check for specialists
No cash electronic payments with escrow
Insurance guarantee or 'no-show' reimbursement for tasks
For taskdoers - On the other hand, taskers obtain a place where they can advertise their services to get leads without many efforts and ramp up their business. "The average pro on Thumbtack is making about $70 an hour, and that is a great wage," says Marco Zappacosta, CEO of Thumbtack. Moreover, taskers can:
Work on a convenient schedule and manage their work time as they wish
Get money immediately after completing a task
Grow their customer network with a rating and review system on the platform
Monetization options
As the platform arranges all these connections, it should get some profit that can be obtained from the following sources:
1. Commission
The most common way to get profit from this kind of service is to take the commission from the deal. It can be:
A

percentage from the payment

for a complete job. For example, TaskRabbit takes

15%

of the total price received by the Tasker for their completed services.

Pay-per-lead model,

a fixed fee for a lead connected with a tasker. Thumbtack charges up to

20%

for each lead that is responded to by the service provider. But the interaction may not obligatory lead to a deal. That's why this method is often bullied by the Thumbtack taskers. They say that the proportion of qualified leads to overall lead number is too low to make any profit of using the platform.
2. Subscription
You may actually provide a freemium package of free basic features or lead limits and allow users to upgrade services for advanced opportunities.
3. Advertising
Some platforms provide their matching services for free both for posters and contractors. To earn money, they charge for ads and highlights of the service provider in the top positions.
4. Partnerships with other brands
Having partnerships with some brands like Ikea, eBay, or Amazon, you can get an affiliate commission from purchases. At the same time, you'll provide a 'one-stop-shop' customer experience, saving their time and increasing satisfaction from using your platform. For example, one of our projects - a marketplace for finding freelance designers and architects - allows furniture and decor shops to be pinned to projects. This creates a touch of real value as customers can instantly book the item without a necessity to search for similar items on the Internet.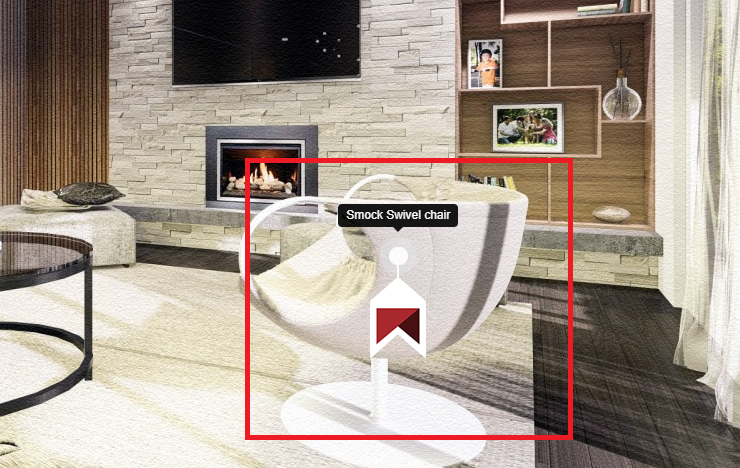 One more example is the Handy marketplace, which provides assembling services for free for those who bought furniture from their partners.
Some marketplaces use several monetization strategies at once. For example, Urbanclap's business model implies a mix of commission and advertising.
On-demand Task Marketplaces Challenges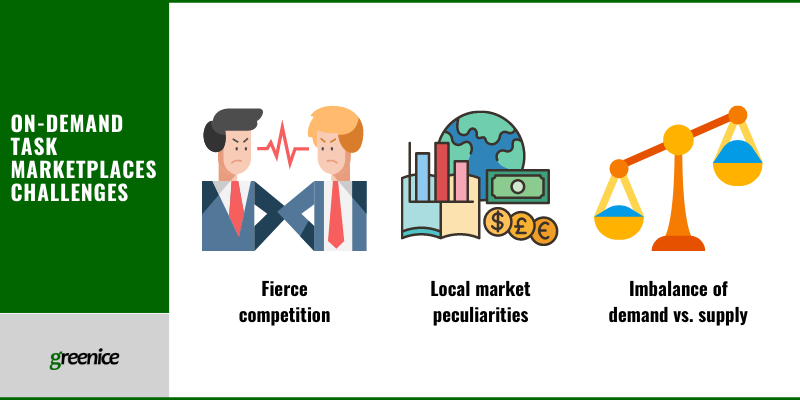 1. Fierce competition
One of the biggest challenges for websites similar to Thumbtack is fierce competition. Even Thumbtack founders, in the beginning, admitted that they had no chance to win the war if they would only focus on home services where there had been already a lot of providers. So for Thumbtack, the solution was to widen their scope of services to become an overwhelming service marketplace (now there are nearly 1,000 categories). They also preferred to broaden their geography rather than settle in one area.
2. Local market peculiarities
Another challenge for a site like TaskRabbit is a location and the peculiarities of local markets. This concept was born in western countries and gradually spread to the East. However, due to cultural and economic specifics, a lot of startups have failed, including GoGetter, Butler, TaskPorter, and TaskIsland.
TaskPorter was one of the errand services platforms that closed soon after its launch. Speaking about the reasons for its failure, its founder, Ian Tay, said that Singapore's population was not ready for this concept as people with high income prefer to have maids to run their errands. Also, as life in Singapore is not cheap, everyone is expecting to earn good money to provide a good quality of service. However, small tasks are usually cheap and do not appeal to the people who would do them. If hiring students, the quality of work can be unsatisfactory.
"You can't expect students to have the heart to do a menial task well. Especially when they don't even clean their rooms. So to get them on their feet to work, you have to entice them with more monetary incentives. Then there is a mismatch of expectations. I do this cleaning or powerpoint slides, I'm expected to get $80. The job poster is only willing to pay $20, and that affects the quality too. So the platform will have lots of unhappy customers when jobs are not taken up or jobs are not done right," Ian said.
Some challenges named by Kuala Lumpur's startuppers are the traffic issue. Many tasks depend on how quickly they are done and the traffic is very intensive, so the erranders often fail to fulfill the work.
An African startup, KibaruaNow, recently shut down after an unsuccessful attempt to become an African TaskRabbit in Nairobi, Kenya, and all of East Africa. It does not mean that there are no opportunities for on-demand services on the continent, but the failure might have happened due to poor marketing research prior to launch.
3. Imbalance of demand vs. supply
Sites similar to Taskrabbit at the beginning often bumped into a problem of an imbalance in the number of posters and taskers. There should be enough specialists ready to fulfill all the posted jobs to keep the community alive.
Thus, those who'll find how to overcome local challenges have the opportunity to conquer the market. Here are some of the strongest survivals in this niche that coped with the hurdles and make up your competition.
Competitive Landscape
Most sites like Taskrabbit are located in the US. However, for other countries, the concept of an on-demand task marketplace is still fresh. There are fewer platforms and less competition, so they can be a tempting aim for entrepreneurs if they crack the secret of taming the local challenges. Here is a list of the most popular errand-runner marketplaces around the world:
| | |
| --- | --- |
| Country | Representatives |
| USA | TaskRabbit, Takl, Zaarly, Handy, NeedTo, SoManyErrands, KonstantRunner, Bizzby |
| Canada | TaskRabbit, AskForTask, Bizzby, Handy, LocalHeroes |
| UK | TaskRabbit, Bizzby, ErrandPlusPSLTD, Handy |
| Europe | StarOfService, Bewertet, Homebell, Haushelden, ServiceFinder, Hazmeprecio, Favore, Fazland |
| Australia and New Zealand | AirTasker, MichellesErrandService, MyErrandGirl, NoCowboys |
| Southeast Asia | TaskAmigo, GoGet |
| Africa | Isamado, TaskIt, ErrandWorld |
With the industry expansion, there is a growth of new all-in-one on-demand service marketplaces. So apart from famous platforms like Taskrabbit and Thumbtack, you might also want to create an app like Urbanclap. The latter is India's and UAE's leading on-demand service provider for home services. It offers a wide range of at-home services, including beauty, cleaning, carpentry, car cleaning, plumbing, and technical assistance, making it a one-stop platform for all household needs.
What Features Should Your TaskRabbit or Thumbtack Competitor Have?
First of all, if you want to make a marketplace like TaskRabbit, you should plan the business logic of the process. To use a marketplace like Taskrabbit, a person who needs a specialist fills in their task details and views a list of matched and available taskers with their profiles, hourly rates, and reviews. Then, a customer can initiate communication with a selected Tasker to clarify the order details. Upon completion of the task, the customer pays the tasker through one of the payment methods.
As a startup, you should begin development with the most indispensable features that give a maximum benefit to the customers. For that, start with prioritization of features to pick those which the project can't live without. These are the features that render the idea of your project.
Analyzing the existing platforms, we selected the scope of common features that you can take as a basis for your requirements. And after that, we'll also give you some tips on how to mitigate the risks of failure in this niche.
So, let's review the features that will make the skeleton of your future on-demand marketplace:
1. Registration
Allow users to register with the most convenient ways. Registration allows for user verification in several directions: check by email, phone, social media, bank card, ID, video interview, etc. For this, ask for such data as name, email, zip code and address, jobs they are ready to perform, rates for the jobs, and the level of experience. When an applicant selects a rate, the system may automatically show average rates for the same task and the final price paid by the client (in case this is your type of revenue collection).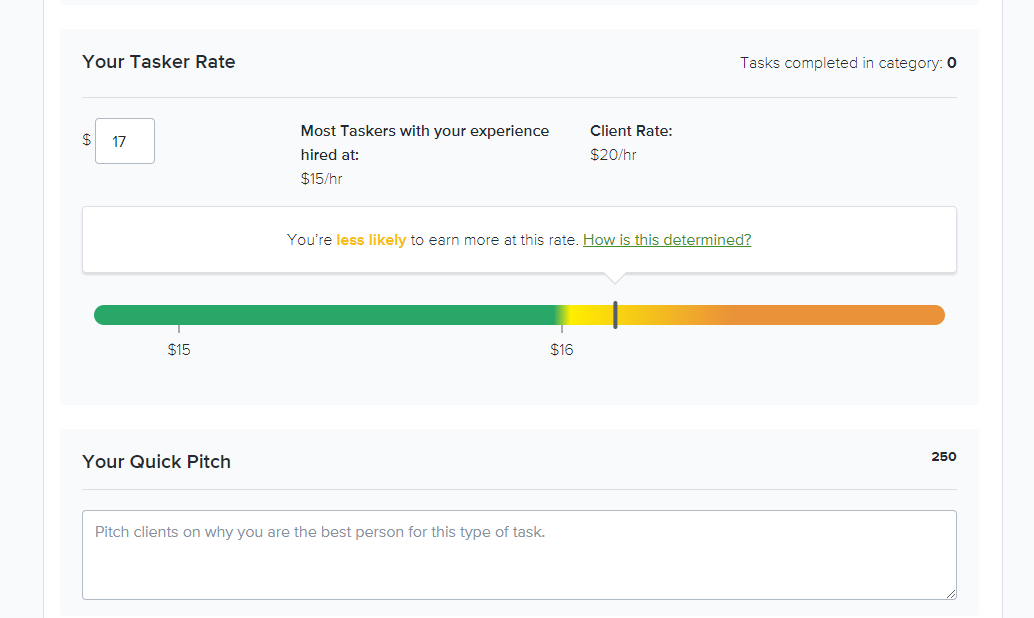 To complete the registration, TaskRabbit asks applicants to pay a fee of $25 which is at the same time the verification of banking data and filtering from the bots and spammers.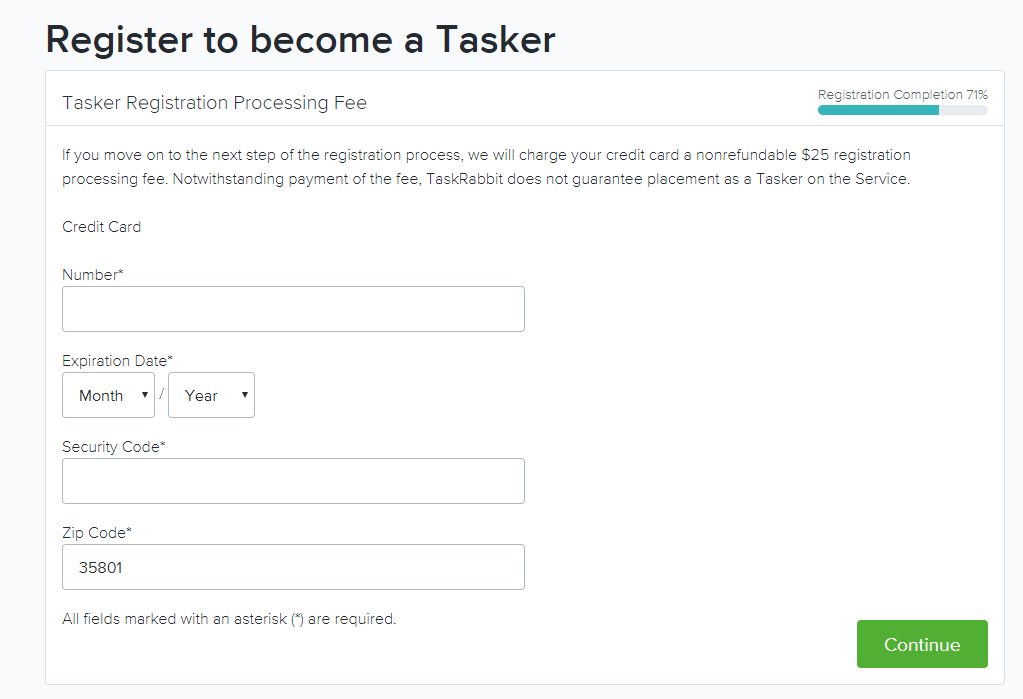 2. Tasker profile
Each tasker, a person who is going to provide a service, should be able to complete their profile, add meaningful details like description of services, portfolio, references, and price. Automatically display reviews, ratings, and number of delivered tasks on the profile to give more confidence to the users selecting the professional.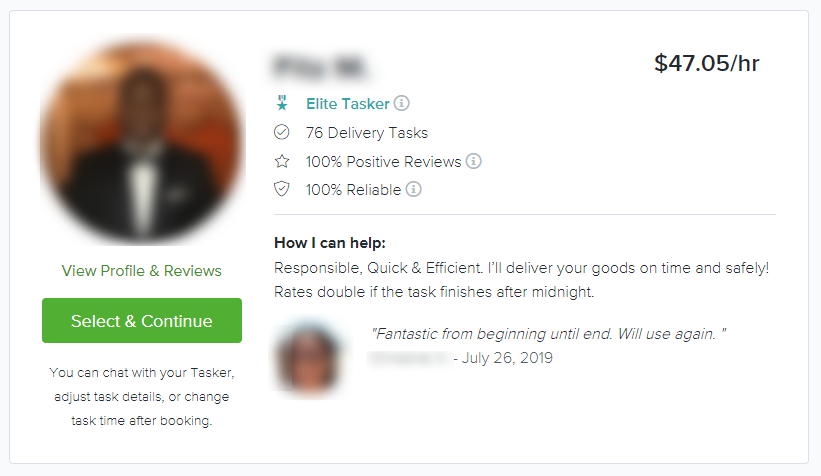 Allow scheduling the task to save time for checking the availability of the Tasker for the necessary date and time.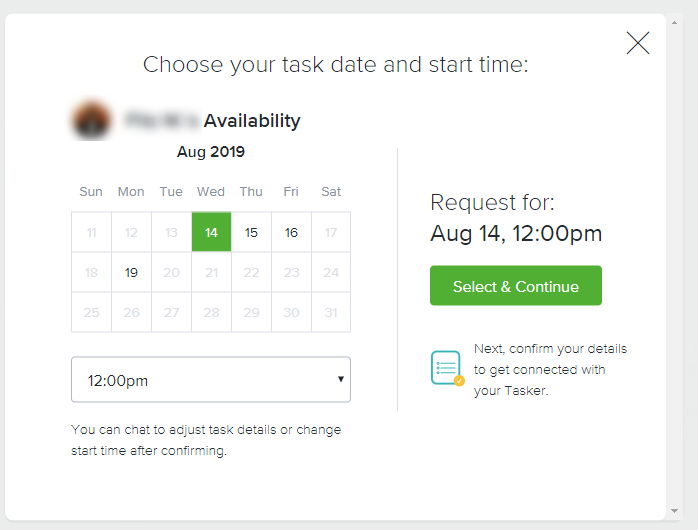 Caution! Investigate in the first months after launch to see if there is enough data provided by the businesses to have the best match. If you read reviews of Thumbtack users you'll find lots of similar complaints that the profiles do not allow them to add enough information about the business to provide accurate bid matching. Thus, lead requests often do not correspond to the business services. This irritates taskers as they have to pay money for each lead even if they do not order from them.
3. Search and matching
Thumbtack and TaskRabbit are large platforms with thousands of services and variants of combinations. That's why to simplify the search for a definite service they provide a system of filters by area and services.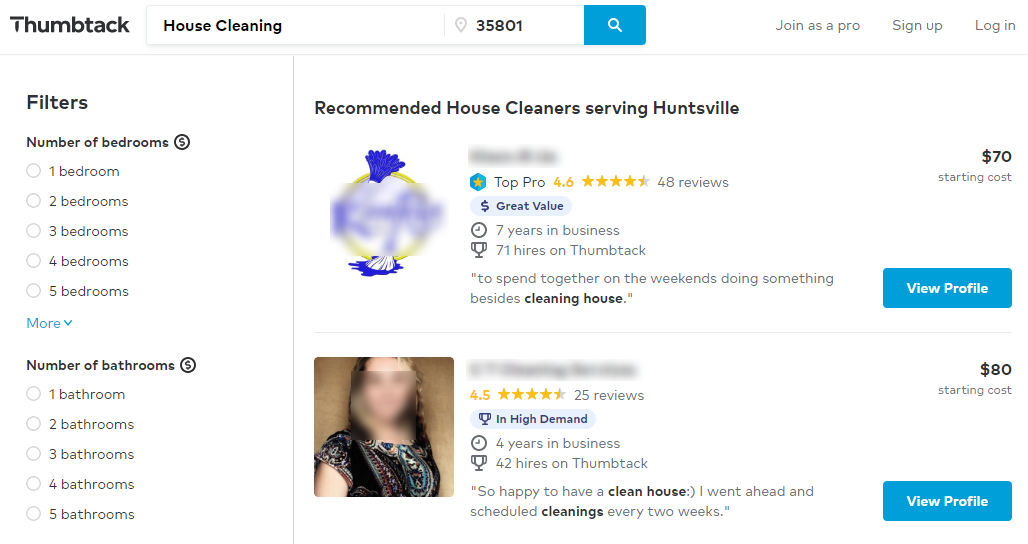 To cut down the search time to seconds, platforms propose to pass a brief interview of 5-10 questions to filter profiles automatically. For example, if a person is looking for cleaning services, the questions may be like "How many rooms do you need to be cleaned?" "Are there any pets?" "What dates are preferable?" and so on.
The matching may also take into account such factors as skills, proximity, ratings, availability, or recency of the last completed job to show the best results first. Such an approach streamlines the whole process, reducing the time usually spent on checking each parameter manually and separately.
We also created a similar matching algorithm for one of our clients, NoCowboys, a local tradesmen marketplace from New Zealand. Their searching mechanism takes into account categories, area, proximity, rating, and the recency of the last review.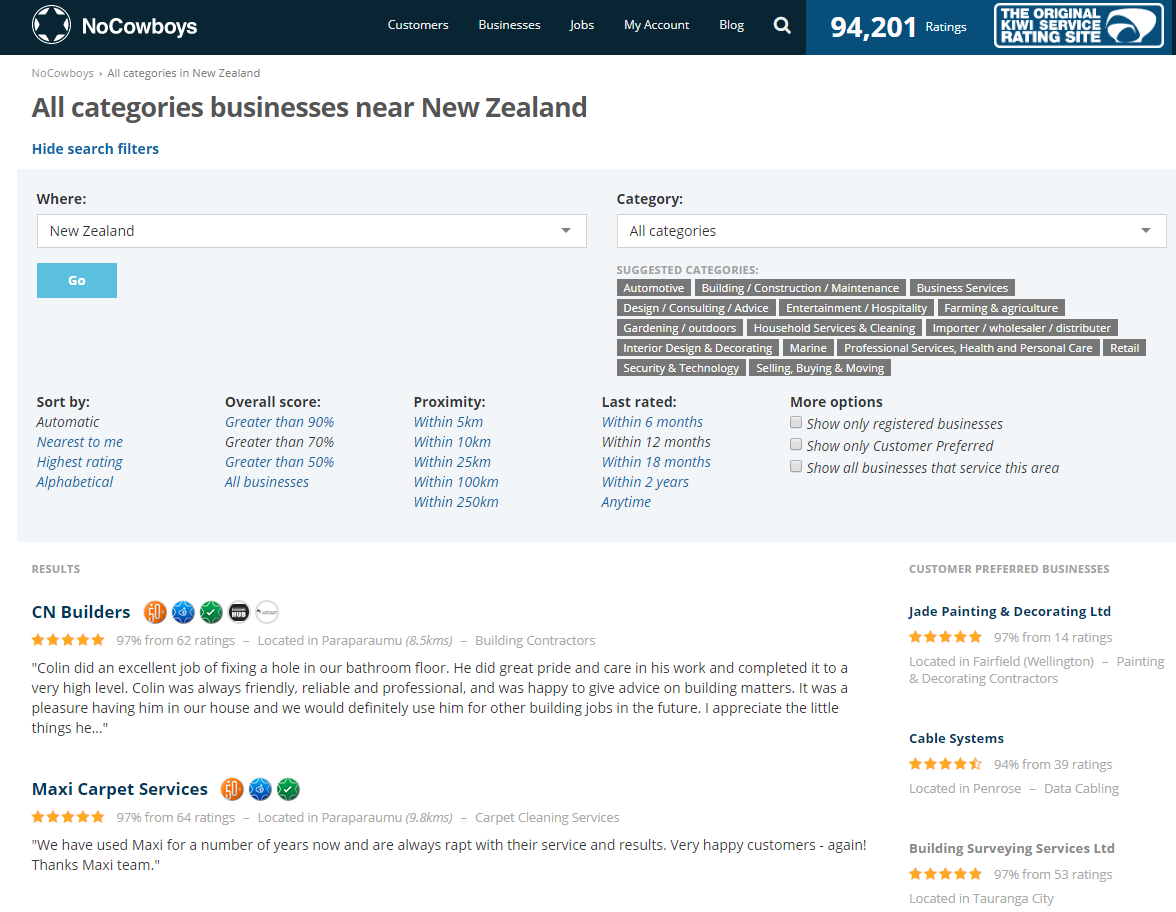 4. Job posting
Many sites similar to Thumbtack use a wizard of questions to ask a poser to describe the task. This saves time and simplifies the process of submitting a request.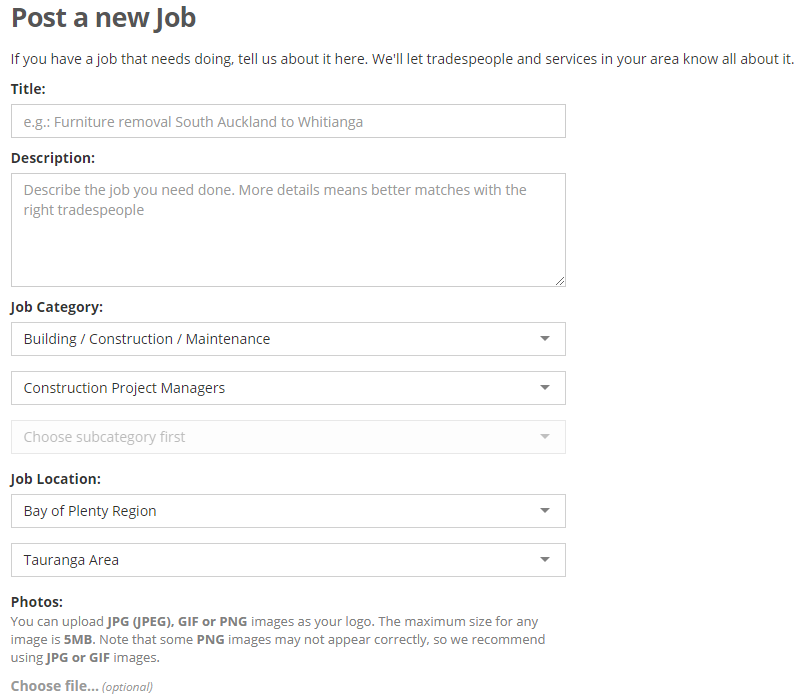 5. Communication
Providing your users with convenient ways of communication is very important. As a rule, it is not enough to have job posting description fields alone as in most cases it is necessary to clarify the details, send photos, or add some preferences in personal communication.
The benefits for a customer to stay and keep communication in the platform is for having a guarantee of secure payment and the option of resolving any disputes by proving the order with messages.
Keeping all messaging within your site prevents people from leaving to offsite messengers. Thumbtack does not mind if clients communicate outside the platform as they take payment in advance for each lead whose contact is sent to the tasker.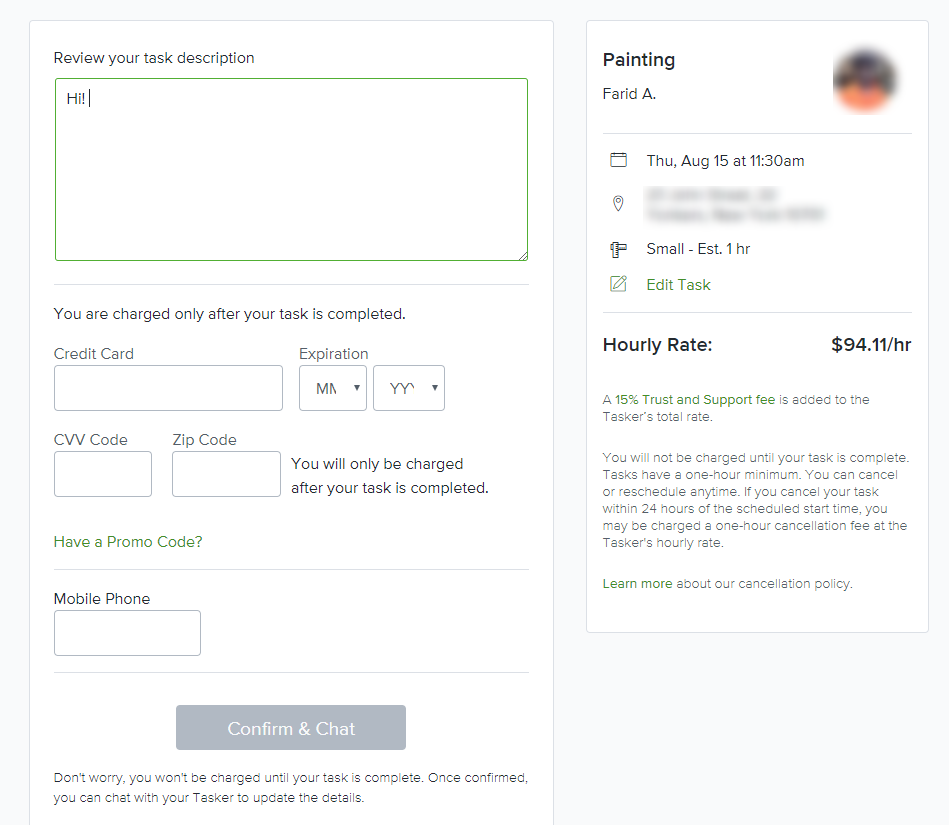 At TaskRabbit, when customers post a job, they can start communication with 'rabbits' to confirm the logistics only after they pay the price of the booked task. However, the platform does not charge until the task is completed.
6. Payments
As the whole marketplace idea is to build a possibility for taskers to profit, you need to add convenient, secure, and commonly used ways to pay and receive payments. Most platforms use an escrow method where the client pays in advance but the money is kept in the middleman account until the tasks are completed. When the task is approved by the customer, a tasker receives their payment, excluding the platform's commission. This provides security for all parties involved, including the platform.
It is important to take into account the specifics of certain countries where not all payment methods are popular and easy to use. For example, PayPal is one of the most widespread electronic payment methods in the world. However, it is not like this in a number of countries where it takes a lot of time and effort to withdraw money from a PayPal account and exchange US dollars into local currency.
7. Reviews
Trustworthiness is one of the most important components of a site like Thumbtack. Besides the background checks that are not on the surface for customers, reviews are one of the best ways to prove the reputation of the community members. As far as many jobs are dealing with home visiting, babysitting, pet care, etc. customers will pay great attention to the feedback of those who previously used the services. The review should also be verified to increase the trustworthiness. This is why for NoCowboys we created a system of rules for approving reviews. Customers can see if the reviews were provided by authenticated users to decide if it is worth it to believe or not.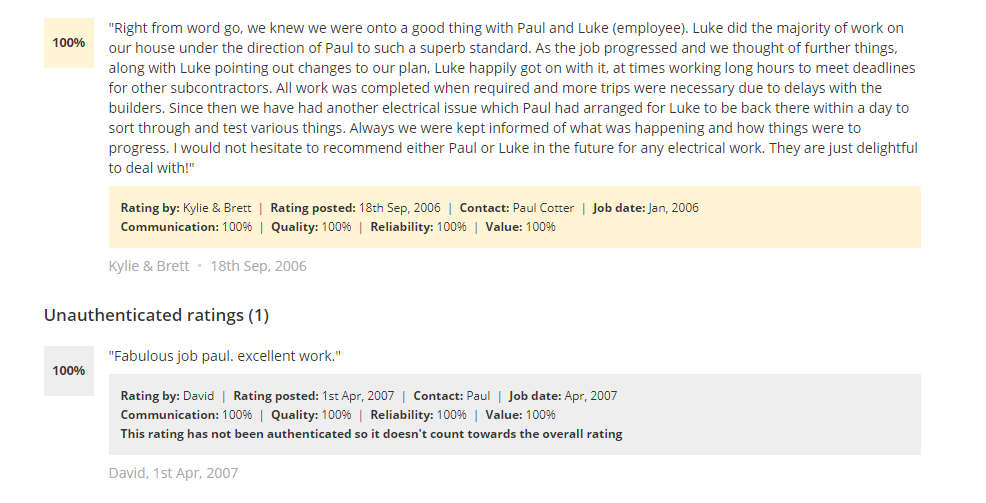 7 Tips to Create a Website Like Taskrabbit or Thumbtack with Minimum Startup Risks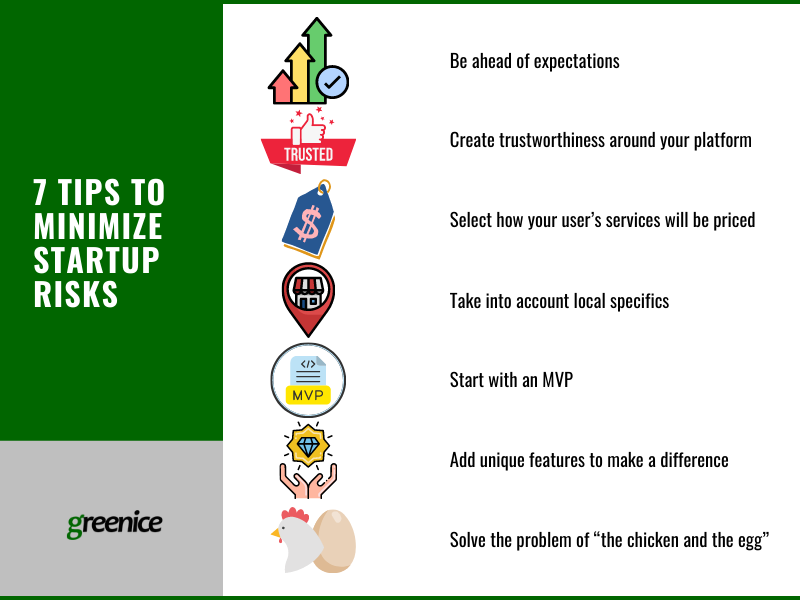 1. Be ahead of expectations
It is not enough to clone the features of a successful application to develop a marketplace like Taskrabbit. You need to understand the pain points of today's audience and give them a solution.
As Leah Busque, the founder of TaskRabbit, suggested in her interview:
"If I were to build it [TaskRabbit] today it would be on an AI voice platform (through Alexa or Google Home). That's where you would start today. The concept and the mission of connecting people in a neighborhood to live more efficiently to share services has always remained the same. But how you deliver that changes based on the market, emerging tech and the consumer mindset and their expectations. Trying to stay ahead of that and recognize where those opportunities are is very exciting!"
One of the challenges that stays acute for the gig labor market is rights protection (fair wages, health care, tax payment, vacations, insurance, retirement, and other traditional benefits of official employment). Some platforms like Thumbtack already start taking measures to overcome those barriers in the gig economy to make the taskers treated like traditional employees. For that, they contracted with the pilot project Alia that allows customers to take care of the rights of their cleaners who work for them. The contribution (donation of any amount of money starting from $5) includes paid time off, life insurance, and coverage for disabilities, accidents, and critical illnesses.
2. Create trustworthiness around your platform
We have already touched on this question in 'Registrations' and 'Reviews', so now let's talk about what exactly you can do to guarantee the security of connections and fair deals between customers and contractors:
Make the background check with the help of third-party services that verify the ID, name and address, criminal background, absence of any bankruptcies and liens.
Have an in-person video interview to make sure that this is a real person and ask for their skills and motivation.
Provide a pending authorization charge on a credit card to verify the validity of the card. TaskRabbit even takes a non-refundable fee for registration, thus proving the seriousness of user intentions.
Some services require a 'no-show' sum (for example, $100) to be deposited to compensate for the missed appointment or cancellation of the visit to the customers.
Caution! No system is perfect and you never know how fraudsters can cheat you. For example, there are cases at Thumbtack where to cheat the system some taskers put their phone numbers on their profile photo to get direct calls from the leads and avoid paying fees to the platform. With so many users and the absence of the human check of each profile it can be hard to prevent such cases, so using machine learning and recurrent human audits may seriously help.
3. Select how your user's services will be priced
Bid or fix price? Which is the best for your users? In the early days of TaskRabbit, they accommodated the bidding approach that was more profitable the posters. The taskers were forced to bid proposing lesser prices only to win the job even for small money. That was frustrating for taskers who were underpaid. What is even worse is that task-posters would often lie about the amount of work they need to have done. The taskers would thus feel underpaid. Besides, the bidding could last for several days, which also takes time from both parties. Several years ago, TaskRabbit changed their business model - to enhance the conditions for the taskers, they can now set a fixed price and even increase it with additional services selected by the customer.
We can learn from this lesson that we need to think of the balance of interests of both groups to satisfy all parties and leave them willing to continue using the platform.
4. Take into account local specifics
We have already mentioned some peculiarities of the regions, such as traffic issues, cost, and poor motivation for performing jobs for a low price.
There are also cultural peculiarities that need to be kept in mind when you create a marketplace in a location. For example, when TaskRabbit entered the UK, the team found that they had to adjust their communication style.
It was not only for the difference in language but also for the tone of information presenting - from enthusiastic American to a more reserved English manner.
Also, the TaskRabbit team's research showed that UK users are more preoccupied with data security than the American audience. So in the UK, TaskRabbit increased privacy measures by hiding phone numbers when connecting taskers to posters. This also increased the level of trust and loyalty to the platform.
5. Start with an MVP
A Singaporean startup, TaskPorter failed soon after launch in 2012 because of a lack of demand on the market. They spent S$20,000 on marketing, resulting in zero sign-ups and only one task posted. As Ian Tay, TaskPoster's founder, further admitted:
"For this model, you need a sizeable market of customers with high disposable income and little options of cheap labour. That is not the case with Singapore, where those with high income would have maids to run their errands for them. We didn't talk to the customers and understand the market before launching the site. It was only after such a failure that we went to talk to people and realized what was wrong."
This is one of the real-life examples of the need to prove your idea before starting a business and investing time and money in it. We often suggest starting your projects with MVP to launch quickly and test your startup idea.
6. Add unique features to make a difference
After you've launched your must-haves, tested on real users, collected your first feedback, and made sure that the idea is worth further investment, you may start adding extra features to add even more value and highlight your project from the crowds.
For example, you can add the price suggestion feature.
One of the challenges for the users in a job marketplace is estimating their jobs to be competitive in their niche. This feature makes sense after you have already collected a large database of completed projects. Thumbtack uses historic prices collected over the past eight years in its database. Comparing jobs using several features, the system can suggest the average cost for that service. As the practice shows, many taskers leave exactly on the step when they need to set the price as they hesitate on how to estimate their job to get orders.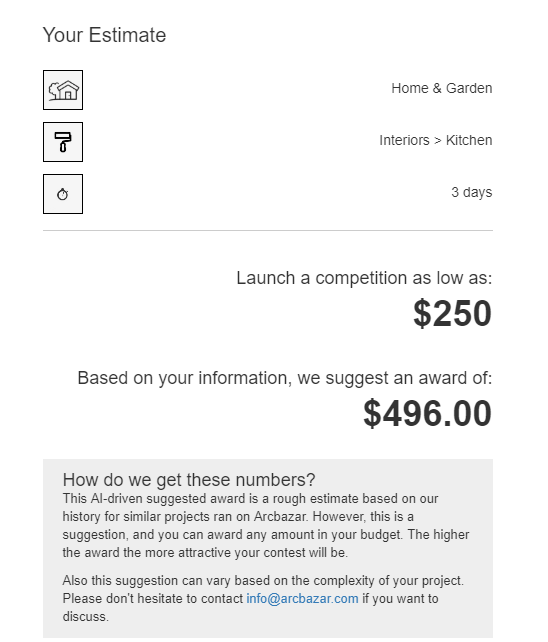 We also create an ML-based price suggestion tool for one of our clients - a peer-to-peer marketplace for design and architectural tasks.
7. Solve the problem of "the chicken and the egg"
One of the challenges named above was about how to create a balance between taskers and posters in quantity. It is clear that the marketplace is highly dependent on demand and supply sufficiency. So if there will be many taskers and not enough posters, the taskers will lose interest. And in the same way, posters need to quickly find the taskers and there is no need for them to wait till the right person registers on the platform. Some platforms start with a 'concierge' model where the platform founders can perform tasks by themselves in the initial stage of the projects till there is a client database and then gradually attract more taskers.
Another way is suggested by Leah Busque, founder of TaskRabbit:
"In our case, we always went into new markets and recruited like 50 Taskers to start a city. And once we felt they were ready to go then that's when we would start layering on the demand by inviting clients to start booking these Taskers. From there you have to build up both sides though every marketplace is going to be different with different levers to pull."
So this is an absolutely indispensable thing to consider before launching the project to the market.
How Much Does It Cost to Build a Website like TaskRabbit or Thumbtack
There are two approaches to developing an on-demand services platform:
building an MVP from scratch
using a white-label solution.
Development of the website from scratch will give you complete flexibility, unlimited scalability, high data security, code ownership, and seamless integration with third-party services. However, the initial cost can be high, with long-term benefits. For a custom MVP, the cost starts at $15K, with a development timeline of 4-6 weeks.
A white-label solution enables cost reduction while maintaining the freedom to customize the platform. You can utilize the solution's structure, configure servers and databases, modify features to suit your business requirements, and integrate necessary functionalities. This approach significantly lowers the price. For a white-label solution, the cost starts at $5K, requiring 2-3 weeks of development.
Both estimates include the expertise of a full team: a project manager, team leader, developer, and QA engineer. And may change depending on the project complexity.
If you hesitate what solution is the best for you - we are here to assist you in making the right decision that aligns with your business needs.
Our Experience
Our team has extensive experience in developing on-demand services marketplaces. We have successfully created platforms that connect customers with skilled professionals, providing a seamless and convenient experience for users seeking various services. Here are a couple of our projects: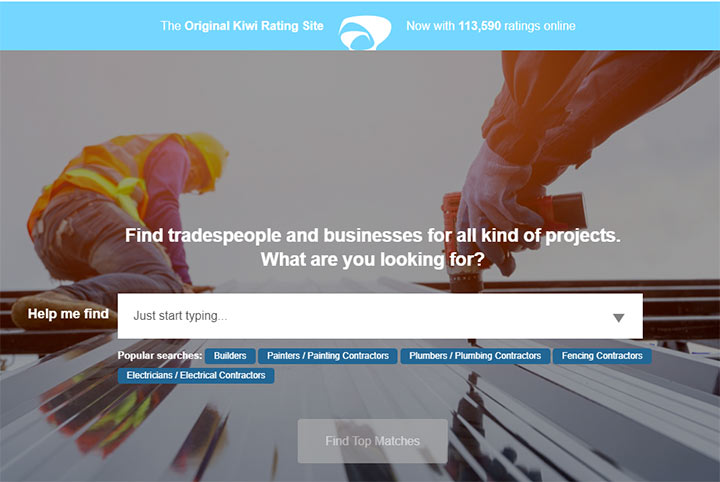 We have created and continue to maintain the best service platform in New Zealand that has been successful for 12 years. The platform serves as a hub where individuals can find local tradesmen for various tasks like home repair, gardening, and other assistance. It offers automated search criteria that can be easily adjusted to search based on factors such as proximity, rating score, categories, and the recency of registration.
Read the NoCowboys review on Clutch.

4TradesOnly is a comprehensive platform we developed for our client. It simplifies the process of finding construction work, hiring skilled freelance contractors, and connecting with potential buyers for construction and office equipment. With its user-friendly interface, users can seamlessly navigate through a wide range of services, making it a convenient one-stop-shop for all their construction needs.
Read the client review on Clutch.
Conclusion
Now you can see that in general, building a job marketplace is a good idea, especially as the labor market is changing to provide more opportunities for freelancers.
Looking at the giants of the industry, do not forget to research today's customers' needs and challenges. It is important to read about both success and failure stories of similar projects to learn from their mistakes and insights.
We have given you some basic features to create a site like Thumbtack or TaskRabbit, but you can even try making a simpler version first to test your idea and then improve it into something great.
We are always ready to lend you a helping hand and share our experience for every step of your project development journey.
Need an estimation of your task marketplace?
Contact Us
Rate this article!
You should be
logged in
to be able to rate articles