"We're living in a world where people can become businesses in 60 seconds." Brian Chesky, CEO of Airbnb.
And that is now possible thanks to the leaders of the sharing economy, but to become one of them you are going to need a little more time than that.
Speaking from experience here. We've developed a number of marketplace platforms, including Arcbazar, the first and the largest crowdsourcing platform for architecture and design projects.
In this article, we are exploring the major challenges of peer-to-peer marketplace development and showing how industry leaders are tackling them with technology.
These challenges are all about the core purpose of a marketplace: reducing search and transaction costs for buyers and sellers.
So here are the three cornerstones you need to know about to develop a two-sided marketplace platform:
Efficient searching and matching

Adequate pricing mechanisms

Trust and security.
They are based on the marketplace design framework that is outlined in the article 'Peer-to-Peer Markets', co-authored by experts from Stanford and Harvard among others.
Let's examine each challenge in detail.
1. Efficient Searching and Matching
When you gather a lot of individual sellers in one place, you are guaranteed to have very diverse offerings and approaches to selling. And the same goes for buyers.
Thus, you need to build peer-to-peer marketplace software that will help buyers and sellers find each other as easily and as fast, as possible.
There are two approaches to that:
Centralized
Decentralized.
Bear with me to see what goes into each approach.
Centralized Search
With a centralized approach, you intentionally narrow the options for sellers and buyers to ensure efficiency.
This can be a good solution for on-demand products and services that are more or less homogenous, i.e. don't have an insane amount of options (e.g. taxi and delivery services, as opposed to the artwork on Etsy or accommodation on Airbnb).
In addition to that, consumers of on-demand services are usually sensitive to waiting time, which makes them ready to give up some of the choice freedom for speed and cost-savings ('I don't care what driver with what car is going to give me a ride, as long as it is fast and safe.').
Therefore, the most common solution for the centralized approach is a location-based search:
Geolocation (Uber)
Zip Code (Instacart, Zeek).
Uber is the best example of this. The app will offer you a taxi with a set price, based on your location. In some cases, you will be able to choose the type of car (SUV or a van) if multiple taxis are available near your location. Otherwise, you are offered the nearest taxi and can only ask for a replacement if you don't like it. Thus your rider options are very limited and you cannot browse the entire database of drivers and cars, choosing a driver, car brand/model, year, and any type of frills, like an AC. All of that is sacrificed for the sake of time and money savings for both the driver and rider.
The same goes for the Uber drivers that have even fewer options. They just see a request and can choose to respond to it or not.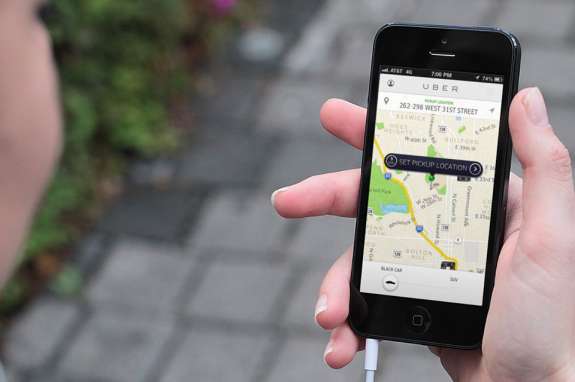 Another example of the centralized approach in use is the Zeel app, with which you can order a massage at your location (home, office, or hotel) and get it within an hour.
Your options are also limited to a massage type, duration, gender of a therapist, who you are ordering massage for… that's about it. You will get an offer in accordance with your Zip Code and the options you've chosen.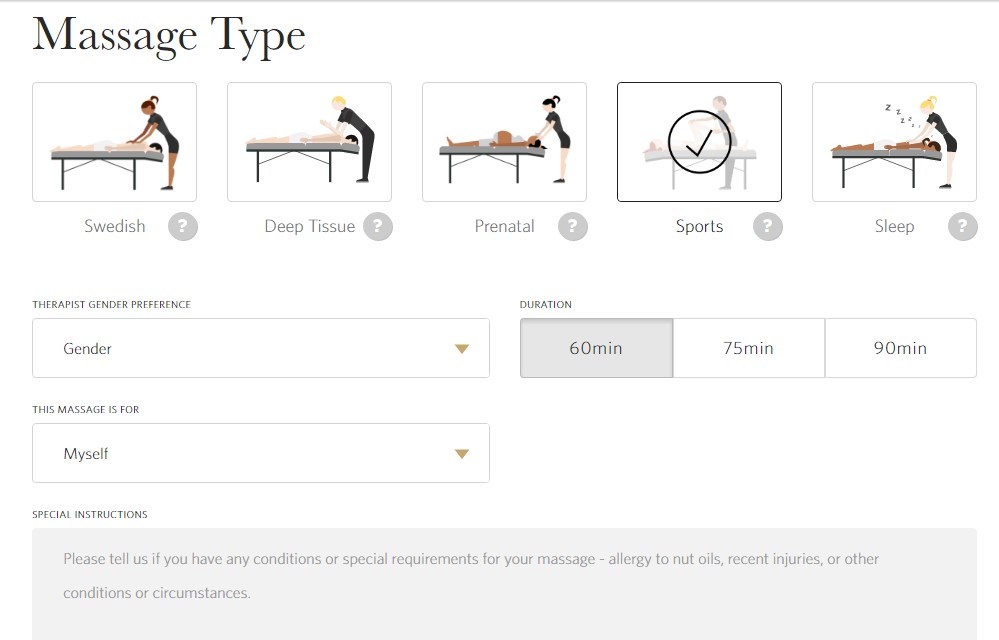 Decentralized Search
The decentralized approach is the opposite of the centralized one in that it empowers the buyer to decide for himself/herself on the most important search criteria for him/her. In this case, your marketplace platform should facilitate search with a multitude of filters and handy search tools.
The approach is best suited for very heterogeneous products and services with nearly endless choice options.
For example, when in search of accommodation, travelers may have very different preferences. Some may be driven by the proximity to certain locations, while others are looking for something very special like a treehouse. The same goes for freelance services. You might be looking for a person with a unique set of skills for some complex task or you just need someone with a decent German to translate a document.
Therefore, decentralized searching and matching involve:
Search with multiple filters

(like location, price range, facilities, etc.)

Personalization

(when a web service personalizes content presented to you, according to your preferences, based on your past searches and transactions, etc.)

Recommendation engines

('you might also like' recommendations that are generated based on your past behavior on the website and other related factors).
Etsy is a great example of a P2P marketplace with very heterogeneous products, as it specializes in artwork and crafts. 92% of its items are unique (according to Etsy's survey of the buyers). This uniqueness makes it very challenging for buyers to find what they want and for sellers to get discovered (35 m listings).
That is why they have a data science team that works on making their marketplace 'smaller and more discoverable' with a help of machine learning technology. So Etsy's recommendations are not only based on the past user behavior, but also on what other users that share similar characteristics have liked, as well as on the shops that are similar to the ones you've browsed before or purchased items from.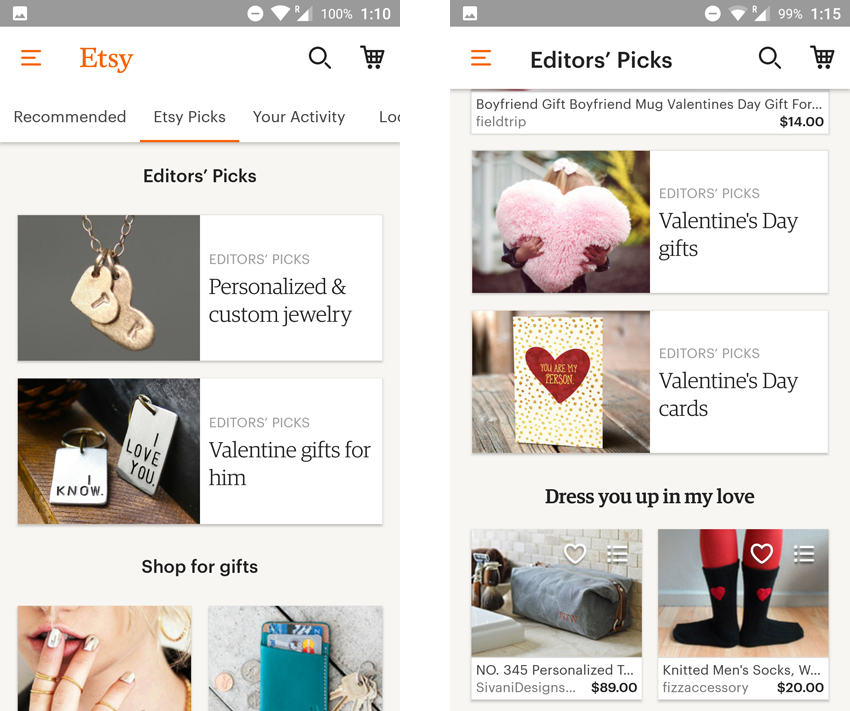 2. Adequate Pricing
You cannot expect the supply and demand to be constant in your marketplace, nor can you expect the external economic environment to remain unchanged. That is why there is a need for a pricing mechanism that will ensure that all the necessary factors are reflected in the prices.
There are two ways to provide contingent pricing that will be responsive to market conditions:
Online auctions

Allowing sellers to

adjust prices in real-time

Automated pricing algorithms

(surge pricing).
We all know eBay, the first successful online auction for used goods. They were one of the first marketplaces to introduce a proxy bidding system, that allows any user to participate in an online auction. One of their cool features is automated bidding, which you can get if your bid is the highest, the system will upbid on your behalf until the current bid is a small increment above your closest competitor's highest bid, but no higher.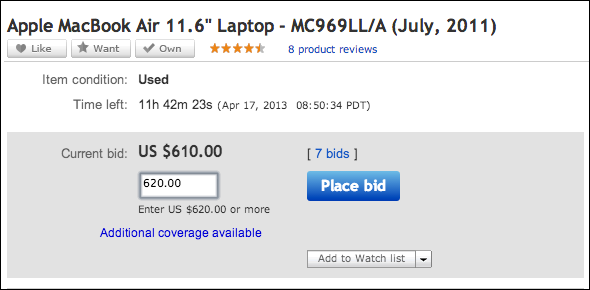 Uber, on the other hand, uses an automated pricing mechanism called surge or dynamic pricing. They automatically increase prices when the demand increases. This can be very annoying on a Friday night.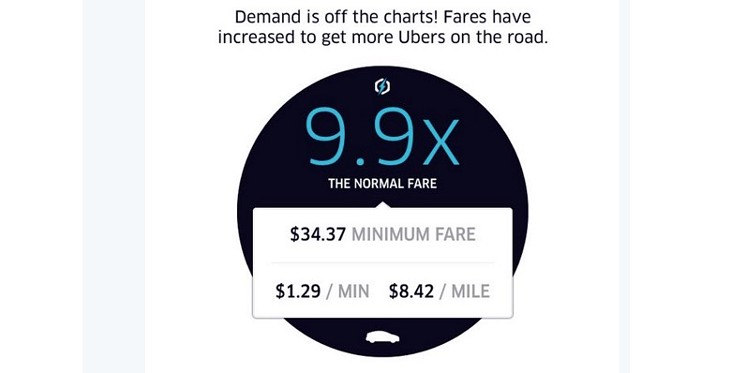 3. Trust and Security
Of all the three challenges described in this article, trust is perhaps the biggest one.
In the past, it would have been impossible to let a stranger stay at your house or hire a freelance web developer from across the sea to build your website. Nowadays, it becomes more and more common, all thanks to the trust and security measures leading marketplaces are offering today.
That being said, the situation is far from ideal. Disasters still take place and even industry-leading platforms cannot be considered 100% safe.
So providing extra safety can be a great competitive advantage for your platform.
So how do you make a peer-to-peer marketplace website where both sellers and buyers will feel safe enough?
There are three ways to generate trust:
Up-front inspection

External enforcement

Reputation.
And it is not an either-or. It is about getting all three of them in place because they will complement and reinforce each other.
Up-Front Inspection
Up-front inspection, in its traditional sense, isn't an option for many online marketplaces. Imagine physically inspecting 35 m items on Etsy!
Nonetheless, industry leaders have found their own creative ways to inspect and verify their products and services.
Airbnb offers hosts to get certified photos of their accommodations with a help of the approved photographers.

Zoosk, an online dating platform, offers a photo verification service that will compare your avatar photo with a selfie video to make sure that it is you in the photo and that your photo is not outdated. After completing the verification, you will receive a badge to show other members that your photo is an accurate representation of you.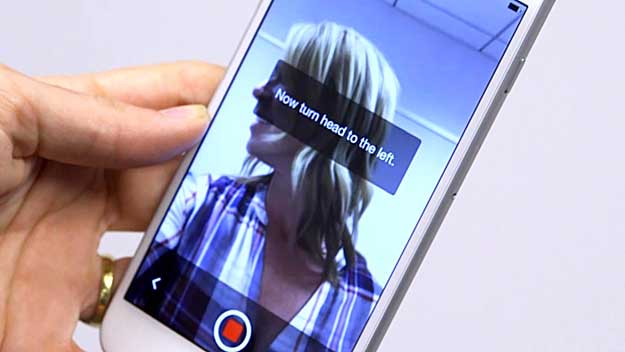 External Enforcement
External enforcement refers to all measures a marketplace owner takes to limit access to it for untrustworthy guys, as well as regulate the behavior of those, who already became members.
Good examples of such measures are:
Verifying member identity with official ID documents
Payment protection for freelancers
Insuring against bad transactions
Verifying used devices with IMEI and ESN (to ensure they are not stolen)
Licensing and vetting service providers.
Upwork's Payment Protection feature is very useful in ensuring that freelancers get paid and clients get their job done. The feature is designed for hourly work, as well as for fixed-price projects.
With hourly work, clients can track work hours with a Team App, where freelancers log their time and make notes on the progress for their clients. In such a way, a client gets billed in accordance with the actual hours spent on his project on a weekly basis.
While with fixed price projects, clients have to divide their projects into milestones and pay for each one upon completion.
What's more important is that in both cases Upwork uses an escrow system that holds an appropriate sum of money and releases parts of it to a freelancer in accordance to hours worked or milestone completed.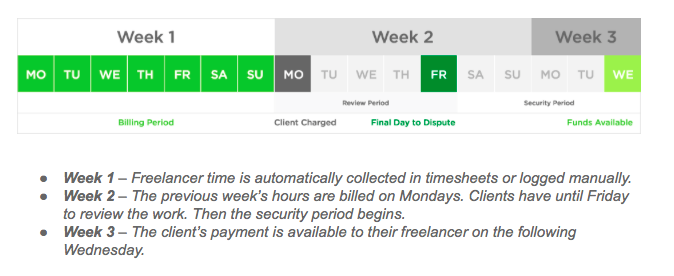 Reputation
Nowadays more and more marketplaces rely on reputation or feedback mechanisms as a crowdsourced way to regulate their platforms.
That is because, in spite of their flaws, we still rely on customer feedback and ratings, when making an online purchase.
Therefore, the common reputation features are:
Customer reviews and ratings

Job success rate

Badges

(Top Rated Freelancer at Upwork or Super Rabbit at TaskRabbit)

Hours tracked on a platform.
At Upwork, the attractiveness of a freelancer depends not only on his/her skill set but also on customer reviews, the number of work hours (tracked with the Team App), and the overall rating.
We've been working through Upwork (our agency profile) for a few years already. Many of our Upwork clients confess that they won't even consider hiring anyone who doesn't have a Top Rated badge. This badge takes a lot of factors into account, including having an average job success score no lower than 90%.
How to Apply This to Your Business
Successful marketplace owners provide value to their members in three important ways: help members to easily find each other, ensure fair pricing, and reasonable security.
There are two approaches to help your members with searching and matching: centralized and decentralized. The first one is about narrowing down the choice options for the sake of efficiency. It can be a good solution for homogeneous and on-demand products or services (like Uber or Instacart). The second, decentralized approach, is, in contrast, about providing a multitude of options and facilitating the search. This one is more suited for homogeneous, i.e. very diverse products and services (like the artwork at Etsy).
As for the pricing mechanisms, the main requirement is that they should be responsive to market conditions. One way to achieve this is with online auctions, where you let the highest bidder 'win' (like eBay). Another approach is to set automatic algorithms, e.g. surge or demand pricing at Uber. Otherwise, you can just allow your sellers to adjust their prices in real-time as Etsy does.
Last, but not least, is the way a marketplace provides trust and security to its members. Trust can come from up-front inspection, external enforcement, and reputation. Up-front inspection can be implemented through certified and verified photos. While external enforcement can regulate your marketplace by verifying IDs, providing payment protection, or ensuring against bad transactions. All the while your members will be working hard to earn their reputation with positive customer feedback.
And these are the main puzzle pieces of a successful marketplace. Do you need help in developing one?
Get a cost estimate for your peer-to-peer online marketplace.
Contact Us
Rate this article!
You should be
logged in
to be able to rate articles