How to Create a Hotel Booking Website?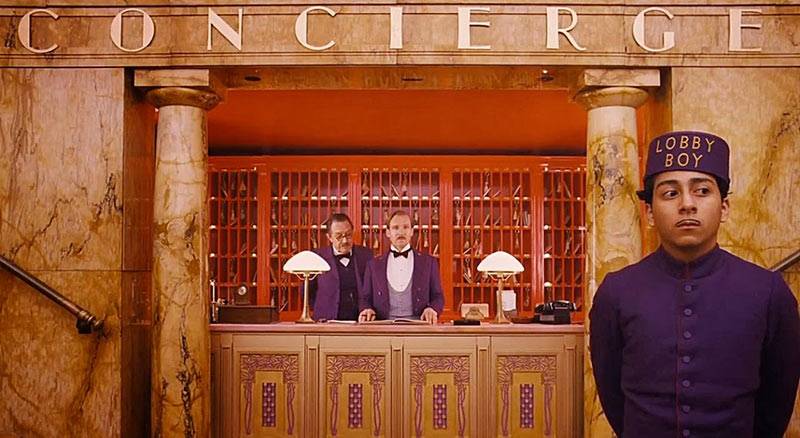 Have an idea for a hotel booking website, but are unsure of how to approach the development process?
In this article, we'll help you see the main aspects of creating a hotel booking website, including existing business models, inventory sourcing, as well as development options.
Step 1: Conduct Market Research
When it comes to hotel booking websites, we mostly talk about the market of online travel agencies (OTAs). So here we'll explore the OTA domain.
Major Players
Who occupies the market you are about to enter?
The online travel industry is very consolidated. Few companies take up almost the entire market. There are many new entrants, but as soon as someone becomes strong enough to compete with any of the giants, the newcomer gets acquired by one of them, unless they are Google or Amazon.
Speaking of which, Google has already made quite a stir in the online travel industry with Trips, a service that aims to cover all of the traveler's needs, from flight and accommodation booking to getting around the new places with Google Maps.
As for the market veterans, there are two major players Expedia Group and Booking Holdings. These international giants cover European and the USA markets.
Ctrip is one more near-monopoly, but it operates only in China. In addition, there is also TripAdvisor, a large player in the online travel market. However, this website doesn't live on bookings, as its main income source comes from advertising (see business models below).
TOP Online Travel Companies and Their Brands:
| | |
| --- | --- |
| Parent Company | Brands |
| Google | google.com/travel |
| Booking Holdings | Booking Priceline Agoda Kayak CheapFlights RentalCars Momondo OpenTable Mundi |
| Expedia Group | CarRentals CheapTickets ClassicVacations eBookers Egencia Expedia Homeaway Hotels HotWireGroup Orbitz Travelocity Trivago Venere Wotif |
| Liberty Interactive Corporation | TripAdvisor |
| Ctrip | Ctrip |
Business Models
And how do these guys earn money?
Each of the above booking websites operates on one or more of the following business models:
In this model, an OTA offers hotel rooms to its clients and earns a commission (15% on average) on each reservation. The best example of an agency model is Booking, where hotel owners post their properties and pay a certain commission for each reservation that comes from this website.
With the merchant model, an agency 'buys' hotel rooms in bulk for a wholesale price and then sells them with a markup (20-30%). Expedia is an OTA that used to work solely on a merchant model. Nowadays, they've combined it with the agency model to better serve the European, Middle East, and African markets.
Another way for your website to earn money is by advertising. On the one hand, you can become a member of an advertising network, such as Google Display Network, and get paid for clicks and views. On the other hand, you can also receive money from partner sites for redirecting visitors from your website to theirs. TripAdvisor is a classical example of a business that is driven by advertising.
Important Trends
Here are a few important trends that are shaping the industry at the moment:
The market won't fully recover until the COVID 19 vaccine or treatment will be discovered
Booking Holdings Inc. had an 85% decrease in hotel bookings in April 2020 due to the pandemic. This is just an indicator of how much the market has suffered. Experts don't expect a quick bounce back, saying that people won't go back to traveling as they were before the virus until they feel completely safe. And that will be possible only with the vaccine or treatment. So now it is a matter of who will be able to survive the drought.
The online industry has already been completely hooked on Google as their main source of traffic for years. And Google was taking advantage of the situation by making travel platforms spend more and more on advertising. But now Google has decided to enter the market, become an OTA, and disrupt the industry. Needless to say that Google has an unfair amount of data that they use in Trips to personalize your experience and provide everything that you may need for trip-planning. Of course, they don't have as much inventory as their rivals just yet, but in 2020 they plan to seriously increase the number of hotels they work with directly.
Hoteliers invest in direct bookings
Travel service providers are getting tired of sharing significant amounts of their profit margins with OTAs. That is why hotel owners and airline companies along with other service providers invest heavily into their own online booking engines.
Hotels drive profits for online bookings
Of all online travel services, hotels have the biggest share, which continues to grow. Revenues of the TOP OTAs depend largely on hotel bookings.
Step 2: Choose USP for Your Hotel Booking Website
Online booking websites act as middlemen between travelers and service providers, assisting them in finding one another.
Most of the time, the main purpose of booking websites is to help travelers in their search for the accommodation they need at a good price. This involves having a wide enough choice of relevant offerings for your audience, as well as an extensive search mechanism. In addition to that, your website should have other functionality that improves user experience and sets you apart from the competition.
So how will your hotel booking business provide value to clients?
With inventory: can you provide wider, more relevant, or exclusive accommodation offerings? How about the best deals?
With technology: can you package the content and provide a shopping experience, that is in some way better than what competitors offer?
Step 3: Choose Inventory Sources
Where are you going to get your inventory from?
I am talking about hotel rooms and other services you'd like to offer on your website. When thinking about how to build your hotel booking website, you might want to think of inventory first. This might be the most important part of your business plan, that will steer your further decisions. It's good if you've already figured it out, if not, here are the options you have.
Connect to a Global Distribution System (GDS)
GDS is a network operated by a company that enables automated transactions between travel service providers (mainly airlines, hotels, and car rental companies) and travel agencies.
The four major GDS systems are Amadeus, Galileo, SABRE, and Worldspan.
Each of these systems has a vast base of inventory (travel services) and a sophisticated system for searching, comparing, and processing transactions.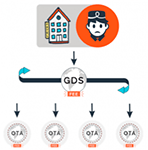 The problem with GDS is that it is expensive for both service providers and OTAs. Costs and use conditions differ per system, but as an OTA you'd have to pay a one-time fee for connection and then a certain monthly fee, plus a certain percentage or fee for each transaction.
On top of that, to use one of the GDS systems you have to be ARC or IATA accredited.
Become an affiliate partner
You can also become an affiliate partner of one or more of the industry leaders. This option is the easiest and the cheapest. You can just add a widget to your website, that will show all of the offerings of your partner, or only those that are relevant to your niche.
Because it is so easy to use this option your inventory will be no different than what hundreds of other websites offer. So you'd have to rely on some other features for competitive advantage.
Here are some of the popular affiliate programs:
Expedia Affiliate Network - 321,000 hotels and more than 400 airlines; 5% commission from the Expedia Collect Inventory and earn further 50% commission on every hotel reservation and completion of stay.
Booking Affiliate Partner Program - over 900,000 properties worldwide, 25-40% commission on bookings, depending on the number of bookings per month.
Build a multi-vendor platform
You could also create a platform, on which hoteliers and other service providers can post their properties and services themselves, just like Booking does.
For that you'd have to provide the following functionality:
Administration panel for hotel owners, so that hoteliers could post pictures and descriptions of their hotels.
Flexible pricing options, in such a way that the same room can be priced differently depending on the demand and additional services included.
Room availability management functionality to show only those rooms that are available at the moment. This might also include integration with Channel Managers and Hotel Management Systems.
It is also possible to combine these inventory sources in a way that best serves your business.
Step 4: Plan Your hotel booking website development
Functionality
A hotel booking website should provide all of the booking functionality to its end-users (travelers), as well as automate major internal operations, such as CRM and Property Management.
Front-office:
Search with multiple filters (category, keywords, tags)
Booking: online reservation and payment
Personalization (personalized user experiences, e.g. based on previous searches and bookings)
Multilanguage interface
Map integration
Hotel ratings and reviews (can be provided through integration with TripAdvisor)
Registration and personal accounts of end clients and service providers
Recommendations engine, e.g. "People, who viewed X hotel, also viewed…"
Notifications (email and push notifications)
Promotions and best deals.
Back-office:
CMS to upload and manage your content
CRM (to track and manage all interactions with customers)
Loyalty programs management
Rate management
Customer support
Room availability management (Integration with HMS and channel managers).
Development Options
When it comes to hotel booking website development it can be as simple, as building a WordPress website and installing a booking widget of one of the affiliate programs. Or, you can go for a 100% custom system. It all depends on the functionality you need and your budget. Let's go over the options.
Develop a website and integrate it with a ready-to-use booking engine
In case you don't require extensive functionality and you are going to get your inventory from an affiliate partnership or a GDS system, you can do it with a simple website (custom or off-the-shelf CMS based). This might be also a good way to validate an idea for a startup.
Integration of your website with one of the affiliate programs will provide you with booking functionality, so you won't have to build it yourself.
In the case of GDS, these systems also often provide core functionality and many other interesting tools on top of that. However, integrating your website with GDS tools is not as simple as with affiliate programs.
All of these tools can be connected via APIs, so your web developers can integrate your website with the ones you need.
However, such a solution won't include any sophisticated back-office automation, like travel CRM, business analytics, or PMS integration.
Develop a website and integrate it with an off-the-shelf travel agency software solution for booking and back-office functionality
You can also build a website and integrate it with an 'all-in-one' travel agency solution. There are many commercial travel solutions on the market and there are also open-source systems. Rezgo is one of the examples of such systems. You can download Rezgo straight from GitHub.
With a solution like that you are getting most of the functionality an OTA requires. They usually provide a booking engine, payment processing, and administrative functionality (CRM, reporting, property management, etc.).
Therefore, your web developers can advise you on the more appropriate open-source solution for you. Then they will download and customize it to your needs and tie the system with your website.
Develop everything from scratch: a website and booking engine, plus any other functionality for back-office operations
You can also build a custom system completely from scratch. This will give you the best flexibility, so you can build exactly what you need. At the same time, when using third-party solutions, you would always have to find ways to mold your business to it.
In addition to that, 100% of custom solutions are nearly always more secure.

This is also a good option if you are going to work with suppliers (hoteliers) directly, by allowing them to post properties on your website. In this case, you will need to develop a multi-vendor travel marketplace, such as Booking. Therefore, on top of end-user (traveler) functionality, you will also need to provide functionality for travel service providers (e.g. hoteliers).
Conclusion
Yes, there is already a lot of competition in the OTA market, but new startups are still popping up. These are mostly niche travel businesses, often location-based.
There are three ways to earn money for an online travel business: a commission from bookings (agency model), buying accommodation in bulk, and selling with a markup (merchant model), as well as advertising.
Starting an OTA business you'd first want to decide which inventory source(s) you are going to use. In this regard, you have multiple options: become an affiliate partner, connect to GDS, or/and let travel service providers post their services from your website (multi-vendor marketplace).
Your choice of inventory source(s) will help you decide on the development options. You could do with a simple website that will be integrated with an affiliate program or a GDS. You can also build your solution on top of an 'all-in-one' travel system. Lastly, you can go 100% custom and develop the entire system from scratch, so that could fit your needs perfectly.
The last option is our specialty at Greenice, so you have an idea for a custom booking website, we can help you with technical consultation and project estimation. Just drop us a message in the form below.
[Editor's Note: The article has been updated to reflect the current market information]
Get the cost estimate for your hotel booking website.
Contact Us
---
Author: Kateryna Reshetilo is a Head of Marketing at Greenice web development agency. She is responsible for uncovering new market opportunities in the eCommerce, Healthcare and eLearning spheres. Kateryna also crafts and oversees the execution of marketing strategy at Greenice. When off-duty, she is a loving wife and mother of a cute 8-year-old boy. She is also passionate about climbing and windsurfing!