In 2020, the mobile health industry was valued at $56 billion and will grow by another 30% of CAGR by 2030 because of an increase in investment. It is clear - this industry is on a rise and developing a mHealth app can become a goldmine.
However people keep on downloading and using the most popular apps. At the same time, 83% of apps are downloaded fewer than 5,000 times which is 1% of all downloads. This means that many entrepreneurs struggle to find their place in the sun. But what to do about this?
"How to develop a healthcare app?" is not the main question. You need to be able to create a healthcare app that will stand out. This article will give you a big head start.
What is a healthcare app?
Let's clarify what we mean by the term "healthcare app".
A healthcare app is software that provides health-related services using communication devices like smartphones. It can address both physical and mental health by tracking a users' wellbeing, promoting a healthy lifestyle, facilitating doctors/patient interaction, and helping patients manage their own health. Healthcare apps connect mobile gadgets with medical devices, or turn them into ones.
First off, let's look at the benefits of medical apps.
Benefits of healthcare apps: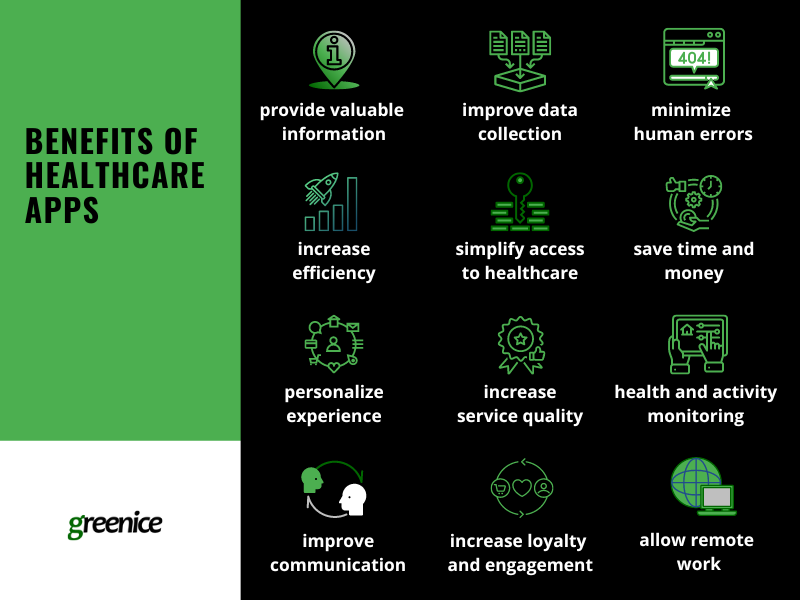 provide valuable information to users (whether it's general medical knowledge or personal health data)
improve data collection
minimize human errors
increase efficiency
simplify access to healthcare
reduce costs (for everyone)
personalize patient experience increase the quality of service
monitor health or wellness activities
improve communication between doctors and patients
increase loyalty and engagement of customers
save time
allow medical staff to work remotely
A good healthcare app is great for both patients and doctors. They have become vital for people with busy schedules. This transition to digital health didn't take place overnight.
According to McKinsey, since the beginning of the pandemic, 70% of interactions in healthcare have been online. Why? Because they are convenient. No more waiting lines and fuss. Moreover, apps can help with a wide range of medical problems.
Categories of healthcare apps
The variety of healthcare apps keeps on expanding. We have separated the apps into 3 groups.
Apps for patients help users improve their health and wellbeing. Apps for hospitals and medical staff (also known as medical apps) optimize the work of medical organizations and doctors. Apps for both facilitate interaction between patients and doctors.
Here are the main categories with examples:
For patients:
Wellness

- This category includes software that monitors the diet, mood, sleep, stress, relaxation, and sport and fitness workouts. It has exercise guides, coaches weight loss, and provides custom workout plan apps. Such apps focus on educating users on healthy lifestyles and activity monitoring. Example: Calm - app for meditation, better sleep, and relaxation; 8fit - workout and meal planner with guidance and recipes.

Women's Health

- Cycle trackers and pregnancy management apps. Example: Pregnancy tracker by BabyCenter - monitors baby development, provides useful articles in addition to a social network for pregnant women.

Mental Health Services

- Apps for psychological help, emotional support, psychological guidance, and also meditation. Example: MindShift CBT - helps with anxiety, perfectionism, and phobias through tasks, journaling, and advice.

Chronic Disease Management

- Focuses on helping people with chronic illness by providing them with useful info and tools. Example: Manage My Pain - documents details on the user's condition.

ER/Urgent Care

- Leads patients to the nearest affordable emergency room and provides directions, time, and insurance options. Example: findERnow - a fast and reliable tool for finding the nearest emergency room.

Physiotherapy Exercise

- Provides a visual overview of the injury and contains a detailed rehabilitation program. Example: Physiotec - helps therapists build and track customized home exercise plans for patients, and has a database for managing physiotherapy and rehabilitation.

Self-Diagnosing / Symptom Checking

- Detect potential issues based on questionnaire results. Example: Symptomate - free and anonymous health assessment.

Self-Monitoring

- Journaling of well being and monitoring vital signs like pulse, blood pressure, glucose and cholesterol levels, hydration, and calorie intake. Example: ProCheck - provides real-life self-monitoring and health analysis.

Medication Management

- Helps patients adhere to prescription regime considering dosage, time intervals, and meals. Example: Medisafe - a "virtual pillbox" that reminds users when to take medications.
For hospitals and medical staff:
Reference and Education

- Resources with information on drugs, medical articles, instructions, and handbooks on diseases. Example: PEPID PEDS - an illustrated booklet that helps physicians and clinical staff check symptoms, conduct treatment, calculate dosage, and educate patients.
Communication

- Connects doctors and lets them consult with other professionals. Example: Medscape consult - lets physicians work together to solve complicated cases.

Clinical Assistance Apps with EMR and EHR Access \ Medical Record

- Developing EHR gives online access to personal health records including charts, images, test results, and symptoms. Example: eClinicalWorks - software for network EHR and automation.

Hospital CRM

- Custom healthcare CRM helps manage doctors and patients, tracks their data, expands the practice, and provides customer support. Example: Castor - processes data from multiple sources for clinical research trials.

Billing

- Automate payments, cut down paperwork and improve efficiency. Example: Kareo Billing - ensures streamlined billing and simplifies paperwork.

Equipment and Inventory Management

- Automates management and tracking of medical supplies. Example: Sortly - tracks equipment and provides details on it.

Medical Staff Management

- Creates schedules, manages resources, and improves efficiency. Example: Dock Health - task management for medical teams.
Analytics

- Processes all kinds of medical data. Example: DefinitiveHC - provides info on hospital workflow to boost the company's commercial success.

Claims Processing

- Connects users directly with insurance companies, which saves time. Example: DataGenix - helps clinics and medical staff manage claims.
For both:
Appointment Booking

- Software for scheduling visits to a doctor. Example: SimplyBook - developed specifically for healthcare and allows booking from multiple channels.

General Hospital Apps

- Provides general information on the hospital and its staff, and 3D tours. Example: Mayo Clinic - shows doctors' availability, allows payments, and provides insights on health.

Doctor On-Demand / Telemedicine

- The development of telemedicine apps gives patients the opportunity to contact doctors and attend online consultations. Example: Doxy.me - allows doctors to create personal virtual rooms for online practice with patients.

e-Prescription

- Allows doctors to prescribe medication virtually and connect with a selected pharmacy. Example: eMedicalPractice - offers e-prescribing among other digital services.

Elderly Care Services and Assisted Living Facilities

- Software that provides caregivers with resources to serve patients. Example: Caring Village - simplifies care for aging relatives.
Medical chatbots - Optimize interaction with patients, answer FAQs, navigate users, book appointments, and much more. Example: One Remission - chatbot that provides cancer patients with valuable information.
Giants in the field of Healthcare
When creating an app, usually, we make it as functional as possible. Customers love lots of useful features. Some companies went even further and focused on creating whole ecosystems in the healthcare field.
McKinsey defines two different approaches in app development: superapp and string-of-pearls.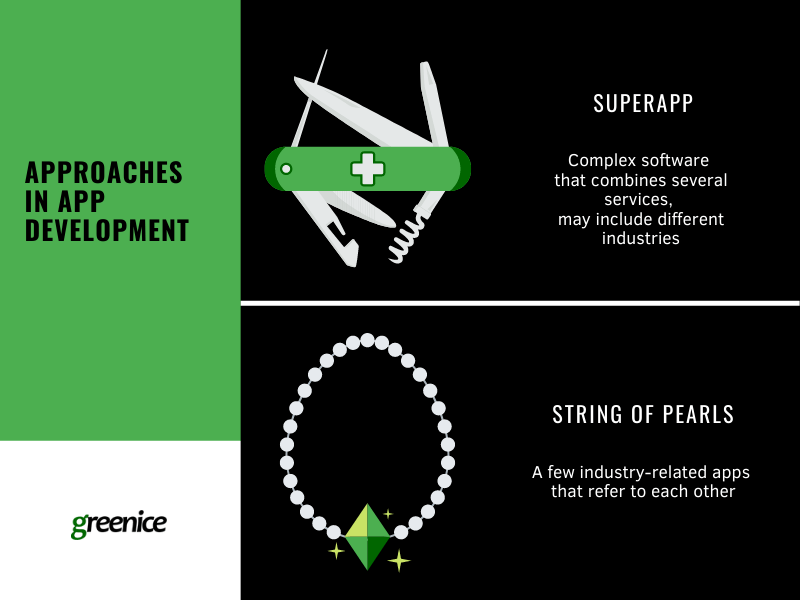 A superapp is a multifunctional system that integrates different services from several providers. that is popular among big-tech players. The superapps originated in Asia, but they have become popular world-wide.
Though superapps have gained in popularity, 64% of entrepreneurs find the string-of-pearls approach more realistic. It is less complex and requires less effort than supperapps. The string-of-pearls approach implies that apps are cooperating with other apps that provide related services and customers can login once to use all of them. Because of legislation like GDPR, and of privacy and data security concerns, this option is popular in European countries.
Examples of superapps
Mayo Clinic - 150-year-old national nonprofit medical center in the USA. The pandemic made the Mayo Clinic quickly adopt virtual care delivery and in-home patient monitoring. Today the clinic offers asynchronous consultations, acute home care, nursing and wound care, and monitoring of chronic diseases.
Alan - a healthtech company from France that is growing rapidly. It specializes in proactive care, insurance, care delivery, and post-care. Alan's goal is to revolutionize health insurance by improving user experience by giving doctors and patients constant access to their information.
WeDoctor - a Chinese multi-functional platform that provides medical services, online pharmacies, psychological support, real-time pandemic reports, and even cloud-based software for hospitals, and other services 24/7. It connects 270,000 doctors, 222 million patients, and nearly 8000 hospitals across China. It offers an integrated offline and online healthcare experience.
Examples of the string-of-pearls apps
Teladoc - gives patients access to their personal data and connects them with doctors and pharmacies.
Pepid - provides decision support to clinicians, integrates with EHR, e-Prescription, and physician portals.
Appointik - scheduling and medical practice management software with online consultations, billing, and e-Prescription available.
There are a lot of multifunctional apps. But what is the perfect combination of services that makes an app truly appealing and useful for customers? According to McKinsey research, 71% of respondents think that telemedicine to pharmacy is an optimal patient journey.
Key success factors for healthcare apps
Available services are not the only things that matter while building a healthcare app. Below are several other key factors that McKinsey identified as necessary for an application to succeed in healthcare.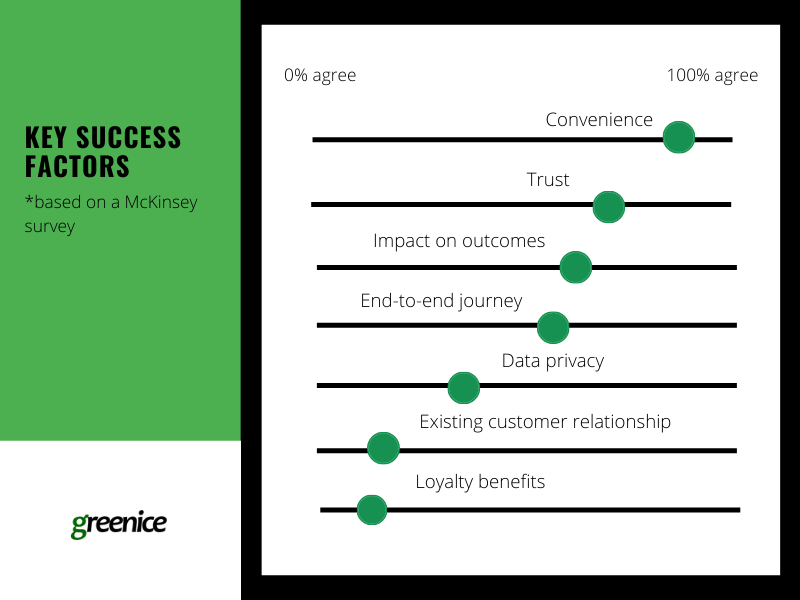 Convenience
The vast majority of respondents, 77%, reported that convenience is the most important factor when using a healthcare app. Your app must have great functionality, and a user-friendly interface. Make it easy and accessible for customers to book an appointment, call a doctor, and access their information online 24/7. Examples of 'convenience' features:
Scheduling - for fast and easy appointment setting
Chat and communication - to facilitate interaction between patients and doctors
Telemedicine options (video/audio/text) - for comfortable communication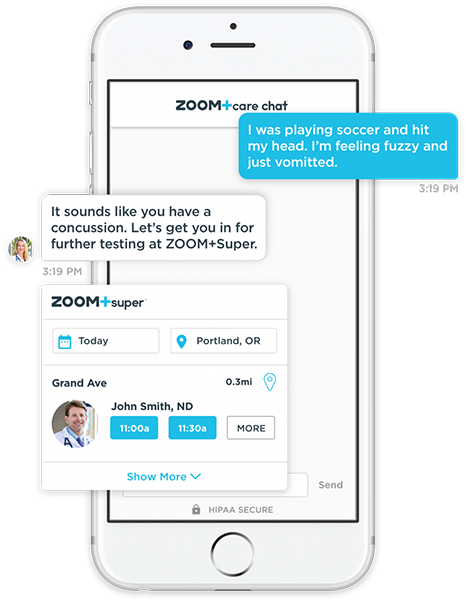 Notifications and reminders - to keep users aware of important things (e.g. doctor appointments)
Geolocation - to show results based on the user's location
Dashboards - for admin to see the app performance
File storage - to store health-related data safely
Image recognition - for symptom identification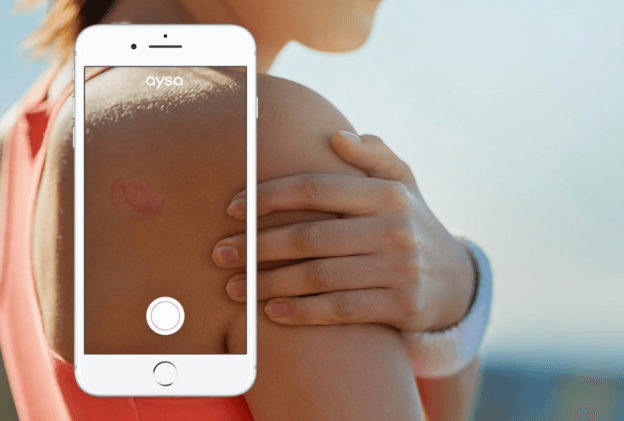 Trust
For 60% of respondents, trust is vital in healthcare. This involves aspects like data privacy (which we will discuss separately) and app reliability. Reliability can be achieved with a doctor-on-demand option, competent therapists, and great service. The platform must verify doctors by checking their license, education, and work experience. A free introductory call with a doctor will also build trust. Examples of 'trust' features:
Ratings and reviews - to see feedback from other users
Verification for doctors - to check their expertise and eligibility
Compliance with regulations (e.g. CCPA, HITECH Act, FFDCA, CLIA, IMLCC, etc.) - to show approval from law institutions
Regular updates - to make sure the software is up to date
Free trial - to let customers try an app before buying it
Impact on outcomes
This factor is very significant for 53% of respondents. If an app doesn't improve the patient's well-being - what's the point? The end results from your app must be proven and indispensable. Examples of 'impact' features:
Journaling - to document changes and developments
Monitoring (vital signs, wellbeing) - to track user health state
Progress tracking - to see progress and if the patient is following the treatment program
End-to-end journey
This is the overall customer experience with an app. Everything from describing the problem to diagnosis, or from treatment to adherence management. Navigation, usability, and design influence how much customers enjoy interacting with the software. Examples of 'journey' features:
Education on platform using - to use a platform effectively
Ability to find medical help
Symptom checking - for diagnosis
Integrations with pharmacies - to order medications
Integrations with other useful medical apps - for complete experience
Data privacy
Fraud and data leakage in healthcare have catastrophic consequences. The app must be compliant with regulations like HIPAA and others depending on the country. Examples of 'privacy' features:
Authorization - to ensure privacy
Authentication - to verify user identity
Automatic log off - to prevent unauthorized access
Audits and alerts - to control activity within an app
Data encryption - to make data unavailable to unauthorized people
Regulation compliant hosting and infrastructure
Security and privacy options - to let users modify personal settings
Existing customer relationship
Understanding and caring for customers is the secret to customer satisfaction. Personal experience and excellent support can leave a fabulous impression. Examples of 'customer relationship' features:
CRM - to improve overall interaction with customers
Assessing the quality of care - to ensure a high level of service
Personalization (search, recommendations) - for superb individual experience
Support - to help if questions arise
Social media integration - to simplify access and improve interaction with customers
Chatbot - to answer customer requests 24/7
Loyalty benefits
It's not about keeping customers on the hook, it is about motivating them to return to the app because of its benefits. Returning customers spend more on each transaction, recommend the app to others, and try new offers. Rewarding (incentives, premium service, early access) and engaging customers is a key to making them visit the app again and again. Examples of 'benefits' features:
Gamification - to engage and entertain customers
Reward program - to retain loyal customers
Monetization models
Here are the most common ways to earn money on healthcare apps.
Freemium

- It can be a free trial or free partial functionality while the rest of the content must be paid for. For example, PEPID PEDS offers a 2-week trial after which the pricing starts at $299.95 per year.

Subscription

- Users make regular payments (weekly, monthly, yearly) for services. For example, the Kareo Billing app charges $125 per month.

In-app ads

- Healthcare is a sensitive topic; inappropriate ads can push customers away. Advertisement of related services is much better in this case. For example, MyFitnessPal: Calorie Counter has a free version but it contains ads from other companies.

Paid apps

- Users pay to download the app. This option is the least popular because people don't like paying for something before they use it. For example, the 7-Minute Workout Challenge app costs $3.99 and offers additional in-app purchases.

Commissions

- Additional fees for provided services. For example, Amwell makes money on revenue from visits on a fee-for-service basis.
The most popular strategy is the subscription. Usually, apps combine several monetization strategies, e.g. subscription with a free trial.
Development steps
What to start with? Here are the main steps on the road to success.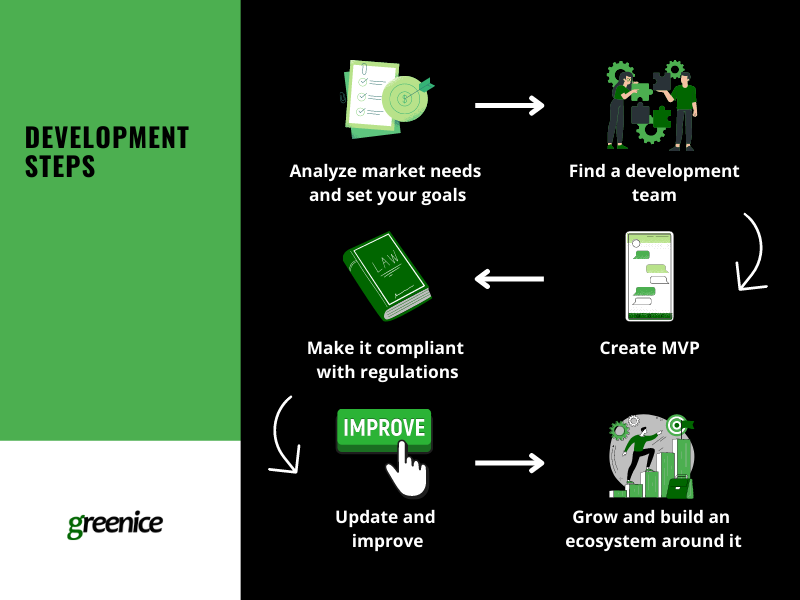 Analyze market needs and set your goals
Who is your target audience and what do they want? Is your offer unique or are there identical apps on the market? Is it legal to provide your services in your location? For example, selling medical marijuana is legal in the District of Columbia, but forbidden in Utah. Be aware that the medical marijuana marketplace is a growing business and its pioneers enjoy success.
Find a development team
If you don't have your own team, outsource the development to get quality work at a lower price. Search for developers with good ratings and experience with projects similar to yours.
Create an MVP
Start building your software with the essential features. It will show how your business idea does in the wild and if it is worth further investment. Don't forget to write detailed specifications.
Make it compliant with regulations
Your app must meet the governmental privacy and security standards and regulations. For example:
If you need more information on EMR development and HIPAA compliance you can find it here:
Understanding HIPAA for Mental Health,
The Ultimate Guide HIPAA Compliance and EMR Systems
Update and improve
Nothing can be perfect at the beginning. After launch, your app may need adjustments, additional features, automatic processes, and bug elimination.
Grow and build an ecosystem around it
As your platform starts attracting more customers and earning money, think about expanding your business. Offer related services and integrate with other systems to provide your users with a seamless, enjoyable experience.
Cost of Healthcare app development
Every project is unique. The more complicated the idea is - the more resources it needs. What follows are ballpark estimations of the cost for different types of healthcare apps.
A Doctor on-demand app: 4-5 months, $40,000 - $50,000 for an MVP. Software with more complex functionality like a custom chatbot with an AI symptom checker, telemedicine, and integration with an EMR, will cost $60,000 - $80,000.
Custom nursing home/assisted living facility app: 4-5 months, $20,000 - $25,000 for MVP.
A marketplace with core features and payment integration: 3-5 months, $30,000 - $50,000.
e-Learning app with courses: 2-6 months, $20,000 - $70,000.
Hospital CRM: 3-7 months, $30,000 - $65,000.
Custom medical chatbot with Amazon Lex technology: 8-10 months, $75,000 - $90,000.
Our experience in healthcare application development services
Here are the examples of healthcare apps that we have developed for our clients.
A healthcare job board - We helped develop a job board for US medical professionals and organizations. Healthcare employers can post jobs for free and pay for only qualified candidates they find. The website supports geographic job search and provides a multitude of other filters.
HRMS for a health services agency - We created a Human Resources Management System for recruitment, employee training and management using AWS technologies. This solution helped our client optimize staff management. It can also be used as SaaS.
A chatbot for medical organizations - We developed a chatbot with Amazon Lex and Amazon Connect. The bot helps patients schedule appointments or connects them to an agent. With a symptom checker feature, the bot is able to make a preliminary diagnosis and suggest the proper specialist.
Home service software - We developed a system that coordinates the services of aides, nurses, and other healthcare professionals with the clients' needs. Its features include scheduling, reporting, invoicing, and patient record management. The system is HIPAA compliant.
CRM for mental health counselors - We developed a custom solution for a mental health center that needed to transition away from manual data processing. Implementation of a custom CRM improved management, simplified administrative work, and secured data. We also added such features as appointment scheduling, modification of treatment plans, integration with EHRs/EMRs, and reports.
Job board website for dentists - We helped to upgrade and maintain a platform for dentists to find long-term or temporary jobs, and to manage their invoices and appointments. At the same time, the website helps dental practices fill their open positions quickly.
Medical app for physical therapy - We built software that allows physiotherapists to create and manage personalized Home Exercise Programs (HEP) as a part of rehabilitation. The main component is an electronic database that manages these programs. We also added a mechanism for tracking patients' progress.
Assisted living facility for senior care - We created software that automates mundane tasks of caregivers allowing them to pay more attention to patients. We developed features like resident and staff profiles, reports, activity tracking, notifications, messages, and permission management.
How to apply this to your business
Developing a custom healthcare app is a great idea. Such applications are useful for patients, doctors, and hospitals. The main thing customers look for is convenience. Keep in mind that it also requires extensive work to create software that people will actually download, use and pay for. Truly unique apps must offer great functionality. There are no strict rules - development is a creative process and the only limit to your imagination is cost.
Learn how to make a healthcare app using the experience of other successful companies. Let us help you turn your idea into reality.
Rate this article!
You should be
logged in
to be able to rate articles