Car rental is a business that requires a big investment to buy, or lease, and maintain a vehicle fleet. You will have to compete for both with huge and powerful companies like Enterprise, Hertz, Sixt, Europcar, and smaller ones. And in such a tough situation, most of the firms try to sidestep the rivals by proposing better quotes. That is why it is extremely important for small entrepreneurs to keep an eye on every benchmark.
In this article will explore the essitial features of car rental websites and compare development options. Let's dive in.
As the margin in this sphere is low, you should apply all your counting skills to find where you can save the money to make a lower price and still get the profit. Small companies have to count every cent as each saved 1% will matter in the end.
"Those companies that are obsessed with numbers have the best shot at success," – says Neil Abrams, president of Abrams Consulting Group Inc. in Purchase, N.Y.
If you still keep your accounting and analytics in Excel files, it can be difficult to effectively manage the numbers that are critical for effective work. You can solve part of the problems with a car rental website. Let's agree that in this article by the website we will mean not only web pages with some content and booking functionality to make a reservation. We'd rather talk about a website as an entire system that links all aspects of business and automates many routine tasks:
reservation process
control over available vehicles
payment process
customer relationship management
notifications and confirmations sending
tracking of the vehicles
regulation of relationships with partners
promoting the company on the Internet
having statistics and analytics
and many others.
While you keep everything manually, you lose time on routine jobs. Instead, you could focus on the enhancement of your services, finding new ways of partnership, and expanding the business. Here are the three most evident reasons for creating a car rental site:
Saving and reinvesting of the money due to accurate accounting
Competing with other companies by proposing better prices and conditions with help of multi-faceted analytics
Hiring fewer employees for routine tasks while extending working hours to 24/7.
Before you start searching for programmers to create a website for a car rental, as a product owner, you should think about the requirements and highlight a list of features that you want to have.
Car Rental Website Features
You can monitor dozens of car rental sites to study the main elements visible to all visitors: a reservation form, login, car guide, payments, testimonials, blog. As far as this information is on the surface, it makes little sense to deep into describing all these components.

[Image by Avis]
Let's better focus on the automation processes that will level up your business and reduce the routine of the management. The following functions will be in use to facilitate the general tasks.
1. Booking Engine
When a user makes a car reservation, the order doesn't go to Neverland. The booking mechanism invisible to a user initiates the chain of automatic actions to complete the tasks on the booking process, scheduling, transactions, sending of confirmation emails, and notifications. All entered data is sent to the back-end where admins of the system can view and manage all reservations.
2. Availability Status
You will always have up-to-date information about the status of any vehicle in your garage. Available, currently rented, or under repair, the status will give you a chance to see the whole picture of the available fleet and manage it with ease.
3. Fleet Management
This feature can be customized to reflect the number of makes and models, car details, maintenance, expenses, inspection, insurance expiration dates, damages on a vehicle, and much more information.
4. CMS
With CMS behind your website, your managers will easily add or edit website content about cars, services, locations, and discounts without the necessity to hardcode this.
5. CRM
This functionality will help you to keep the customer information in order. After a new user registered on the website or made a reservation, the entered data is saved in the DB and showed in the CRM section of your back office. This will help you to contact the renters, identify the return customers to provide them with rewards and sales, create a customer portrait, and block the frauds.
6. Orders Management
The Orders functionality will provide the managers with the possibility to view and edit all the reservations coming through the site. Also, you should take into account the orders that come via phone calls and from the front desk. Operators will be able to add such bookings manually in this section.
7. Finance Management
Get the whole picture of all transactions, payment details, refunds, and other accounting in one place. There are many business models for car rental. Small companies can take advantage of partnerships on a peer-to-peer model or alliances with other entrepreneurs. You can have contracts with hotels, shops, touristic agencies, restaurants, independent retailers, etc. All these relationships can be managed in the system (payments, reservations, fees, taxes) alongside other categories of finance management.
8. Billing & Invoicing
Managers can save time with automatic e-billing and management of invoices to keep everything in order.
9. Fines Management
This feature shows how many fines are incurred every month. This feature can seriously simplify your life as you will always know who infringed the rules and see the status of the fine.
10. Reports
Reports system is a convenient and powerful marketing feature. It is always vital to know what gives you the highest profit. There is a fair amount of indicators that can be monitored to see which areas give you most of the revenue and which bleed you dry. The real-time reporting will provide you with this quick and effortless analytics. For example, one of our customers, Exotics Racing, makes business providing people with an exciting experience of driving racing cars on the real tracks. They have a large fleet and need to have total control over the purchases. Besides other features, we created nice, modern, and explicit reports for their system: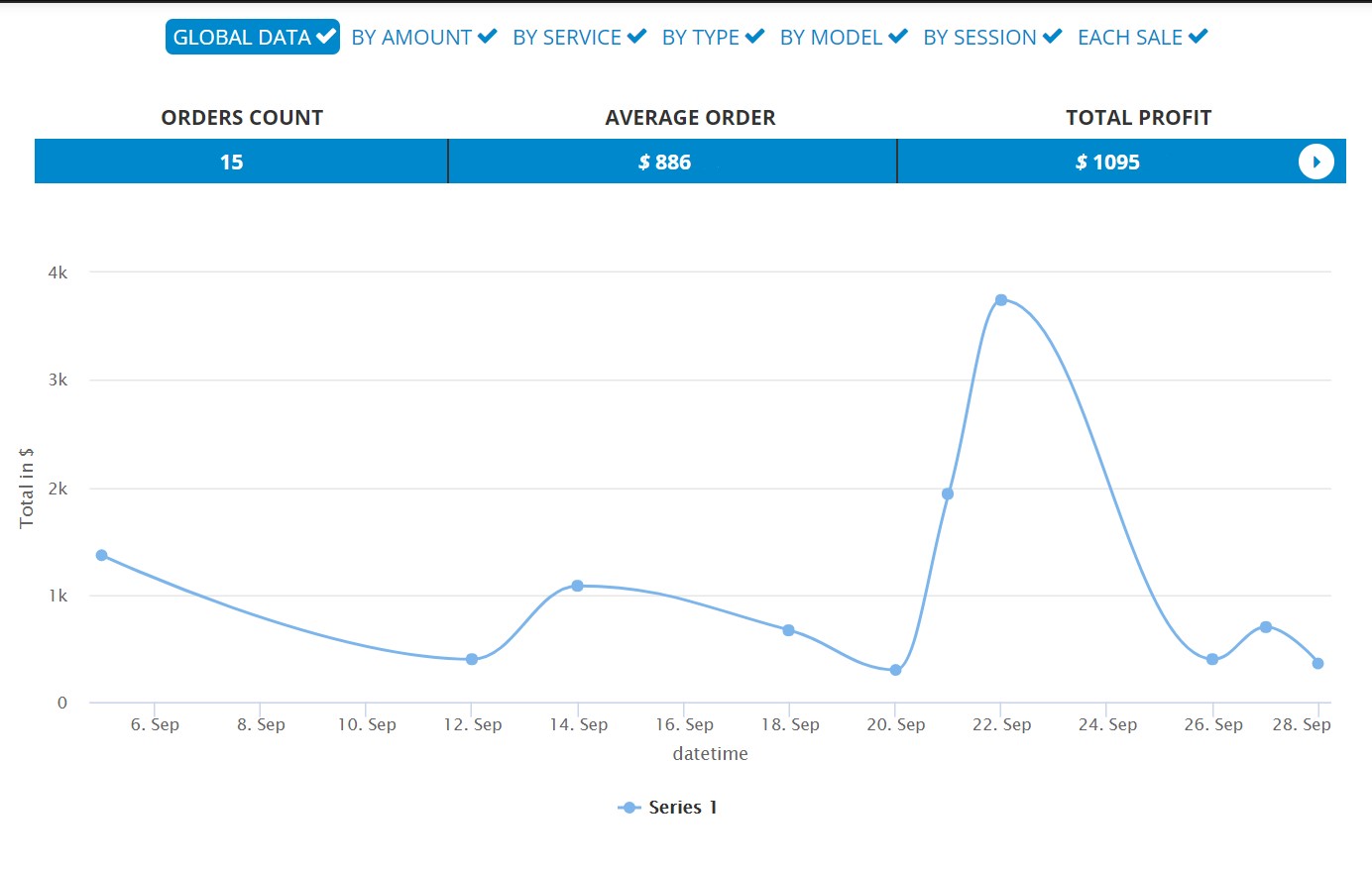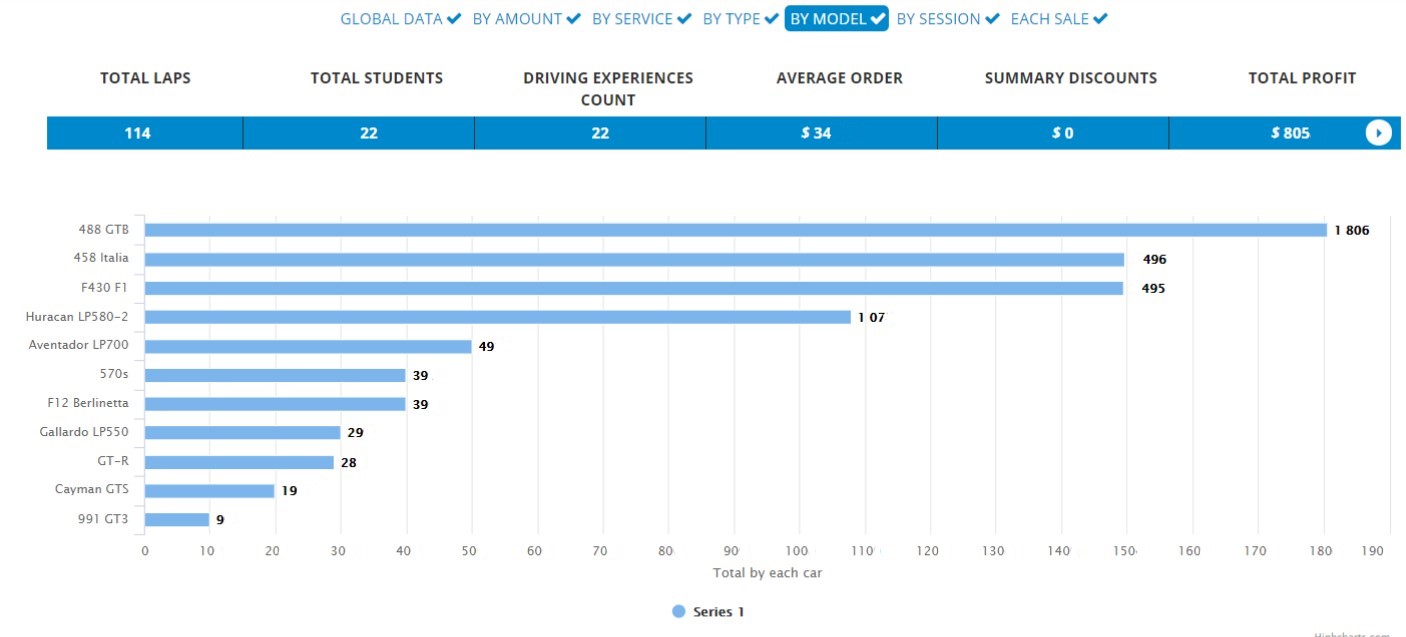 Understanding the demand for your cars will help you to be more flexible with pricing. Thus, you'll have more opportunities to sell more and earn more.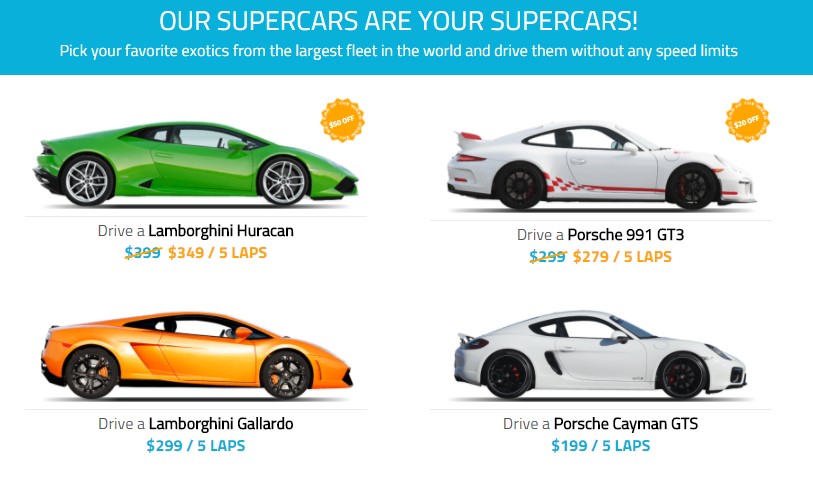 [Image by Exotics Racing]
Additional and Unique Features
In addition to the standard functionalities, there are unique services that can give you a competitive advantage over other companies. Think about your distinctions to build your marketing campaign around them.
Interactive Inspection Checklist and Visual Damage Recording System
The data collected on the car inspection into an interactive checklist is synced automatically with the whole fleet management system.
Imagine such a scenario: John travels with his family around Italy and comes to your company in Milan to rent a car. His final destination is Rome, so he is going to drop off the car there. Luca, a manager in the Milan office, makes an inspection of the vehicle with John and registers the car state and any damage in the inspection checklist app. With the electronic checklist, the data comes at once into the system, and when John arrives at the office in Rome, another manager can easily compare the car state in the system. All data is automatically synchronized and becomes available for reports and other analytics.

[Image by My Certified Service]
GPS Tracking
Each year vehicle rental companies lose millions of dollars in total on car thefts. As the fleet is your main asset, so you should always be aware of the location of the rented cars. GPS tracking can be linked to your system to show you the actual information about your vehicle coordinates. This will also help to prevent overlapping of bookings, especially, if you provide the opportunity of the drop-off in different locations.
Electronic Identity Verification
Prevent fraud with help of integration of the software that will detect the counterfeit documents and credit cards of drivers in few minutes, before you let the car leave the garage. One of such services, Trulioo, is an open API that can be connected with your website and provide global fraud protection of your assets.
Loyalty Program
The car rental market is highly competitive which motivates the owners to streamline the sales with different types of encouragement (Special Offers, Discounts, Membership, Miles, Promo Codes, Sales). It is possible to use analytics to provide people with promos according to their previous experience or location.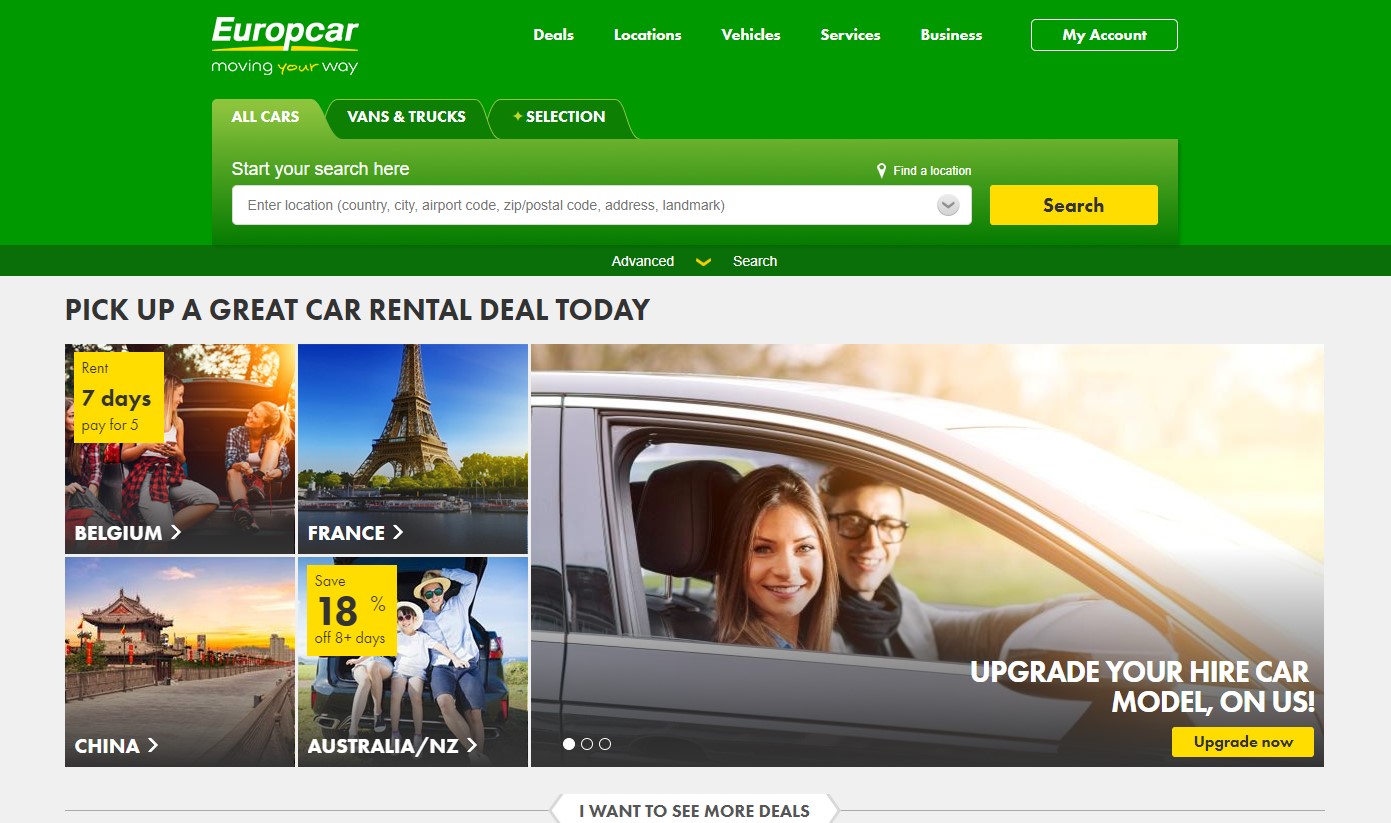 [Image by Europcar]
Operator-Assisted Service
The sensor technology and telematics built in your cars allow you to track the condition of a vehicle remotely and inform the customers in case of some damage to advise them to drive to the nearest service center for a check. Of course, this is not a must-have feature, but it can influence the quality of your service.
Gamification
Stand out among competitors by entertaining your customers with gamification and rewarding. For example, Nissan launched its Carwings program for electric cars that allows people to compete and earn virtual "medals" for their achievements. As an idea, you can mix gamification with the loyalty program to attract more customers.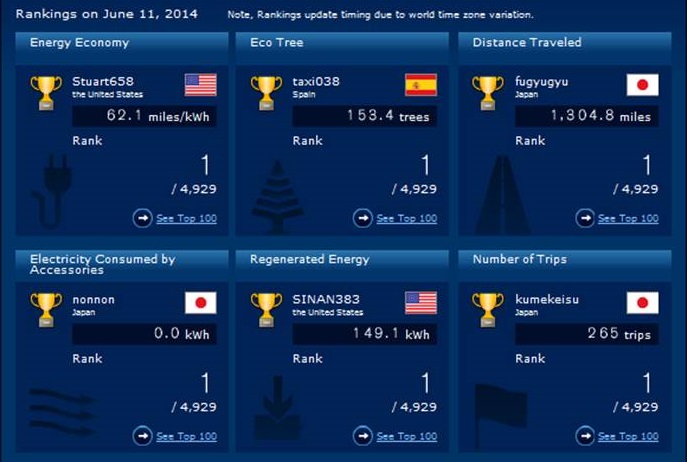 [Image by Enterprise Gamification]
Technical Solution
There are many ways to build a website for a rental car company. Let's look at the most appropriate approaches.
Car Rental Website Builders and Software
Like many other industries, there are many specific car rental website builders and software. In the case of website builders, you don't need a coding background to create a site. Just drag and drop all necessary sections. But the usage of car rental software assumes that you should understand how servers and plugins work. So it is better to hire developers that will help you set the system.
Though the extensibility of these solutions is limited, it won't be a problem if they cover most of your requirements. But in case you want some custom features, they won't be enough. The cost to build a car rental reservation website with ready solutions varies among the providers.
There are solutions with basic functionality and minimum storage that you can test for free during the trial period. But further usage requires buying one of the provided packages. The main thing that you should understand is that neither of the ready-made solutions is able to cover 100% of your needs and you will always have to go on compromises.
Custom Website Development
Custom car rental website development means that your website will be built from scratch strictly according to your requirements. All the functionalities listed above, and even more, can be implemented with a focus on the specifics of your business. You will get exactly what you need without compromises:
Unlimited flexibility

High level of security

Possibility to integrate with protected third-party services (for ex., an accounting system)

The full potential of functionalities

Further upgrading.
How much does it cost to develop a car rental site with custom development?
It directly depends on the sizes and complexity of the project, and no one is able to give you exact numbers before the requirements estimation.
We can build a car rental website using a white label solution for $20,000 - $35,000. This will include using a ready script and slight customization of features to your business needs. Every project is supported by QA, Project Manager, and Front-End Developer.
If you require custom development, the prices may vary greatly depending on the scope and complexity of features and integrations. The cost is calculated individually, so please send us your request.
How to Apply This to Your Business
The car renting market is expected to be on the roll for the years to come. The revenue of the major players looks impressive and can't help attracting startupers to invest in this niche. In spite of the fierce competition, the newbies can enter the market and try to win the customers by providing better prices, level of service, and unique options. To be competitive, you need to keep well-ordered accounting and analyze your business on multiple benchmarks.
The creation of a car rental website will provide you with a system that will automate most of the routine tasks and deliver you explicit analytics. Depending on your needs there are several variants of technical implementation you can choose from. If you are technical enough, you may try to develop a car rental reservation site with out-of-the-box software or a website builder.
But only custom development will give you 100% flexibility and the highest security. You can find more pros and cons on "custom vs off-the-shelf development" in our previous article.
At Greenice, we specialize in custom development and are always glad to share our expert vision with you.
Get a cost estimate for your Car Rental website.
Contact Us
Rate this article!
You should be
logged in
to be able to rate articles