Spending a long time on hold when you simply need a quick visit to the doctor is time completely wasted. And wouldn't it be nice to be able to schedule an appointment after business working hours?
The inability to book appointments whenever they want is a huge turn-off to many patients. No wonder medical organizations and private practitioners are looking for tools that will let them automate the booking process.
Marketplaces that schedule appointments are "just what the doctor ordered." If you are a startup looking for a detailed guide on how to build an application for doctor's appointments, this article is for you!
What is a doctor's appointment scheduling app?
If there is an Uber-like booking marketplace for shopping, jobs, accommodation, and errands, there should also be one for doctor's appointments. Here are some of the reasons we need such an app: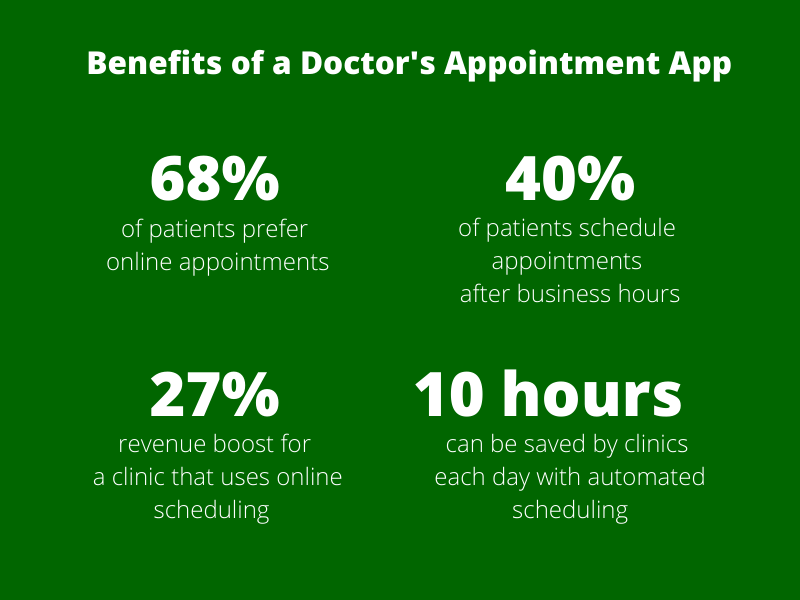 The applications for doctor appointment scheduling subdivide into:
Online marketplaces

- These are platforms that aggregate specialists and clinics and help them maintain two-fold relationships. On the one hand, there are doctors and clinics that register and create profiles and set schedules and prices. On the other hand, patients or relatives can book appointments online. A marketplace specializes in a single medical area (for example, dentistry), or it can aggregate specialists.

Booking solutions

for hospitals and clinics. It can be an independent app or part of the EHR system. Here patients can book an appointment with any specialist at the hospital or clinic.
Why Develop a Doctor Appointment App?
The global doctor appointment scheduling software market is forecasted to reach $612.5 million by 2026.
Here are some factors that facilitate this growth:
Overall globalization and digitalization of services, and growing trust in online marketplaces
The ability to securely collect, store, and transfer sensitive patient data (personal information, analysis, diagnoses, prescriptions) with help of cloud-based EHR systems
Convenient online payments
Mass adoption of telemedicine due to Covid-19
Now let's enumerate the exact benefits for all parties: patients, doctors, and clinics.
Benefits for patients:
24/7 transparent and flexible appointment scheduling
A large pool of medical specialists
Automatic appointment reminders
Benefits for clinic/doctors:
Increased online visibility
Reduced burn-out of reception staff (less scheduling hassles)
Increased number of appointments
Increased revenue
Minimized human errors and duplications
Competitive Landscape
Before you start developing a doctor appointment app, it is useful to research the competition in your area. Here are the most famous marketplaces for medical specialists:
| | |
| --- | --- |
| North America | Zocdoc, Healthtap, AppointmentNotify!, Docvilla, Rocketdoctor |
| Europe | Jameda, Miodottore, Pushdoctor, Znanylekarz, Doctoralia |
| Asia | Practo, Otboo |
| Australia | Hotdoc, Healthengine |
| South America | Sitidoctor |
| Africa | Recomed, Dabadoc,Vezeeta |
Business Models of Marketplace for Doctors
If you are going to start a medical appointment platform, you should think about how you are going to profit from it. A doctor scheduling marketplace plays the role of intermediary between patient and doctor. Patients pay for medical services through the platform or in-person after the appointment. Doctors get paid, but the platform takes a fee. There are several ways the platform can be monetized.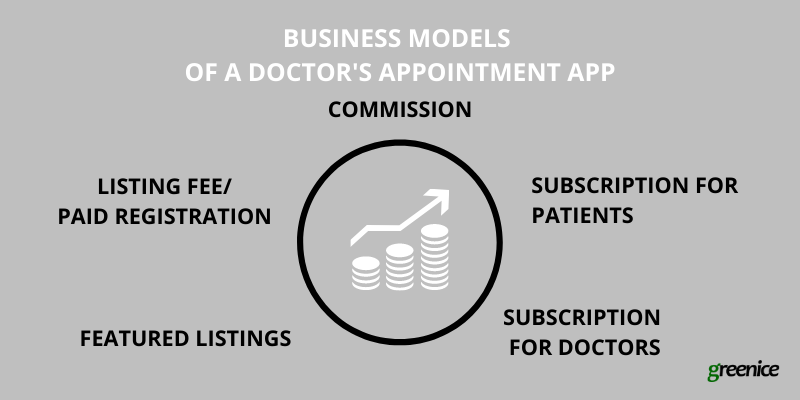 This is one of the most popular and transparent ways of getting revenue. When booking an appointment, patients should pay for their visit. The commission and the cost of the visit are sent to the doctor's account — either immediately, or after going to the platform and being transferred to the doctor after the appointment. The second option makes it easier to return money in case the doctor cancels the appointment. The downside of this method is that new patients may be skeptical about paying in advance. Thus, for each appointment scheduled through ZocDoc, the platform charges a fee of $35 – whether the customer shows up or not.
Listing fee/ Paid registration
Another way of monetization is a registration fee. For example, if you do not want the hassle of patient-doctor transactions, you can charge only doctors. For example, ZocDoc in addition to the commission also charges $300 for a listing annually. This method guarantees you constant revenue regardless of the number of appointments. But at the same time, it may be difficult to attract doctors to a new platform.
Subscription for patients
Another monetization scheme is to charge patients who are interested in periodical medical check-ups or need medical consultations or treatment on a constant basis. For instance, an unlimited appointment plan at HealthTap costs patients only $119 per year. This option is beneficial to enterprises that want to provide medical services for their employees.
Subscriptions for doctors
A platform can offer doctors various groups of features. It is a good idea to provide a free trial period or freemium subscription to let doctors understand the value of the platform. For example, Doctoralia offers basic functionality like profile creation, reading reviews, and answering patients' questions for free. But if doctors want an online booking, video consultations, e-prescriptions, and reminders, then doctors must pay 79 euros per month.
This type is good for platforms that have already collected a large database of doctors. Doctors who want to beat the competition will pay extra for a better position in search results or to be displayed more often to their target patients.
What revenue model to choose?
When choosing a monetization scheme, doctors are faced with a chicken and egg problem. As a doctor's appointment startup, you first need to create a large database of doctors. But how do you get doctors to sign up for your platform if you don't have any patients? Asking paid registration at once may be demotivating for doctors to join your platform, so commission, freemium, or a free trial might be the best option at the beginning. Later on, you can add other methods of monetization.
How to Create a Doctor Appointment App with Core Features
The online marketplace for medical appointments is divided into the patients' section, the doctors' section, and the Admin panel.
Patients' Section
Patients come to the appointment scheduling marketplace to get access to a large database of doctors and to quickly book appointments. Patients need the following features:
Even before registration and login, the first thing that the patient should find is Search. There should be filters that help patients find the necessary doctor by specialization, rating, zip code, reviews, language, and gender. Implementing a map that shows the location is a great advantage that helps patients find the nearest practitioner.

First off, patients should register and create a profile. Next, they love to see both the doctor's availability and his location before they book a consultation. Moreover, the ability to schedule appointments 24/7 is invaluable. All appointments should be available for viewing or editing on the profile. They should be able to cancel if something comes up. The system should also send appointment confirmation via email or SMS. In addition, a questionnaire of symptoms might help the patient identify what specialists are required and if the patient needs urgent help.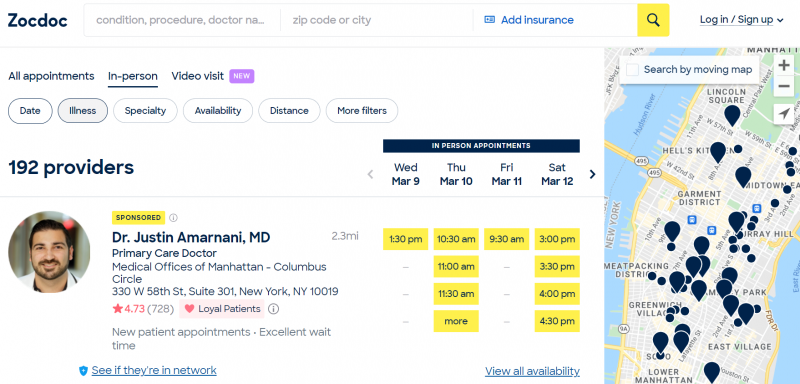 It is necessary to collect and store all patient data. This gives the doctor access to the patient's symptoms, health history, prescriptions, test results, and scans. Checking before the visit will save a lot of time. The profile can also store such data as payment history, medical insurance, contact details.
Reminders and notifications
Reminders via email or SMS reduce no-shows. The messages should include the date and time of the visit, contact information, location of the appointment, and an option to edit or cancel the visit. Notifications can be sent if the doctor must change or cancel, and alternatives should be offered. Reminders save heaps of administration time.
To make the marketplace trustworthy, add an opportunity to submit and read reviews. Eliminate fake reviews by allowing only registered patients to write feedback. To motivate patients to add reviews, you can introduce a system of discounts for future visits.
Depending on your business model, you can provide either online or offline payments. Prepayment gives more confidence that the patients will not miss the appointment. For online payments, choose the most popular and convenient payment methods in your area.
Doctor's Section
Doctors come to the online marketplace to increase their online visibility, find new clients, and easily schedule appointments. Therefore, the platform should provide the following features:
Registration and verification
Doctors who want to find patients in the online marketplace must register and create their profiles. Integration with such platforms as the National Physician Data Base (NPDB) and the American Medical Association (AMA) will allow platform administration to check medical licensure, education, and work history. Similar databases are used in other countries.
This is the personal page of a medical specialist where doctors post their specialization, education, license, experience, and working hours. The profile can also include a doctor's photo and fees. This part will help patients choose a physician.
Doctors should be able to post slots available for appointments. Doctors should be able to confirm or cancel requests from patients.
In this section, doctors can see payments from patients, fees charged by the platform, and even taxes.
This will show the performance overview: number of patients, number of no-shows, cancellations, and earnings. The dashboard gives a visual picture every day, while reports can accumulate data for a specific period of time.
Admin's Panel
The platform does not function by itself. An administrator must manage all users, their interactions, platform content, and payments.
Admins verify the doctor's background before allowing them to join the marketplace. They view and manage profiles of doctors and patients, and delete or blacklist fake or inactive profiles.
This is a display of overall platform statistics during a given period of time. It shows new users, appointments, and finances.
Admins should be able to contact doctors and patients through the platform to assist them with such issues as platform functionality, profile, and payments.
Admins should be able to edit blogs, ads, notifications, and other content from the back office.
Admin should be able to set and charge fees for platform services.
How to Сreate a Doctor Scheduling App with Extra Features
While the previous features make up the core of the doctor appointment marketplace, you can add advanced features to increase the effectiveness and convenience of your platform.
Telemedicine/Chat or Video conferencing
Not every issue requires an in-person visit to the doctor. Moreover, in the case of contagious diseases, it is better to stay at home and have an online consultation. You can expand your marketplace outreach by adding telemedicine features like chat and video conferencing.
Allowing patients to submit their test results, MRI and CT scans, and previous health history saves time and improves the doctor's ability to keep track of treatment progress. This also decreases the probability that documents will be lost.
This feature facilitates electronic prescriptions that can be saved in the patient's profile. e-Prescriptions reduce errors and useless trips to the doctor. The app can be integrated with a database of pharmacies so prescriptions can be sent directly to the patient's local pharmacy.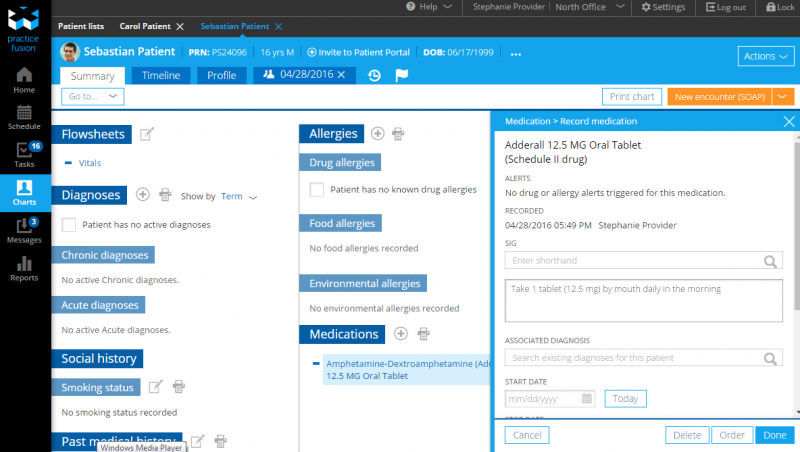 A chatbot can help users sign up, create an account, make payments, or find a specialist. Chatbots can be used during pandemics when doctor visits are difficult. Chatbots equipped with AI can gather symptoms, and suggest preliminary treatment. What's more, bots can call the alarm when urgent care is needed, thereby preventing long queues for those in desperate need.
It is possible to integrate patient information with an EMR or EHR. This streamlines the work and prevents data loss. With such integration, information is securely shared with laboratories and other medical specialists.
Data security and regulation compliance
When creating a platform that will deal with sensitive data, you must confirm that it is stored and transferred securely. The following measures should be considered:
Encrypt data

— use secure HTTPS protocols for transferring encrypted data between the app and the server.

Use secure storage

— all data should be stored on secure servers like AWS.

Comply with regulations on data protection

— if you collect patient health data, you have to adhere to the rules:

HIPAA (Health Insurance Portability and Accountability Act)

— a statute that outlines how personal health information should be maintained by healthcare providers and insurers. HIPPA security rules describe safe ways of user authorizing, authenticating, auditing, alerting, logging-off, encrypting, hosting, and contracting with third-party providers.

HL7 (Health Level Seven)

— a set of international standards for clinical and administrative data transfer between software applications used by healthcare providers.

GDPR (General Data Protection Regulation)

— is a regulation in EU law on data protection and privacy in the European Union and the European Economic Area.
Patient data that is not processed in accordance with the regulations can lead to huge fines. In general, collect only the most essential patient data, and make sure that you comply with the rules. Our developers will take care of all necessary security measures and ensure that your site complies with regulations in your country or state.
How to Build an App for Booking Doctor Appointments: Step-by-Step
To build an app to book a doctor's appointment, you should follow these steps:
Step 1: Research the market
Before starting any business, you should identify your target audience, analyze your competitors' solutions, and find untapped niches or unique features that will make you stand out.
Step 2: Resolve the chicken and egg problem
It is an eternal problem of all marketplaces — who need to find first — service providers or customers? In regard to on-demand doctor appointment app development, you need to collect a database of doctors first. Use publicly available doctor databases like 1upHealth, Doctor.com, or BetterDoctor to fill your marketplace with specialist profiles.
Step 3: Collect the requirements
To build a doctor appointment app from scratch, you need to determine what you need for the site. When you have the Software Requirements Specifications (SRS), you will be able to construct your system. This document will be a pillar for your development team. If you are having trouble coming up with an SRS, our Business Analysts can help you.
Step 4: Create design
When your requirements are ready, you can hire a freelance web designer or a web development agency. At Greenice, we can start with your design, or we can design one for you. In some cases, to decrease the cost of development, we will suggest a ready-made design template that we will customize to your needs.
Step 5: Find developers
Find a team for an on-demand doctor app development. You can search for programmers at freelance marketplaces like Upwork, or get estimates from professional development agencies. For example, you can send us your requirements and we'll get back to you with an estimate as soon as possible.
To build a doctor's appointment application you will need a team consisting of:
Front-end developer
Back-end developer
QA engineers
At Greenice, we provide a Team Lead and a Project manager to make all the processes smooth and controlled.
Step 6: Code
The development team will develop an application that suits your idea. Professional programmers use the latest programming languages and frameworks, reliable cloud infrastructure systems, and best security practices.
Step 7: Launch and improve
When the site is ready for the real world, you can launch your online marketplace and get feedback from users. From there you will be able to improve your site gradually and securely.
How Much Does It Cost to Make a Doctor Booking App?
Finally, the most important part of our article: how much does on-demand doctor app development cost? As a startup, you want to minimize your expenses without sacrificing the quality of your platform. To do this, we recommend starting with a minimum viable product (MVP) including the core features, and launching as soon as possible. Then, you will be able to add extra features and improvements.
So, let's crunch the numbers!
Doctor on-demand app development may take from 4-5 months and cost $40,000-50,000 for an MVP. More complicated features will cost more, of course.
If you would like to add advanced features like a custom chatbot with an AI symptom checker, telemedicine, or integration with an EMR, be ready for the price to increase to $60,000-80,000. There are always ways to decrease the price using white-label solutions that only need customization.
Our team will analyze your requirements and use the technology stack that suits your budget.
Our Experience in Doctor Appointment App Development
We have vast experience building healthcare applications. Many of our projects include scheduling features. Here are some of our projects:
Scheduling App for Caregivers
We built an online platform for a caregiver recruitment agency. The caregivers can apply for a job, submit the necessary documents to prove their qualification, and pass training on the platform. After being verified, they can bid for jobs. Caregivers indicate their working hours and managers assign appointments with patients. We created a Google-type calendar that clearly shows schedules, avoids double bookings, and calculates overtime and payments automatically. The application is HIPAA-compliant and all data is securely stored on AWS servers. View full case study
Appointment Scheduling Chatbot
For one of our clients, we made a custom chatbot that gathered symptoms and booked appointments. Patients choose doctors after viewing their profiles, which are transferred to the chat with API from the clinic's EMR.
Scheduling for Mental Health Center
We developed a CRM for a mental health center that specializes in Employee Assistance Programs. The center provides psychological assistance. The center was overwhelmed with appointment scheduling. The new platform allows clients themselves to schedule psychological sessions, track progress, generate reports, and manage billings. View full case study
How to Apply This to Your Business
Scheduling appointments with doctors by phone is a real hassle. That's why scheduling apps for doctors have arrived and are quickly gaining traction.
Marketplaces for doctor's appointments have become a valuable tool both for doctors and patients. So far, the competition in this area is not as tough as in the eCommerce sphere. Startups can exploit an unfilled niche and build a doctor appointment app in countries and regions where large platforms still are not available. Alternatively, someone might introduce useful, unique services and features to win the loyalty of patients.
At Greenice, we specialize in the development of custom solutions for the Healthcare business. EMR, EHR, CRM, LMS, chatbots, standalone features for clinics, hospitals, medical institutions, and IT startups. Data security, reliability, high-quality code, and on-time delivery are our major selling points that have been contributing to our reputation for more than 15 years.
We are eager to help you develop an application for doctors. Let's march into the future together!
Rate this article!
You should be
logged in
to be able to rate articles