The global fitness app market is expected to grow by 32% by 2026.
Sedentary work and diseases related to obesity have triggered a surge in the popularity of health and nutrition awareness. For many people, it's not easy to organize their fitness routine. Instead of searching through the myriads of YouTube exercise videos trying to choose a suitable routine and then tracking it all on paper, there are smarter solutions — like workout planning apps.
Due to the coronavirus lockdown in 2020, the fitness app download rates have skyrocketed. A reasonable price tag, the variety of classes, a personalized approach, and 24/7 availability from any spot make them the perfect tool for home exercising. But even gym-lovers often use the app to log their progress.
How to create a workout app? What types of fitness apps are the most popular? What features do users expect to get from these platforms? How to monetize such a business?
We'll cover all these questions below.
What Is a Workout Planning App?
Workout planning apps are the largest group of apps in the Health and Fitness category. Their purpose is to make it easier to create a workout plan and log the completion of a training session.
These apps allow users to choose from a library of ready-made workouts or to create their custom routines.
The majority of workout apps can be divided into two big groups:
Logbook apps
Workout apps
The first group represents mostly bodybuilding apps used simply for logging training results. The logged information can be compiled and visualized to show the user her progress. Examples of such apps are Simple Workout Log, Strong, HeavySet, and Stacked.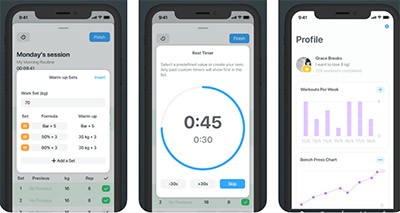 The second group of apps is represented by exercise libraries that allow people to choose a workout or create a custom workout according to the user's goals, health condition, fitness level, exercise difficulty, and other preferences.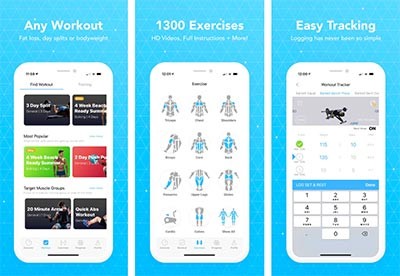 Workout plan apps can be used at the gym (My Workout Plan, FitNotes), at home (Workout for Women, Nike Training Club, Sworkit), or both (Jefit). People can use these apps to help with bodybuilding, weight loss, pilates, yoga, HIIT, physiotherapy, and many more fitness programs.
The main advantage of such platforms is that they allow users to organize their training and customize the program as if they had a personal coach who would motivate them to stay on track.
These apps can be focused on a broad audience or a narrow niche. By studying the market, you can find gaps and specific needs of the audience waiting to be exploited. For example:
Exercises for kids
Exercises specifically for women
Exercises specifically for men
Physiotherapy workouts (for physiotherapists and their patients)
Weight-losing apps (that also use a nutrition plan)
Exercises for elderly people
Fitness that uses social media (for those who need a community)
Live-streaming classes (from fitness studios and personal trainers worldwide)
One example is our client from North America. They needed a Platform for Physiotherapy clinics. In the past, doctors would have to explain how to do each exercise. With the help of this platform, the doctors can now choose from a large library of exercises for different body parts and health conditions. They create a personalized training program for each patient. The company increases its database by constantly producing new video exercises and instructions.
If you want a workout planning app, let's schedule a call.
Contact Us
Workout Planning Apps Competitive Landscape
If you are going to create a fitness app, examine the competition. Here is a list of the TOP-10 workout planning apps according to the Appgrooves report of June 2020:

App Name

Description

FitOn

Quick & effective workouts from celebrity trainers

Exclusive workouts with Gabrielle Union, Julianne Hough & JVN

Customized workout plans

On-demand workouts with the option of joining live-streaming classes

Quick HIIT 10-minute workouts for those who are in a hurry

1 000 000+ downloads

My Workout Plan

Allows users to manage exercises, create routines, record, and playback their own workouts, and record progress

Record body measurements over time and track the gain of mass or loss of weight

Free, but users can pay for a subscription from $2.49/month to $9.99/year for ad-free service and advanced features

100,000+ downloads

FitNotes

A list of exercises, but users can add new exercises and create their own routines

Assign exercises to a particular day

Export training logs in CSV format for further analysis

1,000,000+ downloads

Fitness & Bodybuilding

An extensive database of exercises for every muscle, with a detailed description and video for each exercise.

Workout plans for bodybuilding, powerlifting, and fitness

Built-in timer

A built-in calendar that automatically marks workout days

Ability to create customized workout plans and add photos

10,000,000+ downloads

JEFIT Workout Tracker

Workout routine planning and training log

1300+ exercise library

Body stat tracking

Community

Payment starts at $3.33 per month

5,000,000+ downloads

Gym Workout Planner

Beginner & Pro workout routines designed by experts

Gym workout routines with 3,000+ possible variations

Gym Tracker: access workout history

Create or add existing routine or workout programs to the app

1,000,000+ downloads

Simple Workout Log

Replaces a paper workout journal

Designed to require minimal user input making life easier while at the gym

500 000+ downloads

Strong

Track the progress across any date range

Measure the user's body weight, body fat percentage, and any other measurements

Syncs across all devices

Export to CSV at any time

A growing library of animated videos

PRO subscription is from $4.99/month to $29.99/year

500,000+ downloads

Gym Workout Tracker & Planner for Weight Lifting

Gym workout planner and workout tracker that makes it easy to log weight lifting workouts.

Library of 300+ gym exercises with images and instructions included

100,000+ downloads

Gym Exercises & Workouts

Creating and customizing personal workouts or search among more than 120 pre-defined workouts and 160 exercises dedicated to different muscle groups

Creating custom exercises for personal workouts

500,000+ downloads
Why Create a Workout App Now?
If you are hesitant to build a fitness website, let us give you some reasons why now is the right time to do it.
REASON #1: It's trendy to be fit.
More than 75% of people who have fitness apps use them at least twice a week, while the rest of the users train using their fitness apps more than 10 times a week.
Fitness influencers and personal trainers on Instagram and TikTok (or, in this case, FitTok) show examples of exercises that help you lose weight, get a strong and attractive body, and get rid of stress.
REASON #2: Using at-home workout platforms is more cost-effective.
Many workouts require no special equipment. People go to the gym to socialize and spend time. The average gym membership in the U.S. costs between $30-60 a month. At the same time, most of the online fitness websites and apps are free for users and may charge a couple of dollars only for advanced features, or for ad-free viewing.
Most who do not need community and gym culture prefer to exercise at home. So, staying at home and using digital platforms, people get the same training instructions for less money.
REASON #3: People are too busy to go to the gym.
Millennials (people born between 1981 and 1996) are the largest generation on Earth. At the same time, they are also the most fitness-obsessed. 76% of Millennials exercise at least once a week. For working people, moms with kids (more than a million Millennials are becoming moms each year), and people who travel, it can be difficult to find time to go to the gym. No wonder they shift to online apps that allow them to do their HIIT at home at comfortable hours.
REASON #4: 'Stay-at-home' impact.
When the COVID-19 pandemic forced people to stay home, the demand for online fitness training exploded. Even those people who never had gone to fitness studios started doing some exercises. Workout planning apps are a great help for them. No one can predict if such a lockdown will happen in the future, but the apps have shown their value already. Health and fitness apps were downloaded 656 million times in spring 2020.
Taking all these reasons into consideration, let's move on to the business part of the case.
Workout Planning Apps Business Models
There are several ways owners of workout planning platforms get revenue:
Freemium.

Give users a core set of features for free, for a trial period, and propose a subscription. Another way is to make the app free with the ability to upgrade the functionality or get rid of annoying ads. Advanced features should be really cool to make users want to buy them. These can be access to a larger variety of exercises, progress tracking, or the ability to create custom workouts for personalized and richer user experiences.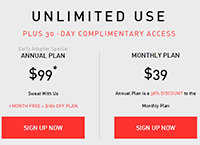 Ads.

You can earn from other businesses that want to publish their ads on your site. You can either charge to place ads or get a commission for Views and Visits from your app to the business's website.

Paid apps.

You can collect payments for downloading the app from AppStore and Google Play.
Now let's see what features you need to create a fitness website.
How to Make a Fitness App [The Best Features]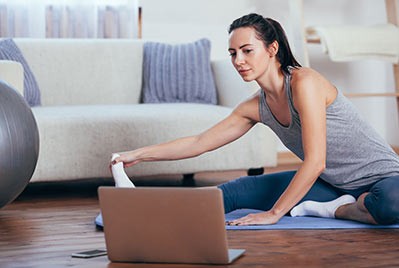 To build a workout app, you can choose from the most common features below and add your own.
Registration and user profile
Users should be able to register and complete their profiles for better personalization and results tracking. Profiles can contain biometric data, training goals, schedule, progress tracking, and payment history.
Easy search for exercises
Users should be able to quickly find desired exercises. Make it easy with filters for training type, body part, health condition, workout duration, and intensity.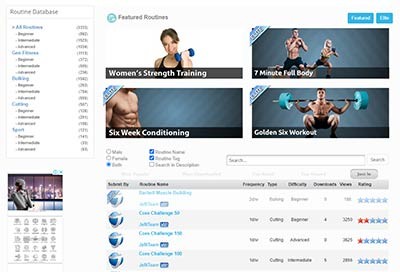 Most users are not professional athletes or fitness trainers. How can a user choose a suitable program for their specific needs from, say, over 1,000 exercises?
Help them by recommending personalized workouts based on their preferences and biometric parameters. For this, you can use a questionnaire to learn about customer expectations and previous sports experience, and then to suggest better exercises. You can also use an after-training feedback form to make sure that the class was valuable. If it wasn't, make necessary corrections in the recommendations for the next time.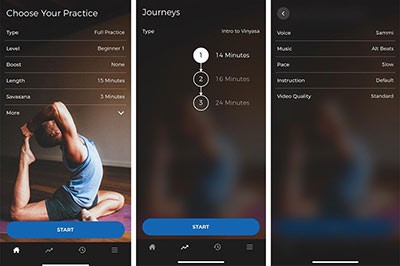 For a more personalized experience, allow users to create and save their own customized workouts that contain their favorite exercises, duration, and a number of cycles. 7-Minute Workout has this feature.
Modern platforms use Artificial Intelligence that tailors users' fitness programs. For example, Aaptiv provides an AI-based coach-bot that creates personalized workout plans based on a user's goals, fitness level, food habits, and data from smartwatches and fitness bands.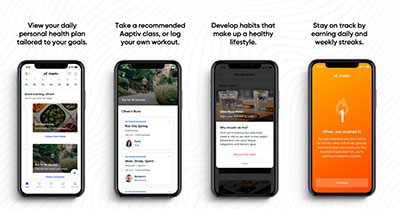 Exercise instructions page
The instructions should be explicit and give visual, as well as eyes-free, hands-free audio coaching. These can be either pre-recorded videos or live streaming with a trainer for individual or group workouts.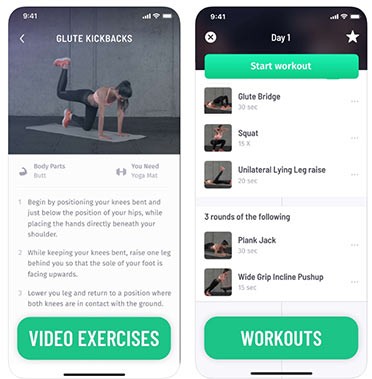 With a live-streaming feature, a trainer can explain how to do an exercise and see if the trainee performs it correctly. For example, at Fortё, fitness platform users can choose the class by studio, trainer, duration, difficulty, or location. They can either join a live training or watch a recording.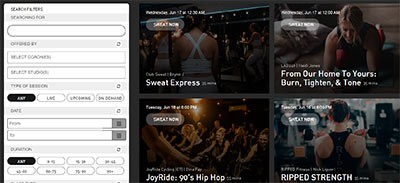 One of the main features of the apps that promise a visible result is tracking and comparing completed workouts and measurements. If the trainee follows the workout schedule precisely, tracking can be done automatically. Otherwise, users should be able to input the record manually using the app.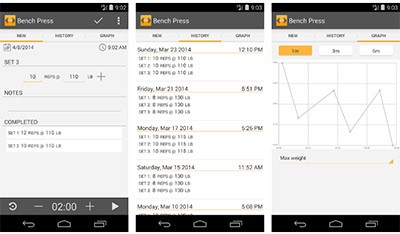 Progress tracking and analytics
Customers need visualization of their progress to keep them motivated. You should add a calendar and graph of completed training and an estimation of progress.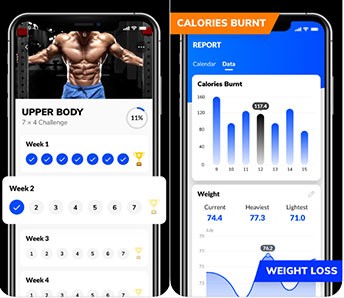 You can also add tracking of nutrition and calories, water consumption, and daily steps for a complete overview.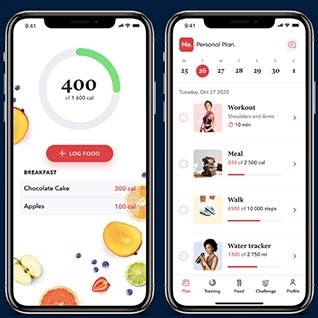 This feature is being offered by many apps. People need support motivation, an individual approach, and thorough instructions; having the option of a professional trainer is beneficial. An algorithm matches customers with the best-suited coaches. Through one-on-one video sessions, the trainer can set the goals and create individualized programs for each user.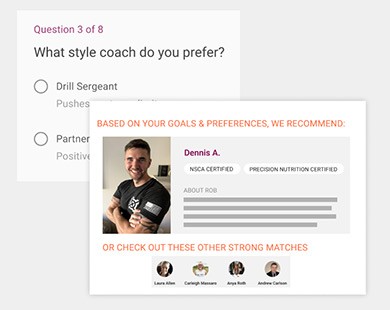 Customers need constant motivation to stay on track. This is one of the biggest challenges for the apps. This can be done in several ways:
achievement badges
leaderboards
social media shares (users can be motivated more if they are able to share their progress with friends and followers who support them)
community creation (for example, inKin platform connects users with each other for challenges and competition)
following other users to congratulate them on their progress
cheer up push-notifications
short-term challenges
the limited number of 'lives' that burn each time a user skips a day.
Some kind of gamification is an absolute must feature for fitness apps.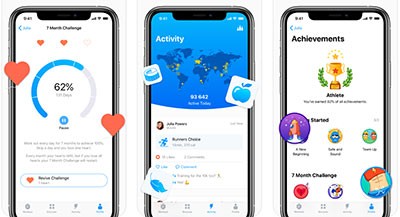 Push notifications in workout apps serve as calls-to-action and reminders for users to get off the couch and sweat on the mat. Make your alerts funny and encouraging to evoke interest and willingness to burn calories. Timely notifications may inform users about upcoming online classes, show progress, and give reminders about stated goals.
If you are going to create a fitness app that brings you profit from subscriptions or other in-app purchases, you need to add the most popular payment options, such as Credit/Debit Cards and eWallets.
Synchronization with wearable devices
Smartwatches and fitness bands conquered the physical activity world several years ago. Wearables may give users reminders to go to training, and show the number and order of exercises according to the plan. Apps like Fitbit go further and collect all the body metrics from the wearables to get a better overview of progress.
To make your app even more enjoyable, integrate it with some music libraries. Sworkit platform, for instance, created a Music tab giving access to Sworkit Radio or Sworkit playlists on Spotify and Apple Music.
Some apps also provide a connection with special training equipment. The most famous example is Peloton that based its program on using the Peloton Bike and Tread equipment.
Steps to Create a Workout Planning App
Here is a full checklist of how to build a fitness app from scratch.
1. Create requirements
Write a list of features you want. The written description of the functionality is called SRS, or Software Requirements Specifications. With this document, it is easy to deliver your idea to developers, designers, and other team members. In the beginning, this can be just a list of features with a clear description that can be detailed and prioritized. It is not a problem if you do not have experience creating such a kind of documentation. We help our clients turn their ideas into an SRS.
2. Order design
Design first, code second. Just as nobody starts building a house without drawings, the programmers need to have a vision of the User Interface. You can either use a ready-made template, or order a custom design from Upwork freelancers, or from our in-house designer. When the drawing is ready, we can link the visual elements to the backend.
3. Start with MVP
The time when software development took several years to reach perfection is over. Today, we recommend that our clients start with an MVP, Minimum Viable Product when the project can be launched in months or even weeks. This concept, once explained by Eric Reis, allows testing your idea with minimum time and money. What you need is to prioritize the list of features and carve out the core functionality that can best deliver your unique idea to the target audience.
4. Create content
This is probably one of the most time-consuming parts is content creation. It can be done in parallel with the rest of the steps. One of the main reasons why people stick to a workout platform is the large library of potential exercises. Platforms may order the content from professional agencies like Sweatlife.
5. Launch your products and study the user feedback
As soon as you have a working version of your app, launch it at once, and collect feedback. This will give you valuable material for necessary changes. During the next iteration, you can gradually enhance your app by adding new features.
How to Apply This to Your Business
As you can see, it is not rocket science to create a custom bodybuilding app. You simply need to follow our guide and choose a development team. Formulate the concept of your app, write a list of features, choose a business model, and find those who will make your ideas come alive.
After working for more than 10 years in web development, our team is ready to provide you with support and share our knowledge and experience.
Share with us what is your next project and let's start working on it.
Contact Us
Rate this article!
You should be
logged in
to be able to rate articles