As an owner of an Assisted Living Facility or Nursing Home, you should definitely know how challenging it can be to provide high-quality care while overseeing routine operational tasks like resident admission, invoice generation, staff shifts scheduling and time tracking, and to top it all - making reports and analyze information.
In the US alone, the number of people aged 65 and older is anticipated to grow more than twice from 46 million today to over 98 million by 2060. It means that more elderly people will require nurse care and more assisted living facilities will open around the world.
Both types of senior housing communities are neither hospitals, nor hotels, but they similarly gather, keep, and manage a lot of confidential data about their residents, staff, care plan, and financial transactions. It would be more hard work if this is done manually and on paper.
Why is it important to transfer the paperwork into computer systems? How do you make an ALF or nursing home software that will mirror exactly your needs and how much will it cost? We'll talk about all this right now! Read on and do not miss a thing!
What is the difference between an Assisted Living Facility and Nursing Home?
Both types of facilities are aimed to provide care for senior people who need assistance and medical help that cannot be provided at home. They also both provide their residents' rooms, board, and assistance with activities of daily living. Though there are a number of similarities between these types of care centers, there is still a distinct difference.
While Nursing Homes are dedicated to giving constant monitoring and medical care to people with bad health conditions, ALFs suit any kind of aged people, who are able to handle most of the activities by themselves and just need some assistance in their daily needs.
Nursing Homes usually look more like hospitals, have better equipment and medical personnel than ALFs that look more like residential apartments.
Nursing Home
Assisted Living Facility

24-hour professional nursing
Medications administration
Nursing staff are required by law

Care and supervision
Storing and distributing medications afro self-administration
Nursing staff are not obligatory by law
However, the software functionalities of both types of institutions have a common core and differ only in some features, that's why we will combine them in one article.
Why create an Assisted Living Facility Software?
Assisted Living Facility management software is an electronic system that allows you to coordinate the processes connected with the residents' well-being and improve the facility's operations pertaining to documentation and administration.
There are at least 3 reasons why you may want to create an Assisted Living Facility Software or Nurse Home Software:
1. Your personnel is overloaded with daily tasks on documentation.
A caregiver's first and foremost duty is to give assistance and attention to the residents. But accurately logging details of events, activities, and incidents is also crucial to your operation. You should not sacrifice one in favor of the other. Increase the productivity of your facility by automating the majority of the documentation tasks and deload your people from repetitive operations and let them manage core functions like communicating and taking care of your residents.
2. Manual accounting and invoicing slow down the revenue cycle.
Automation of billing processes and integrating the software with an accounting system allows you to speed up the invoice generation and send out process to obtain the revenue quicker and with less labor.
3. It is more difficult to compete with facilities that use ALF systems. The senior care services sector is highly competitive. The monthly payment which may start at $3,000 can be too expensive for many pensioners. Thus, the pool of prospects is limited and there is intense competition among facilities for every new and repeat resident. As a rule, the family of a potential resident visits several homes before making a decision. That's why if facilities deploy special software to manage the resident's relationships, they increase their staff efficiency which in its turn positively influences the level of services for the residents.
There are at least 8 benefits of using ALF
/ Nursing Home

software: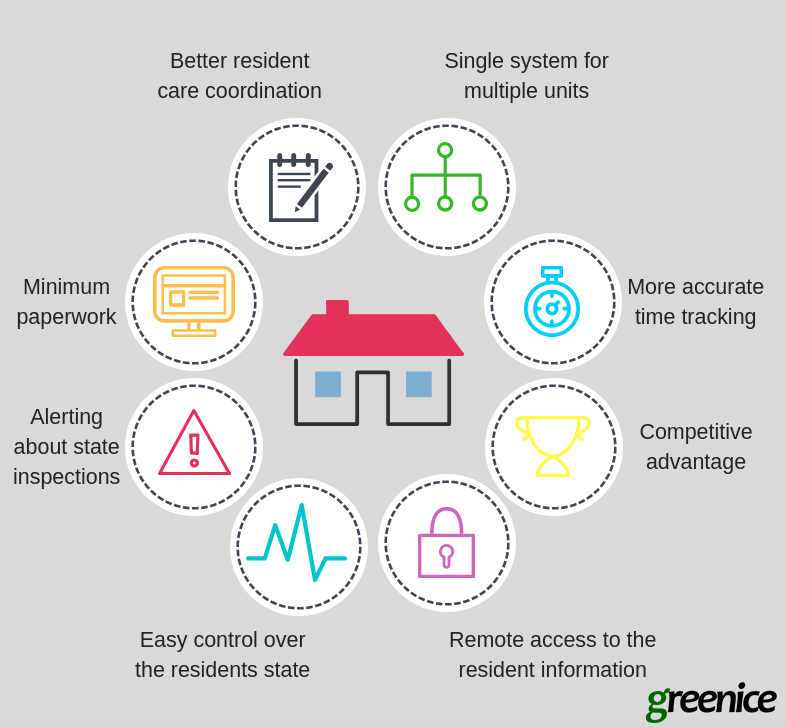 1. Minimization of paperwork.
Keeping all data in the computer system is a great way to make it all centralized, systematized, and securely stored. Required documents can be searched quickly for viewing, editing, and printing. It also prevents data loss and duplication.
2. Better residents care coordination.
The system stores daycare plans for each resident, sends reminders and alerts, tracks and monitors staff activities, allows you to assign tasks, exchange messages with personnel, send notifications inside the organization, and many more.
3. A single system for multiple units and facilities.
If your organization operates multiple facility units in different locations or even different cities but requires a common database of residents, staff, and finances, it is important to have all the data synced in one place and give access to the authorized personnel only.
4. Competitive advantage.
There is tough competition among facilities in attracting new residents. One way to stand out is by providing better care services. Automating repetitive routines and processes will allow your staff to have more time to care for patients.
5. More accurate time tracking.
It may be difficult to track time and tasks if there is no controlling system in place. Operational chaos ensues when caregivers do not record what tasks they do and how much time they spend on them.
Kind-hearted people that work in the communities gladly give more than is required from them. They rarely refuse to give assistance when somebody asks them for help. The residents may not realize that their minor requests (like making a bed) are not included in the care plan, thus it is not properly measured and scheduled. These may be inconsequential if done sparingly but will become great time-consumers when they occur often and constantly.
And what if all residents start asking for those extra and unscheduled services? The requests that seem small become a big part of work when summed together and calculated in hours. Hours of paid time! That's why all tasks should be tracked carefully in the system.
6. Remote access to the resident information.
Remote access allows caregivers to quickly check the information about their residents from any device even when they are away from the facility. Also, staff can be more mobile around the house with the capability to add or edit the data on the go. This frees up more time to spend with the residents. There is no need to sit in front of the computer for the whole day.
7. Easy control over the residents' state.
This is the great benefit of having real-time reports and dashboards. Any authorized employee can view the residents' health state, incidents, and activities. This view can also be extended to the resident's family allowing them to view and monitor their loved ones.
8. Alerting about state inspections. The long-term care facilities are constantly inspected and licensed by the government to check if all state and federal standards are met. The system can help you prepare by reminding the facility administrators and personnel of scheduled inspections. The system can also schedule "mock inspections" (preparation for the real inspection), and trainings. The system may provide an inspection checklist for staff to facilitate the preparation. By having all documentation ready and systematized, you are now halfway to passing the inspection.
Need an Assisted Living Facility Software?
Contact Us
What Features Should You Add?
The advantage of custom software development is that you can choose features that match the unique needs of your facility. No two facilities are the same and most have inner terminologies and workflows that can be alien to others. But, there are common features that should be present in any ALF system.
Here they are:
Resident Management
Employee Management
Medication Tracking
Family Dashboard
Incident Management
Appointments
Electronic Billing and Invoicing
Marketing and Lead Management
Reporting
Surveys and Assessments
Let's go into the details of each feature.
1. Resident Management
First of all, an ALF system is a database of residents, where all information related to health, preferences, clinical diagnosis, family contacts, and care planning should be stored and updated.
For instance, the system of one of our clients contains the following set of sections for a resident:
Resident personal details (personal info, photo, admission details)
Contact details (contacts of doctors, advocate, emergency and other specialists)
Family details (info about relatives and their contact details)
Medical conditions (health peculiarities, diagnosed diseases, prescribed treatment, and medications) for nursing home pharmacy software
Additional info (communication type, end of life plan, interests, nutrition habits, a prescribed diet, allergies, mobility characteristics, special appliances)
Documents attachments
The nursing home management software may have reminders and alerts to notify the staff about the arrival or departure of a new resident, a resident's birthday, an appointment with a doctor, a medical evaluation, or other important events.
2. Employee Management
Your staff's complex list of activities can be managed in the ALF and nursing case management software.
a) Roles and Permissions You can manage employee types and roles. This can dictate how they can access the system and if they have access to confidential data. You can set different roles and permissions depending on the level of their competence and responsibility.
For example, nurses may just need View-only permissions and have access to the part of the sections of the residents' profiles, while Admins should have the CRUD ("create", "read", "update", and "delete") functionality for all areas.
b) Employees List
You can input, update, and quickly access all the necessary data about your staff like their contact details, level of competence, strengths and weaknesses, trainings and certificates, copies of documents.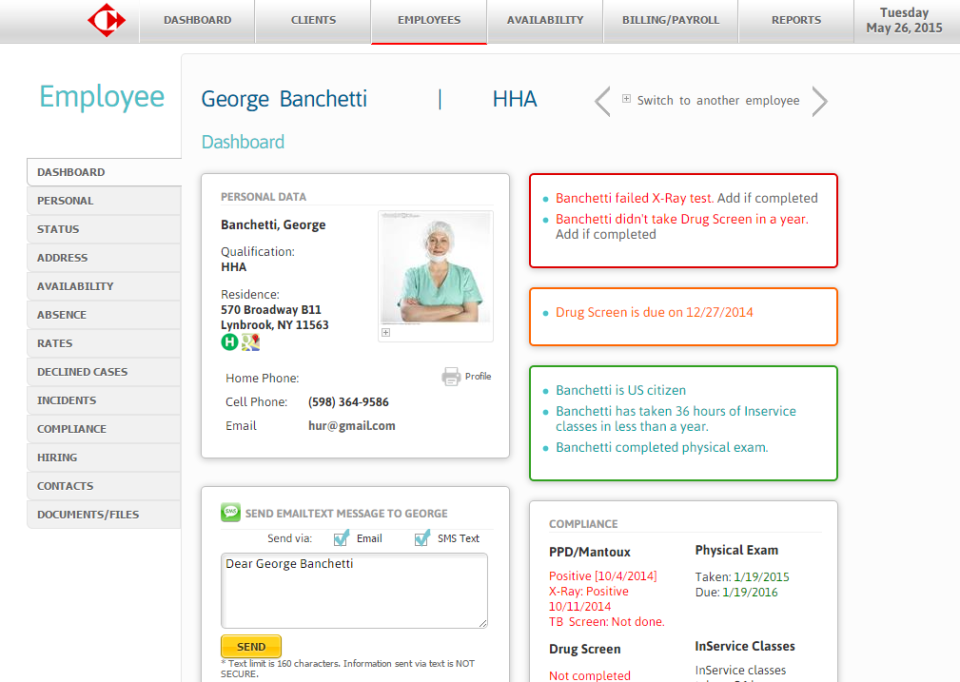 c) Scheduling and Hour Tracking One of the important features is the ability to facilitate activities and schedule staff attendance. The system can assign shifts, tasks, track staff activities, time, and absences. All this data can be exported as reports to help you analyze personnel performance, indicate overtime, or track the linkage between shifts and some accidents.
3. Medication Tracking
One of the challenging aspects of caregiving is definitely the process of medication tracking. An average resident of a senior care center takes about nine medications per day. Now, multiply this amount by the number of residents. If you have a large facility with hundreds of residents then you'll get a hefty three-digit number of medications that need daily tracking by the staff. Any error may be fatal for the patient!
Medications should be given at a definite time or under a defined condition. Some patients are unable to take medicine by themselves or do not remember the prescriptions. Some medicines have adverse effects when taken incorrectly, and so on. Additionally, new staff members have no way of knowing these details unless they have a complete and accurate record. That's why it is indispensable to have nursing medical software that will store information, track, and remind your staff about resident's medications.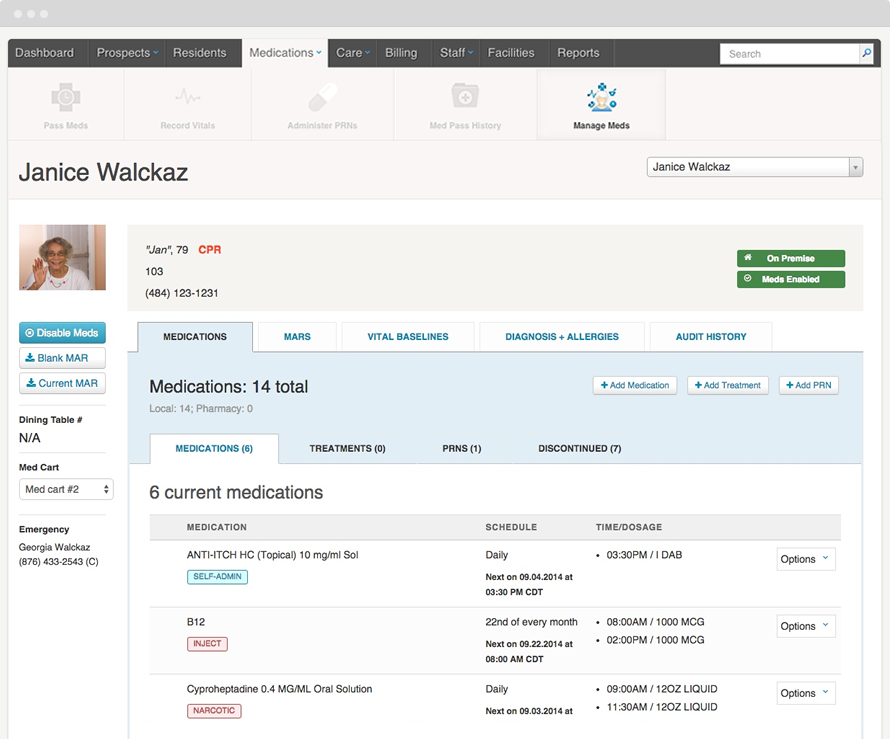 You may also integrate your system with a partner pharmacy to organize the process of timely and accurate orders and delivery of medicines. This automation can reduce the time for order taking and eliminate the risks of errors.
4. Family Dashboard
This is a comfortable way to keep family members informed about the well-being of their senior relatives in the community. A dashboard can automatically present the full picture of the resident's health state, engagements, and activities they participated in. It will cite any accidents, doctor appointments, analysis, and clinical diagnostics. Such a customer-oriented approach of communication with families reduces the number of calls to the facility as all necessary information is provided and readily available at a touch of the fingertips. Keeping the relatives informed is an effective way to show that they are getting value and that your services are worth every penny spent.
Also, families can review their relative's profiles and enter important information that may be missing. Updating the profile will help staff members better understand their residents.
5. Incident Management
Your facility deals with elderly people, many of whom suffer from some type of dementia or physical deterioration. The sensitive nature of your residents may make incidents inevitable. Falls, heart attacks, hospitalizations, and wanderings are some of the possible incidents. In some facilities, all residents have wearables to constantly track and log into the system their state. You can also use this information for forecasting incidents like heart attacks. All the cases should be registered in the history of residents and reported to their families.
The incidents section can monitor any accidents, link the accident to the shift when it happened, assign a specialist to help resolve the incident, send notifications, and generate an outcome report. This section also keeps a list of a patient's history of accidents.
A systematic analysis of the incidents may show you the weak points of your facility like unsafe stairs, slippery floors, bad attitude to residents, or negligence of some employees. This will give you the chance to prevent similar incidents in the future.
6. Appointments
In this section, all appointments with specialists like physicians, psychologists, dentists, and others can be scheduled. If the appointment is paid, the bill can be added to the total invoice for the services. The system can send reminders and keep the history of appointments to have everything documented.
7. Electronic billing and invoicing
You will definitely agree that manual accounting is inefficient. Accounting software for Assisted Living Facilities that are integrated with your system can reduce a substantial part of the caregivers' routine.
Keeping bills and invoices on paper can result in loss or duplication of documents. It is more efficient and safe to have all financial data in the central system. The best billing software for an Assisted Living Facility is a custom-made one. It allows you to take into account the specifics of your organization. But of course, you can also try to integrate your current billing software for nursing homes to save on cost.
By having pre-defined prices for rent and services in the system, the staff or system itself can generate and send invoices to your customers. You can customize the invoice to reflect your logo or trademark, add all extra services (bathing, mobility assistance, dressing, night checks, housekeeping, etc.), track the history of payments, and quickly get the financial report. Invoices can be scheduled and sent to one or multiple payers (if needed). The system will also automatically calculate credits and discounts when applicable.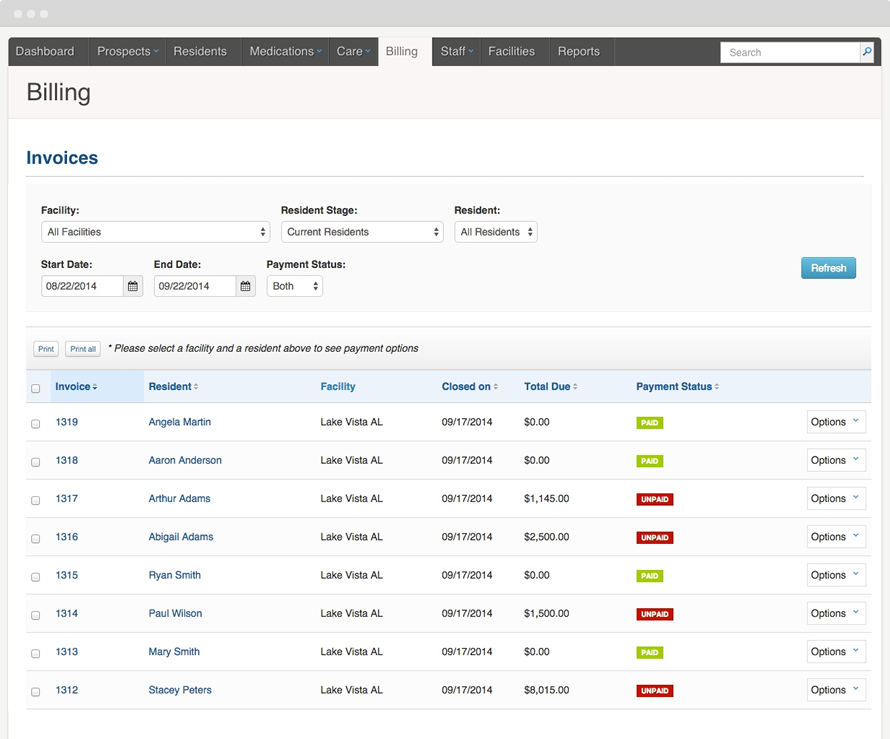 8. Marketing and Lead Management
One of the biggest challenges of assisted living facility marketing is heavy competition. That's why it is indispensable to have a Pipeline Management system built into your CRM: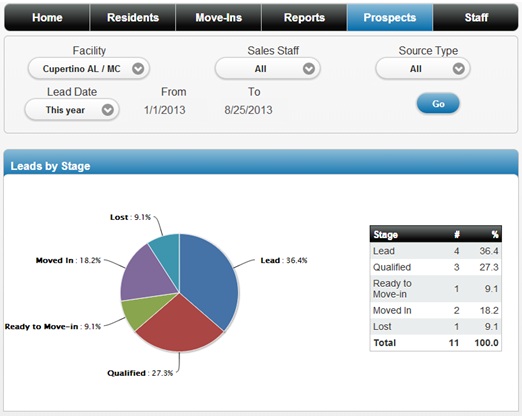 Collecting data about prospects
Managing your facility's social media
Sending out marketing materials (blog articles, ebooks, white papers) and invitations to community events
Scheduling follow-up activities
Tracking the effectiveness of different communication channels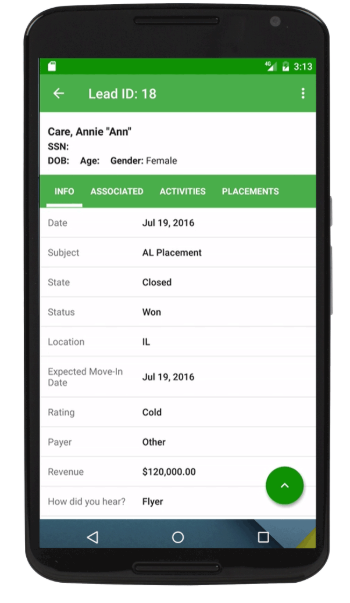 9. Reporting
Any organization needs to track operational efficiency and analyze the results of its work. For that, you can make it that nursing home software programs will automatically generate reports. There are a number of possible reports depending on your needs and key metrics. Below are recommended ALF system reports:
Admissions report
Activities report
Appointments report
Resident list report
Shift summary report
Financial reports (incomes, taxes, invoicing)
Employee performance report
Resident progress report
Leads report (by stage, status, referral source, etc.)
Incidents report
Medication report
10. Surveys and assessments
The best way to understand the level of customer and service satisfaction is to ask your residents and their family members directly with the help of the surveys. This will give you a picture of your facility's strengths and weaknesses. You can identify which part of your service to develop or enhance. All surveys can be provided in the resident's profile or sent by email.
Another way the assessments can help is when you want to estimate a resident's health state progress. You may ask the resident or her family members to fill up the pre-admission and periodic revision forms to track the changes and decide on new steps in the care plan.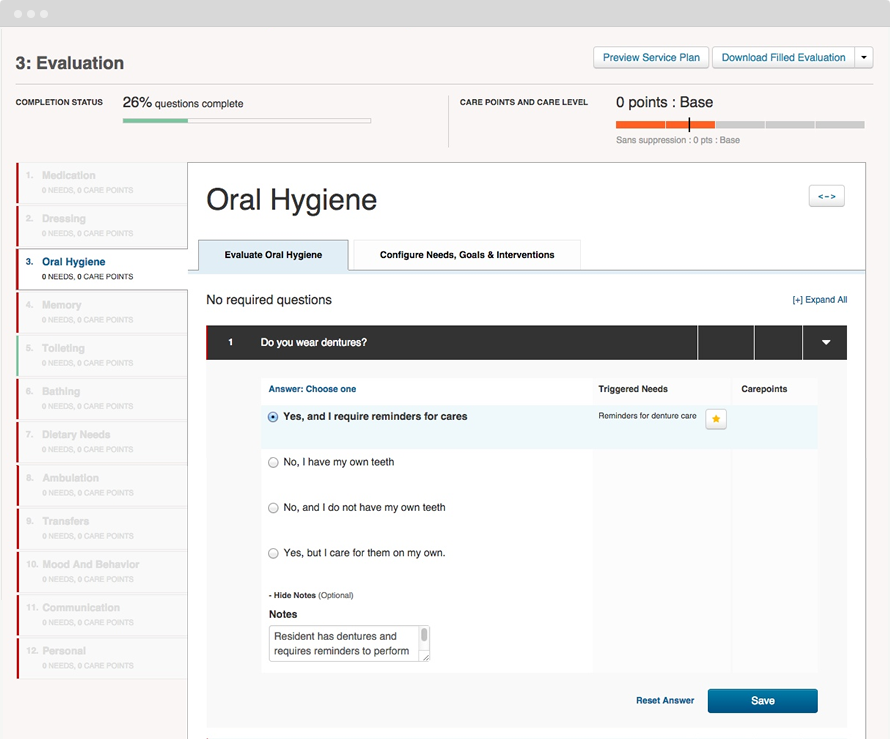 All these surveys and more can be regularly issued by using dedicated quality management software for the Assisted Living Facility that will check the level of satisfaction of facility personnel, residents, and family members. Below are recommended surveys, responses, and questionnaires that can be part of your quality checks:
Resident/family satisfaction surveys
Employee satisfaction surveys
Pre-admission/ check-out health survey
What is the Best Software for Your Facility?
Canned or custom - which approach is better when determining the best software for your assisted living facility or nursing home??
Today, there are a number of off-the-shelf solutions available for purchase on the software market. Many of them have all or some of the above-mentioned features. However, these systems are designed to cater to generic facilities and are not easily customizable when a unique workflow or feature is needed.
The payment for such solutions is usually subscription-based and the price may start at $35/month/user. At first glance, it may seem affordable to subscribe to one of these canned software. However, let's assume that you need to give system access to 10 members of your facility (nurses, accountants, managers, etc). Thus, with this price of $35, a year of usage will cost you $4,200. And if you have more staff, this amount grows bigger.
If later on, you need some changes or integrations, it will require additional payment. In fact, the inability to make changes to the software is the most common disadvantage reported by the users of these solutions.
You may go with a canned solution if:
It covers at least 80% of your needs.
You do not know exactly what features you'll need and you want to test your idea before building custom software.
You need to start as soon as possible and require only minimal customization on a ready-to-use solution.
It would be better to build software for an Assisted Living Facility or Nursing Home from the ground up if:
You have a unique workflow and canned solutions do not have the features that cover your needs.
You deal with sensitive data which requires the highest level of data security as well as full control over the code and stored data.
You anticipate a quick scaling up into a more complex system and you need to have freedom for extension and changes.
You need integration with third-party systems. This can be hard to do with canned solutions.
You plan to transform your system into SaaS which you can monetize and sell to other facilities.
How Much Does It Cost to Build a Software for Assisted Living Facility or Nursing Home?
To calculate the cost of this application and to make it a long-term solution for your care facility, let's make a list of the common features needed:
Employee Management
Residents Management
Messages and Notifications
Incidents Registry
Appointments Management
Reports
The rough estimate is about 4-5 months of development and the estimated cost is around $20,000-$25,000. More precise numbers can be given after we study your requirements and choose the most appropriate technology stack and approach.
How to Apply This to Your Business
As you have learned from this article, the main advantages of an Assisted Living Facility or Nursing Home software program are the automation of routine processes such as data entry and search, reporting, accounting, lead management, and shift scheduling among others. Having all the data available to your customers at any time allows for quick decisions. This can also help you strategize future care plans and make the communication between your facility and residents' families more transparent.
At Greenice, we have vast experience in the development of solutions for the medical area including Assisted Living Facilities. We work with companies that need complex solutions and integrations. We'll be glad to start working on your project!
Need to develop software for your Assisted Living Facility? Let's talk about your project!
Write to us
Rate this article!
You should be
logged in
to be able to rate articles