The fact that mental health issues are on a rise cannot be avoided. Currently, 22% of adult Americans report having symptoms of depression and suicide is one of the top causes of death among young people. As the world is inundated with crises, the demand for psychological help is growing.
Over 112 million Americans live in regions with a shortage of mental health providers. Moreover, even if the therapy is accessible, not everyone can speak to specialists in person. But luckily there is a solution - online therapy. Online therapy allows people to receive help in comfortable conditions through chat, phone, and video sessions. Apps offer more affordable help and can save people's lives.
If you want to make a counseling app - it's commendable. Keep in mind that there are 20,000 mental health apps on the market and the competition is tough. To make your platform stand out you need to become an expert in the field and also offer great user experience.
In this article, we will figure out how and why to build your own website for mental health professionals and patients. Let's make the world a better place!
What is a mental health app for online therapy?
Mental health apps include a wide range of solutions. Each one focuses on either a mental health condition like depression, anxiety, or addiction, or on an area of mental well-being like relaxation, stress, or sleep management.
The National Institute of Mental Health puts mental health apps into distinct categories:
self-management
cognition improvement
skill-training
social support
symptom tracking
passive data collection
online therapy
In this article, we'll discuss online therapy apps ‒ software that offers help from mental health specialists.
Online counseling provides the same range of services as its offline alternative, but is performed through the Internet. A user registers on the platform, finds an appropriate professional, and communicates with them using computer-aided technologies.
Online counseling has many interchangeable names: online therapy, teletherapy, e-therapy, and e-counseling. It can use the following communication tools:
emails
text messages
video chats
online calls
mobile apps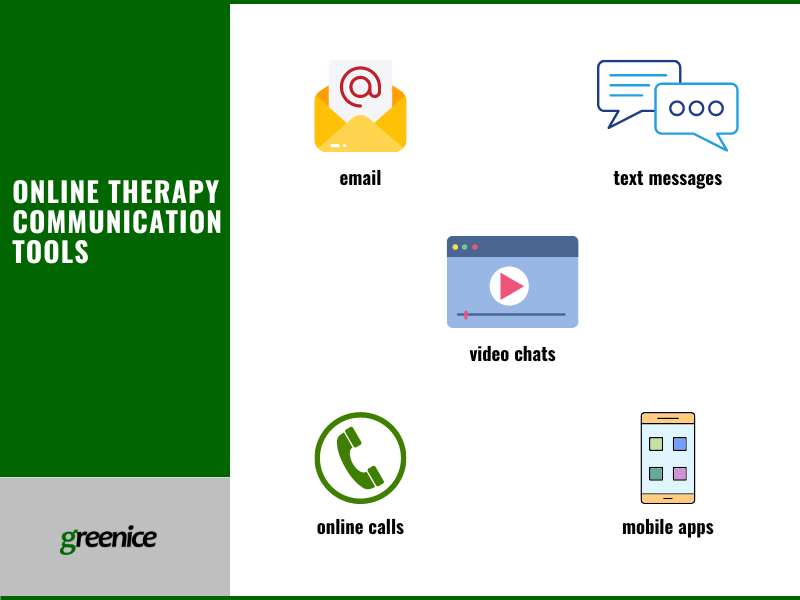 Therapists can manage their online therapy practice by themselves, working with patients remotely via video conferencing platforms like Skype and Zoom. Another option is to work with patients using platforms like TalkSpace. This software matches psychologists and patients enabling them to have online conversations within the platform.
In this article, we will explore the ins and outs of creating such a platform for online counseling. But first of all, let's find out why the need for counseling apps is so great.
Growth of online therapy
Psychology gained its popularity in the 20th century and has kept growing ever since. Even though more people are using therapy to help with issues of mental health, the scale of the problem is immense. Here are some statistics from WHO:
1 billion people have mental health issues
25% of people in low-income regions have no access to treatment
3 million people die each year of alcohol abuse every
40 seconds someone commits suicide.
People are actively trying to improve their state of mental health, and the demand for psychological help is at its highest. Exacerbated by the ongoing global COVID pandemic, everything is going online and therapy is no exception. Why spend an hour traveling to your therapist if all you need is an Internet connection?
Most specialists admit that telehealth practice helped them with life-work balance, self-care, and overall productivity. Moreover, the number of patients who prefer online meetings is increasing. Let's explore all the factors contributing to the growth of online therapy.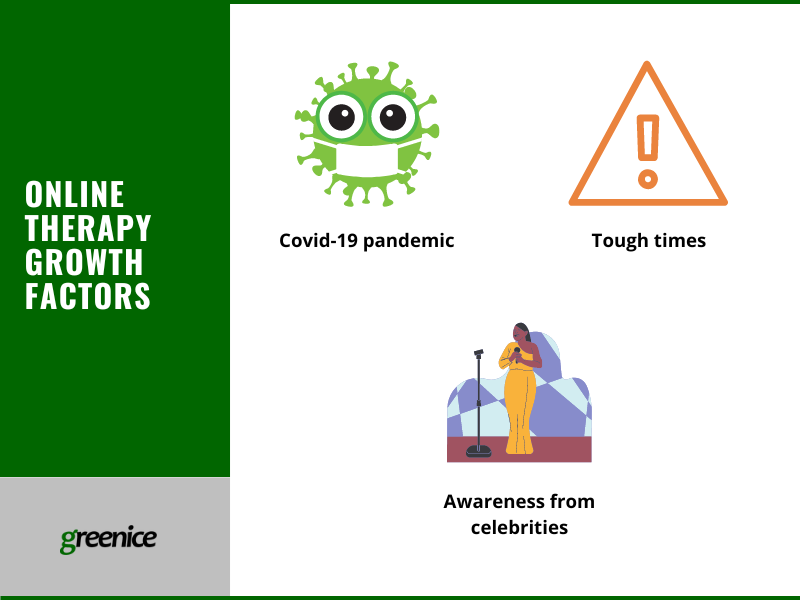 Covid-19 pandemic
The pandemic fueled the growth of online medical services. Compared to 2019, the global telehealth market will be 4 times larger by 2026; it is expected to reach $312 billion. In 2020, $1.8 billion was invested in virtual health companies. Such a growth happened not only in the field of physical health but also in the mental one.
Pandemic-related stress made many people seek psychological help. According to the New York Times, 90% of therapists say more and more people are seeking professional help. Relationship issues are a major source of trouble. Moreover, lockdown isolation and substantial changes in lifestyle often highlighted existing problems.
On top of psychological troubles, during a pandemic, people are also wary of contact with people outside of their household. Therefore, people want to avoid crowded places. That is why remote therapy became a popular alternative to standard office visits. Therapists report that 90% of their meetings happen online.
Tough times
Apart from Coronavirus, 2020 was also a year when racial justice issues arose. The BLM movement and anti-Asian hate crimes made many people of color seek counseling to deal with discrimination problems. For those experiencing discrimination or hate, online therapy is a way to reach out to a mental health professional in a safe atmosphere.
Awareness from celebrities
Today many famous people speak openly about having mental health issues and visiting professional counselors. When such celebrities like Prince Harry, Kristen Bell, Lady Gaga, and Simone Biles shed light on their personal struggles, it increases interest in therapy.
Benefits of an online therapy platform
People are becoming more open about their mental health problems and searching for therapy. It's no surprise that the need for mental health apps has also gone up. For example, TalkSpace witnessed a 65% increase in 2020. Let's examine the advantages of e-therapy.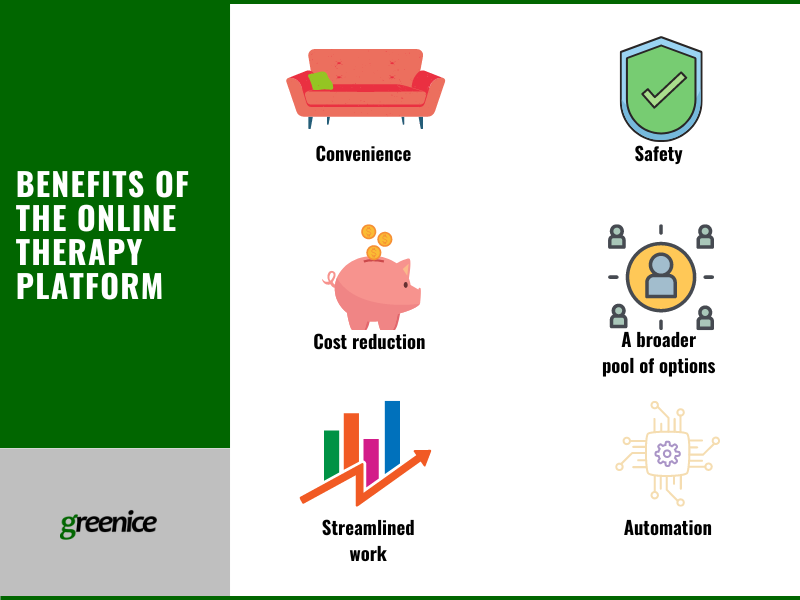 Convenience
For clients: With apps, patients don't need to commute to their therapist's office. This is extremely important for people whose medical conditions make them feel uncomfortable during face to face meetings.
For therapists: The app will not only help find patients, but it will also effectively monitor and manage patients' treatment. Moreover, video conferences let a mental health specialist get extra information about the client from observation of their home life.
Safety
For clients: Patients receive help in the comfort of their home where they are less likely to face typical triggers. For example, people with agoraphobia are able to visit a therapist without leaving their own home.
For therapists: We already mentioned that remote therapy sessions help reduce the risk of infection. In addition, when meeting clients online, professionals are protected from aggressive or potentially violent patients.
Cost reduction
For clients: Most apps charge significantly less than in-office therapy sessions. For example, TalkSpace charges $69 a week ‒ a rate that is usually affordable for those without insurance. There is also no need to spend money on commuting.
For therapists: Therapists don't need to rent an office to serve clients and there are no transportation costs. Working from home or in a coworking environment are excellent alternatives.
A broader pool of options
For clients: The best counselors with the best recommendations are available. With online platforms, people are able to choose therapists from any location. For example, patients are able to work with a therapist who specializes on a specific issue, but work in a different state.
For therapists: Specialists promote themselves online for a fee and reach more clients.
Streamlined work
For clients: Treatment programs can be recorded, and patients are able to note improvement.
For therapists: Apps allow specialists to easily stay in touch with their patients. It is simple to check in with clients, get a complete picture of their conditions, and adjust their treatment if necessary.
Automation
For clients: Apps automate processes and simplify customers' lives. For example, they can remind patients about upcoming meetings or automatically send bills.
For therapists: No paperwork (unless you want it). Patients' data are saved in the app and can be accessed only by therapists.
The competitive landscape
There are online counseling platforms targeted to any taste or budget. The main goal of such apps is to connect patients with therapists and provide them with tools for online communication. Filters like qualification, location, schedule, and cost allow patients to find the most suitable professionals. Platforms can automatically match users with specialists based on conditions.
Here are the best examples of online counseling apps according to Verywell Mind research.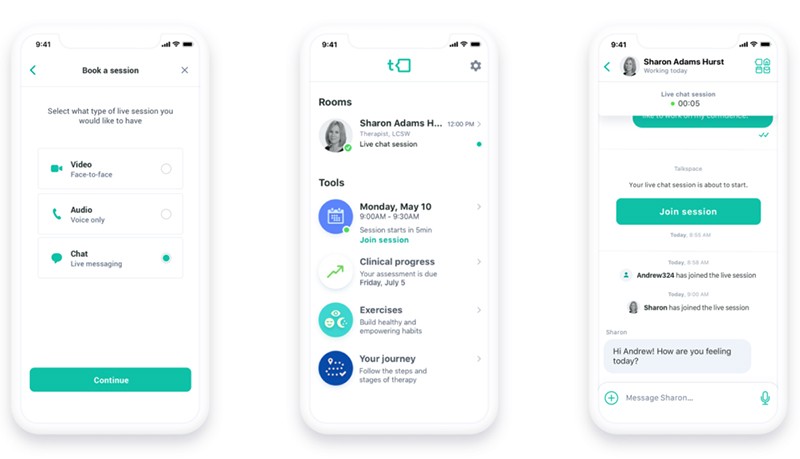 Number of users - 61,500 active, 39 million overall.
Beginning in 2012, TalkSpace was one of the first platforms for online therapy. Today, they offer a wide range of services - online therapy for teens, adults, and couples, medication management, and psychiatry. TalkSpace competitors do not offer psychiatry. The platform works with insurance providers and EAP plans. Of course, this platform is HIPAA compliant.
After registration on the platform, a user visits a private chat room to consult with a mental health professional who asks questions about the patient's expectations from the therapy. Based on this preliminary interview, the patient is presented with several counselors who match their wants and needs.
Communication with professionals is available through live chat, text messaging, or audio and video conferencing.
TalkSpace uses subscription as a monetization strategy and offers several price plans that users still can customize according to their needs. The price also depends on geolocation.
Low-cost - $69 - $159 per week.
Psychiatric services - from $199 for an initial evaluation, + $125 for every follow-up visit.
Private practice can cost as much as $900 per month or more.
Every plan offers a free, 10-minute introductory call with your specialist.
BetterHelp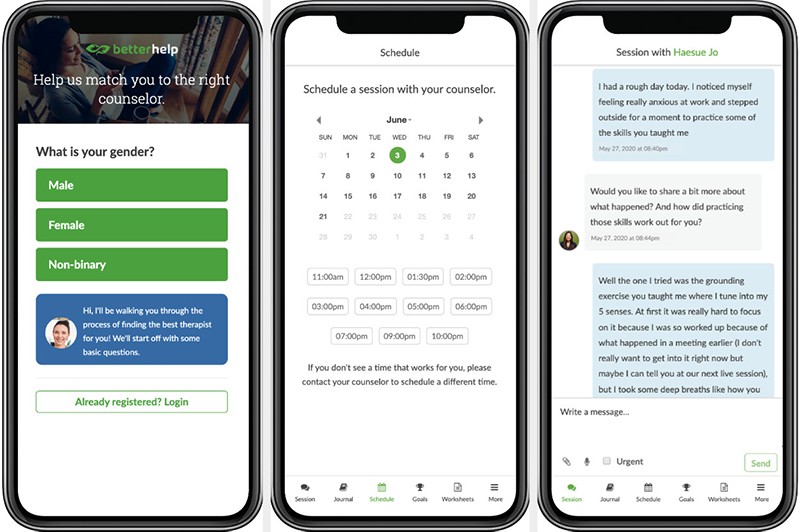 A number of users - 2.5+ million.
BetterHelp is an online therapy service for different issues. It has a high customer satisfaction rate. The platform is easy to navigate and offers a variety of therapy options for adults and couples.
After registration, users answer a questionnaire to identify exactly what issues they are dealing with. Patients can clarify the age, gender, and specialization of their desired counselor. Then, the service matches a user with a therapist based on the questionnaire.
Communication is possible through live chat or audio/video conferencing. Customarily patients meet weekly for 30-45 minutes with unlimited messaging. BetterHelp also uses phone therapy for use when internet service is poor.
The platform is subscription-based and pricing plans can vary depending on geographical locations ‒ determined by IP addresses.
Start - from $240 per month
Advanced - from $600 per month.
Talkspace and BetterHelp are the leaders in online therapy. They provide many therapy services and pricing plans. Considering workload and payments, therapists find working conditions in BetterHelp more satisfying. Both companies offer great service to customers.
The online counseling market is not limited to these two platforms. The demand is growing and new solutions appear regularly.
Here are the most successful apps suitable for specific goals according to Verywell Mind:
| | | | |
| --- | --- | --- | --- |
| Name | Best for | Monetization model | Description |
| ReGain | Couples | subscription, $240-$360 per month | focuses on relationship issues. Qualified therapists counsel one or both partners through video or messaging chat |
| Wellnite | Insurance | subscription, $150-$350 per month | affordable service that offers treatment for anxiety and depression |
| Rethink My Therapy | Families | subscription, $99-$159 per month, 1-week free trial | affordable service with medication management, great for family therapy |
| Ayana Therapy | The BIPOC Community | $140 per session, or $290 monthly subscription | affordable, accessible, and inclusive platform for marginalized communities |
| Amwell | Flexible Scheduling | $109-$129 per session, $279 for an initial appointment with a psychiatrist | offers psychiatric and talk therapy, accepts insurance, allows as needed scheduling |
| Pride Counseling | LGBTQIA+ Community | subscription, $240-$480 per month | affordable and private services from qualified therapists who focus on the LGBTQIA+ Community |
| Teladoc Health | Psychiatry | $99 per session, $209 for initial psychiatry appointments, and $109 for follow-ups | offers individual therapy sessions for teenagers and adults worldwide |
| Circles | Group Therapy | subscription, $79 per month, 1-month free trial | affordable service for group therapy dedicated to different mental health struggles |
| Monument | Addiction | subscription, $9.99 - $249 per month | focuses on recovery from alcohol and narcotic use disorders and associated mental health issues |
| Online-Therapy | CBT | subscription, $160-$320 per month | provides quality cognitive behavioral therapy and additional resources for self-care work |
| Faithful Counseling | Christians | subscription, $240-$400 per month | qualified therapists integrate clinical practice with faith-based guidance |
Want your online counseling app to stand out?
Contact Us
Challenges of online therapy
Online counseling may be difficult to arrange. But as an owner of an e-counseling platform, you must deal with these challenges and ensure the best conditions for therapists and patients.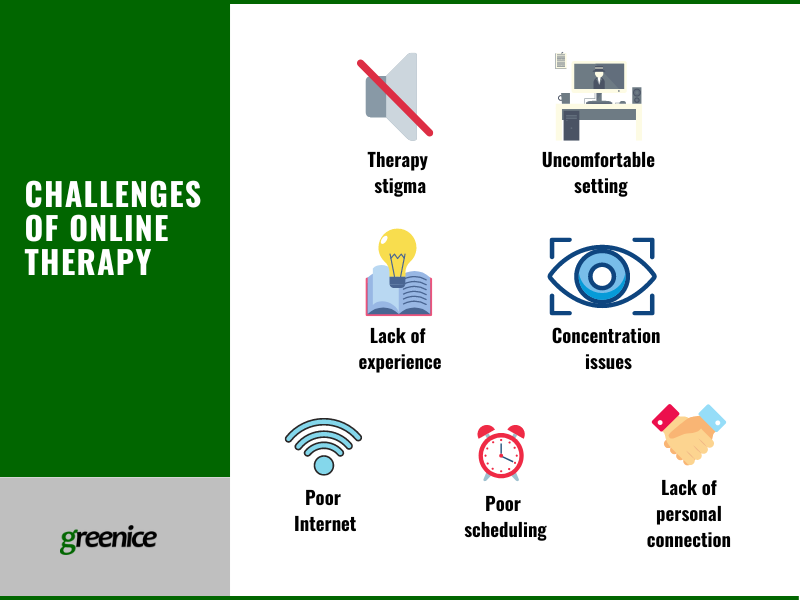 Therapy stigma
In modern society, 46% of Americans have mental health issues. At the same time, therapy stigma keeps 30% of people from reaching out.
In many cultures, people who seek professional mental help are perceived as weak because they can't handle their problems alone. Data shows that in the US, individuals from ethnic minorities are particularly less comfortable asking for help from psychologists.
But not only minorities experience therapy stigma. Millions of people prefer to deal with mental problems on their own because of the negative reputation associated with counseling.
Possible solutions:
Normalization of therapy in society and the more positive representations of mental health issues in the media can help fight therapy stigma. To improve the situation, people who build such marketplaces can help spread awareness with marketing and PR activities. For one thing, the industry can share statistics that show how many people are visiting mental health professionals. Customers can also publicize how therapy helped them.
Uncomfortable setting
For patients, it is not always possible to find a quiet place for a session. Background noise and other interruptions interfere with therapy. Additionally, if the video quality is poor, therapists won't be able to read necessary clues from a patient's body language and emotions. Online sessions are difficult to handle for 28% of counselors.
Possible solutions:
Tell your users how to find a suitable location for therapy sessions. Provide maps with appropriate locations nearby (e.g. coworking places). Show them how to use background filters to hide their apartment.
Lack of experience
Most mental health professionals didn't use online sessions before the pandemic. It can be hard to adapt to the new format without special training.
Possible solutions:
Provide instructions or workshops for therapists to prepare them for online work. An intuitive and user-friendly interface will also make the life of therapists easier.
Concentration issues
It is easy to lose focus during video conferencing. Notifications on mobile devices and self-view distract users from the session.
Possible solutions:
Everyone must settle into the right mindset before online sessions. Standard rituals can help users get into the correct frame of mind for therapy.
Additional challenges
There are problems that are common for any online interaction. The e-counseling platform needs to minimize disadvantages.
Other problems and possible solutions:
poor Internet - add phone calls and messaging features to video conferencing,
lack of personal connection - provide 10-minute introductory calls with a therapist,
poor scheduling - offer a calendar with an easy to use and flexible scheduling system.
Monetization models of mental health app
Therapists will charge customers for their services. But how will you, as a marketplace owner, earn money? Here are the most popular monetization models.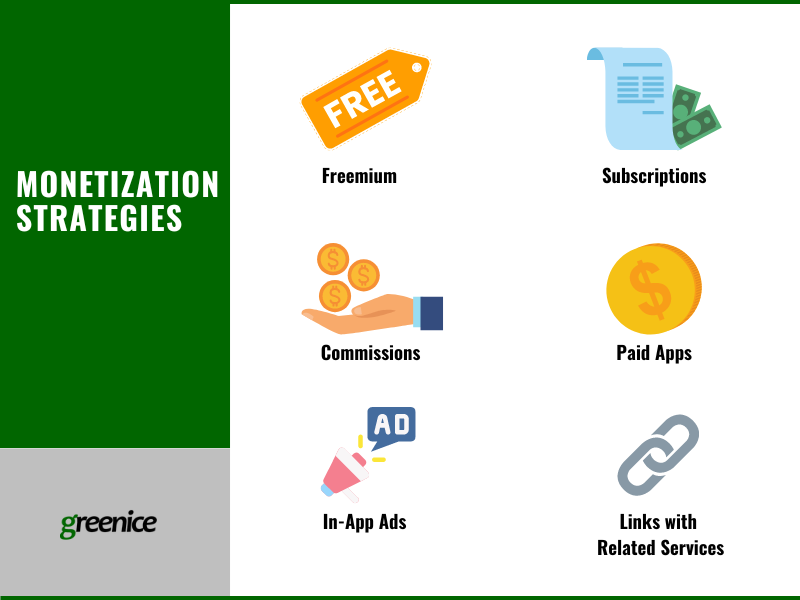 Freemium
Some functionality is available for free, but if users want to get the most from the app they need to pay (one-time purchase or subscription). Another option is to offer a trial period to give users a taste of the product. The app offers full functionality for free, but for a limited period of time
Subscriptions
Users pay for your service on a regular basis (once a month or once a year). You should offer several payment plans. Subscription is the most popular option for counseling apps.
Commissions
You will simply charge for each therapy session. The payments can come from therapists or patients, or both.
Paid Apps
Your customers may need to buy your app. Make sure you provide something truly valuable or users will choose a free option. As an alternative, you can offer paid content to stimulate in-app purchases. Be wary ‒ many users find this model annoying.
In-App Ads
Don't forget that you are dealing with a sensitive topic, so intrusive, distracting ads should be avoided. Customers come to find help, not to get bombarded by commercials, especially irrelevant ones. Therapists can pay to be promoted within the platform.
Links with Related Services
Use internal links to advertise and sell products or services such as merchandise, books, podcasts, and workshops. Most apps use several models at once. For example, you can use a combination of freemium and subscription.
Core features and extra features
We have divided the functionality of online therapy platforms into core and extra features. Then we subdivided them into 3 user types: patients, therapists, and platform owner (admin).
For customers: These features are what patients will see. This is the most important part of your app because customer satisfaction defines how successful your platform will be.
For therapists: This is an interface for professionals who work on your platform. Even though "the customer is always right," it's important to provide therapists with pleasant working conditions. Furthermore, the therapists themselves are YOUR customers since you are hosting them on your platform.
For admin: This panel is what you will use to control the activity within your platform. Make sure you like it ‒ you'll be using it all the time.
When creating a mental health app you need to protect patients' data. For this, your platform must follow regulatory guidelines: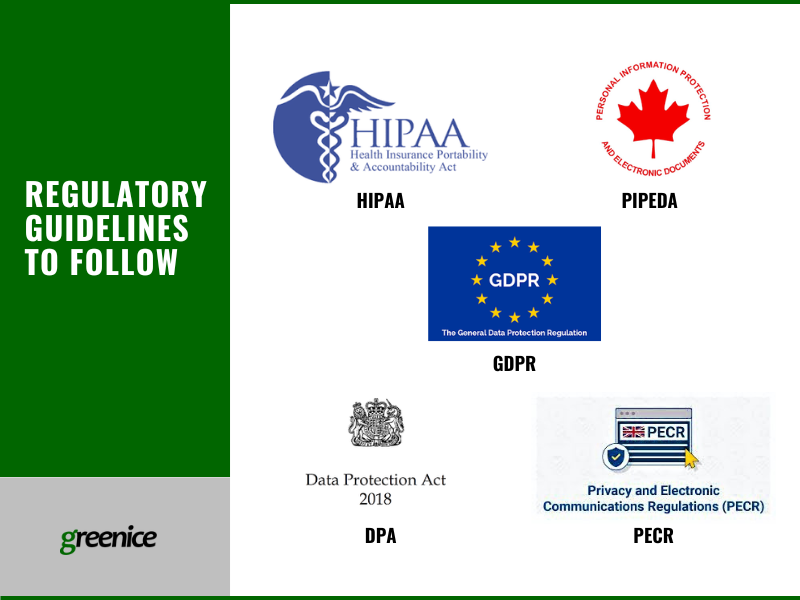 If you want to learn how to make a mental health counseling application stand out - think about adding extra features to it.
For customers: Additional features can make your platform extra comfortable and engaging, and provide patients with additional opportunities to improve their mental health.
For therapists: These features will allow therapists to fully utilize the platform, and work more efficiently.
Features

For customers

For therapists

For

admin

Core

Login (+Social Login)
Sign-Up Process
Questionnaires
Profile Management Service Selection
View Therapist Profiles
Treatments Available
View Treatment Detail
Chat Messaging
Audio Chat
Video Chat
Live Sessions Available
Subscription Plans
Payment Gateway
Appointment Reminders
Push Notifications
Feedback
Privacy Policy
History
Support
Geolocation
Data Encryption

Login (+Social Login)
Accept/Reject Request
Set Availability
Profile Management
Receive Payments
Live Session Scheduling
View Feedback
History
Support

Login
Dashboard
Patient Profile Management
Therapist Profile Management
Service Management
Subscription Management
Push Notification
Live Session
Management Support

Extra

Journaling
Matching with a Therapist
Games and Rewards (discounts)
Medication Tracking
Progress Tracking and Self-monitoring
Background Images (like in Zoom)
Questionnaires and Insights
Support groups

Background Images
Insights and Instructions
Paid Account Promotion

*highly depends on your needs. It's up to your imagination what you add to your panel.
The counseling website design costs
To estimate the total cost, you need to know what features you will adopt. We can give you a ballpark estimate for building a marketplace for psychologists.
Creating a marketplace with core features and payment integration will take about 3-5 months and cost $30,000 - $50,000. At the end, you will get an online platform MVP with basic functionality which includes video conferencing and HIPAA compliance.
A platform with advanced functionality and complex integrations can cost $60,000 - $90,000. The final cost depends on how many extra features you want. No one will stop you from creating a fancy app.
Get an estimate of your counseling app!
Contact Us
How to apply this to your business
Mental health is sensitive and must be treated carefully. Modern society is stressful and daily life creates a need for psychological help.
Not everyone, however, has the opportunity to visit a therapist. Some people do not feel comfortable taking the step of actually going to a counselor's office. Online therapy allows people to discuss their issues without wasting hours in traffic and adding to their already hectic schedule.
Counseling apps allow therapists to provide services online in a comfortable, safe environment. It's no surprise that you want to create a mental health app. The possibilities are endless and the potential profit is assured.
In this article, we discussed the reasons to build a marketplace for therapists, how to monetize it, what features to include, and how much development will cost. If you need advice on mental health app design - we'd be happy to help you. Give us a chance to make your dreams come true!
Have questions on counseling app development?
Contact Us
Rate this article!
You should be
logged in
to be able to rate articles