Visual content is a powerful tool used by marketers and bloggers. It can increase audience engagement, brand awareness, and click-through rate on websites.
No blog, advertisement banner, or landing page can exist without high-resolution catchy images or videos. But hiring a photographer or graphic designer for every campaign is expensive and time-consuming. That's why it was a brilliant idea to create global storage of royalty-free photos, videos, vectors, and music, and make them available for instant download at a cost of only a few dollars. Shutterstock is one of the most famous communities of visual content contributors in the world.
Taking into account the incrementally growing interest in visuals for the years to come, why not build a website like Shutterstock?
We will give you the most important things you need to know based on a decade of experience in web development! Let's dive in.

Why Create a Website like Shutterstock
Company Overview
Shutterstock was founded in 2003 by serial entrepreneur Jon Oringer. Jon started with his own 30,000 shots and soon "invited" other photographers to submit their work. The website is available in 21 different languages and is recognized all around the world.
Here are the latest company figures: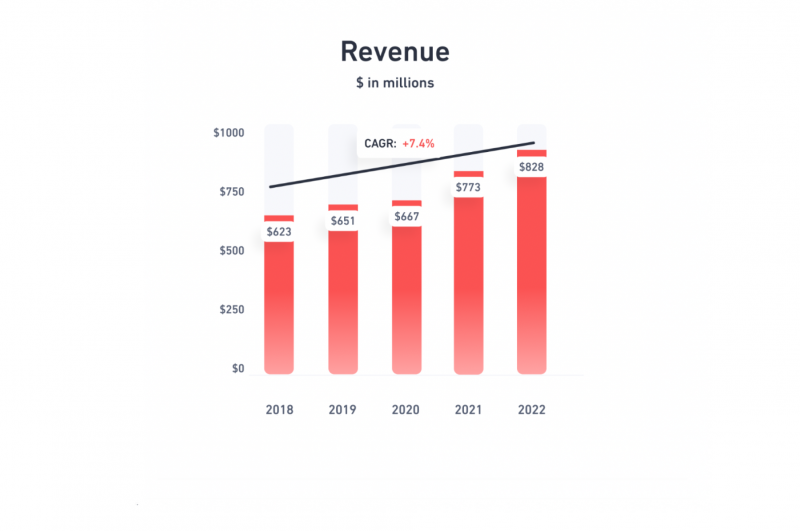 Source: Shutterstock
Shutterstock Business Model
Shutterstock's business model is based on selling images, videos, illustrations, and music on behalf of photographers, videographers, graphic designers, and musicians registered on the website. By submitting their visuals, contributors give future buyers all rights to use the purchased content at their discretion.
The company sells 6 images per second. For buyers, Shutterstock provides several options:
prepaid subscription starting from $29/mo for 10 images to $199 for 750 images (even if a buyer downloaded less),
on-demand downloads costing from $49 for 5 photos to $179 for 25 images,
plans for teams and enterprises with special offers.
At the same time, for each downloaded image, a contributor is paid a minimum of $0.10 (before 2020, it was $0.25). It's not difficult to calculate the difference between what a buyer pays and what a contributor receives.
Besides the main website, in 2013, Shutterstock created a separate platform - Offset.com - for premium quality content.
The reason is that nowadays society has a strong interest in using real, authentic images of ordinary people and their lifestyle as it is, without posing, glossing, and artificial smiles. Now people want real emotions, real faces (with wrinkles, no makeup, and drawbacks), and true stories.
People got sick and tired of all the artificial glamour of models posing in photos persuading us to buy things that we do not need to become happy.
This content should attract marketers who are searching for genuine, premium, high-quality shots for their campaigns. So the price is corresponding. But if you pay 2.000 - 4.000 euro per 5-10 images, at least you may feel safe from seeing them on every article and advertisement.
Reasons to Start a Stock Photo Website
1. Visual content is in demand as never before.
The creation of custom content costs a lot, so people prefer to buy ready images and videos from stock agencies to save time and money.
2. Rapid technology evolution.
With the evolution of smartphone cameras and the enormous growth of the popularity of Instagram blogging, a user does not need a professional camera or Photoshop skills to create attractive trendy visual content. According to Flickr's study, most photoshoots are made with the help of an iPhone camera.
3. Contributors are searching for better conditions.
Judging by Shutterstock's financial report only, their revenue grows year by year as does the number of registered members. However, the commission that is paid to professionals is unfairly small, especially since 2020, when the platform has decreased the earnings more than twice. This infuriated Shutterstock's photographers many of which decided to boycott the Company. Many contributors switched to competitor platforms like Adobe, Pond5, and Dreamstime.
Another reason for contributors' disappointment is connected with the Shutterstock ranking algorithms. If you are a newbie on the stock, it may be several months to a year before your photos are purchased by somebody, and there is no guarantee that they will be sold again. That demotivates new authors to add their content and may redirect their attention to other stock websites.
The stock has to balance between the interests of old and new contributors, equally showing the top-ranked content, content submitted in the past and fresh submits, to stimulate the activity of all groups of contributors.
4. Finding hidden opportunities and solutions.
Creating a site like Shutterstock, don't be a copycat. Find a unique approach and a nonstandard vision of ordinary things that can open new perspectives in the microstock industry.
A good example of this is Crew and their side project Unsplash. When Crew, a startup for finding freelancers, was in a tough position, they decided to redesign their website and do a photoshoot for it. When they finished there were several unused photos, and they just pushed them for free to the Internet - naming the webpage Unsplash. They could not anticipate that in a few days Unsplash would hit the Internet attracting millions of thankful people, not only to Unsplash that later became a free stock photo website but also to bring new clients and revenues to Crew.
"Those first 10 photos have been seen 58 million times. Unsplash has become a community of over 20 million creators. People from all over the world have generously contributed over 250,000 photos, moving hundreds of millions of creative acts forward." - Mikael Cho, Crew co-founder.
In 2017, Crew was acquired by Dribbble as its co-founders decided to dedicate their efforts to Unsplash only.
Another example of a niche opportunity in the photo stock business was discovered by Snapwire that opened a door for non-professional Instagram contributors giving them a chance to capitalize on their work. The website generously gives its members up to 70% of each photo sale. Moreover, there is a service for companies to post contests to get custom content from the community. The popularity of mobile photo stock is growing, and new apps appear. Here are only some of them: Twenty20, Foap, Clashot, EyeEm, Scoopshot.
"There are so many mobile photographers out there producing this great content, so what if there was a way they could come together and create something better than what was currently available to the buying community?" says Chad Newell, Snapwire's founder, and CEO.
5. Affiliate programs of big stock photo agencies.
You have probably already asked yourself what is the profit of free stock photo communities. Unsplash became an unexpected success out of a not-for-profit side project and leveraged the Crew rating and revenue. Other websites like Pixabay or Freepik also provide free download content but get profit for redirecting to iStock and Shutterstock through their affiliate links.
6. Set a narrow niche.
You can veer a little from making a stock photography website like Shutterstock and creating a platform that will gather a specific content type. Here are examples of areas that sell ready-made content:
| | |
| --- | --- |
| Type of content | Example |
| Photos, illustrations, and videos | Shutterstock, Fotolia, GettyImages, 123RF, 500px, iStockphoto |
| Fonts | TypeKit, FontShop, MyFonts |
| Music | Shutterstock, StockMusic, PremiumBeat |
| Texts | ArticleSale, Constant-Content |
| Icons and logos | FlatIcon, IconFinder, IconShock, VectorStock |
| Graphics, 3D, and Templates | StockLayouts, Envato, CreativeMarket |
How to Start a Stock Photo Website Like Shutterstock
In general, starting a stock photography website like Shutterstock does not differ a lot from the development of any other website. Still, there are some industry peculiarities that should be taken into account.
Shutterstock has two separate website subdomains for different account types: client or contributor.
1. Contributor Profile
The contributor's page should collect and display to a user all necessary information about their login, contact details, payment method, downloads, earnings, transactions history. There are such features as:
Registration/Login

Earnings

(all information about incoming earnings from sales, payment history, and taxes)

Portfolio

(possibility to upload content, view status of content, manage catalog, and manage model and property releases)

Promotion

(referral program management and gallery settings)

Insights

(blog, statistics, forum, newsletters)

User Settings

(account settings, public information, support, contact us)

Dashboard

(statistics on activities, downloads, earnings, submissions, a map showing in what parts of the world the images were bought)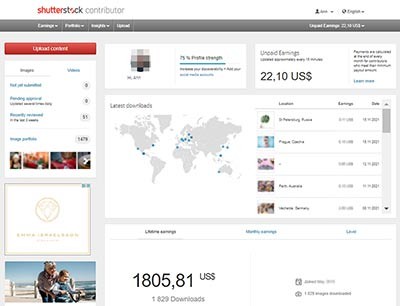 Besides the informative part of the Contributor interface, there are several important functionalities:
a) Upload Content
To upload content, a contributor can use a special Upload wizard that allows adding:
content
keywords (up to 50 words to make the content searchable)
description (up to 200 letters)
model or property release
other settings.
Taking into account that contributors submit large volumes of content, a good stock website aims to simplify the upload process to the maximum. Just imagine manual adding of 50 keywords to each image. If, for instance, you want to submit 10 images, that's 500 words to add, and in the case of 50 images, it's 2500 words. How much time should photographers spend behind their computers on this routine work besides their main tasks of photo shooting and editing?
An easy keywording tool can become a great relief if it has a spell-checker, copy-paste possibility, and elimination of duplicates.
To save time on repeating actions, there is the multi-select tool that allows entering information in a batch. Also, Shutterstock can analyze the content and suggest appropriate keywords based on similar images to add them in one click.
After the content is successfully submitted, the content is sent to the reviewer who should check its correspondence to quality standards and either approve it or reject it.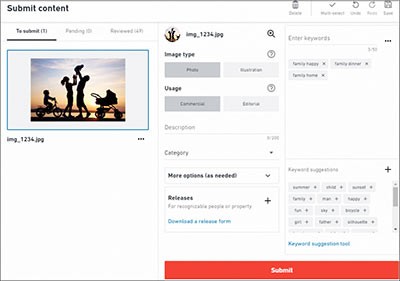 To escape risks of fraud, multiple accounts from one person and increase security, Shutterstock, as well as many other stock photography websites, ask their contributors to upload an ID scan copy to the account. In the same way as any partnership, this serves as a guarantee of trustful relationships between the company and an individual that can be used as proof of rights for authorship and fair contracting in case of some disputes and lawsuits. Also, a stock photo agency can generate tax reports for the contributors.
Authorship is very important for any submitted content that depicts people and property. To escape any law breaches, stock photo agencies require attaching model and property releases to the images to prove the consent of models and property owners.
b) Earnings and Payments
Most stock agencies pay their contributors' commission through payment systems like PayPal, Skrill, and Payoneer. These systems are considered highly secure and reliable and allow you to open an account in almost any part of the world in several minutes. The earnings are sent to a user's e-wallet monthly after a sum reaches a minimum required value (starting from $35 at Shutterstock). Contributors can customize the sum value as they want after they received their first money transfer.
3. Buyer Profile
After registration in the system, the buyer receives access to his account to be able to view the history of actions and correct contact info. There are several other features the profile page may consist of:
Registration/ Login

Plans

(user can select the most appropriate pricing plan)

Profile Info

(user ID, change password, and contact info)

Billing

(payment methods and billing address)

Purchase History

(history of purchases during the definite period)

Preferences

(emails, language, display settings)

Search

(to look up content)

Categories of Сontent

(filter for images, footage, music)

Collections

(possibility to save collections of content)
An interesting and useful feature is the "Create a Design" online editor that allows users to quickly edit any Shutterstock image for their purposes. This is an indispensable tool for digital marketers that have to work with large volumes of graphics: they can change colors, size, add text, overlay an Instagram filter, etc. even before they download the image.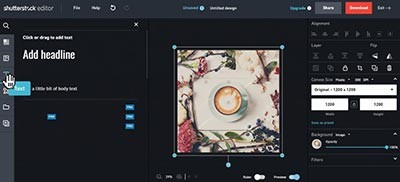 5. Search
Optimized search is one of the key sales drivers both for contributors and stock photo agencies. It is possible to search for the content by:
keywords
similarity
categories and collections
author
popularity
recency
etc.
Nowadays, there is a great variety of search engine technologies with their peculiarities. ElasticSearch, Solr, Sphinx are the most popular today. In our most recent projects, we prefer to use ElasticSearch as the most cutting-edge, quick, and feature-rich technology. You can read our detailed overview of search engines in one of our previous articles:
Now let's explore what is so peculiar about Search Features of Microstocks:
a) Search by Keywords
Users can just enter words in the search bar to return the results tagged with these words.
b) Filters
To make the search even more granular, Shutterstock also provided their users with such filters as orientation, color, image size and resolution, ethnicity, age, gender, number of people. Users may not only search by keywords but also exclude unwanted tags from the results.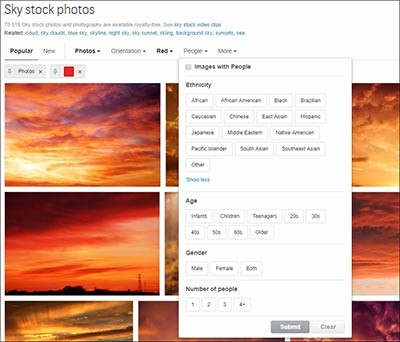 c) Search by Image
In stock websites, keywording is the most popular search type. However, search results relying on keywords only sometimes do not correspond to the truth as tags are assigned manually by contributors and can be unrelated. That's why Shutterstock switched ML to its algorithms to enhance the relevance.
In 2015, Shutterstock introduced a new feature called 'reverse image search', empowered by artificial intelligence. Similar to Google's search by image, Shutterstock search can look up their database to find similar images to one that is uploaded by the user. The system reads images as pixels, rather than by metadata such as keywords, and returns images of the highest similarity.
For example, a user found a picture that exactly fits his/her needs and wants to find it in original size and resolution. So, now he/she can simply upload the copy to the stock website to search for it. It could be almost impossible to search by keywords only.
d) Similar Images Recommendations
One more useful option of the search is showing Similar Images. The system uses convolutional neural network algorithms to identify similarities among more than 200 million images and videos.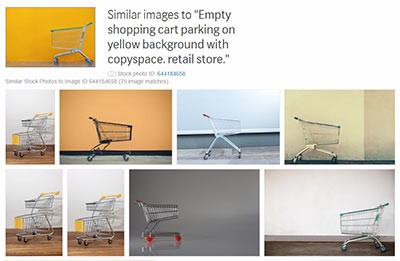 One more Shutterstock's search feature that uses the power of machine learning is composition aware search for various elements of layout in the images. The feature is still in the beta-testing mode on the Shutterstock Showcase section. This will be especially interesting for designers who have definite requirements for images as a placeholder for text and logo, number of elements, and their position to each other.
First, you enter keywords, separating them with commas, then you see the first letters keywords appear on the special screen where you can move them to set the composition. And the search gives you back all similar layout images.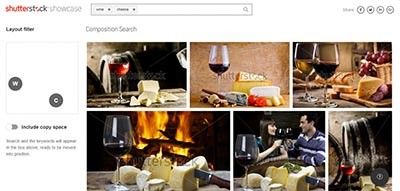 6. Admin Account
To edit site content and manage users and contributors, there should be an Admin account. The Admin panel may have the following features:
Content Management

(banner, blog, prices, discounts, and special offers)

Buyer Management

(user information, logins, and passwords, pricing plans)

Contributor Management

(user information, logins, and passwords, ID verification, payments settings, uploaded content management)

Transactions Management

(all payments, affiliates relationships)

Dashboard

(activity statistics)
and some others
7. Storage
For storage, stock photo websites can use, for example, AWS S3 that is reliable, affordable in price, and easy to configure.
When contributors upload their content to the website, the system should automatically create the reduced-size versions of pictures, layover watermarks, and produce several sizes (small, medium, large, extra-large - dynamically) of content, if needed.
The preview thumbnails are shown publicly on the website caching at the CDN for higher performance and security, while originals and releases are safely stored on the server and sent only to those who pay for downloads. Delivering previews from a server that is located closer to the user increases the speed of website loading and enhances the user experience.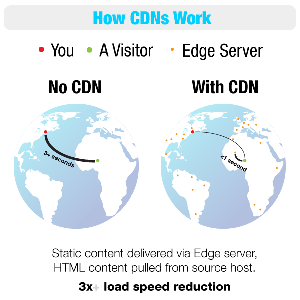 The Shutterstock search engine returns results in just 200 milliseconds. Kevin Lester, the vice president of engineering for search and discovery at Shutterstock, supposes that high speed directly influences sales.
"When we quicken the speed, we found that people search more because what we did was reduce the cost of them doing the search, which means they were exploring our site more. And that, in turn, meant that they were more likely to sign up as customers," says Lester.
8. Intellectual Property Protection
Watermarks are one of the main defenses against the theft of licensed photos even though anyone can remove the watermark with Photoshop in an hour or so.
Moreover, in 2017 there appeared the news that Google created a technology that can remove watermarks from a bunch of stock images in just minutes, thus breaking the defense wall of the stock photography industry. As Google explained they did not have bad intentions, they only explored the possibilities of ML technologies, and gladly shared their findings with stock photo firms.
As they found out the weak point was in using the same watermark for each of the millions of photos. Such disclosure gave stock photo websites a chance to increase security and invent individual watermarks.
For instance, Shutterstock created its algorithm to protect authorship: now the system slightly changes the logo shape and also adds a contributor's name to the watermark.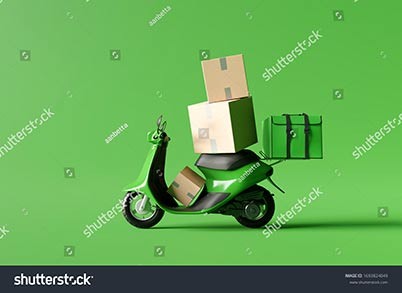 9. General Security Practices
Security of access to content and users' personal information is guaranteed with special security practices like tokenization, not allowing simple or once used passwords, verification of IP addresses, emails, phone numbers, adding anti-spam services, creating blacklists, and identifying and blocking suspicious behavior patterns. And using CDN for cashing content allows for reducing DDoS attack risks.
10. Emails
Being in contact with your customers is indispensable. Alerts, confirmations, greetings, cheer-ups, notifications, news, and other types of emails warm up the relationship with your audience. Shutterstock uses a lot of automatically generated emails, almost for each user action. For example:
Contributor Newsletter
Contributor Next Payment Level
Contributor Payout
First Time Submission Confirmation
Thank You for Your Content Upload
Shutterstock Account Information Changed
Your Submitted Content Has Been Approved, etc.
How Much Can It Cost to Build a Website like Shutterstock
Now that we know what a stock photography website should consist of, let's get to estimation. Shutterstock was not built in a day or even a year. It has been in constant development for 15 years, and during this time it evolved and grew enormously. They constantly optimize processes and enhance searching algorithms with machine learning and deep learning technologies. Great attention is paid to beta-testing before a new feature comes to the light. Shutterstock support is very attentive, quickly responds, and takes measures for solving issues. They iterate often and this is noticeable by the changes they push to production.
So, if you plan to make a website like Shutterstock, be prepared that this will be an endless process of enhancements.
At Greenice, we suggest you start with a Minimum Viable Product, building such features as:
Registration/Login
Buyer/Contributor profiles with minimal functionality
Contributor portfolio with an upload image tool
Simple search by keywords
Payment process

Admin panel to manage the site.
Nowadays, there is no need to reinvent the wheel when creating a stock website. We can use a white label solution and customize it to your needs. The development expenses will amount to $15,000 - $25,000. This cost covers the work of the entire team consisting of a project manager, a team lead, front- and back-end developers, and a QA engineer.
But if you need unique features and integrations, it is better to regard custom development. The development of a custom multi-vendor marketplace for digital products from the ground up may take approximately 4-6 months depending on the details. The price will start from $35,000-$55,000. After the launch and first feedback, you will be able to understand what to enhance and what features to add.
How to Apply This to Your Business
Visual content is going to drive marketing and sales for years to come. So the demand for a photo, videos, and illustrations will continue to grow. Although there is tough competition in the microstock sphere, there is always a chance to make a stock photography website like Shutterstock outstanding with some unique, brand new ideas or better quality of service and commodity of use.
Start with researching your audience's challenges and find solutions to relieve their pain points. Giants such as Shutterstock, Getty Images, Dreamstime, and Fotolia are big and clumsy. A new age generation who are used to mobility and one-click actions will easily switch to easier apps. So, start with MVP and some unique features and continue to grow gradually.
Above we discussed how to build a website like Shutterstock, now it is your turn to act!
If you have an idea for a microstock business, contact us to discuss the opportunities for its implementation!
Get a Free Quote Now!
Rate this article!
You should be
logged in
to be able to rate articles