People who are shopping for beauty products, spend 80% of the time pre-researching: reading product descriptions, customer reviews, product comparison, and watching influencers' videos.
A substantial digital presence is indispensable for a beauty brand and the best way to present your products is with a specialized website. Today the website serves many more purposes than just online orders. This is the core of the customer-centric approach and the source of invaluable data for marketing campaigns.
If you're wondering how to start a makeup company and have a presence online, we hope that here you'll find valuable insights and all of the must-have features of a modern website. Just dive in!
Types of Cosmetics Websites
Before we drill down into the question of how to start an online beauty supply store, let's take a look at some facts and figures.
Today, we can buy health and beauty goods in a huge variety of shops, including drug stores, cosmetics shops, and supermarkets.
Buying products online gives the customer tons of advantages — from the convenience of buying from home to the availability of the unlimited assortment of brands and products. Today we can find the online beauty websites of several types. For instance: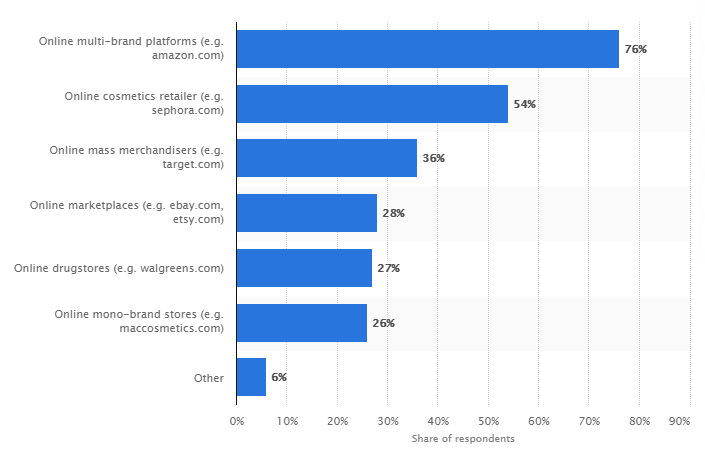 Multi-vendor platforms (Amazon, TMall) - 75%
Online cosmetics retailers (Sephora, Ulta, Douglas, Nordstrom, BeautyBay) - 54%
Online mass merchandisers (Target, Walmart) - 36%
Online marketplaces (eBay, Taobao, Etsy) - 28%
Online drugstores (Wellgreen, Boots, Well) - 27%
Mono-brand online stores (MAC Cosmetics, Becca Cosmetics, Makeup Forever, Lush, Urban Decay, Anastasia Beverly Hills) - 26%
We have already described how to build multi-brand platforms like Amazon, marketplaces like Etsy, and auctions like eBay. Today we will focus solely on building eCommerce for makeup and cosmetics: both multi-brand and mono-brand as their features are very similar.
Why Build an Online Beauty and Cosmetics Store?
First, we need to clarify reasons to start a beauty store online and after that, we'll discuss how to open a beauty supply store online.
eCommerce gives a lot of freedom both to customers and retailers. Shoppers get 24/7 access to an unrestricted variety of products and brands, and retailers save on the creation and maintenance of brick-and-mortar stores and staff.
Such worldwide known cosmetics brands like Glossier, ColourPop, Kylie Cosmetics, Morphe, Milk Makeup, and Drunk Elephant started as online-only shops. Only after getting tremendous success online, did they expand to have physical stores as well.
Here are some other reasons why a website can help you start a cosmetics company:
Digital marketing has lowered the barriers to enter the beauty market for emerging brands. New cosmetics producers do not need to open a brick-and-mortar shop when they can attract customers all over the world with their websites and promote products with celebrities, Instagram, and YouTube bloggers.
One of the most exciting examples is mono-brand 'unicorn', Glossier. The company started out with opinion influencers on Instagram that gave them revenue and fans far before the company opened its flagship in Los Angeles.
Having an online beauty shop solidifies the reputation of a brand as a serious market player and brings shoppers from multiple digital marketing channels to the sales pages. Websites also allow you to collect and analyze large volumes of customers' data. Later on, as we discuss the features, we'll talk about how brands can use this data.
Pandemic and social-distancing conditions
As the COVID-19 epidemic paralyzed most business and life areas, beauty shops had to transfer all their activities online. Those who already had a website felt less stressed even though they were also overwhelmed looking for new strategies to retain their clients.
Analysts predict that the beauty sphere will not suffer as much as other areas in a recession. Customers highly prioritize skincare and makeup items even in times of financial difficulties.
The experience of China's beauty companies has already shown how to overcome social-distancing hurdles. For example, the cosmetics company Lin Qingxuan had to shut down 40% of its stores during the epidemic in Wuhan. But the company redirected its beauty consultants from the offline stores into online assistance to customers and sales through WeChat. Remarkably, this change resulted in a 200% increase in sales compared to previous years.
It can be really hard to compete with the time-honored giants like Sephora or Amazon but you can carve out a small niche and become an 'Amazon of eco-friendly products' or other segments that are extremely popular now. Today, customers are looking for cosmetics more consciously and examine many factors besides the price and brand.
The 2020-2030 decade of eCommerce will be the decade of eco-friendliness, sustainability, natural ingredients, personalization, quality over quantity, and other consciousness-raising issues. Many new brands now stress their unique concept in a micro-niche to cover the unmet needs of consumers. Here are some examples of niches where new startups can compete:
40+ aged customers (

Studio10

)
Tween and teen segment (

Klee

)
Environmentally minded brands (

Lush

)
Exclusive or hard to get brands (

India Rose

)
Vegan, cruelty-free, and organic products (

100% Pure

)
Natural look cosmetics (

Redhead Revolution

)
Professional makeup (

Makeup Forever

)
Cosmetics for women of color (

Black Opal

)
Workout-proof makeup (

Sweat Cosmetics

)
Korean (or Japanese) cosmetics (

BeautyNetKorea

)
Are you looking for a development team to build an online beauty store?
Contact Us
Features That Will Increase Sales and Loyalty to Your Beauty Website
Is it worth mentioning that any eCommerce website, whether it sells cosmetics, groceries, clothes, or computers, has a standard set of features? These are registration, user profile, product catalog, product details pages, payments integration, checkout process, delivery options integration, and support. You will find them on any website: multi- or mono-brand.
But these are just the tip of the iceberg. Today's websites are much more than just landing pages and catalogs of goods. Online shopping differs from shopping in the physical store greatly and the task of the website is to minimize discomfort while providing a great shopping experience.
There are some typical challenges that customers experience online. A beauty website should eliminate these obstacles for shoppers:
No possibility to test the products
No consultant to ask for advice
Difficulty finding the exact product and the annoyance of getting lost in a maze of options
Besides solving these challenges, modern websites should serve their owners as the tools for:
Building customer loyalty by recommending the best-suited products
Reducing production expenses by collecting and analyzing consumer preferences
Increasing sales with the help of the reviews and ratings
Let's take a look at the most essential contemporary features that you need in your own beauty website.
When customers come to the physical cosmetics store they can see signs for product categories and for brands. They should find the same on the website. Users should be able to apply filters to their searches and come out with accurate results.
For example, if you look at the Search feature at the NYX Cosmetics website, you can see individual parameters for each category of products that will lead to accurate results. If a customer searches the eyeshadow palette, she can filter by "feature," "coverage," "finish" and "price" options. These filters will be different for lipstick, mascara, and other items.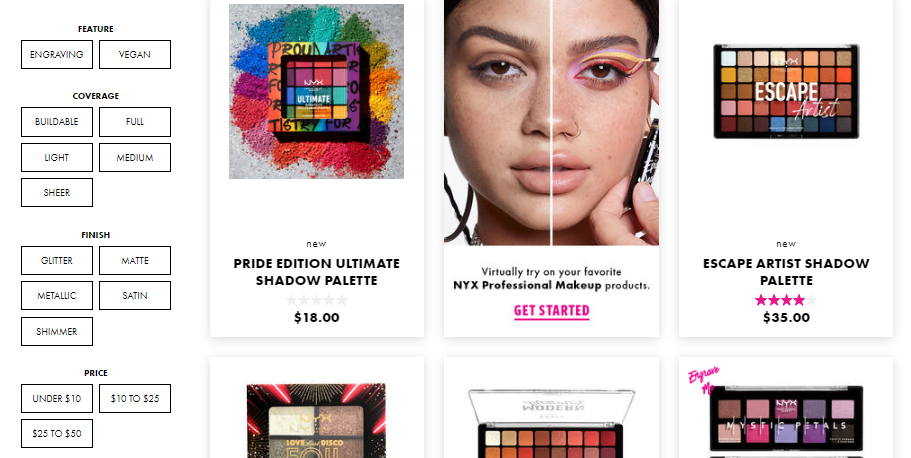 Customers buy more if they are sure that the proposed goods take into account their individual needs. In the same way as a professional consultant in the shop can suggest goods that a customer may like, websites also should be equipped with a smart recommendation feature. Based on the data collected from users on the website, website algorithms can learn, and next time propose more tailored recommendations. To achieve the highest accuracy, brands' websites collect such data as demographics, previous purchases, search history, viewed products, and items added to wishlists.
Some companies collect more sophisticated data, for example, from wearables. Thus, La Roche-Posay created a My Skin Track UV wearable sensor that can measure the level of damage caused by environmental factors like UV, pollution, humidity, and heat. The device transmits the data to the user's smartphone app and the system can show personal recommendations of cosmetics and daily care that can lessen negative effects on the customer's health.

Neutrogena created skin health evaluating technology, Skin 360. Users can take a selfie with this app and wait for the results. The system will scan their face, recommend routine care and treatment products individually for each customer, and even track changes over time. The app uses a database of more than 10,000 people of every age, gender, and ethnicity. The system assesses more than 2,000 skin attributes to be precise in determining a skin type.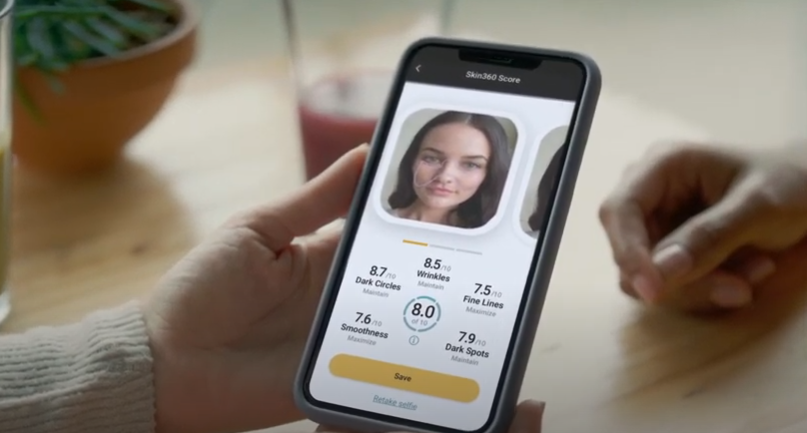 New customers can use a quick quiz where they choose their preferences, indicate their problems, and get personal recommendations at once.

You can also suggest the most popular products according to your sales data. Here are the most popular recommendation features on beauty websites:
Suggesting complementary products ('Often bought together')
Suggesting similar products ('You may also like')
Special offers ('Deal of the day')
New arrivals
Featured goods (celebrities' choice, most popular products)
Recommendations not only streamline the sales process but also may help reduce manufacturing and warehouse costs. For instance, ScentBird, a monthly subscription box of perfumes, used AI-based algorithms to analyze the 4-star reviews of their 300,000 subscribers on the website. The system identified certain patterns of preferences. The results showed that both men and women rated only 13 fragrance notes highly. That allowed the company to rethink its manufacturing efforts and create four gender-fluid fragrances under the brand Confessions of a Rebel that truly appeal to the majority of clients.
One of the biggest challenges for an online makeup shop is that customers are unable to test and try on the items like they used to do in physical stores. To meet this need, companies implemented virtual mirrors on their websites that use facial scanning and layers (or masks) to create the effect of trying on a product. Many brands use this technology to create a close-to-reality user experience and help customers choose makeup products like foundation, eyeshadow, and lipstick.
Sephora, NYX, L'Oreal, Make-Up Forever, MAC Cosmetics, and many other brands already use virtual try-on features on their websites.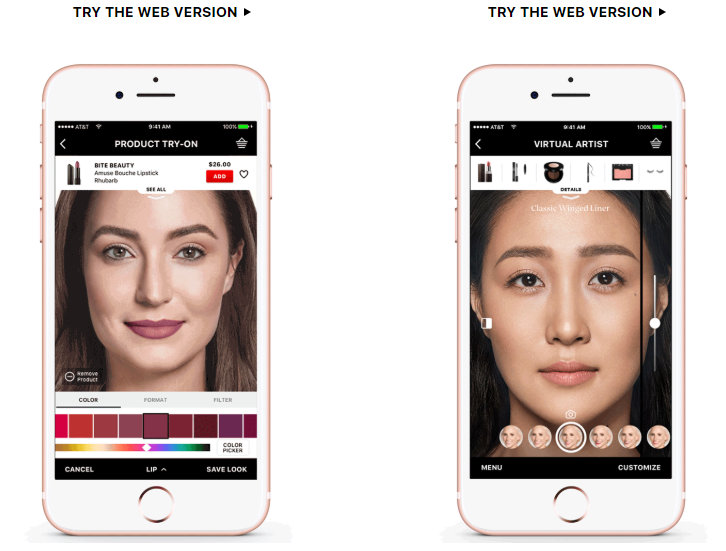 Another challenge the online beauty retailers face is the absence of live communication with the customers to give them professional advice or provide help. In stores, this role usually belongs to the shop consultants. However, websites should not stay mute. Today, the online beauty industry can benefit from AI-powered chatbots that can share tips on beauty products or help shoppers find the right item. To make the conversation more productive, you can engage real specialists who will communicate with the customers through the chat. For example, shoppers can upload their photos and the employee will give recommendations on the best type of cosmetics, foundation, or lipstick tone.
Reviews are one of the main sales drivers. The founder of Scentbird, Mariya Nurislamova says that if the first review for perfume is a two-star rating, sales decrease by 50%. People would rather buy a product with no reviews at all than a product with poor reviews. If a fragrance receives four or five stars instead of two, its sales will double.
This means that it is very important to encourage your buyers to review the product on your website. How should this be done? Try follow-up emails. 80% of customers leave a review after reminders that reach out to buyers by email after they have received their orders.
Reviews are a powerful trust-building tool. But at the same time, they are quite vulnerable, as they can be written by anyone. Therefore, reviews should be carefully protected from spam and fraud. Make sure that only authorized users can leave a review, allow customers to write a review only after the order was delivered, and prevent spam by blocking suspicious emails and multiple comments from the same IP-address.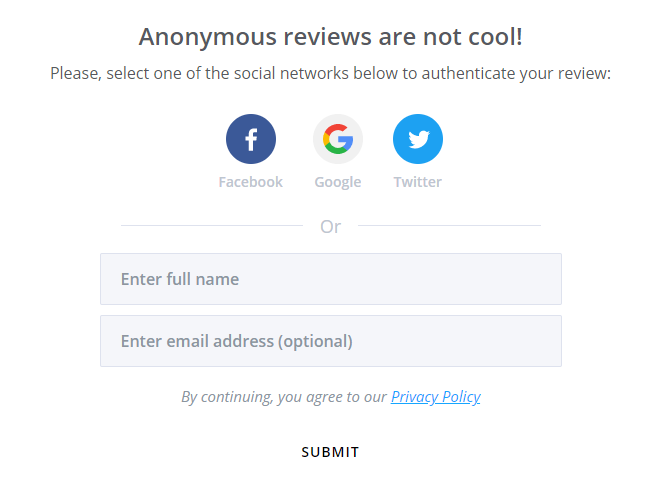 Research has shown that authenticated and verified reviewers usually give higher ratings (avg. 4.43) and more positive feedback than anonymous users (avg. 3.89).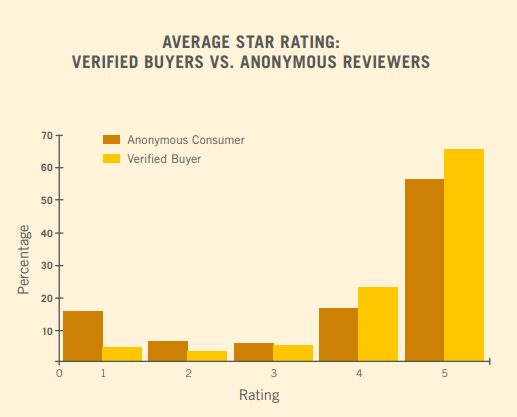 Refill

subscription and beauty sample subscription
How to sell cosmetics online by subscription? Below are several ways:
1. Monthly beauty box
The beauty box subscription is one of the most popular concepts in recent years. It saves customers time and money while allowing them to test-drive and use new products and the best picks from the experts in the cosmetics industry. Scentbird works on this business model, allowing customers to select a fragrance that will be delivered automatically each month until the customer decides to cancel.
For one of our clients, a leading American cosmetics company, we created a complex ERP system and 6 websites for their brands. Customers can order goods they love and have them delivered automatically. Cosmetics will be sent according to a schedule, every 1 to 6 months, without needing to reorder. The subscription payments are charged automatically and can be canceled anytime.
Moreover, a special algorithm generates relevant offerings to each customer depending on their preferences and previous purchases. It suggests cross-sell and up-sell products.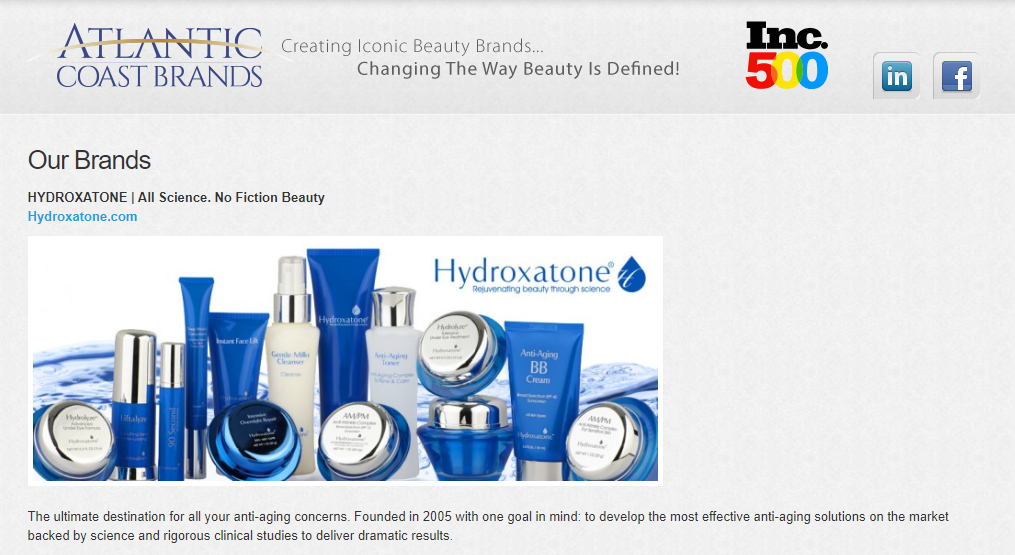 Here is our case study. We developed six online stores and an ERP for Atlantic Coast Brands, one of the leading U.S. cosmetics companies. These stores have all the typical features of an online store such as product display and shopping carts, as well as specialized mechanisms for upsell/cross-sell and auto-ship. - Read the Case Study.
2. Membership discounts
Some brands use a subscription-based business model and discounts to attract customers in exchange for membership and advance payment.
For example, Beauty Pie can sell products without retailer markups to subscribers who have paid for memberships and commit to making monthly orders for a certain sum: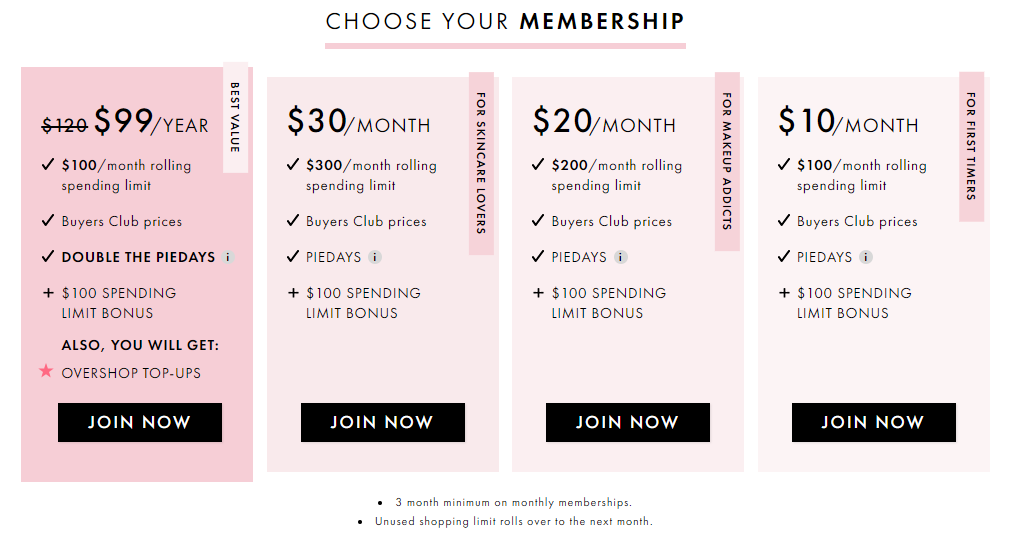 Subscription, BeautyTypie
3. Ecological Refills
Another subtype of a subscription is an automatic refill of previously purchased or used-up products. One of the eco-minded brands in the UK, Beauty Kitchen, allows customers to send any empties by post, or to take them to drop-off sites in stores, and get them filled with selected products and delivered to home.
Ecologically, refilling is better than recycling, and both customers and businesses support this idea.
Integrations with inner systems
One of the best things about creating a custom beauty website is the ability to integrate it with marketing, accounting, logistics, warehousing, and affiliate systems.
For example, you can propose a preferences quiz for each new visitor to your website. The final step of the quiz has the customers enter their emails before they receive product recommendations. All collected emails are then sent to the CRM and can be used for marketing campaigns tailored according to quiz results and further customer activities.
How to Create a Website for Selling Beauty Products
Let's enumerate the main steps that you need to follow when creating a beauty website:
1) Discovery phase
Study the market, competitors, and website features. Choose a business model and prepare all documents necessary for starting an online business. At this stage, your task is to find the unmet customers' needs and find a solution that will cover these gaps.
2) Choosing features for MVP
At first, you can begin with a Minimum Viable Product (MVP). This can be a website with core functionality that allows you to realize the idea of your business. After you prove the viability of your product in the market, you will be able to enhance your website and add more complex features. The MVP concept allows you to save time and money on development while receiving a fully functional and ready-to-launch website.
3) Choosing a solution for software development
You can go with one of the website builders and do everything by yourself but it will take a fair amount of time and effort. Or you can delegate the development part to a professional team of programmers, and concentrate on the marketing and business development.
4) Development
Determine the core features, order a web design, and choose the development method. After that, your programmers can start coding and bringing the project into reality. The best way is to use an iterative approach, gradually adding new features.
5) Collecting feedback When you launch your MVP, collect feedback from your users, analyze it, and decide what you need to change. It may turn out that customers need many things all at once, so try to make the most critical changes first, and put others on a waitlist for the next iterations.
Custom Development or Off-the-Shelf: What to Choose?
There are many options concerning how to build a cosmetic store website. Some startups that are trying to prove their idea often choose to create a website by themselves with help from famous website-building platforms. Others prefer to build a website from scratch hiring a team of developers. Let's see the pros and cons of both approaches and decide what kind of beauty eCommerce development suits your project:
Custom

Off-the-shelf

It is suitable for complex projects with unique user workflow and features, with startups that anticipate quick scalability, and integrations with other software.

Works best for simple websites like landing pages with ordering and selling features. This is the choice for you if you are not planning to add advanced and unique features or integration with third-party software. It is your best option if you are going to incorporate your company's financial, and customer relationship management systems.

Pros:

Unlimited flexibility to add new features and integrate them with other software like delivery services, marketing, and analytics tools.

Potential to create unique and complex features like AI-based personal recommendations, product comparison, and virtual try-on.

These features are new must-haves for loyalty-building and sales expansion.

Excellent data and code protection build trust and solidify the company's reputation.

Integration with systems used by sales, accounting, and logistics departments helps to synchronize data and to cut down manual effort, and prevent data loss.

Pros:

Cheaper price at the beginning and faster launch

Requires minimum technical knowledge as long as it does not require integrating with third-party services or overhauling the features

Has analytics and marketing features built-in.

Provides a selection of ready-made themes

Cons:

More expensive at the launch phase but pays for itself in the long run.

Requires programming skills or specialists.

Cons:

Often has security breaches due to a bulk hacking of the platform code.

Limited flexibility for changing features and functionality. Inability to add necessary features.

The code and database never belong completely to you, and the provider can change the terms and conditions anytime.
If you are going to have a complex website with the features described above, it is better to go with custom development from the very beginning. Entrepreneurs who have started with off-the-shelf solutions sooner or later understand the limitations of such services and move to custom.
How to Apply This to Your Business
Now you have the ultimate guide for creating a modern and successful beauty website. Whether you are a mono-brand retailer or a multi-brand platform, these features will be equally useful for attracting more customers and boosting your sales.
At Greenice, we have extensive knowledge of how to build complex custom solutions for the beauty industry. Our customers include cosmetics brands that are included in 500 Inc. companies in the U.S. and have used our services for many years. Drop us a line and tell us about your project; we will gladly provide you with an individual estimate of your requirements.
Just one step and you will begin to make your dream come true!
Rate this article!
You should be
logged in
to be able to rate articles