Why do people like auctions? Is it the opportunity to buy cheaper? Or maybe it's the sense of competition? For whatever reason, auctions have always attracted public attention.
Just imagine that every 5 seconds a smartphone is sold in the US on eBay. And this statistic is for smartphones only. Such websites as eBay are loved by sellers and buyers as they give both what they want - the opportunity to sell what one does not need to those who need it, effortlessly, even without leaving home. Imagine the massive volume of all the stuff sold through eBay. All these clothes, home decor items, electronics, used and even broken things. And many of them are sold at less than 25 cents!
We wrote this article for entrepreneurs who are also planning to start a business in online auctions. We'll regard such essential questions as:
What industries for auctions are popular and who are your major competitors?
Which auction type will fit your project?
What should you start with and how can technology help you make a website like eBay?
How much does it cost to create an auction website like eBay?
Read on to answer your questions!
Should you make another eBay?
It is a cornerstone question that needs an answer before you start any development. Having a clear understanding of your aims and motivation will give you the necessary fuel to continue even when it seems that it is all going wrong. To form the goals, you should know your contenders inside and out to feel your way around in the competition.
1. The story of eBay and a broken laser pointer
eBay was founded by computer programmer Pierre Omidyar in 1995 as a part of his website and became the first online auction.
You have probably heard this funny story that the first thing that was sold on eBay was a broken laser pointer for $14.83. Pierre even emailed the buyer to make sure this wasn't a mistake. In his response, the buyer explained that he was a collector of broken laser pointers.
This is how today's multi-billion dollar international corporation started. Of course, auctions are just a part of the modern eBay platform. But still, this name is associated with auctions first of all.
According to their financial report, eBay Inc. received $9,795M in revenue in 2022.
Key Takeaway #1:

Life is strange: you never know what can bring you to the top. It may even be a broken laser pointer!
2. Diamonds, rare wine, or used cars: what are you going to sell?
At the time when eBay was launched, it did not have a competitor. But at the same time, it had to make its way as a pioneer and every new step was a pure experiment that could be either accepted or rejected by the users. Nowadays, there are more than 10 large (like Amazon, Craigslist, Etsy, Rakuten, eBid, etc.) and dozens of smaller auction websites.
This segment of the business is diversified by industries:
| | | |
| --- | --- | --- |
| Industry | Description | Examples |
| eCommerce | Selling of different kinds of goods like clothes, electronics, books, handicrafts, etc. | eBay, Amazon, Craigslist, Etsy, Rakuten, eBid |
| Automotive | Auctions for selling and buying cars | Salvagebid, Сarsontheweb, Autobidmaster |
| Finance and insurance | Auctions for loans, insurance services, and other financial deals | Honcho, IAA-auctions |
| Art | Paintings, sculptures, prints, photographs, media art, ceramics, decorative art, collectibles, etc. | Artsy, Christies, Invaluable |
| Real Estate | Auctions for any property | Iamsold, Realtybid, Hubzu |
| Logistics | Rent for ships, machines, equipment, etc. | Troostwijkauctions, Shipperoo, Loadexpress |
| Food and restaurants | Restaurants, cafes, bistro, restaurant equipment, supply, furniture, etc. | Restaurantauctioncompany, Theauctionmil, PCI auctions |
| Luxury goods | Sells luxury items, jewelry, watches, rare wines, furniture, precious stones, etc. | Worthy, Wilberrys, Christies, Invaluable |
| Charity | A platform for nonprofits to market their auction items | IfOnly, Auctria, OneCause |
Despite the popularity and ever-growing profits of eBay, other famous and even new eCommerce auctions can still make for serious competition.
Key Takeaway #2:

Know your competitors and find your niche.
3. Big commissions, poor protection: what else do eBay sellers complain of?
eBay is the grandfather of online auctions and, like most old men, it is wise. But this does not make it better. Time changes and people's expectations change quickly. Of course, eBay tries to follow trends and technology, but it is not easy to modernize such a huge system that contains so much information. It takes time and a lot of it.
The weak points of eBay can give you a competitive advantage:
1. Big commission. It is known that eBay earns money from the fees for sellers, which is much bigger than at other auctions for:
adding listings when there are more than 50 listings per month ($0.35 per listing) while other auctions allow adding listings for free.
a final value fee of 10-12% while others take only 2-3%. Thus, if a product costs $1000, the seller will get $900 only! Big difference.
fees to upgrade listings (like making titles bold, adding more photos, listing items in more than one category).
2. No shipping assistance. eBay provides only the means for placing lots and regulating transactions. They do not have warehouses like Amazon, and sellers need to deal with shipping companies by themselves, losing more money for goods delivery.
3. Poor protection of sellers. eBay is more focused on the protection of those who buy by working with their claims, checking sellers, and refunding (and seizing sellers through PayPal) to buyers even if they are not right. But sellers also need protection from dishonest buyers who are not a rare case (like fake reviews and claims).
4. Stiff competition. As one of the most popular marketplace, eBay attracts a huge amount of sellers and creates tough competition for similar product listings. What is the chance that buyers prefer a new seller with zero reviews over the top-seller with the same product? There's no chance for the newcomer. Sellers are forced to decrease the price to stand out and thus earn less than they would like.
5. No access to a customer database. eBay does not provide sellers a chance to contact their clients for collecting emails and proposing special offers to build a loyal customer base.
6. No personalization. Only lazy bones would neglect the personalization of a user experience and regard it just as a fashion trend but a necessity. It is said that there is little personalization at eBay. Understanding customers' preferences and helping them quickly find what they want could drastically improve UX and increase user loyalty.
Key Takeaway #3:

Nobody is perfect! There is always a place for improvement.
4. Turn their minuses into your pluses
So, to build another eBay, be ready to learn from their drawbacks and think of how you can turn their weaknesses into your advantages. For example, these can be:
Fewer fees or the same fees for more value
More comfortable seller and buyers conditions (more user protection, greater account flexibility, and customization)
More assistance and useful automation services to lessen sellers' overhaul
Pay attention to personalization
Key Takeaway #4:

Learn from your competitors and steal like an artist! Turn their drawbacks into your advantages.
The Elements Of The Auction Website
Now it's time to move on to the implementation stage and find out how to create a website like eBay.
1. English, Dutch, or maybe Double Dutch?
No, we don't mean spoken languages, but types of auction mechanisms. Let us remind you of the most popular models! Look at the scheme below and let's talk about what types of auctions exist and how they differ.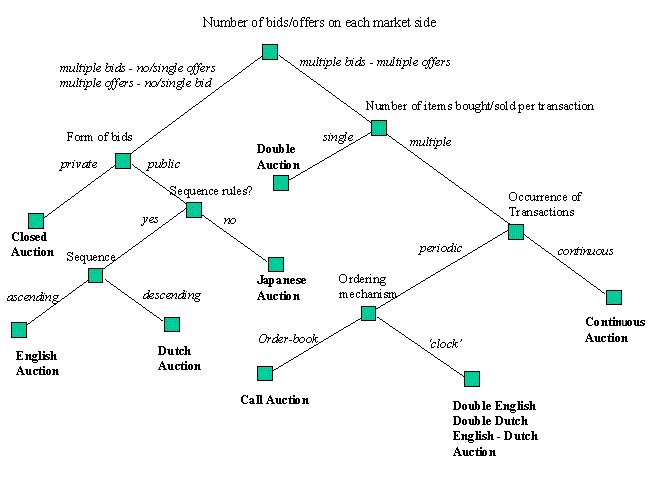 The English Auction (or The Direct Auction)
This is the most common type, where lots are sold for the highest bid proposed by bidders in ascending order. Often, a seller can set the lowest price at which the goods can be sold, and thus s/he is not obliged to sell for a less price.
The Dutch Auction
In this type of auction, the bidding goes in descending order starting from the highest price possible and stopping when a buyer presses the button when s/he is ready to buy.
For example, Price Rocks, one of our clients, was the first online auction in Ukraine where the price didn't increase but on the contrary dropped, allowing anyone to buy the gadgets with huge discounts! We made a Dutch auction website where people could bid in descending order until they win.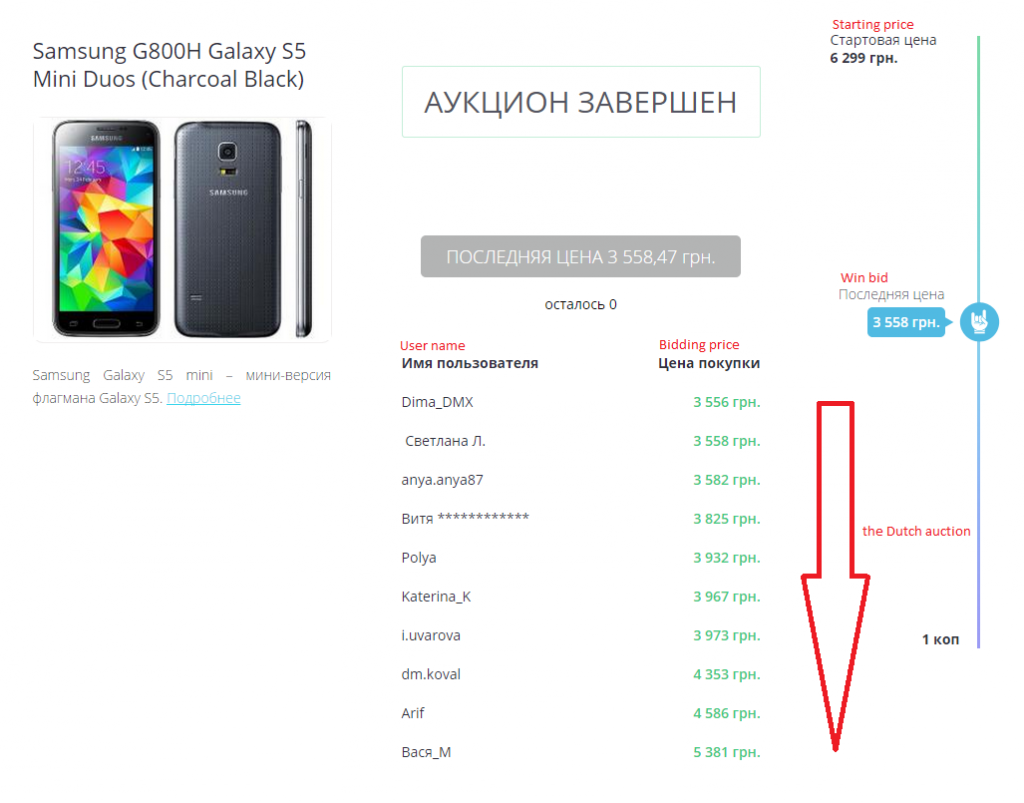 The Vickrey Auction (or The Second-Price Auction)
This auction type is named after William Vickrey, winner of the 1996 Nobel Prize in Economics.
The bids are sealed and lots are sold to the highest bidder but at the second-highest price. For example, if there are three bids of $10, $9, and $7, the auction is won by the bidder who proposed $10, but he pays the previous bidder's price of $9.
eBay uses this type of bidding with some changes. Thus, the winner should pay the second-highest price plus one bid increment amount (i.e. a predefined amount indicated in the bid price field). However, it is usually a very insignificant amount.
eBay also provides sellers to set a "Buy It Now" option - this is the price for which the buyer can end the auction and buy the lot immediately.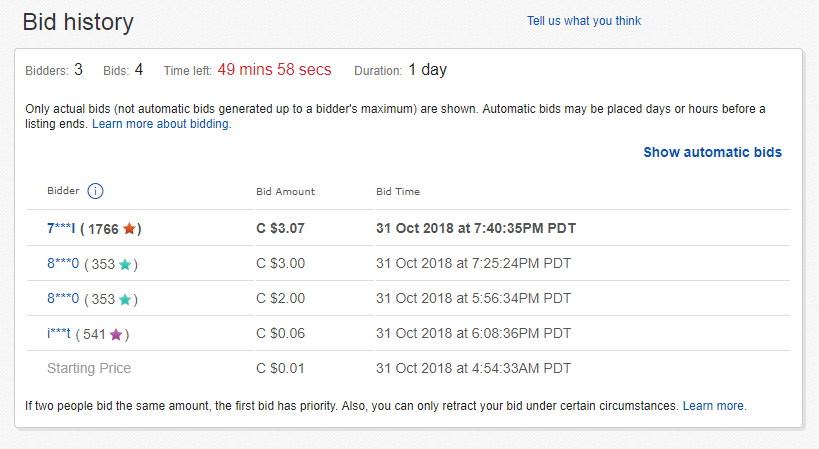 The Double Auction
During this type of auction, both buyers and sellers compete: the former submit their bids and the latter submit their prices to an auctioneer who then chooses one price that clears the market. All the sellers who asked for less than the price are allowed to sell and all buyers who placed the bid more than the price can buy at this price.
The Japanese Auction
An initial price is displayed (usually a low price) and it may be either 0 or the seller's reserve price. The price starts growing continuously, or by small steps (for example, one cent per second). All buyers enter the arena and stay until they are interested in buying. Once anyone exits, he or she cannot return to the auction. The winner is the last who stayed.
The Sealed Bid Auction
As we can guess out of its name, this auction works on sealed bids and each buyer can bid only once. In the first step, the buyer sets the requirements and, in the second step, the sealed bids are opened. The highest (or the lowest bid, depending on the rules) wins.
These are the most common types that can be found on the auction platform. But depending on your purposes they can be combined, borrowing each other's elements.
And further on you'll learn what features to include in your requirements and what technical solution to choose.
2. The Features of an auction website
Whatever unique and exclusive online auction design and business logic you use, there are still some common specifics that characterize all auction websites. To help you complete your requirements and not forget essential elements, we made this guide on general features that should make up the skeleton of your system.
Auction website users: who are they?
Auction websites are platforms where goods are bought and sold using auction mechanisms. Online auctions aim to regulate relationships between buyers, sellers, and platform operators (admins). Thus, the following roles should be created:
A

Seller

should be able to create their account, see the auction requirements, place listings, view statistics on selling, etc.
A

Buyer

should be able to register, place a bid or buy at once, pay with one of the proposed payments, select among shipment methods, write a review, set a rating to a seller, view a buyer's purchase history, etc.
A

Super Admin

user should be able to moderate auctions, users, bids, and content of the website.
What features should an auction website have? Let's pick them into pieces
How to build a website like eBay? There are common features characterizing any online auction website. Usually, these features are a minimum requirement for a viable product to launch to the market.
1. Listing creation
When adding items (lots), a seller should be able to provide all information about the lot (name, description, category, images) and requirements for the auctions process (format and duration of the auction, currency, the number of lots in stock, starting price, buy it now price, reserve price, payment option, shipping methods, and other details).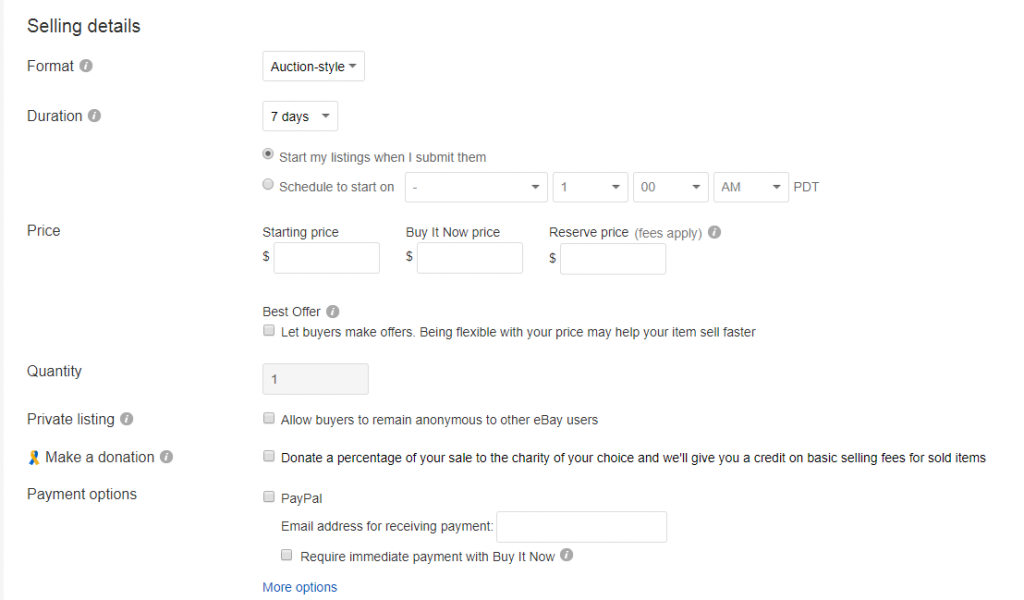 Then, when all required fields are filled in, the system creates a lot of listing available in the search to bidders.
If a seller wants to restrict the auction time, s/he can set the timer on each auction product to display the time left until the auction end.
Also, it is possible to set a bid increment, i.e. the minimum sum the next bidder should place (it cannot be less than the bid increment).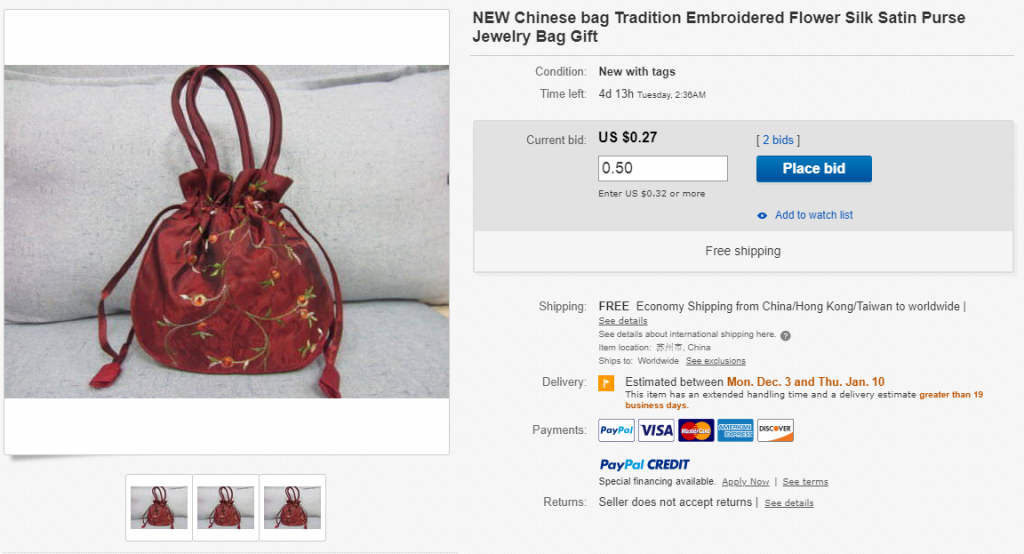 2. Browsing the website When entering the website, users should be able to quickly find what they are looking for and search by categories or keywords. Filters and sorting help to return more precise results to the user.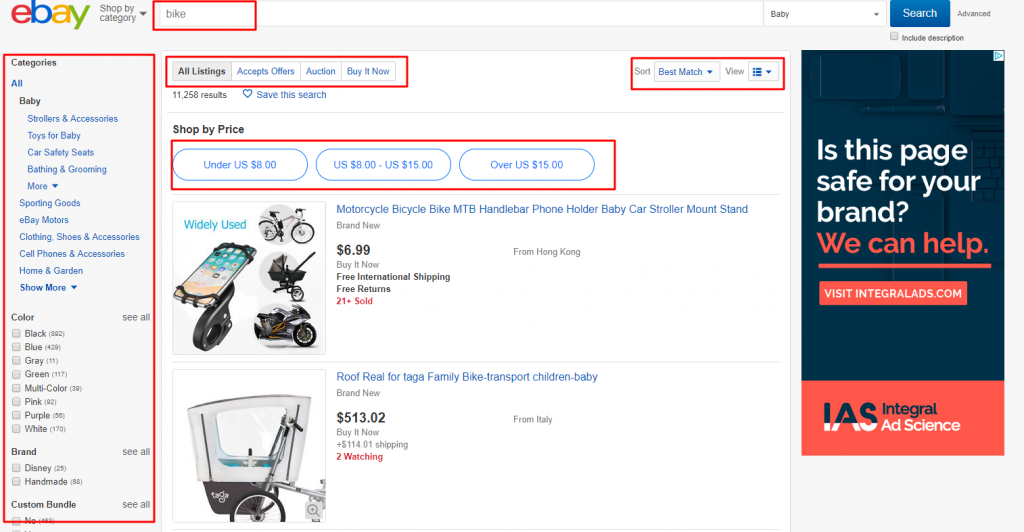 3. Bidding process There are several bidding options in the online auctions:
Manual bidding

- a seller sets a basic auction price for the product. The auction begins from the set basic price. Bidders enter the price (place bid) they are eager to pay for an item. The highest (or lowest, depending on the auction type) bid wins.

Buy it now (Buyout)

- usually, this is an option that allows a seller to set the price at which buyers can buy the lot right away without additional competition. In this case, a special button for buying it now appears on the lot page. If the bidding price exceeds the fixed price, the "Buy It Now" button should disappear and the auction continues in its ordinary way until the auction conditions are fulfilled.

Reserve price

- a seller can set a minimum selling price to allow for purchasing an item. If during the bidding the reserve price is not reached the seller has a right not to sell the item at a lower price.

Proxy bidding

- a bidder can use a special automatic bidding bot that will bid on the user's behalf. If the user gets outbid, the system automatically bids again and again for him/her. This helps buyers win the auction they are interested in without constantly checking the bidding process. The bidder can set a maximum price s/he is willing to pay, and after reaching which, the software will stop bidding on his behalf.

Offer

- if a seller has several items in stock s/he can offer to buy the excessive items to the second and next in order bidders after the auction is already won. For that, a seller can send a message to the users who participated in the auction to offer them these items.

Deposit

- some auction websites that deal with valuable items like cars, jewelry, real estate, may provide their sellers with the guarantee that the bidder will pay when the auction is over. For that, they can either provide insurance on auction or take a security deposit from the bidders. The deposit is not refundable in case the buyer refuses to pay.
4. User account Users can be both buyers and sellers. At registration, a user should add personal info, address for shipping, and payment details. There can also be settings for:
notifications and messages
purchase history, recently viewed items
saved items, and sellers, watch list (where a user can follow the changes on the item)
and current bids.
To increase safety on eBay, each bidder gets a code name that is only displayed throughout the bid history for an item to hide the real user details from others.
5. Cart
An online auction is almost the same as an online shop, so all won lots go to the user's cart where a user can proceed to checkout.

5. Integrations with payment methods
As with any other eCommerce website, auction websites should support multiple payment options. This can be implemented in either of the two ways:
1) Off-site integration. A user is redirected to the payment method website. All transactions will be fulfilled directly in the payment service (like PayPal). You only need to customize your payments page. 2) API integration. All transactions are performed on your website. With the help of software integrated into your code through the API, the user does not have to leave your site for payment.
We practice both ways in our projects and provide integration with such commonly used payment gateways a PayPal, Stripe, and Authorize.
6. Ratings and reviews
It can be difficult to choose between two sellers who propose the same goods for the same prices. For this, bidders may use reviews to get a more clear view of the reputation of this or that vendor. The eBay rating system collects all customer and seller feedback after each transaction to prevent fraud and help its users in the future. There are three variants of rating: "positive", "negative", and "neutral". You can also see the colorful stars next to each user on eBay. The color of the star indicates the feedback rating that corresponds to the number of points.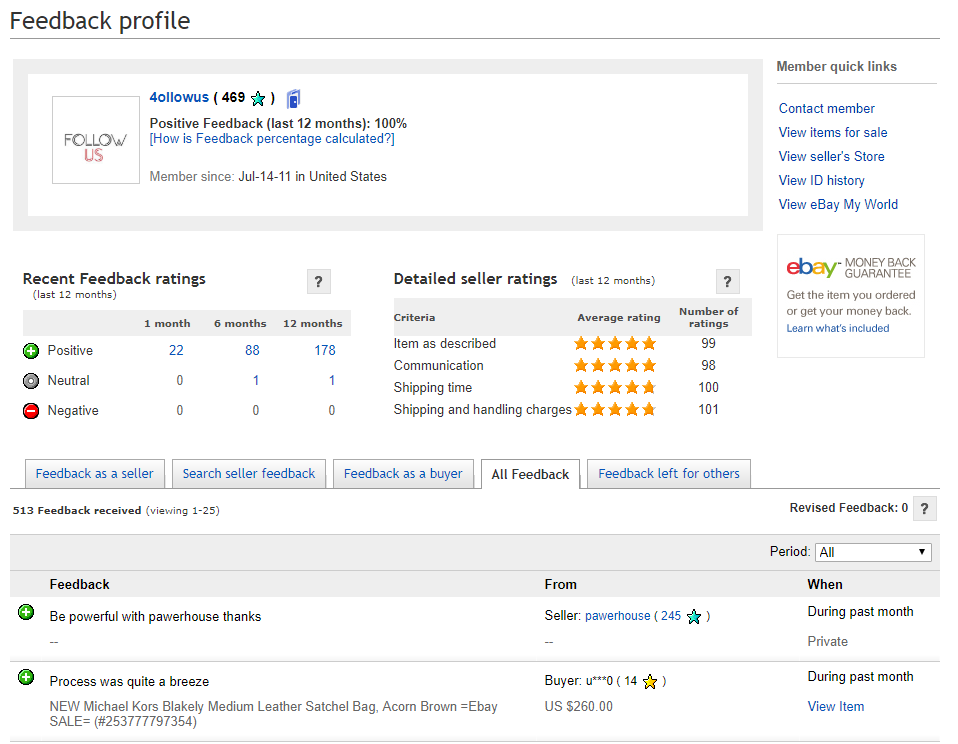 7. Resolution Center
As online auctions have many rules and conditions, people may often need help to solve some issues, check the transaction status, submit a complaint, or ask for assistance.
For these and other questions, eBay has the Resolution Center that helps users with their issues.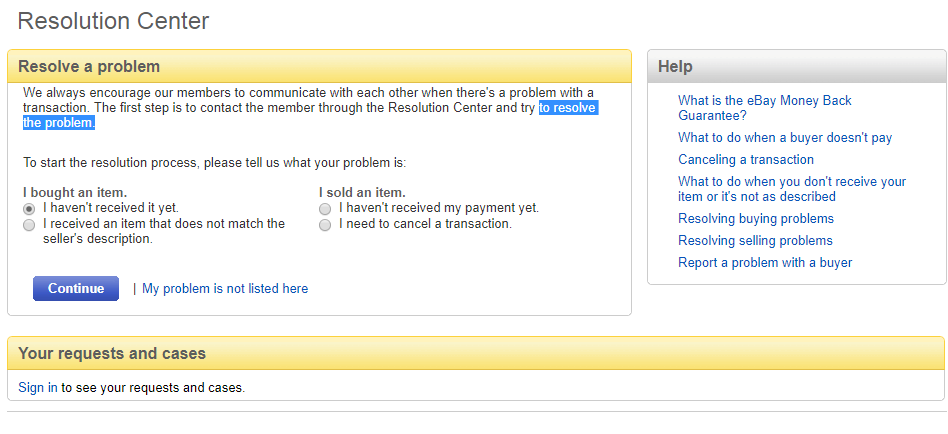 8. Seller dashboard
It is very helpful for the vendors to provide an overview of their sales tendencies and income to strategize their business. That is why a Dashboard can give them this full picture of what their performance on the platform is.
The eBay Seller Hub feature equips its users with such knowledge as traffic, ratings, sales statistics, expenses, and some other data.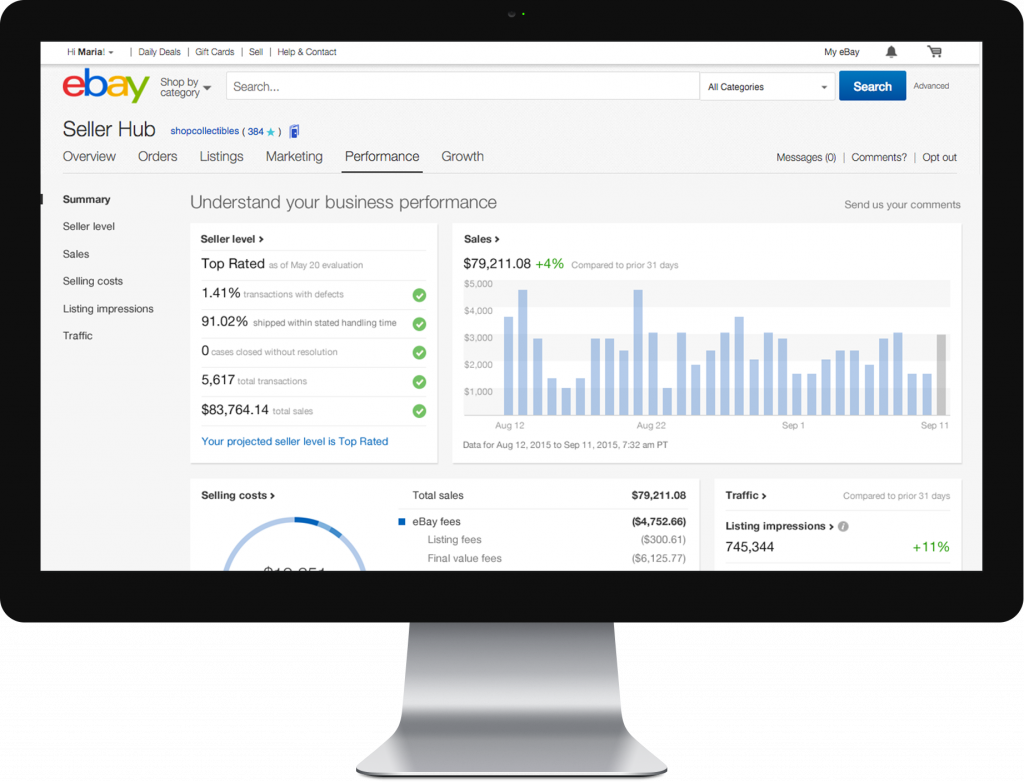 9. SuperAdmin features As any other website usually has an Admin, online auctions also need a supervisor who will have such features as:
User management
Auctions and bidding management
Content management system
Report generation
Notifications management
Site Creation Steps and Cost
Steps to develop an auction website
Everything needs a plan, especially when you start a new business. Here is a high-level plan that sums up what we have already talked about and adds some more tips:
Select your niche
Know your competitors and their strengths and weaknesses
Choose the monetization method
Set the goals
Create requirements
Make a design (order from a web designer)
Find a development agency and get a project estimate
Start development
Test the website
Launch to the market
Get feedback
Iterate again and again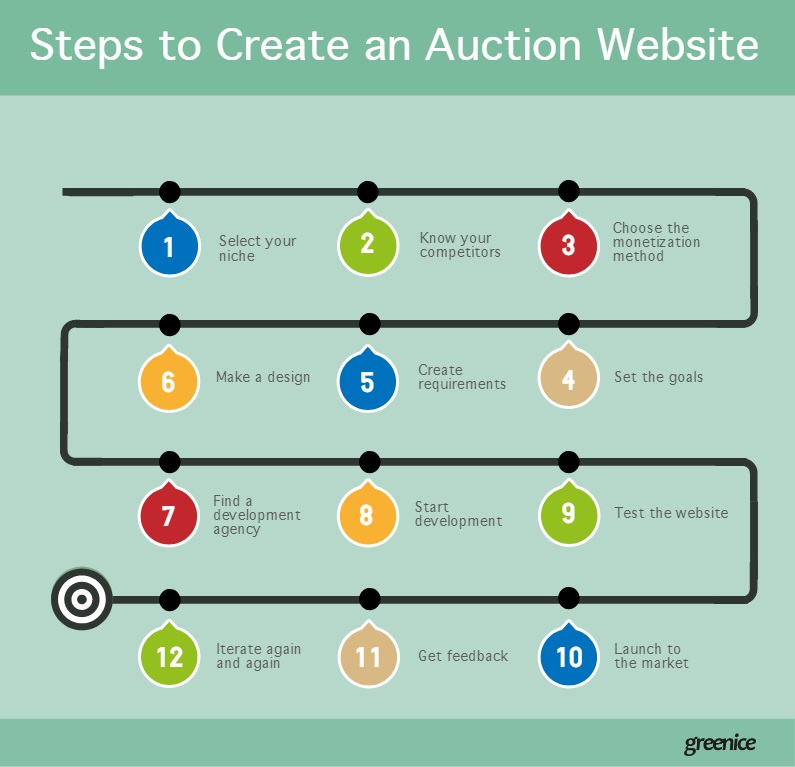 How much does it cost to build an auction website?
To give you an example of the cost, consider a minimum viable product - an auction website for selling electronic gadgets (or whatever other goods). As we already mentioned, we have created a website that sold electronic gadgets (like smartphones, tablets, etc.). It was the Dutch auctions type, i.e. bidding went in descending order.
Users have to complete the registration process and pay the participation price. The auction starts at a definite time. The auctioneer (the website owner) sets the start and end prices, the number of items, and the time frame of an auction. The price drops with every second by a pre-defined bid increment. The bidders can click "Buy" when they are satisfied with the current price.
They should be quick to decide as there is a limited number of items and other bidders can be quicker. When the "Buy" button is clicked the user should fill in their shipment details and pay with one of the proposed ways. We integrated Liqpay payment gateways for smooth payments.
If you want to develop an online marketplace like eBay, there are two ways to do it:
Develop from scratch:

eBay is a huge platform that was not built in a day. You can start with a minimum viable product and gradually improve it as your business grows. To create an auction platform from 'zero' may cost from

$73,000 to $105,000

. This includes the work of a complete team, namely:

Custom design with UI and UX
Architecture consideration and choosing technologies by a Team Lead
Front- and back-end development
Project management
Quality assurance.

Use a white-label solution.

To reduce the costs, we can propose you go with a white label solution that can be customized according to your needs. The price may start at

$18,000-$24,000

depending on the complexity of the customization. This method is the most suitable for platforms with a standard set of features and minimal customization.
Reasons to choose us for your auction website development
Hopefully, this information was valuable to you and gave you some food for thought. And here is a minute of self-advertisement about why we are so cool! Here are the reasons why you would choose us to work on your website:
We have more than

10 years of experience

in IT working on both small custom websites as well as complex solutions

(ERP, CRM, marketplaces, social media, dating websites, booking systems, field management service apps, etc.).

We developed

130+ successful projects

for industry-leading clients like

Inc. 500 companies

and small startups from all over the world. And we are proud of them!
Our team consists of

frontend and backend developers, business analytics, project managers,

and

QA engineers.

All our specialists are experienced in PHP and frameworks, libraries, databases, and server configuration. We are not afraid of the most ambitious projects.
We provide a full development cycle -

from business analysis to launch to the market.

We are oriented on long-term relationships and support our clients at all stages of the way.
We are

friendly, open, and reliable people

and comfortable to work with (as our clients tell us!).
Rate this article!
You should be
logged in
to be able to rate articles