"Hi, Kevin! How are you doing? We are glad to inform you that your room is ready for check-in! Just confirm upon arrival and receive mobile key access directly to your room! We hope that you enjoy your stay at our hotel."
If your hotel management system sends out confirmations like this, you are in trend!
If not, read this article for more insights. You'll find out about the newest hotel industry opportunities that may enhance your services and get all the necessary information on how to create a hotel management system.
3 Trends of Hotel Management Software Development
Hotel management systems software has passed through many transformations over the last several years. The traveling audience is getting younger and demanding more immediate and personalized services. Looking through the most reputable hotel management analytics publications, you'll actually notice three major trends that will determine the direction of the whole travel industry for the next couple of years and force hoteliers to reconsider outdated approaches to hotel management. They are: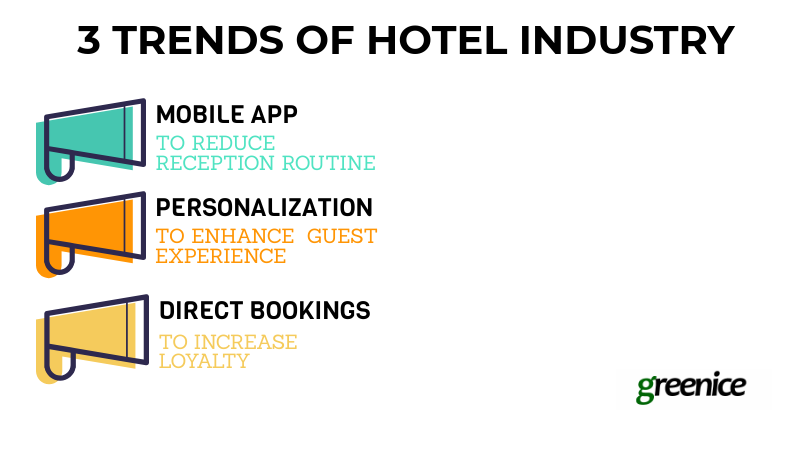 1. Mobile apps for self-help services
With every new generation, more and more travelers prefer using their smartphones for bookings. According to Booking research, 50% of journeys start on a mobile device. Now that Millennials and even Generation Z are already grown up enough to travel by themselves (and plan trips for their parents), they want to use all these fancy-schmancy mobile apps to make hoteliers and other entrepreneurs dance to the tune of their own flute. 90% of millennials prefer checking in using their smartphones, avoiding the front-desk queues in the hotel lobbies. Even those who are 50+ are much "younger" and technically savvy than their parents were at this age and use gadgets during their trips. In your business, you will have to think about how to use digital elements and technology to satisfy their needs. With mobile technologies, you can automate routine services in your daily interactions between hotel staff and guests.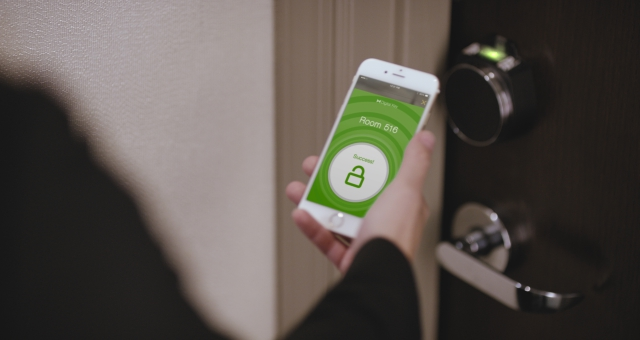 Create a "wow" effect and provide your guests with total remote control over their hotel services. By downloading a mobile app on their smartphones, your guests can get such benefits as:
automatic notification on the readiness of their room for check-in
self-check-in and check-out without reception formalities
ordering special services on mobile
sending event reminders
sharing a restaurant a menu
getting a final bill on their account
mobile room key access
heating and cooling controls
online restaurant reservations and pre-order access through the menu
information on receiving discounts and coupons
mobile payment
At the same time, the usage of mobile apps lessens the workload on hotel employes:
There is less or no need for a stationary receptionist. The Concierge can be mobile with software installed on a tablet. This will create a less formal and more friendly atmosphere in the hotel.
The daily routine connected with check-in, check-out, billing, and providing special services is getting reduced. This can allow for focusing on the enhancement of guest experience and providing more personalized services and care.
"[We are] focused on functionality in the hotel that is enabling colleagues to actually better engage with guests and simplify their interaction with hotel systems." - says Mark Hoplamazian, Hyatt CEO.
2. Personalization of services
The increase of positive attitudes towards customers is a trend that has captured marketing specialists of all service industries in recent years. The main goal is getting closer to clients to increase their loyalty to the brand and better engage with guests knowing their interests and preferences. Even providing some minimal attention, either by greeting a guest by his name on arrival, serving a good coffee, or proposing a comfortable and silent working area with high-speed free Wi-Fi can increase guest satisfaction. Here are some tips on personalization to increase the guest experience:
pre-arrival survey on guest's preferences and special requests
emailing information about places of interest and electronic maps
welcome email upon check-in
emailing birthday cards
newsletter with promotions and special offers for loyalty members
asking for a post-stay review or survey
Personalization can dramatically improve your conversion, likelihood to recommend, and customer loyalty.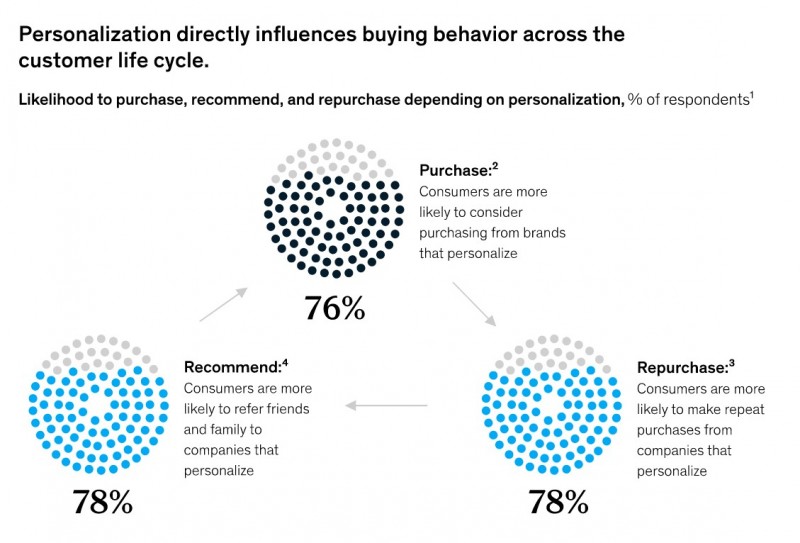 3. Prevalence of direct hotel over OTA bookings
Nowadays, people are used to booking via aggregate platforms like Booking, TripAdvisor, Expedia, Agoda, etc., as they provide valuable benefits for guests when planning their journeys: choice among a variety of hotels, feature comparisons, traveler reviews, discounts and rewards, comfortable payment and confirmation methods, notifications in case of changes, and more.
For hotels using OTAs, there are also a lot of advantages such as traffic and booking boosts; however, there is also a reverse side. First, hotels need to pay commissions to the OTAs (as much as 18-25%) and, second, there is less direct engagement with the customers (as they do not go directly to the hotel website). That is why big hotel groups tend to lower their percentage of distribution via OTAs, not only to save on commission but also to increase the customers' loyalty by communicating with them directly. For direct bookings, hotels are eager to propose their guests such "perks" as discounts, special services, early check-in, and late check-out, no penalty cancellation, etc.
For example, Hilton Hotel guests, when booking directly through the website, obtain a Digital Key for their room, free Wi-Fi, and 2,500 Hilton HHonors Bonus Points. These and some other trends have only started penetrating into the hotel industry but should be kept in mind when creating a roadmap for your HMS and marketing strategy. Now let's get to the root of the question when it comes to how to create hotel management software.
How to build a hotel management system
If your staff spends too much time on the same actions, day after day, you may have reason to think of introducing an HMS into your hotel business. HMS allows for the automation of mundane tasks of personnel and management, collecting data on each and every aspect of the business and aggregating this data into reports. All this is aimed at saving time and effort, increasing revenue, and enhancing guest experience and loyalty.
Areas of automation with hotel property management systems
Modern technologies allow for the automation of most tasks of your daily routine in the areas of: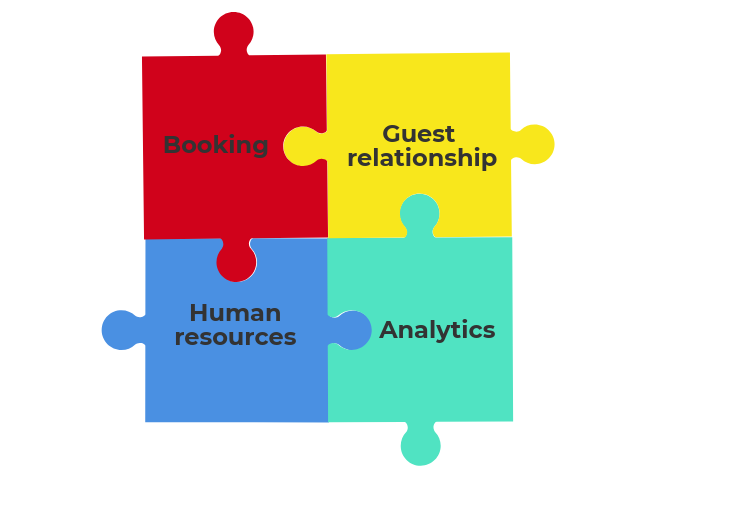 Booking automation
Guest relationship management
Human resources management
Analytics automation
Booking Automation
1. Online Booking
This is one of the pivotal features on your website that determines the occupancy of your rooms. Make the "Book" button distinguishable on your website, and keep the whole reservation process intuitive for users. On completion of a booking, the system should automatically send out an immediate confirmation of the guest's reservation. At the same time, all the data about guests, bookings, and payment should be passed to the HMS where the hotel staff should be able to view and manage it.
2. Property Listings
You should be able to create listings of your hotel(s) to add categories, descriptions, photos, videos, amenities, promotions, rates, and availability for reservations.
3. Reservation Management
On receiving booking details, the system should mark a room occupancy for a definite period of time. The hotel manager should be able to manage a reservation (change the dates or category of the room, cancel a reservation, send a confirmation or bill, etc). A calendar view should be helpful to see an entire picture of all bookings.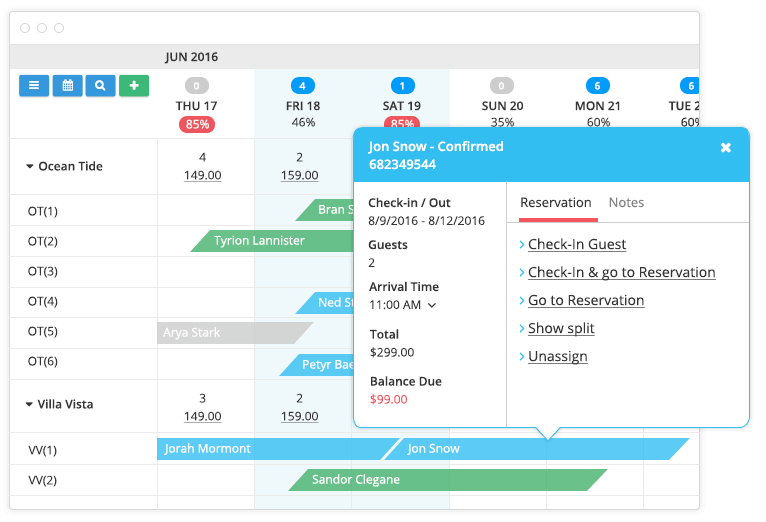 4. Channel Manager
As a rule, hotels use multiple methods to boost up their traffic and bookings. The most common is by promoting their services via OTAs, GDS, and other affiliate channels. Working with many channels, it can be hard to monitor and change room availability and rates manually, as this will definitely result in errors (overbookings or incorrect prices) and affect the brand's reputation.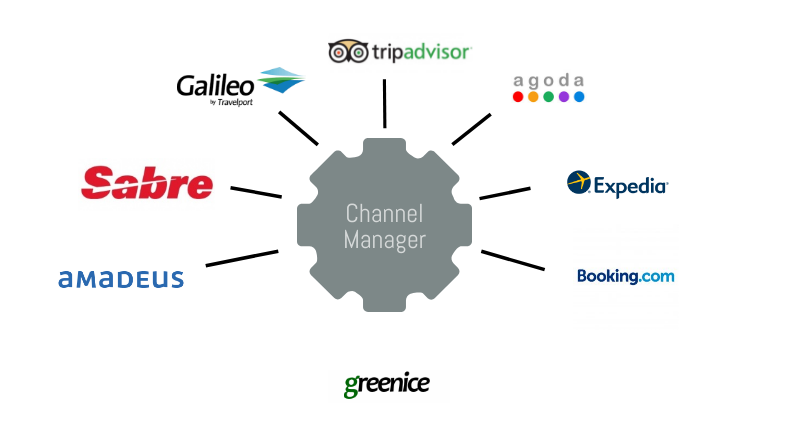 To effectively organize all interactions with different sources of bookings, you need a Channel Management system connected to the OTAs and GDS via API. The Channel Manager provides opportunities for:
Multiple channel connection:

automatic two-way synchronization of reservations (the number of available and booked rooms) between the HMS and channels. When a room is booked on one of the channels, the number of available rooms is decreased by one on all the systems switched to the Channel Manager and vice versa.

Rates and prices automatically synchronize among the OTAs:

when the price changes in your HMS, it should be changed on all channels simultaneously. Channel Manager allows you to get rid of conflicts with OTAs regarding incorrect data or rate disparity.

Commission accounting:

the commission taken by the channels is displayed and calculated in your system automatically.

Rule setting:

depending on your strategy, the system can calculate the Best Available Rate (BAR) and automatically increase or decrease the price for the rest of the available rooms by the selected percent. For example, in high season when more than half of your rooms are already booked.

Using "stop sale":

you can freeze bookings of your rooms on all channels whenever you need to. For example, if a big group needs bookings or a prolonged stay.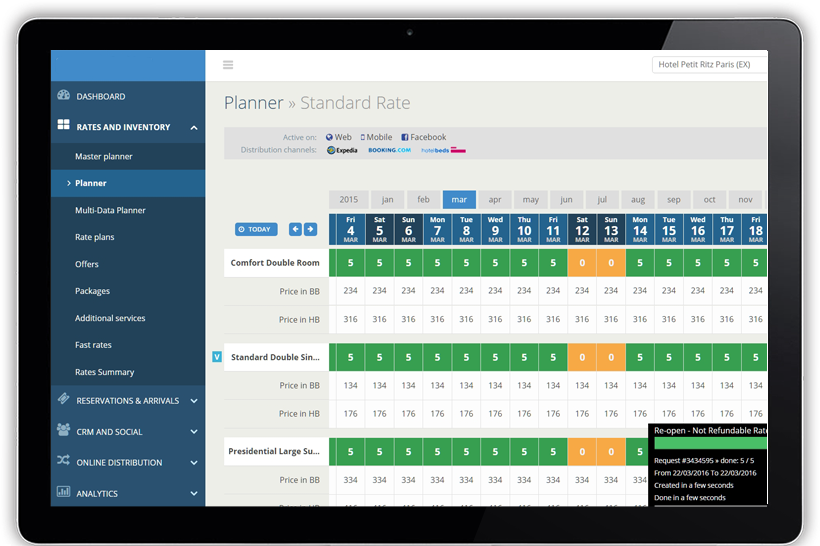 Guest Relationship Management
1. Customer Relationship Management
Nowadays, it is even easier to collect information about your guests: what the purpose of their stay is, what they like, what services they usually order, how they get to the hotel, and what their favorite foods and drinks are.
Forget about keeping all documentation in paper and Excel files; store all your guest information in the electronic system so as not to lose a piece of data. For this purpose, your HMS can be integrated with a CRM.
This system can contain such important data as user contacts, payment details, room preferences, type of guest (VIP, blacklisted, new), methods of booking (channel, street, website, phone), total guest spendings. Apart from this, you can collect data about their tastes and preferences.
Knowing your guest preferences and habits you can, for instance, book advance tickets to festivals, sports events, concerts, or restaurants that you already know they like or meet them with their favorite drink upon their arrival.
Marriott International Teams, with the help of Samsung and Legrand, are planning to use the Internet of Things (IoT) for Hotel rooms to enhance their services during a guest's stay in the hotel:
"What Marriott is trying to do is leverage guest profiles," said Ken Freeman, Senior Vice President of Demand Creation, Legrand. "The idea is: if I'm a Marriott Rewards member, and my profile has my attributes and dislikes/likes, it can be set up to do things based on me and my type of trip, more personally. I might be on a business trip today, but for the weekend I might be spending time with my wife on vacation," he explained.
All this information can be used for statistical reports, analytics, loyalty and promotional campaigns, service personalization, etc.
Remember that care should be taken with the security of stored and processed information.
2. Notifications and Confirmations
This is an important tool for communication with the guests in your hotel. Notifications can be divided into pre-stay, during the stay, and post-stay notifications to keep in touch with your guests.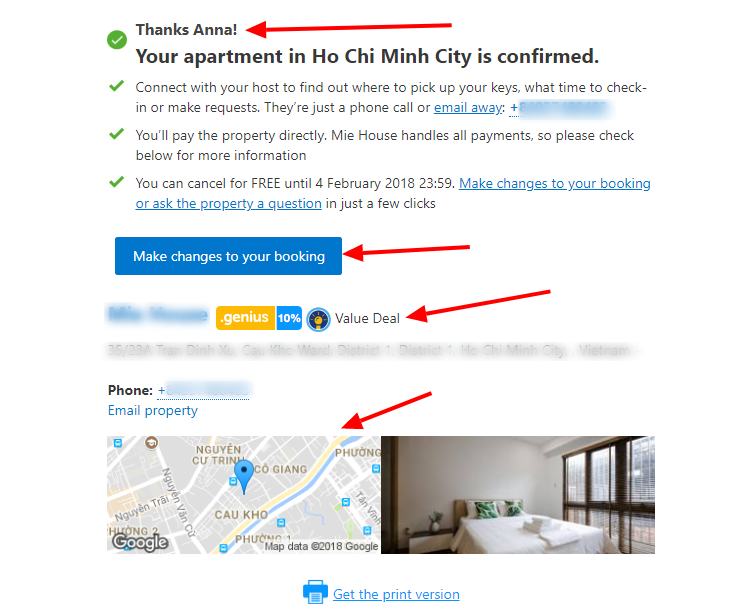 In the pre-stay stage, when a guest hasn't arrived yet, send them a note about booking confirmation, payment confirmation, or change in the reservation (if any). You can also notify the guest of promotions, send out travel tips, sightseeing guides, and maps, and alert them of the room readiness.
During a guest's stay, follow them up to ask if they need some services, inform them of a restaurant menu, and remind them of current events.
After your guest has checked out, ask them to take a survey, share their stay review on social networks, and become a loyalty member for discounts on further stays.
Since May 25, 2018, it has become more difficult for hotels to send newsletters to their guests as new GDPR rules demand receiving all user's permission when it comes to using their personal information for business purposes.
3. Bills and Invoices
You will always be able to generate and print bills and invoices to provide them to the customers or use them for internal purposes. The system should be able to display information regarding payment details and the states of each transaction. Most contemporary systems are integrated with various secure payment methods and can automatically exchange currency, as well.
Human Resources Management
1. HR Management
You can integrate your HMS with an HR management system to keep all interactions with employees under control. Among the benefits are task management, time tracking, and information on sick days, days off, and leaves. Hotel managers can provide different access rights and assign roles to employees in different departments.
2. Housekeeping Management
HMS may regulate not only the relationships with your guests but also organize the work of housekeeping and maintenance staff. Previously, managers needed to connect with maids and technicians over the radio, but this is not always convenient and timely. So, nowadays, many hotels use mobile apps to assign tasks and track the completion of them in the system. The staff can instantly view the status of each room and clean or repair the room as soon as it's required. Why stick to the strict rule of check-out at 2 or 3 pm, a tradition of ages, if you can get the room prepared for the next check-in as soon as the previous guest has left?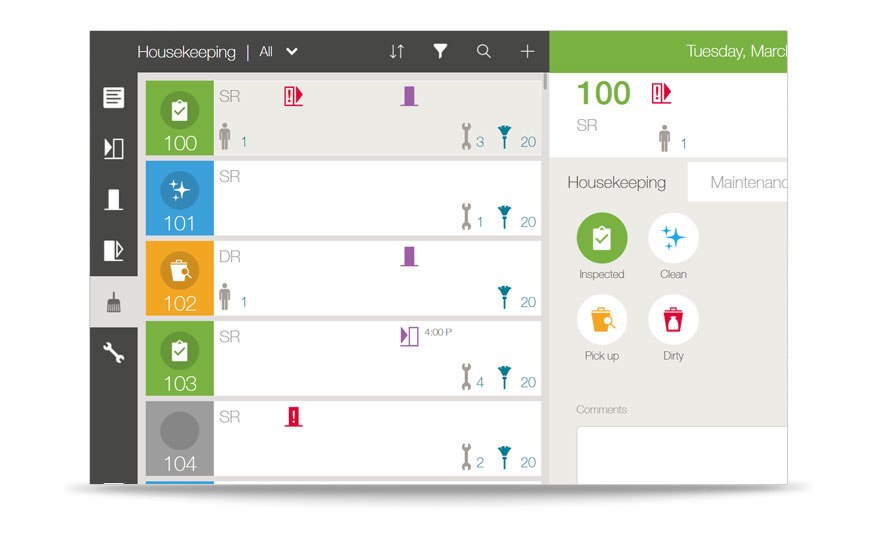 Analytics Automation
1. Revenue Management
Revenue management plays a leading role in price development and when creating marketing campaigns. This is the art of calculating and anticipating conditions that can bring you maximum revenue.
A Revenue Manager forecasts customer behavior and demand, determines an ideal time to sell, optimizes prices, compares SWOT and market position with competitors, analyzes the effectiveness of different channels, and strategizes methods for future revenue attraction. To make an even more precise analysis, a revenue manager needs to collect the maximum information on hotel bookings, services, guests, distribution channels, and marketing activities. Revenue management software may include the following features:
Dynamic Pricing tool:

to suggest the best price based on supply and demand data, season, events and holidays, occupancy rates, and other available metrics.

Dashboard:

to track KPIs such as Occupancy, ADR, Revenue, and RevPAR.

Competition analysis:

to compare prices and market ratings among competitors in your region.

Rate Parity:

to compare rates among different channels to escape disparity and conflicts with OTAs.
2. Integrations with Internal Systems
Your HMS can work independently or be integrated with other internal systems that manage other facilities like restaurants, bars, SPA centers, gyms, and conference halls. Single automated hotel management systems allow for tracking of all services in the hotel and usage of these additional services by a guest, then creating a final bill with all payments included in it.
For example, in hotel restaurants, waiters can take orders via POS terminals and the sum can be then added to the total hotel bill.
Or, another case, when there are one or several Conference Halls in the hotel, there can be a need for Conference Hall Management or Event Management as a separate function in the system, to coordinate reservations of the premises and add additional services.
3. Reports
All data collected in the course of a hotel's life (bookings, guests data, revenues, channel management traffic and commissions, campaigns, BARs, rooms categories sold, and other metrics) is aggregated and generated into reports that can give hoteliers a clear vision of what is going on in the hotel, and whether there is any progress or anomalies. With custom web development, you can create any kind of report that you need. For instance, you can monitor the information about booking sources in a report, to analyze the effectiveness of different channels of distribution.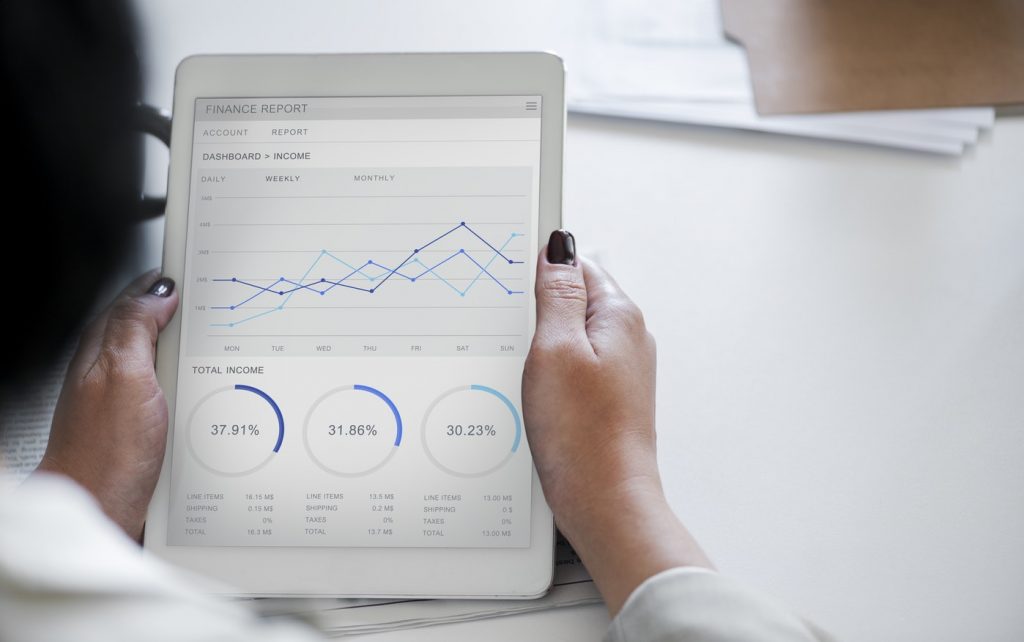 How much does it cost to build a hotel property management system?
We risk seeming banal if we say that the cost of hotel management system development highly depends on what it consists of. Nevertheless, we cannot leave this question open and want to provide at least an approximate estimate so that you can start thinking about your budget. A rough estimation for a minimum necessary HMS functionality like online booking, property listings, reservations system, CRM, Bills and Invoices, and Reports can be 4-5 months and, as by our avg. rate of $35 per hour including QA testing, can cost anywhere between $33,600 to $42,000.
How to Apply This to Your Business
While always striving to meet the goal of attracting and retaining your guests, keep in mind the transformations in the hotel industry. Active usage of mobile apps, collecting data for service personalization of guest experience, and shifting from intermediate to direct bookings are the main factors that will determine the hotel business' evolution for the next several years.
Hotel management systems software is aimed at releasing your staff and management of their mundane tasks, by automating them and synchronizing them among different systems used in your daily work. The tasks that can be solved include:
booking automation
guest relationship management
human resources management
analytics automation
Depending on the needs and specifics of your hotel business, the necessary features and their implementation can differ. At Greenice, we provide development of any size of solution from the ground up, as well as assist in the pre-development stage in creating a Business Analysis and post-development software upgrades and maintenance.
The benefits of developing a custom hotel management software include the fact that you get:
Unique functionalities that fit your business needs without going compromising, as in the case of buying off-the-shelf software.
A secure and reliable system to guarantee that all stored sensitive data is protected against hackers, malware, or server problems.
A flexible and scalable solution that can be changed as your business expands.
Need a team for the development of a custom Hotel Management System?
Get a Free Quote
Rate this article!
You should be
logged in
to be able to rate articles