If you're looking to hire faster and better, and get new employees job-ready in half the time, a successful HRMS implementation can help achieve that. The right HRM system can improve any business, but for some, it's a game-changer. These include industries with traditionally high employee turnover rates, such as hospitality, care providers, and cleaning companies.
HRMS can also benefit heavily regulated industries where employees have to follow procedures and training, such as healthcare. If your business falls into one of these categories, and you feel that an HRMS could be the missing component to take your business to the next level, all that's left is to choose the right solution.
At Greenice, we'll help you choose the right HRMS solution, break down the notion of an HRMS, describe the advantages of human resource management systems, and discuss cases when custom development is the best choice. We'll also provide you with the necessary steps for a successful HRMS implementation.
What is a Human Resource Management System
Nowadays, besides the 'old-fashioned' human resource management, there are also such fancy terms as human capital management (HCM) and human talent management (HTM). As a result, you see software vendors position their products as HRMS, HCMS, HTMS, which can get you really confused.
Strategic Approaches to Managing People
To straighten things out, let's start with the definitions. Human resource management (HRM) is the oldest and the most widely accepted term which stands for all the activities that HR departments are concerned with, i.e. recruitment, payroll, workforce planning, and management, etc. It is also an ideology in which employees are treated as resources that have to be effectively managed so that companies could get the most out of them. As a result, one might argue that HRM-oriented companies are more concerned about employee time-tracking and attendance management, than, for instance, their engagement and commitment.
Human capital management is another ideology or a strategic approach to managing people where all employee-related expenditures are treated as investments. In such a way people become 'assets' in which you have to invest to receive returns (i.e. positive ROI). This leads to companies making long-term investments in their employees' training and their overall well-being.
As Human Resources, human talent management is also about managing people but the focus is on the nurturing, developing, and retaining of talent in an organization. With this approach, employees' potential is identified and realized not only via training but also with performance monitoring and reviews, coaching and mentoring, as well as goal setting and motivation. In contrast to HRM activities which are performed exclusively by HR professionals, HTM goes beyond the HR department and gets integrated into all business processes.
Notably, you don't have to choose between HRM, HCM, and HTM, all these approaches can be implemented at the same time or mixed and matched as needed.
HR Software
Ok, so what about the HR software, you say?
There is a wide array of human resource management solutions and products that cover the needs of HRM, HCM, and HTM approaches. However, many of these needs overlap, such as recruiting, learning and development, workforce planning, and so on. Therefore, there is no hard distinction between the solutions for each approach. It is often more about vendors positioning themselves for one thing or the other.
All HR software can be covered by the umbrella terms - human resources information systems (HRIS) or human resource management systems (HRMS).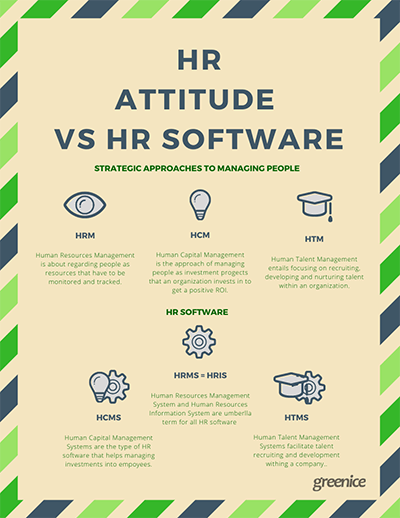 Now, let's see what typically goes into an HRMS or HRIS.
5 Components of a Human Resource Management System
In general, all of the aspects that go into HRMS solutions can be divided into five categories:
Core HR
Workforce Management
Talent Management
Recruitment or Applicant Tracking System
Learning Management
The table below describes the five categories and the features of a human resource management system that correspond to each of them.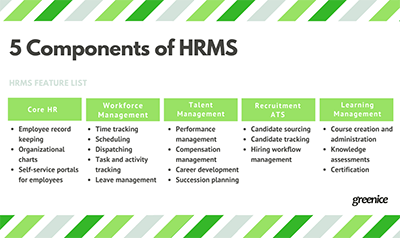 However, it is by no means an exhaustive list of human resource management software features, it is rather a description of key aspects.
These components and even separate features can come in stand-alone products (e.g. time-tracking software like Clockodo) or they can be part of all-in-one HRMS suites (e.g. Oracle HCM suite).
Let's take a closer look at each component and benefit of human resource management systems.
Core HR
The core HR functionality is all about the essentials:
Employee record-keeping
Organizational charts
Self-service portals for employees
In some cases, Core HR may include payroll and benefits tracking, but not necessarily.
The most important part of an HR system is the employee database that contains all employee profiles, pertinent documents, and history within a company.
And, since operating and updating this database can be such a hassle, self-service portals were invented. Employees can log into them and enter/update/look up their personal information themselves, which saves a lot of time and effort for HR personnel.
Of course, this is not the only benefit of these portals. They are also great for getting to know fellow colleagues and the company itself.
Below you can see the features of an employee portal that we've developed for one of our clients. Here, employees can:
fill out their profiles
get reminders to enter or upload certain information (that you can see in red)
set availability for work,
track their jobs
receive payments
Workforce Management
This type of HRMS features is focused on planning and scheduling, which includes:
Time tracking
Scheduling
Dispatching
Task and activity tracking
Leave management
The companies that benefit the most from workforce planning tools are the ones that pay wages on an hourly basis, provide services in the field, work on a project basis, etc.
For instance, since we are a web development agency and charge our clients by the hour, we use time-tracking software for our developers, project managers, and QA engineers.
Also, for one of our clients, we have incorporated scheduling features into their custom ERP system. This is an example of how host schedule may look like.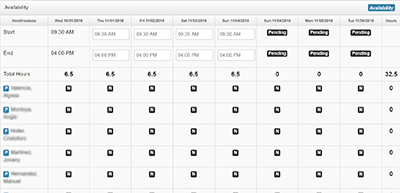 Talent Management
Talent management is concerned with developing and retaining employees with the right skills and talents to reach organizational goals. That is why HTM specific features usually include:
Goal management
Performance management
Compensation management
Career development
Succession planning
Goal setting and performance management (or performance appraisal) are a big part of talent management within an organization. It is a process where a manager and their employees plan together to set work goals and objectives. They can then monitor and benchmark the results based on agreed metrics. And of course, the individual goals have to be aligned with the overall organizational strategy, as that's the idea behind talent management.
There are systems that allow employees to set their own goals in collaboration with managers. Once approved, these goals become part of the employee's performance metric and will be monitored by concerned groups and management.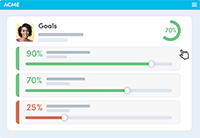 There are also various solutions for performance reviews where you can create online forms with rating systems that managers fill out during regular review sessions. The reviews are often augmented with the so-called 360-degree feedback. It comes in the form of surveys that are sent out to colleagues and subordinates of a particular employee asking for feedback about working with him/her.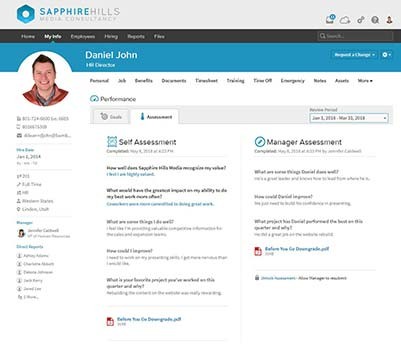 Talent management also includes compensation management to create plans and packages for various positions, as well as to track compensation in the company.
In addition to that, some really smart HRIS solutions can help even with career and succession planning. This is done on the basis of employees' competencies and skills tracking. The system would suggest appropriate career paths to employees and recommend relevant training to achieve the necessary skill level for those paths.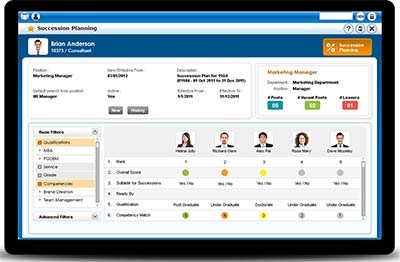 Recruitment (Applicant Tracking System)
Another crucial HR function is recruiting. It is also a very time-consuming activity, especially in the case when you have a lot of positions to fill in short amounts of time. The good news is that much of this work can be automated. That's where Applicant Tracking Systems (ATS) comes in.
ATS can help you with:
Candidate sourcing

Candidate tracking

Hiring workflow management
Recruitment has a lot in common with sales. Only in this case, you are 'selling' job positions and the company, and your leads are the applicants. That is why recruitment software is very much like a CRM. It also has a database of candidates (leads), sources from which you attract candidates (marketing/sales channels), a pipeline where applicants move through your hiring process (just like a sales pipeline), and the hiring workflow itself (just like a sales workflow).

Therefore, everything starts with attracting candidates, i.e. sourcing. The sources can be multiple: the company's website, job websites, social media, phone calls, etc. Here you can utilize automation to help you with:
Job posting
Collecting job applications.
There are tools that will help you to automatically post job ads on various free and paid job websites.
And your human resource management software should help with automatically transferring all those job applications to your system. In the case of one of our clients, the system not only collects applications but also automatically assigns them to appropriate positions based on candidates' locations.
Once you've got all your applications, you need to make sure that the right things happen and the qualified candidates get hired. ATS solutions can also facilitate this with workflow automation and checklists.
For instance, one of our clients uses checklists, so that HR professionals knew exactly what steps they need to make to fill each position. And the workflow is set in such a way that an HR manager cannot move to the next step before he/she finishes the previous one.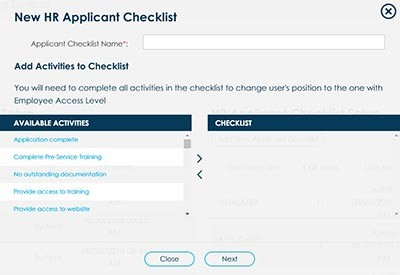 Let's estimate your future Human Resource Management System right now!
Contact Us
Learning Management
Learning and Development (L&D) is a big part of HR as well. New hires need to learn about the company and get up to speed with their departments. Existing employees need to constantly update their skills and knowledge, as well as acquire new ones to move along their career paths.
Therefore, you need to be able to organize and manage the learning process within a company. Learning management systems can help you with it by providing you tools for:
Course creation and administration
Knowledge assessments
Certification
Learning Management Systems (LMS) come as stand-alone products or as part of the HRIS suits.
With the help of an LMS, you can create courses with your own, as well as third-party content. You can upload content (video, text, pdf) and organize it into lessons and modules.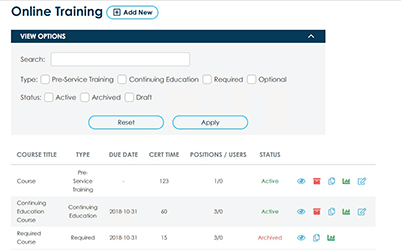 And, of course, you'll need to track the results by assessing trainees' knowledge before, during, and after your courses. This can be done with the help of quizzes and tests incorporated into the courses.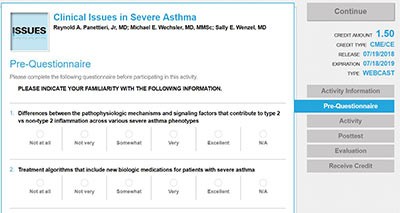 As a result of successful course completion, you can issue certificates and even give academic credits (if you are an accredited course provider or if you work with one).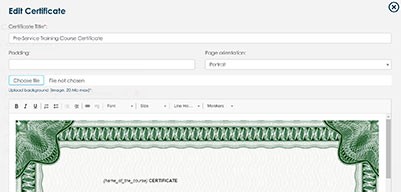 Reports and Analytics
"What gets measured, gets managed", Peter Drucker
And, as with all business solutions, HRMS would be incomplete without analytics and reporting. For each of the five components that we've described above, you'll have specific KPIs and metrics that you need to track.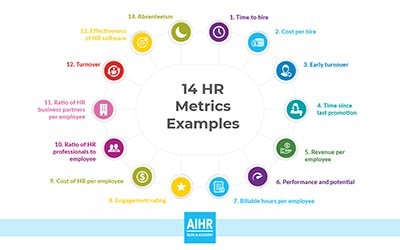 Your HRMS should help you with that by providing:
Reporting functionality should help you with generating static reports that companies have to make on a regular basis (monthly, quarterly, annually). These reports are most useful when customized to the unique KPIs and requirements of your organization.
And there are also dashboards, which provide real-time data that you can check at any moment to be aware of the situation.
Both are incredibly useful when tailored to the organization's needs.
Thinkin' about building a Human Resource Management System?
Contact Us
When the Best Human Resource Management System is a Custom One
There is a ton of canned HRMS solutions on the market, why would you want to build a custom one?
There is at least one good reason - because none of them fits your needs (at least not entirely).
This can happen when:
You have a unique workflow
You are subject to regulations that haven't been accommodated by canned HRMS
Actually, a unique workflow would suffice, as this uniqueness can result from a number of things, including regulations.
One of our clients, a home healthcare services provider had to design an HRMS from scratch. The company has a very high turnover rate (which is the industry standard) and, as a result, has to attract and process massive amounts of applicants. Also, their hiring and onboarding processes are very specific. In addition to that, the company has to comply with a number of regulations that differ per state, and the client is represented in multiple states. All this led our client to his decision to go for a custom HRMS.
Custom systems have their advantages and disadvantages, which are good to know beforehand.
Pros:
100% fit to your business
High security, as only you and your team, will have access to the code
Complete and integrated, as opposed to canned solutions that tend to automate the bits and pieces, or do one thing well and the other - not.
Cons:
The high upfront investment, as you need to spend time and money to launch your system, while with canned solutions you can pay smaller monthly fees
It can take a couple of months to develop and launch a custom system, while with canned solutions you can start in weeks.
How to Design a Human Resource Management System
So you've realized that a custom HRMS is a way to go, what next? Where do you begin?
We suggest the following steps:
Set project goals
Map your processes 'as is'
See if you need to improve current workflows
Develop a vision of your solution
Deliver in small working parts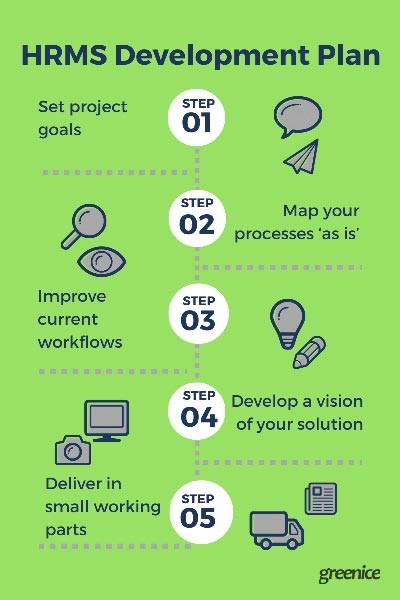 Let's see what goes into each step.
1. Set Project Goals
While planning your custom human resource management system development it is worth remembering that it is just a tool for achieving your business goals, like any other business automation software. This will help to channel your thoughts in the right direction and align your project goals with your overall business goals.
For instance, if you have a high turnover rate and your business growth depends on how fast you are able to recruit new employees and get them job-ready, then your new HRMS should be focused on helping you with that. So your goals can be to:
Decrease time to hire by X%
Decrease onboarding time by Y%
2. Map Your Processes 'As is'
Now, you need to get a complete picture of how things work at the moment. It is a good idea to ask all people involved in HR at your company to describe and map their work processes. Then, you can put all the pieces together and create a general high-level map of your HRM processes. This will give you a complete understanding of the current processes and will help you to explain the situation to external specialists you'll work with on the HRMS project.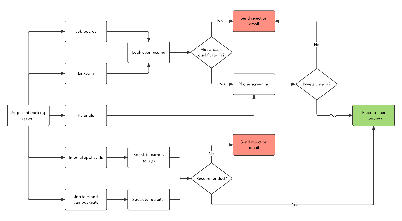 3. See if You Need to Improve the Current Workflows
Now that you have a complete understanding of how everything works at the moment, observe if this is the optimal way of doing things. No software will help if your processes are messy and inefficient. If anything, automation will multiply your mess, instead of improving your HR work. The famous saying: 'Garbage in, garbage out', applies here very well.
4. Develop a Vision of Your Solution
Once everything is in order with the previous step, you can start thinking about your custom solution. If you are not a technical person, then it is a good idea to seek professional help at this point.
In this step, you (or your web development team) will need to conduct a business analysis to explore all the ways you can automate your HR processes. The result of this work will be a Project Specifications document that will outline:
Features
Requirements
Wireframes
Development plan
Technology stack
In addition to this, it is a good idea to create a human resource management system prototype using one of the prototyping tools like Figma. You can show the prototype to all the stakeholders (those that are involved in the project and those that will use the system afterward), ask their opinions, and brainstorm better solutions. This will be less abstract than feature descriptions and user stories.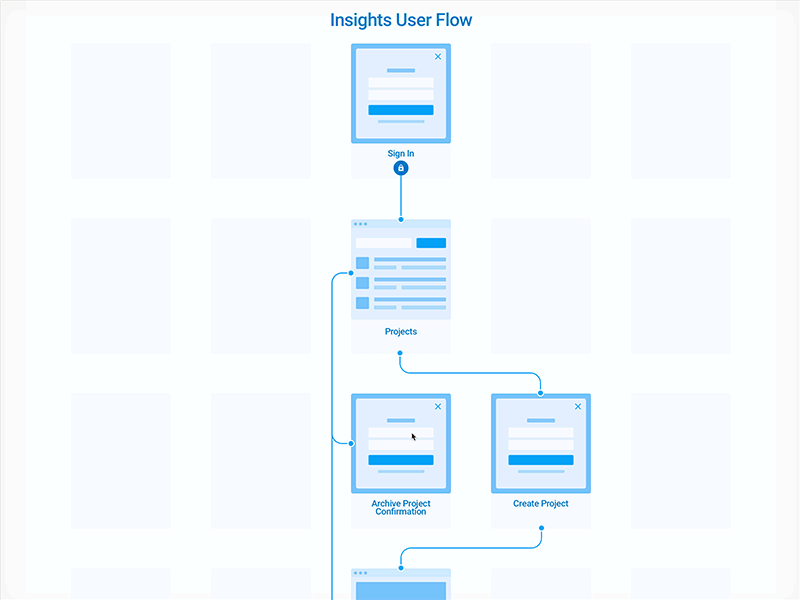 5. Deliver in Small Working Parts
It is also very wise to plan your development in such a way that you can test the system or portions of it without waiting for its 100% completion. Otherwise, you will risk losing time and money before being able to see and try your custom HRMS to decide if it is what you need.
So it is better to split your system into working modules that your development team will be able to deliver in short periods of time and, that you'll be able to put immediately to work. In such a way you'll be able to see if you're headed in the right direction early enough to correct course and stay within budget.
How to Apply This To Your Business
There is no doubt that the right solution can give you a head start, by helping you to hire faster and manage your employees more efficiently to name a few of the HRMS benefits.
But one might still have second thoughts whether:
to buy a canned HRIS suite,
or buy a bunch of stand-alone products and integrate them with each other,
or build your own system from scratch
Unfortunately, there is no canned response to this. It is a matter of researching the needs of your company and searching for available solutions. Some trial and error may be necessary in some cases.
If you do decide to build a human resource management system from scratch, then a good place to start is to draft some SMART goals and objectives. Then assess your HR processes and see if you can improve them. Subsequently, you can prepare Project Specifications and a prototype of your system.
This work is best done with the help of an experienced web development team. We don't want to brag, but we worked on dozens of business automation projects and have all the necessary skills to help you both with planning and the development of your HRMS.
Are you ready to develop a custom HRMS? We can help! Schedule a free consultation.
Contact Us
that correspond to each of them
Rate this article!
You should be
logged in
to be able to rate articles