If we asked you to rate the service level during your previous stay at a hotel, how many stars would you give it, between one to five? Were there any delays at check-in or check-out, problems with payment or providing special services, were the personnel polite and well-organized? Did you feel cared for as a guest, with a level of personalized treatment?
A hotel is a large living organism, each part of which should function coherently with the others in order to provide top service. Like in the body, where the brain gives out commands and gets feedback from organs and muscles, any hotel department should also be controlled by a single system.
As a hotelier, you must be aware that even the slightest disorder in synchronization of information or personnel actions can lead to loss of guests' trust and satisfaction.
One of the challenges with modern hotels is the process of keeping the establishment's information on paper or in Excel files. With so many ready-to-use software options, and the ability to create a custom solution, hotel management has become easy and productive like never before. You just need to choose the right tool.
Are you puzzled about how to do this? Keep reading, and let's shed some light on this question!
Challenges for hoteliers when choosing a hotel management system
If you are reading this article, you are probably in the process of choosing the right hotel management system and you may recognize yourself in one of the following types of entrepreneurs:
You are going to start a hotel business and are looking for the right solution to manage all operations.
You are an owner or manager of an already existing hotel and you still keep all documentation on paper or in Excel.
You already use an automation solution but it does not cover all your needs or is inefficient or cumbersome to use.
These are some of the possible scenarios that can be addressed by travel technologies. Picking the best hotel management software can be a real pain in the neck as there are a great variety of off-the-shelf solutions. You can look through the list of hotel property management systems systemized by Capterra if you are eager to start with something that is ready-to-use. Of course, it can really be a challenge to choose the best hotel management software that is most suitable for you, so we have made a checklist to aid in your decision.
How to select the best software for hotel management
To answer this question let's first define what a Hotel Management System is, to begin with.
A Hotel Management System (HMS) is commonly thought of as a software that allows for the operations of all hotel processes related to bookings, accounting, invoices, guest relationship management, price setting, and more. Nowadays, these systems are cloud-based for more convenience and accessibility from any place and device.
When selecting the best hotel management system among ready-to-use products for yourself, keep in mind that a good HMS should: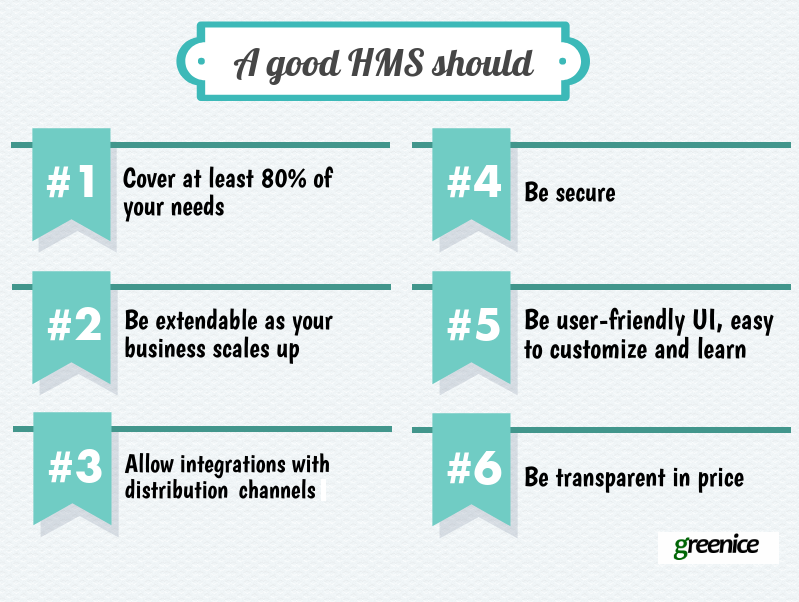 Let's dive deeper into the details in each of these tips.
A good HMS should:
1. Cover at least 80% of your needs
Besides such basic features as an online booking engine, reservation management, CRM, Reports and Channel Management, you may want to review the extra features that will help optimize and enhance all processes. For example, your hotel may have several sources of income from different facilities like a bar, restaurant, conference room, spa facilities, catering, and a gym that may be managed either independently or together. Thus, you may need to integrate separate booking and accounting systems into one system to provide your reception and other department managers with overall information on availability, reservations and invoicing.
If an off-the-shelf solution does not provide the necessary functionalities that can significantly influence your work, you will be forced to use additional software. This may require either finding ways to integrate it into your system (which can be complicated) or requiring you to manually transfer all information from one system to another.
2. Be extendable as your business scales up
At the beginning, you may be so excited to launch as quickly as possible that long-term plans may seem too far in the distant future, while some basic features will seem to be all you need for a productive business. Sooner or later, though, each effective business needs to go outside of the confines of the box they started in. Scaling up may lead to integration with third-party services, increased website loads, needs for more storage space, etc.
Correspondingly, it may also require either moving to a more advanced and expensive package of services or migrating to another system. So, think ahead whenever you can and review the features of your selected software for expandability.
3. Allow for integration with distribution channels like OTAs, GDS, and other affiliates
Though direct bookings from your website increase guest loyalty, integration with Online Travel Agencies (OTAs) and Global Distribution Systems (GDS) is still a powerful tool for revenue increase. All distribution channels are regulated with the help of Channel Manager, a software that allows for managing room availability and rates across multiple channels. Further, information about booking sources should be accumulated in the reports to show you the effectiveness of the channel of distribution.
The most commonly known OTAs are:
Expedia, Inc.

(Expedia, Hotels, Egencia, Hotwire, Trivago, Venere, CarRentals, Classic Vacations, Expedia CruiseShipCenters, Expedia Local Expert (LX), Wotif Group, Travelocity)

The Priceline Group

(Booking, Priceline, Agoda, KAYAK, Rentalcars, OpenTable)

TripAdvisor Inc.

Opodo
Among the GDS options, we can name:
Amadeus

Sabre

Apollo

Worldspan

Galileo
The information for a room booked via Expedia, TripAdvisor or your website will be synchronized at once with your HMS and reduce the number of rooms available in real time. On the contrary, when reserved via your website or phone and added to the HMS, the information is reported automatically to the integrated affiliate channels. The same should work for the syncing of price changes and promotions. Nowadays, most canned solutions for hotel management support integrations with most popular channels; however, if you require any special channel distributors, make sure that integration is possible and easy to do.
4. Be secure
As you deal with personal information and transactions, you need to be 100% confident in the security of your system. Today, security is a top priority for most of the HMS and they use the most cutting-edge practices to protect their systems. Unfortunately, large SaaS providers are still desirable targets for hackers who are looking for ways to compromise servers in bulk. Also, if you buy an off-the-shelf solution, be ready to recognize that all rights for the data and software belong to the provider and you have no guarantees that their business will not be sold to someone else or their terms and fees will not change while you are entrusting them with this service.
5. Have a user-friendly interface, easy to customize and learn
If they have to hesitate when they try to understand the purpose of a button, or when reading a large manual just to make the system operate, your employees will not be happy with the solution. If a small hotel buys a large ready-made system that is too complex in configuration (for example, channels integration or adding payment methods need to be configured), it can seem like a non-trivial task to reach out and get support or training. Thus, make sure that your software is intuitively easy to customize and use and you will not require any help from developers. Use the trial period to test a new application in its entirety, not just on the basic features.
6. Be Transparent in price
Most popular hotel management software is paid software, with prices, on average, varying from $1,000 to $2,500 annually, depending on the size and functionality set. There are also solutions that cost $5,000 per year and more (like with InnQuest Software for 100 rooms). The trap is that a selected solution may be not exactly suitable for your business needs and may require serious changes to adapt for your specifics. Thus, you will likely have to try several solutions before you decide on one that more or less satisfies your needs. To be on the safe side and escape unnecessary risks and expenses, you may consider building your own property management system from the ground up.
The benefits of custom web development of HMS
If none of the ready-made solutions completely satisfy your needs, it is appropriate to think about creating a custom system that will be tailored exactly to you. People often have a prejudice against custom web development, assuming that it's expensive and difficult; however, they oversee huge benefits that open in front of them with this approach. Based on the size of your hotel, custom web development can fit all types and specifics of businesses, while a solution from the top hotel management software list may be an absolute waste of money. Here are the advantages of custom web development: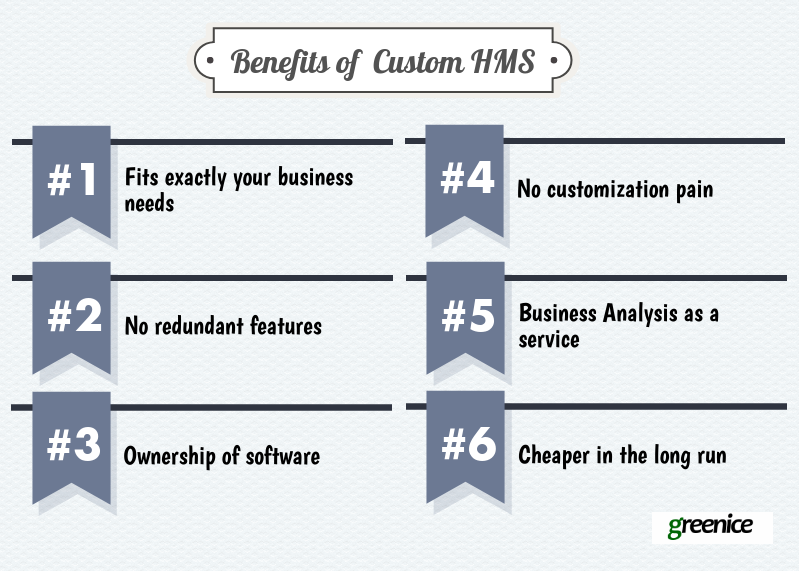 A custom HSM:
1. Fits exactly your business needs
In spite of the seeming simplicity of using a ready-made solution, this type of software is created to satisfy many businesses at once providing very general features. But just because something suits one company, it does not exactly mean that it will also fit your business specifics. With custom web development, you get only those features and relations among them that suit your needs. You may need some unique features that can be made only through an individual approach. This is especially timely as the modern hotel industry is now on the path to transformation, moving away from just bedding their guests to providing additional services for everyday necessities of guests and locals. This should open new opportunities to increase income and stand out from the competitors.
"The notion of "Augmented Hospitality" is closely linked to our three-vertical pillar strategy: travel, accommodation, and catering — consistent with our historical business; additional services that improve a guest's experience while positioning us as a provider of services other than accommodations." - said Maud Bailly, Chief Digital Officer at AccorHotels
2. No redundant features
You may protest against the previous statement that ready-made solutions are too general if they cover your needs. Of course, even off-the-shelf software can be customized; however, it is more difficult and costly to rebuild an existing system that is supported for many customers than to implement new features in your own system. Also, many useful features of the ready-made solutions go for an additional price. So if, for example, you want to add custom reports or analytics, be ready to increase your monthly software expenses, while features built on the custom side stay with you forever and can be changed or extended, if needed.
3. You are the only proprietor of the software
With custom development, you are the only proprietor of the code and database and can do what you want with the system. For instance, when hoteliers first create a software for themselves but then convert it into paid SaaS to get profit from selling it to other hoteliers.
4. No customization issues
Hotel businesses have one of the highest turnover rates and the issue of employee training is common, especially when it comes to the time required to train new employees to effectively work with a system. Ease of use and understanding of how the system should work is critical for hoteliers to escape additional stresses in their work. The top hotel management software may be too cluttered with unnecessary features that tangle up the whole process. On the other hand, with custom web development, you get a team of programmers at your service to set up, configure, and maintain the system and integrate all necessary third-party services, OTAs, and payment methods.
5. Business Analysis as a service
Besides the technical solutions, Greenice can also provide you with a full Business Analysis. We have professionals experienced in working with large hotel groups and can come to you to study and assess all your business needs in order to fill possible gaps and weak spots in your current sales and management processes with our technical solutions.
For example, you may even not notice that some of the booking or advertisement channels work improperly, depriving you of some income. Or, for example, booking confirmation emails may not reach your clients, preventing them from completing a transaction. Your accounting system may not be automated and is a cumbersome and tiresome routine.
6. Cheaper in the long run
When you organize a hotel business, you definitely do it with a long-term goal in mind. Correspondingly, the HMS that you select stays with you for many years and it will be hard to migrate to another one once time passes. As we already mentioned above, given the average price of ready-made solutions, making a hotel management system from the ground up will be cheaper in the end as, once built, it does not require monthly fees to a proprietor. You will pay only if some improvements or additional features are required. Selecting an off-the-shelf system is clearly not where you can save money, as you will be obliged to pay year after year.
How you can use this for your business
Nobody would consider it easy to select the best hotel management software on the first attempt. It is always an experimental process, but you may save time and effort if you choose custom web development and decide to build up a tailored system that will match your business specifics. It may be not easy to understand what functionalities are necessary if you've never previously used a Hotel Management System. That is why, for individual hotels just starting their way in this industry, we recommend the following steps:
Look through the list of best hotel management software

options

and sign up for a free trial period with one or two of them, to test and identify what works best and worst for you. This will give you an understanding of the general scope of features that you need and this may give you an idea of how they can be improved to fit your business processes.

Hire us

to perform a thorough Business Analysis to help you identify strong and weak points in your business and propose the solutions that meet your expectations and business goals.

Start with an MVP

(minimum viable product) to gradually improve the system and add new features as your business scales up.
If you are a mid-sized business or a large hotel group that receives income from many facilities, we also suggest:
Assistance in Business Analysis

to meet your business strategy.

Building an extendable and flexible system

or mobile application of any kind of complexity, from the ground up.

Migration from an outdated system to a new one

or modernization

of an existing system to one that will correspond to your present-day needs.

Complex integration with third-party and inner systems

, high level of security and data protection, automation of routine tasks and difficult calculations, collecting statistics and aggregation data into custom reports.
Rate this article!
You should be
logged in
to be able to rate articles