What do Google, IBM, Unilever, and IKEA have in common, besides being market leaders?
They, along with a handful of others, are trailblazers that have been applying artificial intelligence in human capital management for years already, and they have done so successfully!
Regardless of whether you believe in the 'Terminator' scenario or not, right now machine learning can give your company a real competitive edge in talent management. You can leverage ML to solve such major HR challenges as:
Candidate sourcing
Recruiting
Employee retention
Learning and development.
Let's take a look at the examples of AI-powered tools for each challenge and how leading companies are using them.
First of all, let's get some important definitions out of the way.
Artificial Intelligence vs Machine Learning
Before we start discussing machine-learning solutions, it is necessary to understand what it is and how it is different from artificial intelligence. If you already know, skip ahead to the meat, if not, then bear with me for a couple of brief definitions.
Artificial intelligence (AI) is a broad term that refers to machines having 'cognitive' functions that can be applied in 'problem-solving'.
Machine learning (ML) is one of the applications of AI in which machines learn from large data sets and improve with experience.
One of the most popular examples of machine learning is a recommendation engine. Remember the last time you shopped on Amazon or browsed Netflix? Their 'You may also like' recommendations are generated by ML-based systems that learn from millions of purchases, ratings, user and product attributes to predict what you will like. And the more you use this system (i.e. at Amazon or Netflix) the more it will learn about you and the better recommendations it will give to you.
Benefits of Using Machine Learning in HR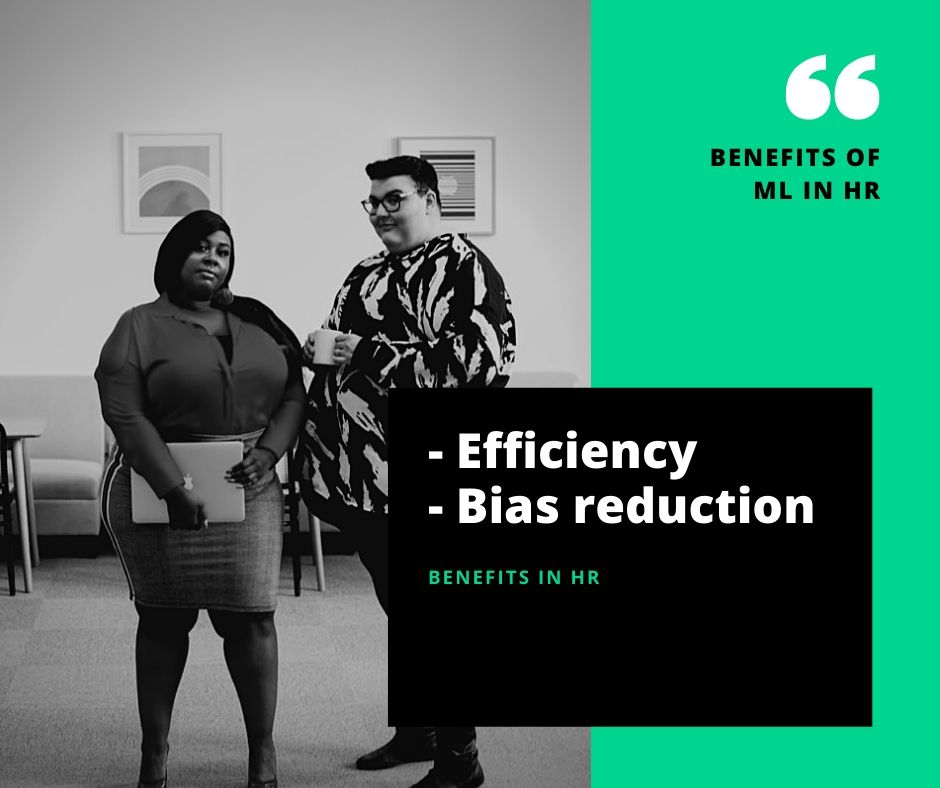 Here are the most talked-about benefits of machine learning in HR management:
The most obvious benefit of machine learning for HR managers is efficiency. Gathering and analyzing information from thousands of profiles on job sites and social media; scanning through tons of resumes; pre-screening candidates… these are examples of how machine learning can help you with recruiting. For example, Unilever saves 70,000 man-hours with the ML-based system they've built for recruiting (we'll take a closer look at it below).
There is another advantage of incorporating ML in human resources management. This somewhat controversial benefit is often referred to as "Reduced Bias'. In theory, everyone agrees that hiring, rewarding, and promotion should be fair and free of bias, but in practice they rarely are. It is very hard and perhaps even impossible for people to be 100% objective, and sometimes they don't even try. Statistics show that the traditional resume review process gives women and minorities 50-60% fewer chances to get hired.
Supposedly, machines can be better at this job. Firstly, computers are capable of handling huge pools of candidates, whereas HR professionals have to deliberately narrow down their candidate pipelines to make them more manageable.
Secondly, ML-systems are supposed to be objective by default, since they only follow algorithms. However, these systems are only as good as the data they learn on, and it can be subjective. To avoid this, many AI-based HR solutions are supported with audits for bias.
Want to build a Machine Learning Solution for HR? We can help
Contact Us
The Best Machine Learning Examples in HR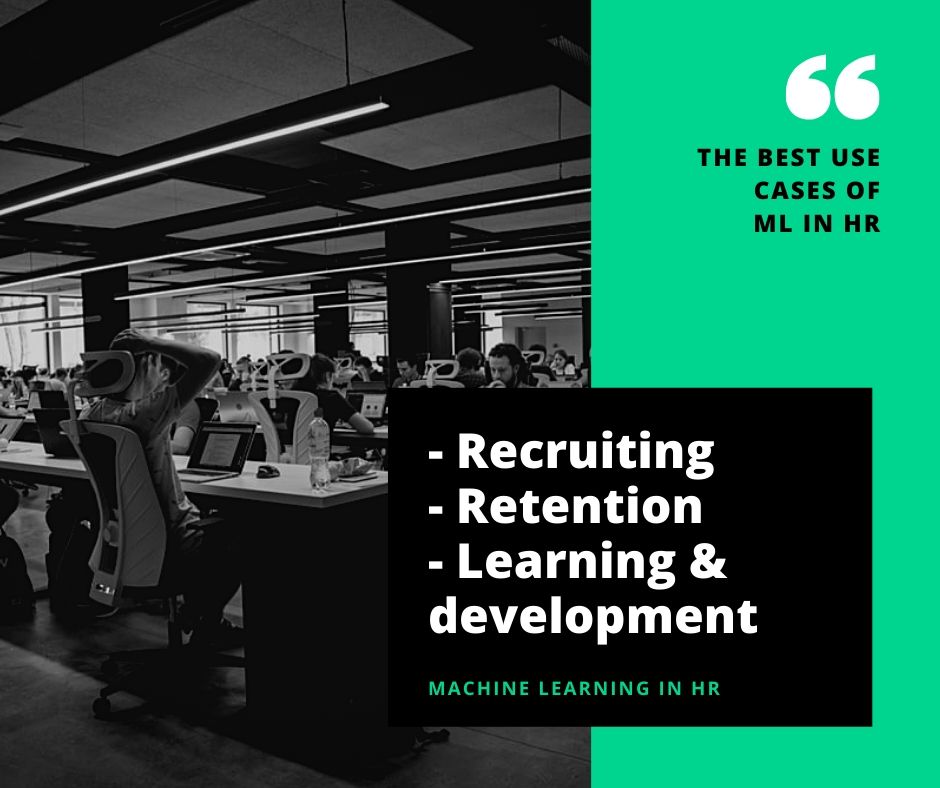 The latest research by Oracle shows that over half of the surveyed companies are using AI in HR. This level of adoption is amazing!
HR and machine learning go well together because this technology helps to solve major challenges in such areas as:
Recruiting
Retention
Learning and development
Let's take a look at the most interesting examples of machine learning in the HR industry.
Recruitment
According to Ideal, on average companies receive 250 resumes per opening. This is already overwhelming, but it is nothing compared to large corporations that have thousands of open positions and receive thousands of applications per each position! They must deal with these applicants quickly because the costs of not filling a position fast are high, and the competition for talent is fierce.
No wonder 61% of company leaders don't think they hire fast enough.
This sets the scene for artificial intelligence in recruiting. It is truly a weapon of mass productivity and efficiency.
Now let's further dissect recruiting into candidate sourcing and screening to see how ML can help with each of them.
1. Candidate Sourcing
On average, 88% of people that apply for a job are unqualified. That is a lot of wasted time for both candidates and employers.
Finding the right person for the right position is an art and a science that involves crafting and publicizing compelling job posts, gathering candidates' information, and scheduling interviews.
This is a lot of work even when you have only a few positions to fill, but what about companies with dozens, hundreds, and even thousands of vacancies? Luckily, there are solutions that companies are already using to source candidates faster and with fewer resources. Good examples of these are tools for job description writing and bots that can assist both recruiters and candidates in the process.
Write better job posts
AI tools like
Textio
can help you write an eye-catching job post that will attract the right kind of candidates and ensure diversity. It is trained on 350 million job posts to suggest you the right words and phrases, highlight paragraphs that are too boring, too generic, or do not suit your ideal employee profile.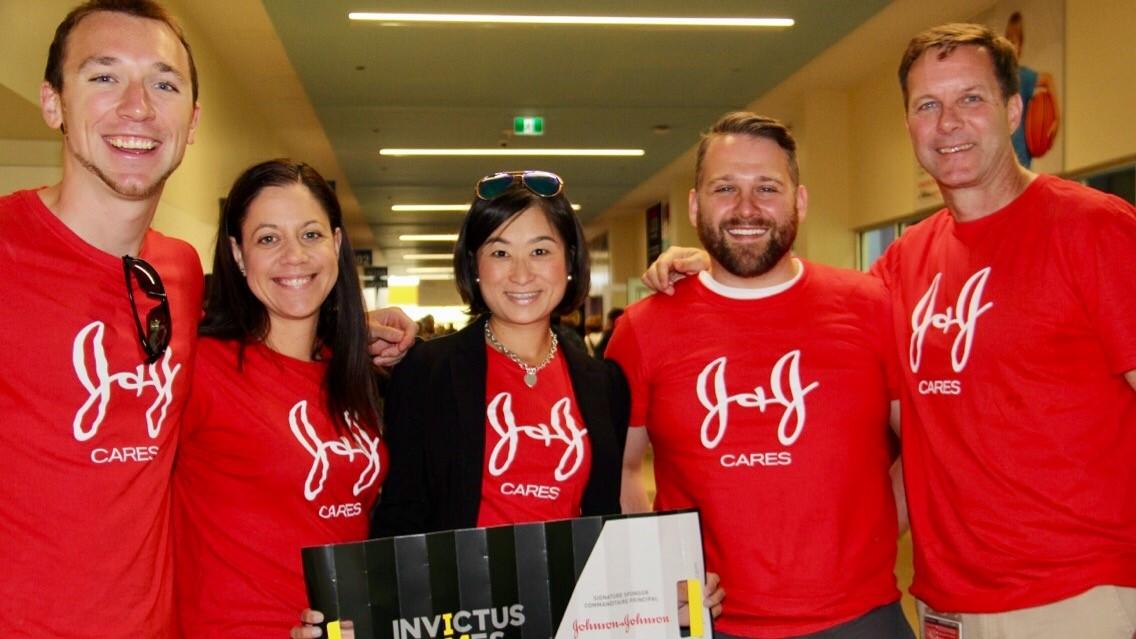 With the help of this tool, Johnson & Jonson managed to attract
90,000
more female applicants, while Nvidia and Evernote have dramatically increased the conversion of their job posts.
Capture, schedule, and guide interviews
So you've caught the attention of some rare talents with your AI-enhanced job description. What's next?
Don't make them fill out a long application form and wait for a response that only leads to more questions before the first interview. This can take days and good candidates fare snapped up right away.
AI-powered recruiting assistants to the rescue! These are bots that can capture your leads, by asking them questions in a messenger of their choice, answer their questions about the position and the company, and even schedule interviews.
Olivia
is a good example of such an assistant.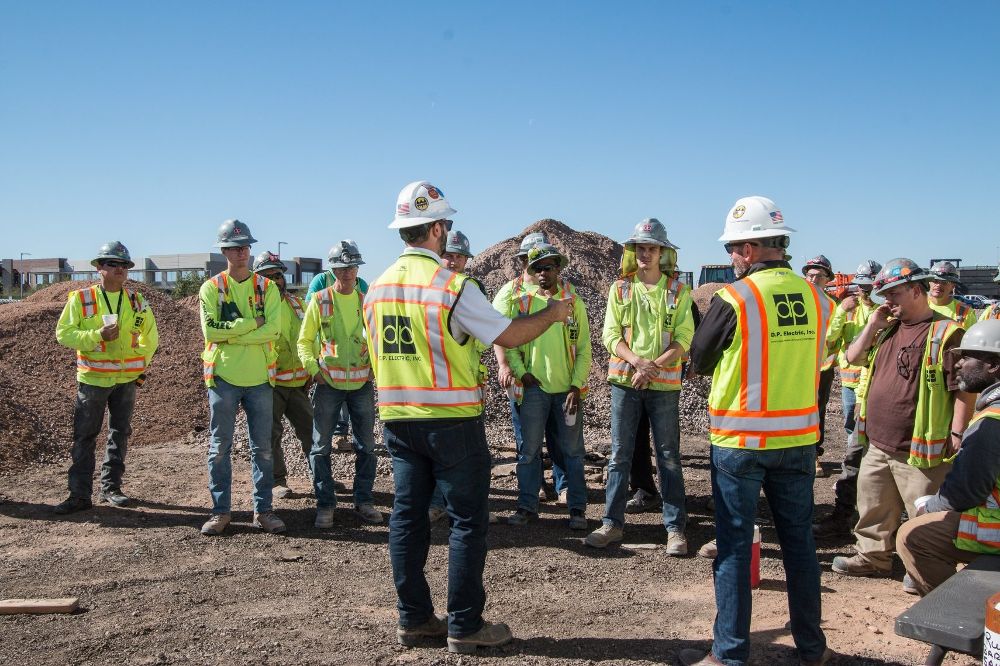 DP Electric, a construction company, uses Olivia to recruit electricians. Their biggest challenge is a shortage of qualified specialists. The competition for workers is so high that specialists don't stay on the market longer than a day or two. Olivia has helped the company to speed up the process and capture more leads in less time.
2. CANDIDATE SCREENING
There is a limit to the number of CVs an HR manager can look through in a day, while there is no such limit for a computer. In fact, the more the better! But, looking through resumes is not the only way to screen candidates, there are other important methods like assessments and preliminary interviews. These, however, can take even more man-hours to complete. That is why more and more companies are using ML-based tools to screen resumes, assess candidates, and conduct preliminary interviews. Such tools save tons of resources, widen the pool of applicants, and reduce bias when applied correctly. Resume Screening ML-based resume screening is more than just a keyword search. It learns from the mountains of information from successful and unsuccessful hires to determine criteria for the best hires. Such tools can also combine the information from resumes with other publicly available information about the candidates, such as social media profiles, websites, and publications. All this data is then used to match candidates to open positions and provide HR managers with graded candidate shortlists. Ideal, the product of the famous job board platform is a good example of an AI resume screening solution.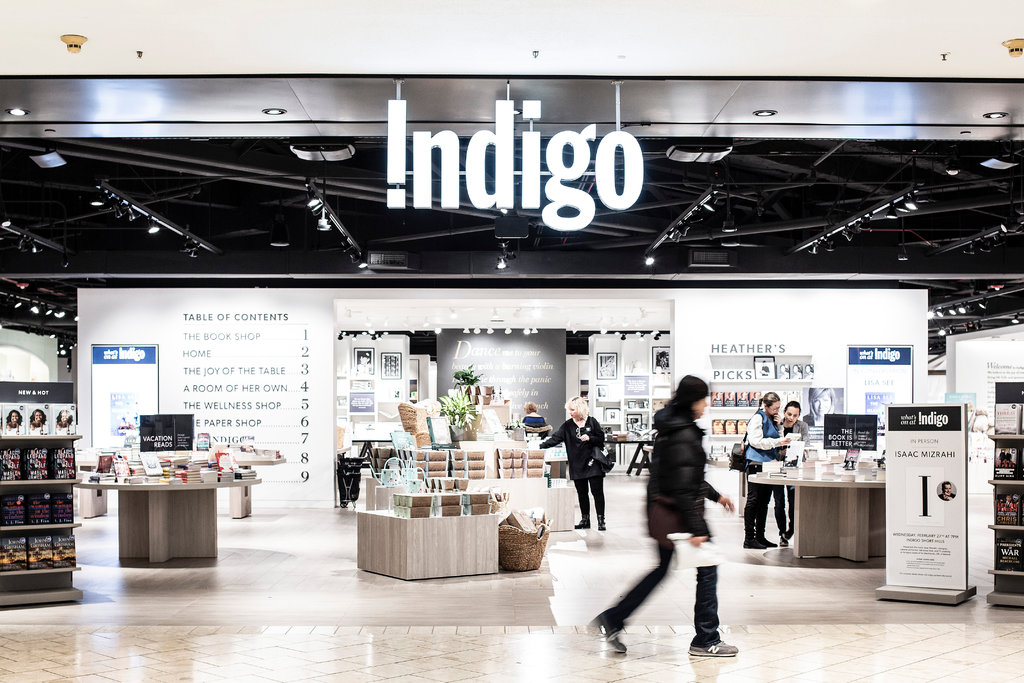 Here is an example of how this works in practice: Indigo, a book retail chain, suffered from candidate overload (on average 2200 job applications per week). Every time they had to increase staff for seasonal sales, HR managers were required to go through all the applicants. That is why Indigo turned to an AI-based candidate screening solution and they have not regretted it. Using Ideal, they managed to triple the number of qualified candidates and decrease the costs per hire by 71%. Candidate Assessments There are a lot of ways to assess a candidate's level of skills, aptitude, team-compatibility, IQ and whatever else that is important for the job. But most of them come in a form of surveys and tests which are boring and time-consuming for both the candidates and HRs. AI assessment tools like Pymetrics and HireVue help companies assess candidates using games, which is way more fun than filling out surveys or completing tests. What's more, the results of such gamified assessments can be compiled into reports automatically, which is nice for HRs. To create games that will help you determine the best hires, you need to follow these steps:
Choose the types of games that will determine the necessary attributes of a successful employee

Let your existing employees play the games

Collect data on their traits and trends

Build algorithms and audit them for bias

Get candidates to play, collect the data and use it to match them to positions.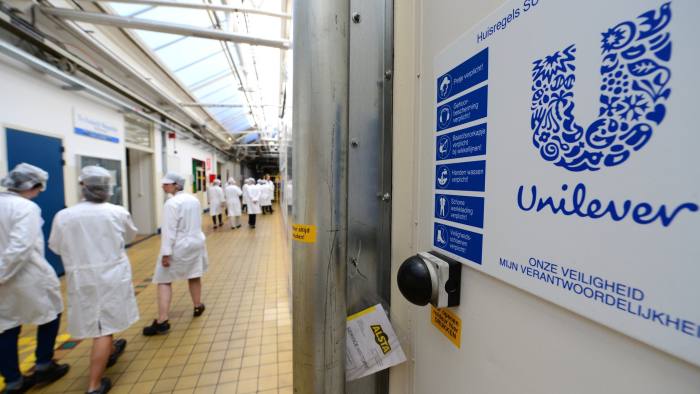 Unilever uses this approach in their hiring process along with video interviewing of 1.8 million job applicants a year! Moreover, these candidates are scattered across 190 countries where this enormous company operates. First, they ask applicants to play a set of games to assess their logic, reasoning, risk aversion, etc. Then the system compares their game results to the ones of successful employees from similar positions at Unilever. This, coupled with AI interviews, saves this company 70,000 man-hours at the screening stage. In addition to that, the candidate experience has also improved since applicants don't have to wait for days or weeks to get feedback. Now applicants receive detailed feedback on how they did regardless of whether they've been hired or not.
Interviewing As we've already mentioned, video interviews can be useful in candidate screening. However, at this point, robots conduct only preliminary interviews and mostly for blue-collar positions. For more high-level positions and/or for final stage interviews a human HR manager is still needed. So, how does a robot interview people? They use machine learning to understand human speech (Natural Language Processing) and analyze facial expressions.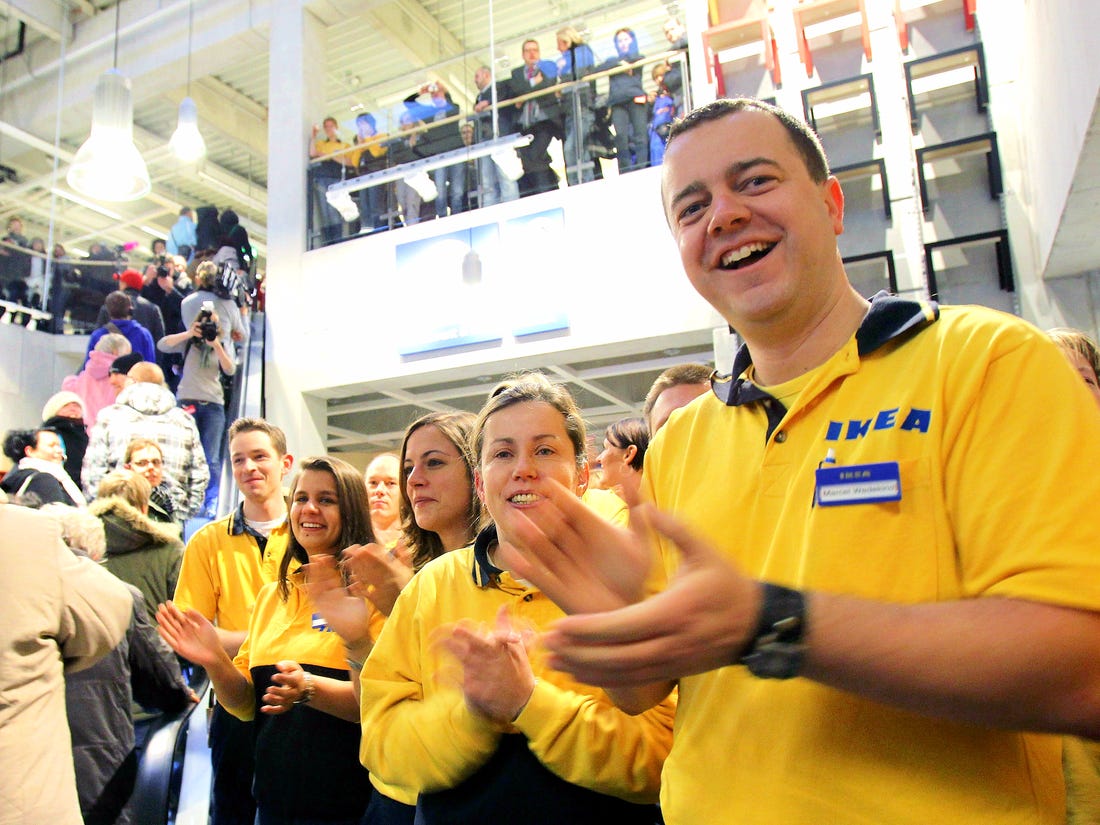 Besides Unilever, many other prominent companies are using AI interviewing, including IKEA. The global furniture chain uses Vera, the Russian AI robot, to interview people that apply for positions in its 12 stores in Russia. Vera can get candidates from various job board websites or from a provided database, call them, and invite them to an interview. She can conduct interviews over the phone or with an online video call. After the interview, she assesses candidates and sends them follow-up emails. Vera takes a significant workload from the company by handling the initial selection that is most resource-demanding.
Want an ML solution to recruit with more efficiency?
Contact Us
PREDICTIVE ANALYTICS FOR EMPLOYEE RETENTION
Finding the right employee can be so difficult and expensive that companies do all they can to keep them from leaving. With the record low unemployment rate, employees are tempted to keep their options open and are ready to take a new leap anytime. Companies endure serious losses with each fleeing employee. An employee replacement may cost from 30% to even 400% of an employee's annual salary. And it is not only about money; the loss of a key team member takes a toll on the team morale as well. So companies go to great lengths to prevent this from happening. For some big corporations, AI has become a magical psychic power that assesses the risk of someone leaving their job in the future even before this employee has started actively searching for a new position. How this works in reality, is that vast amounts of data of employees who have quit in the past are processed by an AI-powered system to determine patterns. Factors that may lead an employee to quit are numerous. For instance:
Time to promotion in relation to the overall tenure at a company

Commute time

Amount of overtime, especially when it is unpaid.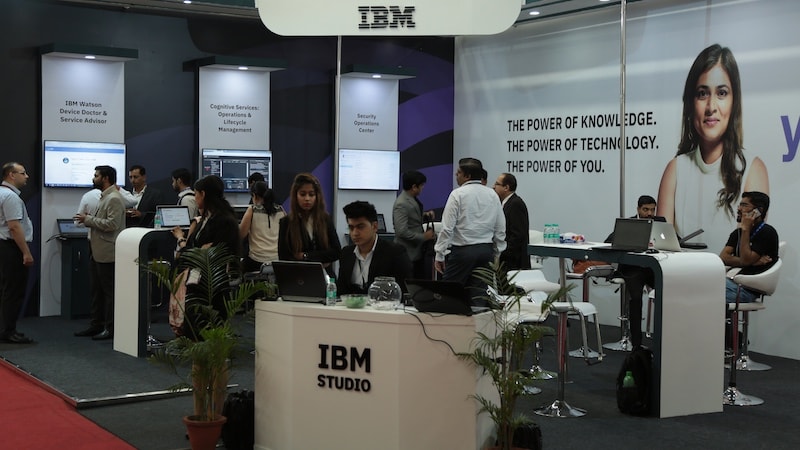 Actually, you don't need AI to determine these, but you do need it to determine less obvious patterns. For example, IBM has developed an 'attrition prevention program' for internal needs and included it in the HR suite it offers to clients. This system uses Watson and can predict when a worker is about to leave with 95% accuracy. In one instance, the system noticed an engineer whose university classmates were being promoted more often than her. It determined this as a high-risk factor and the company took action by providing mentorship and promotion opportunities. She stays at IBM to this day. The solution has made a big difference for IBM a company that employs 350,000 people. The company has managed to save $300,000 in retention costs.
Thinking of implementing employee attrition prediction in your company?
Contact Us
Adaptive Learning and Development
Corporate learning is crucial for both employees and companies. 87% of millennials consider Learning and Development important for their decision to stay at a company. Moreover, employers themselves recognize the growing importance of L&D. This is because the nature of most jobs is changing with the arrival of new technologies. The workforce has had to match these changes. But it is a daunting task. Companies struggle with:
Identifying the most relevant knowledge and skills that employees need to excel at their jobs

Providing the most pertinent learning experience to each employee
Companies can spend millions on training, but all this will go to waste if the training is irrelevant. Furthermore, it is not always easy to identify the skill set for a position and to spot the gap between what is required and the employee's current level. If a company fails to find this information, failure ensues. If the company does manage to spot the skill gap correctly, the next challenge is to create a compelling training program for each particular employee. The training should be engaging, it should fit into an employee's schedule, and it should help reach individual career goals. This concerns the quality of the study material, its presentation, learning and gamification mechanics, as well as convenient delivery. Let's see how companies are using machine learning in HR to improve the learning and development of the employees.
1. SKILL GAP IDENTIFICATION
IBM has created a solution called Talent Frameworks, which is a library of jobs with lists of skills for each job. It contains over 3,000 job profiles and over 2,000 skills per job that can be customized. All of this is powered by Watson, the AI engine developed by IBM. This solution helps to spot the skill gaps of employees and develop optimal learning programs for them. Such solutions are helpful at:
Speeding up the onboarding of new employees

Raising the qualifications of existing workers

Internal promotions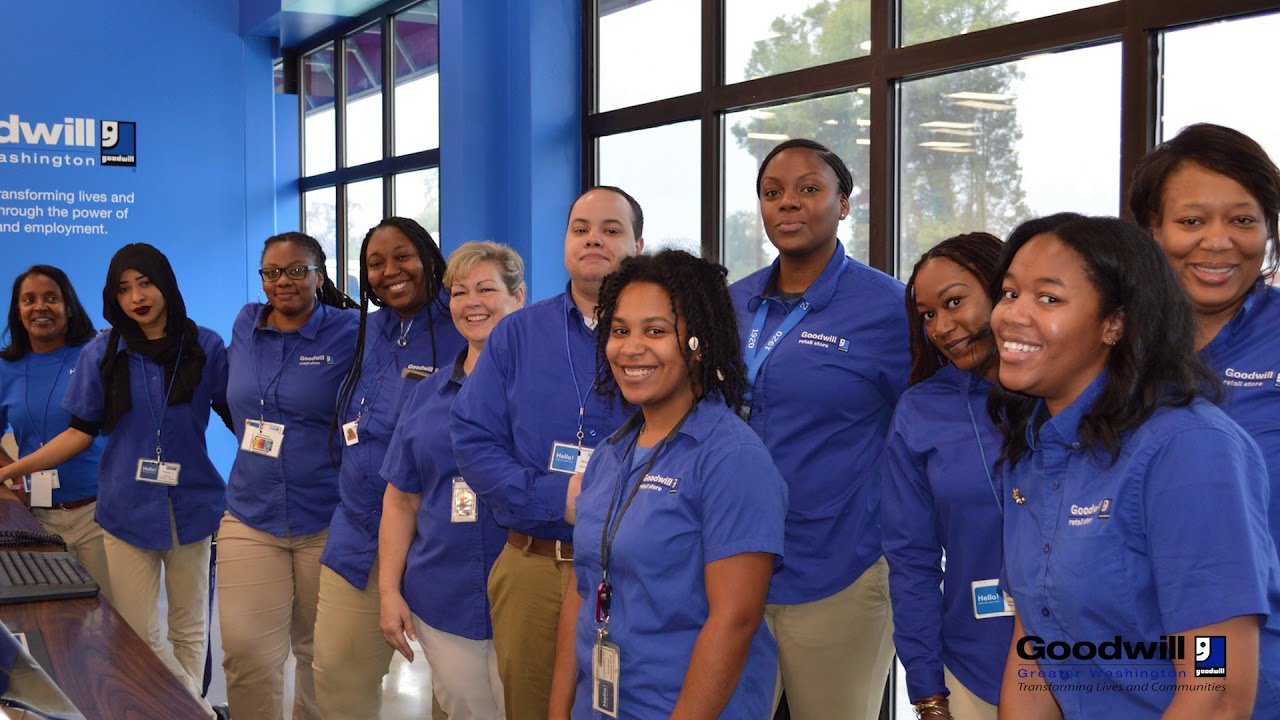 Goodwill, a nonprofit in the USA, that employs 2,300 people, deployed IBM's solution to solve their staff challenges. The organization's structure has changed and became more complex, which made many positions in the company much more demanding. Goodwill customized the jobs library of Talent Frameworks to suit their needs and used it to define job requirements for 38 positions. In one year, the non-profit managed to decrease their skill gaps by 30%, improve the relevancy of their training to 95%, and fill 19 management positions with internal promotions.
2. PERSONALIZED LEARNING
Once you know exactly what the employees have to learn, the next step is to figure out how to teach them in the most effective and efficient way. That is where personalized learning and AI come in. With a personalized approach, trainees receive training that is most suitable to them at a given time and place. This concerns the topic, content, format, difficulty level, and length. This is where AI and machine learning can be extremely useful. AI is used to create smart recommendations to learners in the form of learning paths that will constantly adapt to the pace and needs of the learner. These recommendations are drawn from piles of data, such as:
Skill requirements for the current or desired position

Knowledge and skill assessments

Employee's preferences

Study progress

Data on current and past colleagues from similar positions.
So the more data this system has and the more feedback it gets from the learner the better recommendations it can give. The other part of the system is content. We are not at a stage when machines can create learning content by themselves yet. However, they can find the right pieces of content and match it to learners really well. In fact, sometimes even better than humans. Companies use AI to discover content from external (Internet) and internal sources, and then assign themes, tag, and index it for easier matching in the future.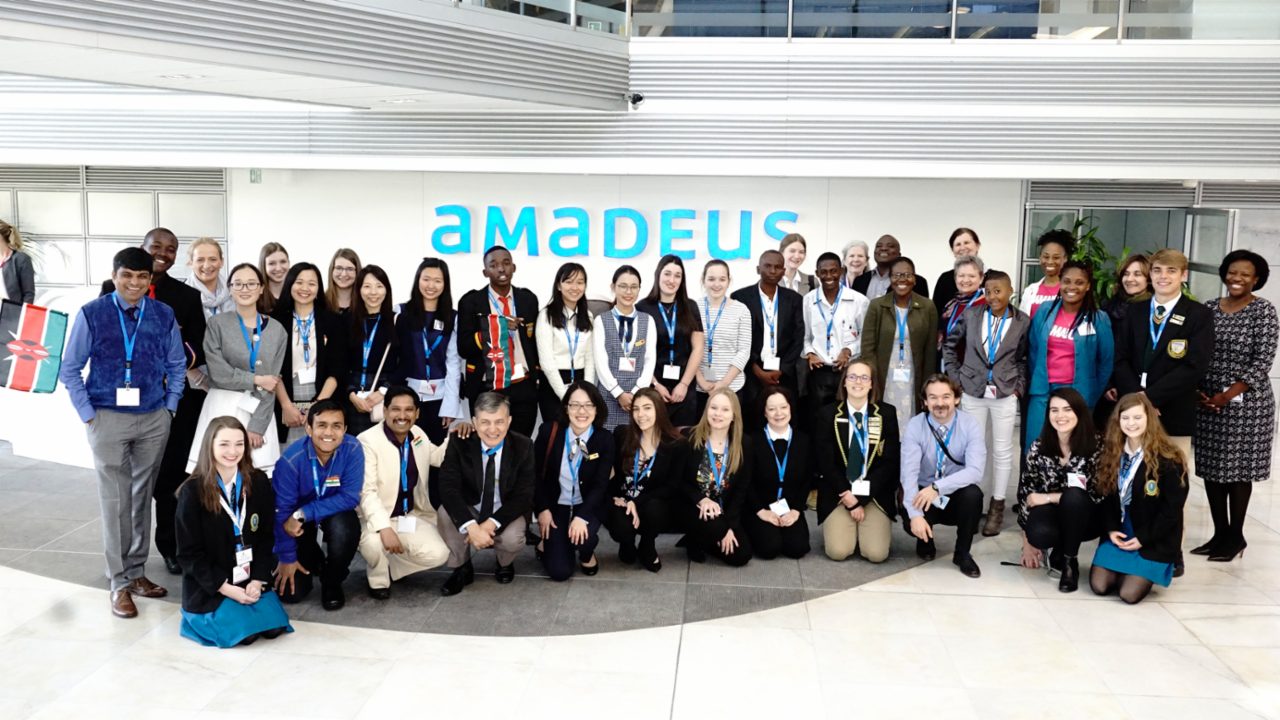 Amadeus, a global travel technology vendor, has created the Amadeus Learning Universe, an eLearning platform for employees, clients, and partners. This platform is based on a Valamis an eLearning suite that is powered by IBM's Watson. This solution provides personalized learning experiences to over 1 million people in 195 countries.
Looking for a smart eLearning solution for your employees? We'll be happy to share our experience in corporate learning development!
Contact Us
Getting All the Pieces into a Wholistic HR Solution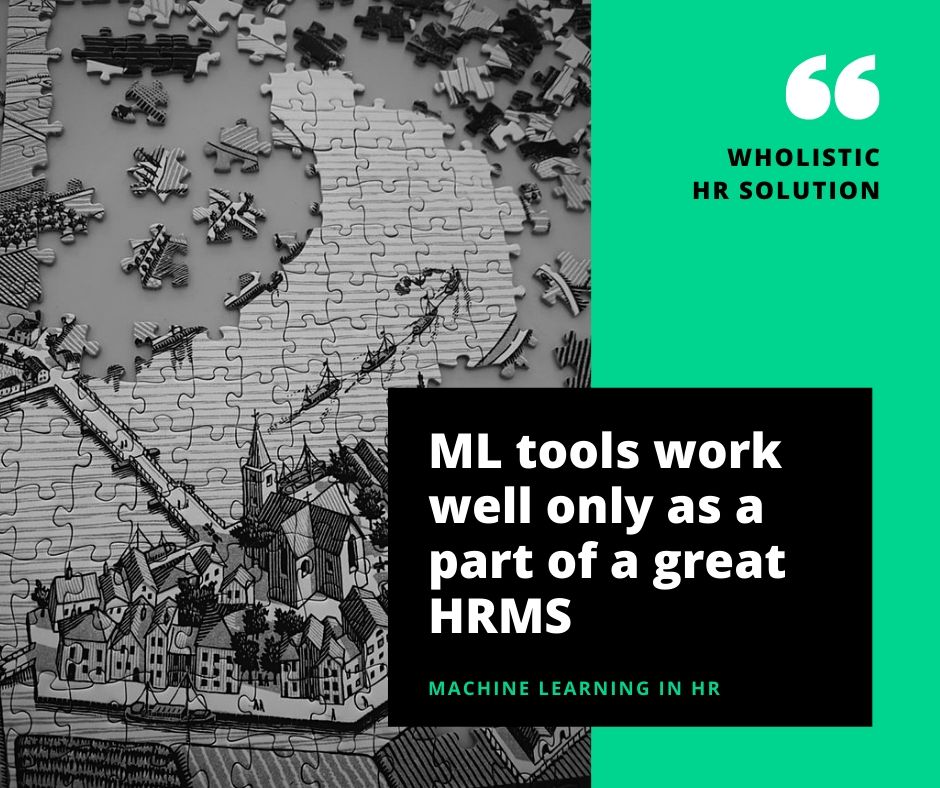 While the AI solutions listed above are new and shiny, it is important to understand that they will not work without well-oiled and fine-tuned Applicant Tracking and HR systems (Human Resource Management Systems - HRMS). A good HRMS is a solid foundation and one of the major sources of data for HR machine learning. Your HR system, be it custom or off-the-shelf, should work well with all of your other AI instruments for recruiting, retention and training. This can be achieved in two ways: either by integrating third-party machine learning tools in HR software via API or by developing this functionality within your HRMS as a new set of features. The latter is a good option when none of the existing ready-to-use HR tools suit your needs, you can develop one from scratch and make it part of your HR system. At Greenice, we can help you develop your HRMS from the ground up and integrate or upgrade it with AI features. We have experience building custom web-based HR systems and Learning Management Systems. Moreover, we can help you develop your own machine learning applications in HR or integrate your system with one of the solutions from the market.
Want to create a complete custom solution for HR? We'd be glad to provide a free consultation and an estimate!
Contact Us
Rate this article!
You should be
logged in
to be able to rate articles