The global business-to-business eCommerce market is predicted to reach nearly $21 trillion by 2027.
Even though business-to-business platforms are less advanced than business-to-customer platforms, in 2019, the value of the B2B market was 6 times greater than the B2C market.
Alibaba and Amazon remain the world's leaders, but new players also find ways to claim competitive positions. Only a few years ago, there were 20 marketplaces in Europe; now there are more than 300. New B2B platforms focus on narrow niches and provide an excellent user experience.
If you are someone who sees promise in B2B portal development, this article is for you! We'll cover all aspects of how to build a B2B eCommerce marketplace. Read on!
Types of B2B Marketplaces
B2B (business-to-business) marketplace is an online platform where the business is conducted from one company to another, rather than between companies and customers, or between individuals. Let's take a look at the difference between the types of marketplaces:
| | | |
| --- | --- | --- |
| B2B | B2C | C2C/ P2P |
| Companies sell goods and services to each other | Companies sell goods or services to individual consumers | An individual sells goods or services to another individual |
| Alibaba, eBay, Amazon Business, Global Source, Toptal, Upwork | Aliexpress, Booking.com, eBay, Airbnb, Amazon Marketplace, Walmart, Lazada, Flipkart, ASOS | Airbnb, BlaBlaCar, Couchsurfing, Etsy, SkillShare, Taobao, Craigslist, OLX |
Often the distinction between the types is not clear. For example, Airbnb began as C2C but evolved into B2C2C when companies were allowed to list accommodations. In the same way, Amazon and eBay have blended the B2C and C2C types.
The biggest difference between B2B marketplaces and other types is in the average size of orders, and more complex purchase and transaction processes.
Business-to-business marketplaces are also subdivided by purpose and specialization.
By purpose, B2B marketplaces are divided into:
Product marketplace.

This is the most popular type. An online platform connects product suppliers and buyers. Ready-made goods, parts, or raw materials can be ordered from these marketplaces. For example, at Alibaba and Global Source anyone can find and buy virtually anything.

Service marketplace.

Companies buy not only products but also services. Talent-hiring, cleaning, food catering, IT services, content creation, event management, and other services are available on such platforms. For example, Toptal and Upwork help companies find and hire the best employees globally, thus saving business time and resources.

eProcurement marketplace.

Governmental and private organizations are often looking for equipment, spare parts, furniture, clothing, stationery, and other office and industrial goods. Using such a marketplace allows companies to reduce spending because there is less administrative work and orders are more accurate. Electronic procurement platforms take care of orders, invoices, warranty, and history of transactions. Eezee is a Singapore-based B2B marketplace specializing in procurement.

Commercial Real Estate Marketplace.

Airbnb for offices, event venues, parking lots, coworking rooms, industrial space, and warehouses is another type of B2B marketplace. Officegenie, GorillaSpace, and ShareYourOffice allow hosts to post their space and renters can easily find what they need.
Depending on the platform specialization, B2B marketplaces subdivide into two types:
Horizontal (general):

multiple industries.

Vertical (specific):

specialize in one particular industry, for example, textile, automotive, chemical, etc.
Initially, there were only horizontal marketplaces. Their advantage is that they grow quickly due to the extensive inflow of new suppliers from different industries. However, when they get bigger, horizontal marketplaces usually have trouble matching buyers to necessary suppliers. Another drawback is that their features are too general and may not fit the specific business processes of different industries. Selling textiles is not the same as grocery or aerospace parts; therefore, the platform must customize its features according to a product category or customer satisfaction will suffer.
Features that are too general make suppliers do a lot of manipulation during each deal. Thus, most businesses start using the platform only as an additional source of finding buyers rather than a process automation tool. What suppliers want is an industry-specific marketplace that will automate orders, invoicing, delivery, and reporting that will lead to better services with less effort.
Five years ago, there were only a few vertical B2B marketplaces. Now, according to Digital Commerce 360 B2B, there are more than 70 online platforms specializing in 13 industries.
Vertical marketplaces specializing in one industry, or even in a narrow niche are game-changers for the whole B2B eCommerce. Let's take a look at the most prominent vertical B2B marketplace by industry:
Fashion Apparel, Home Decor, and Textile:

Maker'sRow, ZilingoTrade, Joor

Equipment:

RBauction, Kwipped

Automotive:

MarketParts, B2B-CarMarket

Food:

Biolinked (organic food), CaterNation (catering), Emerge (Authentic Italian food), Termeloipiac (Hungarian food), FoodMaven, SaladPlate (food for hospitality service), FoodDirectories

Chemicals:

Chemondis, Knowde, OneTwoChem, ChemDirect, Pinpools

Agriculture:

FBN, Agrimp, B2Bagriculture, AliroTrade, AgroInfoMart

Healthcare:

Reemedy, Medibox
Vertical marketplaces also can narrow down. For example:
Wine:

GlobalWineTrade, WorldWineCentre, WineDepot

Aerospace parts:

GoDirectTrade

Metals:

FastMetals

Flowers:

IBuyFlowers

Meat:

Meatex, MeatCommerce, Meatb2b
Even though starting a horizontal marketplace may seem more profitable because they cater to a larger audience, competition with behemoths like Alibaba and Amazon is fierce.
Starting a vertical B2B custom portal can be easier from the technical and marketing point of view as you can focus on the needs of a definite group of people and provide more industry-specific features for them.
Business Models of B2B Marketplaces
Before you start a B2B marketplace, you need to decide how it will generate revenue. You can choose your B2B marketplace business model from the list below:
Commission-based Model
The platform charges a commission for every transaction which can be either a flat fee or a percentage of the payment. Thus, Upwork, being a middleman between freelancers and employers, takes 5-20% of the freelancer's earnings. Another hiring platform, Toptal, charges a $500 initial deposit in addition to the service fee.
Subscription-based Model
In this case, the platform does not charge for each transaction, but it charges for registering in the marketplace. Some marketplaces also provide basic features for free (Freemium model) and charge for access to advanced features. A paid subscription plan is another way to generate revenue; this model guarantees constant revenue for months ahead. For example, Maker's Row allows free registration and takes no fees for transactions, but generates most of its revenue from paid memberships. The user-members pay a subscription fee for the fully functional software that allows them to manage their orders, payments, and deliveries.
Advertisement-based Model
This model is used mostly by eCommerce platforms where there are a lot of vendors that create tough competition. Users can pay to highlight their products which will get them noticed among a multitude of similar companies. For example, at Alibaba, sellers can post 50 listings for free. But to increase visibility, vendors can pay to have their listings pushed higher in the search results. As a rule, platforms blend several monetization options to meet the needs of a wide audience.
Challenges of B2B Marketplaces
There are a number of challenges faced by B2B marketplaces; an entrepreneur starting a new platform must be prepared.
1. Winning customers trust
Trust is the most important part of any marketplace. A B2B marketplace is just a mediator between an online seller and an online buyer. The value of transactions going through the B2B platforms may reach millions of dollars, and, of course, nobody wants to blindly take unnecessary risks. Also, with the COVID-19 pandemic, it became harder to inspect the manufacturers and more challenging for the platforms to prove their trustworthiness.
Best practices address this challenge:
Ask suppliers to provide information about their business, including their licensing documents. Check them either manually or with the help of third-party vetting services. Add a 'Verified' icon to each listing that has been inspected and verified by your team of experts. For now of our clients, NoCowboys, a home services marketplace in New Zealand, we created the possibility to add 'Verification' badges to the businesses' profile.
Create a review and rating system allowing all parties involved with each transaction to offer feedback.
Integrate an escrow payment method to guarantee fairness.
Add buyer protection and money-back guarantee options
Use paid membership. At Alibaba, purchasing a Gold status membership for several thousand dollars per year shows customers that the suppliers are serious and trustworthy.
2. Intellectual property protection
The spread of the internet and the ease of data extraction has led to a huge increase in the number of counterfeit goods. Suppliers that sell unique goods, technologies, or services on online platforms need tools to protect their products from dishonest competitors who steal photos, descriptions, brand names, and prices.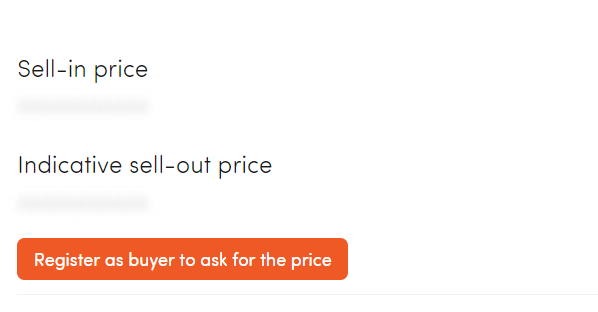 To fight knock-offs, eBay initiated the Verified Rights Owners Program. eBay vendors can apply for this program and register their goods in the system indicating that they are subject to intellectual property. This allows them to easily report all counterfeit items, and have them removed from the platform.
3. Data security
With the upsurge of hacker attacks at large eCommerce sites, when building a B2B marketplace you should be extra careful with the users' sensitive data. The best security practices include:
Encrypting all sensitive data to prevent leakage.
Using two- or multi-factor authentication like SMS code or secret questions when the user logs in or confirms payment.
Complying with data protection regulations like Payment Card Industry (PCI), General Data Protection Regulation (GDPR), California Consumer Privacy Act (CCPA), and all other local laws and regulations.
Using SSL and TLS certificates that allow the encryption of data transmitted via the Internet. This will prevent the theft of information. Websites that use security certificates have HTTPS in their URL address.
Choosing custom marketplace development rather than Wordpress and other off-the-shelf solutions. Sites like Wordpress are favorites of hackers' because they allow them to hack sites in bulk.
4. Enhanced customer experience
One of the most effective ways to fight off the competition is to provide better service.
As Bill Gurley of Benchmark Capital once put it:
"Great marketplaces do not simply aggregate a market; they enhance it. They leverage the connective tissue to offer the consumer a user experience that simply was not possible before the arrival of this new intermediary."
Often B2B marketplaces are too complicated, do not cover the purchaser's needs, or do not correspond to company processes.
The main user complaints are connected to the inability to:
Schedule orders
Chat with supplier
Have pre-ordering or back-ordering
Have personalized recommendations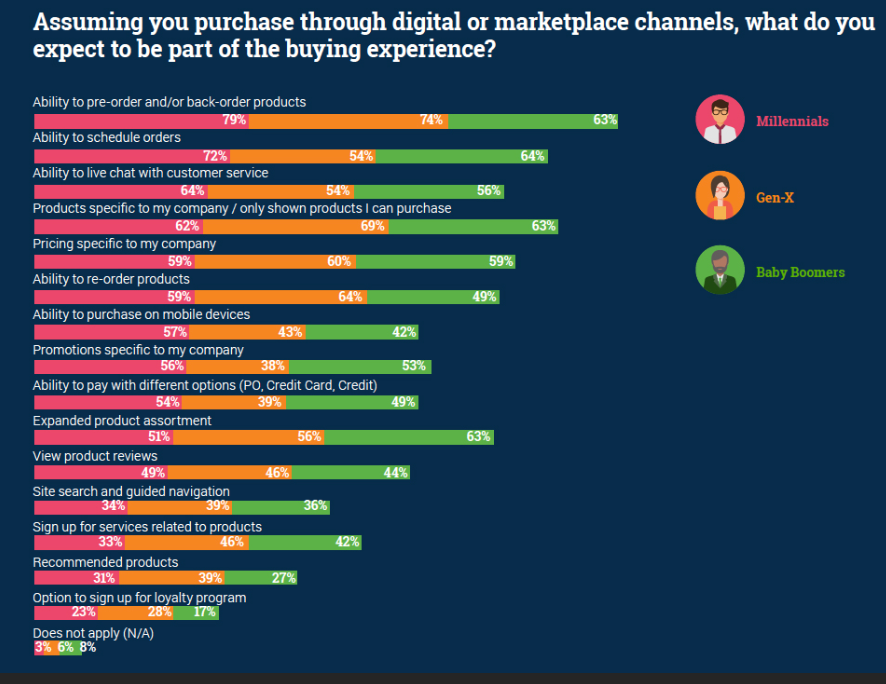 Features of B2B Marketplaces
It may seem that there is no big difference among B2B, B2C, or C2C marketplaces. In essence, they are all two-fold platforms that allow users to list their goods or services and make deals via secure transactions.
However, the B2B platforms have unique features that distinguish them from B2C or C2C marketplaces. Here are some of them:
B2B marketplaces mostly focus on bulk orders rather than single-item orders.
Often, a minimum order quantity is required.
Discounts are calculated depending on the size of the order.
Often, there is no set price and buyers need to make an offer. This may mean multiple rounds of negotiation.
The platform should accept diverse payment types including cash, bank transfers, checks, and credit cards.
The platform may support paying by installments for massive orders.
Vendors' sensitive information, like price and product specifications, should be protected from everyone's eyes to minimize fraud.
As for the platform structure, the B2B marketplace is divided into two different sections: one for Suppliers/Sellers and one for Customers/Buyers. At many B2B marketplaces, a user can be both Buyer and Seller — switching between the interfaces either to sell or to buy. In addition, there is a back-office for Admins who regulate the relationship between the parties and manage the website content.
The B2B eCommerce platform cost depends mostly on the features your platform will have. Let's list the necessary features of a modern B2B marketplace.
1. Registration on the Platform
For buyers, registration usually does not take long. The website just asks them to authenticate themselves via emails or social media accounts.
To become a Seller, a user must prove his or her seriousness and legitimacy. Most of the marketplaces require Sellers to pass a vetting process before they can start using the marketplace. They should add their business details and sometimes upload the business' registration licenses, quality certificates, and tax documents. This data will be verified either manually by Admins or through special vetting services integrated with the platform.
2. Company/Customer Profile
Buyers' profiles should have all the information about the user's purchases, orders, transactions, and communication with Sellers.
All registered and approved Sellers should be able to easily manage their company information, contact details, payment and shipment preferences, product listings, orders, finances, and communication with Buyers.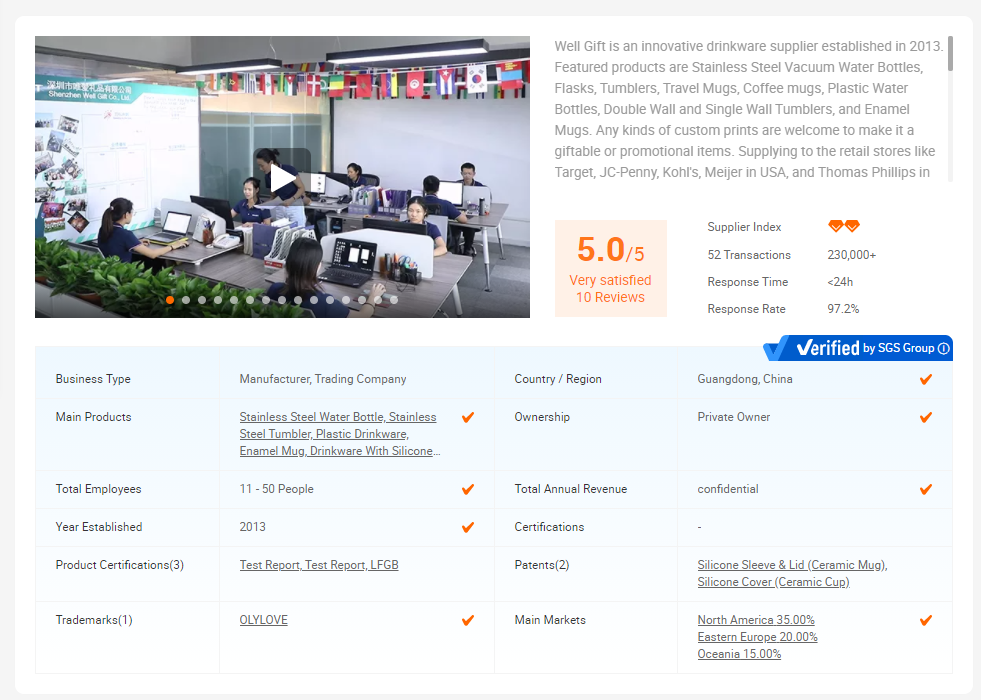 3. Product Catalog and Listing Details
The Product Catalog is a database of all product listings with their details: description, photos, and prices. When a new product is added by a Seller, it should have a separate page with a description and an order form. It is vital that the Sellers be able to upload quality images and videos of the product.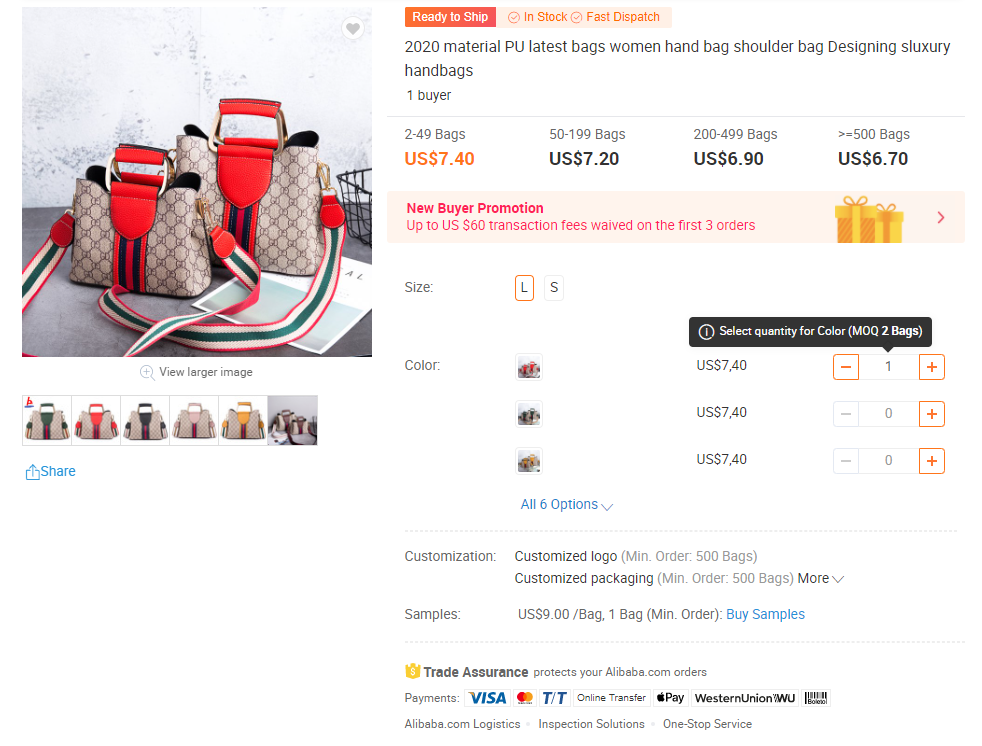 4. Search
One of the biggest challenges for customers in the B2B marketplace is to find exactly what they need among thousands of listings. A smart and quick search engine, with detailed filtering by product characteristics can significantly improve the customer experience.
5. Personalization and Recommendations
According to Accenture report, 50% of B2B buyers consider personalized recommendations as one of the most useful features that help find online the right suppliers. Moreover, consumers of marketplaces that provide personalization spend 48% more than customers of marketplaces without this feature. Here are some ideas on where to use personalization:
Recommendations based on user preferences and interests
Recommendations of services based on location
Recommendations of similar or complementary products that are often bought together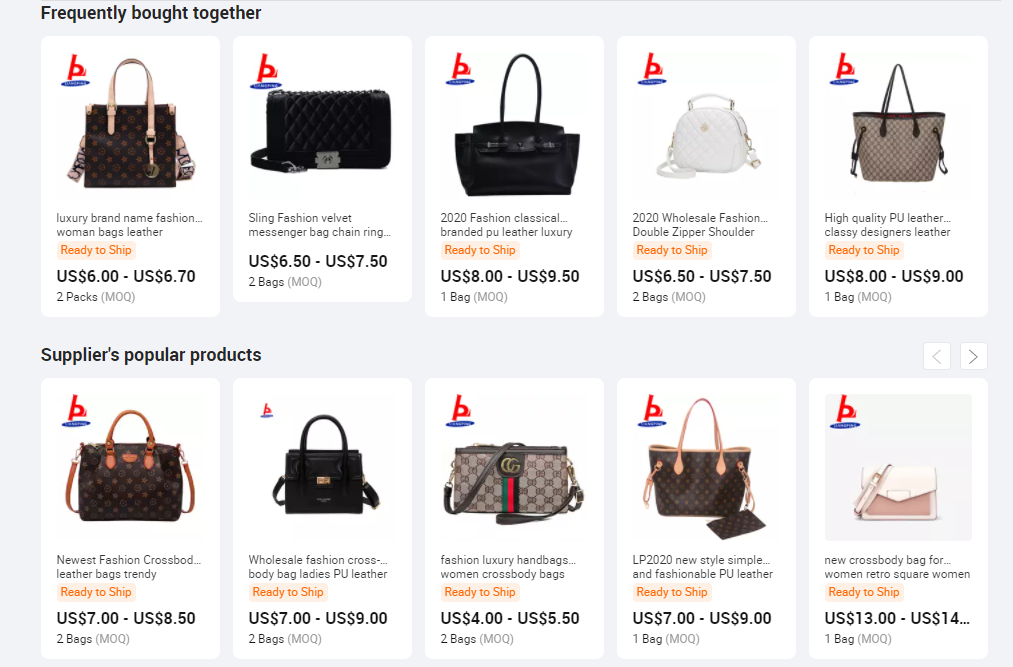 Recommendations for new products
Recommendations of products based upon the history of views or previous purchases
Personalized newsletters based on purchase activity
For one of our projects, Arcbazar, a marketplace for architects, we created recommendation tools fueled by Machine Learning. Using historical data, the system is able to predict and recommend the optimal price for the project. This significantly reduced the user abandonment rate in the middle of the ordering.
6. Product Comparison
As the platform broadens, a lot of nearly identical products appear. To help users differentiate apples from apples, it is a good idea to create a robust comparison system in an effort to enhance the buyer's experience.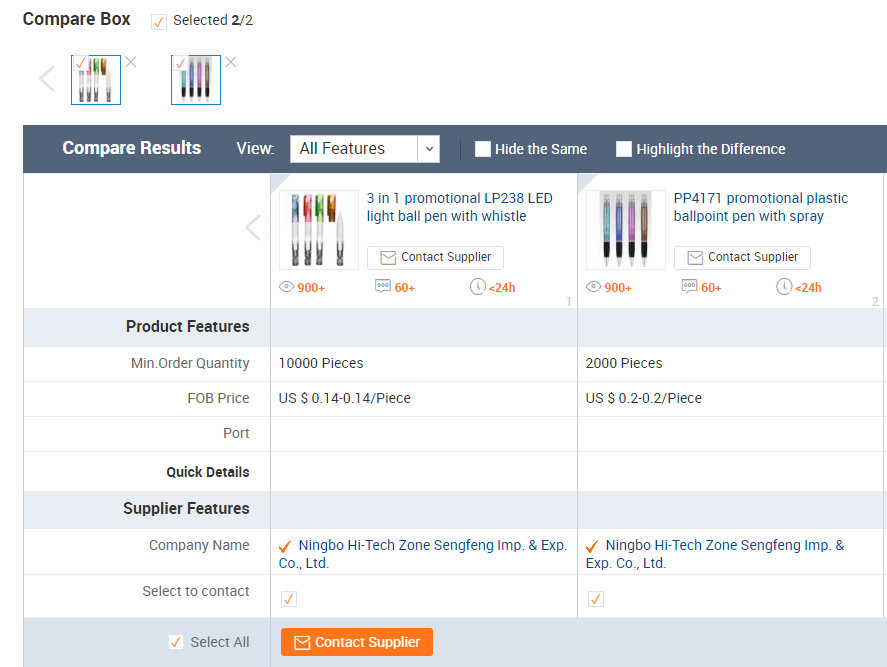 Thus, for an eCommerce platform that sells electronics, we created a smart comparison feature. It can work either like a questionnaire that asks a client about their needs or a form where a client can choose from a dropdown list of gadget characteristics. For example, if someone is looking for a TV set, he or she is asked what room it will be placed in so that the platform will choose a TV with the optimal dimensions. The customer's preferences are compared to the details of products in the database. The customer can then choose from all suitable products. This comparison tool adequately and easily takes the place of shop assistants.
7. Pricing Options
B2B pricing and purchase processes differ from the B2C processes. In the case of business-to-business, prices are based on such factors as order quantity, branding, shipment, and discounts which are negotiated between the supplier and customer. Here are some pricing options common for B2B platforms:
Request for Quotation (RFQ)
This is one of the most popular ways of arriving at suitable prices. RFQ is usually a form filled out by the customers to describe their needs. It is then sent out to many suppliers at once. Customers may send requests to specific suppliers or use matching mechanisms to send their requests to all suppliers who provide the selected products or services. The suppliers receive the RFQ and respond with their quotes.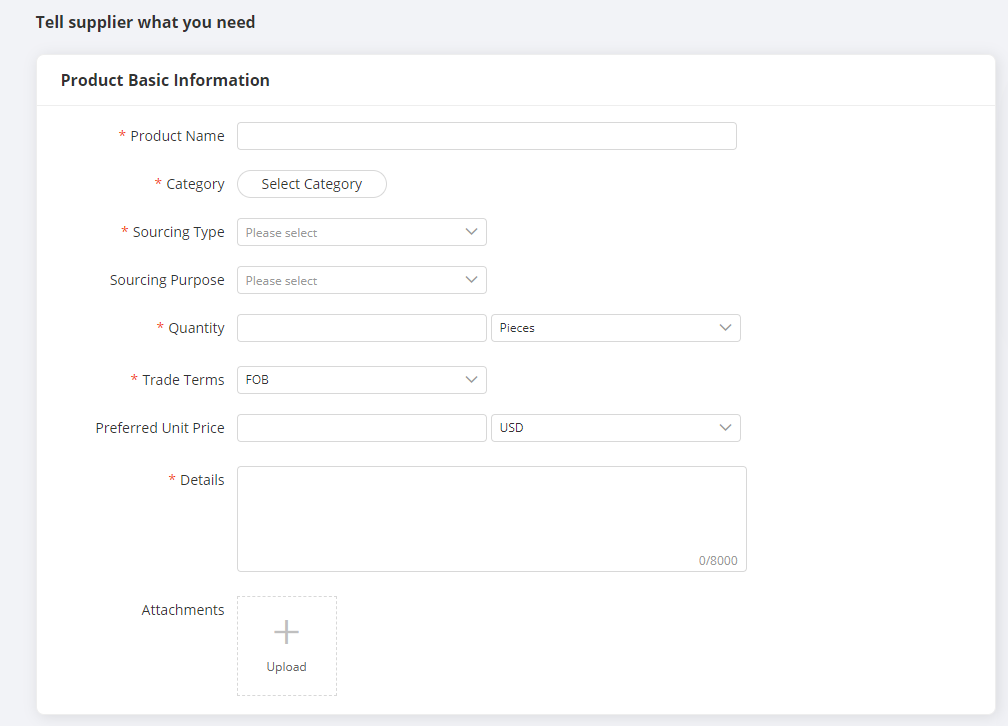 Customer-Specific Pricing
This is a very useful feature that saves suppliers tons of time as it automatically sends quotes according to company size, quantity, order frequency, urgency, customization, delivery tiers, combo packages, and customer discounts.
For some products, the price can change several times a day. In such cases, it is impossible to calculate the price manually. Therefore, a platform should allow companies to integrate their internal pricing systems with that of the platform so that prices change in real-time.
8. Variety of Payment Options
The best practice is to have several payment gateways on your site. B2B marketplaces often work internationally, so you should be aware that some payment methods may be restricted in certain countries. There also may be long delays when processing transactions. What's more, the amount of money that can be exchanged may be limited. For example, PayPal is partially restricted in Cuba, Serbia, Turkey, Belarus, Armenia, Myanmar, and a number of African countries. Stripe is available in 32 countries but is still restricted in most African and Middle Eastern countries.
9. Ratings and Reviews
This is a powerful trust-building feature that is vital to any marketplace. Reviews speed up the customer decision-making process and as a result, increases sales. The platform must not forget to filter out and block fake ratings and comments.
10. Shipping and Delivery
B2B marketplace shipping is a common source of frustration for customers. The delivery process at B2C platforms is easy, and users have come to expect the same from B2B platforms. Unfortunately, the delivery portion of the process often presents problems. On many platforms, customers are responsible for product shipment themselves.
Having integrations with a variety of the most popular shipping companies can level up your customer services. Modern third-party logistics providers (3PL) are special companies that handle a wide range of services like storage, packaging, transportation, freight forwarding, and inventory management. By integrating with their companies' ERPs they can seamlessly access all necessary shipment data.
11. Analytics and Reports
Suppliers should be able to see the statistics on their orders, transactions, and returns. Powerful digital analytics tools foster valuable insights into sales and marketing strategies.
12. Integrations with Inner Systems
Allowing Sellers and Buyers to integrate their platform accounts with the internal sales and order systems can mean less work for them while synchronizing all data automatically in both systems. For example, Singapore's largest B2B marketplace Eezee is successful partially thanks to its integration with all major ERPs like SAP, Workday, Oracle Procurement Cloud, and Coupa.
Here is our case study about how integrations of several systems can facilitate the work of the whole company!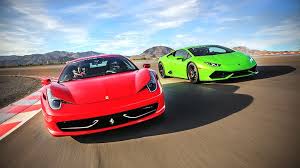 Exotics Racing is the world's largest supercar racing experience company in Las Vegas. Our team helped them automate their business processes with custom ERP and integrations with other inner systems - Read the Case Study
13. Admin Back-Office
Admins should be able to manage the whole application. This includes:
Users (managing user profiles, user status, and subscription options)
Content (add/edit website content, ads, blog posts)
Finances (managing fees, viewing all the revenues from the platform services)
Alerts and notifications (managing newsletters, email and push notifications, and alerts)
Integrations (managing integrations with third-party providers and interior systems)
Reports (having access to all relevant statistics).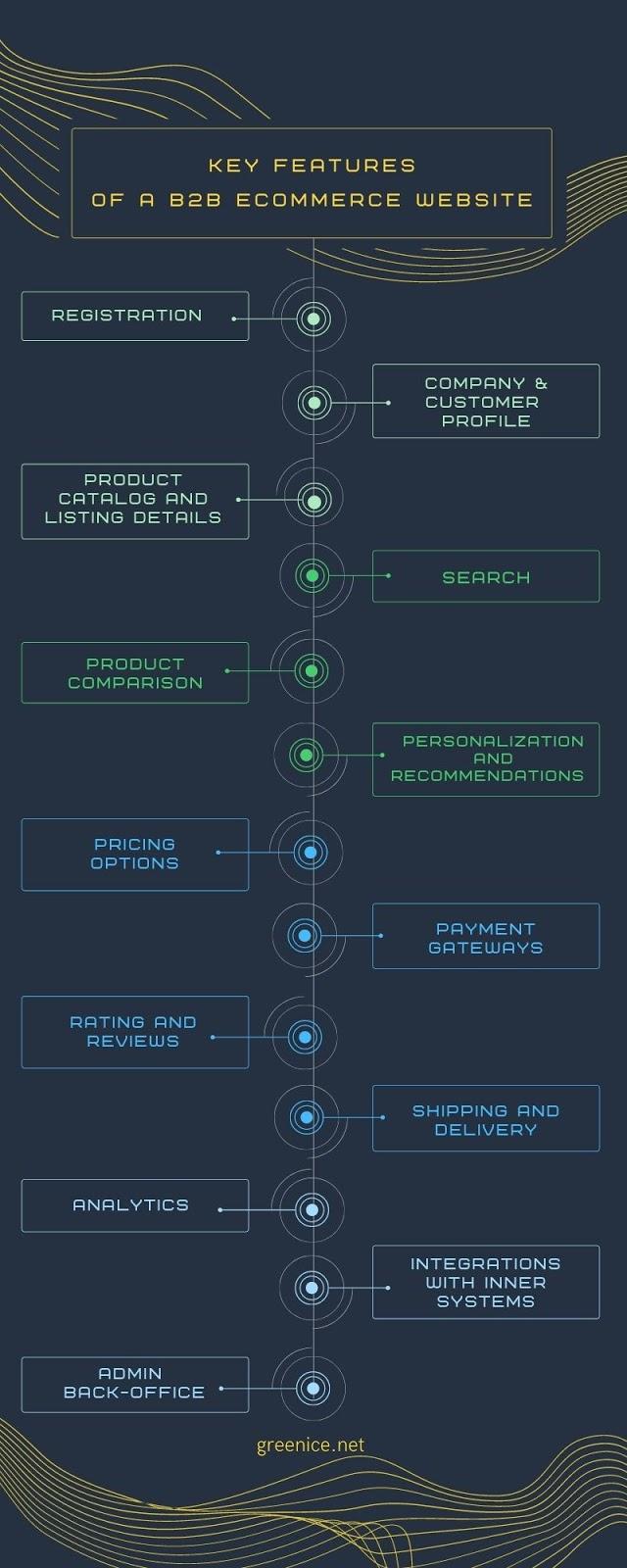 How to Apply This to Your Business
To wrap up, let's outline a plan that takes into account all options, and leaves nothing to chance when developing your B2B marketplace:
Determine what type of marketplace you are going to create and study its characteristics.
Choose the business model that will generate the most revenue.
Analyze your competitors, niche gaps, and untapped customer needs.
Create a list of core features that will make a skeleton of your platform so you can get your platform out "in the wild" ASAP.
Add a touch of uniqueness with advanced features.
Write requirements and specifications so that you can estimate the development cost.
For Number 6, you can either write the requirements and specifications by yourself or ask us for help. Our Business Analysts will help you convert your ideas into organized and explicit documentation. This will be the guide for the development team. Let's cooperate and make a perfect B2B marketplace for you!
Rate this article!
You should be
logged in
to be able to rate articles