"To share is to trust. That, in a nutshell, is the fundamental principle." Roland Berger, 'Think Act, Shared Mobility'.
Letting strangers into your home, repaying someone's loan, or even leaving your child with somebody you've met online…
All this becomes possible only because the sharing economy pioneers like Airbnb, LendingClub, Trusted, and others put such a huge emphasis on trust!
No wonder, that the lack of trust is the number one barrier to participating in the sharing economy among users. When buyers and sellers don't think they can safely transact on your platform, they won't. This makes trust the key component to grow a p2p marketplace. All the industry-leading marketplaces are doing their best to protect their users.
"If you're not working to build and demonstrate it, then the future might be about to leave you behind, as trust is quickly becoming the global — and most-valued — currency of modern time." Adriana Sten at TechCrunch.
But before looking for a solution, we first need to understand the meaning of trust in the sharing economy. So in this article, we'll start by deconstructing the complex issue of trust and showing you how to approach it in peer-to-peer marketplace development. Then we'll explore the proven strategies for peer-to-peer marketplaces to make your platform safe.
The 3P Trust Model for Peer-to-Peer Marketplaces
According to Fabian Hawlitschek, the issue of trust in the sharing economy is multidimensional. In his publication 'Trust in the Sharing Economy', Hawlitschek F. introduces a 3P model that differentiates between:
Trust in peer
Trust in product
Trust in the platform.
Thus, your intention to buy a good or service on a certain platform depends on whether you can trust the seller, her product, and the platform itself.
And vice versa. Your intention to sell will depend on the extent to which you can trust the buyer and the platform. The sellers' concerns are quite similar to those of the buyers, except for the product part.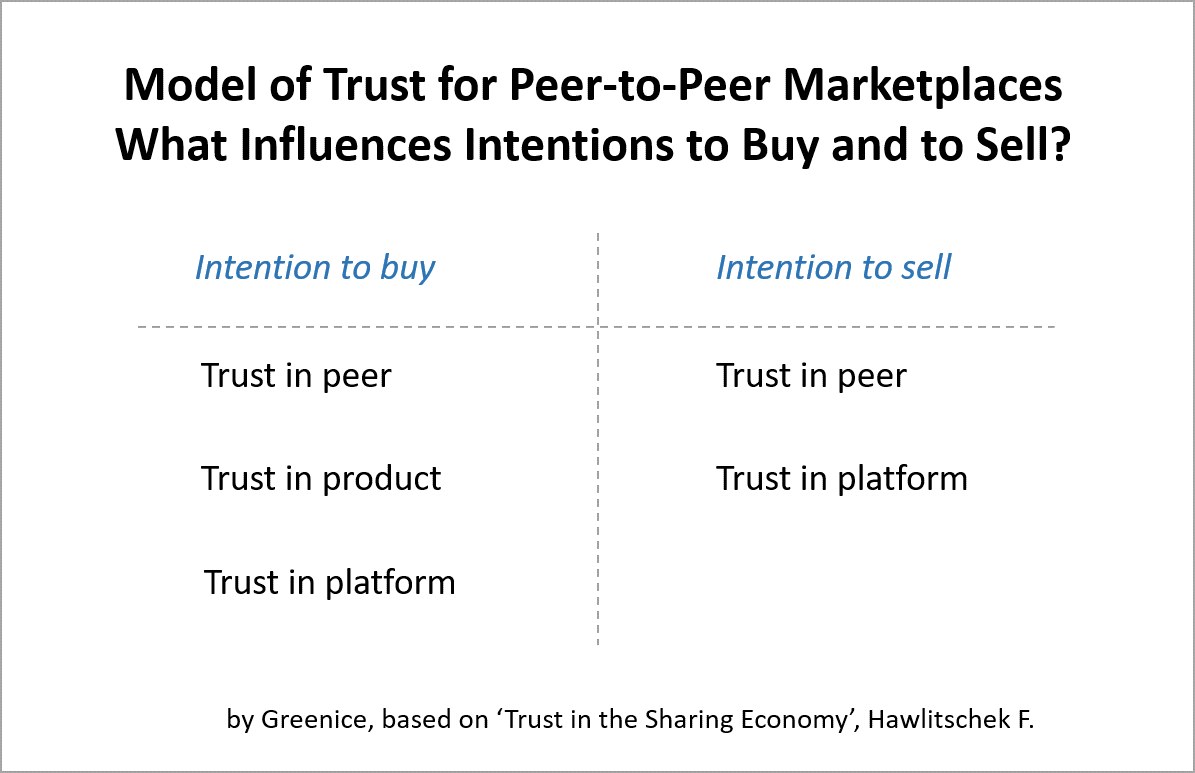 Let's say you want to hire a freelancer at Upwork to develop your marketplace. What will you be concerned about?
Will he do high-quality work?
Will he disappear with your money?
Will he deliver on his promises?
Will you be able to safely transfer money via Upwork?
The list goes on.
Now, let's imagine that you are a freelancer looking for a job at Upwork. Your risks are also quite high:
Will your client pay you?
Will your client give you all the information you need to complete the task successfully?
Will your client give you a good review that you need so much to get the next job?
Will Upwork bill everything correctly?
So let's see what strategies you can use to instill more trust in your platform by improving each dimension of trust: peer, product, and platform.
1. Trust in Peer
What do you need to know about the other person to be ready to enter into a transaction with her/him?
Here are some basics:
I am talking to a real person (not some bot or somebody using a fake profile)
The profile information corresponds to a real person and is honest
He/she is not a criminal
He/she is capable of providing the service
He/she is reliable.
Unfortunately, there is no solution that can completely prevent misbehavior on your platform. Yet, these strategies and tools will filter out most of the potentially risky participants of your marketplace:
ID Verification and vetting
Screening
Reputation.
Let's take a look at each of them.
ID Verification and Vetting
Verification can be as simple as asking users to sign in with one of their social accounts. But those who require extra safety (e.g. parents looking for babysitters) will need something more serious. You should at least run background checks through the official databases and screen candidates.
You can verify your users with the following tools:
Social login
Vetting/Background checks.
With social login, your users will be able to sign in to your platform via one of their social accounts (Facebook, Twitter, or Linkedin). This solution offers a nice shortcut to both you and your users. Your users won't need to come up with yet another login and password, and fill out the other profile related information. All of the basic profile data, like a valid name, email, phone number, interests, etc. (see the entire list here) will be automatically imported to your system. So your users won't need to fill out anything and you will get the basic verified data and improved conversions.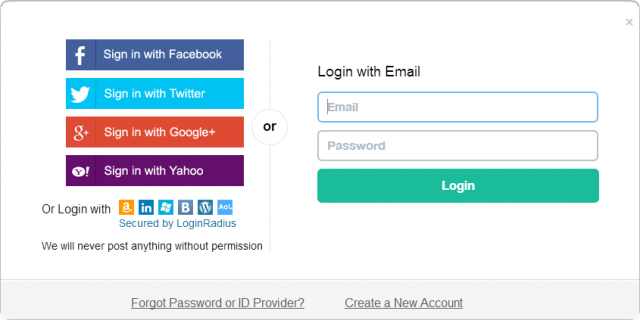 Yet, social login will only prove that a user is a human, provide verified contact information plus some other data that you can use for marketing. This might be not enough for some user roles, like taxi drivers, guests/hosts, or babysitters. For example, Sittercity runs a thorough background check of those who apply for caregiver jobs:
ID Check to verify the applicant's legal name, current address, Social Security number, previous addresses, and aliases;
National Criminal Search to check for records from the State and county criminal record repositories;
Check for records in the state sex offender registries, prison, parole and release files from state Department of Corrections, Administrative Office of Courts, and other state agencies;
Department of Motor Vehicles traffic violations and records check.
To run such background checks, you can utilize a third-party solution like Trulio or Identity. They will verify and check your users as they log in.

Screening
And sometimes you cannot rely 100% on automated verification. For some services, you will need to manually screen candidates yourself or allow users to screen each other.
The screening process usually involves:
Skype/phone and face-to-face interviews
Reference checks.
Notably, some marketplaces perform the primary screening themselves. For example Toptal, a freelance platform, pre-screens all of its members. In contrast, at Upwork (the biggest freelance platform) clients have to do the screening themselves.
Trusted, online service for babysitting, also vets and screens their candidates. Thanks to this you can hire someone for 'last-minute' emergencies.

Reputation
Reputation is a great crowdsourced way to generate trust on your platform. It is a primary tool to demonstrate the reliability and integrity of a user.
At its core, reputation is about a good track record, e.g. how many other users are satisfied with a seller's service/product. This is reflected in:
Customer reviews

Ratings

Job success rates

Badges

Hours tracked on a platform.
This trust strategy has been widely criticized for its subjectivity. Nonetheless, it still remains one of the most important tools to generate trust in the sharing economy.
Check out this interesting TED talk, where Rachel Botsman shares her idea about accumulating user reputation across platforms.
That being said, reputation gets more accurate with a larger user base. A couple of reviews can be subjective, but tens and hundreds of reviews will paint a more or less objective picture.
At Upwork, clients' decisions to hire a freelancer or an agency are very often driven mainly by reputation. Clients devote particular attention to hours tracked at Upwork, job success rate (for many has to be no lower, than 95%), and Top Rated badge.

Most of our clients have confessed that they don't consider anyone with a success rate below 95%.
2. Trust in Product
Transacting on peer-to-peer marketplaces often means buying something you haven't seen and/or hiring someone you've never met.
How do you know that the product or service you buy is, in reality, the same as the seller describes it?
The freelance programmer is as good as he says he is
That hand made dress or a house for rent looks exactly like in the picture
That shared car won't break in the middle of your trip.
Here are some tools that will help your sellers gain more credibility. These will be especially powerful when deployed together with reputation strategies:
Product photo verification
Third-party certificates to prove skill and knowledge level (for services).
Product Photo Verification
Since you cannot handpick products that are sold on your platform, you can at least verify the photos of these products.
With Airbnb hosts can get professional photographers to photoshoot their places. Airbnb verifies photos before a host can showcase them.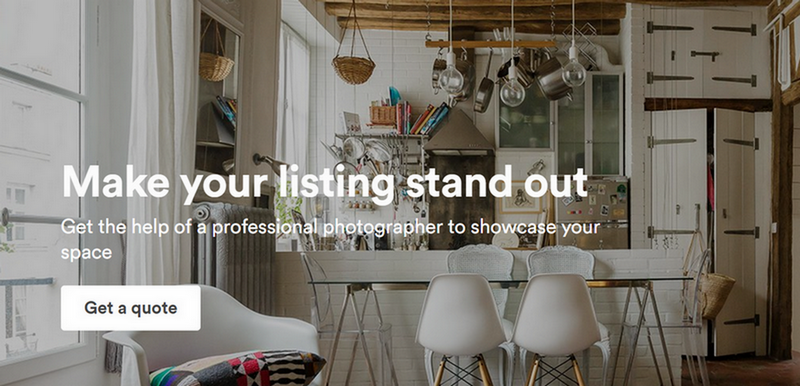 In addition to that, you can run some basic photo verification with tools like Google Image or TinEye. They will help you check the origin of the photos to see if they are not stolen. And you can see if they have been heavily edited. Both of these tools can be integrated with your platform.
Skill/Knowledge Level Confirmation
However, when it comes to services we need other methods to prove the seller's ability to provide service on the expected level.
Here come to play various third-party certificates that confirm a seller's knowledge/skill level. The most trusted the issuer of the certificate, the more credibility it will have. So here are some ways:
Offer tests on your platform
Encourage users to post relevant certificates from other sources.
Upwork will offer you tests for almost any skill that you'd like to 'sell'. For example, for a developer, it is important to have a good score in all the technologies she declares in her profile. And, if a developer is not a native English speaker, it is also a good idea to take the English test provided by Upwork.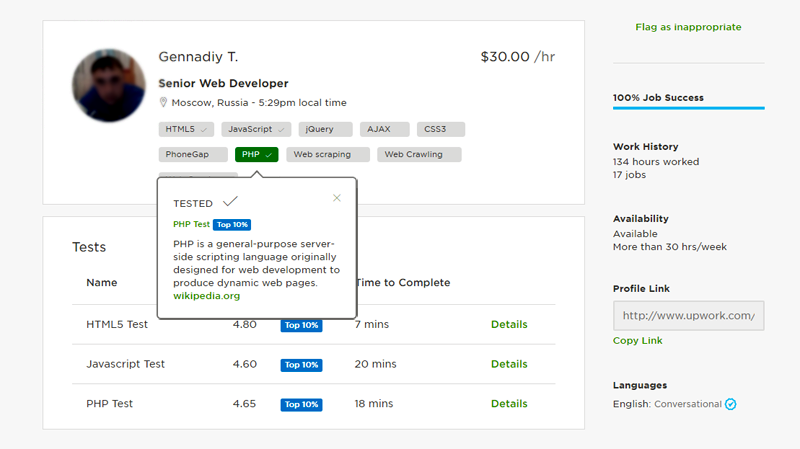 You can also encourage your sellers to showcase relevant certificates from other sources. For example, IELTS or TOEFL certificates for English, or/and actual university diplomas.
And at Trusted, every caregiver has to have an up-to-date CPR certificate.
3. Trust in Platform
Research shows that trust in an intermediary, i.e. a peer-to-peer platform, is more important for consumers than trust in the individual sellers of a platform.
This means that users will rely on you, as an owner of the platform, to provide a safe environment for them. And this is very understandable because all of the other aspects of trust described above (towards peer and product) depend on your ability to provide the right mechanisms for them.
So what other trust strategies can make your platform more credible, besides those we've already talked about? Here are some examples:
Overall security and support
Platform policies
Escrow systems
Warranties/guarantees.
Security and Support
First, cover the basics - create a secure and well-supported online platform.
No one will trust a platform that got hacked. It always pays to take extra security measures to protect your platform. Your users should feel safe enough to share personal data and conduct transactions on your marketplace.
And make sure users can easily find answers to their questions about your platform. Post comprehensive FAQs and offer online support.
Platform Policies
The next step would be to create your platform policies. These will be your house rules, which will set behavior standards for buyers and sellers. And each rule should be enforced with penalties to make sure users follow them.
For example, Airbnb has hosting standards for communication, commitment, check-in, accuracy, and even cleanliness. So each host gets a set of clear rules to follow and when he fails to do so, he will be penalized and can be even removed from the listings.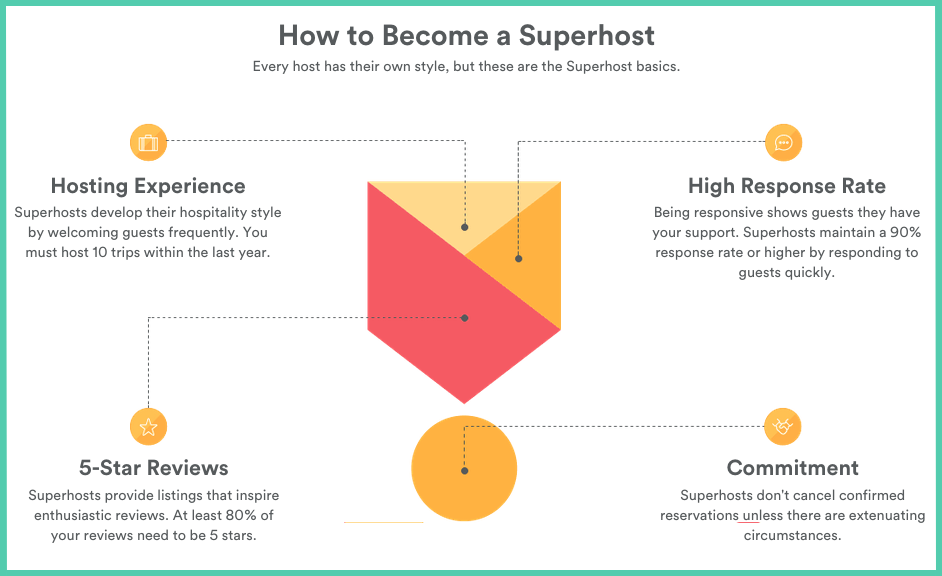 Escrow for Payment Protection
Then, you can give your buyers and sellers, even more, peace of mind with an escrow system. This means that you will hold money on behalf of transacting parties (buyer and seller) before they meet certain conditions.
For example, Upwork uses escrow to protect both freelancers and clients. Upwork holds a payment deposit before a freelancer completes a milestone or works an agreed number of hours.

Guarantee
Some platforms go even as far as offering guarantees. Airbnb offers a $1 000 000 host guarantee to protect its hosts! Not every platform can afford it, but it definitely adds to the trust and overall attractiveness of a platform.
Conclusion
Are you thinking about how to launch a successful peer-to-peer marketplace? Or, you've already passed the launch phase, and looking for ways to grow your peer-to-peer marketplace?
The top strategies for p2p marketplaces we've discussed above will help you attract and retain users on your platform by making it safe and trustworthy.
In this article, we've taken a three-dimensional view of Trust in the sharing economy. Namely, we've talked about trust towards peers, products, and platforms.
We've also shown you working strategies and tools to generate trust in each 'dimension'.
We hope that this framework will help you to develop a fully-fledged trust strategy for your marketplace.
Get a FREE cost estimate for your project!
Contact Us
Rate this article!
You should be
logged in
to be able to rate articles