Are you tired of the limitations of existing social media platforms? Do you have an innovative idea for a social network that you can't wait to bring to life? Then you've come to the right place! Building a social network can be both an exciting and daunting task, but fear not, because in this article, we'll guide you through the process and show you how to create a platform that is unique, engaging, and effective.
First, we'll explore the reasons why you might want to build a social network. From offering an alternative to Facebook to creating a platform with unique features, the possibilities are endless. So, whether you want to connect with like-minded individuals or build a platform that solves a specific problem, we'll help you understand the motivations behind building a social network.
Next, we'll dive into the nitty-gritty of building a social network. We'll explore the various options available to you, including social network builders, social media plugins for open-source CMS, social media software, and custom-tailored development. We'll break down the pros and cons of each option and help you understand which one is best suited to your needs.
In conclusion, building a social network can be a complex process, but with the right guidance and resources, you can create a platform that is both innovative and impactful. So, if you're ready to take the leap and build your own social network, read on to discover the different ways you can bring your vision to life.
Why build a social network?
Two most obvious cases that come to mind are:
1. Social network alternative to Facebook
Many educational institutions, media companies, and big corporations prefer to have their own social networks.
Huge corporations can benefit from using inner social networks for several reasons:

Using global networks can put at risk the security of sensitive data. In private social networks employees can safely share documentation.
Microsoft studied that inner social networks help increase productivity and collaboration, especially when employees work remotely.
In-house social networking is a relatively new, but important, tactic for brands. As an example, Lenovo uses its internal social network to improve the involvement and interest of the employees in the company and product. The employees can post external news about a brand and its products (Facebook is too noisy for this purpose), share the videos from the inner conferences, feel the corporate spirit when they get informed of the company strategy, success, and statistics.
Universities and schools are often in need of a private space for their students and alumni. For example, Bernadette Jones from King's College London supports the student's rights for free expression of their thoughts in a private community.
Some huge media organizations create social media communities to involve people in journalistic activity (user-generated content, live breaking news). For example, The Guardian posts weekly photography assignments for their readers who are members of the GuardianWitness community.
2. Social network with unique features or idea
Look at Instagram, TikTok, Clubhouse, and many other trendy social apps. Each of them is unique with its own idea behind social media. If you have something outstanding that other social networks lack or are not so good at, you may try to compete with the existing solutions and conquer the market. For example, Clubhouse, in fact, does not bring unique features and but due to its initial idea of creating a kind of closed club for entrepreneurs, it managed to create an unprecedented hype. This exclusiveness is also supported by the limited registration - to become a member you should be invited by an existing user via a link.
Of course, we cannot take into account all possible reasons, but if you found something close to your case in the above-mentioned examples, go ahead reading! We'll disclose the secrets of how to build a social media website that can suit most situations.
Technical View on How to Make Your Own Social Media Website
Here, we've gathered information about four variants of solutions that can really be in demand for different types of customers:
Social network builders
Social media plugins for open-source CMSs
Social media software
Custom-tailored social network development.
If you need standard social networking features like registration, user profile, messaging, connections, blog, and some others, develop a social network website with either of the first two methods.
The 3rd type, social media software, is good enough for more complex and high-load projects. Creating a website from scratch may be unreasonable for them if there are no unique features.
Custom development is a universal method that fits any project but may be too much of an investment for websites with standard requirements and feature sets. It is the right choice if you need to implement extraordinary features or make complex integration with different systems (for instance, you may need to link your own social network with ERP).
Let's have a more precise look at how each of the solutions works!
1. Social Network Builders (Ning, Spruz, SocialGo)
Social network builders are SaaS (cloud) platforms that provide a large scope of social networking features that can be easily customized. In simple words, if you want to create it all by yourself, as if you played Lego, choose among these website builders. All you have to do is drag and drop the UI elements at your pleasure, select themes, colors, and text fonts. It is such fun! But UX understanding is still highly advisable if you want your project to be usable.
This solution is good enough for simple websites with social networking functionality: art centers, volunteer associations, magazines, interest clubs, etc.
The arsenal of features is quite impressive to meet most needs of a social network. The providers did not forget to add analytics, monetization tools, the possibility to connect to other social networks to make easy shares, built-in anti-spam tools, and SEO features. You can select from a variety of ready-made themes or customize templates with your own CSS and Javascript.

Pros:
Ideal for non-tech savvy people thanks to the "WYSIWYG" (what you see is what you get) approach and drag-n-drop process.
The provider takes up all headaches about technical aspects such as the domain, hosting, installation, and configuration.
As a rule, you can start with a free trial period.
There are a lot of helpful guides and tutorials.
Cons:
Not flexible enough - you can use only what is provided by the system.
Limited storage on basic plans (1 to 10GB). You will have to buy expensive premium plans as your project grows.
Getting rid of ad banners is possible only with more expensive premium plans.
Non-white-label: you will have "powered by …" in the footer of your website.
A social network provider can suddenly get rid of a valuable feature that you won't be able to return back.
You do not own the code and stored data. If the social network provider decides to go out of business or sell their service, which can happen anytime, your website also can be closed or undergo company policy changes.
Look at the example of a website built with Ning. This is Brooklyn Art Project, a virtual place that accommodates people enthusiastic about art: artists, illustrators, photographers, designers, and other creative folks. They can communicate in a forum, share their art, write a blog, and get informed about upcoming events.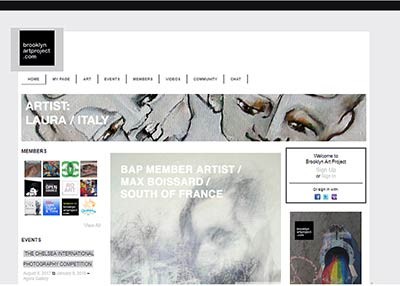 2. Social Media Plugins for Open-Source CMS (Wordpress, Joomla)
If you already have a website on Wordpress, you can convert it into a social network. There are a lot of social out-of-box plugins (BuddyPress, WP Symposium, WP Mingle, etc) for this purpose. A similar process can be done for Joomla, Drupal, and some other CMSs.
The social media plugins allow making a customizable social media website where the registered members are enabled to create profiles, send private messages, share content, connect to each other, create groups, and much more.
Some technical background will be necessary for the installation of Wordpress itself, plugin installation and configuration, linking of the website to the selected hosting, creating a database, running scripts, etc. Luckily, there are a lot of guides and free tutorials to help anyone do this.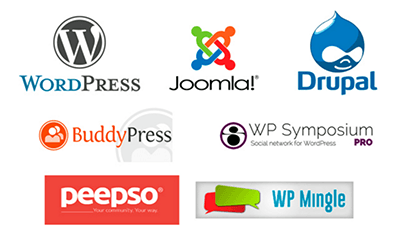 Pros:
Ideal for those who already have a website on one of the CMS platforms. Only the social media plugin installation and customization are needed.
Most of the social media plugins are free and open-source. An active community of contributors provides updates and documentation.
You can use all the advantages of the CMS apart from the networking features.
White-label: you can use your personal branding.
Popular CMSs offer support and video tutorials.
Cons:
Extension and customization are available via additional plugins and modules that can be payable.
There are multiple cases of security breaches of popular CMSs like Wordpress. Take a look at the guide on how to protect your website.
Additional modifications of the system or plugins may require the involvement of specific developers which means hidden costs on enhancements. Good Wordpress specialists are rare and more expensive than general PHP developers.
StudentsNepal.com is the first and largest social network for students in Nepal. It is built on Wordpress with BuddyPress plugin. Here, students can communicate with each other on forums, keep blogs, take quizzes, and participate in activities that help in the learning process.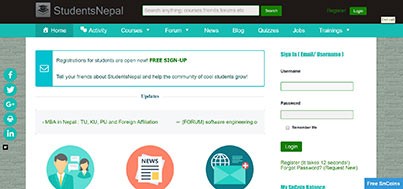 AppleSocial.net is another example of a network built on Wordpress with a social media plugin. It gathers people who are interested in Apple products. They can make friends, discuss ideas, and even get scores collecting so-called iPoints for their activity to spend them on the website e-shop.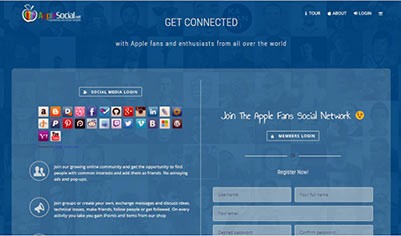 3. Social Media Software (Dolphin, Elgg, Oxwall)
The 3rd category is the open-source, off-the-shelf social media software platforms. These players of the market have greater ambitions than Ning-like builders striving to get bigger clients like corporations (Oracle, Microsoft, American Express), media giants (Guardian, Reuters, ABC News), and universities (Harvard Business School, Oxford University). For this purpose, they try to provide better flexibility, scalability, data, and code security.
The same way as in the other categories they have multiple design templates, analytics, SEO, monetization tools, and many more useful services. But unlike common CMS platforms, these solutions are created exactly for the social networking functionality providing hundreds of specific features.
What makes them different from the drag-n-drop platforms like Ning and SocialGo is that they are usually self-hosted (Elgg, HumHub, SocialEngine PHP, Dolphin Pro, Oxwall, phpFox) which means that the software should be downloaded on your computer, installed, configured, and linked to the server that you select by yourself and pay for additionally. This solution works best for developers (knowledge of PHP is mostly needed). You pay only once when you download the software and no more monthly fees. As a rule, this also implies that all subsequent updates of the software will go for free.
Those who have no time or skills to configure the self-hosted versions can use the same platforms in the cloud that often go as an option. This means that the website will be hosted on the provider's server, and you will be charged monthly. HumHub, SocialEngine Cloud, Dolphin, Oxwall provide this variant regarding the quicker and easier launch.
With some providers (that try to be more flexible) you can even decide whether you need the whole "out-of-box" software or only some of their widgets to build in your website. Or if you want to have your own front-end programming, some platforms can provide you with the possibility to integrate it with their social features back-end.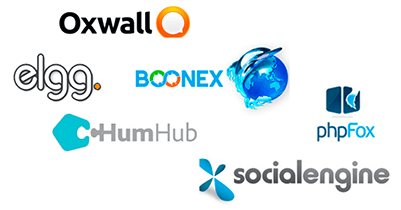 Pros:
Perfect choice for tech guys and developers who can benefit from the flexibility.
You will have greater ownership and control of data and code compared to the website builders but still not as full as in the custom development.
Some of the out-of-box solutions have free installation (HumHub, Elgg, Oxwell).
White-label: you can use your domain name and won't have "powered by" or ads. It will look like a completely custom website.
Cons:
Not a drag-n-drop solution. Technical experience is highly needed.
Any core feature modifications may go in conflict with the software code updates and put at risk the maintainability and security of the system.
Total code control only for self-hosted (on-premise) software. Cloud-based websites are still in the provider's ownership.
Some functionalities are available via plugins and modules for additional payment.
Can be difficult to find really good documentation.
For example, iimprove.com is created with the phpFox script. It is a community for the teachers/ trainers to search for networking features.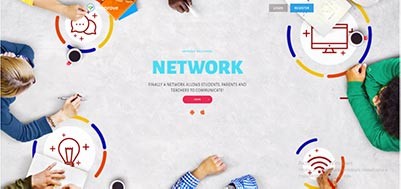 Another example is also built on phpFox. Akron Public School is a website that gives private access and social media functionality to the school alumni.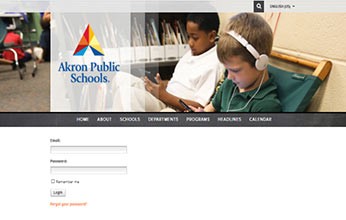 4. Custom-Tailored Social Network Development
For unique projects with complex logic, exclusive features, and a necessity for a high level of security, we recommend custom development. Facebook, Instagram, LinkedIn, all of them are custom-built solutions.
This type of development ensures the most flexible approach. There are no restrictions and need to squeeze yourself into the existing frames. Experienced developers will advise more suitable and cost-effective solutions according to your requirements. Devs will manage servers, configure a database, and keep an eye on security while you may think about look&feel and marketing.
You can start with an MVP (minimal viable product) for a quick launch and then painlessly expand your website with new features, integrating third-party services, growing storage, and making enhancements.
Pros:
Ideal for non-technical people, or those who want to focus on business rather than development.
You can have unique functionality and features.
Features can be added and modified the way you need with no restrictions.
You have 100% code ownership and control.
You have 100% social network data ownership and control.
High level of security (one of the reasons for this is that hackers usually are not interested in stand-alone websites).
Cons:
Can be more expensive at the beginning than the other methods.
You will depend on the skills, professionalism, and integrity of your web development team.
What are the Unique Features?
Uniqueness is the key aspect that differentiates one social media website from another.
Let's take gamification as one of the options to express your website individuality. To motivate users' activity online, you can add a touch of cooperation and competition to your social website.
Praise and reward users with badges, scores, or level-ups for some actions. For example, taking quizzes, completing specific tasks, giving feedback, sharing their stories, or sports results with the public. Such entertainment will encourage people to interact with and visit the website more often.
Foursquare app became famous for implementing a check-in game with badges to stimulate people's willingness to visit places and tell the world about them. The app obtained huge popularity as people were actively involved in the competition.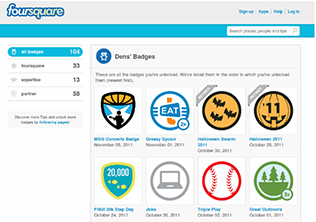 We can also share an example of the custom social networking website that we, at Greenice, worked on. The main idea of the Unite4Good project is to attract the audience to good deeds and charity. Using this network, non-profit organizations can post their requests for help (to collect money for homeless or sick people and animals) and find a sponsor.
There are common core features like profiles, messaging, social sign-in, connections, giving likes, following, and being followed. But what makes it unique is a gamification functionality: users earn badges and virtual crystals for posting their stories about the good things they did. The earned crystals can be donated in support of any "need" to reach a necessary number of votes. When a necessary number of donated crystals is collected to the need, the NPO gets the sponsor's money. Such a custom solution differentiates this social network from other websites. On the Internet, this project was already named "Facebook of Kindness".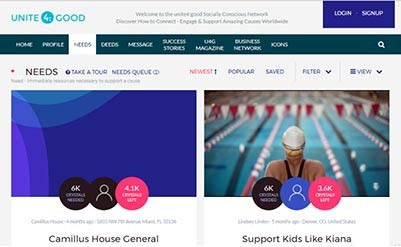 Unique features like these and many others can be difficult to implement with an out-of-box platform, and only the custom solution should be used.
How to apply this to your business
We agree that it is senseless to create a Facebook clone. Yet, there are specific cases when you need to make your own social networking website. Depending on the complexity, the uniqueness of features, the level of your personal involvement, and development cost, you can choose the most suitable solution from the discussed above.
For the Facebook-like projects, you can choose from ready platforms and downloadable software:
Social media website builders, though look cheap and easy to use, are not recommended for complex projects as they are limited with flexibility, restrict data and code ownership, and can be a subject of change in company policy.
CMSs solutions like Wordpress+BuddyPress plugin are good enough if they cover the major part (at least 80%) of your functionality. But they still face a lot of security problems.
Social network software can give you more flexibility than website builders. But it still will be less than with the custom solutions. The biggest issue is that if you change the code, the changes can become incompatible with newer versions of the software.
The unique projects require a more individual approach. Namely, custom website development is the only method that can give you total data and code control, flexibility and uniqueness of functionality, freedom of extension and changes, as well as a high level of security.
Take a brief review of these four types of development:
| | | | | |
| --- | --- | --- | --- | --- |
| | Website builders | CMS platforms | Social network software | Custom website |
| Representatives | Ning, SocialGo, Spruz | Wordpress, Joomla, Drupal | Dolphin, SocialEngine, HumHub, Elgg | Vendors like Greenice |
| Level of needed tech expertise | Any | Programming skills for code edit | Programming skills for code edit | High expertise in coding |
| Hosting | Cloud | Out-of-box (self-hosted) | Out-of-box (self-hosted) /cloud | Self-hosted |
| Ownership of data | No | Yes | Yes for self-hosted | Yes |
| Security | Vulnerable | Most vulnerable | High for self-hosted | High |
| Flexibility | Limited | Limited | More customizable | 100% flexible |
Check out this wiki comparison to find out more about features and opportunities.
Hopefully, the information about the reasons and methods of the social networking website development was helpful and gave you the impulse to start.
Get a FREE cost estimate to build custom social media!
Contact Us
upcoming events
Rate this article!
You should be
logged in
to be able to rate articles