We know how important it is for your charity organization to be recognized by as many people as possible to attract more donations for its good deeds in the community. And one of the ways to increase your visibility is to create a nonprofit website.
All popular foundations like WWF, Unicef, Charity:Water, Cancer Research UK, and others, that focus on serious causes, have their own websites. They inform the public of their mission, announce upcoming fundraising events, collect donations, share outcomes of activities, and communicate with volunteers, sponsors, and beneficiaries.
So, if you have an idea of how to change the world - then put it into action and make it even more effective with a website!
Why Create a Website for a Non-for-Profit Organization?
According to a survey, 47% of 5,352 NGOs in 164 countries consider charity websites one of the most effective tools (compared to social media, peer-to-peer fundraising platforms, and other methods) in reaching out and connecting with a wide audience. Here is how people's opinions differ in what they consider very effective and somewhat effective methods:
| | | | | |
| --- | --- | --- | --- | --- |
| | Very effective | Somewhat effective | Not very effective | Ineffective |
| Website | 34% | 47% | 15% | 4% |
| Social media | 33% | 45% | 17% | 5% |
| P2P fundraising | 23% | 33% | 21% | 23% |
Besides these statistics which are only numbers, why should you bother to create a charity website, especially if you are in start-up mode?
Think about the major advantages that can be achieved with the help of a good website:
Increase in fundraising
Automation of inner processes and enhanced analytics
Secure storage of sensitive data
Let's take a closer look at what makes a good charity website!
How to Create a Nonprofit Website to Increase Fundraising
Today, 55% of people prefer to donate via websites and mobile applications.
When you look at it this way, it is reasonable to take the following steps for nonprofit website development:
1. Make your mission clear
The goals of your organization should be clear the minute your website is opened: Introduce yourself, explain the importance of the mission and describe your personal involvement (like Michael J. Fox who created a foundation for Parkinson's Research while suffering this disease).
Show statistics and outcomes of your actions, in numbers, as on WWF website: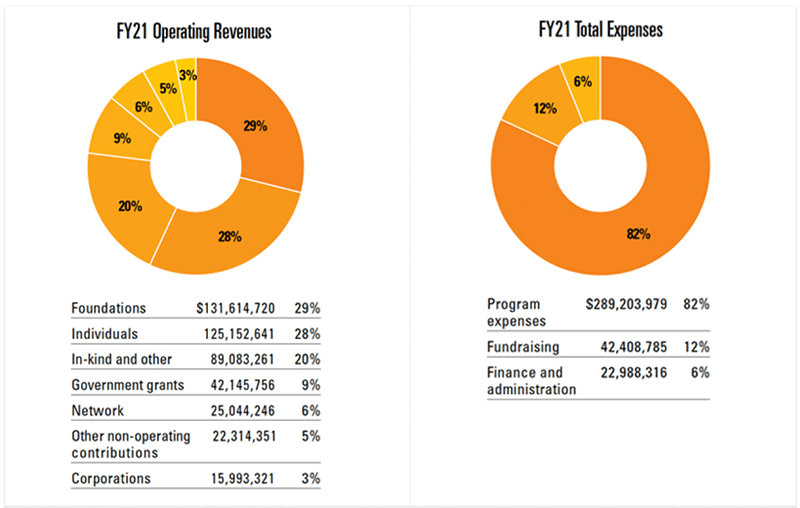 Share real stories of donors and beneficiaries (video, testimonials).
Make it easy for customers to connect by placing contact information on the website.
2. Make It Easy to Donate
As collecting money is the main goal, a call-to-action should be provided immediately when people open your website. If you don't know how to build a nonprofit website, try to use these tips in non profit organization website design :
a)Place donation buttons on every page and make them distinguishable. Design a charity website with usability in mind. Donations should be done easily, in just a few clicks. You can also add predefined donation amounts to simplify the selection.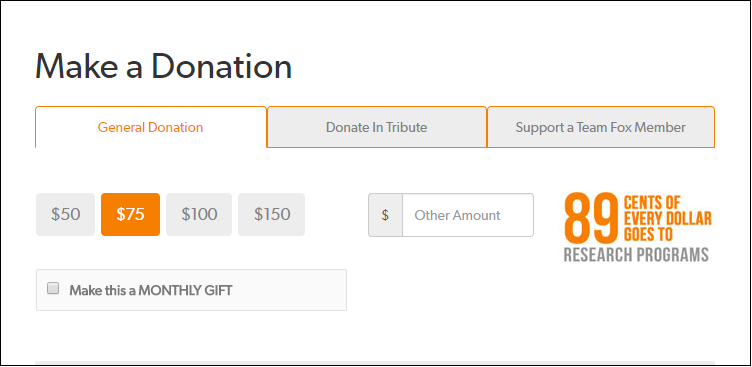 b) Allow your audience to select from existing options. This can include:
Make a donation (for a single donation)
Give monthly (automatic monthly payments)
Create a fundraising campaign (let people participate in raising money for the common goal)
Become a sponsor (attract big investors)
Pledge a birthday (let donors ask their friends to donate instead of buying a present for a birthday)
Donate in tribute (allow donors to make a donation in memory or honor of somebody)
Donate goods (option for giving clothes, books, and other items)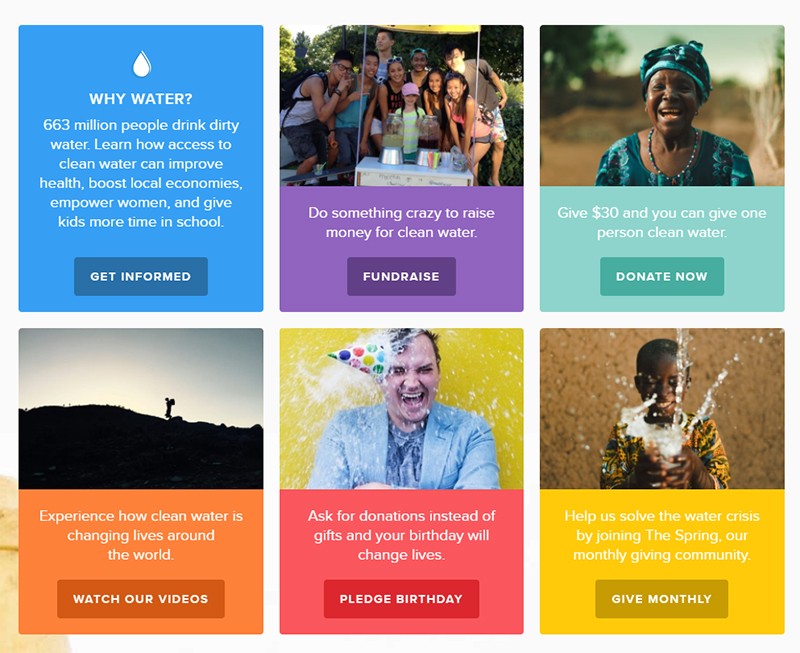 c) Integrate with partners' services. Let people give money for good via partner services that they use often. These can be eCommerce platforms, games, mobile apps, etc. Integrating with them, you will be able to attract more new donors and increase your funds. For example, eBay for Charity allows sellers to automatically provide a percentage of the final price to your charity.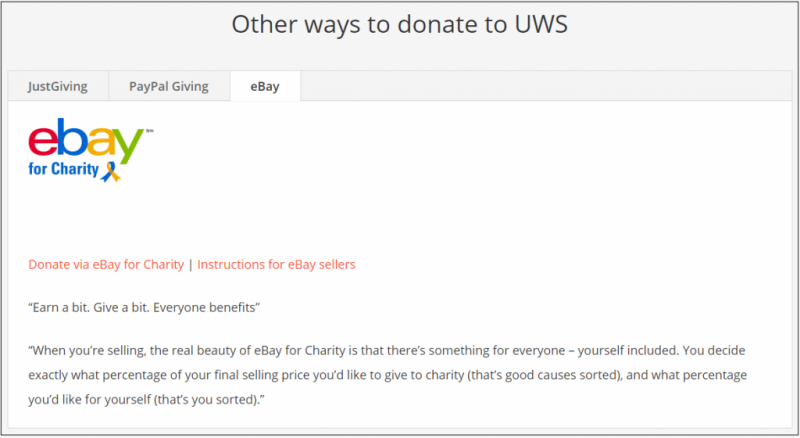 d) Provide as many payment methods as possible. The donors' preferences fall into:
Online debit/credit cards (54-55%)
Cash (10-14%)
PayPal (8-10%)
Bank/Wire Transfer (11-12%)
Social Media (19%)
3. Remind Periodically of Your Existence
74% of NPOs send emails to their supporter monthly. Here are some of the must-haves:
Enable an automatic "Thank You!" email after each donation. Expressing your gratefulness to the donors immediately makes your website's conversion rate go up.
Send newsletters and fundraising appeals to your donors with a Call-to-Action button inside.
Invite donors at events.
4. Praise Your Donors
Award badges, points, level-ups, and other grades to user profiles for activities. In one of the charity projects that we developed, Unite4Good, users earned "crystals" and level upgrades for their activities: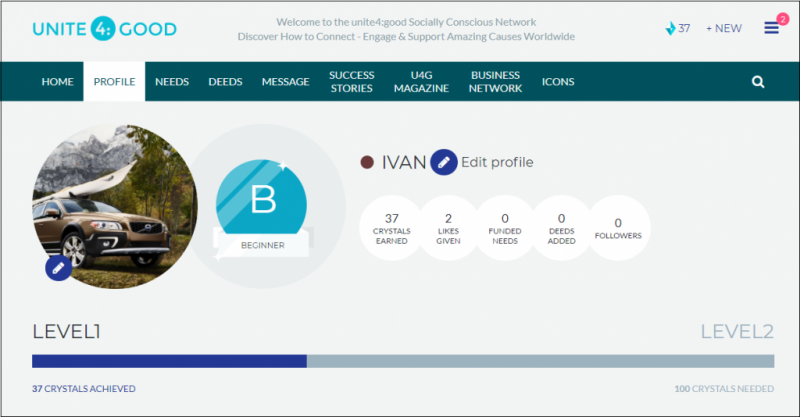 5. Create an Event Calendar
Make it easy for your visitors to find upcoming events and register from the website. Features may include:
Registration
Ticketing
Email invitations
Sending notifications
Event management
Event scheduling
All this can be controlled from the backend with Event Management software.
6. Integrate with Social Media
Social Media is one of the best methods for promoting your events and attracting your target audience. 75% of donors get news about their favorite organizations from social media and 25% say that social media inspires them most often to donate.
Add social media buttons to your website to let your visitors instantly share information with Facebook, Linkedin, or Twitter.

7. Keep Your Blog Updated
It is extremely important to show the audience what you do, share videos and photos from events, and showcase the success stories and results of your campaigns. 38% of NGOs regularly publish an article on their website blog.
8. Automate Communication
As people may come from different parts of the world and different time zones, make your service available 24/7 by adding a chatbot to your website that will be able to answer all routine questions and provide help with payments.
9. Provide Fundraising Opportunity
Give your donors an option to start a campaign of their own to contribute to the common goal. We can help you to create your own custom platform like one of our client's websites, SmartGiving, that allows for fundraising quickly and effectively: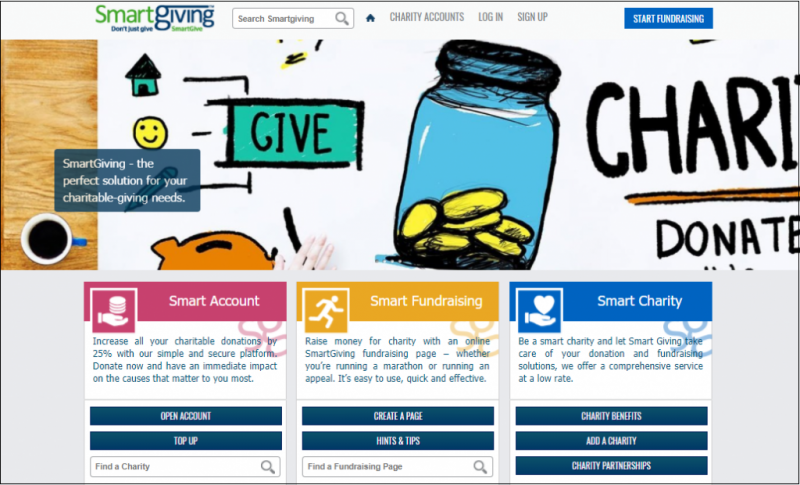 9. Add Tax Deduction Options
Reward your donors with tax relief by adding special features to your website. For example, you can add an option to reclaim an additional 25% on account of the Gift Aid program available for UK taxpayers, or the equivalent based on your country's legislation.
How to Build a CRM for a Charity Organization
How to make a charity website that will be an effective tool in your daily routine?
Behind the scenes, your website should be connected with the management and analytical system. 45% of surveyed NGOs use Customer Relationship Management (CRM) software that helps them manage donations and communications. How can you benefit from this?
1. Content Management
If you have a blog, news, or other information section, a CMS is an indispensable tool by means of which you and your Admins will be able to manage all content on the website.

2. Managing Donor Relationships
CRM provides you with valuable information like names, contacts, amount of donations, applications from volunteers, and other user activity in your system.
3. Event Management
If you arrange different kinds of fundraising activities (conferences, marathons, camps, etc.), you need to have software for dealing with event calendars and ticketing.
4. Accurate Accounting
Any NPO should always be ready to provide proof of their activities on each penny spent. Being open and transparent with your donors will pay back and strengthen your reputation and the future of the organization. The best way to do your accounting is to automate it with special software that will calculate your finances, including donations from different sources, taxes, and all expenditures.

5. Analyzing Your Efforts
"You can't manage what you don't measure." - Peter Drucker, management guru
Analyze your success using automatic reports of user activities, accounting, and other statistics. Without measuring the success of your actions, how can you understand which way to go next?
Google Analytics and similar tools usually used on websites may be too general and bloated with unnecessary information. That's why you may want to have a custom dashboard to monitor your organization's KPI. The key drivers that will be specific to each organization include:
Donations

– the main value of measurement for any charity. Here you can track the total number of donations, average donation value, and where donors come from.

Donor Retention Rate

- the number of recurring donors by the total number of donors.

Event Ticketing

- how many are sold or reserved.

Enrolment Number

- the number of people registered for any program.

Cost per Individual

- for example, if you are a medical institution that provides treatment of individuals for free.

Fundraising ROI

- shows how much money you raise from each dollar you spend.

Gifts Received

- how many gifts your NPO received during a certain period of time.
Here is an example of a dashboard for one of our projects: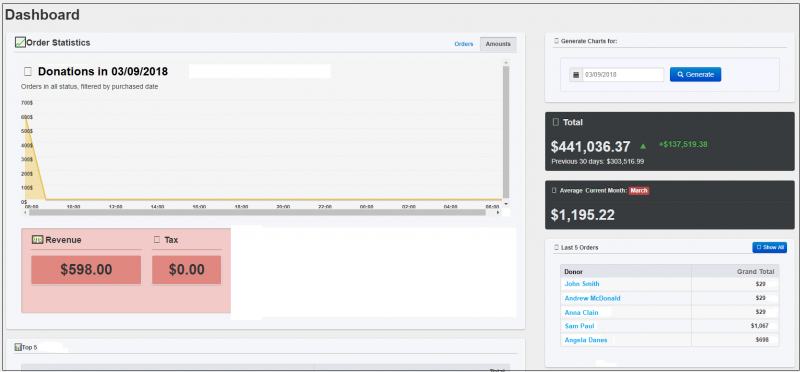 How to Make a Charity Website Secure
One of the important aspects in building a non profit website that you should consider if you are going to store sensitive data like organization info, donor profiles, and payment data on your servers is providing a high level of security.
You may think it ridiculous that someone would hack your small charity website aimed to help abandoned animals to find a home. Unfortunately, the matter is not in the size or purpose of your website. No website, even giants such as Twitter or Facebook who have the highest possible security systems, is 100% safe from someone who intends to hack it. Here are the data breach statistics: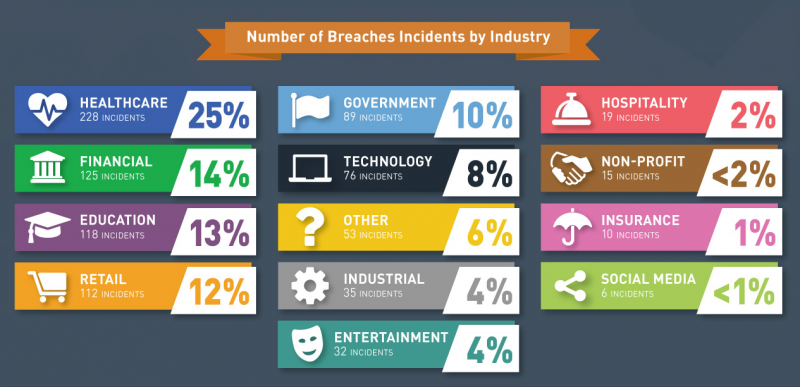 While security breaches only affect less than 2% of the NPO industry, you should still be aware of the risk for potential threats, and protect your business and your donors. Unfortunately, free or partially free services for website building provided by Wordpress, Drupal, Wix, Weebly, and other off-the-shelf solutions are not reliable enough. You increase the chance of being "compromised" if you create a website on an open-source platform that is "home" to millions of websites worldwide.
Such services attract the attention of hackers, as they allow everybody to access the open-source code. While most community members use this to find weaknesses and suggest solutions, "bad guys" can use it to create malicious software and attack servers. Thus, your charity can be in danger of being hacked "in bulk" with many other websites on the same platform. In this case, only timely security updates of your WP (or another platform) website, especially if there are a lot of plugins installed, can help.
Another option is to create a custom solution from scratch. Your team of developers can take care of the encryption of sensitive data, the security of all transactions, and storing data on the dedicated servers only they have access to (from certain IP addresses only). At Greenice, we pay maximum attention to security using best practices like tokenization and encryption. In particular, we cooperate with certified tokenization providers who comply with the strictest security standards. Thus, even if the database is stolen, hackers will not be able to decrypt it and do any harm.
Fundraising Trends
Being aware of the latest trends in online fundraising can give you a broader picture of how to create a non profit organization website. The Covid-19 pandemic has significantly accelerated the digital transformation of charity organizations. Let's look at the most recent trend in the digital transformation of the Charity Industry:
1. The transition from physical to the virtual meeting
Sudden Covid-19 lockdowns have imposed a ban on live charity events. And it looks like the trend will stay with us for long due to benefits for charity organizations. Virtual events offer nonprofits to collect donations without geographical borders and reduce administrative costs (like venues, catering, hotel bookings, and flights). A 'ticket' type for donations at registration for an event allows you to guarantee the fundraising even in case the person will not join the event.
2. Moving to digital donations
Digital fundraising same like virtual events allows to reduce the expenses as well as increase the safety of the process due to contactless donations.
3. Livestream and podcasting
37% of Americans (104 million) listened in the last month and the numbers are growing from year to year. Live streams and podcasts allow nonprofit organizations to increase brand awareness, share the results of their actions, and tell impactful stories to encourage the listeners to help.
18% of donors worldwide have given through Facebook fundraising tools.
How to Apply This to Your Business
Today, there are a lot of off-the-shelf solutions that you may use to make your own charity website. So, how to build a nonprofit website?
You may try to create it by yourself with one of the website builders like Wix, Squarespace, and Weebly using ready-made themes and templates, or open-source content management systems like Drupal, Wordpress, and Joomla. In both cases, you'll need to remember data security and customization limitations.
If you need to make a charity website with one-of-a-kind features, that integrates with backend systems for better analytics and guarantees the safety of information, the best choice is to develop a website from scratch by hiring professional developers.
A custom website allows you to take full control of any aspect of the system, staying flexible, scalable and protected. At Greenice, we have vast experience in creating websites and web applications, including for nonprofit organization projects, and developing complex functionalities for them. So we can always come up with solutions on how to make a nonprofit website the most optimal way.
In particular, we have developed a social network for a charity that stimulates fundraising with "good deeds" and spreading the word. The platform is fueled by gamification features to encourage active participation among the youth.
Another example is a platform that allows for collecting donations, creating fundraising campaigns, and getting tax deductions. For this project, we also needed to fulfill an accurate data migration from an old project CRM to a new one and organize further data synchronization between them.
Hopefully, this article provided you with food for thought and a plan for your requirements.
Get a cost estimate for your charity website.
Contact Us
Rate this article!
You should be
logged in
to be able to rate articles