If you need a doctor, lawyer, hairdresser or caterer for your wedding, how do you usually search for the right people?
It is good to have recommendations from friends and family, but what if you are new to a city and have no acquaintances? Or what if all the recommended specialists are not available for a long period? Or you just want to compare prices and services?
For these and other reasons, a catalog of companies with their contacts and reviews would come in handy in your selection process.
On the other side, each service is represented with hundreds, thousands or even millions of entrepreneurs, so businesses struggle for their place to be displayed in as many places as possible to find clients. That's why the creation of business directories has become a neat solution that is helpful for both clients and companies. Quite a number of such online catalogs have successfully functioned for years.
So, is it worth it to enter this competitive business and create websites like Yelp? If your answer is 'yes', let's find out all the secrets of business directory website development!
What is a business directory?
If we dig deeper into the history of business promotion, we'll find that the first directories were dated back to the end of the 19th century and were printed on yellow paper. 'Yellow pages' soon became the name for the printed telephone directories where business could advertise themselves.
Later on, when everything moved to the internet, 'yellow pages' were transformed into business directory websites.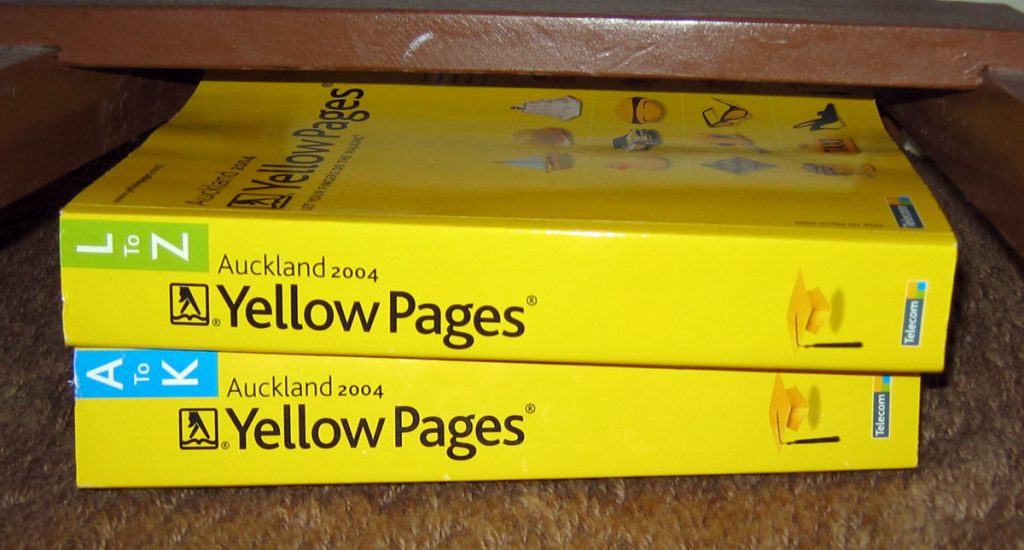 Today we understand a business directory (or citation site) as a website that lists businesses within niche categories. This market is represented by a large number of global and local websites. The major ones are Google, Facebook, Yelp, TripAdvisor, Yellow Pages, OpenTable, BBB, and hundreds more. If you are considering this sphere of business for your own startup, we'll show you the main aspects to consider.
One way to stand out among the already established competitors and those who want to create sites like Yelp is taking up a narrow niche, like business directories for:
Luxury hotels
Yachts, freight and purchase
Restaurants that only serve a specific kind of food
Rare doctors who prescribe a specific drug or practice alternative medicine
Lawyers that specialize in a very specific law practice
Events for small groups of people, etc.
Another idea is to make a better website than your competitors have with the help of creative, unique features and better user experience. But we will talk about this later in this article. To start with, let's look into the different components of apps like Yelp to understand how they work from the inside.
.
Overview of Yelp
Hereafter, we are going to explore the business directory sphere using Yelp as an example of one of the most popular websites in this category with more than 148 million reviews of different services and 142 million unique visitors per month.
Yelp was originated in 2004 in San Francisco, CA by former PayPal employees Russel Simmons and Jeremy Stoppelman. The domain name stems from the combination of 'yellow pages' and 'help'. The name 'Yelp' seemed short, memorable, and meaningful. Now the platform is available in 32 countries around the world and about 4,000 people work for the company.
The main distinction of Yelp from other business directories is that it focuses on user engagement with one another and businesses. Users can write reviews, consider each other's comments, make friends, earn points, participate in Yelp Elite parties, and much more.
In 2022 Yelp has earned a record $1.2 B in revenue.
Why build a business directory website like Yelp
There are many ways to monetize this type of business. Let's review how you can make money with a business directory website:
1. Advertising
This method brings up to 80% of overall Yelp revenue. Directories can sell:
Higher visibility for the listings in searches
Placement in the highest viewed pages
Placement on competitors' pages
Possibility to pay to remove a competitor placement from their business page
Use of cross-platform advertisements (presence on mobile and desktop devices)
2. Transactions
Businesses can use deals and other gift certificates for attracting more customers. In this case, Yelp takes 30% of deals and 10% of the certificate's price.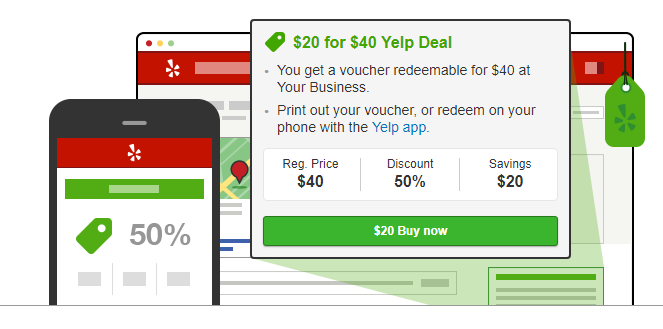 3. Subscription
Yelp allows users to book tables at restaurants, food and flower delivery, and appointments with doctors and lawyers. For this purpose, businesses can select among options of the Yelp's Transaction Platform. Thus, the platform takes $249 per month for the Yelp Reservation feature that allows their clients to make bookings directly on Yelp through third-party partners.
4. Other services
Yelp provides the ability to enhance a business profile with features such as: adding more photos, videos, slideshows, and call to action buttons; highlighting a favorite review; posting a special offer, removing competitor advertisements from their page, etc.
If entrepreneurs have some difficulties with creating and maintaining social media campaigns and communities on Facebook, Twitter, or Instagram, the business directory platforms can take on those duties for an extra payment. These services also include web design, photography, and other marketing.
Business directories may provide built-in analytics tools to help businesses overview the performance (user traffic, click-through rate, revenue estimation) and strategize their further steps.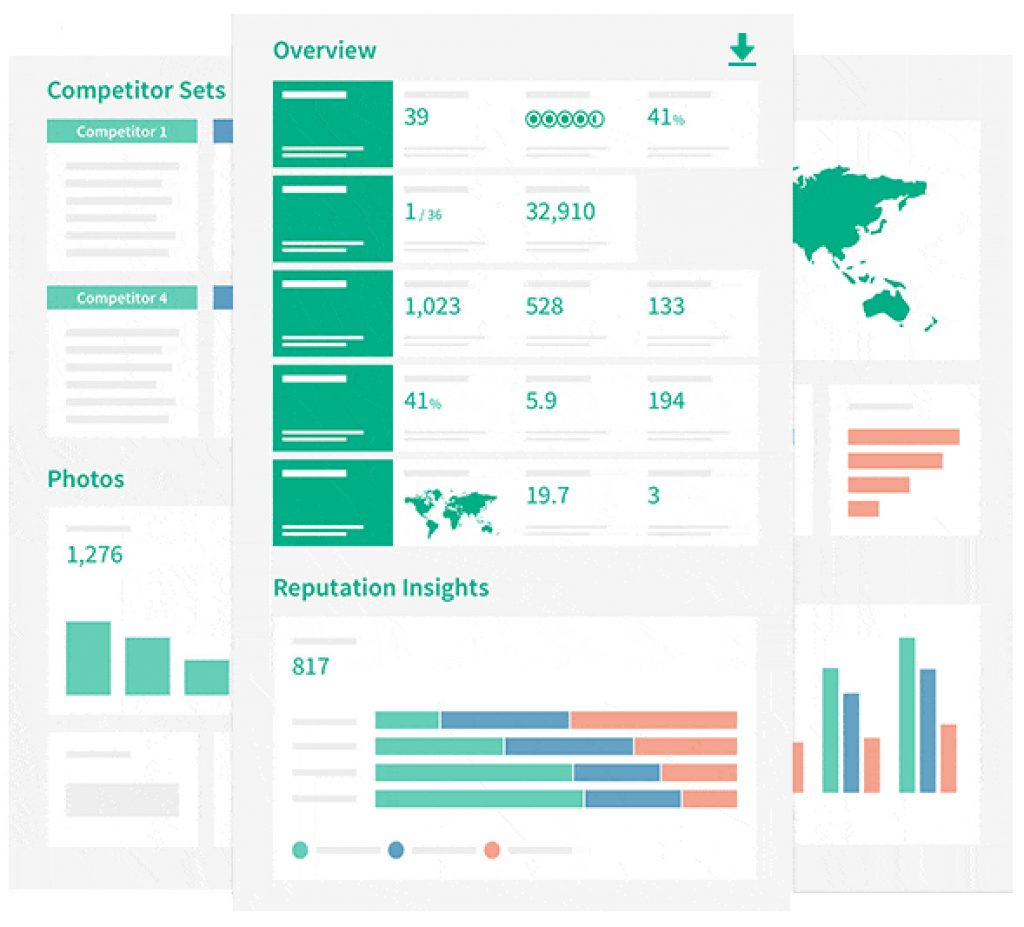 How to create a local search directory like Yelp
The sites similar to Yelp are characterized by a common set of core features. Let's start with minimum viable products (MVP) features and then proceed to the additional and unique ones.
Basic Features
As soon as you decide how you are going to make money and attract an audience, you can move on to creating product requirements to build a directory website.
1. Creating listings
The main thing to figure out in creating a site like Yelp is how are you going to collect your database of listings. You can either wait until website visitors do it themselves (but do not expect quick results), or you can add listings by yourself (manually or with help of web scraping techniques) and then rely on users to continue.
Adding information about a business for free is a very attractive opportunity for entrepreneurs as it allows them to market without spending a penny. Additional fees may be taken for advanced features like the possibility to add several listings, locations, contacts, more photos, and videos.
But when allowing businesses free registration, you should take care against bots and fake listings. To prevent any attempts of cheating, Yelp verifies its users by calling the numbers entered in the account and prompting owners to enter a verification code.
Start a directory website with a minimal set of fields to complete. This can be personal and contact info and business descriptions to begin. Later you will be able to enhance this functionality with more options.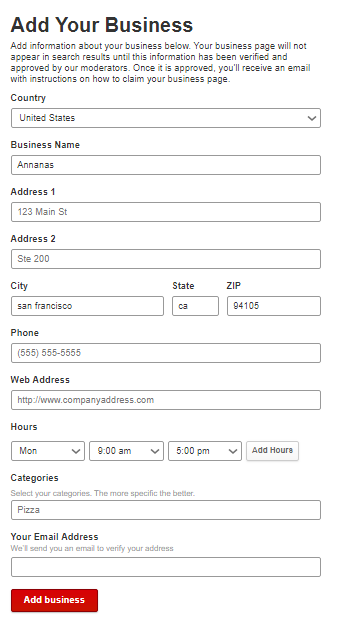 2. Search and filter
With a database of several thousand listings, it would be impossible to find the necessary information without a search engine. Search plays one of the most important roles in the process of creating a site like Yelp as it should bring back results that accurately match the user's requests.
Yelp's search sorts the data by relevance taking into account location and many other factors. When searching by location, a user can select among predefined options like 'Near' (identified by the current geolocation of the user), 'Home' (address indicated in the user's profile), or 'Saved Locations' (addresses added by the user and saved in their profile).
When "Near" is selected, the system searches for the listings that are in a defined radius from the user. To activate this feature, the system should have information about the user's geolocation. In asking users for access to their location, you should explain the purpose of this so they won't decline. Without having coordinates, the 'Near' function will not work properly.
Besides the coordinates, people should be able to search and filter by other factors. With a large diversity of types of businesses advertised on the platform, it is helpful to introduce filters by category, alphabet, price, rating, location, distance, working hours, etc.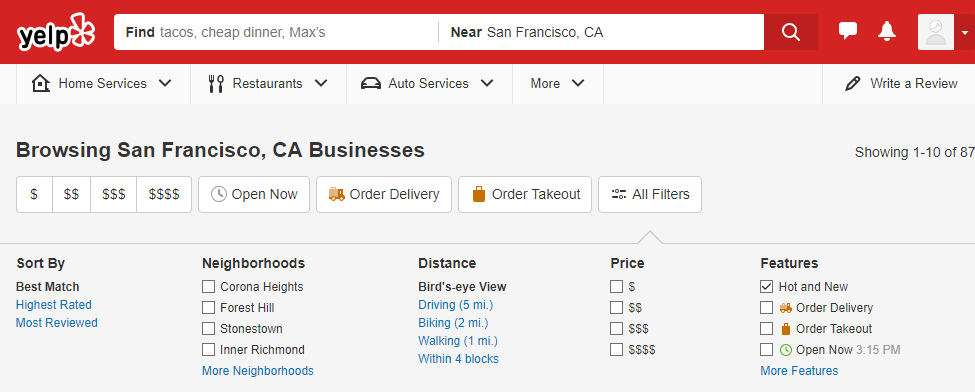 3. Reviews
When you make a website like Yelp, take into account that one of the purposes of the business directory is to rate the service providers according to customer reviews. A business owner or manager should be able to receive the reviews and respond to them with a personal message or a public comment.
On Yelp, users can also search through reviews to quickly find the necessary information. There is a keyword search and search by language through written and posted reviews.

Fraud detection is one of the common challenges that should be considered before making a website like Yelp. Having fake feedback (spam or paid reviews) can ruin the reputation of your service or even lead to lawsuits.
Yelp declares that businesses cannot pay for adding or removing reviews. Their algorithms separate reviews into 3 categories:
Recommended (71%):

considered true and displayed first in the list

Not recommended (22%):

suspicious and put on the second page; these are usually reviews from users with little activity or reviews from the same device

Removed (7%):

not displayed
To identify fake and spam reviews, developers use many techniques like IP verification, blacklisting of suspicious emails and phone numbers, verification via zip code, and checking reviews for known behavior patterns.
At Greenice, to create a directory website, we use the best practices for fake review detection, flagging unusual behavior, and removing spam. We filter bot-generated emails, phone numbers, and content to send them to blacklists.
For our project NoCowboys, a website that aggregates tradesmen of New Zealand, we made a very simple registration procedure. Users who want to write a review only need to enter their email to sign in. Having an email allows us to check if it is a real person (not a bot) and gives the business a chance to reply to the reviewer in the case of negative feedback to ask questions or require proof.
These were the most essential features necessary to build a website like Yelp. Now let's discuss how you can further enhance your service.
Advanced and Unique Features
To create a website like Yelp, the next logical step after creating MVP and testing its viability, you may start improving your platform with extra goodies to make your service even more attractive and useful.
Let's consider what else can be done for your directory.
1. Engage your audience
Often times when people like a restaurant, hotel, or service, they want to recommend it to everyone. At the same time, if people receive bad service, they also want to tell the world about their experience. Most people willingly post reviews and comments without any reward, on their own initiative out of a desire to share their viewpoint, enhance their writing skills or show expertise in regards to a question, but there are also ways you can increase the users' motivation to write for your review website.
a) Involve your audience
Increase their involvement by proposing some interactivity to your reviewers. Besides being a review website, Yelp is also a huge community of people (Yelpers) who can make friends, communicate, comment on each other, evaluate reviews, etc. This is like other social media communities that are connected by interests.
b) Incentivize users
Praise your audience with different kinds of awards: points, badges, statuses, discounts, small gifts, and invitations for trying out new businesses. Allow users to redeem points collected on business directories for goods.
For example, OpenTable allows users to exchange points for Amazon gift cards or meals at restaurants registered in the program.
Some services like Zomato have 'leaderboards' to rank their users based on their activity (reviews, photos).

Yelp is famous for their Yelp Elite parties. To become a member, a person needs to be very active — write many reviews (at least 40 high-quality reviews per year), make friends, and actively communicate with other Yelpers.
2. Add more value to your user's experience
If you are going to create a website similar to Yelp, let your service be not only a place where people rate businesses but also a useful tool to make their life easier.
a) Let them book
'Make a reservation' feature allows users to book a table at a restaurant, rental cars, or hotel rooms right from the citation site. This is much more convenient for users to not need to go to a separate website for each business and lose time navigating through it to figure out how to make a reservation.
b) Increase loyalty
Yelp allows businesses to take advantage of such features as 'Yelp WiFi', a custom-branded starting page on the entrance to the free wifi connection at a property (hotel, restaurant). This feature is able to collect valuable customer information like emails, phone numbers, and social media links to easier keep in touch with customers. But do not forget to ask users for their permission for collecting, storing, and processing personal data. For example, send them out notifications, special offers, and invitations.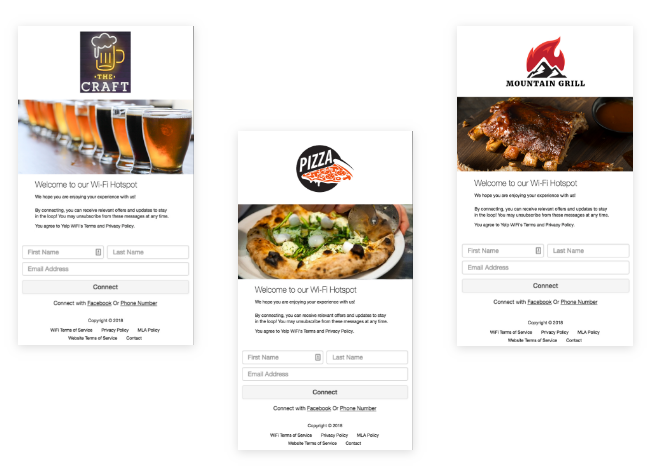 c) Give them privileges
Yelp has one more interesting option called 'NoWait'. In partnership with restaurants, Yelp provides a feature that helps heavy eaters skip the line at their preferable restaurants.
d) Save them money
Nowadays, it is very popular to propose cashback for the goods of partners. This is how some business directories push their users to join their platforms.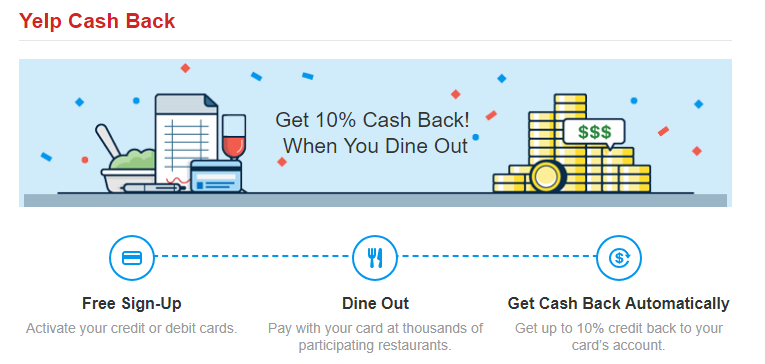 e) Save their time
Create ready-to-go solutions. For example, TripAdvisor made an inspiring road trips feature — travel routes with information about the best places to go along the way. Users are provided with maps, hotels, restaurants, and things to do with the possibility to book right from the site. This feature should be highly appreciated by people who want to be independent travelers but are pressed for time to think over the trip details.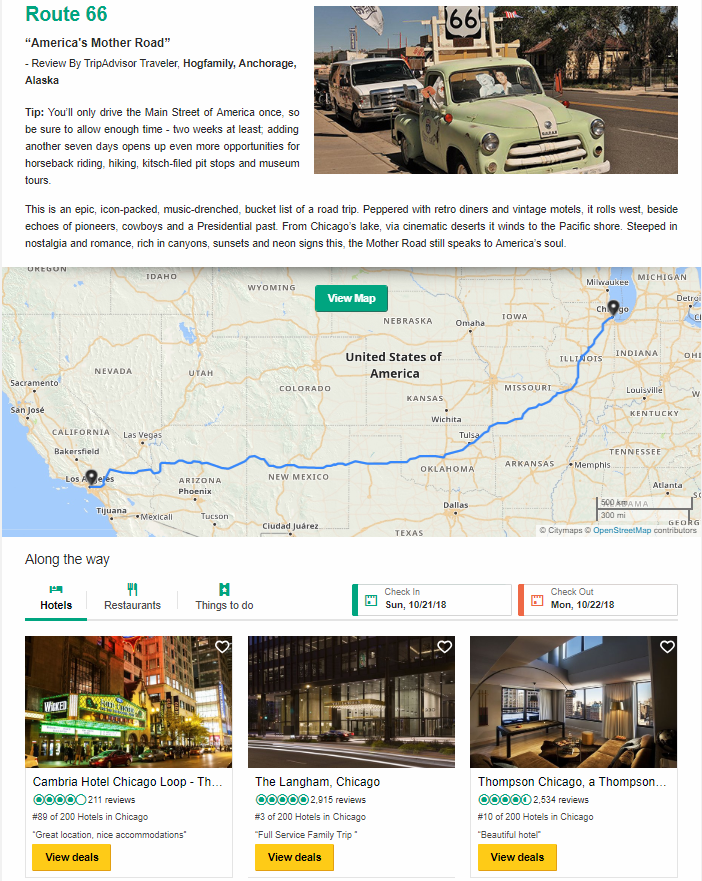 f) Inform them in time When going to a new place, people often miss information about local events and services. Push-notifications linked to geolocation are a useful feature that keeps users from missing something interesting going on around them. Events, discounts, sales, special offers, best-rated services, and more can be sent right to a smartphone to notify the users instantly as the system reads their location as close to the property.
How much does it cost to build a business directory website?
The next important question to ask is how much it should cost to create a website like Yelp. Let's roughly estimate the MVP features that are characteristic of almost all websites of such kind. All the additional features will vary from project to project and those prices should be calculated individually.
| | |
| --- | --- |
| Feature | Description |
| Authentication and user profile creation | Any person can sign up and enter their info to submit listings and reviews |
| Search | Search among listings of the database |
| Review submission | Customers should be able to rate service and write a review, and a business owner should be able to respond to them. |
| User verification | Anti-spam, anti-bot procedures |
| Admin functionality | Admin can manage all data on the website |
| CMS | Content Management Systems help add and edit content in blogs and around the website |
It is also important to notice that the cost is not about how many developers do you need to create a site like Yelp rather the scope of features in your requirements. To build an MVP of a business directory with the features mentioned in the table may take 3-6 months. If building it from scratch, the development may cost you from $30,000 to 50,000 depending on the complexity. If you when to speed up the development and reduce the price, we can propose using a white label solution and template design. In this case, the basic functionality of a directory like Yelp may cost from $12,000 to $16,000. This price is approximate and is calculated based on our rate and previous experience in the development of review websites.
How to Apply This to Your Business
An online business directory website is a good way for small and mid-sized entrepreneurs to represent themselves to a large audience. If you are going to develop a review website, you should take into account such serious competitors as Yelp, Google, Facebook, etc. But how do you build a website like Yelp without cloning it? There are always ways to stand out.
If you have already explored the market demands and noticed the absence of a business directory for some niche or location, this is a chance for a startup.
For example, our client NoCowboys set the niche of tradesmen services and localized solely in New Zealand, thus narrowing down their specialization sphere and area.
Forget about blindly copying Yelp or OpenTable. Your strengths are unique features and the great usability of your product. At Greenice, we have profound expertise in building review websites with a complex backend. We hope that we managed to give you food for thought on how to make a review website like Yelp.
Share with us your project requirements and we'll come up with a solution.
Contact Us
Rate this article!
You should be
logged in
to be able to rate articles