Are you interested in starting a coupon website but don't know where to begin?
Look no further than this complete guide on how to start a coupon website from Greenice. The guide takes you through six easy steps, from researching the market to choosing a technical solution for building your website. Along the way, you'll learn how to make money with your coupon website and define the features that are right for your specific needs. Wrapping up with a discussion on how to start a coupon business, this guide has everything you need to get started on your path to success.
So what are you waiting for? Dive in and start building your coupon empire today!
Step 1. Research the market of daily deals websites
Everybody loves discounts and bargains. It is such a pleasure to buy something that you wanted with even a 10% discount! Or discover something new that you'd scarcely dare to try unless it costs half the usual price.
Shops are more than happy to attract new customers, promote themselves, and get rid of the surplus goods on the stock. So, no wonder that daily deal websites became so popular. It is a marketing and sales medium that connects sellers and buyers for the benefit of both sides and here is why:
The benefits of coupon websites for businesses
Advertising (instead of paying for views and clicks on ads, businesses can sell their goods and services while attracting customers)
Increasing brand awareness (especially if a brand is new, coupons are a good way to self-represent)
Driving sales by creating a sense of urgency with limited-time offers and promotions
Having a full house of half-priced paying clients instead of an empty shop/restaurant/plane/hotel.
'88% of merchants agree that their Groupon deal brought in new customers, and 82% of customers say they are likely to return to the merchant again.'
The benefits of coupon websites for customers
Possibility to buy cheaper and save money
Possibility to learn and try a new brand, goods, or services without the risk of paying too much for something you may not like.
Competitive Landscape
Probably, the most world recognizable coupon service is Groupon which launched in 2008. Their idea was to attract people who wanted to buy the same product. The goal was to reach a certain number of buyers that made business sense to the seller of that product. The seller could then give the buyers a collective discount.
Groupon sky-rocketed almost from the start. After only a year and a half, the number of subscribers increased to 350 members, and the company's revenue was estimated at $1 billion.
Nowadays, there are more than 500 Groupon clones worldwide. Among the popular ones are LivingSocial (Groupon's acquisition), Coupons, Woot, CouponClippers, Slickdeals, Dealnews, Retailmenot, and many others.
Despite tough competition, there is always an opportunity where you can set a firm position. For that you can:
Focus on local businesses.

Groupon-like juggernauts can cover a lot of regions and businesses but they may not be equally strong in all areas. This can be an opening for starting a new coupon website, targeting local businesses not yet influenced by other daily deal websites.

Narrow down the niche.

Travels, restaurants, entertainments, and beauty services are the most popular daily deals segments. However, people search for sales in every possible aspect of their lives. The diversification of interests gives you a chance to set some narrower niche and target a precise audience. For instance, everything connected with goods and services for kids is a surefire theme. And what about pets, sports equipment, events, a healthy lifestyle, automobiles, books, and eco-friendly products? Whatever can become a niche for you if you'll see the opportunity. You may start with something that interests you personally.

Provide more value than others.

Unique features, more user-friendly conditions for businesses, and buyers may highlight your websites among others.
Step 2. Choose how to make money with a coupon website
Before you pass on how to start a daily deal website, you should first learn the many ways on how to monetize. The business model of coupon websites includes:
The websites take as much as 20-50% from each deal
Some websites propose subscription-based membership for sellers, providing them with additional promotional and customization services
There are often 'Prime' membership options for buyers that give them access to exclusive deals
There are almost always paid advertisements of brands on the website
The websites can participate in affiliate programs of brands for extra commission.
Step 3. Determine the type of your website
Coupons website, daily deals, or discount aggregators? Before we proceed to the technical part, let's clarify what type of website you are going to make to understand its peculiarities.
There are several types of coupon websites:
1. Online coupon clipping websites
Here users may find discount coupons from different retailers that are usually distributed in printed form through newspapers and magazines. Those same coupons are available online and can be downloaded, then printed to be shown in the store when shopping. The source of revenue for these websites usually comes from a percentage of the coupon deal.
Popular websites of this type are Coupons or RetailMeNot.

2. Daily deal websites
Sites like these promote hot deals of the day usually with a terrific discount (up to 50% and more). As a rule, these are limited propositions restricted by a countdown timer and the number of items available.
The profit comes from big revenue cuts taken from the deal. For instance, if a service normally costs $100, the buyer is proposed to purchase it half-priced, and from the paid $50, the website also will bite off their 50% fee. So, the retailer will get only $25 for the service or product that could be sold at $100. Is it worthwhile?
The point is that for many entrepreneurs like restaurants and spa salons (that are the most popular clients of daily deal websites) it is sometimes better to have a full house than having no clients even for fraction of the price.
To compensate for such huge revenue losses, the volumes of sold coupons should be enough to at least break even or despite the loss, gain new customers. The retailer can then focus its resources to turn these new customers into loyal clients.
The main ambassadors of this type are Groupon, LivingSocial, and others.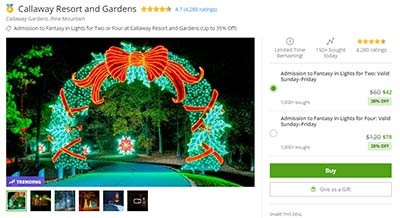 3. Electronic coupons services
This type is very similar to the coupon-clipping websites, minus the clipping part. Users just need to download electronic coupons from the website to their grocery, restaurants, or other merchants' loyalty cards, wait a few minutes then go shopping. When paying at the cash desk, the coupons are scanned with the card and automatically deducted.
4. Coupon referral and aggregate sites
These are directories that aggregate links to the best, last-minute, ongoing deals from other retailers and coupon websites. They may even post product overviews, reviews, and comparisons to help their subscribers get the best of the best deals.
These sites are represented by Tom's Guide, ReadAloudRevival, and some others.

5. Cashback websites
Cashback became very popular several years ago and today almost everyone takes advantage of cashback to return a percentage from their purchases. As a rule, cashback amounts range from 1% to 5% of the payments.
How do they get revenue? They get a commission from the sellers when a redirected buyer purchases the merchant's product. Then, they share a part of this cut with the buyer. The additional source of revenue may also come from sharing coupons to be used in combination with a cashback promo.
The current best in class for these services are Ebates, Mr.Rebates, EvoShare, and many others.

6. Giveaway and contests aggregators websites
Deals may be in a form of giveaways, sweepstakes, and contests for prizes. For retailers, this is another way to advertise their brand and attract new customers.
Good examples are Contestlisting, ContestGirl.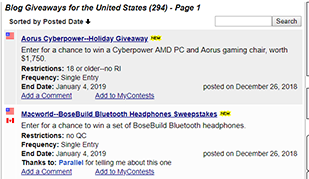 7. Websites for gift cards at discounted prices
How about buying a gift card with a discount? There are websites that accumulate the best gift card deals and sell them on their platform. Users can purchase electronic or physical cards (that will be delivered to the user). Also, some cards can be purchased, downloaded, and then printed to be used for shopping.
You can see the gift card discounts on Cardpool, GiftCardGranny.

8. A combination of several types
Of course, you are not obliged to restrict yourself to only one type of coupon and deal website. A mixture of several types allows you to reach a larger audience with different preferences. But at the same time, it is better to have less but provide great quality than have tons of services but poorly implemented.
An example of a combination of types is Pgeveryday.
Step 4. Define the features needed to create a coupon website
Whatever type of coupon website you will develop, there will always be a similar set of core features. Let's list the most popular functionalities that should make must-haves for your website.
1. Deal listing
If your website is focused on daily deals, then you will need a 'Deal Building' tool to quickly add new listings. You may allow registered businesses to add deals by themselves or delegate all listing moderation to the site Admins.
When adding a deal, a user should be able to specify the following information:
Product description and photos
Product price and discount
The number of items available and the minimum and maximum number of coupons for sale.
Timeframe or availability of the deal (start and end of the deal)
Terms and conditions for coupon usage
All confirmed deals will be shown in the catalog according to their categories.
Here is an example of a coupon website for which we created the 'Add Listings' constructor.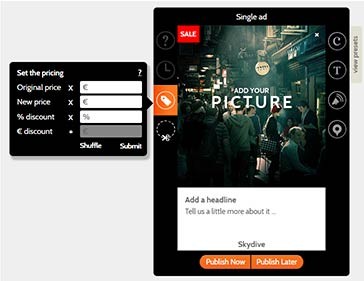 2. Discount mechanism
Depending on the website type and the discount services you are going to provide (coupon clipping, cashback, loyalty card discount, etc.), you need to create the rules and mechanisms on how it should work.
For example, in the case of a coupon clipping website, you will need to create a mechanism for saving, downloading, and printing the coupons from the website.
Or if you are going to sell electronic coupons, your website should be capable to send the coupon discount information to the third-party (merchants) loyalty systems to add it to the customer's discount card.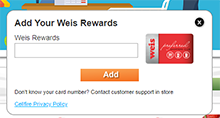 3. Browsing and categories
Implementation of a smart search engine will add a significant advantage to your website as users will appreciate quick and accurate browsing results retrieval.
To help users easily find what they need and not to get lost in the variety of deals, your website should have an explicit system of categories.
As an example, Groupon has 3 categories: Local (events, beauty and spa, restaurants, home, and automotive), Goods (electronics, sporting goods, jewelry, items for kids, household items, and fashion), and Getaways (hotels and travel packages deals).
4. Geolocation
If your website is going to service multiple locations, it is necessary to build an automatic geospatial identification of user locations on your website. This allows quickly specifying search results according to users' current coordinates.
5. User Profile
A user profile should be created right after the completion of a registration process. The user profile should securely keep all user's personal and financial data, passwords, notifications settings, preferences, and transaction history.
There can also be additional features like Wish List, Shopping Cart, Personalized Recommendations, etc.
6. Countdown
Limiting deals with time adds a sense of urgency and stimulates customers to make quicker decisions. Add countdowns and show how many items were already bought and how many are still in the stock to force the purchase activity.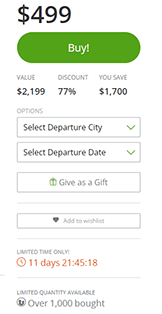 7. Payment methods
Adding as many payment options as possible allows for enlarging the pool of your customers. The thing is that many regions are still not supported by PayPal and other seemingly widespread payment methods. So users should have more options to pay to be satisfied with your service.
8. Email newsletter
One of the best marketing and sales triggers is informing users about new deals and coupons via email and push notifications. So do not neglect this opportunity and add the option to your website.
9. Reviews
With the abundance of proposed similar deals, a user may feel hesitant in making the right choice. That's why having reviews from those who already used the deal may help speed up their decision.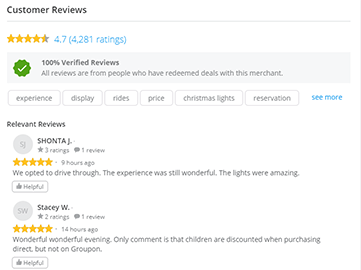 Step 5. Choose a technical solution for building a coupon website
When you already defined the scope of your requirements, you may start researching how to make a coupon website with existing technical implementation options. To build a daily deal website, you may go with several options. There are:
Wordpress (or another CMS) + plugins
Groupon-clone ready-made scripts
Custom web development
Let's review the advantages and disadvantages of each method.
1. Custom web development
While there are many ready-build scripts and plugins for CMS that seem quite affordable and simple to use, they may not cover all your needs. Entrepreneurs who are determined to create a lasting business need a secure, scalable, and unique website. That's why they are looking for custom web development.
Pros:
Full flexibility for code changes
The highest security level is to protect your sensitive information as all data is encrypted and stored on dedicated servers with authorized access only.
All rights for code and data belong to you and you do not depend on changes in terms and conditions of the software vendor.
Cons:
Can be expensive at the beginning but it pays in the long run.
Depends on finding skillful and reliable developers to guarantee the best quality.
2. Customized white-label solution
In terms of price reduction, it is possible to use a white-label solution that consists of the most common coupon website features.
Pros:
Affordability is one of the reasons for going with a white-label solution. You do not need to pay for the creation of standard features from the ground up.
Good enough for startups for verifying their idea.
Cons:
It may be difficult to adapt a white-label solution to your unique business needs or make some future updates on the code.
Can turn more expansive in the case of many works on customization and complex integrations.
Step 6. Get an estimate of your requirements
In custom web development, each project is estimated individually according to project specifications. The precision of the estimate depends on the level of detail that is known about the project. In this article, we will give you ballpark estimates of the two different approaches to developing a coupon website: custom development from scratch or building upon a white-label solution. These numbers will give you an idea of the costs of developing this type of website.
Custom development of a coupon website can take from 4-6 months that will cost around $44,000 - $67,000. The price will include:
custom web design
website architecture
front-end development
back-end development
project management
QA testing
The second option is to reduce the price by using a white-label solution. Thanks to this solution we'll be able to create a coupon website in just 1,5-2 months with the cost of $15,000 - $19,000. We will customize the features according to your needs. The only drawback is that this approach is good for slight customization of already existing features. If you need unique user workflows, multiple integrations, and a lot of customization, using a white label solution can be even more expensive than building a website from scratch.
Please, keep in mind that this is an approximate estimate and the numbers can vary depending on your requirements.
Wrapping up: How to start a coupon business
Greenice has been successfully working on web development projects since 2007. We provide full-cycle development services and can tackle the entire project.
Following our guide on how to start a coupon website, you may stop procrastinating in starting your project and begin acting right now!
To recap, here's what you need to do:
Research the market daily deals websites to understand:

Who is your target audience?
Whom you are going to compete with? And what will differentiate you from them?
What value can your website give to your customers?

Decide how you are going to monetize your business
Define the features for your daily deal/coupon website
Choose a technical solution for building a coupon website depending on the requirements and budget.
Find a reliable vendor and get your initial estimates for your requirements.
These are the first but very important steps on the way to the project of your dream!
Rate this article!
You should be
logged in
to be able to rate articles