Have you noticed how much the life speed increased over the last decade? There is almost no place for household routine. People are more and more willing to delegate habitual errands like house cleaning, shopping, cooking, laundry, and repair to on-demand services.
Grocery delivery apps became one of the huge reliefs in this race for obtaining the life-work balance.
Growing demand, increasing trust in online services, and easy access to the market for startups create a perfect environment for those who want to make a meal delivery app.
How are applications like Instacart made? Let's find out!
Why start a grocery delivery business?
The market is already covered by large and famous players like Instacard, Postmates, Peapod, Shipt, and Amazon Prime. Nevertheless, there is still a lot of room for new companies. Here is why you should make your own grocery delivery app:
It is expected that online grocery market sales will grow from $113 billion to $187 billion in the U.S. only by 2024. Thus, current services may not cope with the order volumes and people may start looking for alternatives.
During the Covid-19 lockdown period, people got used to ordering online all essential stuff including groceries. It is reported that even when the restrictions got relaxed, around 49% of surveyed customers continued buying online in 2021.
eGrocery is a perfect opportunity for supermarkets to scale up their services and increase sales. That's why they willingly collaborate with delivery apps.
Who Are Your Competitors?
How to make a website like Instacart and become competitive and thriving?
First of all, you should study your competitors' businesses. Start with finding the grocery delivery companies that serve customers in your area.
Here is an overview of the major apps by region:
| | |
| --- | --- |
| North America | Instacart, Postmates, Amazon Fresh, Shift, Peapod, Amazon Fresh, Walmart Grocery Delivery |
| Europe | Gorillas, HelloFresh, Getir, Dija, Jow, Everli |
| Asia | BigBasket, HappyFresh, GrabMart, Lotus, Foodpanda, Meituan, Duodian Dmall, Chopp |
| Africa | OneCart, Glovo, Jumia, Konzoom, SuperDeli, Gourmet, Momart, Goodsmart |
| South America | Glovo, Tiendo, TheFoodMarket, Rappi, Calii |
| The Middle East | Khodar & More, Aswaq, Avokado.sa |
| Australia | Voly, Milkun |
Then, to have a better idea of how to make a grocery delivery app, get insights from the success stories of the best grocery delivery apps. What can we learn from them?
Let's review some of the most famous companies in more detail:
1. Instacart

Instacart is now valued at nearly $8 billion. It is one of the biggest grocery delivery and pick-up services, available in all 50 U.S. states and Canada. The company was founded in 2012 by Apoorva Mehta, a former Amazon employee. Instacart does not possess its own warehouses. Instead, they partner with more than 350 national, regional, and local retailers where they shop. Their shoppers go to the stores, fill the orders, and bring them to customers with their own cars.
2. Postmates
Postmates was originated in 2011. By now, Postmates works in 3,500 cities served by 250,000 merchants. The volumes of monthly orders reach up to more than 8 million. The company does not solely focus on groceries but allows customers to order any products that can be delivered within their cities. It is also a common app for ordering food delivery from popular restaurants and cafes. The app matches clients' locations with nearby stores to deliver products quicker and cheaper.
3. Shipt
Shipt was founded in 2015 in Birmingham, Alabama by Bill Smith. In 2017, the company's success attracted the attention of Target Corporation which bought the business for $550 million. More than 100,000 shoppers work at Shipt and they deliver goods (food, household items, and electronics) not only from Target but also from 89 other retailers. The shipping can be as speedy as one hour. In 2018, Shipt had reached $1 billion in revenue.
4. Amazon Fresh
This is an Amazon Prime Now membership for groceries. The cost of membership is $119 per year and allows customers to order any goods on Amazon and receive them for free within 2 hours or just an hour for an extra $7.99. Amazon did not strictly specialize in groceries, but now during the COVID-19 outbreak, they have entered the grocery delivery competition. Amazon, with its reputation, ambition, technology, and ready chain of warehouses around the country, not to mention its ownership of Whole Foods, has become a serious competitor. Today, they actively relocate their workers from other departments to Whole Foods' grocery team promising higher wages. It is estimated that Amazon's online grocery service could bring in $70 billion by 2023 which is 3 times more than in 2019.
5. Peapod
Founded in 1989 by Andrew and Thomas Parkinson, this is one of the oldest online grocery services. The website was launched in 1996, as one of the earliest internet startups. Now the company is owned by Ahold Delhaize. In 2015, Peapod was the largest online grocery delivery store in the United States covering 24 U.S. urban markets. The company is one of the few grocery delivery services that have its own warehouses. They also operate Stop & Shop, Food Lion, Giant-Landover, and other supermarkets. In February 2020, the company management decided to shrink its service areas in the Midwest and focus exclusively on the East Coast.
6. Walmart Grocery Delivery
In addition to its offline supermarkets, Walmart created a grocery pickup and delivery service in more than 1,600 cities. They first launched their test app in 2015 and it turned out to be a great success. The membership in Walmart Grocery doesn't offer any bonuses except for savings to Walmart's regular customers. But isn't the lower price what all customers want from such services? Unlike its competitors, Walmart doesn't have its own delivery people or shoppers. Instead, Walmart contracts with delivery providers across the U.S., like Point Pickup, Skipcart, AxleHire, Roadie, Postmates, and DoorDash. They also tried to work with Deliv, Uber, and Lyft but soon rejected this idea after several cases of drivers not delivering the orders.
How to stand out among the competition when starting a grocery delivery company?
The main challenge for entering a grocery delivery business is tough competition. You will have to pave your way through the worldwide known leaders and those who have already set the market.
So, the reasonable question is how to build an app like Instacart but not become another clone. The possible solutions for standing out are
1. Provide better services
To build an app like Postmates, Instacart, or alike, you should not blindly copy them, but try to find a unique value that your app will give you customers. Research the weak spots of your rivals' services and try to figure out if you can cover the gaps.
CheckBook conducted a survey to compare the most popular services in the industry according to what their consumers say.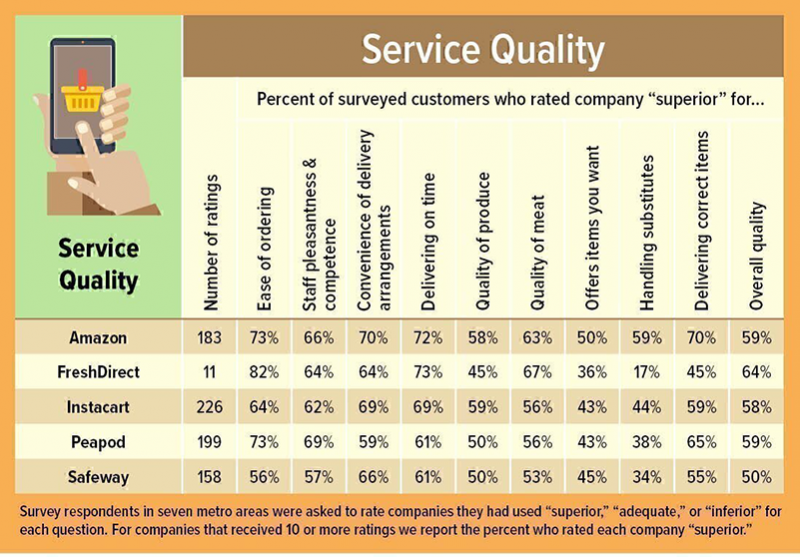 You can see that all the providers were rated more or less equally and the rates are not high. Thus, you should have some ideas on how to build a food and grocery delivery app that will outperform those on the market now.
But to show the customers that you can do it better than the deliveries that they got used to in spite of some drawbacks, you need to draw their attention. For example, you can offer discounts or even free delivery for the first order to give them a try.
2. Stand out with unique features
As Jat Sahi, from Fujitsu, put it "If you can't differentiate, you'll never make much margin or profit."
Research the market and trends and find how new technologies can make the grocery online shopping experience easier and more fun.
For example, Swift has a 'buy again' feature that allows customers to save time ordering the items that they need on a constant base.
Or you can provide the shopping lists of products for definite recipes. Or suggesting products that go on discount.
Pay attention to the trends. For example, since it became popular to order meal kits, Blue Apron became one of the leaders in this niche with constantly growing revenue.
3. Exploring new areas
Staring the delivery business in areas that have not been yet covered by anyone is a brilliant solution.
For example, Myanmar, Vietnam, and the Philippines are regarded as a new prospective markets for online grocery delivery. It is anticipated they the transaction volume in the South Asian region for food delivery will reach $28 billion by 2025.
What can be better than making the grocery delivery app for the untapped region? No competition will give you more relaxed conditions and time for entering, setting your prices, and developing your service gradually. But it may be difficult to be the pioneer in the areas where there is no demand for delivery services.
4. Set a narrow niche of products
Here you should make the quality of food your top advantage compared to mass-market products. But the margin can also be higher.
Let's see some examples of possible niches that can be stand-alone businesses:
Milk delivery application:

fresh milk and other breakfast essential products daily at your doorstep— what can be better? Find inspiration from apps like MilkBasket, Daily Ninja, Surp Daily, and BBdaily.

Liquor delivery application:

apps specializing in alcoholic beverages. Look at apps like Drizly, Saucey, Minibar Delivery, and Swill.

Meat and fish delivery application:

fresh meat and fish are one of the most bought products. Your competitors are ButcherBox, Lucious, and CrowdCow.
In spite that milk or meat delivery app development may have their own peculiarities, still, the core functionality and business specifics are the same.
Business and revenue models of grocery apps
As you plan to build a website like Instacart, you should study the ways such apps make money.
Grocery delivery apps usually work like this:
The consumer downloads the app to the smartphone or goes to the website.
She puts items into their virtual shopping cart and provides their billing information and shipping address.
The platform processes the order and sends it to a shopper (an employee or contractor) who completes the order either by taking the goods from the warehouse or by going and buying items at a local store.
The completed order is shipped to the customer's address by a delivery driver or the shopper themselves in their own car.
The payments are collected, either in cash by the delivery person or online at the moment of the order. The receipt can be emailed or provided in paper with the order to the customer upon the completion of the order.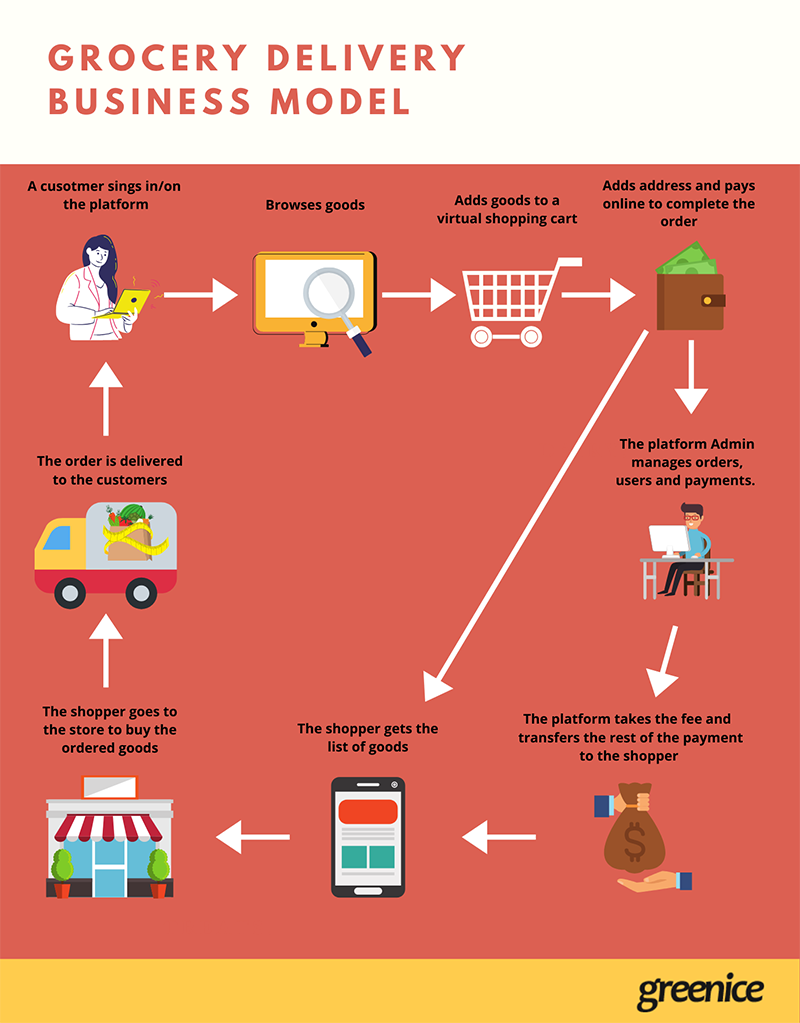 Here are several common revenue models for food delivery services:
1. Subscription
This is the most popular business model. A subscription allows frequent customers to save money on delivery. Membership in most services costs around $100 a year, or $10 to $14 per month. Usually, it means that the members get free delivery on orders of $35 or more, and some other perks, like no extra fee for delivery during peak hours. Some other membership options may include bonuses and access to features like the possibility to see photos of purchased items before authorizing the delivery.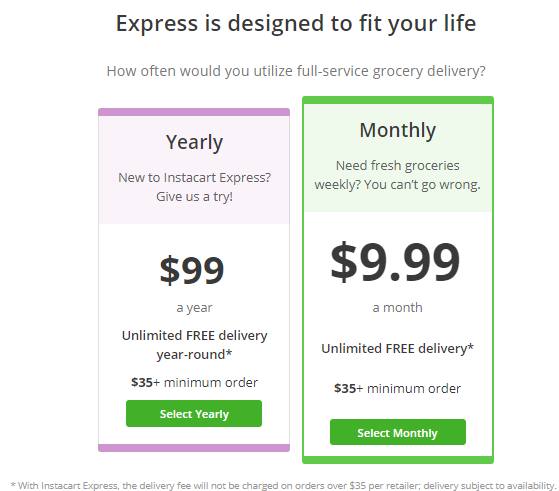 2. Commission and delivery fee
For those consumers who use the delivery services sporadically and do not want to pay for the membership, platforms charge commissions.
Usually, this is a percentage of the purchase, or a flat fee for delivery that may vary depending on the time, location, and order size. For example, Instacart takes 5% (or $2 minimum) for orders and $3.99-$7.99 for delivery. Tips to delivery people are not included in the price.
3. The markup for products
To compensate for the delivery expenses, platforms may set prices that are higher than in stores. Even the slightest margin can significantly add to the total revenue.
Instacart highlights that the prices on their website are set by the retailers they partner with and do not differ from the prices in stores. In exchange, Instacart obtains a portion of the partners' profits from the purchases.
Though Instacart claims that they only add a 15% markup to items from non-partner shops, one researcher discovered that on average they added more than 23% over store prices.
Instacart is customer-oriented and they try to compensate for the higher prices with the convenience of their services. And despite negative reactions on the Internet about the Instacart markup disclosures, many people still use Instacart.
"I have just finished my 14-day Instacart free trial. I compared their prices in my latest order to the store prices and noticed an average markup of 24%. Despite such a substantial margin, my wife and I decided to stick with it, as the time it saves has 'more value' than the price difference." — said one of the Instacart users on Quora.
4. Advertisements.
If you do not want to charge extra for delivery and provide competitive prices, but still need to make your business profitable, you may try to get revenue from sponsors and ads. If a user does not want to see ads, give them an option to buy a membership, and get rid of them. To sum up, the total revenue of the grocery delivery companies usually consists of:
Delivery fee or membership
Commission fee depending on the order size
Discounts or percentage of purchase from the partners
Extra fees for delivery in busy hours or nighttime, urgent orders, far away locations, and special requirements
Price markup
Advertisements
Additionally, the consumer pays the tax for each item and gives tips to the delivery person.
<id="how" anchor-title="">How to build a grocery delivery business website
It does not make big difference in features whether you are searching for guidance on a general grocery, liquor, or milk delivery app development. Any on-demand grocery app should enable customers to find the necessary goods, add them to the online cart, pay, and schedule delivery. The system should process the order and assign an available shopper. who makes the purchase and delivers the goods in exchange for a fee.
Now let's describe all features in detail.
Core Features
To start your own grocery delivery business app or website, choose the most important features that will make the skeleton of the platform.
To create a grocery delivery app, you will need the following core features:
1. Product search and categorization
Users should be able to search for products either by category or by entering a keyword in the search bar.

2. User profile
This is where the user can add her address and billing information, and also set preferences for future purchases. The user should also be able to view order history, coupons, loyalty discounts, and gift cards.
3. Payments
Provide customers with as many payment options as possible. Cash, cards, wallets, bonuses, gift cards, and coupons. As the order is submitted, email the invoice to the customer and add the order record to the History of Orders.
4. Checkout
The checkout process may include several steps:
1) Viewing and editing the items and their quantity
2) Applying member cards, coupons, and discounts
3) Setting tips for the delivery person
4) Filling customer contact details (to facilitate the process, insert the address from the user profile but make it editable).
5) Choosing a delivery date & time.
6) Adding delivery instructions.
7) Adding payment details.
8) Confirming the order.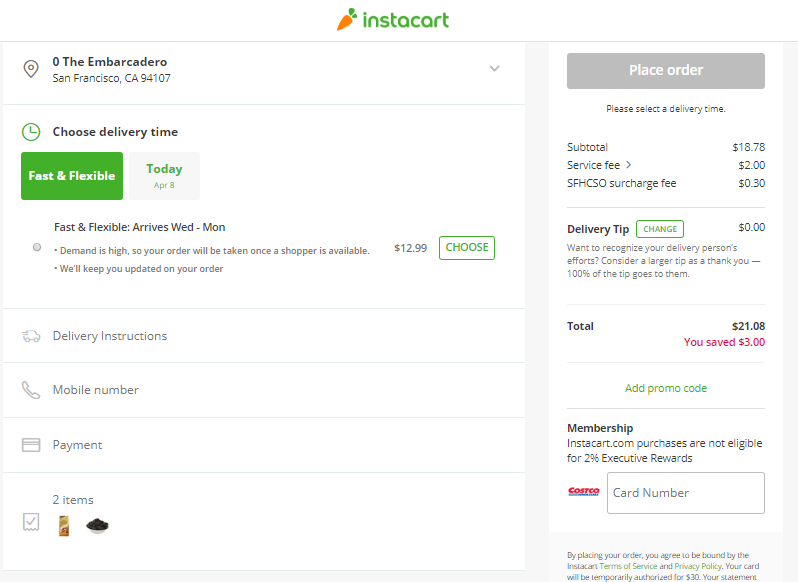 5. Product Recommendations
63% of smartphone users buy from apps or sites that suggest relevant products or services that users may be interested in buying.

The best examples of product recommendations are 'Featured items,' 'Daily deals,' 'This goes well together,' 'Previously purchased,' 'Often bought with,' as well as recipes with ready sets of ingredients, and freshness ratings. These, and also the history of previously bought products, can increase your average order. Using AI, you can analyze similar users' purchases and make more accurate suggestions.
Instead of spending hours searching for a product, users can follow your suggestions and make the order in minutes.
6. Admin section
This is a large back-office part of the website where an Admin team should be able to:
Manage customers
Manage shoppers
Track and manage orders
Set the fees and manage subscription
List categories and products
Activate and deactivate discounts
Create notifications and alerts
Manage website content (blog, advertisements)
Manage relationships with partners (track commissions)
Generate reports
7. Shopper section
Platforms like Instacart and Shipt are hiring shoppers massively now.
Anyone can become a shopper simply by applying on the website and meeting all the requirements.
Each approved applicant will get access to the Shopper section of the platform, or mobile app, to manage their account, indicate availability, and track earnings.
Unique Features
To stand out in the competitive world, you need to give your customers the added value that can be created with unique features. Here are some examples:
1. Shared shopping lists
Remember how tiresome the creation of shopping lists can be when several family members live under one roof? Make it easy to share product lists and order everything in one place without the risk of missing or duplicating something. That is why Instacart and some other apps have a 'Shop with Friends' feature. Thus, consumers can easily view each other's lists of products and how much they cost. Look at the picture below to see how it works: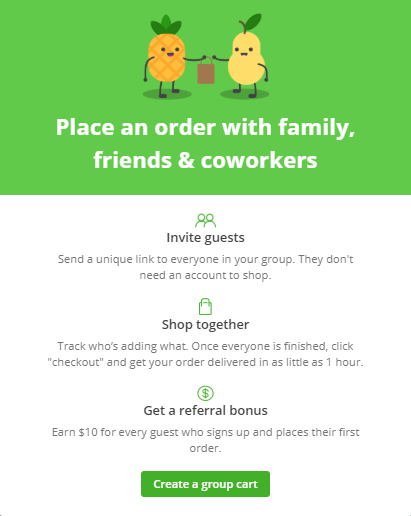 2. Tracking the order delivery
Waiting for the order, people feel obligated to say home and NOT do other things for fear of missing the delivery. Having a GPS-tracker like Amazon Fresh allows them to relax and go about their day without worries.
3. Buying ingredients for recipes and meal plans
When people buy groceries, they usually already have an idea of the dishes they are going to cook. Why not save time and effort?
Create an API that will integrate your app with popular recipe sites. As a result, you will also attract new customers from the recipe websites.
Instacart is already integrated with Yummly and plans to partner with AllRecipes, the Internet's largest cooking portal. Users fill the cart with all necessary ingredients in the correct proportion with a single click of a button.
Integration with famous recipe portals is a great idea for your service to let their customers make instant orders, but be ready to compete with similar apps.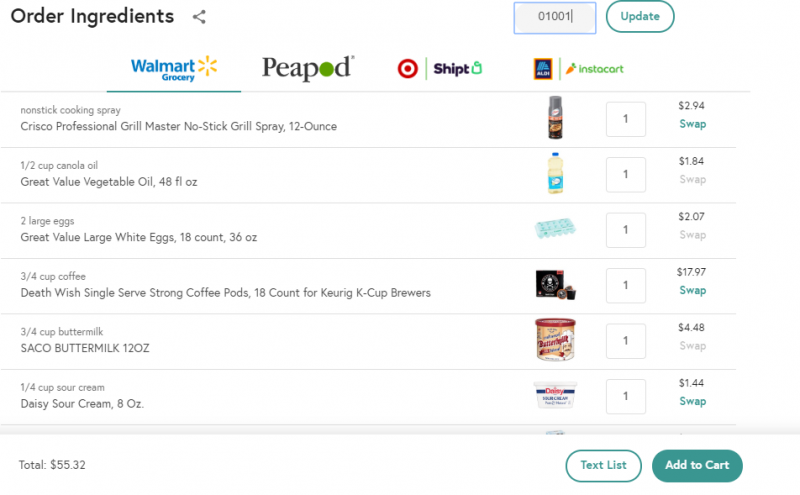 The delivery fee typically depends on the size of the order, delivery time, urgency, and location. However, you can also consider adjusting your fees at peak demand times. In this case, during the busiest shopping hours, the fee may change and the users should be notified of the price change. This is just like Uber's dynamic pricing that some hate, while others adore.
5. Cashback and coupons
People love discounts and cashback, so you can integrate your platform with services that process coupons, cashback, and other perks.
How to Apply This to Your Business
As you see, grocery delivery apps are skyrocketing now. You should hurry up to find a grocery delivery app development company and create a food delivery website as quickly as possible.
At the start, you do not need complicated features. People just want to have the staples delivered quickly. So pay attention to the Core Features first. Later, when you make sure that your business is growing you will be able to modify and improve your app with more sophisticated features.
As a development company that has built more than 200 projects, we know how hard it is to start a new business. So, from our side, we are ready to provide all our development experience and help you understand how to build a company like Instacart fast without compromising on quality.
Are you ready to start a new grocery delivery service?
Contact Us
Rate this article!
You should be
logged in
to be able to rate articles