After the lifting of bans on visiting gyms in most countries, 83% of personal trainers still want to continue training online. It is easy to find clients, work from any location, and avoid paying rent to a gym.
There are more than 340,000 certified personal trainers in the U.S. alone. As a rule, trainers promote themselves on a trainer's website or social media accounts. But their features are limited. Moreover, creating a personal trainer website is costly and often not worth it. That's why an online personal trainer marketplace that connects trainers to customers can cover the gaps.
Sounds like a great idea for a startup, doesn't it?
Reasons to Build a Fitness Trainer Marketplace
Why is it a good idea to build a marketplace for gym trainers? Let's list the reasons:
1. High demand for personal training
In recent years, the market has become crowded with various workout planning apps where you can find programs in fitness, yoga, pilates, HIIT, and others. But can they take the place of a human trainer? People who want to see quick results, tend to search for personal trainers (PT) who create a plan according to the clients' aims and abilities and support them during the whole journey. From 2016 to 2021, the PT industry grew by 5.4% (2.2% in 2021 alone) reaching $12.9 billion. A personal fitness marketplace can help customers find a training session that fits their needs.
2. The increased popularity of home fitness programs
The Covid-19 pandemic and lockdown caused a spike in the interest in online fitness training programs. Unable to visit gyms, people quickly adapted to exercising at home, and 46% of 10,824 gym members surveyed worldwide do not plan to go back to their offline classes.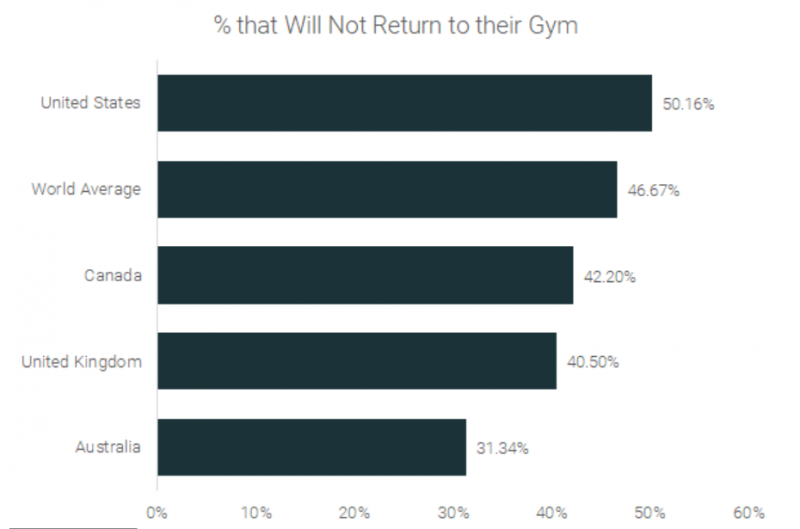 3. Untapped niche
While the personal fitness training industry promises to increase 15% by 2029, there are still few online marketplaces for fitness trainers. If you examine the market, you will find hundreds of workout planning apps and individual trainer pages, but few decent online marketplaces. Here are some of them:
An Australian marketplace that allows customers to find fitness instructors and programs that line up with their goals. Sports enthusiasts can connect with coaches from all over the world. A founder of Onekeelo, Geoff Measey, wanted to find a suitable trainer. He needed someone who would match his needs in training and schedule. Most trainers worked only in gyms and were not available in the early hours before his children woke up. His troubles lead him to come up with his idea for a fitness trainer marketplace that was successfully launched in 2020.
The platform allows anyone to find a local trainer for either offline or online training. The customers can compare prices, read reviews, and schedule a session. The platform is focused on trainers located in the USA, and also allows trainers to search for clients.
Established in 2019, this fitness marketplace allows coaches to create and upload workout programs for different fitness goals. Trainers from all around the world can join the platform.
A simple and straightforward marketplace that connects coaches with their clients. It gives trainers from any country the chance to showcase their expertise and generate new clients.
Business Models of Fitness Trainers Marketplaces
A personal fitness trainer marketplace is a two-sided platform where everyone can find a personal physical trainer, nutritionist, or coach with whom they can exercise at the nearest gym or at home via video sessions. Before starting a personal trainer marketplace or on-demand fitness consultation app development, you should decide on how you are going to generate revenue.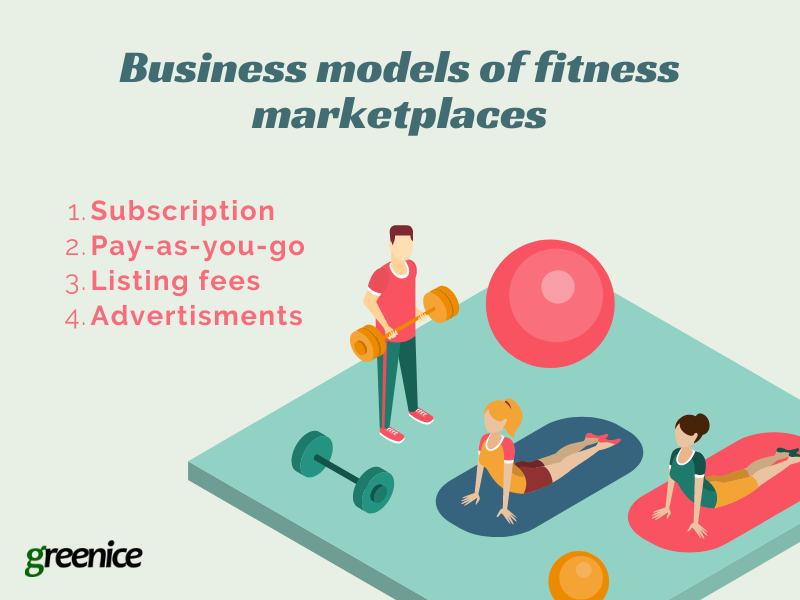 1. Subscription
Customers pay a subscription fee and the platform charges a commission.
2. Pay-as-you-go
The clients who prefer on-demand training can pay for each session individually.
3. Listing fees
After creating a profile and listing their services, trainers are charged for registration or for each new listing.
4. Advertisements
The platform can provide space for ads and collect payments either for display or clicks. This method is good at the beginning when you need to find an audience, or as a supplemental monetization method.
How to Build an On-demand Fitness Trainer Marketplace?
To build a marketplace for trainers, you need to consider the features of your future platform. As a rule, a marketplace consists of three parts. In the case of the fitness trainer marketplace, there are Trainers, Clients, and Admin sections.
Trainers section
Registration and profile creation
Trainers should be able to quickly and easily register and create their profiles. They should be able to add photos and videos showing their work. Trainers can be verified by uploading diplomas, certificates, and other documents to the profile. After a profile is approved, it should appear in search results.
Each trainer must list their schedule. A calendar feature will help trainers to see their commitments.
Having a tough schedule, trainers may forget about sessions, so notifications are a good idea.
If your platform processes payments, the trainers should be able to see all their earnings and platform expenses.
Having a Dashboard will help trainers to see a quick summary of their performance and earnings. Other reports can show the progress of their clients, and give more precise information on different metrics.
Allow clients to communicate with their trainers without leaving the platform. Clients and trainers may need to discuss training goals, load levels, medical conditions, equipment, diet, etc.
If you plan to have online sessions, you need to integrate a streaming service into your platform so that clients can enjoy your classes without switching to a third-party site.
Trainers should be able to add programs and package offers that focus on specific fitness goals.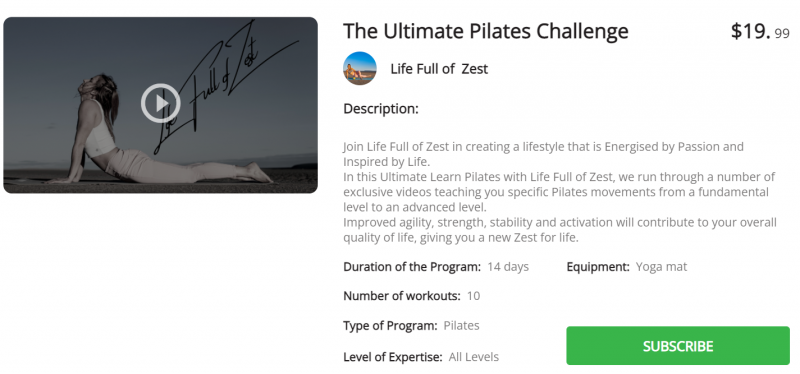 Clients section
Registration and profile creation
The client profile should contain basic information, messages, schedule, progress, and payment history.
Clients should be able to search for trainers by such metrics as location, experience, specialization, price, language, and availability.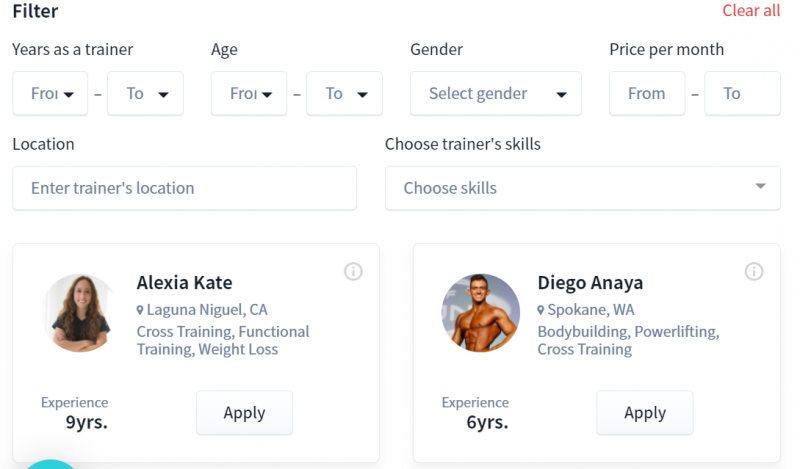 You can make it in a form of a quiz to help people find the best match for a trainer according to their goals and needs: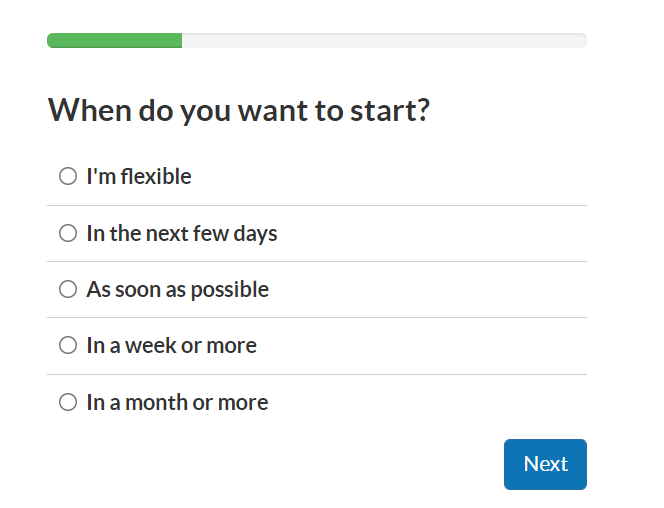 Clients should be able to see the selected trainer's availability and book a session. They should also be able to edit or cancel a session. In their calendar, customers can see the scheduled and canceled sessions. This is especially helpful if they do not attend regularly or take several classes.
Video streaming attracts clients who really want to have a personalized approach and the coach's control during the training session.
Offer the customers a variety of payment options popular in their region.
A reminder system is a great idea for clients.
After each training session or course, clients might be asked about their experience. This is necessary to increase the trust of the platform for potential users. It will also give additional motivation for trainers to improve.
Clients should be able to ask questions of the trainers and discuss results or modifications to the program.
Admin section
The Admin section is the back office where all the content and interaction between users is managed:
Managing users and helping them edit their profiles. Here Admins can check the trainers' verification documents and approve or decline their registration.
Content Management System
Admins should be able to add or edit platform content.
Managing commission and subscription fees, and tracking payments processed by the platform.
Managing email, push notifications, reminders, alerts, and all other messages.
Unless you have a separate support team, admins should be able to communicate with users of the platform ‒ solving their issues and answering their questions. Reports Generating different reports to see details on various metrics.
How Much Does It Cost to Build a Fitness Trainer Marketplace?
One of the most important questions is the cost of on-demand fitness app development. Let's crunch the numbers! The price can vary greatly depending on the features and complexity of the architecture, so to give you an accurate estimate we need to see your requirements. For now, let's assume that you want something similar to what we have described above. The MVP development will take from 4 to 5 months and cost $40,000-50,000. Additional features and integration with third-party software will cost extra.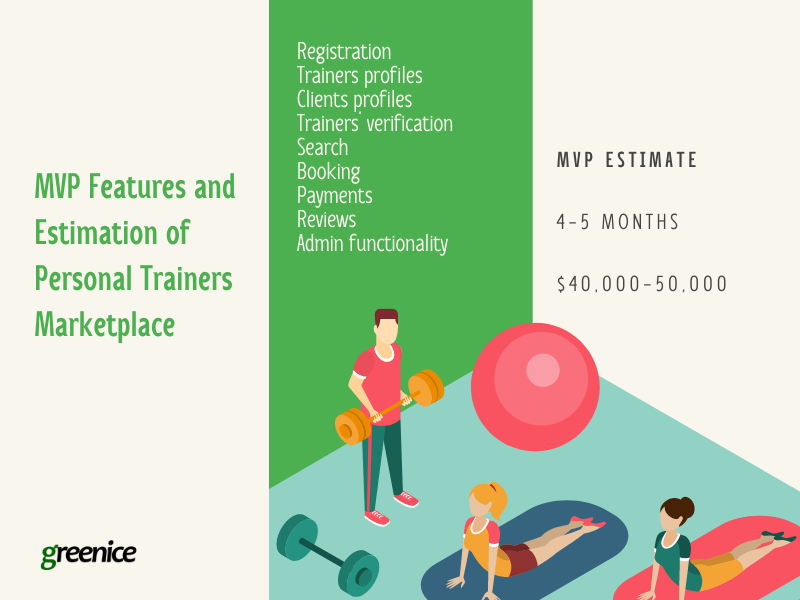 How to Apply to Your Business
The fitness trainer marketplace business is gaining momentum. So far, the competition is low, but demand is destined to grow during the coming years.
Personal fitness trainers earn good money, so there will be no problem monetizing a platform — just choose the most appropriate business model.
When you are ready with a set of core features, write to us, and we'll handle the rest.
We'll help you create a list of requirements, propose the personal trainer website design, and estimate the cost and time required for the development.
Rate this article!
You should be
logged in
to be able to rate articles