Around eight million school athletes in the United States are searching for college scholarships right now.
College athletics has blossomed into a multi-billion business that gained almost the same importance as traditional sports. In 2018, NCAA, raised $857 million from television broadcast payments and licensing rights from CBS and Turner Broadcasting System Inc. alone - not to mention FOX, ABC, etc.
So, what is here for the sports recruitment agency owner?
The college recruiting process is still young and changing yearly, but technological support has already firmly established its position in the industry, helping thousands of athletes and coaches discover each other.
What features are the most important for the college sports recruiting website, and how to monetize such a platform? Find the answers inside!
What is a College Sports Recruitment Website?
College sports are popular because of the great educational opportunities that athletes can realize through scholarships at the world's best universities like Harvard, Yale, Princeton, and Stanford.
The Purpose of a College Sports Recruitment Platform
Young athletes and their parents start searching for a coach far in advance before they move to high school. At the same time, coaches intensively look for prospective athletes around the country and worldwide to recruit them for their teams.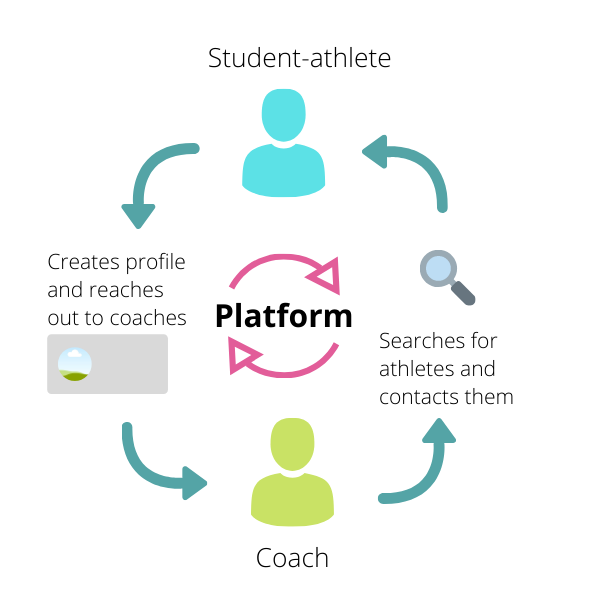 To build a personal website for college sports recruiting, we need to understand the user flows of all the participants.
The student's process The athletes' biggest challenge is how to get in touch with coaches and get discovered. The user flow for athletes and parents provided by most of the platforms includes:
Step 1: Register, create a profile, upload video with a highlight reel
Step 2: Find matching colleges and general information about them, requirements, and reviews
Step 3: Find the correct coaches' contacts and send out introduction letters with resume and invitations to events
Step 4: Receive and reply to coaches' messages, filtering the most interesting offers
Step 5: Choose and sign the official offer from a college.
The coach's process The coaches' challenges consist of how to search effectively and quickly among the thousands of students from all over the world and evaluate their skills to identify the best matches to the college's needs. This means that, in the initial evaluation process, coaches may go through as many as 8,000 athletes depending on the program size. Usually, the recruiting process is divided into:
Step 1: Search for and filter athletes to gather a large group of recruits that match the criteria
Step 2: Send out messages (information letters about school, questionnaires, invitations to camps) to generate as much interest as possible
Step 3: Evaluate the resumes to create a ranked list of top prospects
Step 4: Sending out official offers to the chosen recruits.
Technology plays an important role in collegiate sports recruiting, helping to automate most mundane tasks. Before you start a sports recruiting website, it will be worthwhile to better understand the existing software in the market
Competitive Landscape
Let's review some of the top platforms:
| | |
| --- | --- |
| Website | Description |
| Athletes USA | Athletes USA is a network of more than 20,000 college coaches. The website works globally providing international versions of the site. |
| Playced | Playced is a website that boasts its Matching Engine that ranks students by their sports and academic achievements to find the best fit for them among the variety of colleges. |
| PrepHero | PrepHero focuses on the interaction between athletes and coaches. The platform stands out with lots of useful features that are absent on other websites. |
| BeRecruited | This website stands out with its digital resume creation feature that highlights students; athletic and academic grades, videos and photos, and connects them to over 25,000 coaches. |
| CaptainU | Another famous platform that has collected a vast database of student-athletes and college coaches and helps them find each other, build relationships and win championships. |
| GoBigRecruiting | Go Big Recruiting is easy to use, online contact management system integrated with a video tool. The website allows students to add 2 full games to their profiles to show coaches all their potential. |
| Smarthlete | Besides basic features, the website allows student-athletes to save the school's info into Long and Short lists that help them compare each school's features. |
| GotSoccer | The website is specializing in soccer in the USA. All features are tailored to soccer. |
| NCSA Sports | The website provides an initial set of questions tailored to a specific sport. This helps students build their profiles and resumes. Both static and dynamic resumes can be used to differentiate resumes from others. |
3 Steps to Start Personal Website for College Sports Recruiting
There are several basic questions every startup owner asks themselves:
How will I make money?
What core features should I start with?
And how to stand out among the competitors?
Let's dig deep into these fundamental topics:
1. Choose the Way of Monetization for Your College Recruitment Website
College recruiting websites play the role of mediators between coaches and athletes. But how do the owners make a profit?
Because no transactions between the participants are made through the platform, the most common methods of monetization are:
Membership. A one-time flat fee, or monthly subscription providing a set of services. This includes better exposure to coaches, help with the creation of the athlete's highlights video, and writing a resume. In addition, the ability to send emails directly to coaches and invite coaches to events that showcase their talents. Here are the membership fees for athletes of some websites:
PrepHero - $9.99/mo or $99/life-time
BeRecruited - $19.99/mo or $99.99 /life-time
CaptainU - from $5/mo to $125/mo
GoBigRecruiting - $9.99/mo or $99.99/year
Smarthlete - $29.90/mo or $299.90/life-time
Playced - from $14.99/mo to $24.99/mo
Paid Services. While the core functionality is usually free of charge, certain features or services can be provided separately. Features like help with resume creation, private consultations, reaching out to coaches, and producing highlight reels. Paid services are usually not obligatory. They are mostly oriented toward families and athletes who don't have the time to learn about the recruiting process but prefer to use the specialist's assistance. For example, SportsRecruits takes a $250 fee for video creation and $29.99 for a consultation with a former D1 coach who will identify an athlete's strengths and weaknesses and enhance the resume.
2. Prioritize the Core Features of College Sports Recruiting Website
To make a college recruiting website, you should first identify the main features that the users will come to your platform for. These features will create an MVP that further can be extended with unique functionalities.
You may provide registration and authentication for a student-athlete, his/her parent, coach, and college representative.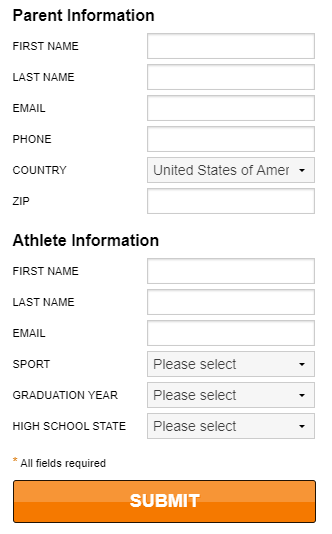 To register as a coach, users need to enter basic information and '.edu' email address in terms of verification.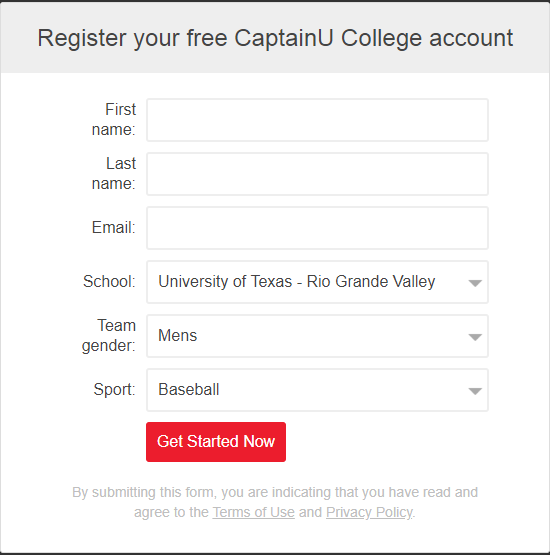 Athlete Profile and Resume
This is one of the most important features of a website. Profiles are the way to tell the coaches about a student's uniqueness and to represent her/his achievements in the best way possible. So, maximum attention should be paid to the development of students' profiles. Here also should be added personal information, contact, sport, and academic stats. Of course, coaches want to see the athletes' performance without visiting all events. Therefore, student-athletes should be able to upload video files that show their game footage and highlights.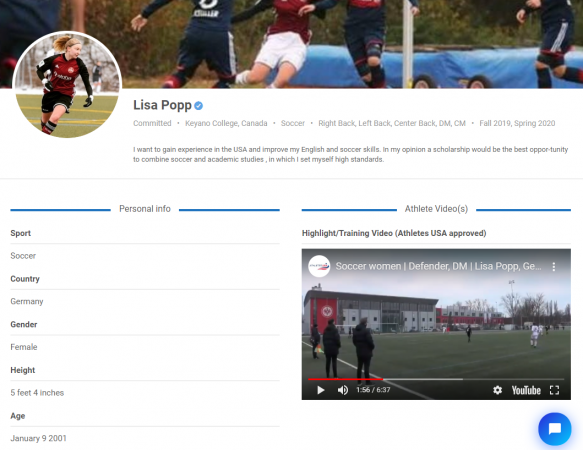 As for the resume, there are also several options. It can be uploaded to the profile or automatically generated based on the information in the profile. The uploaded resume file can be converted into an editable online version and automatically fill in the empty profile fields. This approach is often used at job search websites to facilitate resume creation and editing.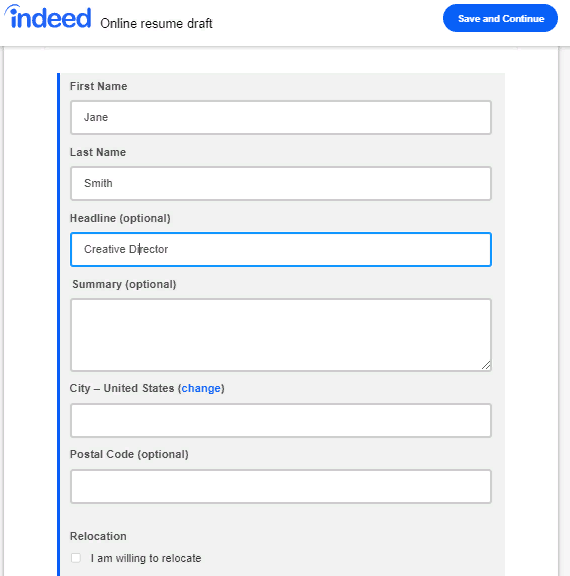 For one of our clients, we created a recruitment and HR management platform with similar features. The applicants can register and fill in their profile, upload all required documents, view the online video training, schedule interviews, and sign electronic documents. Moreover, the platform has an Applicant Tracking System that allows trace updates of information, sharing of the applicant's profile with colleagues, and changing each applicant's status. This can be useful for coaches and athletes, as well as to easier manage the process.
While coaches are looking through the profiles of athletes, students also are searching for the colleges and coaches. Different platforms may focus either on college or coach profiles. College profiles may have information about the college program, housing and scholarships, the admission process, contacts, and information about coaches and reviews. College/Coach profiles can help athletes know exactly who to contact.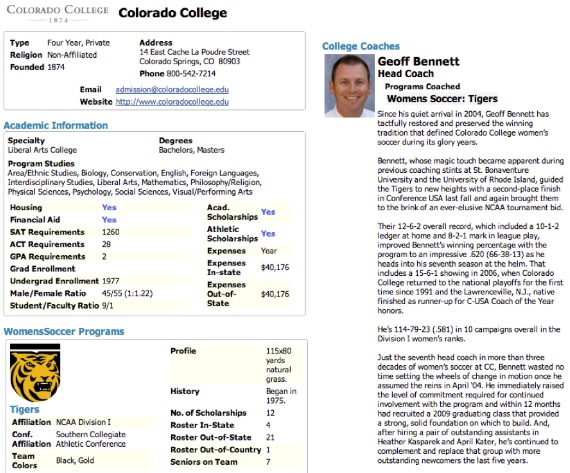 The platform should provide an advanced search to find athletes based on the criteria that correspond to the coach's requirements.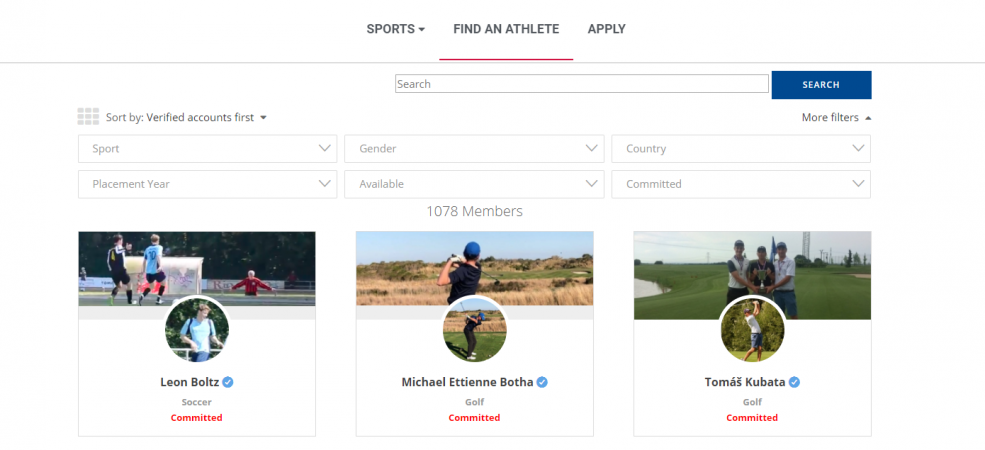 The audience of college sports recruiting is two-fold. This must be taken into account when you create the communication feature. On the one side, there are young students who are used to social media and messengers. On the other side, there are coaches that are very busy and have no time to learn difficult systems. So, the messaging process should be as easy, user-friendly, and transparent as possible. The communication features may include:
new message alerts
autocompletion and grammar correction
flagging important emails
integration with external email services
creating brand emails and custom templates
sending individual and bulk emails
schedule future emails
tracking email opens and clicks rates.
3. Make a Difference with Unique Features That Add Value
College recruiting platforms are still evolving, but you can already find companies that have firmly cemented their positions. To build a college sports recruiting website and break out of the pack, you'll have to thoroughly investigate the market, discover unmet challenges of your audience, and propose solutions that will bring them extra value. Unique features allow your website to stand out among competitors in the niche. Here are some features of your competitors that can inspire you.
Reviews from other students and parents may influence the athlete's choice about colleges and coaches. But reviews can be fake which can spoil the websites' reputation and create a negative user experience. To prevent this, it is necessary to use all possible verification methods, like allowing only one review from a single email and IP address, restricting unauthenticated reviews, blacklisting spam emails, etc.
We use all these and many other preventive measures in our projects. One of the most demonstrative projects is NoCowboys, a platform that matches clients and local businesses. Trust is one of the essentials of this website, so our technology helps keep it on the highest level.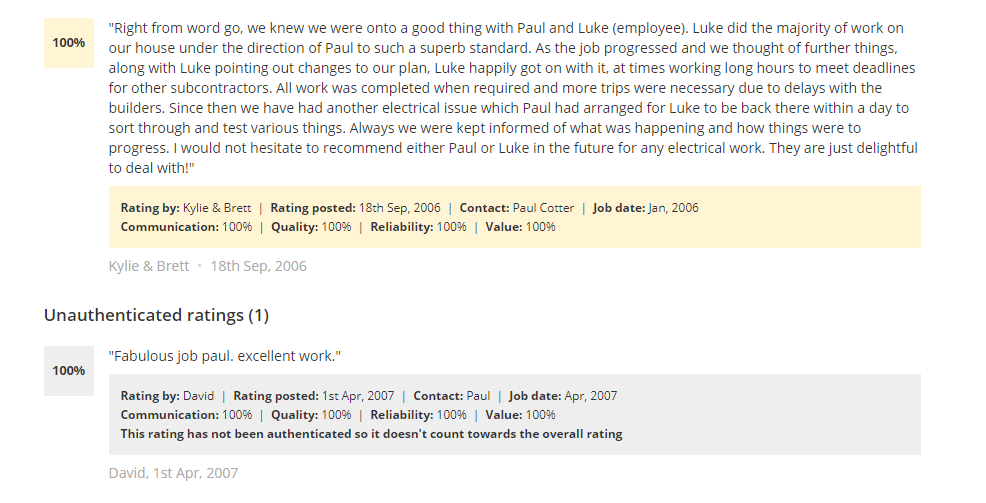 College Matching and Recommendations
It can be a gargantuan task to find the best college among thousands of choices. Matching and recommendation systems can help students find the best fit for their sports and academic preferences and skill level. For example, PrepHero immediately recommends several colleges based on the information from the profile:

Furthermore, on the same website, students can take a college matching survey/quiz that considers more precise matching parameters in order to provide better advice: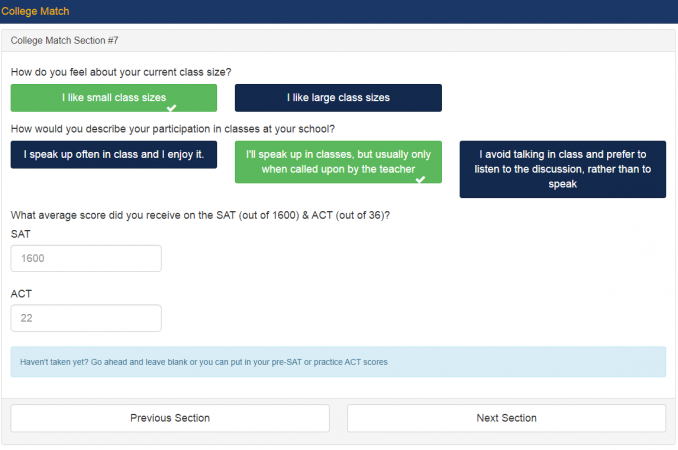 PrepHero also offers a unique system that can write 90% of each email for users. Every time a user goes to write an email, the core information that the user needs to convey will automatically be pre-populated into the message body. In many cases, it doesn't even require any further modifications and can be sent as it is. If necessary, of course, the student can edit it before it is sent. For personalization, the user needs to provide basic information, and the system will generate an email template. This is a great time-saving feature that allows the creation of professional emails and avoids costly mistakes. I entered only the basics in the questionnaire fields and the email was generated automatically.
At Greenice, we can do personalized email templates. For one of our key clients, we made templates that users can easily customize and the system automatically substitutes necessary data into customizable placeholders: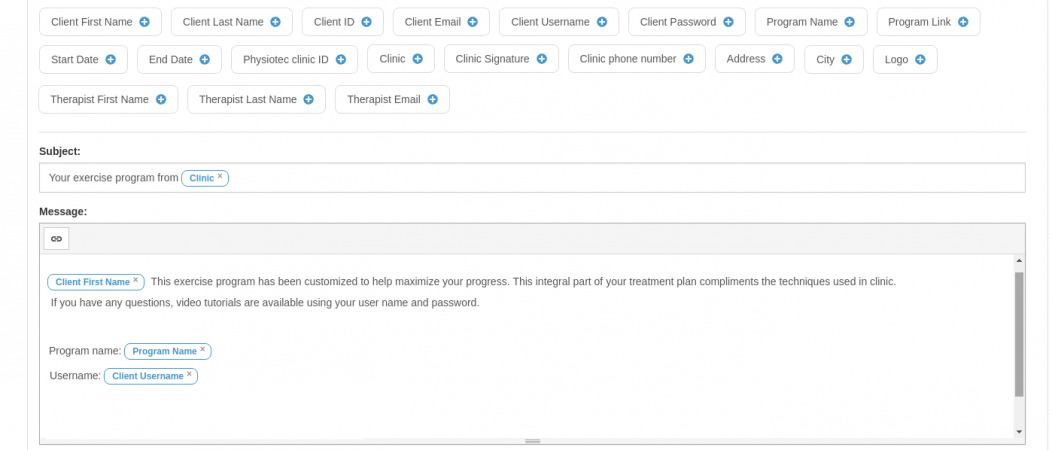 Some systems allow students to schedule events in their profile and to send out invitations to coaches for games.

How to Apply This to Your Project
College sports recruiting website is a powerful tool for coaches to search for athletes and for students to gain exposure to college teams. This instrument is easy to use and effective. The platform owners can monetize this business by means of membership fees or paid services.
While there are quite a number of already existing websites in this industry, there are still potential opportunities to build a sports recruiting website that will provide a smoother experience and more value for both coaches and students.
The Greenice team has expertise in the development of custom solutions for HR managers, recruiters, universities, and colleges. We build HRMS, ATS, and Talent Bank systems that automate processes and increase the effectiveness of our clients.
Let's estimate your College Recruitment Platform!
Contact Us
Rate this article!
You should be
logged in
to be able to rate articles