Conference App Development
Leading healthcare companies used our custom conference app development services to relieve a considerable part of their event organizing pains. Our custom event solutions help to keep everyone on track at the event and give access to well-structured event materials. Hire us to create a custom conference web application for your next event!
Why Develop a Conference Web Application?
Conference apps are designed to improve the typical experience with paper agendas for both event organizers and participants. At their core, these are mobile applications which show each participant a personalized schedule of an event and help him/her be at the right place, at the right time. In addition to that, event applications can also have a number of additional features, like networking (messengers and social media) and gamification elements (sponsored competitions). Common features of conference apps:
Can be downloaded or opened from a browser
Personalized agendas (according to participant's interests/specialties)
Notifications ('what's next?', announcements, event changes)
Interactive event maps, showing event premises map with highlighted areas, to find the next destination point
Messaging and social media sharing for participants.
Get a Custom Conference Web App, Tailored Exactly for Your Event
We are a very experienced team of highly skilled programmers, project managers, and quality assurance engineers. Tell us about your event and we'll advise you on the optimal solution. It can be as simple as an interactive agenda, or your app may include custom functionality with integrations to other systems and websites you are using.
iPad Conference App
Our client, an American event agency, has hired us to create a custom conference web application. We developed this iPad application for a four-day conference that hosted over 1,000 participants. The large scale of the event made it difficult for the participants to navigate and follow, so the conference app was designed to keep participants on schedule and informed of event locations. It also served as a storage repository for event study materials and other event-specific documents.
Interactive agenda to click on each event and see a 'gathering' area highlight on the map

PDF materials to view and download

Segmenting participants and targeting each group with various events

Online and offline modes.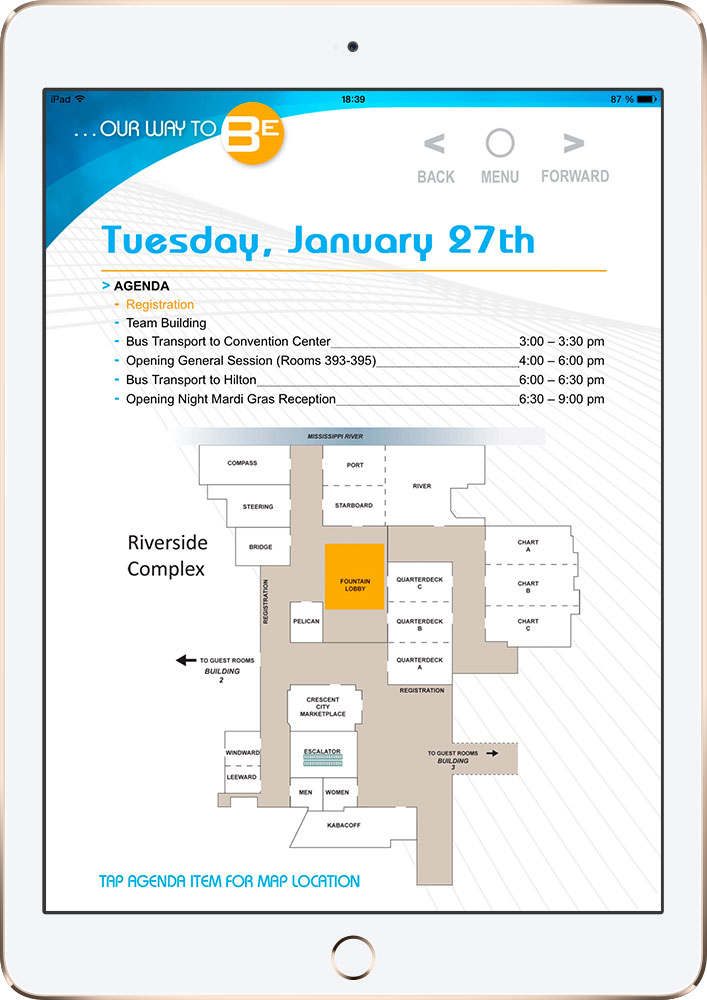 Get Your Estimate Now
LEAVE YOUR EMAIL AND WE'LL CONTACT YOU WITHIN THE SAME BUSINESS DAY