$500 Billion is the size of the home services market and it's growing.
With this growth, field service companies face a range of challenges daily, from scheduling and dispatching technicians to handling customer requests and tracking inventory. Fortunately, technology can help streamline field service operations through the use of a field service management app. An app can automate workflows, schedule appointments more efficiently, and improve communication with customers and technicians.
Choosing the right field service app for your business needs can be challenging. Should you build a custom app or use a ready-made solution? What features should you look for? In this article, we'll explore the benefits of using a field service management app and how it can improve personalization, quality of service, and reduce operational costs. We'll cover topics such as the challenges of field service businesses, the features of a field service app, and whether to choose an off-the-shelf or custom app.

Let's dive in.
Challenges of Businesses
First of all, let's agree that there is no limitation to the size of businesses that can or cannot use a field service management app. There is only a question of choice of the right scope of functionalities depending on your necessities. That's why it would be reasonable to consider the types of business and their challenges.
Small-to-midsize business
A small field service company growing to medium size with up to 10 technicians and 1-3 managers is highly dependant on its reputation as most clients come from the word-of-mouth channel. Small service companies often do not want to spend money on automation solutions believing that they already have done well with spreadsheets, paper invoices, and manual scheduling. However, such an approach leaves no space for further growth of the business.
Challenges:
Poor

order

scheduling as all information is kept on paper and managed manually. Statistically, 52% of service companies still do things manually—paper, pens, headaches.
No full view of business productivity and analytics, thus, an inability to identify weak points and areas where it is possible to improve or save money.
Huge operational costs because of uncontrolled fuel wastage and unoptimized routing.
Big load on managers for dispatching, invoicing, and other paperwork.
No customer and knowledge database to securely store all information.
Delays in receiving payments on bills as there is no electronic invoicing.
Solution: CRM, Scheduling, Dispatching, Routing, Alerts, Accounting, and Reports.
Home service companies that outsource from third-parties
About 20% of all field service companies attract their workforce from third parties (independent technicians). Third-parties allow companies to expand skills variability and geographic area of service while reducing operational costs.
Challenges:
No transparency on what is going on in the "field": time of arrival, job completion, spare parts used, fuel wasted, etc.
Difficult to track the changes in the technician scheduled to alert the client about a delay.
The risk of losing the history of visits to clients, in case of changing a contractor.
Difficult to control the compliance with service level agreement (SLA).
Solution: Dispatching, Alerts, and CRM Knowledge Database.
Enterprise
A big company with a large team of technicians, multiple fleets, and many departments of the administrative staff will deal with large volumes of orders and need very accurate dispatching and dynamic scheduling. They already may use separate systems like CRM, ERP, and Accounting, but there is still no consolidation of information for analysis.
Challenges:
Huge operational costs because of fuel waste, unoptimized routing, idle time.
Poor communication between office and field, no online access to the stock of spare parts and materials.
An absence of knowledge database and instant chat to collaborate with nearby colleagues.
Difficult to assign the right technician for a job as many factors such as skill sets, location, route, and a client's history and preferences should be linked.
If they already use CRM and other applications, they still spend a lot of time manually transferring data between systems.
Solution: Integration among all internal systems, Dispatching, Routing, Automatic Invoicing, Alerts, CRM Knowledge Database, Online Chats.
Challenges for Clients and Staff
Besides the issues that you struggle with on the administrative level, you should also pay attention to the challenges of those who work for you and your clients.
Challenges of clients:
Online scheduling.

Clients want to have immediate scheduling, select a comfortable time for a service call, and get alerts in case of changes or delays.

Personalization.

All Client data should be collected and stored in the system to be available to the technician who is assigned. This allows them to be properly prepared and have all the necessary parts with them.

Security.

They want to feel more secure by getting info about technicians (name, photo). Here is curious statistics on this case:
Challenges of technicians:
Unoptimized routing that causes technicians to waste time and be late
Inaccurate assignment of jobs to the technician's skills
No online access to client's history and parts stock
No opportunity to alert of changed arrival time
An absence of communication with other technicians for advice, spare parts, or help
Losing time on calls asking a dispatcher for details, or spare parts in stock
All challenges are linked and, as a rule, can be solved with the same features. As you identify the bottlenecks in your business that do not allow you to grow and increase your revenue, it's time to discuss how to address these challenges with technology.
Features of a Field Service App
Dynamic Scheduling
Nowadays, when people value their time more than all other assets, there is nothing more irritating than waiting for a technician from 9 to 18 and he comes at 17:30. That is why people are willing to pay an extra fee for the opportunity to have a technician come at a convenient time. But instead of taking this additional money from them, you can increase their loyalty and rise above competitors if you make it a normal practice to schedule for a shorter period or even an exact time.
64% of customers would never hire a company again if the technician was an hour or later for a scheduled appointment.

23%

of customers wouldn't rehire a company that was 30 minutes late.

12%

would never rehire a company that was 15 minutes late.
However, managing this can be a nightmare for a company that has to schedule multiple jobs taking into consideration such factors as starting location, road traffic, technician's skills, the seriousness of the job, time of appointment, etc. Manual scheduling throughout the day can be an exhausting task especially if you have a large pool of specialists.
Using Dynamic Scheduling in your FSM, you can benefit from an automatic assignment of the right workers to jobs. The system will be able to combine the right skills to the level of job, geographical position, and availability to optimize the process. The rules can be set so that they automatically re-assign technicians for more urgent tasks or in case a technician is sick.
For example, a client of Greenice from the UK who deals with emergency lock services wanted an FSM system to address its scheduling challenges. We developed desktop and mobile versions of the field service app for Android for both office and 'field' employees. In essence, when there is a request for a job, a manager can check in the system what locksmiths are available and closest to the client via GPS, and assign them to the task. The worker receives the job description, address, and photos on the mobile app via API. When the problem is fixed, he changes the status of the order and submits details and photos to the application. Thus, the process goes smoothly, without multiple calls between technician and office. This is a huge saving in time and effort.

Route Optimization
Using Google Maps, data about traffic, GPS location tracking, and the schedule of technicians the system can automatically create the most optimal route and edit it through the day, assigning the relevant incoming jobs instantly to fill the gaps in the schedule. Tracking a technician's location can also prevent deviation from the route as well as prove if a technician is late due to a traffic jam.
"The biggest advance in routing technology is the emergence of the dynamic routing capabilities we see today," said Colin Sutherland, executive vice president, sales & marketing for Geotab Inc. "This technology accounts for changing road conditions, weather conditions, and other valuable points of data, which are customizable based on business needs and priorities."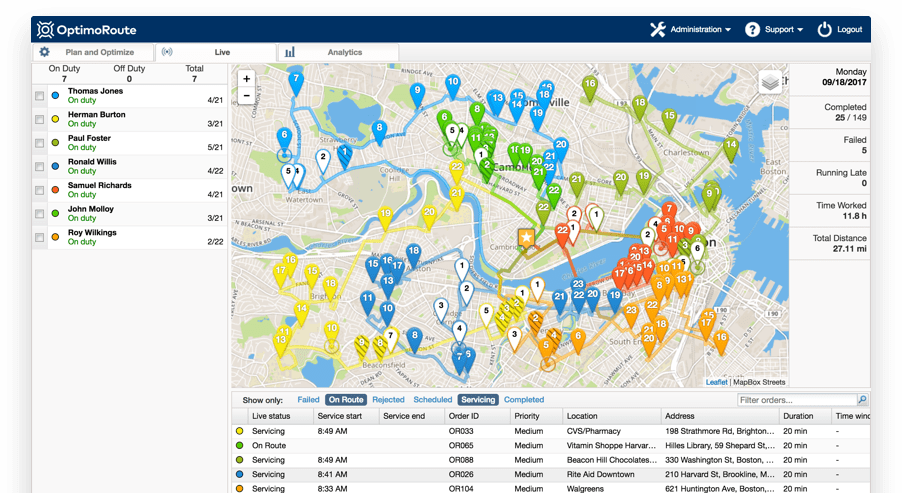 Routing technology is a very useful feature that can minimize fuel consumption and increase the efficiency of your staff. All information about the fuel consumption, idle time, and being late for an appointment can be collected in reports to analyze personnel performance and overall company weak points.
"What's the most expensive or dangerous mile? The mile you didn't need to run — if I can eliminate that mile, I can eliminate the fuel used, the labor cost, and the accident — the elimination of unnecessary miles drives so many benefits — fuel savings, labor savings, productivity improvements, customer satisfaction, and it's also the safest mile, because you're not doing something that shouldn't be done," said Frey of Telogis.
This is how you can benefit from GPS tracking: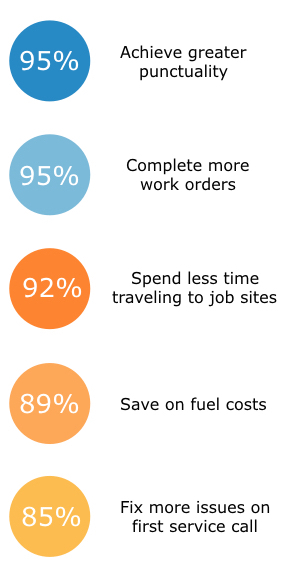 Real-Time Alerts
89% of consumers would use a mobile application like Uber to see where their service technician is and how soon he will arrive.
A contemporary customer wants to be notified of delays or cancellation of a technician's visit so they can reschedule their plans for the day. The real-time alerts through mobile field service management save time for technicians, managers, and clients and eliminate overall misunderstanding and frustration. Having data about the location of a technician or the progress of his current job allows the system to automatically adjust and send out notifications.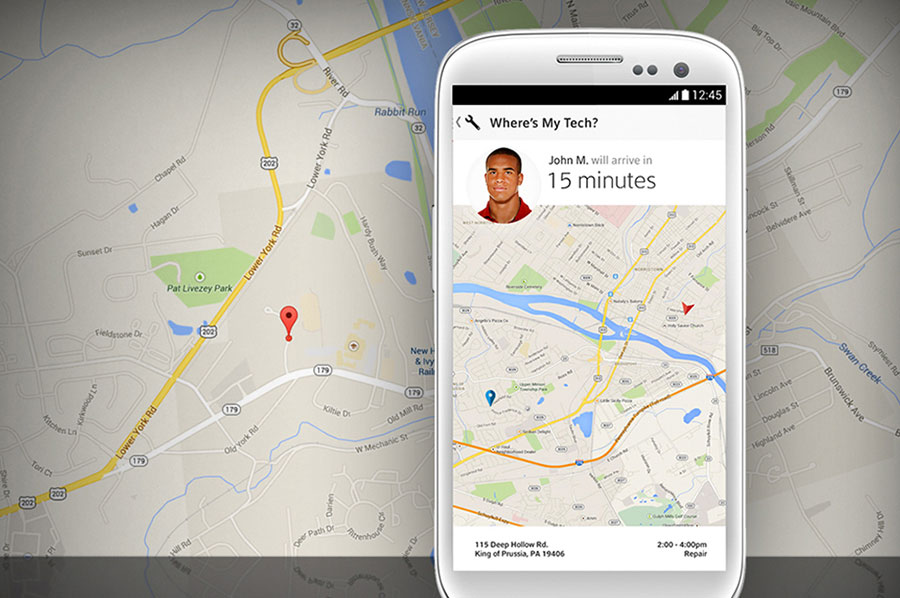 Invoicing and Accounting
One of the frequent challenges of Field Services is a delay in invoicing. The necessity of coming back to the office to provide a report on jobs completed and to create invoices is inefficient and does not motivate anyone.
You and your employees will greatly appreciate the automatic invoice creation in the system that allows for the shortening of billing cycles. FSM allows you to say goodbye to paperwork. A technician can submit through mobile field service management all necessary information about the job, and the system will calculate the total price taking into account the level of seriousness, types of jobs done, time spent, parts used, client discount, and warranties.
Thus, one of our clients from the Netherlands that deals with repairs and maintenance of robots in cattle farms were in need of an app to facilitate the process of invoicing. As the farms are located 200 miles or more from each other, inspectors were visiting them one by one and once a month or so delivered the results to the main office. Thus, the creation of invoices was always delayed.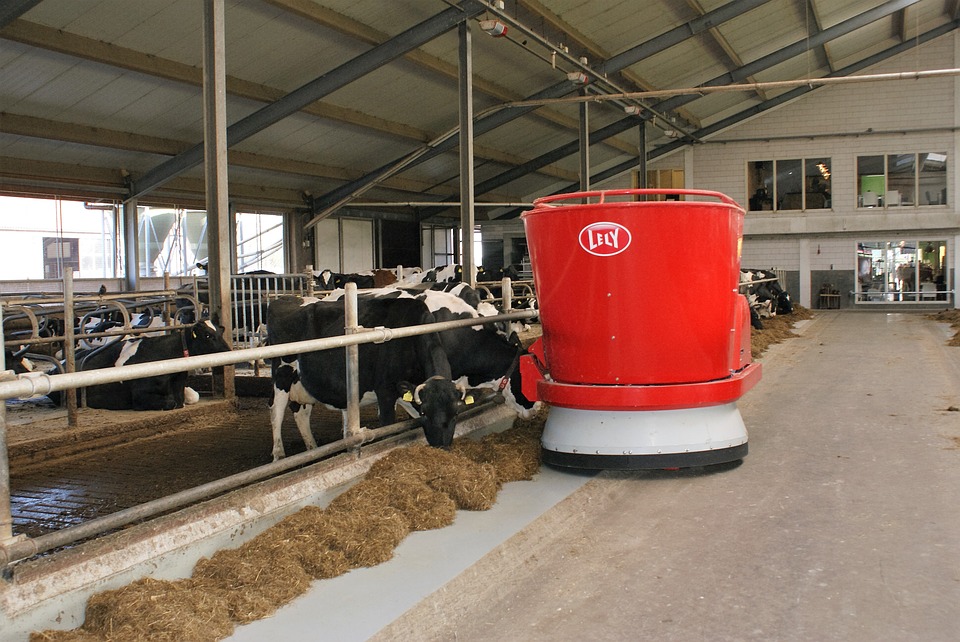 A new custom field services management app developed by Greenice changed this process. Now, the engineers can fulfill an inspection on the farm and instantly fill in the electronic service reports: robot conditions, provided repair, parts used, etc., and send reports to both the office and the farm's owner. Managers can process the report and create the invoice to send it out to the client without delay.

CRM Knowledge Base
Having a database of your clients can significantly simplify your life. The CRM capabilities are limitless and allow you to collect and store data such as contacts, transactions statuses, invoices, client's history, level of the loyalty program, info about assigned technicians, reviews, electronic signature, etc.
Keeping and updating the data about your clients can save your employees a lot of time preparing for a visit as they can look through the details of previous visits and jobs already done and take all the necessary equipment and parts.
If a technician takes a leave or is sick and is replaced with someone else, the knowledge base allows a new technician to dive quickly into the case details and provide the expected level of service.
Having a CRM is a must for field services that work with third-party technicians. If they stop working with a contractor, they risk losing the client's info as well.
It is a good practice to have an SLA compliance list and to make sure all technicians and especially contractors follow it. Checklists are one of the best ways to keep up the standards of your organization and ensure that your customers get the same quality level of service no matter who provides it: a full-time technician or a subcontractor.
Inventory Management
It is useful to be able to see the availability of specific parts in the warehouse, or if another technician near you has them in their truck. An Inventory Management system allows managers to order necessary parts in advance and at better prices. Depending on the specifics of your niche, the system can be tailored to track the warranty terms, have notifications on timely technical service, repair, or shortage of spare parts in stock.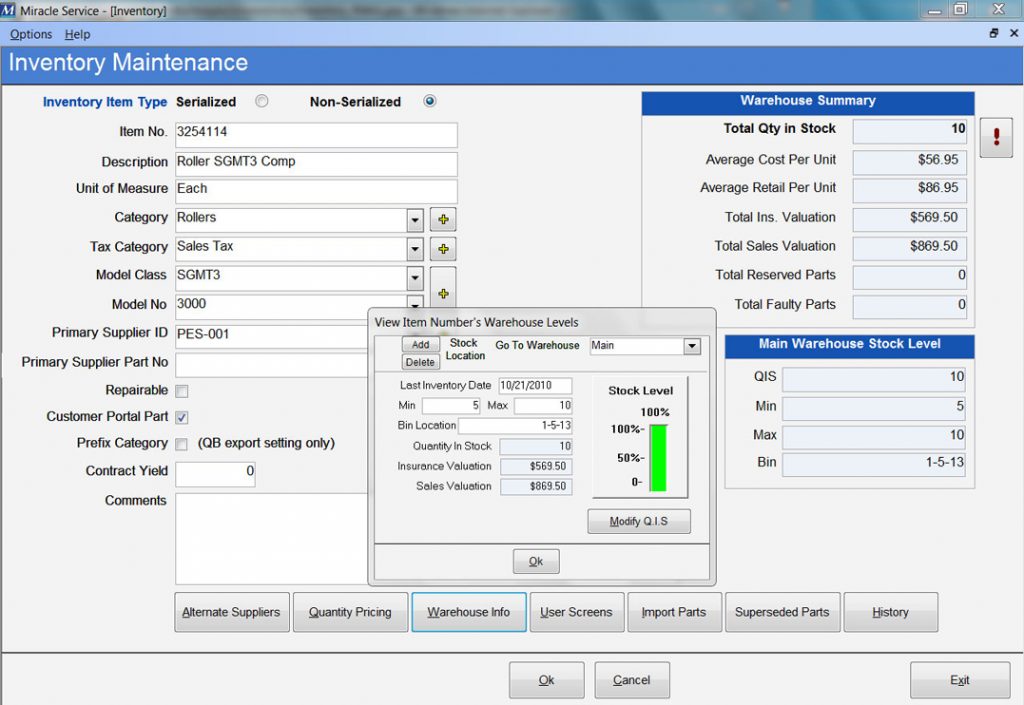 Online Chat
Technicians should be able to communicate with other workers if they need advice or help from colleagues. For example, those who may work nearby and can assist or share spare parts and materials. Also, having a quick communication channel with managers can facilitate some processes as sending of videos, invoices, photos, attachments, or asking for a client's previous job history. Chat can also be used to communicate with clients when scheduling an appointment.
For example, when managers may be unaware of the competence of their technicians on some issues, or it could be difficult to estimate the time of a job. Thus, a dispatcher may quickly add a technical expert to a chat session to get assistance in identifying the nature of the client's problem. In the end, it may happen that an issue can be resolved with an online consultation without the necessity of going to the 'field.'
Reports
For any business, it is vital to track performance and see what further steps are necessary for growth. Every organization can have its own measurements. However, for Field Service Management the most valuable KPIs are:
Customer Satisfaction

- the percent of a customer's positive experience with your services. To measure these and the two following KPIs you can use customer surveys to ask for their impressions after the technician's visit. If this rate is low, think of reducing manual work, route optimization, and elimination of other obstacles that prevent better performance.
First-Time Fix Rate (FTFR)

- the percentage of repairs that are resolved on the first customer site visit. The measurement depends on the success of the first visit to a client. If you see that this measure is getting down, you need to find out the reason. This can be because of an absence of necessary equipment or parts, inappropriate technician skills, bad scheduling, insufficient time to complete the repair during the first visit, plus other factors. Also, each next visit increases overall expenses. Improving your FTFR will lead to customer satisfaction increase and reduction of costs.
Service Level Agreement (SLA) Compliance

is the measure that shows customers' satisfaction with the service when their expectations meet the provider's predefined standards. SLA can consist of technician's punctuality, technician's expertise level, availability of all necessary parts and equipment, first-time fix rates, warranty compliance, routine maintenance schedule completion, and other contracted services.
Workforce Utilization

- the amount of time your technicians spend on the actual task versus idle time like other non-value-added activities, driving, phone calls, filling in reports, and other documentation. To calculate the workforce utilization rate, you need to divide the technician's billable hours by total labor hours and multiply by 100%:
20 billable hours / 40 labor hours x 100%= 50% utilization rate
(This means that you are only using half of the working potential of your employed resources)
The number of Jobs Completed per Day

shows the productivity of your service. This measure depends on your scheduling, route optimization, and other organizational questions. Alongside this indicator, you can count the number of scheduled jobs to view the performance. It goes without saying that each additional order completed per day can significantly increase the overall income of the company.
Which is the best field service app: off-the-shelf or custom?
With so many ready-to-use solutions it is reasonable to ask why on earth build one more if you can use what exists?! You are not alone in asking this question, but let's look at the facts!
1. There are so many solutions but which one will fit your needs?
Even if you read all the reviews and subscribed for a trial period, you still risk buying a pig in a poke. As a first step, almost any off-the-shelf app may be enough to satisfy your needs. However, as your business starts expanding, you may find yourself constrained with features and the inability to make changes or add new features. For instance, if you already use a CRM and want to integrate it with your FSM, it may be impossible or very expensive. That is why it may be reasonable to start with custom web development to escape painful and expensive data transfer in the future.
2. Which is cheaper: off-the-shelf or custom?
The cost range of canned solutions starts from zero to several thousand dollars. If we take an average price of $5-10/user/mo, and you have 50 to 100 employees, it means that your payment will be $250 - $1000 monthly, which is $3,000 - $12,000 per year!
You will probably use the system for more than one year, you can imagine how much it will cost you. In addition to that, when selecting a cheaper alternative, you agree to have limited functionality.
However, we are not saying that it is cheap to make a field service mobile app from scratch either. It is not, but it gives you such advantages as:
full ownership of code and database
all the functionality and integrations that you need
the highest possible security of stored information
the flexibility of changes and meeting the requirements that mirror exactly your business needs.
The price to create a field service app will depend on the scope of features and their complexity. But once you've built the system, it stays yours forever without a monthly fee regardless of the number of users.
To reduce the costs we can start with a Minimum Viable Product - a responsive web app with key features for all types of users. Such a solution can be built in 1,5-2 months and will cost you around $16,000 - $21,000.
How to Apply This to Your Business
To sum it up, the benefits of FMS can be visualized in a short formula:
Benefits of FSM = Increase of Efficiency + Operational Costs Reduction + Better Customer Experience
An increase in efficiency is gained as you introduce dynamic scheduling, online communication between "field" and office employees, and reduce the amount of routine manual tasks with automation.
Costs can be drastically reduced when you start tracking fuel consumption and optimizing routing.
And the percent

of

positive customer feedback can

be increased by using personalization of services to know a client's issue and their previous history, be well prepared and equipped with necessary parts and inventory, and provide real-time alerts to clients in case of changes in schedule.
When selecting between a ready-made application and custom mobile field service app development take into account your needs like feature scope, business processes specifics, integrations, and ownership.
Rate this article!
You should be
logged in
to be able to rate articles