ARS App Development
We have developed Audience Response Systems (ARS) apps for leading pharmaceutical companies (from world TOP-10). Our clients are using ARS apps to make their live events more engaging and get the most out of their training sessions.
What Are Audience Response Systems (ARS)?
ARS solutions are invented to enhance interactivity between a lecturer (presenter, trainer, event host) and an audience. A lecturer of an event posts questions, while audience members view and answer the questions on their individual mobile devices. The ARS polling happens in real-time with general statistics being displayed on a widescreen. Common features of ARS solutions:
Installed or opened from a web browser
Used on mobile devices
Main moderator screen and participant screens
Multiple-choice questions
Scoring systems
Instant display of polling results
Anonymous answers or tracking of individual answers.
Use ARS to Boost Audience Engagement and Get Better Training Results
Hire us to develop a custom Audience Response System application to encourage everyone to participate in your next event.
Conferences and live events:
Get everybody to participate by answering the host's or presenter's questions
Poll your audience anonymously when you need unbiased opinions
Get advanced statistics by segmenting your audience based on geographical regions, positions, and any other custom criteria.
Training sessions, classes, and lectures:
Assess the knowledge level of your audience right before you begin your training session to adjust your training to the group and even individual needs
Track material comprehension during your sessions
Measure the effectiveness of your session immediately after an event
Add gamification by dividing participants into teams and having them compete against each other by answering questions and getting scores.
iPoll, Audience Response System
A major pharmaceutical company has outsourced to us the development of iPoll, an Audience Response System (ARS) for a product training workshop. With this app, the speaker posted questions to sales representatives to assess their knowledge of particular diseases and medicines. The app enabled him to receive responses in real-time and display statistics on the general audience screen, as well as users' mobile devices.
Presenter/Speaker

interface, where speaker can choose questions in the context of a lecture

Audience member interface where users can respond to questions

Display of statistics on

a wide screen

as well as individual user

's screen

Group and individual knowledge

report.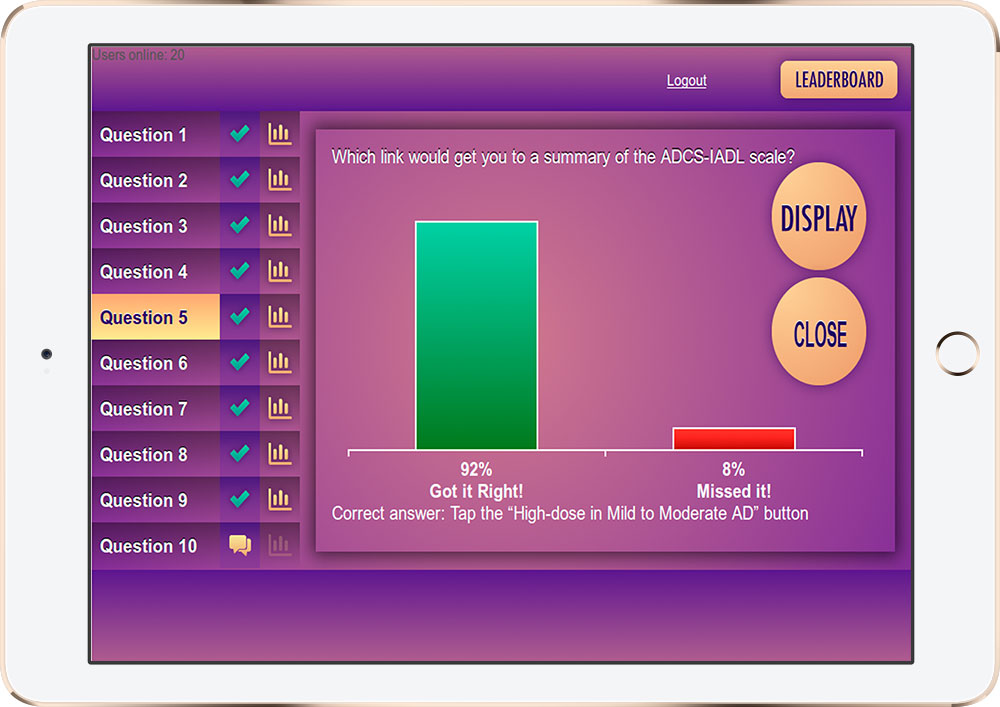 Get Your Estimate Now
LEAVE YOUR EMAIL AND WE'LL CONTACT YOU WITHIN THE SAME BUSINESS DAY