"If there's something strange
In your neighborhood
Who you gonna call?.."
No, really, if only any service would be so quick and effective as it was in the movie Ghostbusters! What if, as a result of your urgent call, a dream team of superheroes rushed to save humanity, even if it was only a leaking tap in your flat? But, in real life, it works differently. How many plumbers arrive in time and how many fixes are made in the first attempt?
Unfortunately, the customer experience with field services (plumbers, electrics, drivers, HVAC, engineers, doctors, etc.) are, in most cases, still horrible, and management is helpless to do anything as they do not see what is going on in the "field."
Are there any ways, then, that technologies can make Field Service Management more transparent both for management and clients?
What is Field Service Management?
Field Service Management (FSM) is a system used to manage field operations such as order management, dispatching, inventory management, vehicle tracking, scheduling, and more. In spite of each business' specifics and demands, there are some common concerns that arise at any company that provides any kind of field services:
The absence of workflow control and overhead with paperwork when all documentation is handled in Excel or on paper does not provide adequate analytics and can lead to data duplication or missing.
Dispatching problems lead to scheduling overlaps, mismatching of technician skills to ordered jobs, and inability to serve urgent requests.
Uncontrolled fuel consumption and mileage due to the absence of tracking, unoptimized routing, and cheating.
Invoice delays if technicians fill data in the system at the end of the working day.
Risks of losing your customer base, if technician leaves or retires.
And some other points that we'll discuss further, below.
If you found out your own pains in this list, it is time to think about introducing a field service report app into your work process.
An appropriately customized Field Service Management system allows solving three big challenges:
1. Increase efficiency
Get annoyed with a constant mess in the documentation? Do customers complain of delays? Are the bills not paid in time? Do technicians suffer from overlaps? You can stop it. Field Service Management system allows organizing all processes according to the workflow inside of your organization.
2. Reduce costs
You see that you and your team are working hard, your prices are competitive, your bills are paid in time, and you rake in the cash. But why then your net profit is so miserable? Why do not you still swim like Scrooge McDuck in the pool full of gold coins?
If this is a common situation for your business, that's really bad! It is time to find the break in your budget pipeline. Here is where Field Service Management can come to help, taking under control your operational costs, fuel consumption, spare hours, route mess, etc.
3. Increase customer satisfaction
Now that people are pampered with Uber-like apps that show the location of the car in real-time, time to the destination, and final cost on the step of the booking, they require something like this from all other services. But in reality, technicians just lack corresponding means to provide the 5-star level of user experience as first they are focused on their job and perceive the organizational formalities not so seriously as expected. Using field service management mobile app allows increasing customers' and technicians' engagement.
Let's see how exactly field service applications can help you to facilitate your processes.
What are the benefits of using Field Service Management?
1. Workflow standardization
Standardization is an important aspect of any business, as it helps ensure consistency and quality across all operations. By establishing standardized workflows for each step of the process, businesses can improve efficiency, reduce errors, and provide a better experience for customers. In the context of Field Service Management, standardization can help streamline dispatching, scheduling, and invoicing processes, saving time and resources while improving accuracy and overall business performance.
2. Getting rid of paperwork
Cluttering your workplace with paper sheets increases the risks of valuable data loss. Excel is also not the best way to structure and keep the information, as it does not provide real-time dispatching and analytics. Field Service Management software allows for the elimination of masses of paperwork and, therefore, prevents data loss and duplicate entries.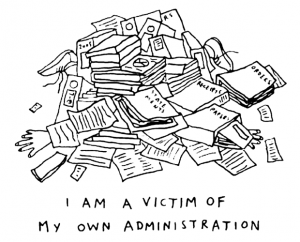 [Image Source Weblogcartoons]
3. Quicker invoicing
Invoicing is one of the most important and, at the same time, the most frustrating part of a field service company. In some cases, it can take weeks to assess the work done while all data are collected and calculated manually.
Using a Field Service Management system, technicians can immediately send all job information captures from the field such as spent time, used parts and materials, the electronic signature of a client, and photos of job results. Also, Field Service Management software will automatically calculate the price, taking into account warranties, special pricing conditions, and discounts.
Let us tell you about one of our clients, a Dutch company that provides technical support and repairs for robots in cattle farms. They wanted to build a Field Service Management app to facilitate the process of payment collection. The problem was that farms were as distant as 200 miles or more from each other, so it could take up to several weeks for visiting all farms, inspecting them, and providing reports to the main office. Thus, sending invoices to the clients was always delayed. The custom system that we built allowed for a simplified process of inspection and reporting. The engineers conducted the inspection filling in the electronic service reports to record the results of their visits: robot conditions, jobs done, parts used on the repair, etc., and sent the report immediately to the office and the client from the farms. Thus, after quick processing of data by managers, the client gets the invoice without delay.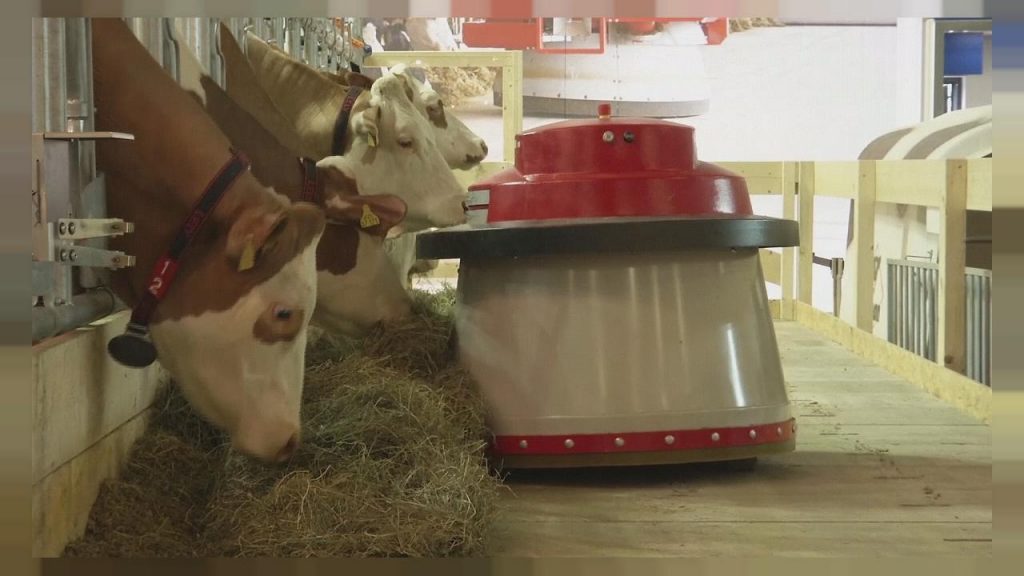 [Image Source Euronews]
4. Dynamic scheduling and the ability to take urgent tasks
Equipping your specialists' devices or vehicles with GPS systems allows them to identify their position and assign the nearest orders to save time and effort.
The system that can be updated in real-time eliminates the overlapping and duplication of tasks and allows users to see the availability of employees to be sent for urgent calls.
Moreover, it can be programmed to automatically re-assign technicians for higher priority tasks, or when a technician is incapable of fulfilling the task because they arrive late, feel sick, or in another emergency situation.
In case you receive a complaint from a client that a technician was late or did not arrive, if your employee denies it, you can check the real state of events with the GPS tracker. This can also serve as evidence in case of a lawsuit.
Besides, some GPS built-in systems in vehicles can report to the main office in case of road accidents or transmit the location of a jacked car or equipment.
Here is an example of a custom Field Service Management for our client from the UK who deals with emergency lock opening, changing, repairs, etc. For them, we created a desktop FSM system and a field service app for Android. When a request comes from a client, a manager sees in the system what technicians are available nearest to the location via GPS and sends them the order details (description, address, photos) via API. After fixing the problem, the technician can checkmark the completed tasks, change the status of the order, and add details and photos to the app. The field service mobile app automatically exports data to the accounting system to generate invoices, and run payroll calculations, and accounts for affiliate commission payments. Thanks to this solution, a lot of unnecessary man-hours have been eliminated.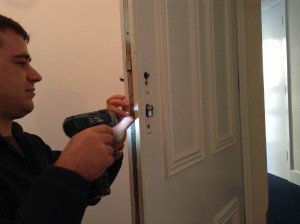 [Image source Keys4U]
5. Cost Reduction with Fuel Control and Route Optimization
Fuel consumption is a huge expense item. You can either rely on the words of your employees or track the fuel automatically if the numbers look suspicious.
The stats provided by UPS show that, due to GPS tracking, the company uses 10 million gallons less fuel, emits 22,000 tonnes less carbon dioxide, and delivers 350,000 more packages yearly.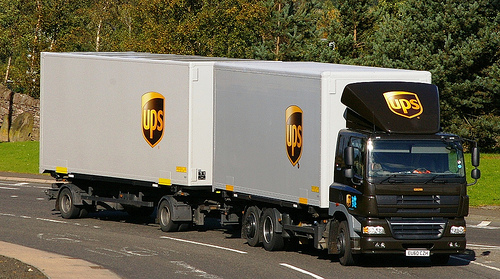 [Image source Flickr]
Longtime drives are unprofitable. Employees who deviate from the route or stay idle between orders cost you money.
Integrating Google maps and other route services into your Field Service Management, you can delegate the system to create optimal routes instead of doing it manually. The system will be able to schedule assignments automatically, taking into account time windows for technicians to minimize travel times.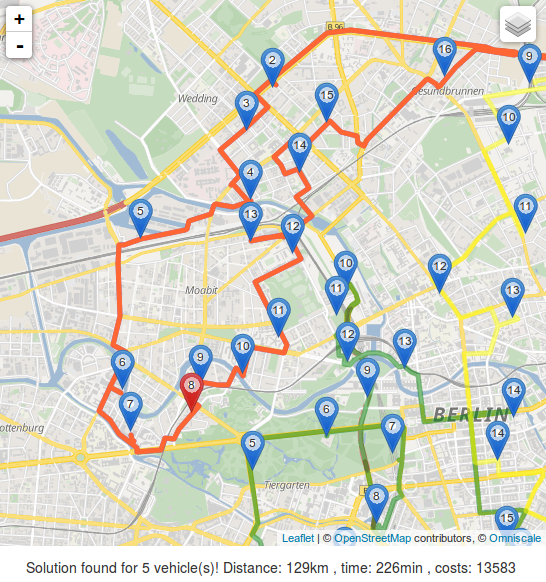 [Image source Graphhopper]
For example, Source Refrigeration & HVAC got travel times reduced by 35% in one region alone, by means of automating route optimization.
"Instead of someone calculating this information in their heads, we needed a system to determine the plan in a uniform way across all sites," - sais Hal Kolp, Vice President of information technology at Source Refrigeration & HVAC.
The same is claimed by UPS who, despite the long routes, saved 28.5 million miles with the help of Field Service Management software. It seems unbelievable that simply not turning left can bring such significant savings.
6. Parts and Inventory Management
Companies dealing with repair services are highly dependant on inventory management systems. Field service mobile applications enable your employees with useful real-time stock balance checking right in the field.
Parts management systems can notify you in the event of part and materials shortages to ensure there is always full stock, allowing you to buy everything in advance for a better price.
7. Equipment Tracking
With telematics technologies linked to your Field Service Management app, you will be able to control the location of your equipment. For example, Kärcher installs SIM cards on their machines. With the help of M2M technologies and 4G, the application can connect with each machine and collect data about its condition, maintenance state, and who used it. As it tracks the machines' locations, it is possible to find out if the equipment was stolen or used in an unauthorized way.
8. More Accurate Task Matching
Using field service applications allows assigning specialists to tasks more precisely according to their matching skills. Thus, you will increase the chances that the right specialists are sent to the right place. Also, having a client base and client history allows for assigning a specialist to the client whom he/she already knows, allowing the technician to grasp the problem more quickly (preventing misdiagnosis) and better prepare for the order (making sure they have all the necessary tools, parts, materials, etc., with them).
9. Keeping a Knowledge Base and Client History
Having a consolidated database with all your clients and order history information, as well as technical instructions, is a treasure for any company. If an employee leaves, gets sick or retires, there will be no harm to the working process as another employee will be able to substitute for him/her as all previous job history is saved.
10. Knowing Your Business
FSM increases the efficiency of your business as you can access key metrics on the business anytime, including:
Number of jobs scheduled per day
Number of jobs completed per day
Time spent on a job
Idle time
Travel time
Return visits, and more
This will help to understand the weak points and take some actions to enhance the processes.
How much does it cost to build a field management system
Now that you see all the benefits that a Feild Management app can bring to your company, there is the only question left. How much does it cost? Is it worth building such a system from scratch or can you buy a ready-to-use solution?
The answer will depend on such factors as the number of your employees, the uniqueness of your business processes, the budget you are ready to spend on development, and your business goals.
For example, if you are a small company just starting out with less than 10 employees and your business process is quite common for the area that you serve or you just want to test your business idea, it is quite reasonable to try canned solutions. You should only take into account that most of them take payment per user per month which may cost you a lot in the long run.
This variant will not work for you if you are planning to quickly scale, hire more and more employees, integrate the third-party systems, and make a lot of changes in code. But even more important reason is that if your company has a unique workflow, it may be hard to frame it into canned solutions.
In case you have already played with one or several out-of-the-box solutions and understand that you need more or specified functionalities then you need custom development.
The estimate depends on the requirements of the project. We can create field service apps for Android or iOS as quickly as in 2-3 months and will cost approximately $10,000 - $15,000 while some enterprise solutions development may take half a year or more and here the price may start from $30,000.
How to apply this to your business
Providing services to people, you should have a very precise calculation to take into account all expenditures connected with fuel consumption, parts, and material management, time-tracking, and route optimization. To consolidate all these factors, many companies already use a field service engineer app that takes up most of this burden.
Thus, you can spend more time on the analysis of your business and find ways to streamline and grow it.
To make a field service management application, you may start with automating the most valuable functions. For instance, first, make service reports and then, if needed, add more sophisticated features like GPS tracking and fuel control.
Implementing a Field Service Management system will definitely reduce the routine tasks of your employees and make your management more effective.
Get cost and time estimate for your Field Service Management project from our developers.
Contact Us
Rate this article!
You should be
logged in
to be able to rate articles