back to blog
With Custom CRM Development You Can Get Exactly What You Want and It Doesn't Have to Cost a Fortune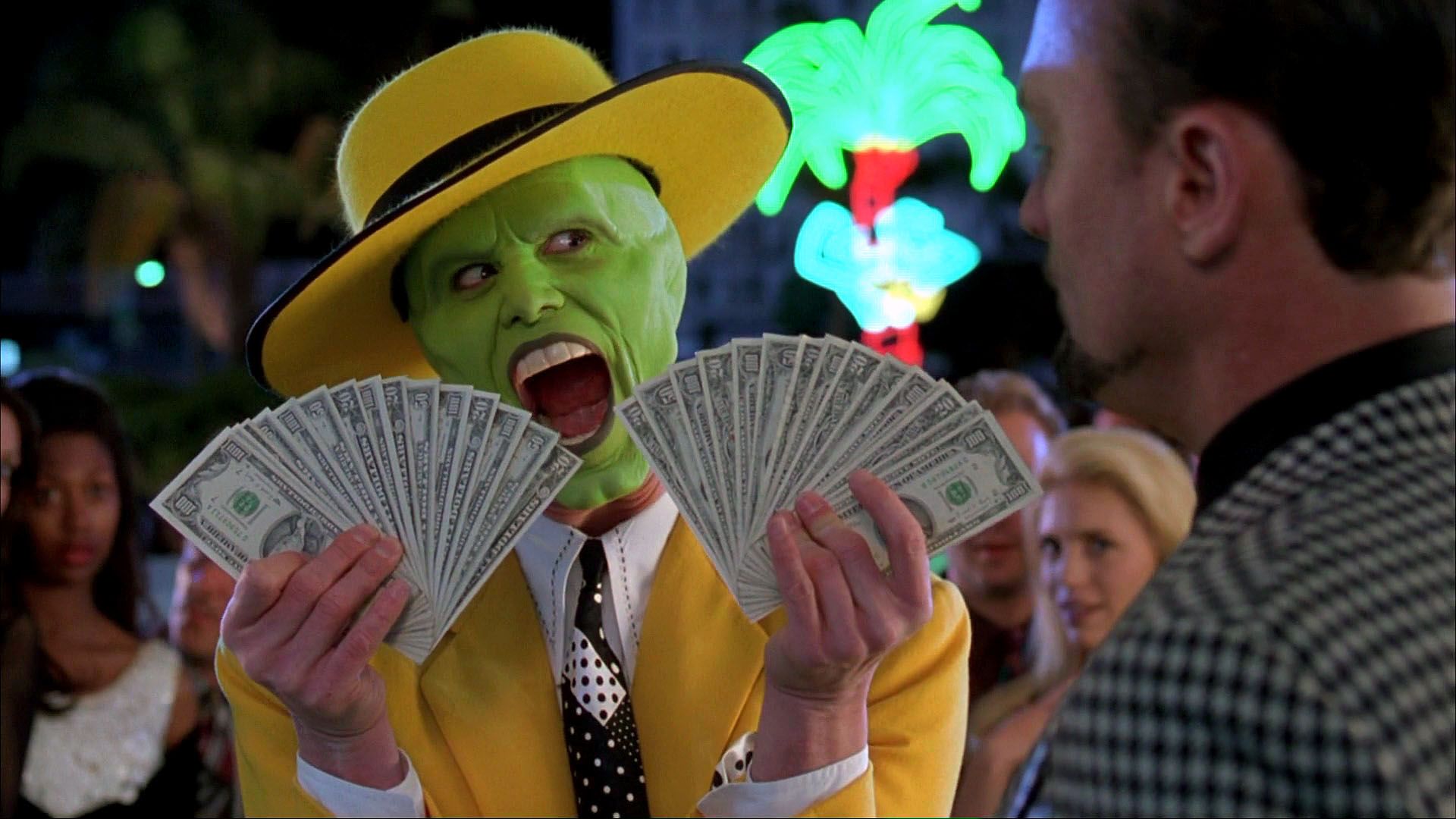 When launching your business, and with only 10-15 customers on your roster, to start, you are surely able to remember all tasks and interactions with each of them. But, as the number of customers reaches several hundreds or thousands (including contacts, leads, prospects, affiliates, and partners) you'll need accurate data storage and processing with quick access to all necessary information.
There are many types of software known as CRM systems that cope with customer relationship management and can be used to substitute Excel files and heavy paperwork.
In this article, we will review the features of these types of software, and answer the question how much does a custom CRM software cost?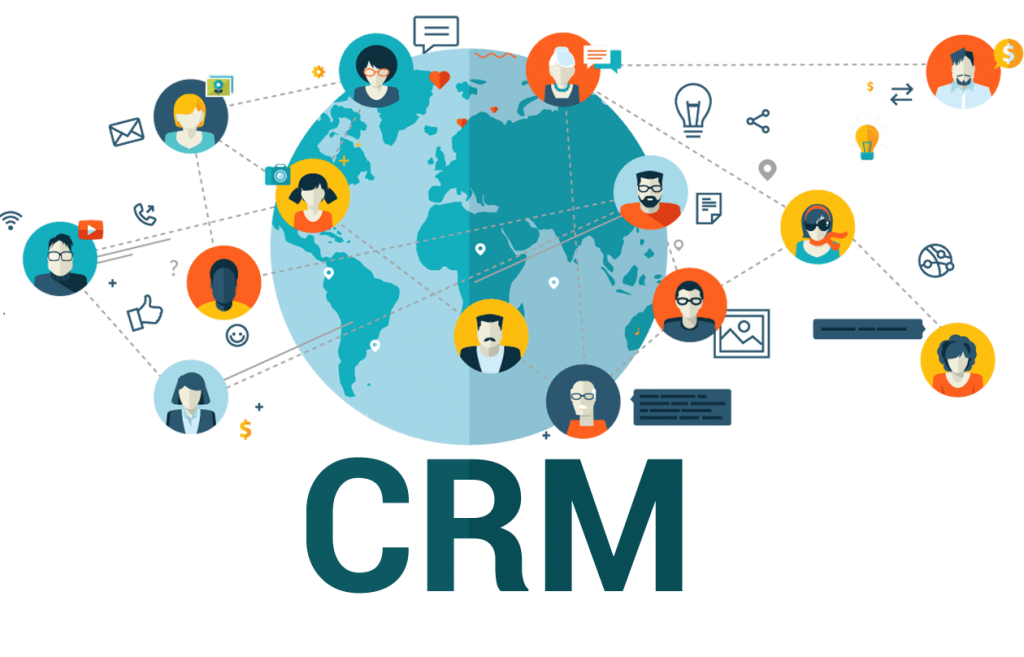 According to Investopedia, Customer Relationship Management (CRM) "refers to the principles, practices and guidelines that an organization follows when interacting with its customers."
The main challenges that can be addressed by a CRM are:
360° customer overview. CRM allows users to aggregate and securely store complete information about customers including their personal data, contact details, history of previous purchases and transactions, feedback, etc. This will provide you with a deep understanding of their preferences and enable you to predict trends and build your sales strategy more effectively. By organizing customer data in a centralized database, everyone in your team gets a 360-degree view of customers.
Process automation. If you still continue to enter information into multiple apps after each call and meeting (which takes a lot of hours that could be spent more productively), then you definitely need to consider a CRM. Seamless integration of a CRM with your chats, emails, and calls helps to automate task-generation and sync all information among the different sources. Automatically generated reports save a lot of time when preparing for meetings or analyzing the team or individual performance.
Data optimization and storage. Enjoy the convenience of having all data stored in a single place without duplication and the risk of data loss. Having mobile access eliminates the necessity of sales reps working in the "field" to come back to the office to enter the data into the system. All information is kept in the central database and can be easily accessed, even if you are not in the office. With a CRM, all data collected through the years is company property and stays within its walls even in the case of an employee's resignation or dismissal.
There are several types of CRMs that are used for different purposes:
Operational (sales, marketing, and service automation)
Analytical (customer acquisition and retention management)
Collaborative (management of customer interaction across different channels)
There are many off-the-shelf solutions on the market, but there are still many reasons to build your own CRM from scratch. In our article "5 reasons to build a custom CRM" we list the situations where a custom solution is a better choice than an off-the-shelf product.
Features of Custom CRM Software
We understand that your business differs from the one that belongs to your neighbor. Answering the question "How much does a CRM system cost?" is impossible without understanding what this CRM consists of. It is exactly the feature scope and their difficulty that we will base CRM pricing on.
It would be sensible to categorize them into three sections: core, standard and extra, so that you can more easily string the beads of your system together, depending on your business goals. Notice that, when dealing with CRM software development, you are free to add any functionalities that you need, but the cost of CRM software will increase.
CORE FEATURES

This set of features makes up the base of your CRM and allows you to already start working, with the option to add other features later on.
1. Lead Management
This feature allows you to manage and track leads. This will help to earn customer loyalty and plan further interaction (like an upsell or cross-sell). This also helps to automate the job of assigning appropriate leads to appropriate managers/specialists, so that your clients could receive great service without unnecessary delays.
One of our clients, a European factoring platform, needed a CRM to manage relationships between factoring companies and their leads. When contacting us, they were doing everything manually, which made it harder and harder to scale up the business.
The system that we built allowed us to automate:
Leads and factoring companies' profile creations, as the prospects were allowed to enter their details themselves into the online form on the website.
Matching leads to factoring companies on the basis of profile details.
Sending out notifications and newsletters through the system to clients and creditors.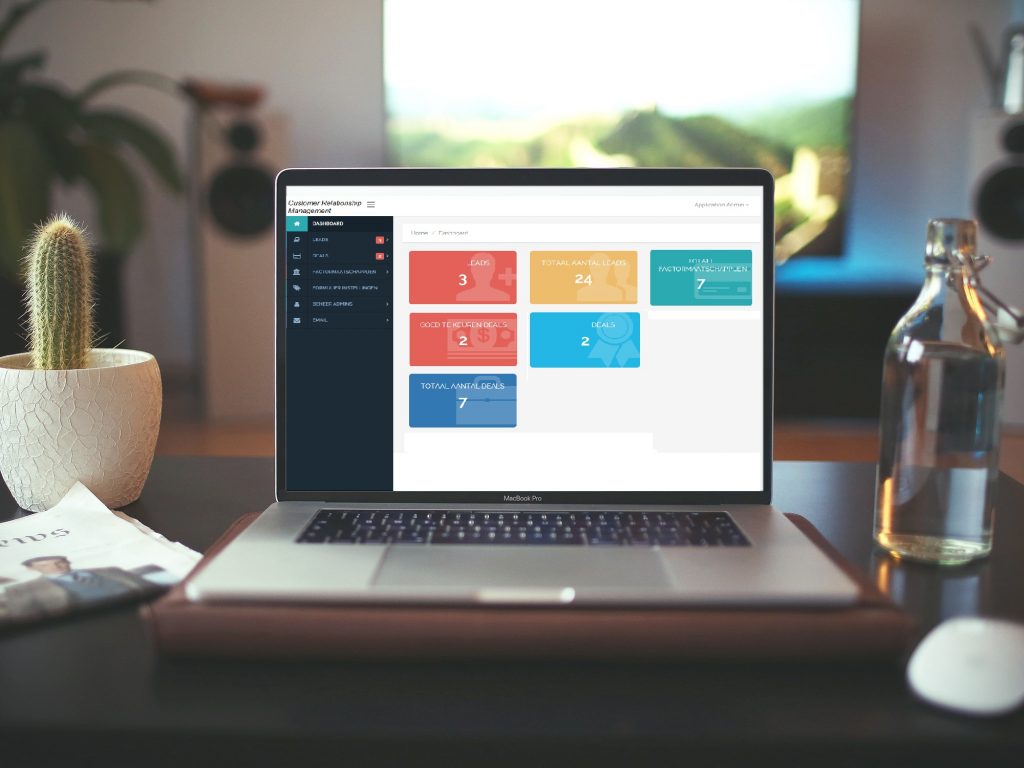 2. Task Management
Create and schedule tasks for appointments, meetings, follow-up emails, phone calls, deals, deadlines and so on. This feature allows users to assign tasks to co-workers and set alerts and notifications so as not to miss a task and allowing sales reps to focus on preparation for the next strategic stage by relying on system reminders.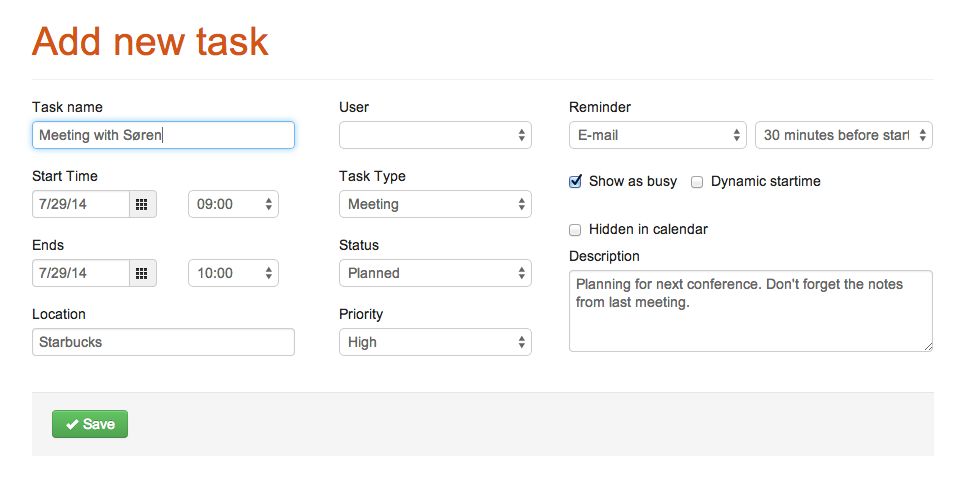 3. Dashboard
The visual dashboard gives users the opportunity to have a quick statistics overview in order to monitor the business performance of everything that happens in their company. This is a real-time summary of reports on activities, deals, leads, emails, and other parameters on the same screen through charts, diagrams, and funnels. A dashboard allows a decision-maker to instantly access necessary information without spending extra time on one-off reports. For example, this is how we visualized the dashboard for one of our clients' CRM: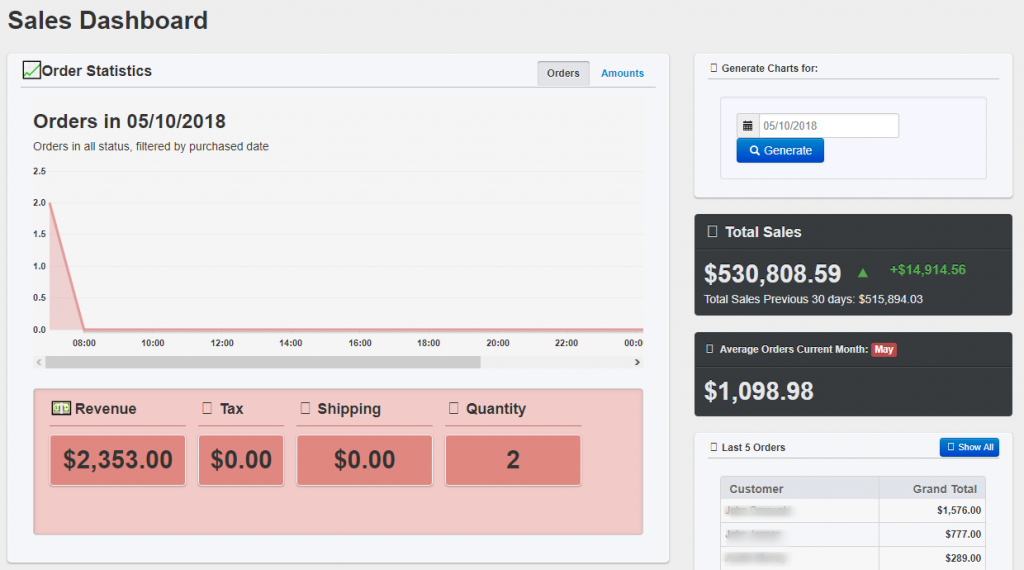 4. Basic Reports
Generate detailed reports on each aspect of your work. Track the progress of your activities, including statistics on open, won, and lost deals, deal conversion rates, revenue forecast, etc. Reports allow you to quickly analyze the current situation and compare performance on different aspects or timeframes.
Get analyzed and estimated your requirements right now!
Contact Us
STANDARD FEATURES

The core features allow you to start working and partially automate the basic processes but, sooner or later, you will definitely want to extend your system with other useful features that are considered to be quite standard for most contemporary CRMs. These include:
1. Sales Pipeline
This is a visual representation of the sales process, divided into stages. Sales pipeline indicates the state of a deal in the given period of time, provides a clear overview of team performance (how close the sales reps are to making quota), forecasts the revenue on each stage, and also shows the areas that require more attention.
According to Harvard Business Review research, "companies with effective pipeline management had an average growth rate of 5.3, a 15% increase."
To build a sales pipeline, you need to identify the stages - the journey of your customer from lead to a closed deal. There are at least 5 stages: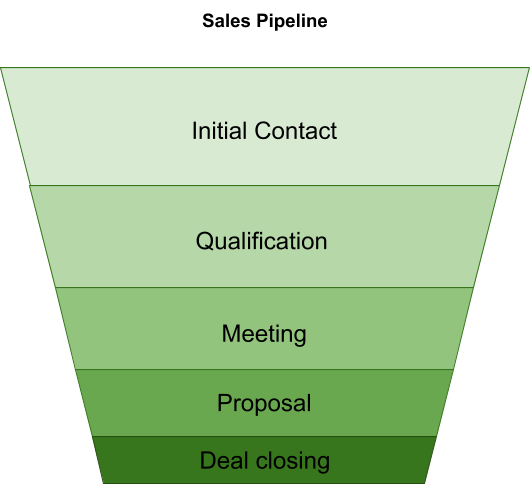 Initial Contact. Someone from your target audience has shown interest in your products, inquiring about them via a website form or a phone call.
Qualification. The lead is determined as a potential customer worth pursuing. A sales rep may schedule a phone call or meeting to understand the lead's interest.
Meeting. A sales rep outlines all the capabilities of a product for the prospect including pricing, implementation, and quantity.
Proposal. A sales rep creates and sends out to the prospect a proposal outlining the strong sides of the products and the best value for the prospect.
Closed win or lost deal. Whether the proposal is accepted or declined, the deal will need to be closed. If the deal is won, the prospect becomes a customer who pays the business for a product.
Depending on your business process, there can be other stages like demo presentation, invoicing, negotiation, post-sales, etc. You can customize the stages, their order, and probability percentage as you need.
In each step of the pipeline, you can see how many leads you have and can draw them forward to the next step. Thus, you can see the conversion rate on each step and can understand your bottle-necks.

2. Invoicing
CRM allows you to complete and send invoices instantly, perform a quick search for necessary invoices and track their status. You can integrate your CRM to your internal accounting system or a third-party payment and accounting software.
For example, we integrated a client's CRM with KashFlow accounting software for affiliate invoicing via API. All the transactions are performed via KashFlow and we only receive the statuses.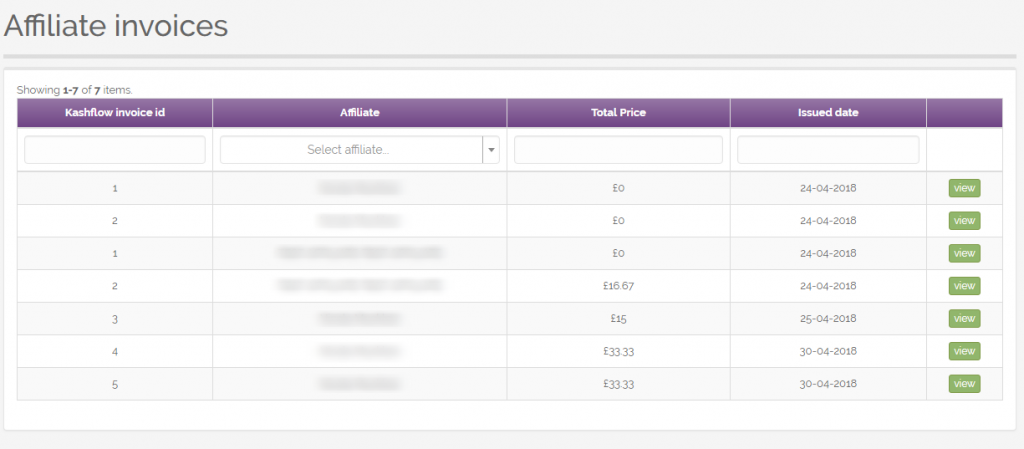 3. Custom Reporting
Depending on the specifics of your business, you may need custom reports that aggregate and summarize information on certain indicators valuable for your company. As an example, for one of our clients dealing with mental health assistance, we built a custom CRM to manage relationships between patients and psychologists. To analyze the progress of each client, we created custom reports like a treatment assessment report, case closure report, and others to focus on what is valuable for the company.
4. Integration with Third-Party Apps
With seamless two-way synchronization of your CRM with Google Apps, emails, and other apps, you can reduce the manual work of duplicating the information among the systems. CRM can store emails from your customers in the system so that you always have a full history of communications. According to GetApp, integration with Google Apps is one of the most popular features (based on 62.3% of respondents who use different CRMs).

5. Mobile Access
Having all information about customers available on your smartphone is extremely convenient, as you can check information, add contact info, create tasks, make notes, send invoices and get alerts and reminders on the go when you are in the field. There is no need to come back to the office to enter the data into the CRM. Everything is done from your mobile device.
In terms of development, there are several options for implementation. The simplest is just having a responsive design of the existing CRM, but be ready that some functionalities can be too difficult to use (for example, reports can be too small on a smartphone screen). So, if you really regard mobile access as a prior feature, we would accentuate your attention on the designing of a separate mobile application that will communicate with your CRM via API. This will guarantee the convenience of usage of all features on mobile devices.
When we create a mobile app, we always write API and documentation for it, so that foresee integration with third-party apps in the future.
Thus, we developed a CRM for a company that provided maintenance service for farm robots and sent their engineers for inspection of the equipment. The problem was that farms were as distant as 200 miles or more from each other, so it could take up to several weeks to visit all farms, inspect them, and provide reports to the main office. As a result, sending invoices to clients was always delayed. With mobile access to the system, the engineers had the opportunity to streamline the invoicing process and, therefore, increased the performance of their deals.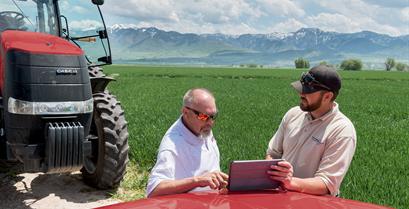 How about discussing the details of your project? We answer within the same business day.
Contact Us
EXTRA FEATURES

When it comes to more complex systems, extra features can be added to cut out routine tasks and link all sales tools under one roof. Correspondingly custom CRM software prices will change with adding extras.
1. Lead Scoring
This feature helps to score your leads and prioritize the best ones first so that the team can concentrate their efforts on these leads. You can create your own rules on how the system should estimate lead readiness to purchase and assign to them the definite number of points to create a rating. Most lead scoring models are based on a scale of 0 to 100, where 100 is given to the most engaged leads.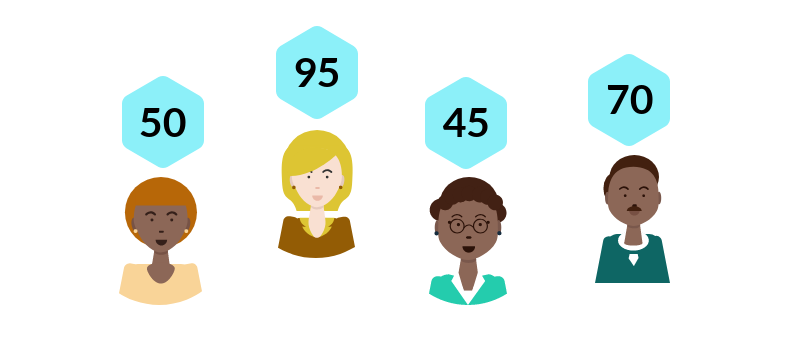 For scoring leads, companies may take into account different metrics. For example, you may use:
Demographics (age, gender, location, job title, company size, industry, revenue). This data can be collected through the web from entered before a user is allowed to download a white paper.
Online behavior (pageviews, white papers downloads, demo requests, survey participation).
Email engagement (open and click-through rate, opt-outs).
Social engagement (shares, likes, comments), etc.

All actions performed by users on your website, social media, or emails show their interest in your company and should increase their score. But at the same time, some engagement (like viewing a "careers" page) may decrease the lead's score as it shows that this user is out of the scope of your targets.
Some activities should definitely be scored more than others depending on their value to your campaign. For example, you may make a rule that if a user 'liked' your article on Facebook, this should add +2 points to her score, while if she shared the article on her page, it should be scored as +3 points.
2. Integration with Internal Systems
Big companies usually use many automation tools to facilitate such processes as accounting, help desk ticket management, marketing automation, enterprise resource planning, etc. All these systems can and should be integrated with each other to provide seamless access to all information around the company departments.
For one of our clients, a large U.S. cosmetics company, we were tasked with redesigning and enhancing their CRM that was integrated with the ERP. To improve the business process, we integrated CRM with external services:
A Warehouse Management System, to track the status of the stock
USPS service, to streamline the process of sending out orders
An Email Marketing service, to simplify newsletter distribution
3. Integration with Social Media
Today, having a presence on social media is extremely important for a small business, as buyers prefer to review information about a company not only via an official website but also through networks like Instagram, Twitter, and Facebook. Integrating your CRM with social networks, you can view updates of contact information and seamlessly migrate this data from user social profiles into your system. What is even more useful is that you can save all chat histories from different channels of communication and add them into user profiles without having to search across different places.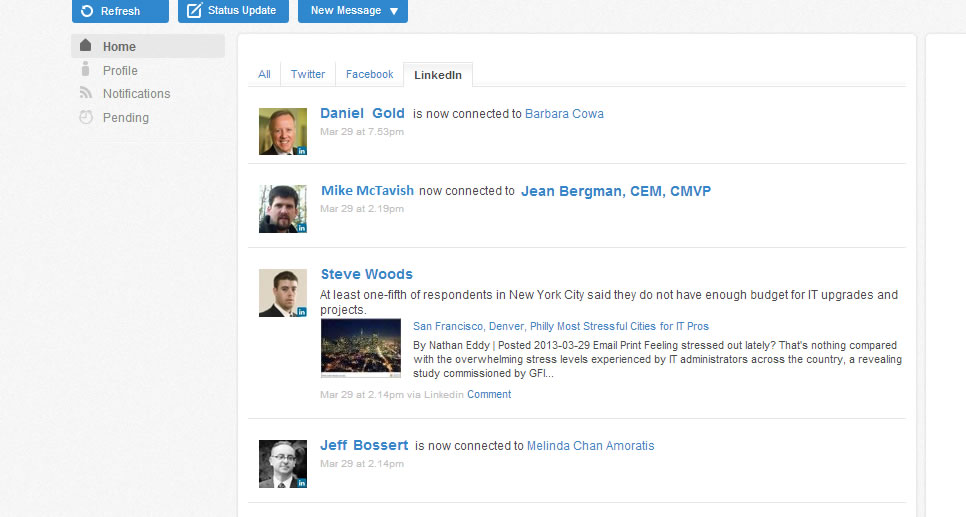 4. Chatbots Integration
Using a chatbot integrated into your CRM, you will have easier access to your tasks and follow-up reminders to manage your time even more effectively. Reading your chats with leads, a bot can automatically retrieve valuable information and propose the next step including scheduling an event or adding new, opportunity-related information into the CRM. Integration between a chatbot and CRM allows for the automation of many routine tasks like:
chatting with customers on frequently asked questions
creating reminders for follow-up calls, emails, meetings, and deal closure deadlines
arranging meetings among multiple participants
entering lead and opportunity data into the CRM without logging it into the system
Chatbots are perfect solutions to automate the mundane tasks of call centers, and they are even more valuable if integrated with a CRM to automatically create a new lead in the CRM or to recognize existing customers and propose more personalized services. Technically, this can be realized with the help of integration and configuration of ready chatbots solutions to your CRM.
How much does CRM Software Cost?
As we have already outlined the scope of basic and additional features, we can try to answer the question of how much does a CRM system cost? Of course, there is not a one-price-fits-all answer, as each feature depends on business logic specific to each company.
For example, custom CRM development pricing may differ depending on many factors:
Your CRM may contain multiple roles: Admin, Supervisor, Manager, Affiliate, etc. All the roles may differ by their access rights and functionalities.
The next question is how the lead is created: managers may manually add and edit Lead Profiles or the system may automatically create a Lead from a piece of contact data left on the website (for ex., email or phone number).
Tasks can also have a great variety of rules and attributes like assigning them to other managers, expiration time, reminders, etc - all of which definitely affect development time.
A Sales Pipeline may be either a simple visual representation where managers can manually change the lead status; however, more often, this is a more complex solution with business logic on which lead can move in the pipeline and logging of all history connected with a lead.
Such features as Lead Scoring should take into account the indicators valuable for your company, which can be taken from different places like social networks, website, pipeline progress, etc.
All integrations with inner systems and social networks are regarded individually and depend on the API of the definite system with which you are going to integrate with.
Mobile access may imply either responsive web design (which is done in parallel with development) or a separate application (which increases total development time by 50-60 percent).
Here we made an approximate estimate for some feature sets with CRM price comparison that can be easily estimated and fit to most of the projects, but surely more precise figures can be provided only after we get specific requirements and when the business analysis is done.
Tasks/features

Development Time, hours

Approx. Cost, $

Pre-development period (architecture planning, DB creation, the final choice of technologies, requirements clarification)

35

900 - 1,000

Core

User Management (Admin and Managers rights)

Lead Management (Manual lead profile creation)

Task Management (CRUD functionality and reminders)

Dashboard Statistics

Basic Кeports (3-4 reports)

126 - 280

3,500 - 7,000

Standard

Sales Pipeline

Invoicing (tracking and billing management)

Integration with Google Apps (emails, calendar, contacts synchronization)

220 - 300

5,500 - 7,500

Extra

Lead Scoring

Integration with Social Networks (automatic user info updating in CRM)

Chatbot Integration (getting contacts data from chat conversation and adding it to CRM)

156 - 220

4,500 - 6,000
We have a team of front-end and back-end developers and QA to select from depending on their skills and experience, with most suitable for your project needs. For each project, we assign a Team Lead who analyzes and estimates the requirements, thinks over the architecture, and selects the technologies. Our Project Manager helps to organize the process of coordination and communication between developers and customers. The QA team provides testing before the projects are launched. Altogether, they guarantee the high quality of the product and the best CRM software prices.
How to Apply This to Your Business
To create a custom CRM, you should define what features will be necessary for your work. There are at least four basic features that make the skeleton for any CRM. You will need to manage Leads and other types of Contacts and Tasks, and have analytics through Dashboards and Reports.
To enhance your system, you can extend the basic functionality with third-party services or other custom system integrations to collect even more information about your clients. The cost of such enterprise CRM systems will be higher and will take more time to develop. To answer the question "how much does it cost to build a CRM", we need to, at least, talk to you to understand the specifics of your business, outline the scope of minimal viable products and estimate the complexity of the unique features.
Based on our experience, we can advise you on the best solution for your needs and budget.