"95% of our energy should be spent on generating income. If I am spending that time typing in stuff, adjusting stuff, organizing stuff and only 5% of time on generating income, then I am in trouble!"

—

Kris McCullough, a thought leader in real estate business, owner of KSA
When it is just you and a couple of clients, it might be easy to concentrate on the core activities 95% of the time. But as your client base grows and you add more and more people to the team, administrative and organizational tasks start to take over.
That's the time when agents turn to business tools like real estate CRM and marketing automation software.
This type of solution can potentially save you a lot of time collecting and maintaining crucial data (like client base), communication, team management, and much more. In this article, we'll look at how real estate agencies use CRM for business automation. And we'll briefly cover the key factors that you need to consider when choosing the right solution.
How a Real Estate CRM Can Help
1. Manage Leads
Since CRM stands for Customer Relationships Management, the primary concern of this solution is exactly as its name depicts — to help you manage relations with your clients.
This means going through the entire process of taking someone with an intention to buy or sell property all the way to action and beyond. So this typically involves the following steps.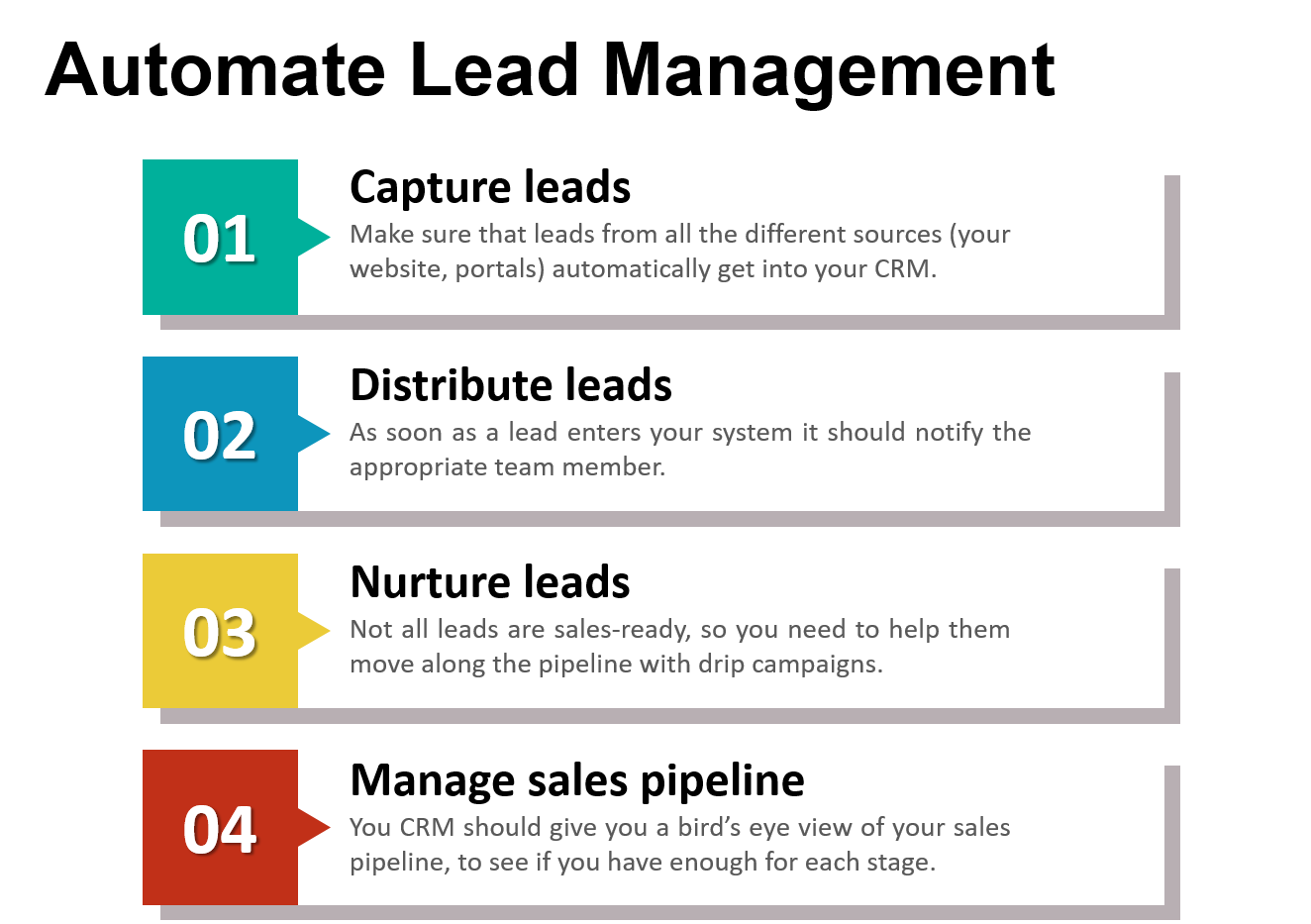 You are probably getting your leads from multiple sources, like your website, your office, platforms like Zillow, etc. Aside from manually entering the data of prospects that drop by your office, all the other lead data has to get into your CRM system automatically. So as soon as a lead fills out an online form on your website or some third-party platform, that data should automatically get to your lead database, without any manual importing and exporting. This saves time and minimizes the risk of data loss.
Then, immediately after a lead enters your system, it should automatically assign him or her to an appropriate agent or to an automatic process of lead nurturing (more on that below). Your system should 'decide' what to do with a particular lead according to pre-set rules (defined by you). So, for instance, when someone fills out a form on your website, specifying that he is looking for an apartment in Brooklyn, the system will automatically assign him to an agent that specializes in that area and send him a notification. Thanks to this, you can drastically improve your response time and eliminate the time wasted on redirecting leads from one person to another.
But what should happen to leads that are not ready to talk to an agent yet? They are looking at listings, saving what they've liked (in case you have a portal for buyers), reading your articles, and so on, but are not attempting to contact you directly yet. Getting agents to call them will be a complete waste of everyone's time. Instead, it is best to put such leads through your lead nurturing processes. In other words, based on the kind of properties a lead is looking at, your system should automatically set him up for an appropriate drip campaign. Lead nurturing may involve sending updates on the properties he is interested in, useful information about the region, buying tips, etc. This is actually the main part of real estate marketing automation, which helps to smoothly move leads along your sales pipeline and increase your conversions.

And this brings us to sales pipeline management, which is an essential feature for CRM. Being able to see the big picture of your sales pipeline will help you to always know how healthy your business is and will be in the future. With this feature, you will be able to track leads in relation to their buying stage, so you will know if you have enough to meet your quota this and the following months.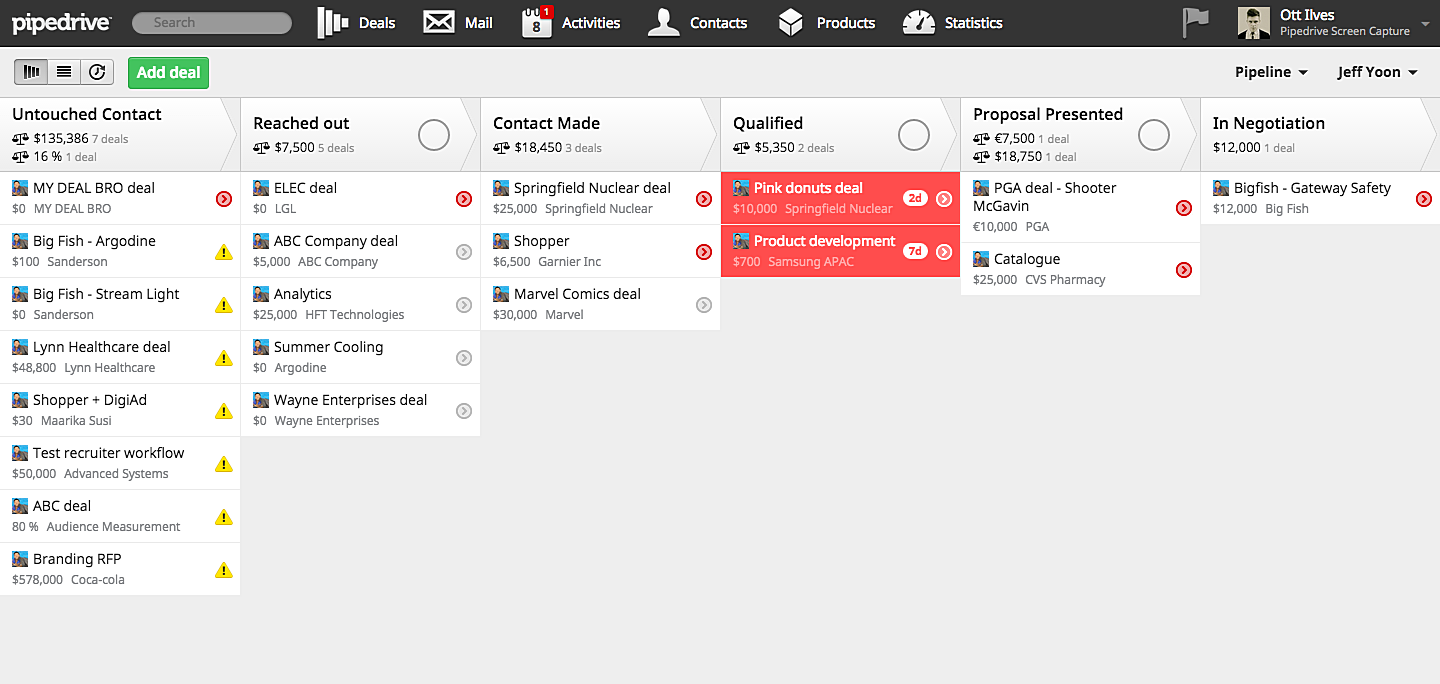 2. Manage Listings
Listing management is another time consuming and challenging task. A good CRM solution for real estate business should be able to help with that and more.
Most of the agencies get their listings from multiple sources, like their own clients and MLS systems. Moreover, many agencies use several MLS systems at once. All of this data is very heterogeneous, so it is hard to consolidate and maintain. Your CRM can become a home for this kind of data. Finally, you will have all of your listings in one place, with automated updates and robust search.
Another great benefit of having both lead and property databases in one system is that it enables automatic buyer/property matching. In other words, you can set your system to match buyers with listings according to pre-set rules. This will save you and your client time, that you would otherwise have to spend searching for a perfect listing.
You can also automate the promotion of your properties within a CRM, by supplying it with features that would allow you to:
Automatically post your listings on third-party real estate portals (like Realtor.com, Zillow, and others)
Monitor the results of this kind of promotion and redirect leads to appropriate landing pages.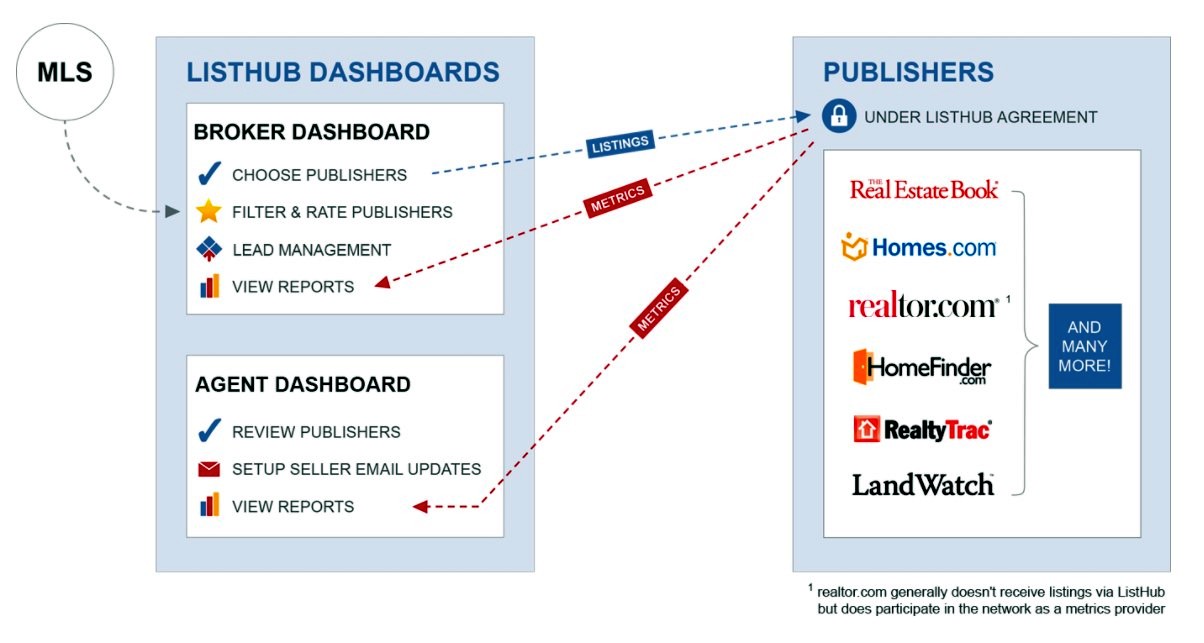 And as a result, you'll be able to generate Seller Reports to showcase your clients how their properties are doing on the market.
If you are not already doing it with the help of tools like ListHub, this is something that can potentially save you loads of time and energy. And if you do, making this functionality part of your CRM system will help reduce your workload even further. You won't need to switch systems and re-enter data, while everything will be kept in one place.
3. Manage Teams and Tasks
Since CRM is a team tool, it should also help to organize the work of your team and facilitate effective collaboration.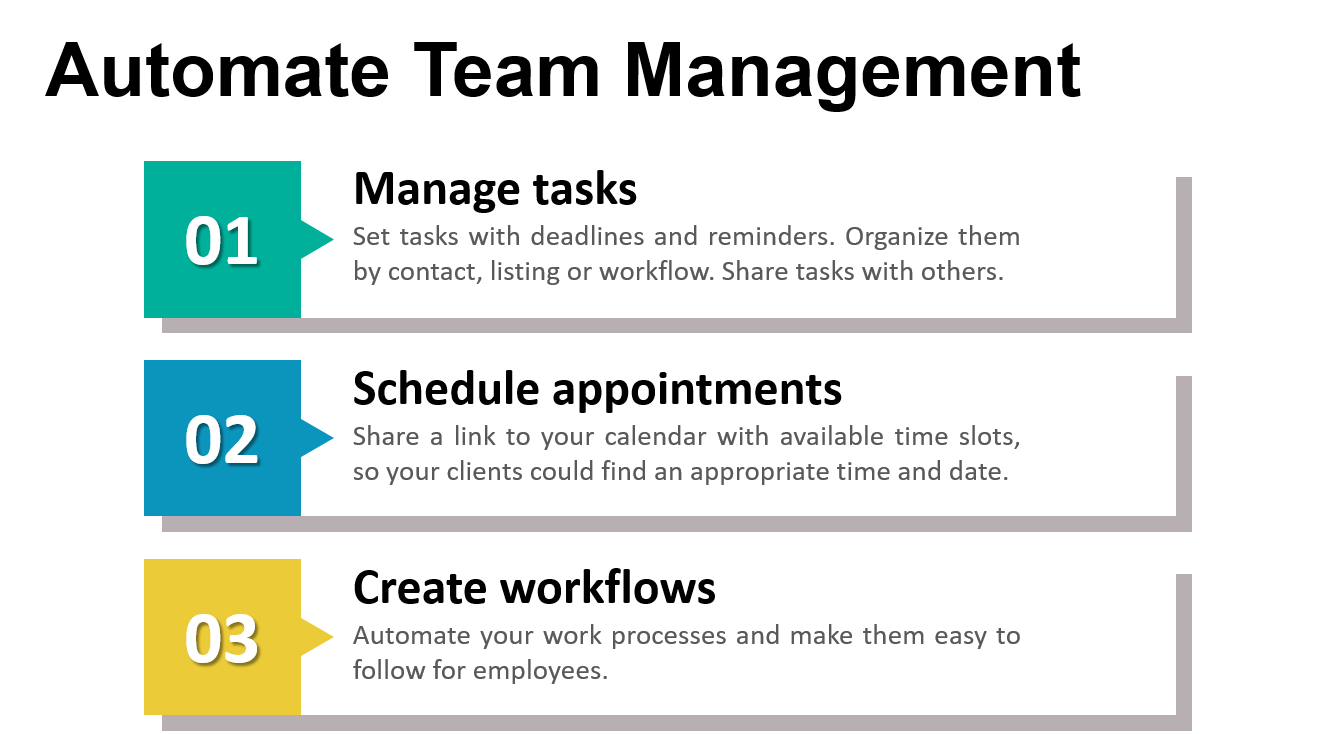 First of all, you should be able to set tasks for yourself and your team members right in the system. And don't forget to put reminders and deadlines to make sure those tasks are not missed.
Also, it is important to integrate your CRM calendar with Google Calendar, Outlook, and iCalendar, so that your tasks and appointments can be synced with your and your clients' calendars. This will help you avoid the hassle of emailing back and forth trying to find a time and date that suits everyone.
Do you know how successful businesses rely on well-carved out processes? Custom CRM solutions can automate real estate processes that are specific to your business. Thanks to workflows, you can set a particular sequence of steps that contain all the necessary information and reminders to complete them. For instance, you may create a workflow for sale closing, property marketing, drip campaigns, etc. Each workflow will contain all the necessary steps, documents, templates, and people involved. This will not only help you ensure that the processes are followed, but also make it easy to delegate tasks and decrease ramp-up time for new hires.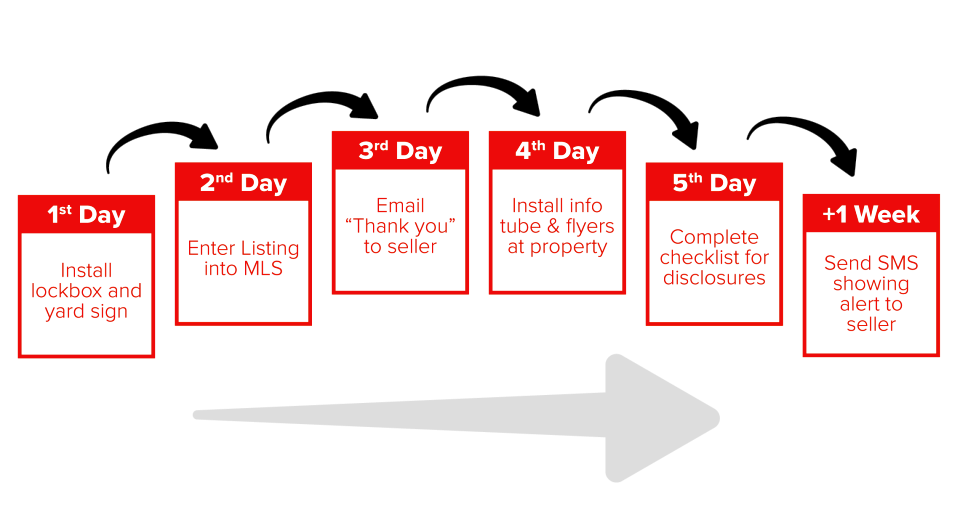 4. Manage Transactions
In real estate, winning a sale doesn't mean you automatically get your money in the pocket. Deal closing involves a lot of work in the back office, which most of us don't consider to be fun. The good news is that, with modern technology like e-signature, much of this work can be automated.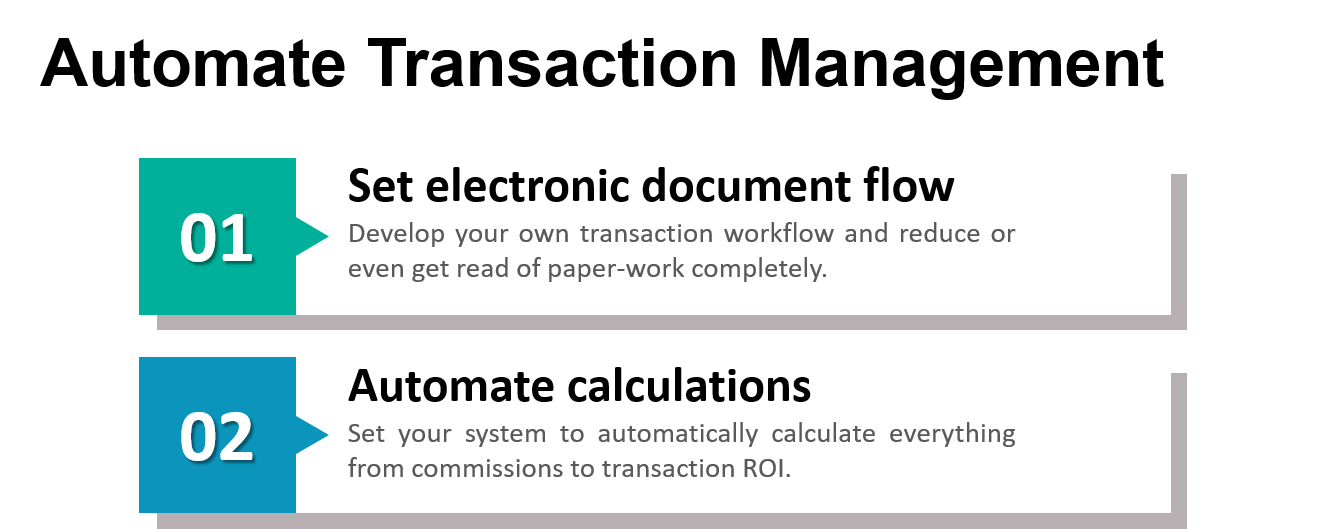 First of all, you can create your own transaction closing workflow in accordance with your regional regulations and your company processes. And this workflow can be supported by templates for every document that is needed along the way.
Thanks to the Uniform Electronic Transactions Act, which guarantees that electronic transactions are just as enforceable as paper-based ones, you can now go completely paperless. To achieve this, you can integrate your CRM system with a tool like DocuSign and have all your documents e-signed by your company and your clients.
Another time-saving feature to mention is the automatic calculation of all the financials associated with a transaction. This includes commissions and transaction ROI calculation. Everything can be calculated according to compensation plans, agreements, and business rules.
5. Run Reports and Analytics
The only way to find out if your business is on the right track is by measuring and analyzing. Successful businesses do it on a daily, monthly, quarterly, and yearly basis.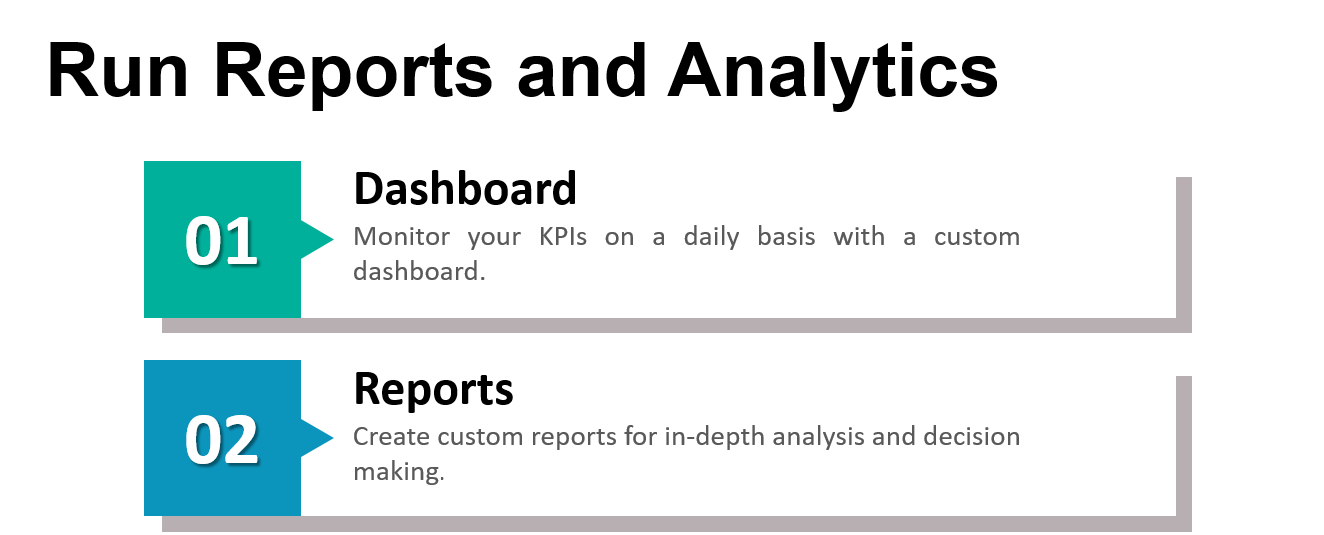 The dashboard is an integral part of any CRM, as it allows you to constantly keep your eye on the ball. You can set your dashboard to show your daily KPIs, i.e. metrics that are most important for your businesses. These can be things like the number of new leads at each stage of your pipeline, the number of closed deals, the number of properties to sell, etc.
For more in-depth analysis, you'd need to run custom reports. This is the kind of analytics that is necessary to find the bottlenecks in your business and have a solid foundation for your decisions. This can be anything from deciding on the marketing channels that work best, to understanding the productivity of individual agents.
Key Factors of a Successful Business Automation
You know as they say: 'That CRM is best, which you use!'
We couldn't agree more! But the sixty-four-thousand-dollar question remains — which CRM will you actually use?
If you have any experience working with a CRM, you probably already know that it is not a magic pill that takes all the pain away. There are so many solutions out there and most of them won't work for you. But how do you know which won't and which will work for you?
In our opinion, there are a couple of things that separate a successful CRM solution from the rest.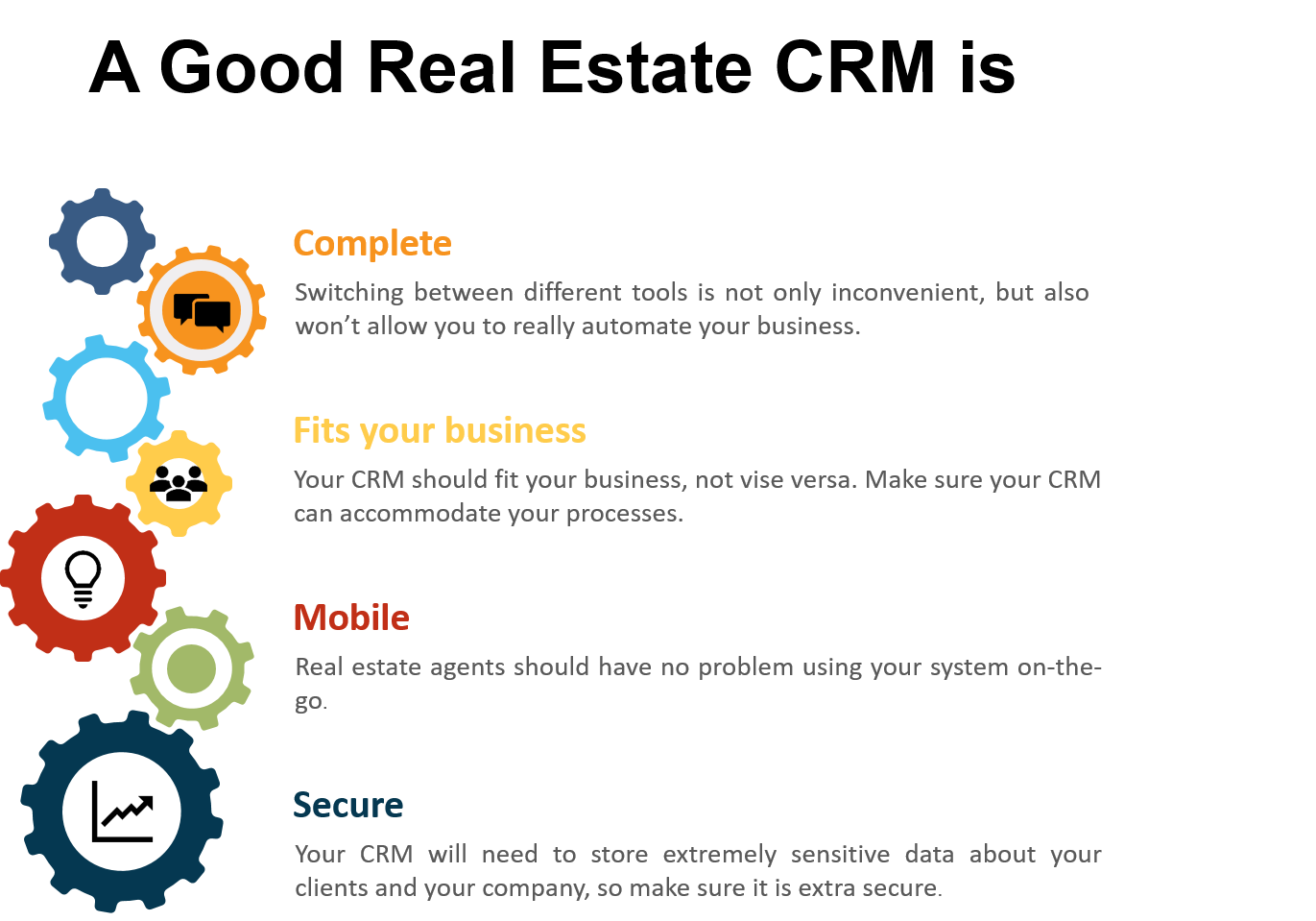 There are a ton of tools for each and every task (e.g., email marketing, task management, appointment setting, etc.). However, attempting to automate your business with hundreds of different tools can lead to more work, not less. Having a complete system is not only super convenient, as you don't have to switch tabs, but it also allows for better automation. When all or most of the data is in one place, it is easy to trace your deals from nose to tail, all without having to export/import and re-enter data.
Choosing the right solution is not easy. There are a lot of niches in the real estate business and agencies in each niche have very distinct business processes. Then, there are also policies and regulations that differ greatly per state. Not to mention that each business is unique, regardless of the niche and location.
Mass-market CRMs (e.g., Salesforce) don't have half the functionality that real estate companies need. Specialized automated real estate systems (e.g., Realvolve) may not be fit for your niche and your agency. If you don't find anything that covers at least 80% of your needs, it is better to make your own custom CRM for real estate business.
At this time and age, it feels almost redundant to mention mobile. However, in real estate, time at a desk means time away from selling. Thus, your system should be as easy to use on mobile, as on a desktop.
The same goes for data security. Your CRM will store extremely sensitive data and accommodate very costly transactions. So, needless to say, your security has to be top-notch. With web-based off-the-shelf solutions, your data will be stored on your vendor's servers, so you need to be sure that your vendor goes out of his way to keep it safe. While with custom systems, your data will be stored at a server that only you and your developer will have access to, which considerably lowers the risks.
This list is by far not exhaustive, but we think it does cover the key aspects of real estate business automation.
So if you ask us: "Does using a CRM system increase real estate business profitability?", we'll say it does, but only if it's the kind of CRM that allows you and your team to spend 95% of the time on income-generating activities.
Get an estimate for your custom real estate CRM
Contact Us
Rate this article!
You should be
logged in
to be able to rate articles