back to blog
5 Reasons to Build a Custom CRM System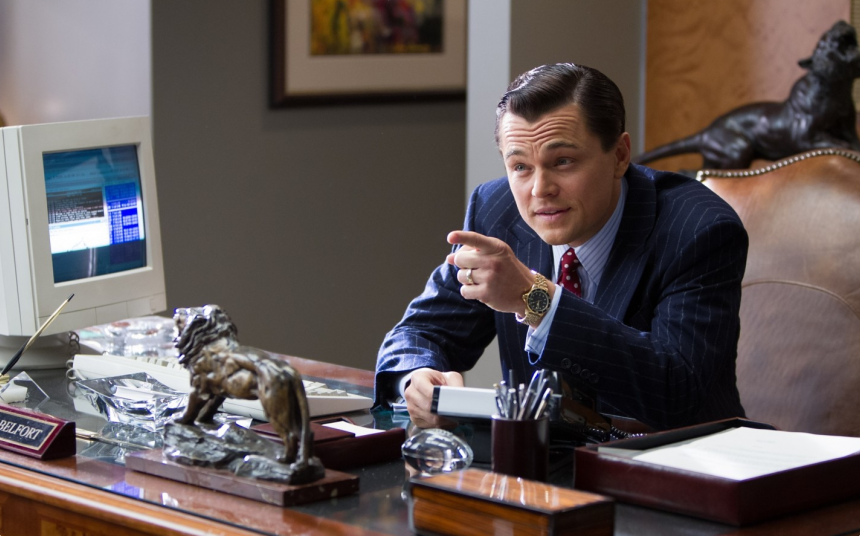 48% of companies report that they are going to make improving their online sales funnel their top priority in 2020. A Customer Relationship Management System is an indispensable tool for modern sales managers. CRM improves productivity by 30% "if used correctly". But the correctness depends on how well you understand the system, to be able to exploit it in a way that fits your company processes.
"56% of CRM users name system customization as one of the most significant challenges in working with their CRM." - Software Advice survey.
This means that more than half of CRM users are forced to struggle daily with systems that either do not fully integrate into the business processes or are too difficult for adoption.
Unfortunately, this is not the only problem users usually face when working with CRMs. What to pay attention to when choosing between building a CRM system from scratch or buying a ready-made one? Read on to find the answers.
Why Build a Custom CRM?
It's impossible to foresee each and every problem that may arise with any system, either out-of-the-box or custom, but knowing the already existing challenges may help you to escape some of them. In the diagram below, you can see the challenges that CRM users usually experience.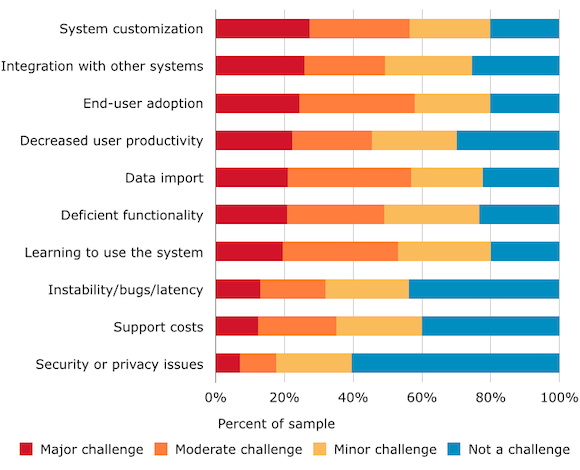 [Diagram by Software Advice]
Based on this survey, and our own experience with CRM development, we formulated the top five reasons why you should build a custom CRM system, as follows:
You need unique functionalities to match your business process.
You are going to integrate the CRM with other systems.
You anticipate scaling up your system in the future.
You need to migrate an old CRM to a new CRM.
You want to firmly secure confidential information.
Let's dive into the details:


1. Unique Functionalities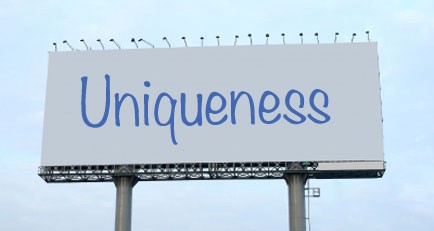 You are lucky if you find an off-the-shelf solution that covers up to 90% of your needs, but, most often, you will have to compromise between provided features and your business' workflow. Because of this, uniqueness is probably the main reason why people choose custom development.
In most cases, you will need to seriously customize the system. By customization, we don't mean system configuration (i.e. setting rules and selecting the necessary fields) but, rather, the process of adding new functionalities and having to rebuild the existing ones to gain uniqueness.
Although almost any off-the-shelf system can be customized, these changes can sometimes be much more costly and time-consuming than building a CRM system from scratch. For instance, as most of the features provided by the "canned" solutions are added by means of plugins, you will need to hire specialists to rebuild these plugins, which may be not a trivial task.
If you decide to hire a Salesforce expert for customization, it will cost you anywhere from $35 to $200 per hour of work, depending on competence level.
Instead of rebuilding a ready-made solution, it is more sensible to custom CRM development and constructs a unique product from the very beginning that will have the exact features that are valuable for your business and match your company's habitual workflow.
This is especially appropriate for narrow niche companies. Here is an example of such a system with unique business-specific functionalities.
Our client, an Amsterdam-based factoring services company, needed to automate the process of capturing, filtering and classifying leads, follow-up emailing, and assigning leads to creditors. Our CRM developers have built an internal system and integrated it with the existing website. The system features include:
Lead profiles: the prospects enter their details into the online form themselves through the website.
Factoring companies profiles.
Automated matching leads to factoring companies on the basis of profile details.
Automated notification and newsletter emails to clients and creditors.


2. Integration of Systems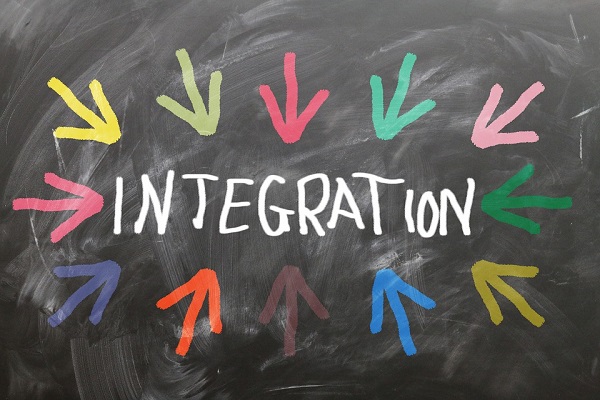 [Image by Pixabay]
CRM integration means that your system can be connected to your website or 3rd party service to exchange data seamlessly. This will allow increased productivity in all your departments (sales, marketing, finance, support, etc.).
As stated in research by GetApp, the most in-demand services to integrate with a CRM are: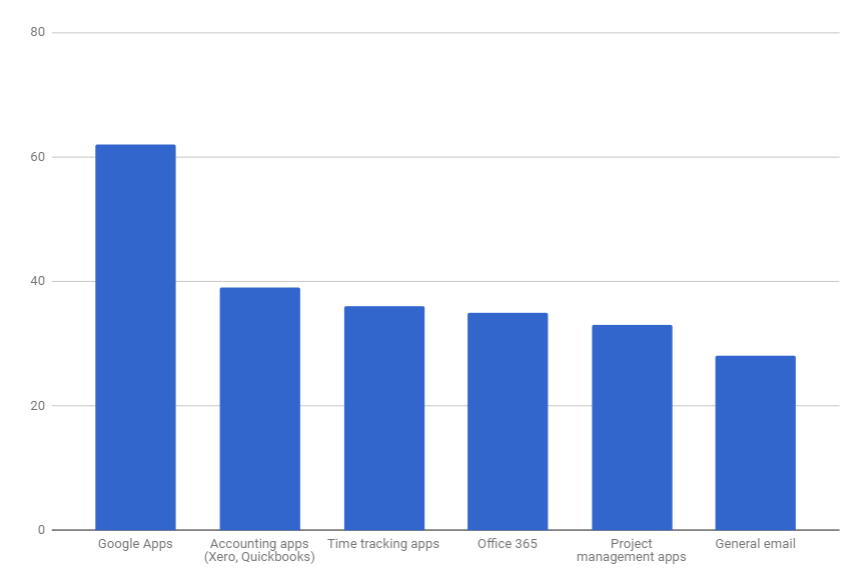 Google apps – 62.3%
Accounting apps (Xero, Quickbooks) – 39.3%
Time tracking apps – 36.1%
Office 365 – 35.3%
Project management apps – 33.7%
General email – 28.3%
Challenges of Integration
The main challenge is integrating a CRM with other internal custom systems (especially legacy apps) or external services.
For one of our clients, a large cosmetics company with multiple eCommerce channels, we re-designed and continue to maintain the CRM system. It makes an integral part of the huge ecosystem, consisting of ERP and a custom call center. As all these systems are custom-tailored, it is easier to integrate them with each other. We also integrated the CRM with the following third-party services that facilitate sales:
Warehouse Management System, to get up-to-date information about the inventory level
USPS, to quickly send the orders
Tokenization service, to perform the best data security
Email Marketing service, for sending newsletters.
It would scarcely be possible to integrate a ready-made CRM into the system like this.
One more thing to pay attention to when looking through the list of "canned" CRM features is that not all off-the-shelf solutions provide free API Integration. This may force you to upgrade to a more expensive payment plan, only for the opportunity to have this feature. For instance, Salesforce requires buying no less than the Enterprise package, in order to access API.
3. Limitless Flexibility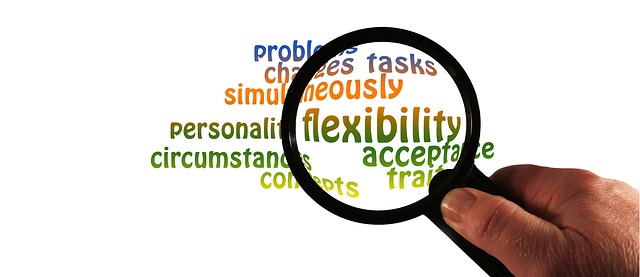 [Image by Pixabay]
As your business continues growing and adapting to the changing conditions of the market, you may need new features implemented in your solution. Besides, you may not understand the necessity of some features until some time has passed.
"As many midsize businesses experience growing pains related to company expansion, including difficulties scaling their technology as growing organizations gain experience with CRM, they develop a better understanding of what they need it to do - which leads to a growing awareness of their current system's limitations." - Brent Leary, сo-founder and partner of CRM Essentials.
If in the process of using an off-the-shelf CRM, you need a particular feature or change to an existing one, you may come across such problems as difficulty reaching out to the provider to ask for an enhancement. The reason is that most out-of-box CRMs are product-oriented rather than customer-oriented. Big providers are interested in satisfying the necessities of their key enterprise customers rather than small businesses that do not bring them much profit. This is well explained by Tomasz Tunguz in "The Innovator's Dilemma For SaaS Startups."
In this way, custom CRM application development can give you maximum flexibility for changes and limitless extensibility, as this is your product and you are always in touch with the developers to suggest any improvements. You may start custom development for CRM with some basic functionalities and gradually expand the feature scope.
Would you like to get an estimate for your custom CRM project?
Contact Us
4. Data Migration to a New CRM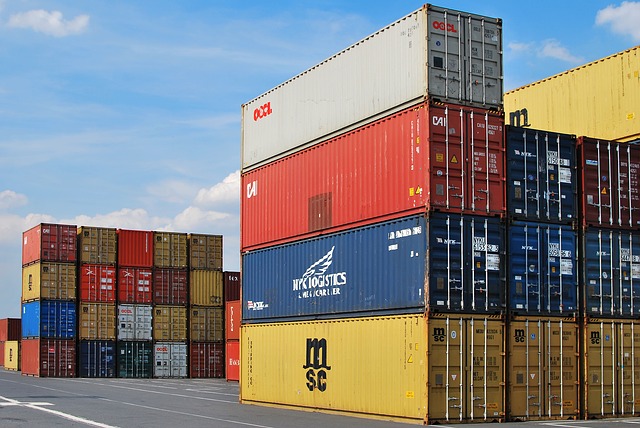 [Image by Pixabay]
So, how do you painlessly import all data that was collected in your previous CRM to the new one? This is a very common problem for those who already use a CRM and want to migrate data to another system because of insufficient existing functionalities, legacy code, limited scalability, or other reasons.
As a rule, there is no problem with exporting data from the previous system, but, if choosing a new CRM among the "canned" solutions, you should pay attention to the following:
Does a new system have functionalities equivalent to your old system? If not, it may lead to extra customization, which is not always easy. For example, if your legacy system has a complicated hierarchy of authorization rules.
Are there critical integrations in your old CRM with third-party services? You should be confident of the possibility to integrate these services with a new off-the-shelf CRM.
Will you be able to continue using your old system in parallel with the new one, if needed? Not all out-of-box solutions will be able to support such two-way mechanisms.
Who is going to provide data migration? For some legacy systems or large applications, where data were collected for ten years or more with records scattered in different parts of the system, the process of data migration may take multiple steps.
CRM data migration should be carefully examined from both a technical and a business point of view. Custom CRM development services include migrating the CRM with minimum compromises to your requirements, reproducing all necessary functionalities, saving the business logic, extracting data from different sources and migrating it to the new system, restoring all integrations, providing synchronization of systems, etc.
5. Data Security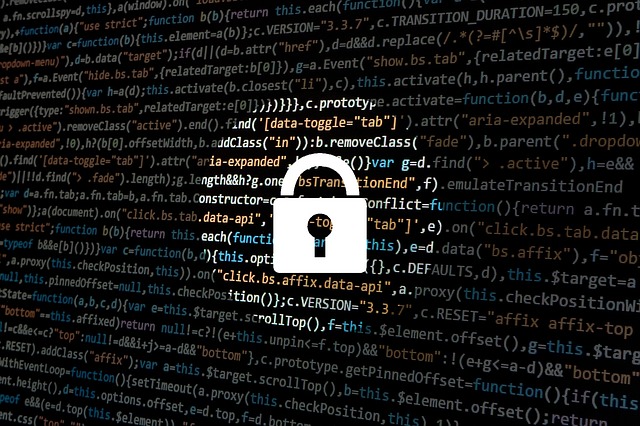 [Image by Pixabay]
There are quite a number of free or partially free open-source CRM solutions that can be attractive, from a cost perspective; however, open-source, besides the alluring price, means that anyone can download and investigate the source code with either good or bad intentions. The website created on these platforms can be hacked "in bulk" if the wrong person gets access to the code and database.
Moreover, the extensions in most out-of-box CRMs are made with the help of third-party plugins. This can bring extra risk for the security and reliability of the system, in the event the plugin breaks or is compromised, the security of your system will be in danger.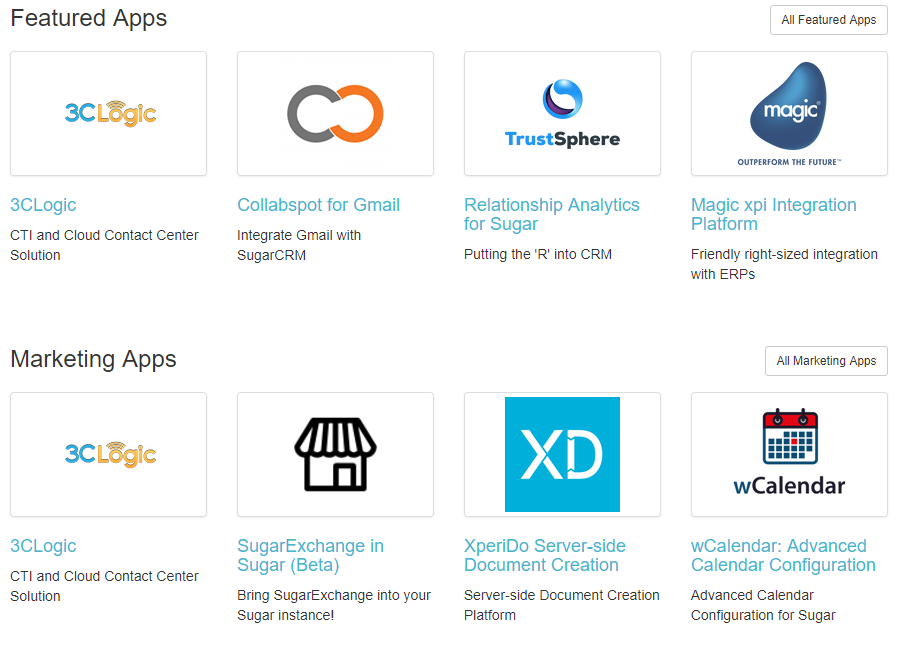 [Image by Sugar CRM]
In this nugget, custom CRM solutions development can boast better security. It is much more difficult to hack servers of a custom solution than an off-the-shelf one. Access to the data on the server belongs only to you and your development team and, even if "bad guys" do manage to steal the database, they will hardly be able to fish out any confidential information as CRM developers use encryption and tokenization of sensitive data and general security rules for users' passwords (like not allowing simple or once used passwords).
As one of its security measures, when we develop a CRM system, our developers use tokenization (randomized card number in the same format) for customer credit card numbers. For the best security, we cooperate with certified tokenization providers that guarantee compliance with the strictest security standards. Thus, even if the DB is stolen, this data won't be decrypted and used by hackers.
How about the Price?
In terms of pricing, we can roughly divide CRM solutions into the following categories:
High-End Off-the-Shelf CRMs (Salesforce, SAP, Oracle, Microsoft) - sophisticated and expensive solutions with huge functionality, mostly for large-sized businesses.
Basic Off-the-Shelf CRMs (HubSpot, Zoho, Insightly, Apptivo) - systems with free basic functionality and paid additional customization.
Custom CRMs (Greenice

CRM development services

) - 100% flexible and unique solutions developed for your business, according to your requirements and budget. Price varies depending on the requirements.
As a rule, the price is composed of:
Scope of Features For off-the-shelf CRM, you may choose the right package of services depending on the necessary features. The custom development price is based on the feature scope and complexity of the solution. Free CRM software may be a good start for a solopreneur or startups who simply want to test their ideas and define the scope of future functionalities.
Number of Users Most off-the-shelf CRM solutions are priced per user per month. The charges of out-of-the-box CRMs range from $25 to $300 per user/month, depending on the selected package of services.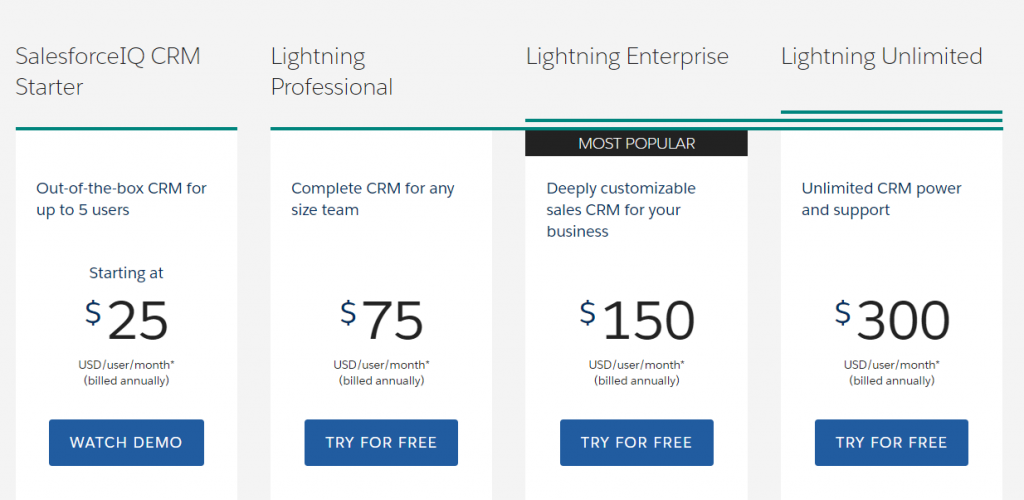 [Image by Salesforce]
Thus, if we calculate the price of an Enterprise Salesforce package for, say, five users, you'll pay $9,000 per year. According to statistics from Software Advice:
"The highest percentage of buyers, about a quarter, budget for $100-$195 per user, per month, while only 3%, are willing to budget more than $300/user/month.The flat monthly fees for more specialized systems tend to be more more expensive, starting at around $200/month, but can scale up to around $3,000-$4,000/month for more robust systems."
With custom CRM development services, you pay for product creation independent of the number of users. The custom CRM development cost is calculated individually for each project and, depending on its complexity, CRM may start at approximately $6,000-$18,000.
How to Apply This to Your Business
Hopefully, this article was helpful both for those who already use a CRM and those who are only currently planning to create a CRM application for their business.
If you are new to the CRM concept, you should carefully consider the bottlenecks of your business processes and create the scope of tasks that you are going to delegate to automation. Understanding your goals, you can start with studying ready-made solutions.
As you choose between out-of-box solutions, answer these questions:
How much of your business needs will be covered with the chosen CRM?
How much should be done to customize the system?
How much will it cost to rebuild the existing system to make it more business-specific?
How many employees will use it?
What are the security measures taken by the provider?
It may be a good idea to first try a free CRM solution to test the features and understand which reflect your needs best. On the basis of this experience, it will be easier to formulate your requirements for the future CRM application development that will be:
100% unique and business-oriented
Integrated with useful services
Flexible and extensible, and
Secure.
The cost to develop CRM is based on the system complexity, further maintenance, and enhancements, but this will be a valuable asset with all rights and control belonging to you.
At Greenice, we can help with business analysis for your project and create a fully custom solution that will match your business specifics, 100%!
We know how to create CRM applications. Get a FREE cost estimate!
Contact Us