Do you know what Slack, Groove, and Skype have in common?
They all made their SaaS products with the help of offshore outsourcing teams.
There are certain factors that make SaaS development different from the other software development and due to these factors startupers prefer to give the SaaS development to offshore outsourcing teams.
What are the advantages of outsourcing for SaaS? Let's find out!
What Type of Development Team Is Right for You?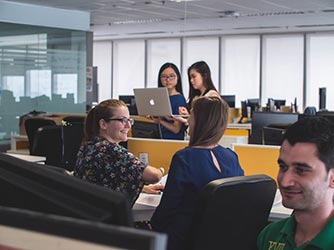 Before jumping into the explanation of the good and bad sides of the outsourcing approach, let us remind you what development team options exist. These are some of the kinds of teams you can hire for SaaS development:
An in-house team of developers
Local outsourcing agencies and developers
Offshore outsourcing agencies and developers
Hybrid team
The criteria on which they differ are:
Cost
Communication level
Involvement
Control
Agility
Risks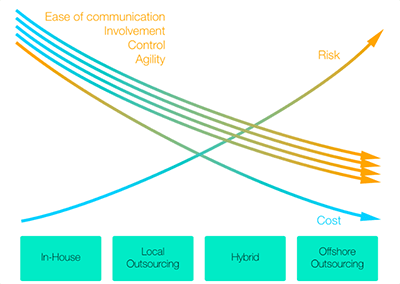 As you can see from the graph above, the more distant the team, the bigger the risk but the lower the cost. However, nothing is totally black and white — each type of development has its pros and cons.
Let's review them through the prism of the above-mentioned criteria. Let's start with the most important thing - the cost!
1. Cost
Full-time in-house employees and local outsourcing agencies are just as expensive as the high cost of living in the West and Australia compared to Asia and Eastern Europe.
So, a lower price is the main reason why companies contract with offshore developers in spite of all the inconveniences. Later on, we'll come back to this question and give you the most up-to-date prices by country.
Besides offering more affordable prices, outsourcing agencies handle all the routine and TCE (the total cost of engagement) associated with hiring, onboarding, taxes, and office equipment.
2. Communication level
Of course, it is easier to explain your thoughts face to face than sitting three thousand miles away from your team. Nevertheless, distance is not always the main barrier to communication. Today, in the era of instant messengers, video chats, voice messages, 'home office' days, and online conferences, we are used to constant online communication.
However, even people who are sitting together in the same room and speaking the same language can misunderstand each other. Thus, whether your team is in-house or offshore, there is always a probation period to check how well you can work together.
Besides, outsourcing agencies hire developers who speak English well enough to communicate with clients.
3. Involvement
This relates to how motivated and proactive the team is. In-house employees have the advantage of being close to the customers, seeing progress, and being inspired by the company's ideas.
Offshore teams are not so well informed of the client's insider information like customer feedback, revenue growth, future plans, and company mood. In addition, outsourcing agencies often work on several projects at the same time. This creates the risk of the team's poor inсentive to come up with ideas for improvements.
You can avoid this situation by dedicating some time during the meetings to share with the team the overview of the current situation and future perspectives. Visit the team personally — this increases the level of trust and understanding.
For example, let's look at Klout, the rating system for social media influence. To solve the involvement issue, its founder, Joe Fernandez, who outsourced a project from a Singaporean development team, traveled to the place and was staying there for 4 months to work closely with the team. In 4 years, Fernandez sold his company for $200 million.
Or you can ask the team to come and visit you. Our team leads and project managers were invited several times to the headquarters of our clients in the USA. These visits were always very insightful for elaborating solutions for projects.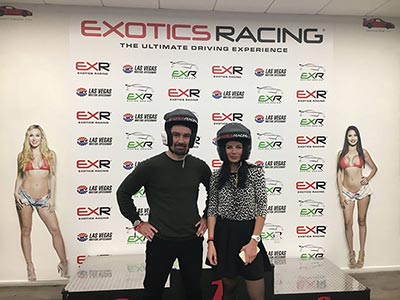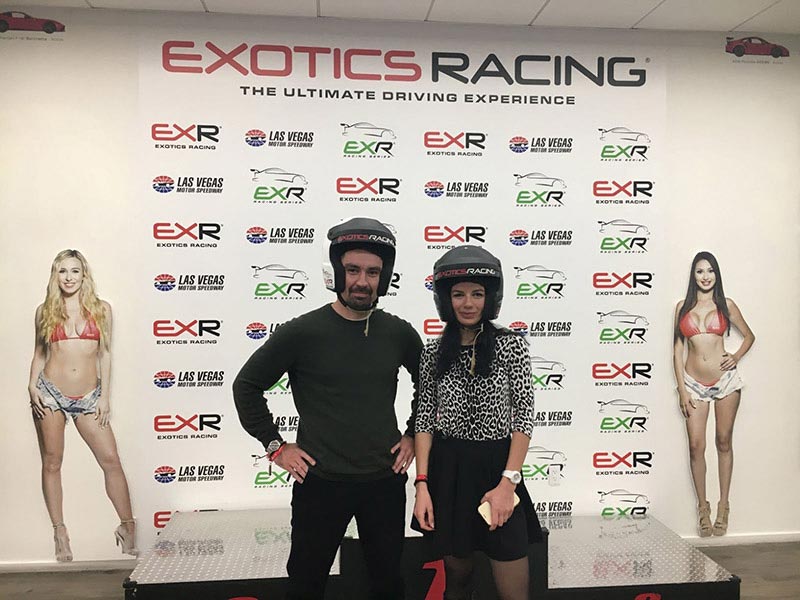 Here is how we built a custom ERP for automation of business processes for the world's largest supercar driving experience company. - Read the case study.
4. Control
How to control the progress of a team that you do not see? It is probably the hardest and the most controversial thing in outsourcing. Here are some solutions:
Arrange regular meetings on Skype/Google Hangouts/Zoom or other conference apps. During these sessions, you can get reports on the current work and set the future tasks, discuss the potential problems, and talk to the team — to keep their spirits high.
Use project management software to set, prioritize, and track the progress of the tasks.
Agree with the team on using time and screen tracking software (especially for hourly-paid projects) that will allow you to make sure that each team member spends the time properly.
At Greenice, we eagerly follow all the above-mentioned practices.
5. Agility
Many projects need quick responses to changes in requirements. Some tasks cannot wait 8-12 hours until the workday in the other part of the world starts, and the offshore team begins to work. If it is critical for you as well, you can go for a hybrid approach — having a part of developers in-house and outsource the rest of the work.
This is how one of our clients, Atlantic Coast Brands, a large cosmetics company in the USA, handles these issues. Atlantic Coast Brands is Fortune 500 Inc. company and our long-term client. The company is a large cosmetics provider with hundreds of landings for different brands and an ERP system that consolidates all the data on customers, orders, and affiliates. They chose a hybrid approach, which means that they outsource part of their web development to Greenice, and the rest of the jobs are performed by a few in-house web developers in the USA. This allows them to keep better control and have tech support almost 24 hours due to time zone differences.
"Our company is quite special in the sense that we have to respond to business needs very quickly. Some projects have to be completed in only 1-2 days!"

—

says Dmitry Polonsky, technical consultant and former Head of Software Development at ACB.
6. Risk of fraud or low quality of work
Hiring anyone is always risky. You can never be 100% sure of the quality of work produced either in-house or by outsourced employees. Our suggestions are to read reviews on vendors, to ask for a portfolio, to talk by video conference with the team leads and project managers, to test the team with a small project or part of the project, and to start with prototype or MVP — all before you sign the contract. These actions will give you the confidence that you made a good choice before you've invested too much.
Hopefully, now you have a clear picture of the pros and cons of each approach so you will be able to decide on which type of development team is acceptable for your needs and resources. But we aren't finished, yet. When we talk about SaaS, there are some additional factors that should be mentioned.
Why SaaS Development and Outsourcing Make the Best Match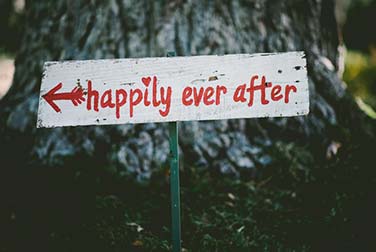 All the above-mentioned criteria are applicable for any type of project. But as we make focus on outsourcing SaaS development, let's outline more precisely why a SaaS startuper should prefer to outsource all or part of their work.
Here are several powerful reasons:
1. Cost-effectiveness
The number one reason why people go for outsourcing is lower development costs. In the case of SaaS, it's super important. SaaS concept does not assume quick profits due to the necessity of growing fast, massive competition, and high customer churn.
A SaaS startup is usually pressed for money. First, at the initial stage to build the MVP, then when investing in promotion and marketing, and then when starting to scale up.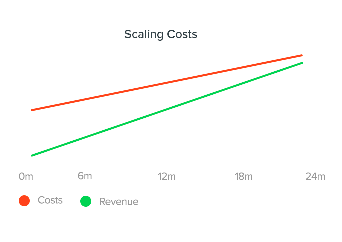 If you have enough capital, go ahead with the in-house team. But be ready to feed it for several years. If you want to stay on the safe side and avoid large investments, at least until it becomes clear that your product is popular and profitable, outsourcing is the best option.
One of the best examples of saas outsourcing is Groove, an online customer support platform. Like many startups, Alex Turnbull, Groove's CEO and founder lacked technical knowledge, money, and staff. He decided to fully outsource saas development. Thus, he saved money that was spent on hiring employees. Now Groove makes more than $5 million in revenue per year.
2. Quick team augmentation
Once developed, the SaaS product usually needs only maintenance, small enhancements, and bug-fixing. So, keeping the full in-house team can be really costly and ineffective. With outsourcing, you pay only for certain tasks done and can terminate and restart the contract with an employee whenever you need it. And no hard feelings when people have to be let go.
SaaS businesses may need to hire more programmers and QA engineers for the project at certain times and terminate the contract with them as the work is done. Outsourcing is the perfect fit for this purpose as it allows us to add necessary specialists at any moment, and for a certain period of time, without the hassle of hiring and recruitment expenses. What's more, it is not necessary to keep them on full-time during the idle, 'no-task' periods when you don't need to add any enhancements.
When 15five, a US-based SaaS company that is used to improve employee performance, reached the phase of hypergrowth for their startup, they found a lack of Python specialists capable of handling their specific needs. Recruiting local developers was time-consuming and expensive. So they decided to outsource part of their tasks to an offshore agency. This decision allowed 15five founders to focus on the product while delegating scaling up the platform to the outsourced team. Today, more than 1,900 companies from the Glassdoor Best Places to Work and INC. 5000 use 15five to enhance their employee's performance and satisfaction. Would it be possible without outsourcing?
3. No HR management headache and expenses
Hiring employees is a long complicated process, no matter if they are freelancers or in-house programmers. You will have to allocate a lot of time and money to recruit and then settle all hiring and onboarding formalities. Training, office equipment, team-building, paid leaves, medical insurance, taxes and the search for substitutes are just some of the things you will have to manage locally. Contract with an outsourcing agency, and you get free from all this routine and expenditure. Agencies are already packed with developers and staff who have proven skills, solid backgrounds, and recommendations. The agency will manage all employment-related issues relieving you of this headache.
4. Access to the world talent pool and innovation
There may not be enough local specialists who have the necessary skills available for your project. Don't limit yourself to the borders of one region or country. Nowadays, we have the ability to connect with people from all around the world. So you can find a rare specialist for less money by choosing from the global talent pool. One of the benefits of working with an agency is that they have already picked, checked, and tested the best of the best candidates, and are responsible for the quality of their work.
Founders of Skype, Niklas Zenstrom and Dane Janus Friis, from Sweden, outsourced the entire back-end creation of this revolutionary 'choice of business' telecommunication platform to three Estonian developers who were definitely cheaper than they could find in their own country. We bet that in Sweden they could only afford one developer for the price of three Estonians. Later, Microsoft bought Skype for $8.5 billion. Now let's put the advantages and disadvantages of in-house vs offshore side by side:
Advantages

Disadvantages

In-house team/ local outsource

High involvement
Easier to communicate due to the same language
High level of control sitting in the same office

High cost
Limited talent pool
Low team flexibility

Offshore outsourcing

Low cost
Quick team augmentation
No HR expenses
Huge talent pool

Limited control

Potential communication barrier

Low involvement
How Much Does It Cost to Outsource SaaS Development?
And finally, let's count the money! After all, the cost is the main reason for SaaS outsourcing, despite all other 'goodies', right? So, how much does it cost?
The price depends on several factors such as:
1. Region or country
Developers' salaries depend on the overall cost of living in a certain country. Here are the rates by regions and specialties: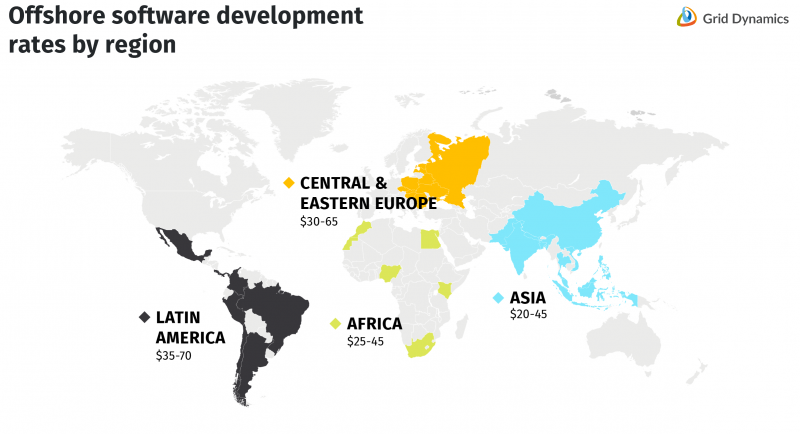 The cheapest developers can be found in

Asia (India, Philippines, China, Vietnam, Indonesia, and Malaysia)

with hourly rates of

$20-45

. However, it's difficult to find high quality at a reasonable price. Good specialists and reputable agencies pride themselves on their high quality. So there will be no difference in price with the Eastern European IT outsourcing market. From our experience, we can say that often clients come to us after a bad experience with Asian programmers: the code to be refactored and the system rebuilt. Remember, this would mean double the work and double the cost.
The next region is the so-called near-shore represented by countries of

Latin and South America

. The hourly prices may vary from

$35 to $70

. This is the best option for projects that need real-time availability in the same time zone. Ease of travel and good English are other reasons why US clients prefer this region. But if these factors are not important for your company, it is worthwhile to focus your attention on the Central and Eastern European countries that provide the best price-quality offers.

Central and Eastern Europe (CEE)

is an optimal region that has high-level professionals with good English skills and a high level of development skills. The rates are almost the same as in the other offshore regions but still much lower than in Western Europe or Northern America — ranging from

$30 to $65

per hour. Poland and Ukraine have the largest concentration of talent with more than 400,000 specialists. This may be because of the high level of technical education. Universities combine fundamental post-Soviet education in math and physics and new methods and innovative practices. Ukraine was placed eighth in the SkillValue's 2018 rating of the countries with the most talented developers with an average developer score of 91.26 percent.
2. Level of specialist expertise
The price also depends on the proficiency of the specialists. It is natural that Senior developers earn more than Juniors. In addition, project teams consist of specialists with different skill sets to spread the tasks around the team according to their complexity and the team members' capabilities.
3. The difficulty of the project
Of course, a single-page website and ERP with complex interactions and business logic cannot carry the same price. Depending on the architecture, integrations, task complexity, and uniqueness of features, the rates will vary. Therefore, each project is estimated individually.
4. Length of the project
The longer the project, the bigger the total cost. At the pre-development stage, all projects are estimated to give approximate time and budget frames based on the developers' previous experience with similar tasks. Luckily, more and more technologies that simplify and speed up the development process of basic modules, features, and integrations appear everyday.
With Infrastructure-as-a-Service (hardware, storage, servers, data center space, and software) there is no need to deploy its own infrastructure from zero. What's more, SaaS development is getting quicker and cheaper. At Greenice, we actively use Amazon Web Services for most of our projects as one of the more secure and reliable IaaS providers. Moreover, today developers can use frameworks that save them tons of time and allow them to concentrate on more complicated tasks and unique features.
Just for interest, we tried to roughly estimate how much it would cost to create clones of some of the most prominent and successful SaaS and our own projects. Here are some ballpark figures:
| | | | | |
| --- | --- | --- | --- | --- |
| Trello | Dropbox | Slack | Zoom | Our client's HRMS |
| Project Management app with boards and lists of tasks and assignments to team members. Multiple access roles Real-time updates. | A file hosting and sharing service. Creating a special folder on the user's computer synchronized with the user account in Dropbox's cloud. | A cloud-based instant messaging app often used as a team member's work chat. Users can create topics, private groups, and direct messaging and share files. | An enterprise video communications and conferencing app. | Online recruiting and human resource management system for an agency and SaaS of this functionality. |
| 48-55 weeks | 48-55 weeks | 48-55 weeks | 24-32 weeks | 24 weeks |
| 2900-3300 hours | 2900-3300 hours | 2900-3300 hours | 1400-1900 hours | 1400 hours |
| $100-115K | $100-115K | $100-115K | $50-67K | $50K |
* The cost is calculated based on our rate of $35/hour, 60 hours per week that includes work on the back-end, front-end development, and quality assurance.
SaaS Outsourcing with Greenice: Our Secrets of Successful Teamwork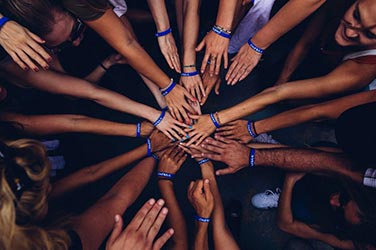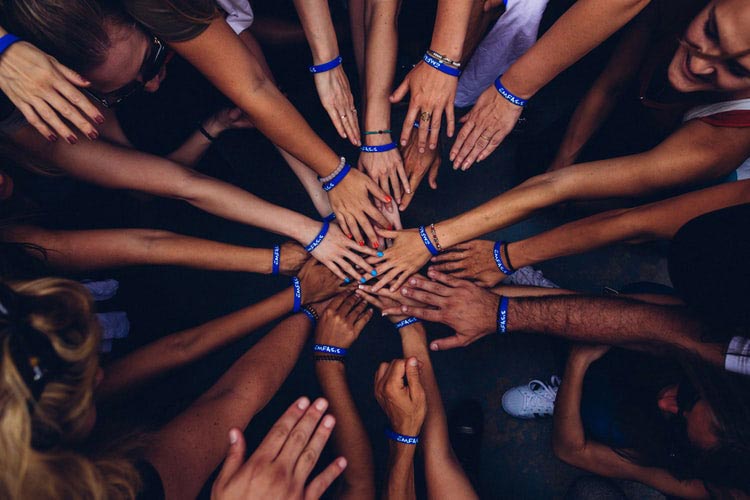 Before signing a contract with a SaaS outsourcing team, you should ask about the process of how the work in the team is organized. It is very important to have a system of processes that helps developers organize their work in an effective manner. This is how it works at Greenice:
All developers work on several projects, switching between them depending on the workload and task complexity. This

minimizes idle time

and optimizes the financial resources of the agency that can be reinvested in salaries, bonuses, and team-building.
The salaries depend on performance. It is super important to complete before deadlines.

Everyone is motivated to work hard and quickly.

Work on different projects stimulates the

active learning of new technologies

, and switching between tasks invigorates the activity. If a particular approach was effective on one project, developers can use it on other projects.
All developers track their time with the special time-tracking apps. This provides

transparent control conditions for clients.

The clients can see what she pays for day by day.
Different projects are managed by different project managers and team leads who can share knowledge and experience. This allows developers to work with different teams,

experience different management style

s, and grow professionally. Thereby positively affecting all projects.
All developers work in an open space office, eagerly helping each other to solve challenges. We work as a whole organism with the common aim of

staying on top in this competitive market

and providing customer satisfaction that will contribute to our good reputation and bring us new customers.
We have team-buildings, corporate lunches, and free-time activities that

keep our interpersonal relationships

on a friendly level.
The company management encourages the

personal and professional growth

of each employee by conducting retrospectives, stimulating learning activities, giving challenging tasks, and assigning mentors to new developers.
All these practices make no sense by themselves. They must be integrated like a system of systems. We have created an SoS that we can boast of. We inject new solutions to automate processes, enhance effectiveness, increase competence, or improve staff cohesion.
And this is us (actually part of our friendly team):
How to Apply This to Your Business
To be sure, outsourcing and SaaS development are a good match for an entrepreneur who wants to save a bunch of money. Today's SaaS IT outsourcing has grown immensely compared to even 5 years ago. Now that remote work, freelance, and intercontinental conferencing have become commonplace, quality is no longer measured by the amount of time we all sit in meetings together.
As IT service vendors compete with each other for clients, they hire only the best developers, giving them comfortable working conditions and pushing them to learn new technologies. Nowadays, it's not only the clients who choose the vendor, but IT vendors also choose the client. They want challenging and complex projects that will create a strong portfolio and get lifetime clients. Outsourcing can easily compete with work done in-house in terms of leadership, quality, and price.
Greenice is a web development agency located in Ukraine, that has been in operation for more than ten years. We are a friendly, responsible, highly professional, and innovative team. The geography of our clientele is large: the USA, Canada, Australia, New Zealand, Singapore, China, and Europe.
If you are ready to start up a new SaaS or reorganize existing applications into a cloud service by subscription, we are ready to help you. Whether you are brainstorming initial requirements, designing web pages, solidifying the final product, or maintaining excellence, give us a shout.
We have vast and profound expertise in working with cloud solutions and complex platforms. Outsource your projects to us. We will save you precious time and get it right from the very beginning. Our clients' verified reviews at Clutch and GoodFirms speak louder than anything we could come up with on our own.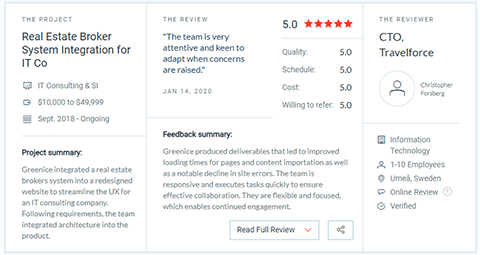 Need an outsourcing team for your SaaS?
Contact Us
Rate this article!
You should be
logged in
to be able to rate articles